Part 2 - Messina (Taormina) / Sea Day
Day 2 – Messina (Taormina)

When I woke up the next morning and looked out the window, I thought, "Wow, you have to take a photo of this!". We had just passed the Stromboli volcano standing tall in front of the rising sun and a spectacular cloud formation.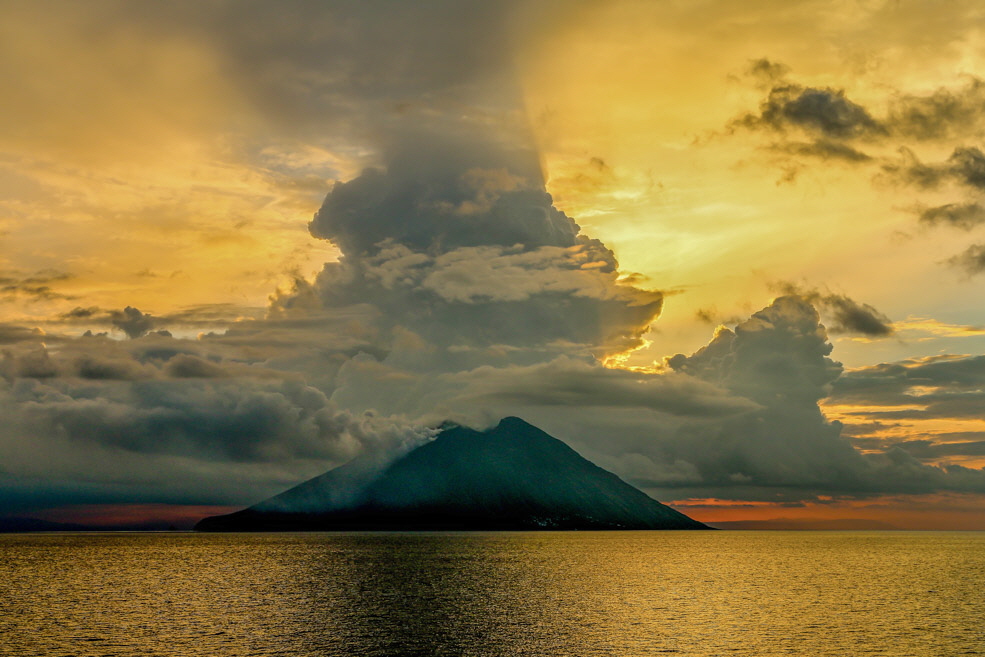 After our morning routine at the gym and a good breakfast we watched the entry into the port of Messina from our stateroom. The Madonna della Lettera welcomed us, similar to our last visit to Messina, under an overcast sky.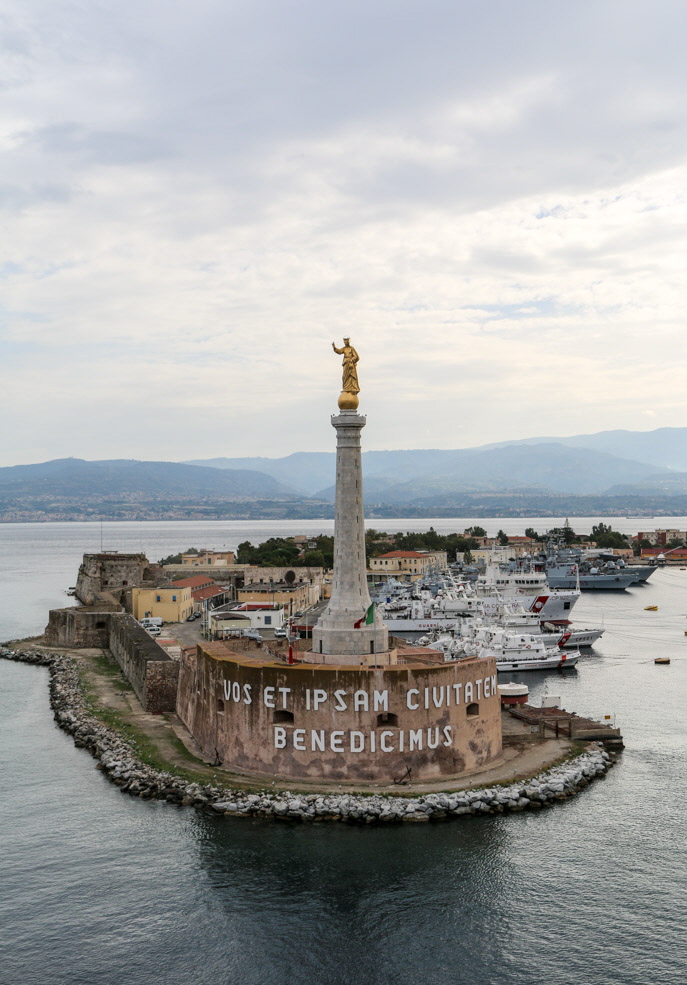 Like last time, we wanted to visit beautiful Taormina. As rental car stations are closed on Sundays, we had gone the easy way and booked a transfer to Taormina with Celebrity. It meant we had to go through the usual procedure of meeting and waiting at the theater. OK, it was an exception, but somehow we were glad that otherwise we had organized our excursions independently.

The transfer to Taormina was pleasant with some explanations on the area and its people. Once we reached Taormina, we took off on our own.

When you follow the main road, which you reach after passing through the city gate, you'll soon find the Duomo, which we found beautifully decorated in white roses.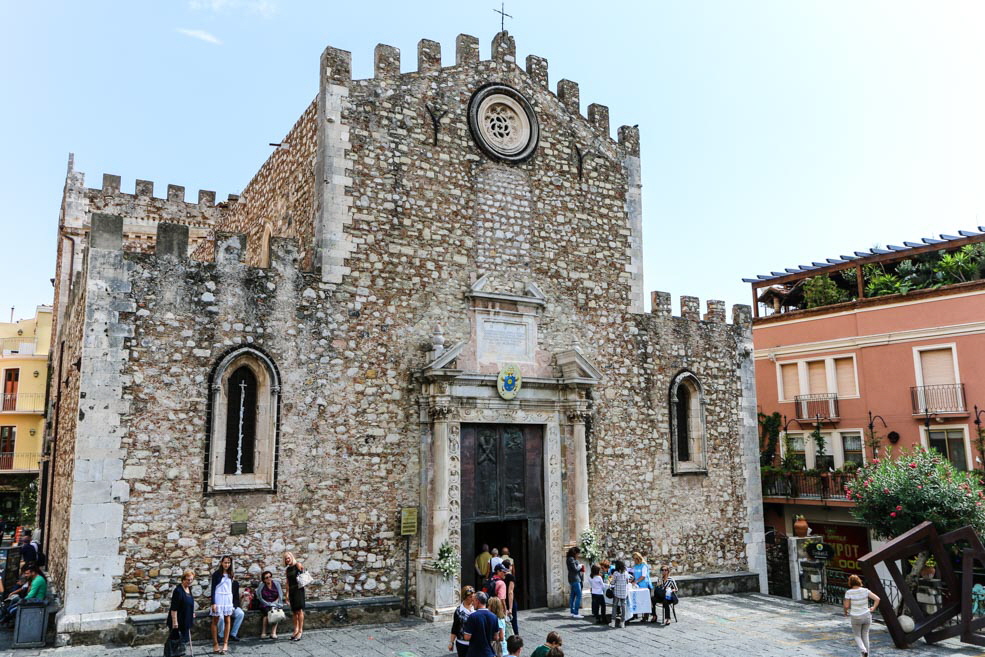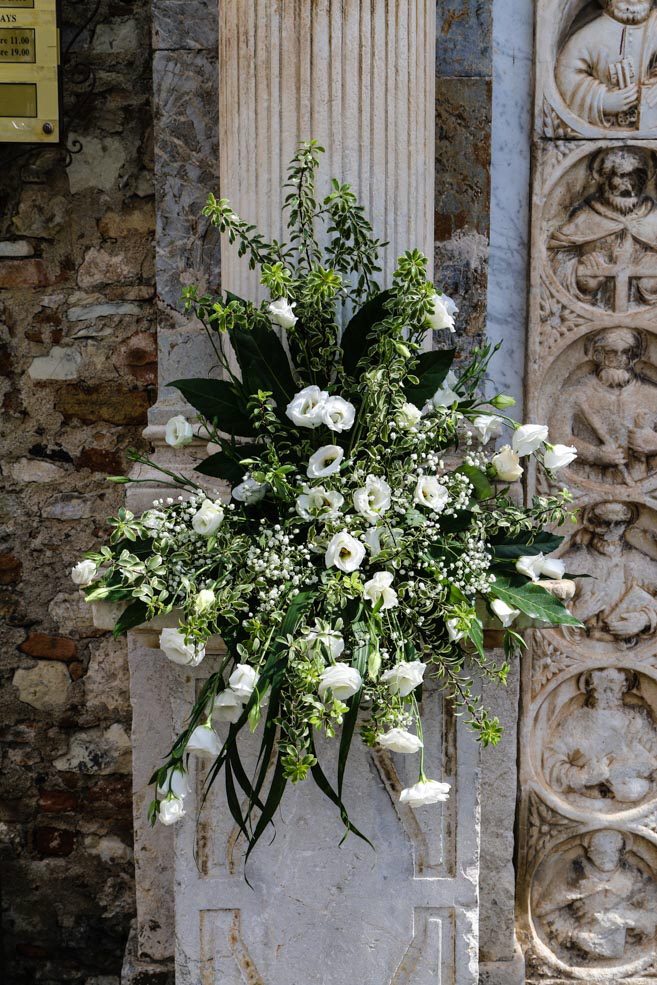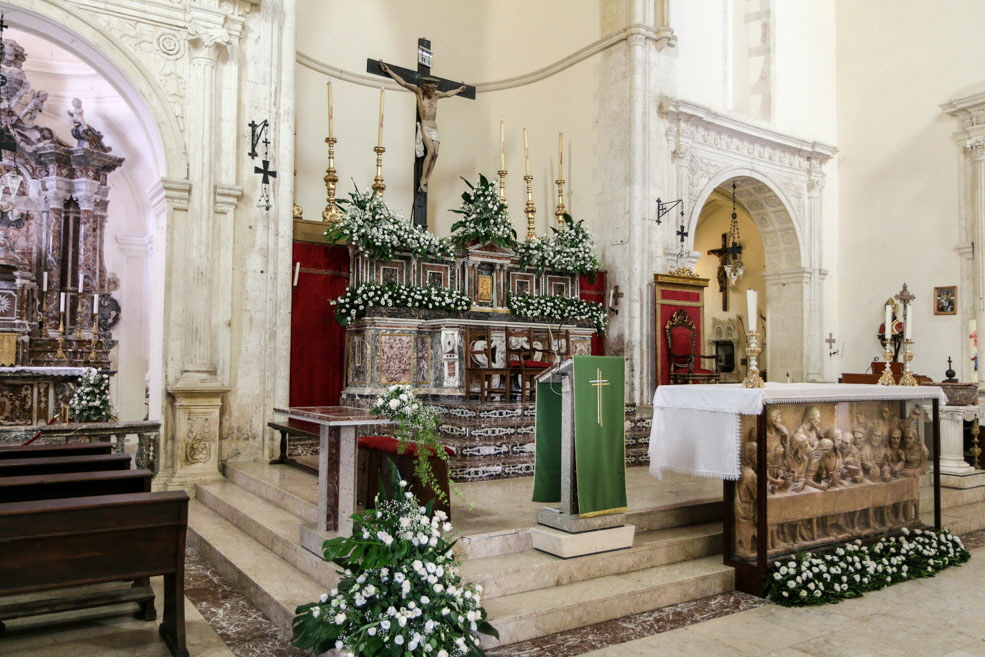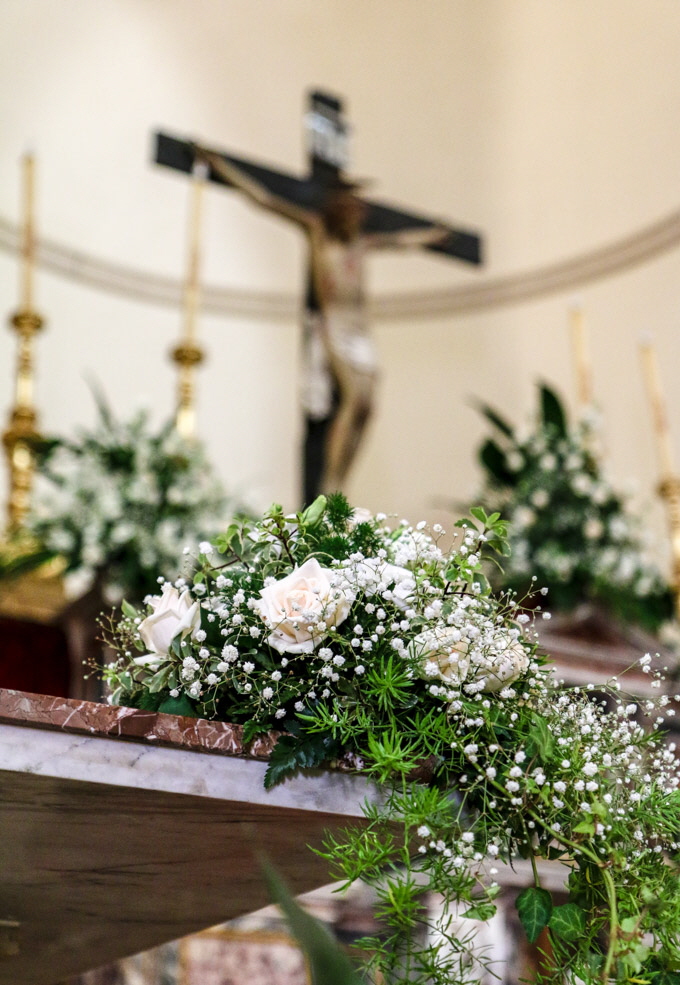 After a visit inside, we continued on the main street, which has a particular charm from its partly antique facades and small, idyllic side streets.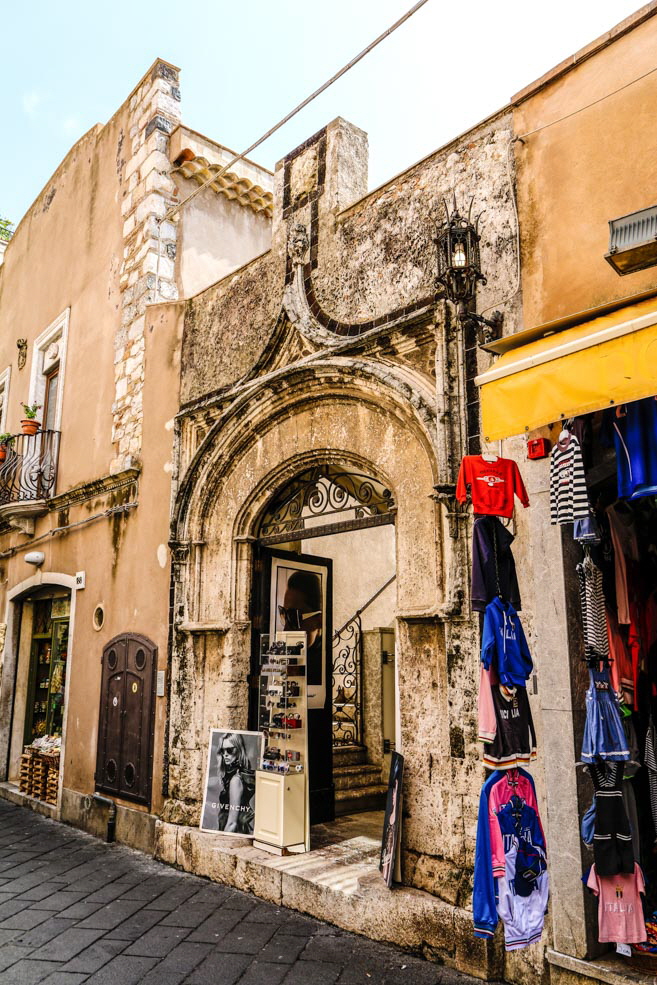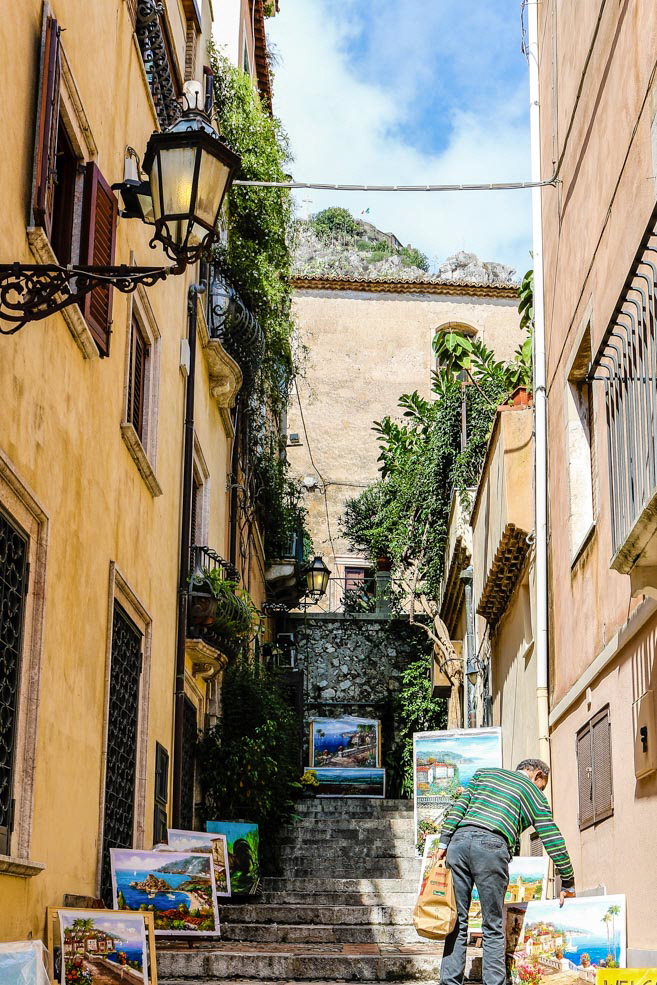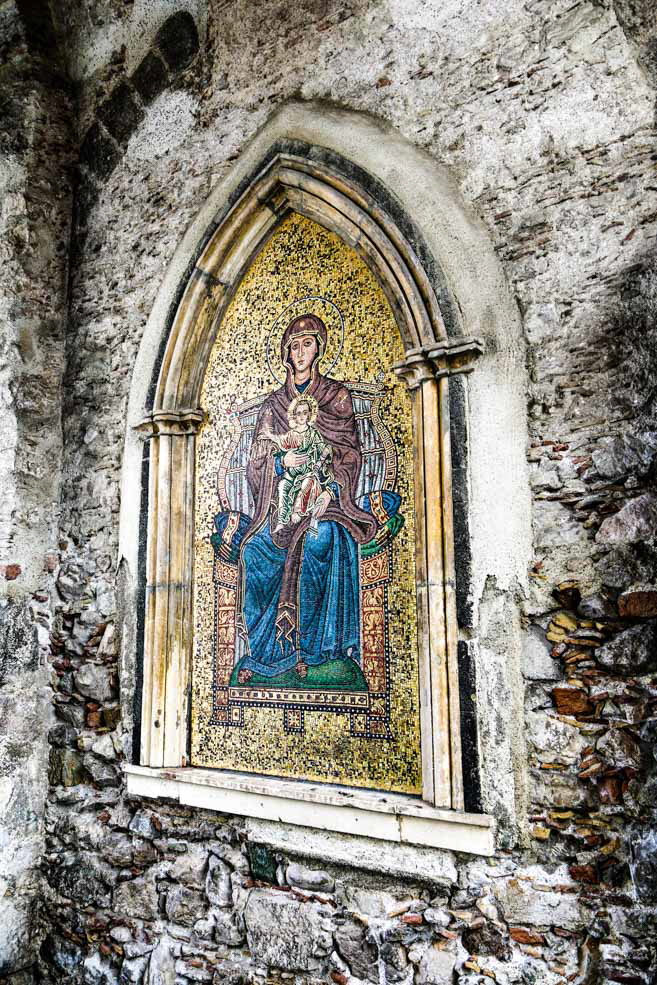 Next, roughly in the middle of town, you reach Piazza de 9 Aprile with its cafes and the church San Giuseppe as well as the old church of San Agostino (now home to a library).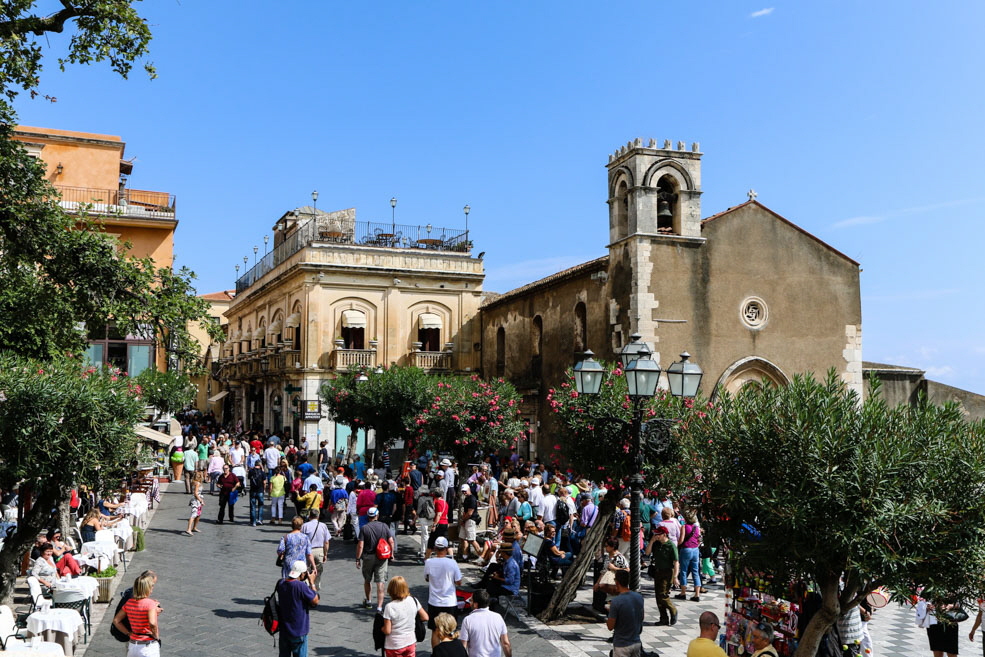 From this piazza you have a beautiful view of the bay. From here, we could also see our ultimate destination, the Hotel Metropole. Mount Etna in the background was hiding behind clouds today.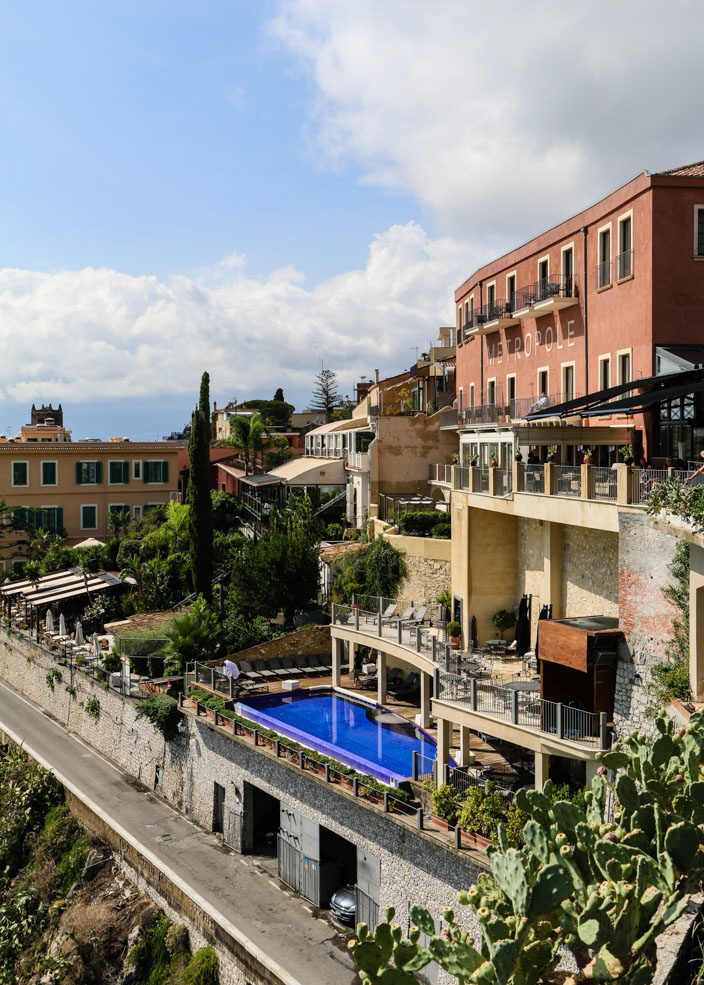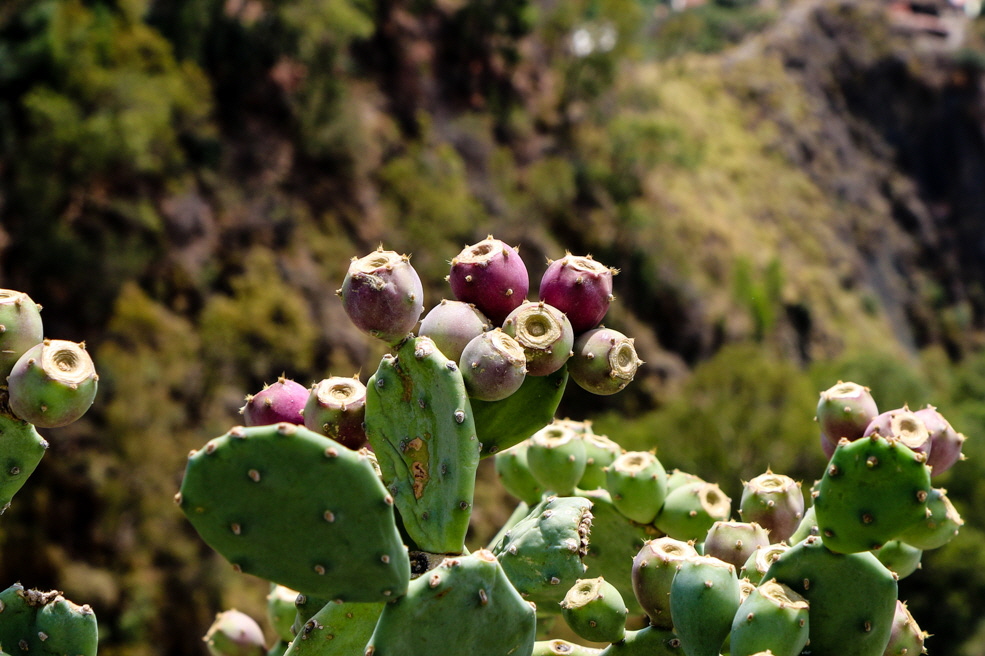 We also wanted to see San Giuseppe from inside and also found it decorated with fresh flowers.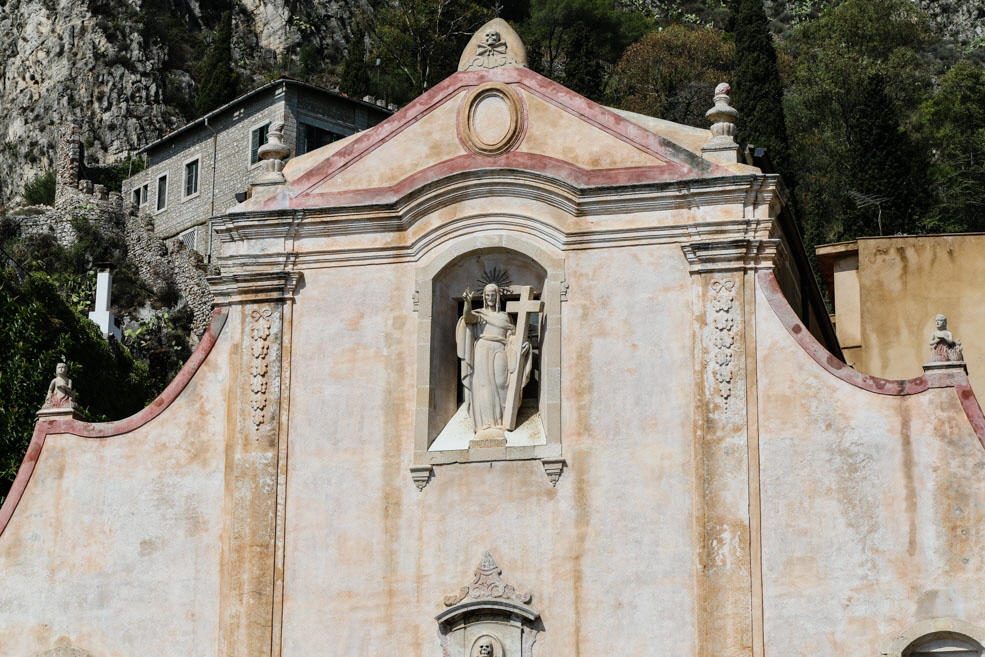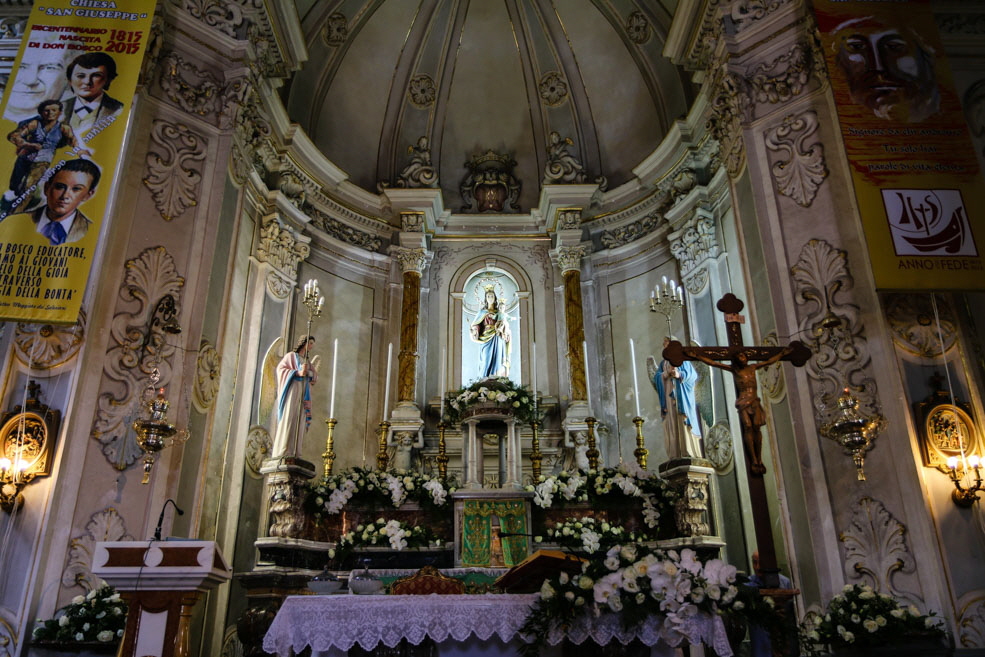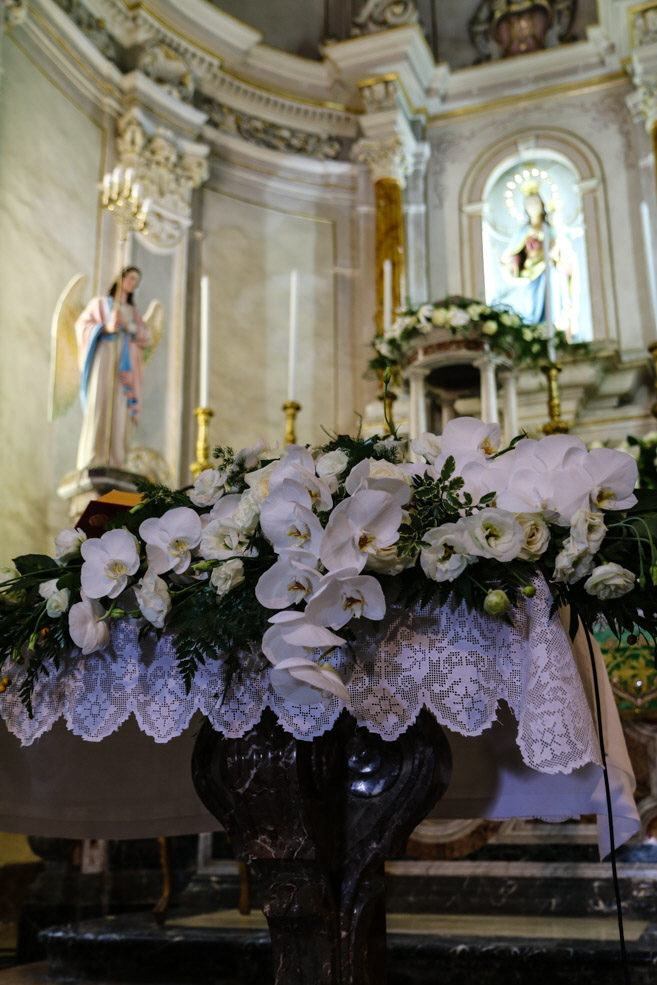 We then continued on our way along Corso Umberto. If you follow it almost to the end and turn right, you'll also find the ancient Greek Theater. This time it wasn't part of our itinerary. Instead, we wanted to visit the "Giardini della Villa Comunale", a municipal park a bit further down the hill. On our way, we enjoyed all the beautiful details we found on almost every house.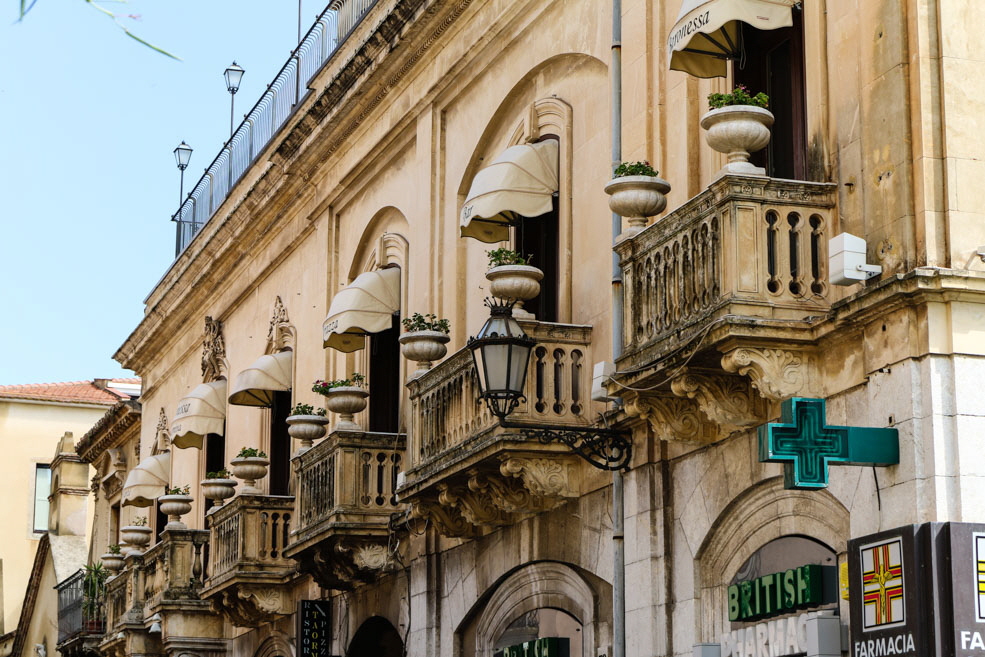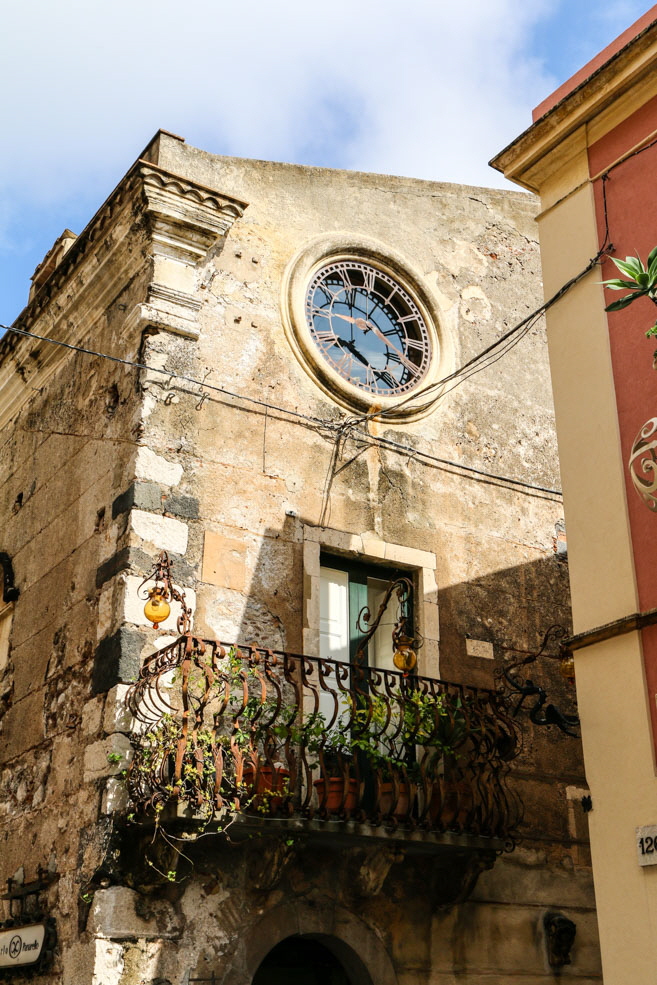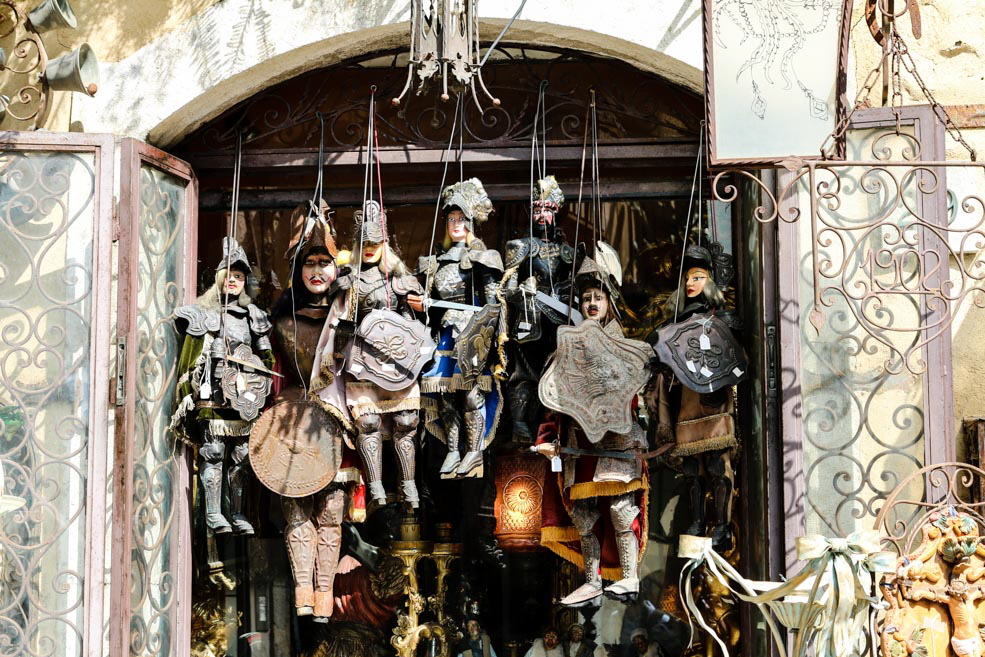 We also liked all the small shops everywhere selling local liqueurs and other specialties.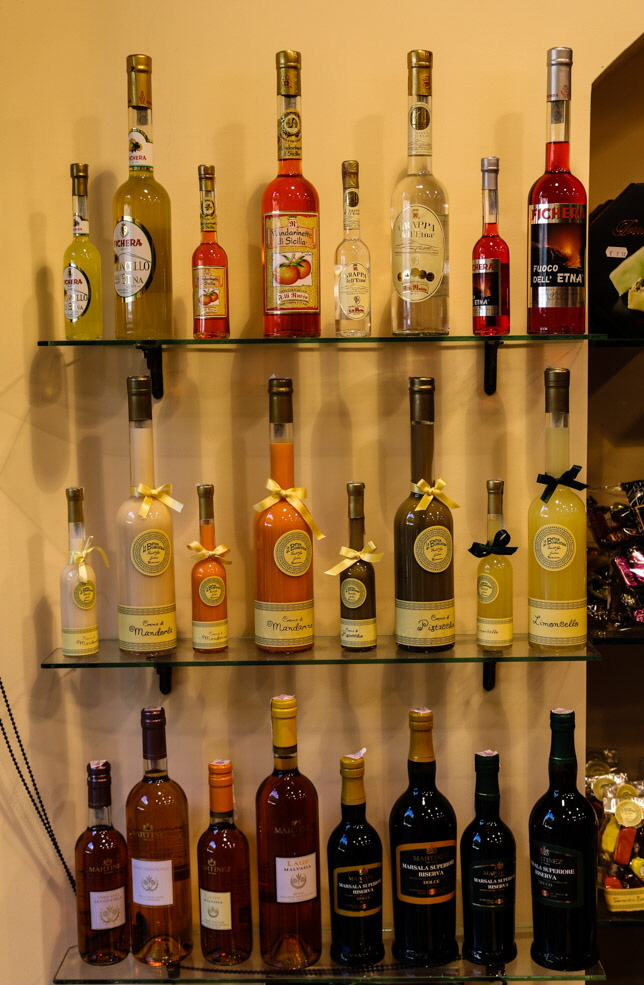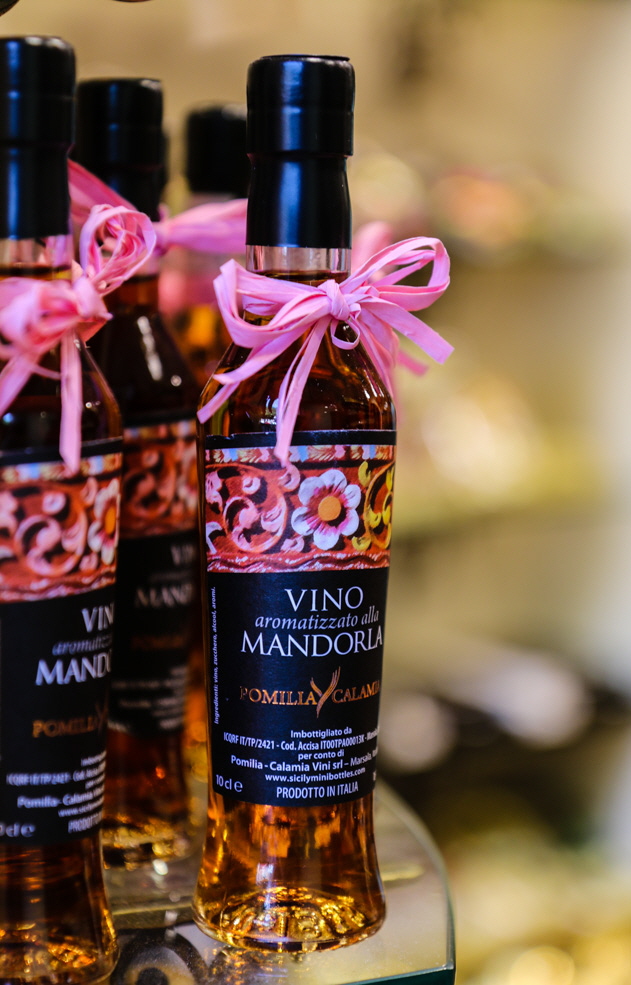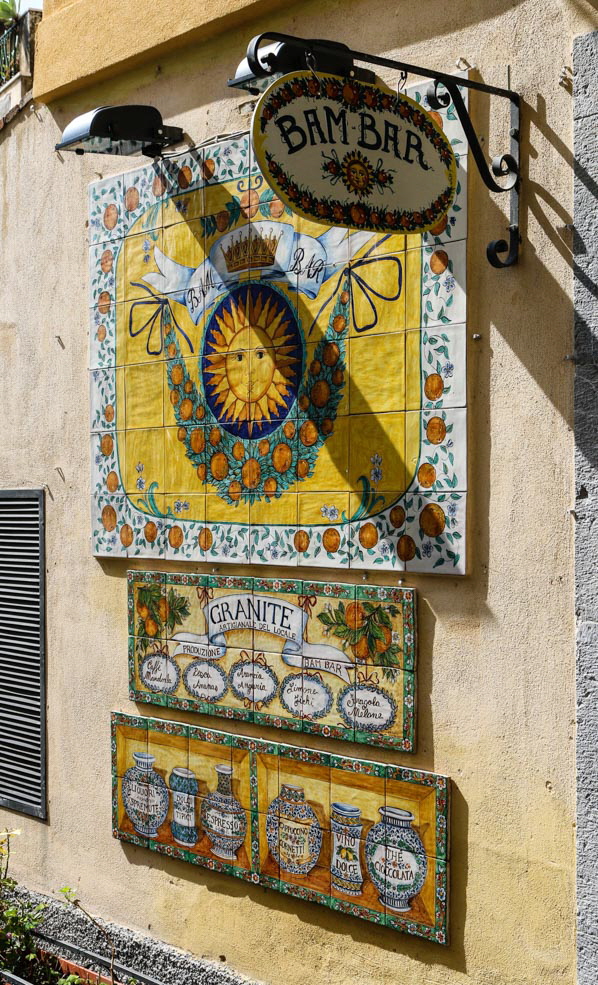 Admission to the public gardens is free of charge. Besides beautiful flowers and plants you can also admire gorgeous vistas.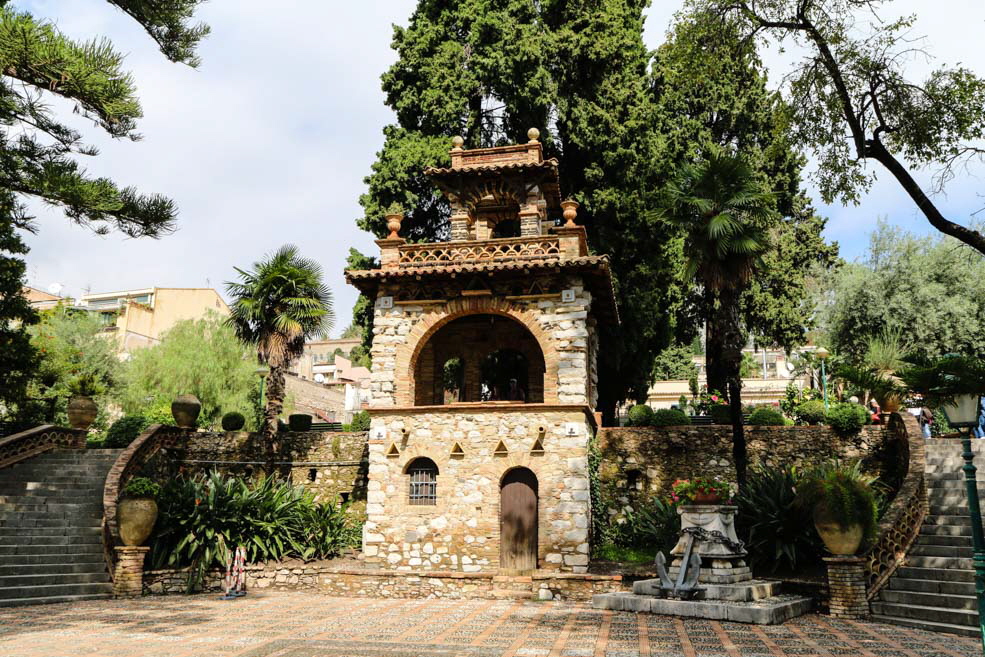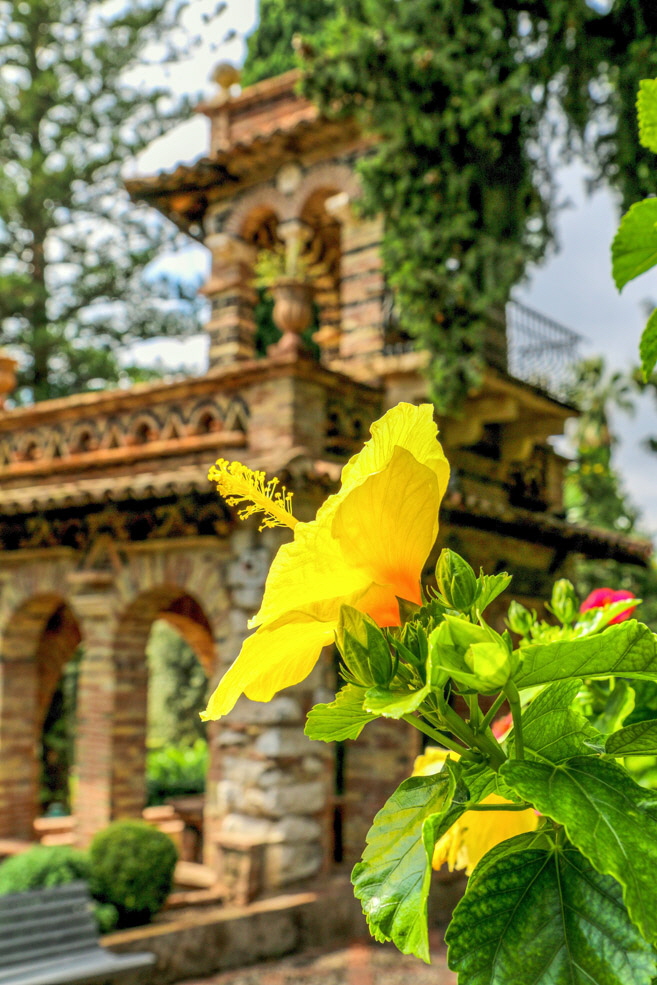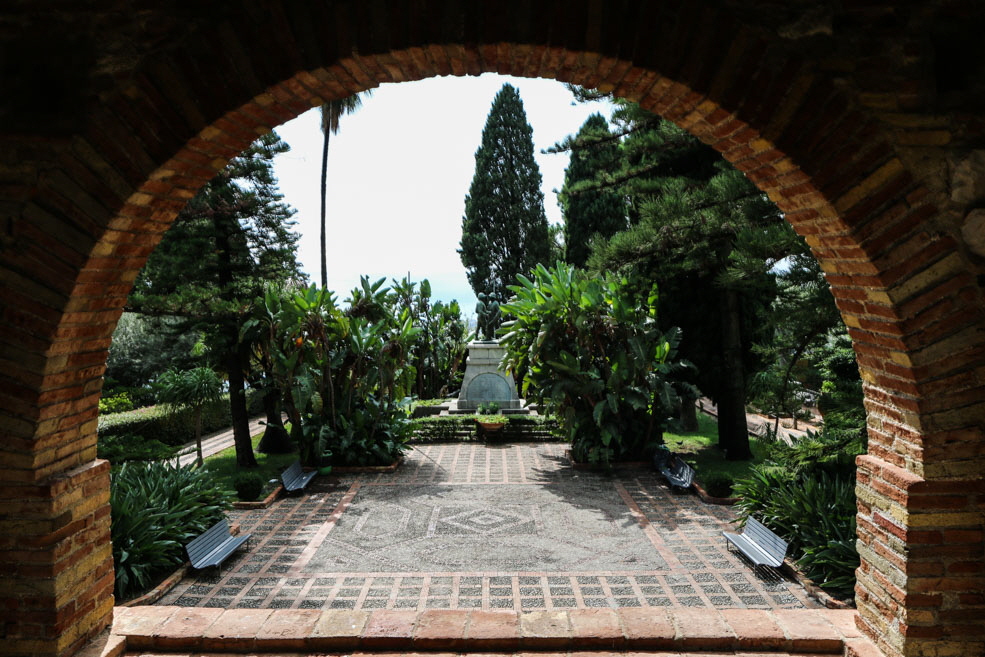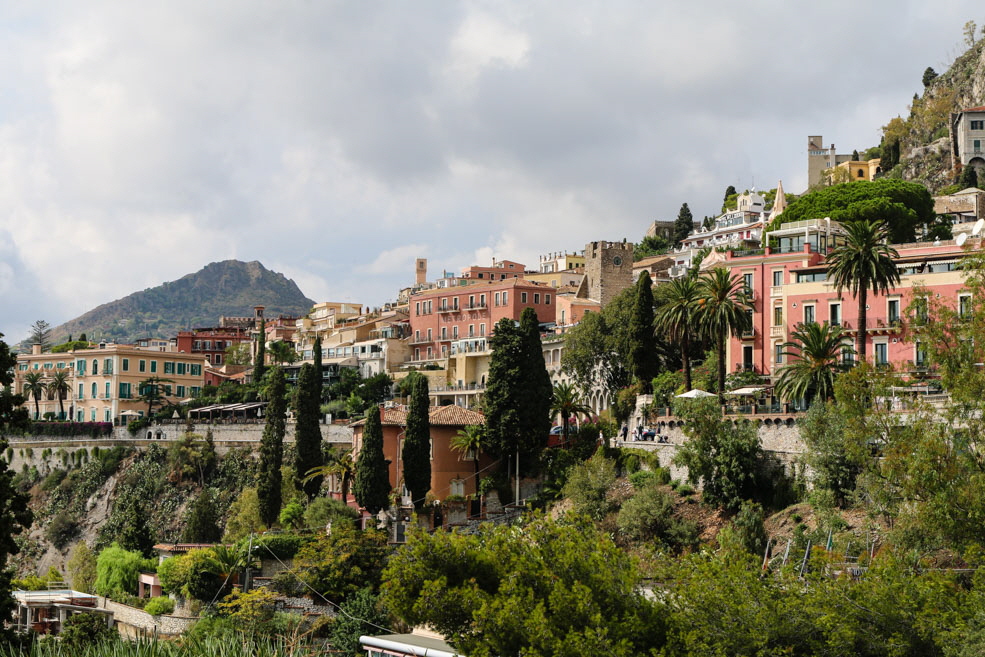 On our way back to the main road we found some tasty temptations and agreed that we had a duty to support the local economy...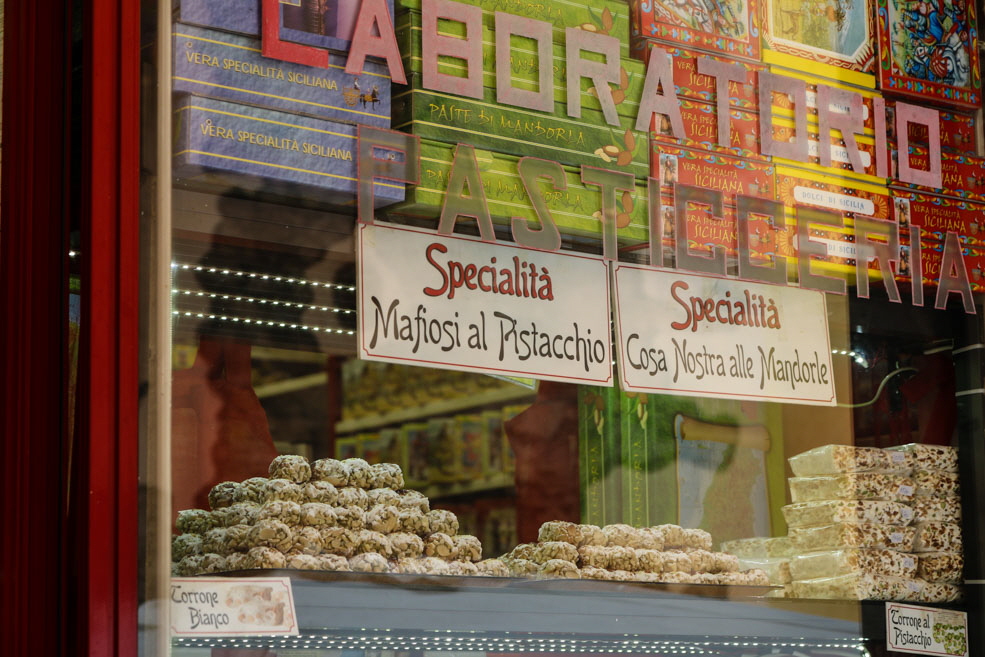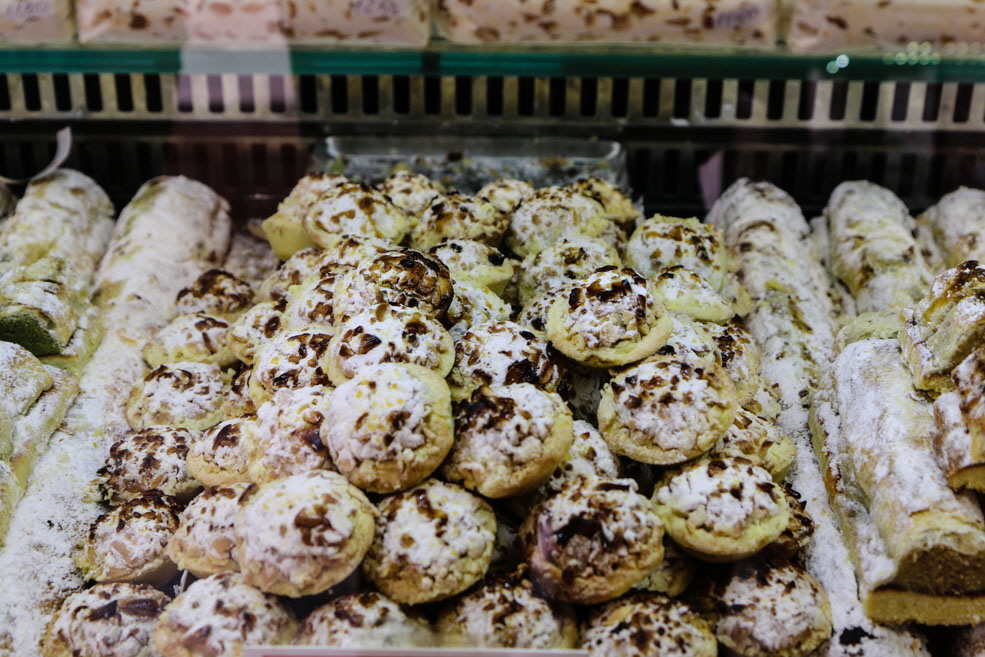 Uphill we climbed narrow alleys of stairs which were lined with little shops and, where they were a little wider, restaurants and tables.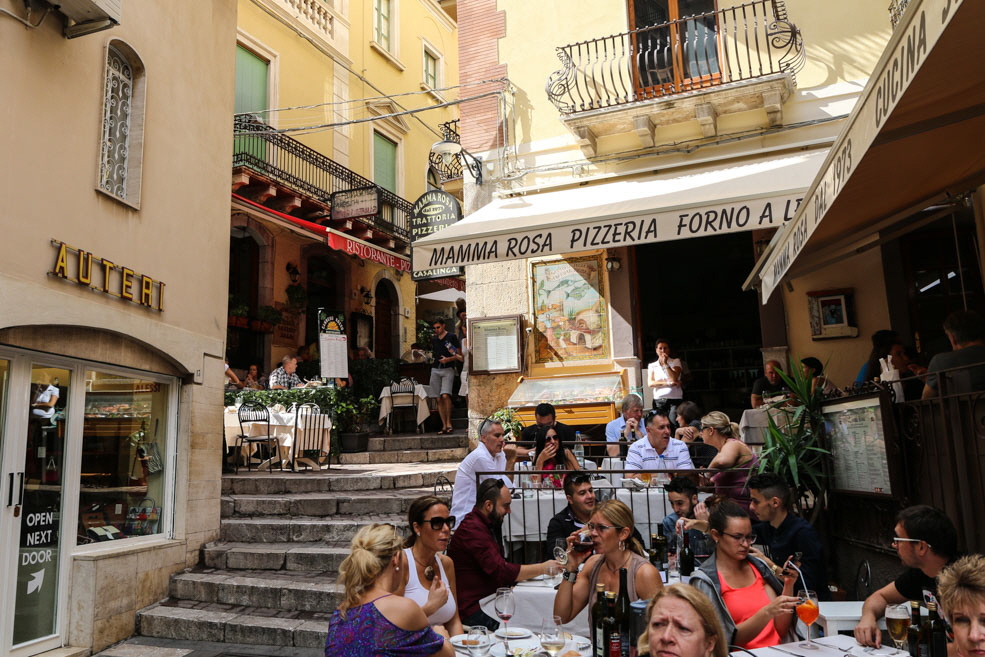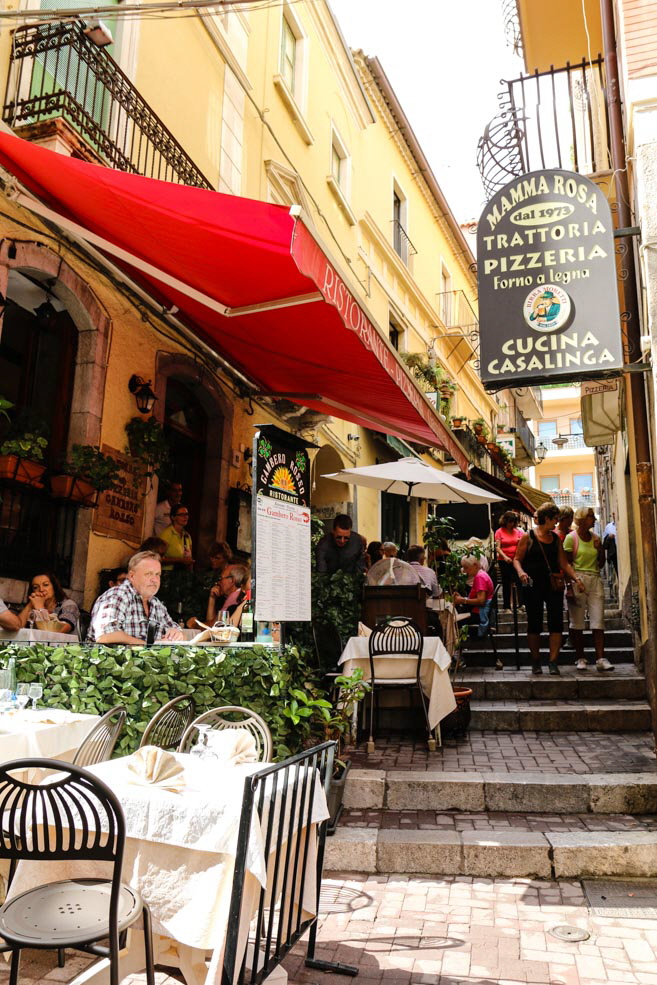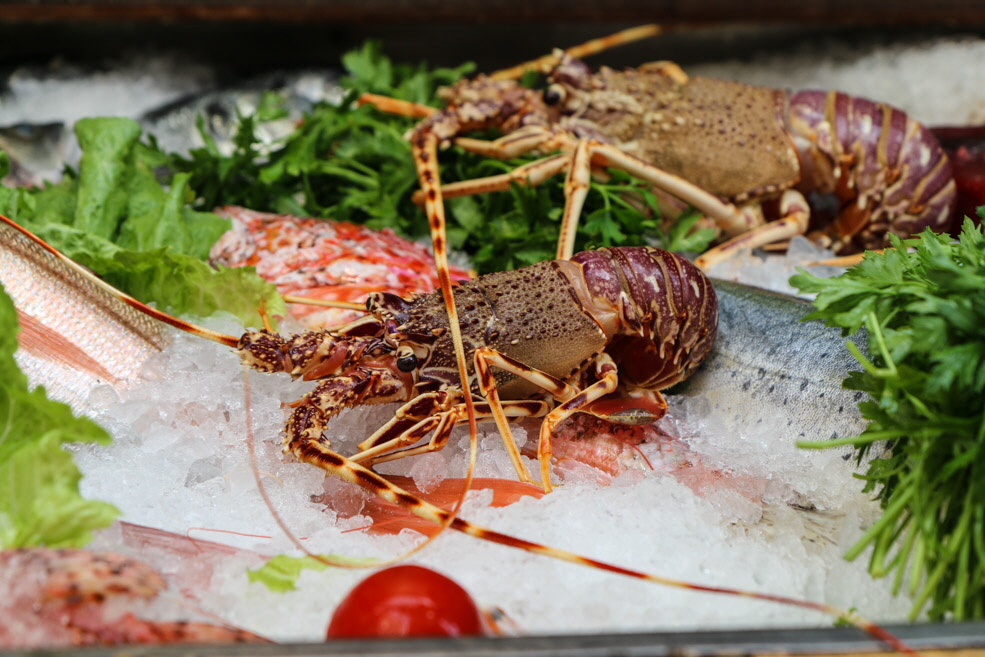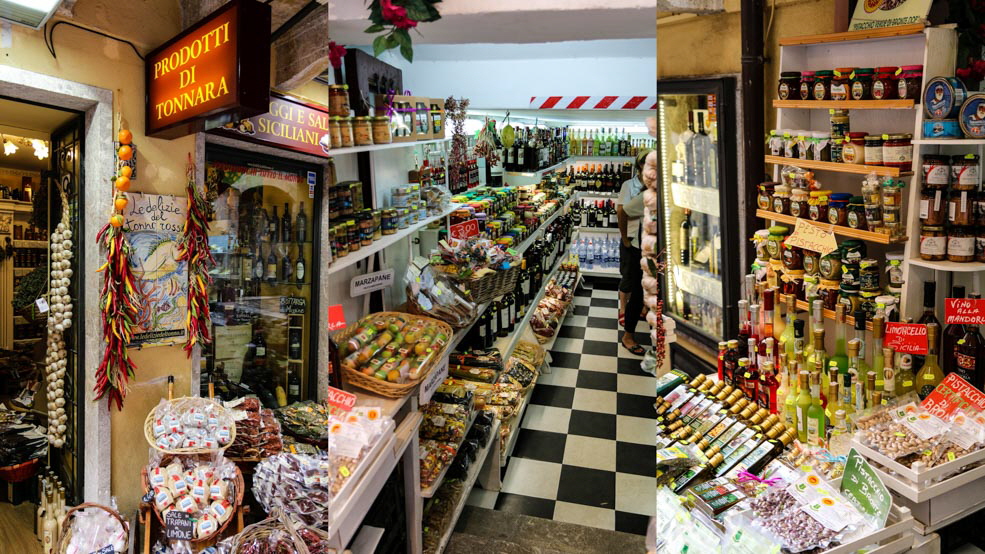 Back on the main road we reached our final destination. During our previous visit we had come across Hotel Metropole and its lounge terrace, where we had enjoyed a good time with nice music which we always like to remember. That's why we wanted to repeat this experience and end this afternoon on a few cool drinks and a gorgeous view.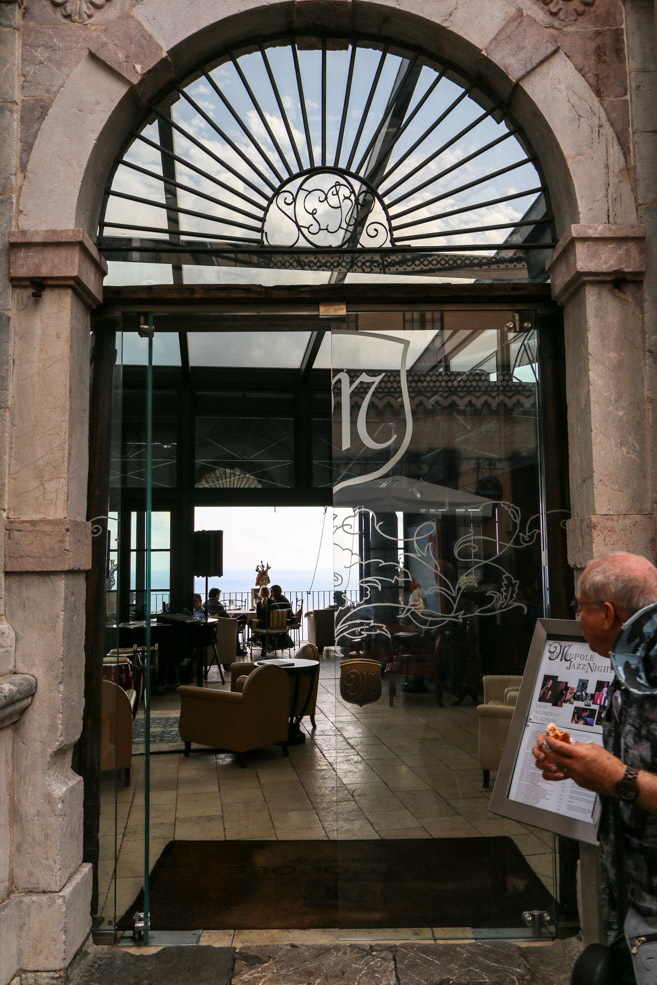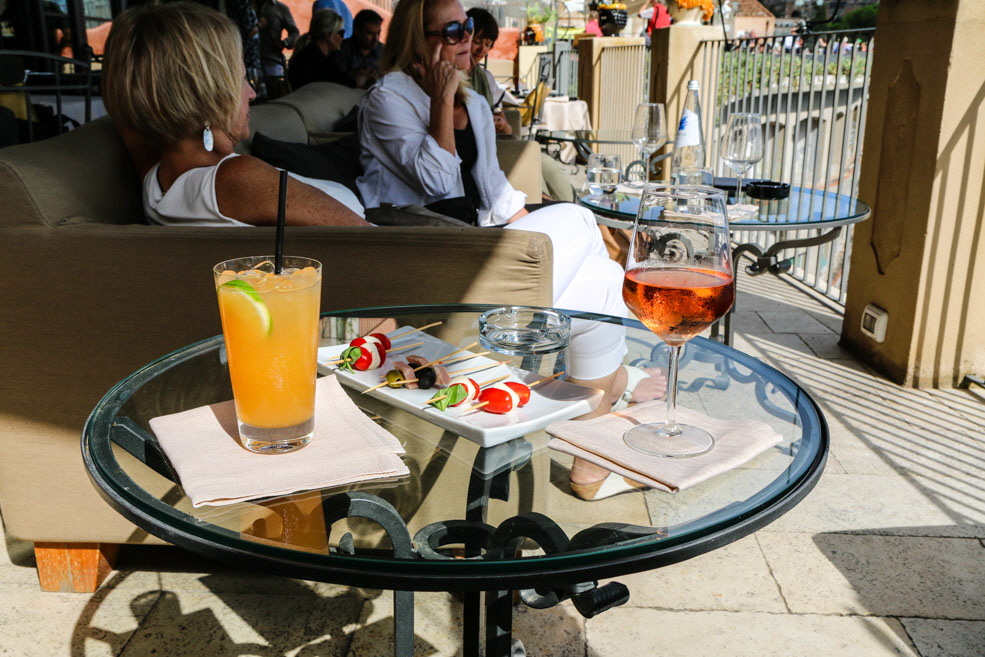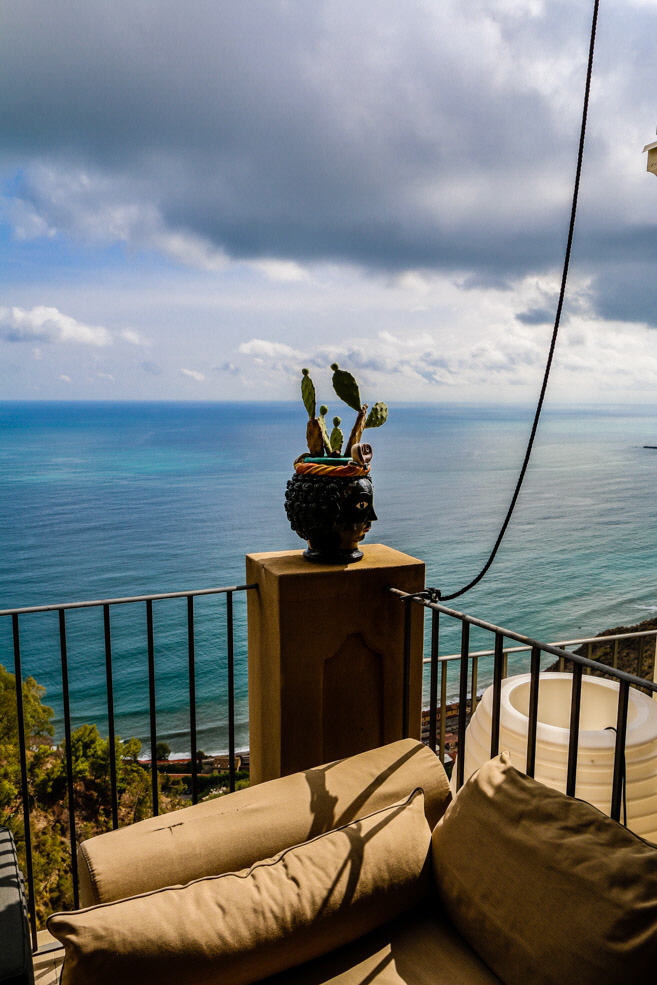 We enjoyed some wine, fruit cocktails, a salat and nice music, underlining the beautiful view. Unfortunately, even the best of times must come to an end, so we made our way back towards our meeting point at the entrance of town.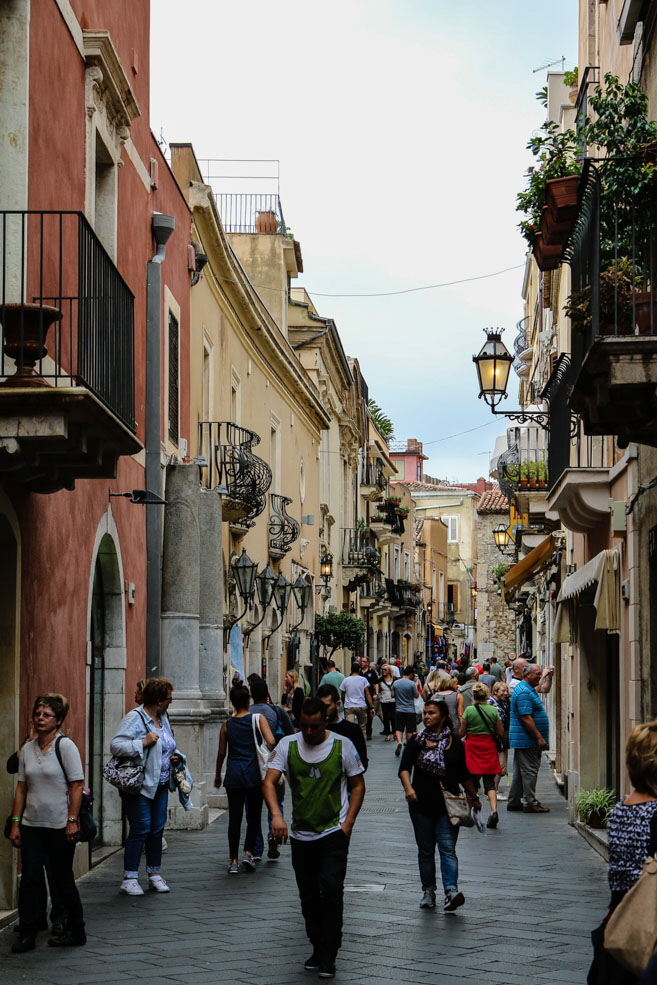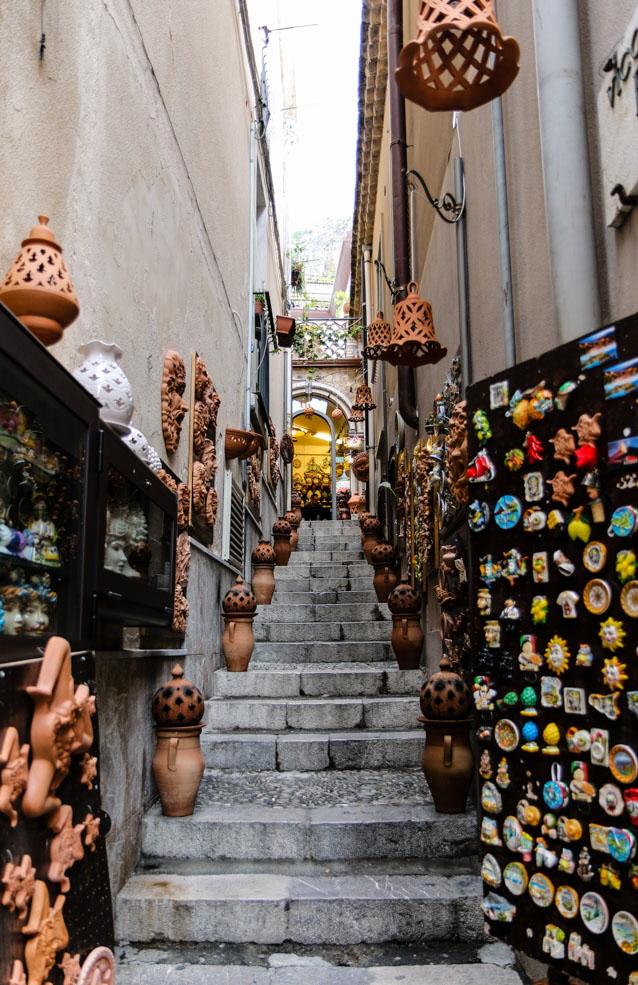 Our bus hadn't quite left Taormina and it began to pour down. Strong wind and rain accompanied us all the way back to Messina. When we reached the port, the wind was so strong that none of the returning buses was allowed to let their passengers off. We had to wait in the bus for quite a while until they let the passengers on board in groups of 10 in order to avoid queues on the gangway.

On our way back we met Doug and Luis. We soon had something to talk about since both were from Aventura/Miami, which is just a stone's throw away form Sunny Isles, which is like a second home to me.

In the evening, we enjoyed our dinner at BLU. And I am using the word "enjoyed" on purpose, because both the atmosphere and the food were excellent. Afterwards we went to the Sky Lounge. The barkeepers were very friendly and were happy to explain what was included in our beverage package. This way, Birgit was able to sample a few Martinis over time, and I always found some non-alcoholic cocktails, too.

However, we didn't last long that night, and after that beautiful first day we could clearly hear the call of our bed. And some calls simply need to be answered...

Day 3 - At Sea
We started this sea day relaxed and easy. Gym, breakfast, Persian Garden, sunbathing, photo tour – this ship offered many opportunities, and the day went by quickly.

That evening was the first of 3 formal nights. As we like the atmosphere of those nights, we decided to have dinner at the main dining room "Grand Cuvee". Already at the entrance we got talking to a family from Oklahoma – father and mother in their mid-seventies, their daughter and her best friend. Chance would have it that we all ended up at the same big table together. Our conversations were so animated and interesting that the delicious food almost became a minor matter. When we said good bye, Ken (the father), all gentleman, said "You two are alright!". We were very touched…

As every night so far, we ended our day with a drink at the Sky Lounge. The friendly waitress already recognized us and recommended a new Martini and a juice cocktail. We felt right at home.

Just a quick note on the beverage packages, which we had got free of charge as part of our booking. Having the package was comfort and luxury. Fresh orange juice for breakfast, a Latte in between, Birgit's wine with dinner, a Martini and Cocktails later at the bar. Even without any package we do ourselves well. But inevitably we tend to think about whether or not to order another glass of wine or that second Virgin Pina Colada. With the package it simply didn't matter … Pleasure without a care – it really was very nice.

Did we consume the value of the package? Certainly not! This is why for us purchasing the package would never really make sense. But having it free of charge was very nice, indeed. It was also an interesting and positive experience to see that, in regards of service, the staff didn't make any difference at all whether you had a package or not. We hadn't quite finished a glass when we were kindly asked if there was anything else we wanted.
www.travellove.one • www.thecruise.report • www.travelandcruise.net
© 2021 Die Rechte an Texten, Fotos und Videos liegen beim Autor der Webseite. Die Nutzung ist nur nach ausdrücklicher Freigabe erlaubt.