Part 4 - Kusadasi, Turkey
Day 5 – Kusadasi, Turkey

In Kusadasi, the obvious choice would have been a tour to Ephesus. I had been a few years ago and left it up to Birgit whether we wanted to spend the day looking at more old stones or just have a look at the town and drift through the streets of Kusadasi. We went for the latter.

Early in the morning, I'd rather say in the middle of the night, I was woken by passengers of the Silhouette and the Equinox who greeted each other loudly across their balconies while the Equinox docked at the pier. Well, we are probably all a little crazy…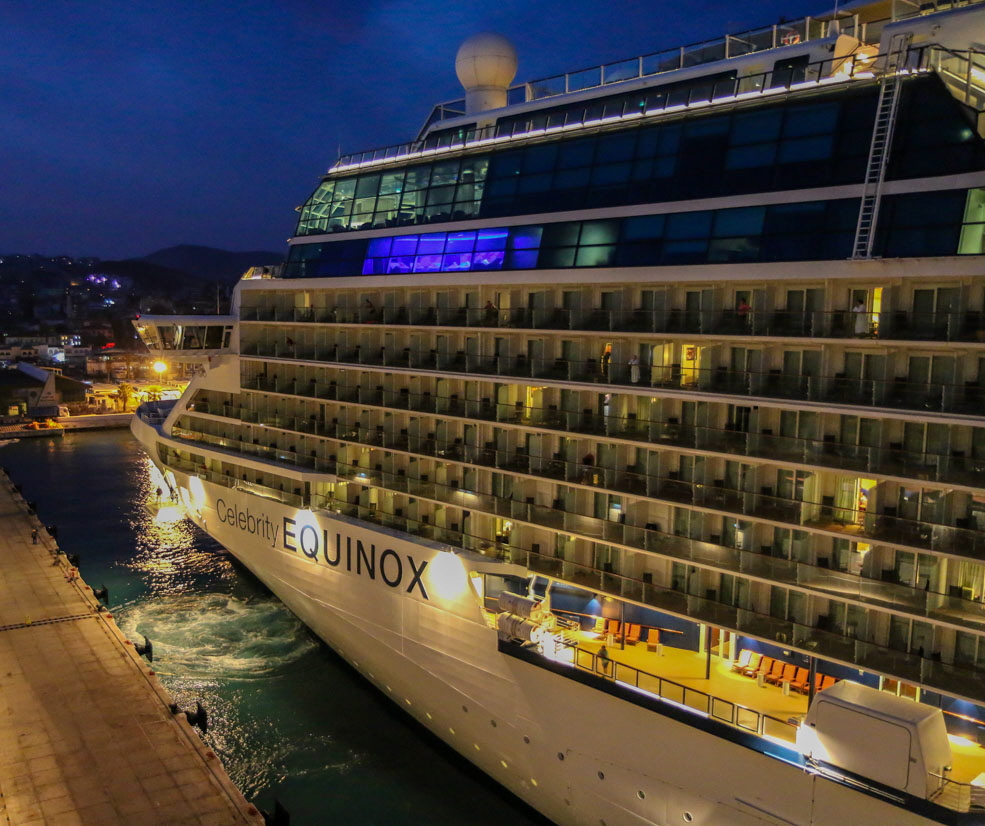 We had all the time in the world and could sleep until it was actually morning and daylight would wake us up.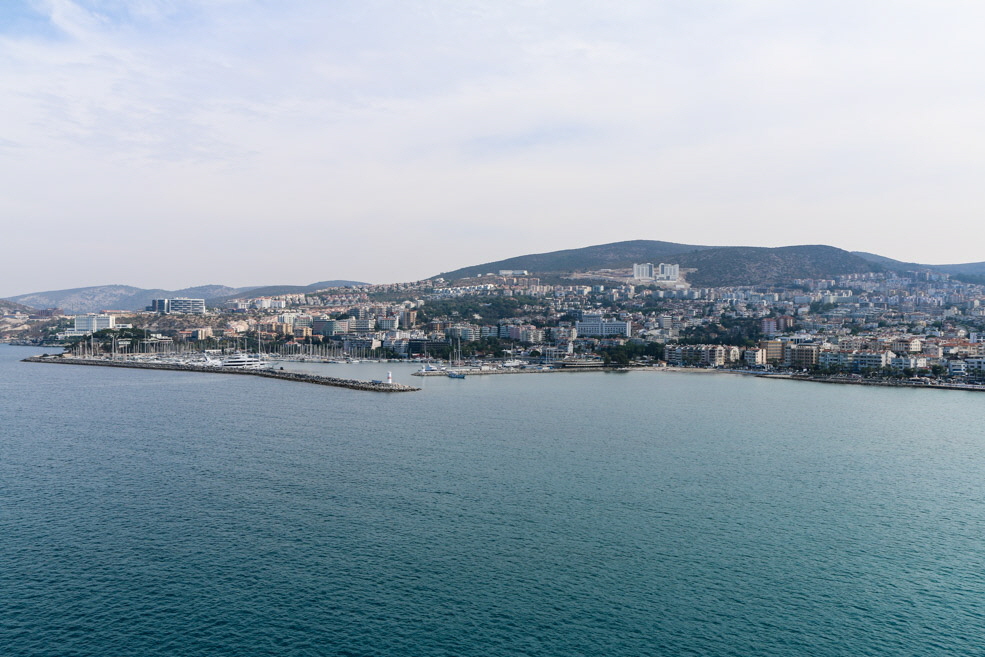 Of course, no day could start without a good breakfast. Thanks to the pleasant temperatures we had, we were able to enjoy it on the outside deck again. Enjoying the view, the sunny weather and that we were in no rush at all, we got lost in conversation with Debby and Bob, a couple from California with whom we had already chatted before and who had kindly invited us to their table.

On a side note: we met many wonderful people throughout the cruise and had many nice conversations, which added an extra star to our personal experience of this cruise. It was just great... but more about it later.

Around 11.00 am we left the ship and threw ourselves into the fray – which is a little exaggerated, of course. Although it was clear to see that the town thrived on tourism and the streets were filled with passengers willing to spend their money, it wasn't as bad as we had experienced on trips to the Caribbean.

The terminal consists of many Duty Free shops and some cafes. From here, Pigeon Island stands out and catches your eye before anything else. During the Ottoman Empire, the island was built as a fortress to protect the port of Kusadasi, which superseded the port of Ephesus in importance, when the latter started to silt up over time.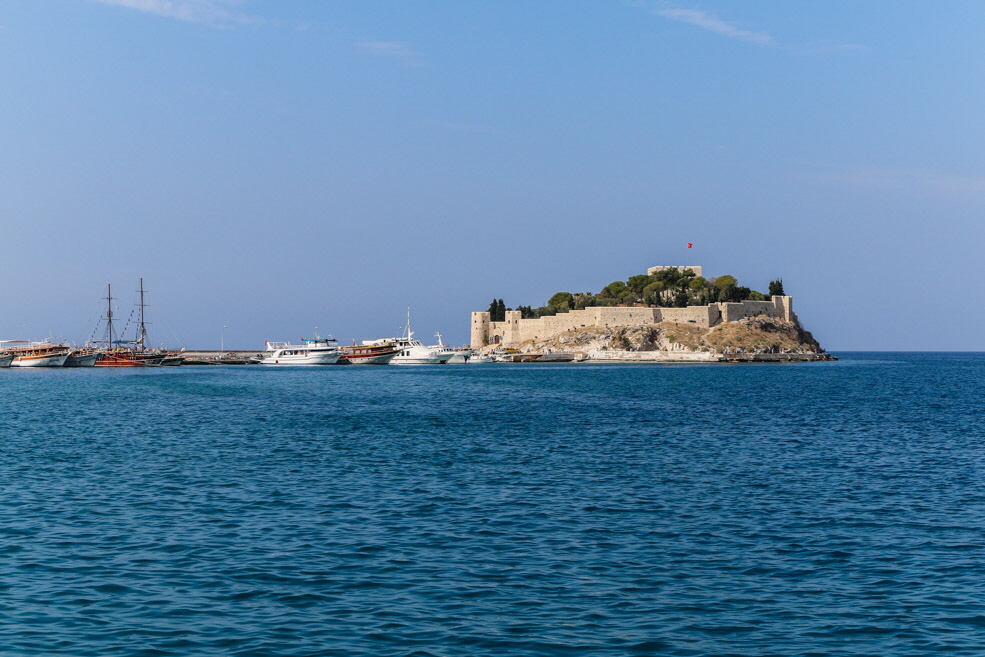 We followed the narrow streets, which were lined with shops selling all the classics – leather goods, shoes, handbags by Louis Vuitton, clothes by Polo, Hilfiger, Armani, designer watches… all genuine, of course ;-), but today on offer at only 10% of the original price…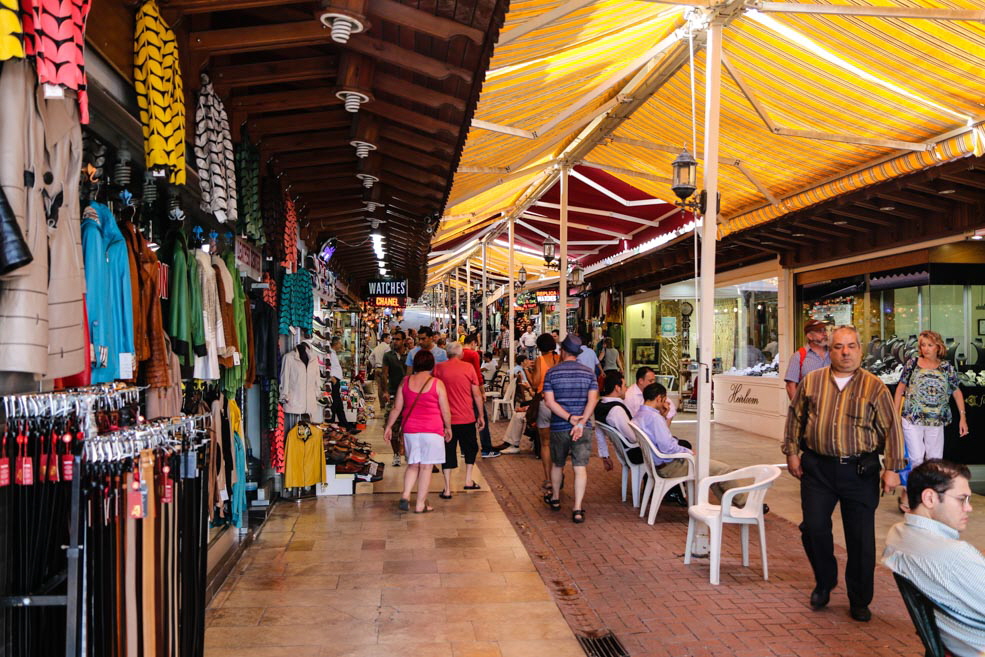 It was fascinating to watch how many people fell for it and let themselves be lured into the shops at this early hour to leave them with bags packed to the rim. Maybe we are spoilt because we can buy the originals at equally low prices in Florida´s Outlets, but for us, many of the items simply had no appeal.

I stuck to admiring and photographing the small streets and colorful stairways and looked at the rest with amused interest.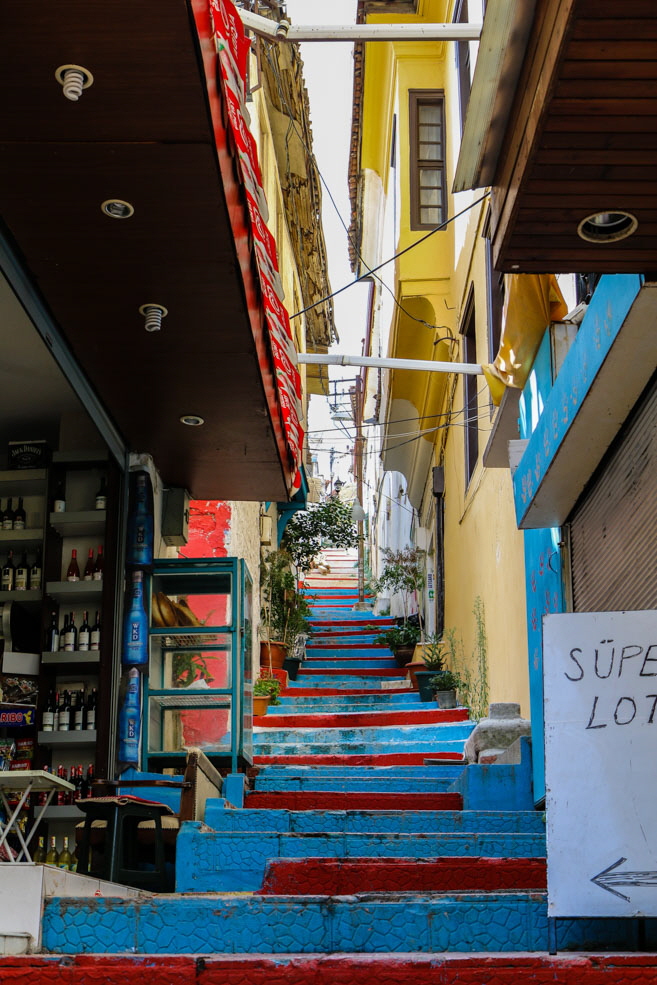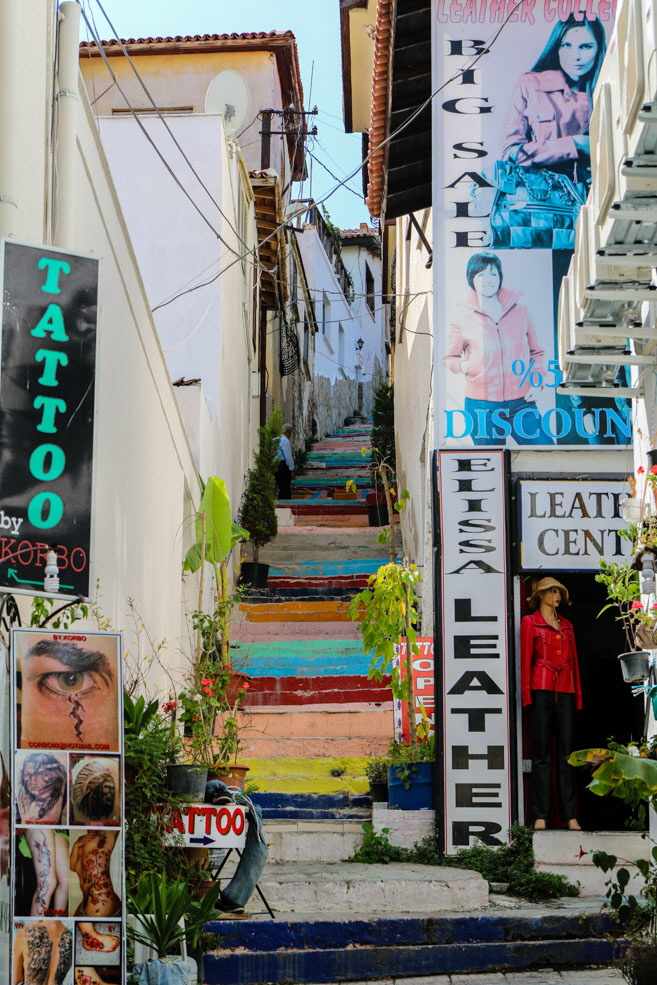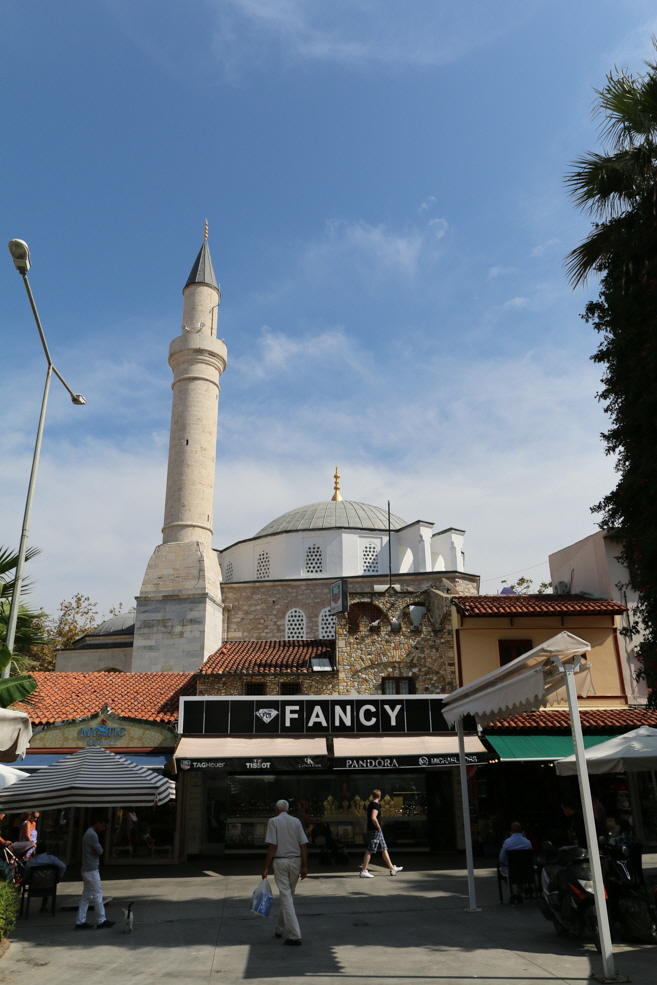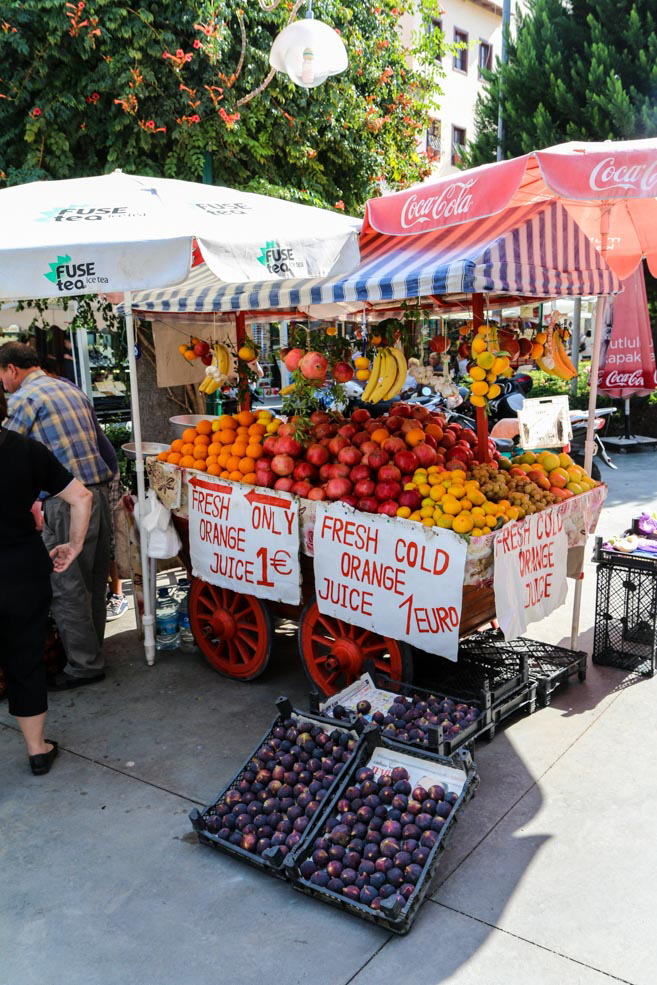 Besides all the shops, many restaurants and cafes courted their potential guests. They were quite touristy though – Irish Breakfast, Schnitzel, Fish & Chips.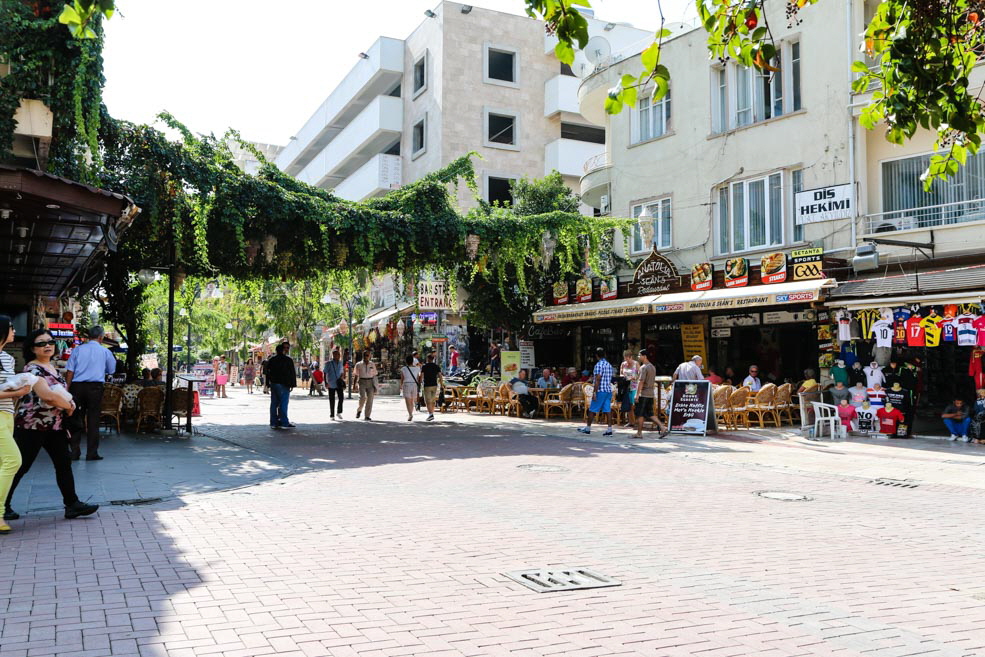 We found a tea bar at a street corner with little wooden stools and tables in the shade of a tree. It seemed to be a spot where the locals met, enjoyed their tea and talked about anything and everything. These are the kind of places we love. Time stood still here. In spite of all the people walking by and all the tourism, this is a place were Turkish men have their tea, read the newspaper and smoke their cigarettes - the way they always did.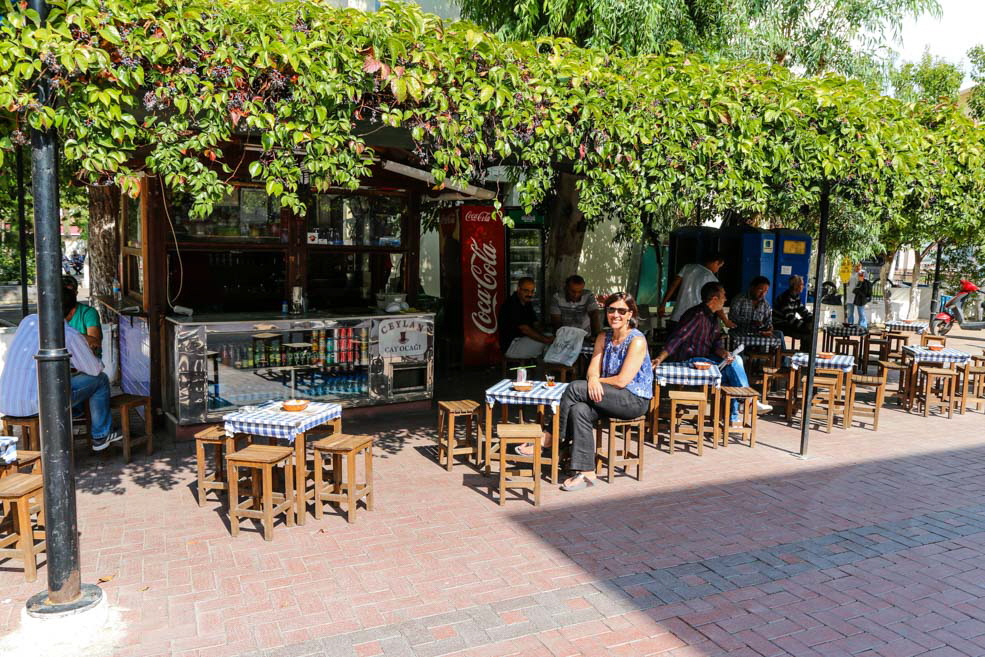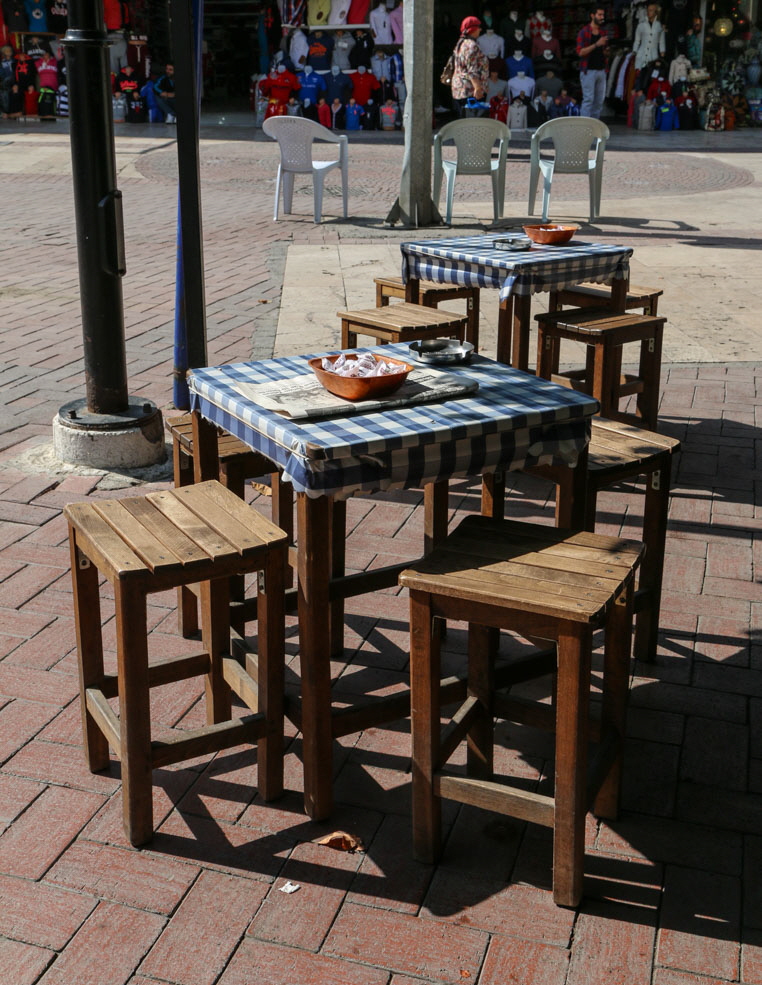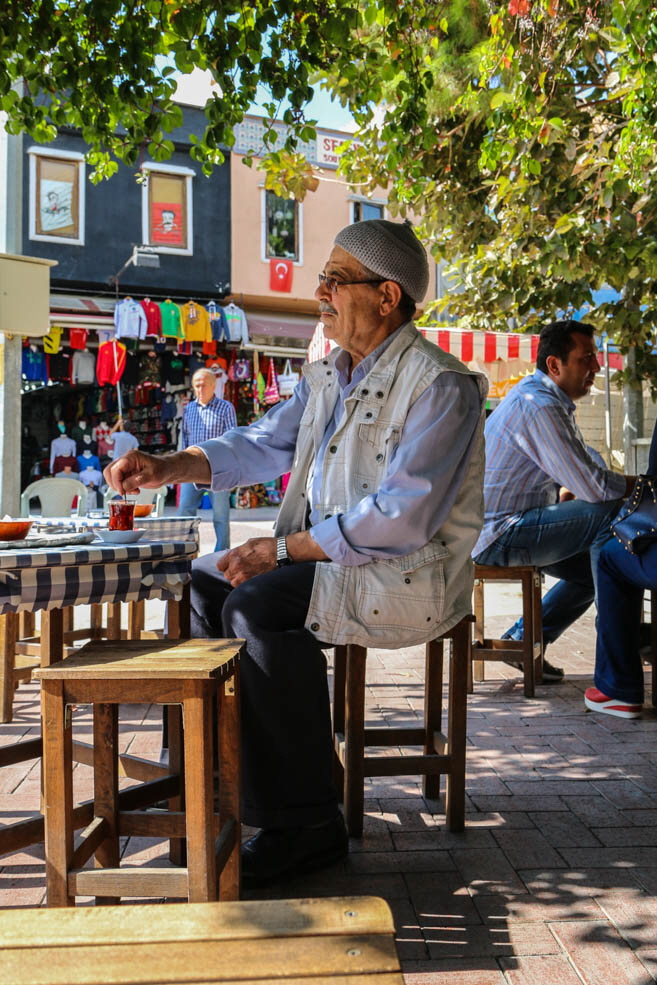 We couldn't help but smile when an English couple, who we had already met at breakfast a few times, came by – with what looked like at least 10 plastic bags – and said "Oh, hello, shopping here is magnificent, isn't it?!"

On the wall next to the tea bar we met another little local... one we would have loved to just take with us.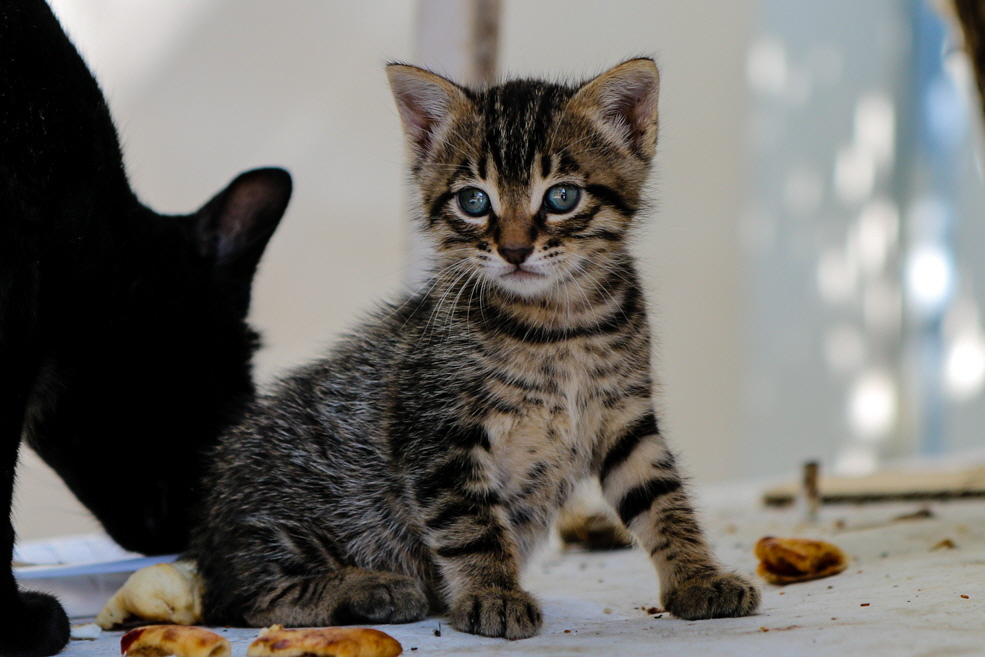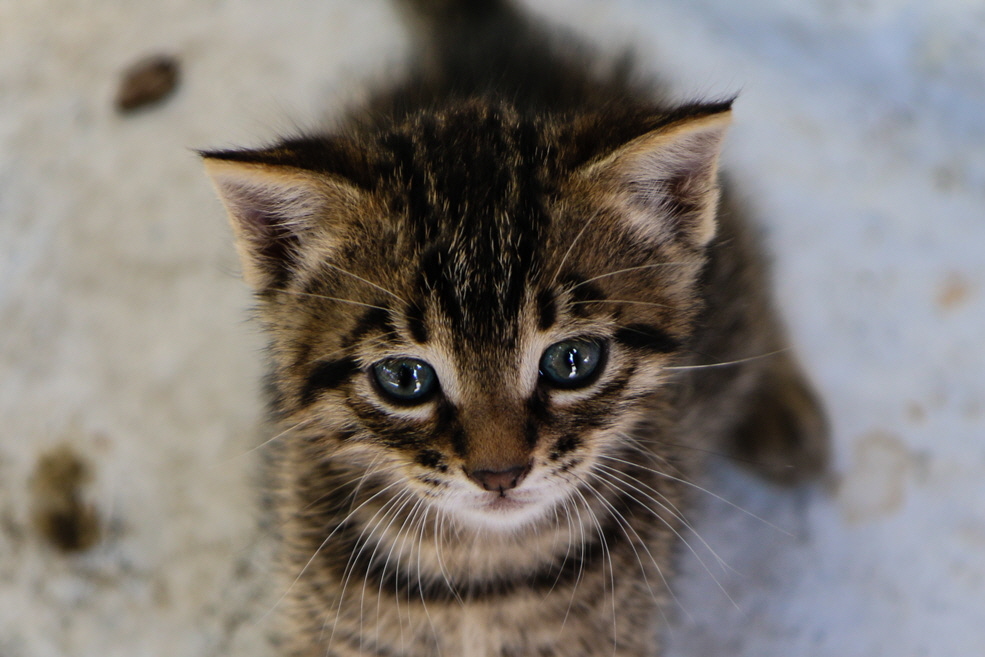 After our break we strolled through town a bit more and explored a few less touristy streets before we returned to the promenade along the shoreline.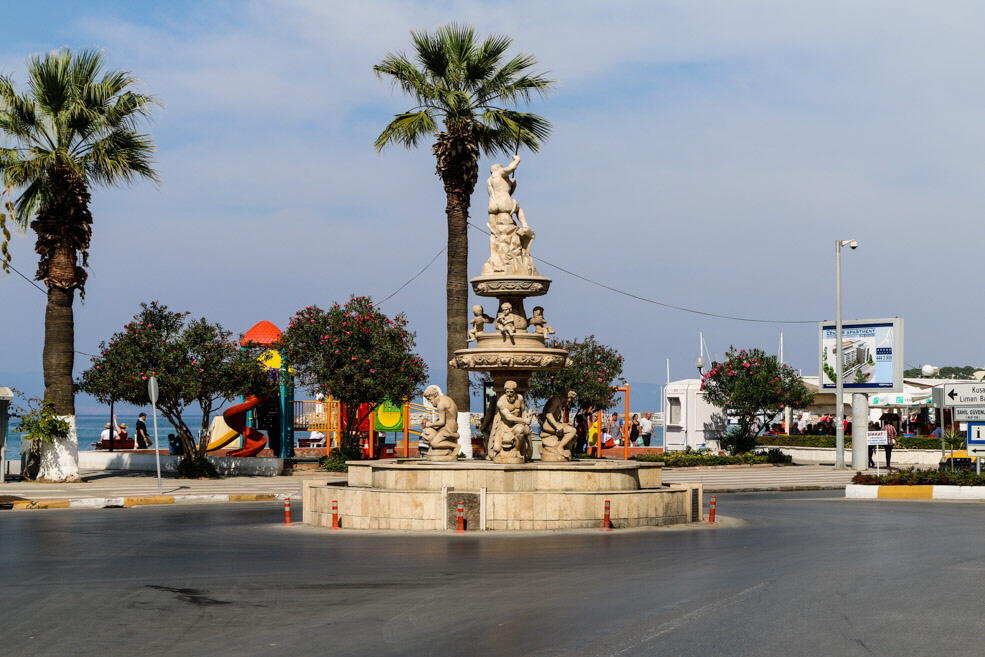 We noticed many (well fed and groomed) free-roaming dogs. This one took pride in watching a scooter.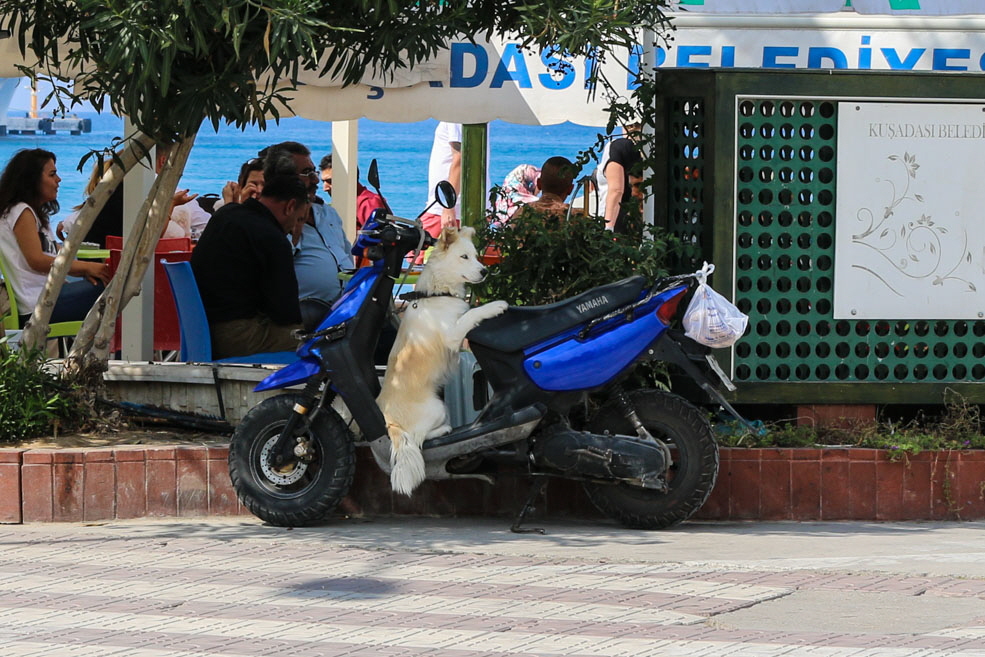 The promenade was also a good spot to take a few more pictures of our beautiful ship.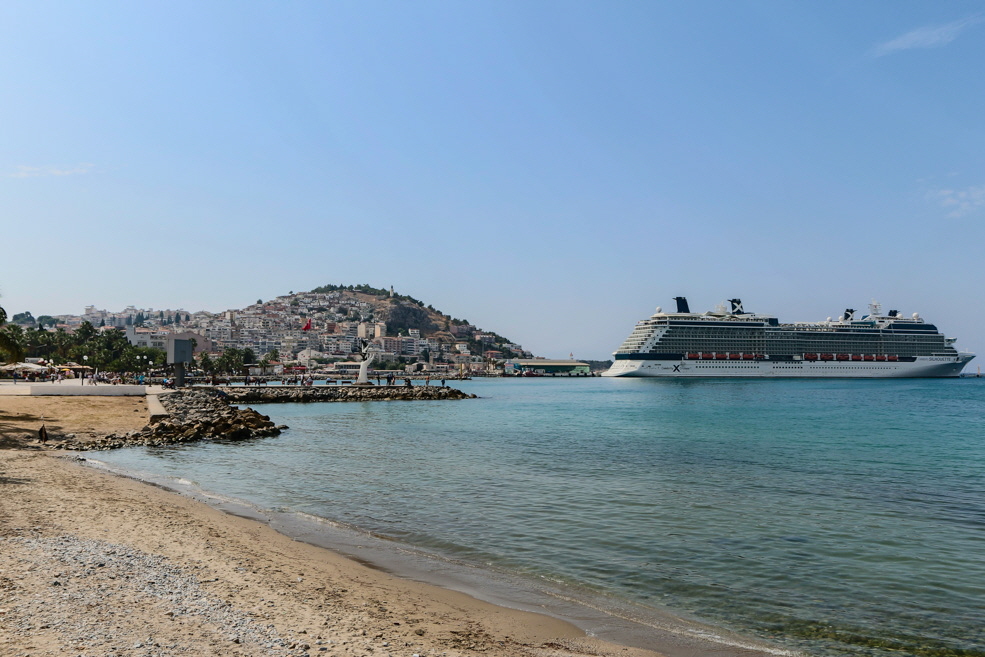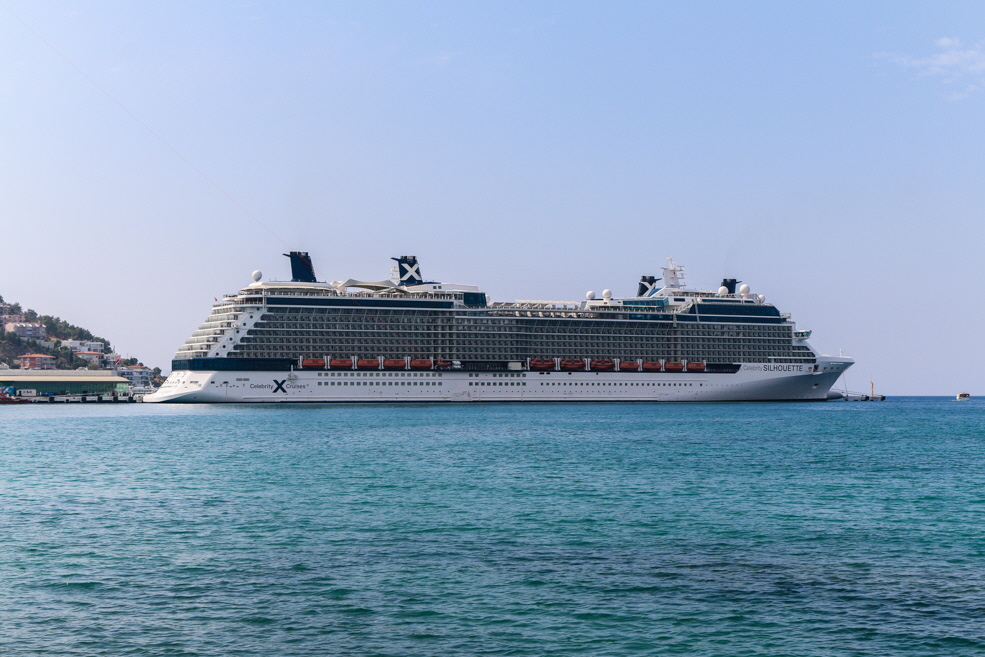 The prominent Peace Memorial rose beautifully from a pier, the stretched hand and the birds standing out nicely against the blue sky.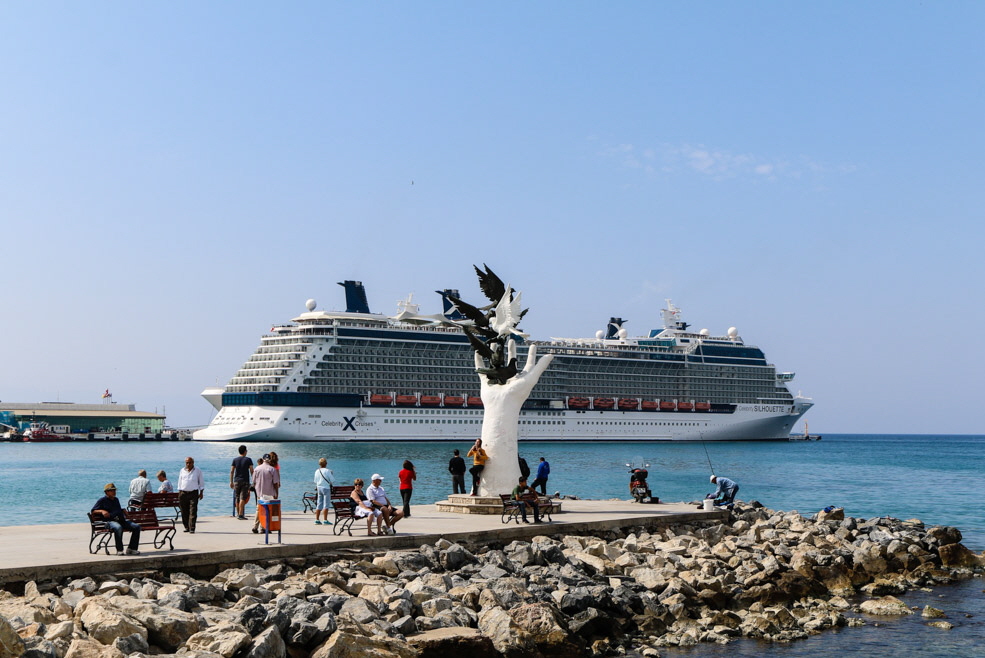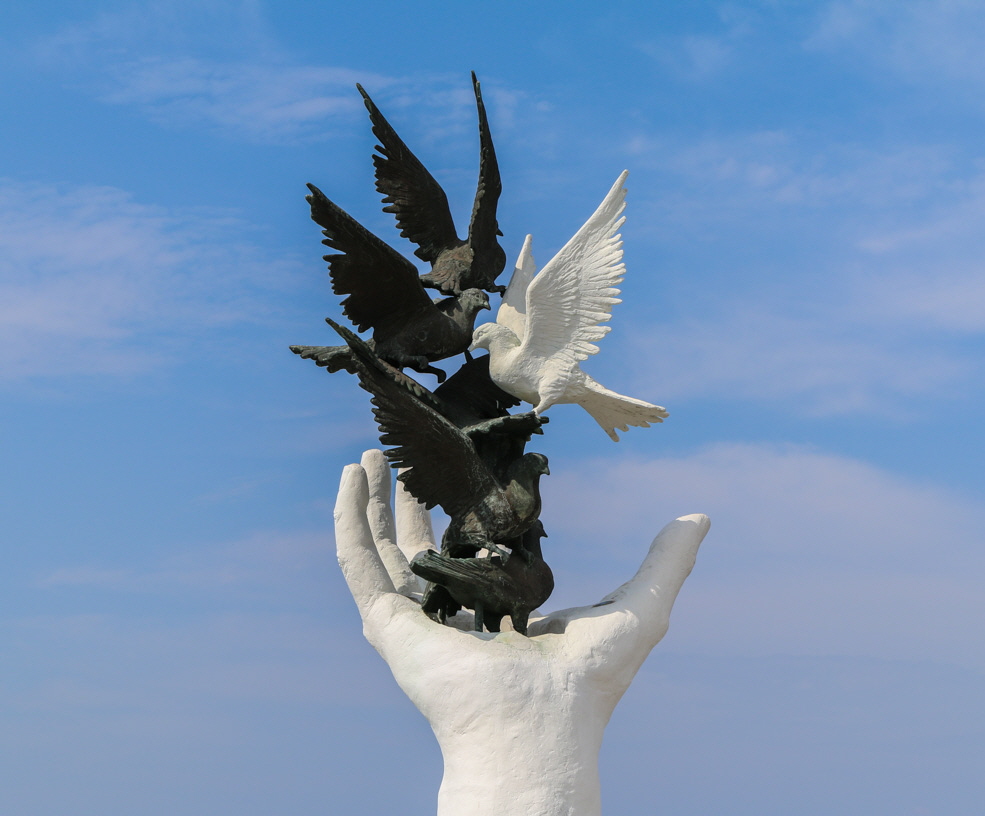 Meanwhile, the sun had become quite strong, so we followed the promenade to return to the ship.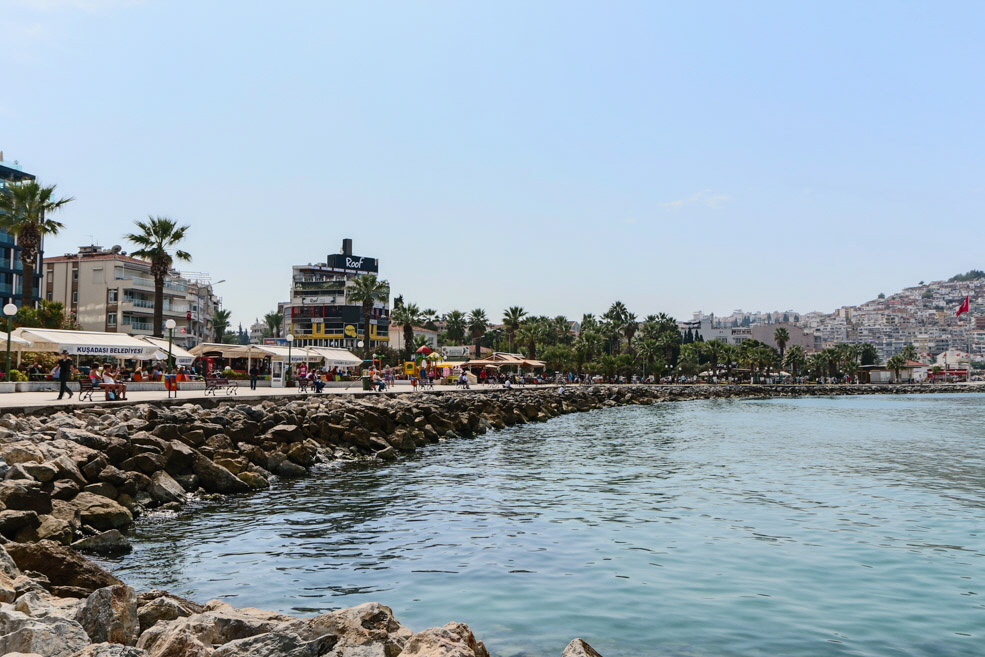 It was almost self-evident that we should find an Atatürk monument on our way, omnipresent in Turkey. Atatürk, first president of Turkey, is considered the founder of the modern Republic of Turkey. His surname, Atatürk (meaning "Father of the Turks"), was granted to him in 1934 and forbidden to any other person by the Turkish parliament.
Back at the cruise terminal we went back onboard the Silhouette. Birgit wanted to lie in the sun, and I fetched my IPad to return to one of the many cafes which were advertising free Wifi. I sat down near the colorful fishing boats, had and iced coffee, did some people watching and browsed the internet.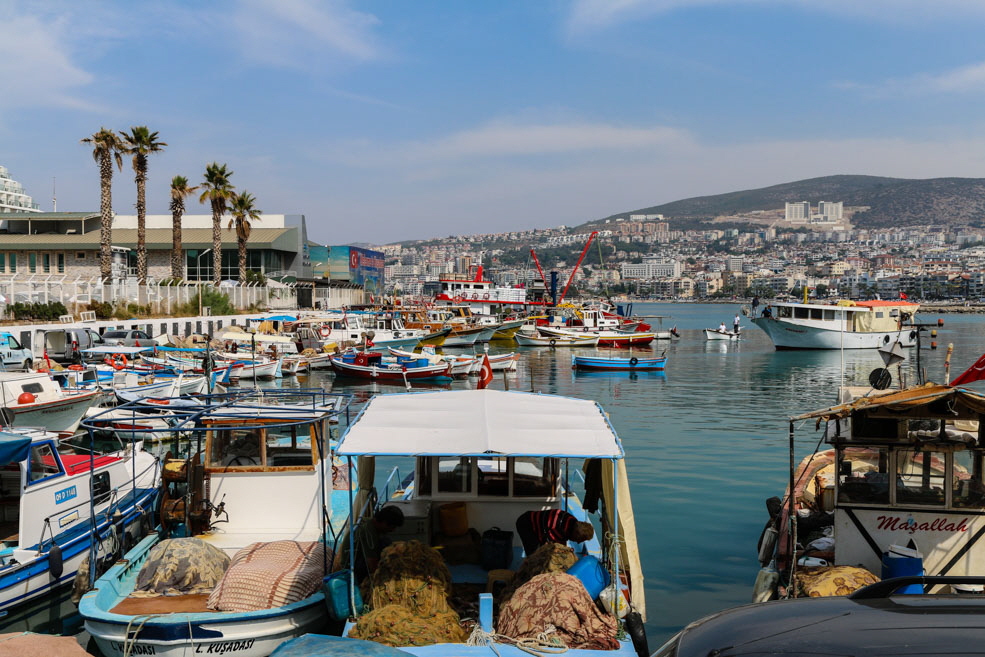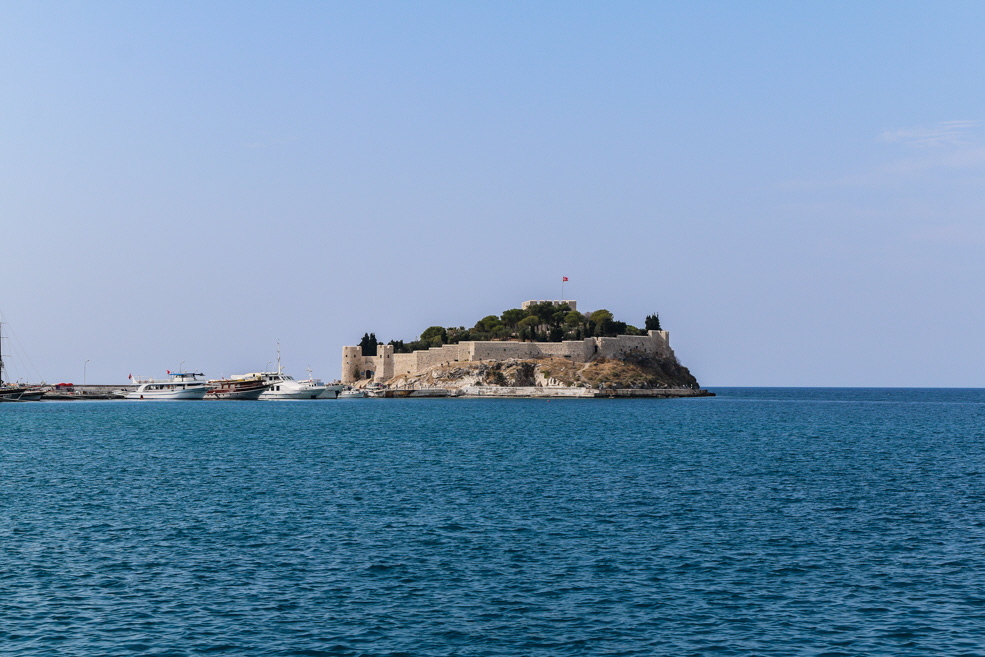 After a while, the internet suffered from a slight overload – I wasn't the only one to have that idea. Each click took ages… Never mind, time was up anyway.

We stood on our balcony when the ship left Kusadasi. It was quite a spectacle when the Silhouette left with a horn battle (which always gives me goose bumps) and the guests of both the Silhouette and the Equinox waved good bye to each other. "Bye, bye - see you in Mykonos!", "Hey, drop that bathrobe!". It was very funny and moving at the same time, which maybe only cruise lovers will understand.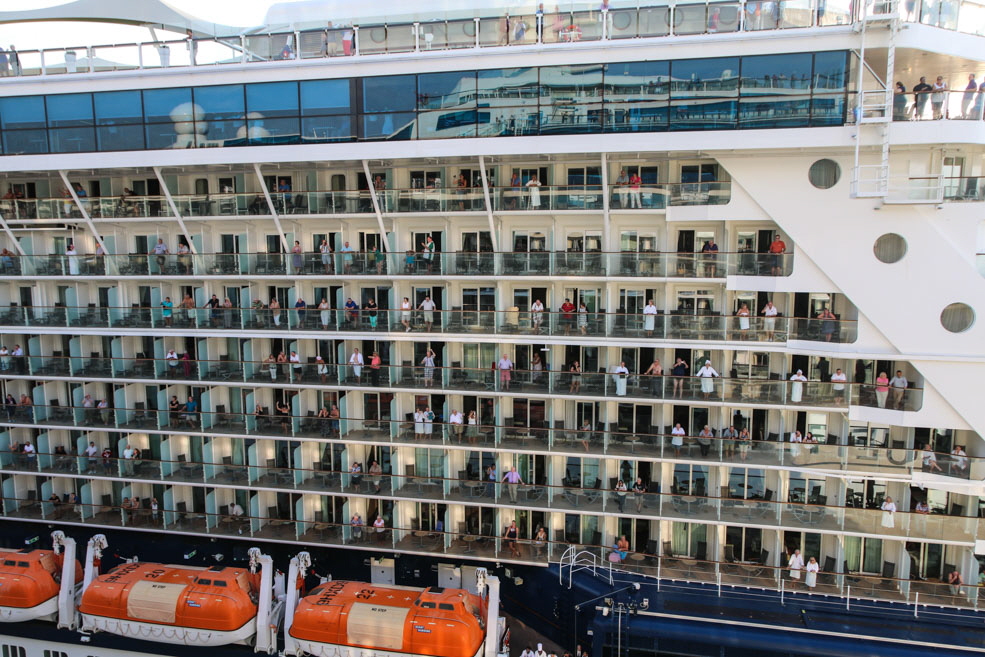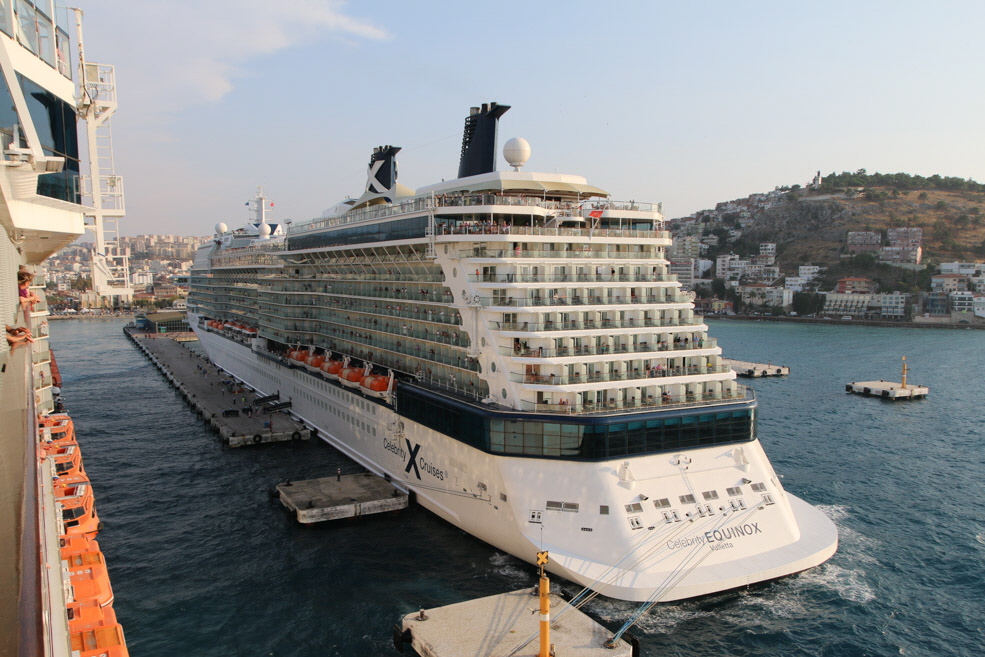 Captain Anastasios Lekkas and his team on the bridge set sail. Past Pigeon Island we sailed out to the sea in the light of the setting sun and were grateful for yet another beautiful and relaxing day.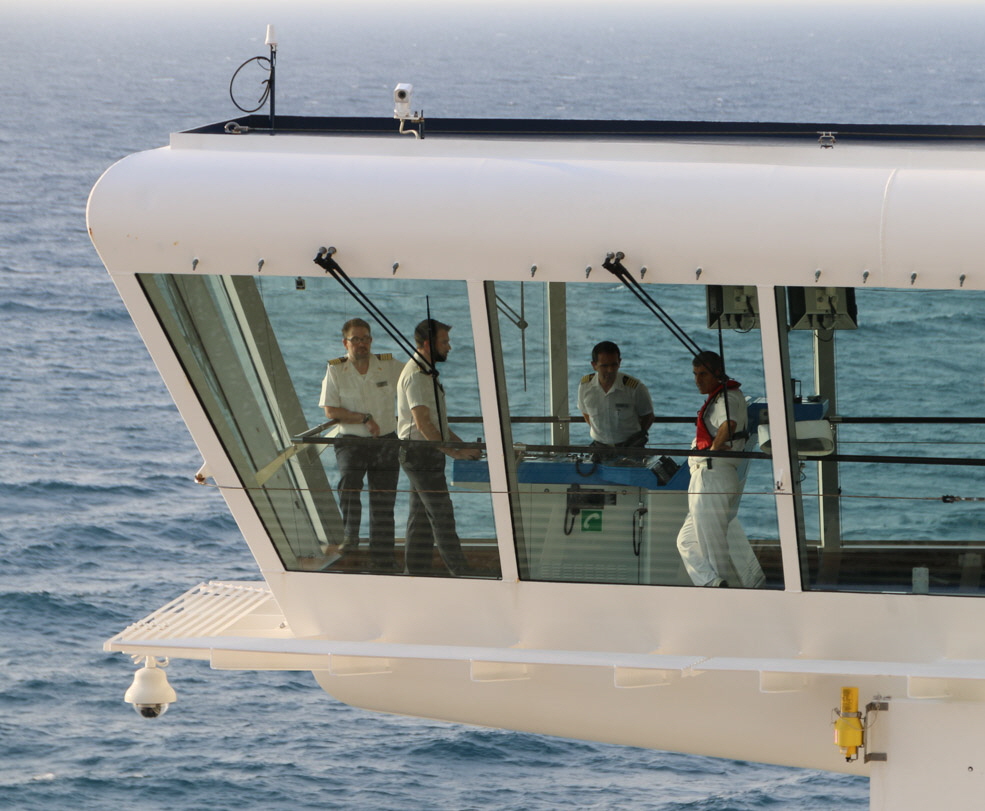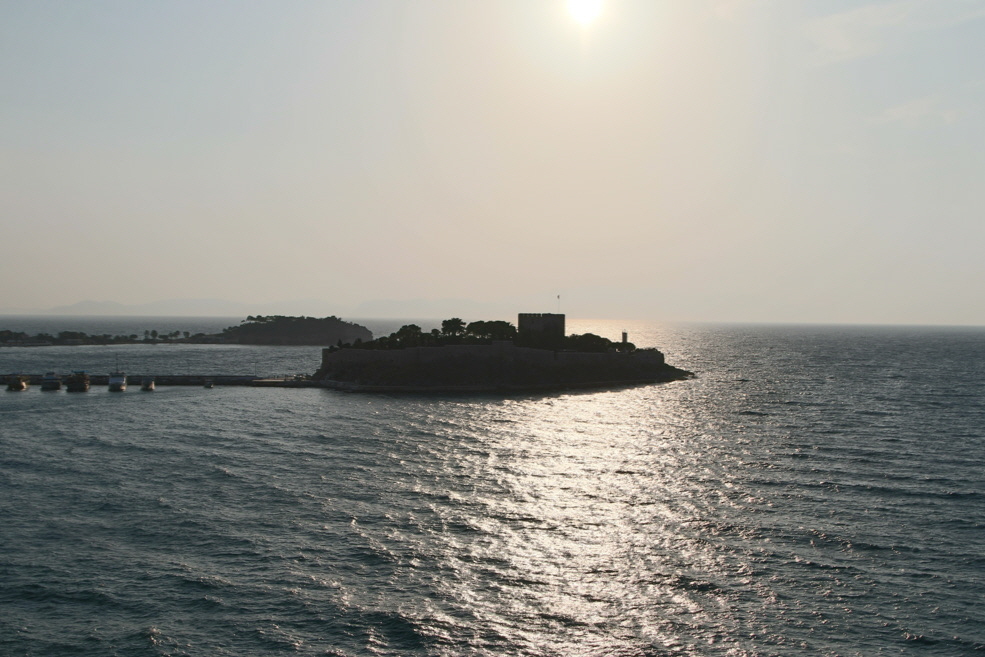 By the way, unlike young Captain Tassos on the Constellation, Captain Lekkas didn't stand out with constant presence and youthful coolness but appeared rather calm and collected. You did see him from time to time, and in the evening he'd make his rounds to BLU, where apparently he liked to eat himself, and greeted the guests with a friendly nod and a smile. This was perfectly fine with us as we aren't ones for the "Captain hype" and rather wonder if sometimes they'd prefer to be left in peace.
www.travellove.one • www.thecruise.report • www.travelandcruise.net
© 2021 Die Rechte an Texten, Fotos und Videos liegen beim Autor der Webseite. Die Nutzung ist nur nach ausdrücklicher Freigabe erlaubt.