Part 2 - Buenos Aires, Argentina
March 1st, 2015 – Buenos Aires, Argentina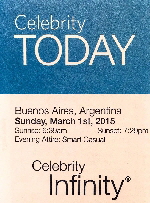 The next morning we woke up adventurous and full of excitement. But as great things cannot be achieved on an empty stomach, we started the day with another hearty breakfast at the hotel. In order to avoid a rush later in the day, we checked out after breakfast and left our luggage at the front desk.

During our stroll through San Telmo the previous day we had skipped Plaza Dorrego. The square is the cultural heart of San Telmo, and we knew from a friend that this heart beats particularly strong on Sundays, when it comes to life with the "Feria de San Telmo", a huge flea and antiques market. We were surprised to see that the market ranged from Plaza de Mayo all along Defensa Street all the way to Plaza Dorrego.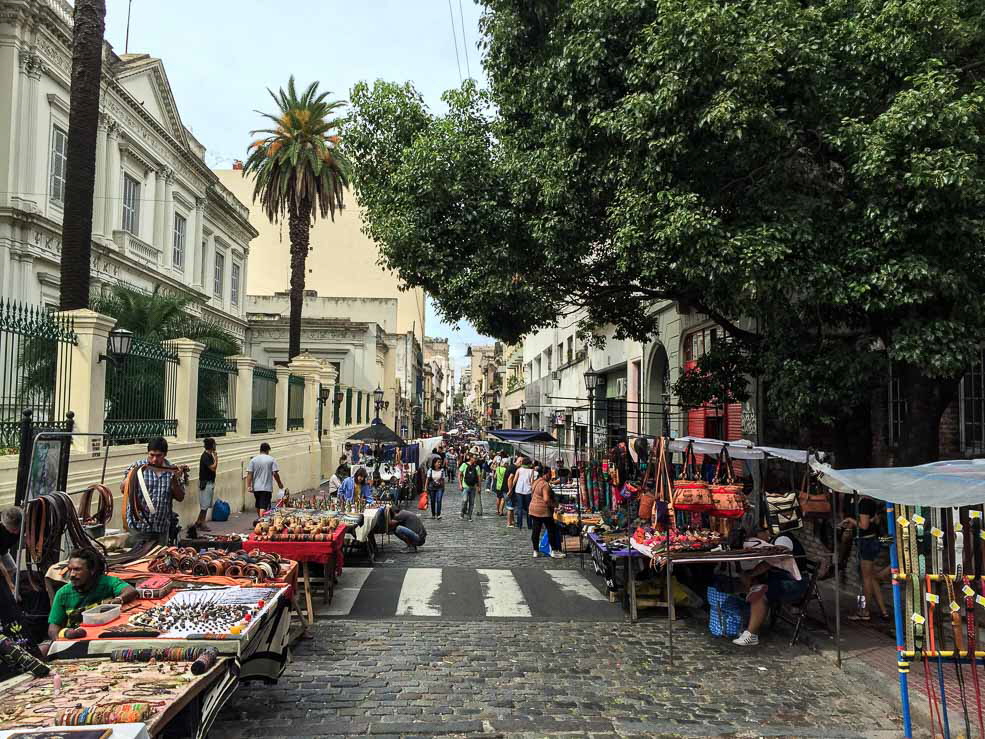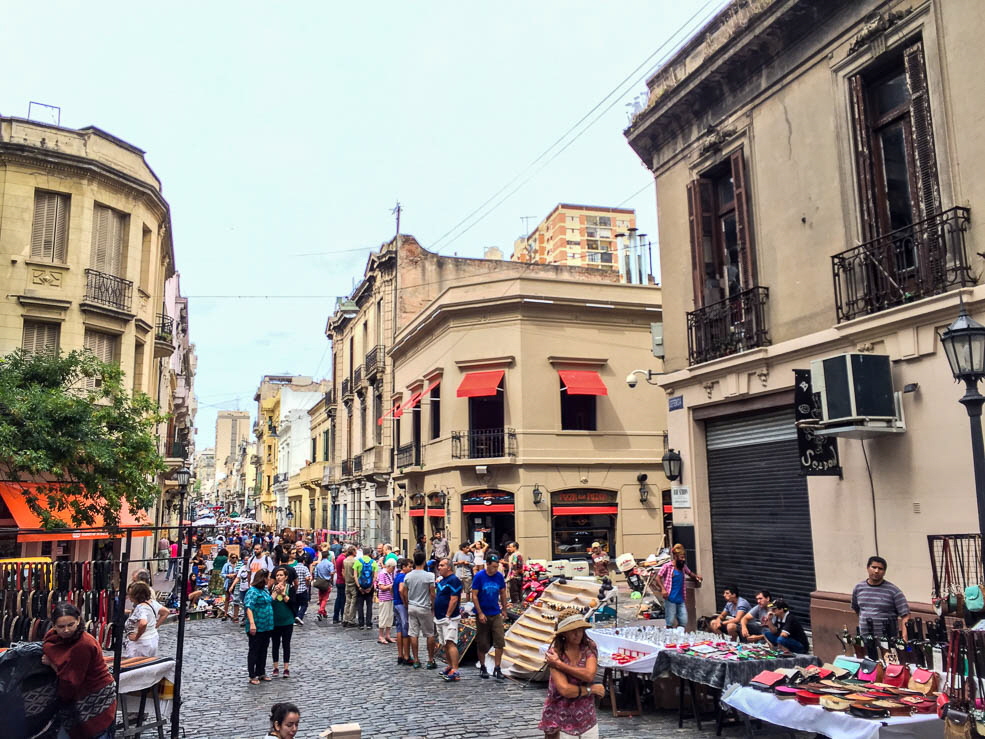 Colourful stalls with all kinds of leather goods, jewelry and clothes enticed not only foreign visitors but also native "Porteños", who enjoyed a Sunday stroll.

Many of the stands sold Mate cups in all shapes and colors together with the "bombillas", their matching metal straws.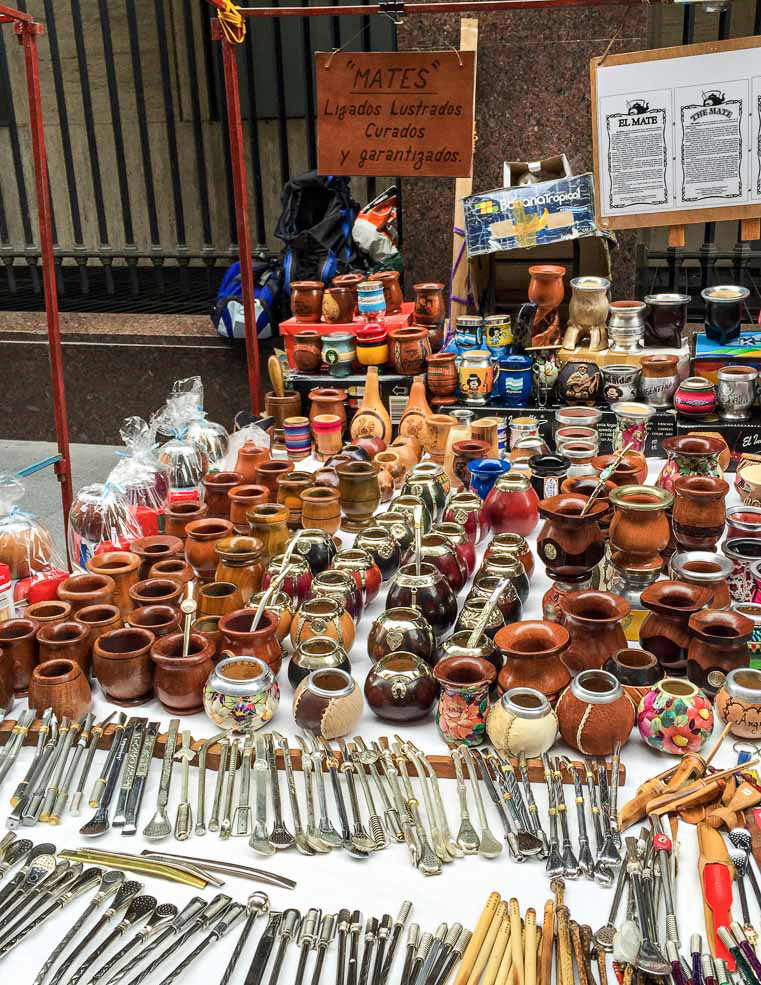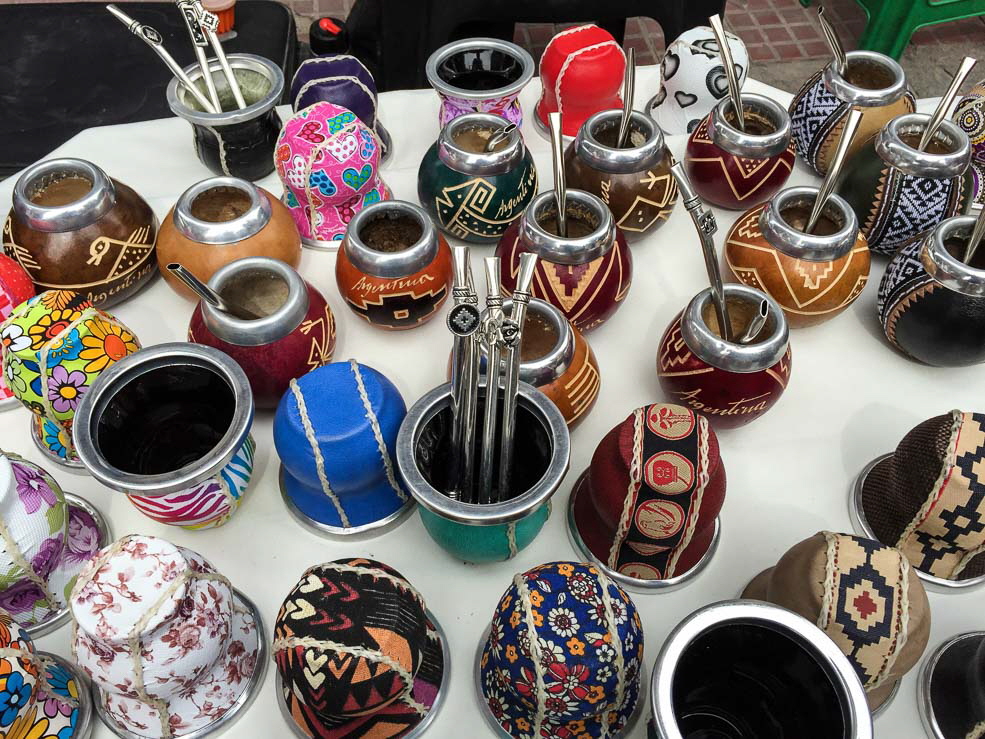 The stroll through the street was a delight. Traders were joking with each other and courted their customers. Tourists discussed the goods laid out in front of them in various languages, and each glimpse left and right offered more new impressions and the opportunity to dive into this spectacle which takes place every Sunday. We felt we had arrived in this fascinating and diverse world.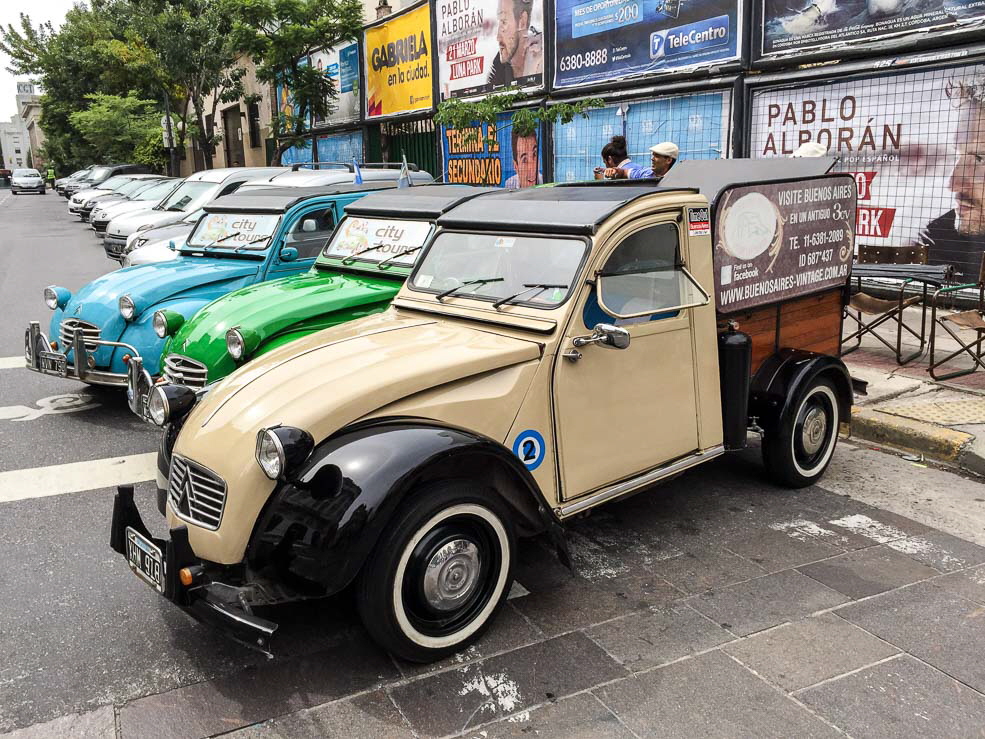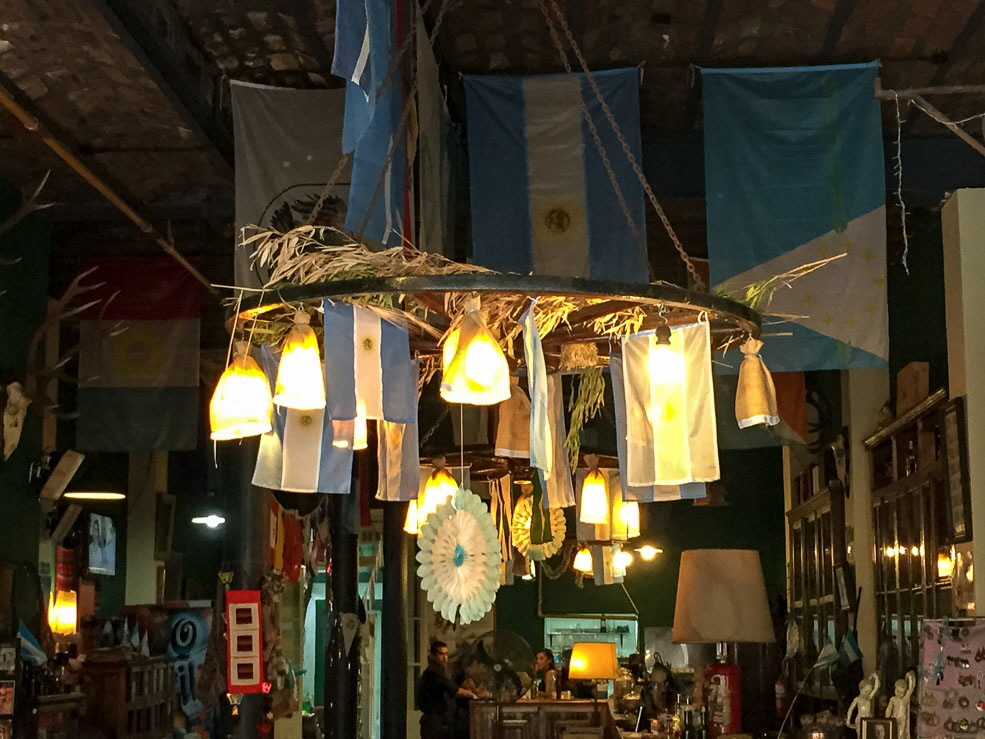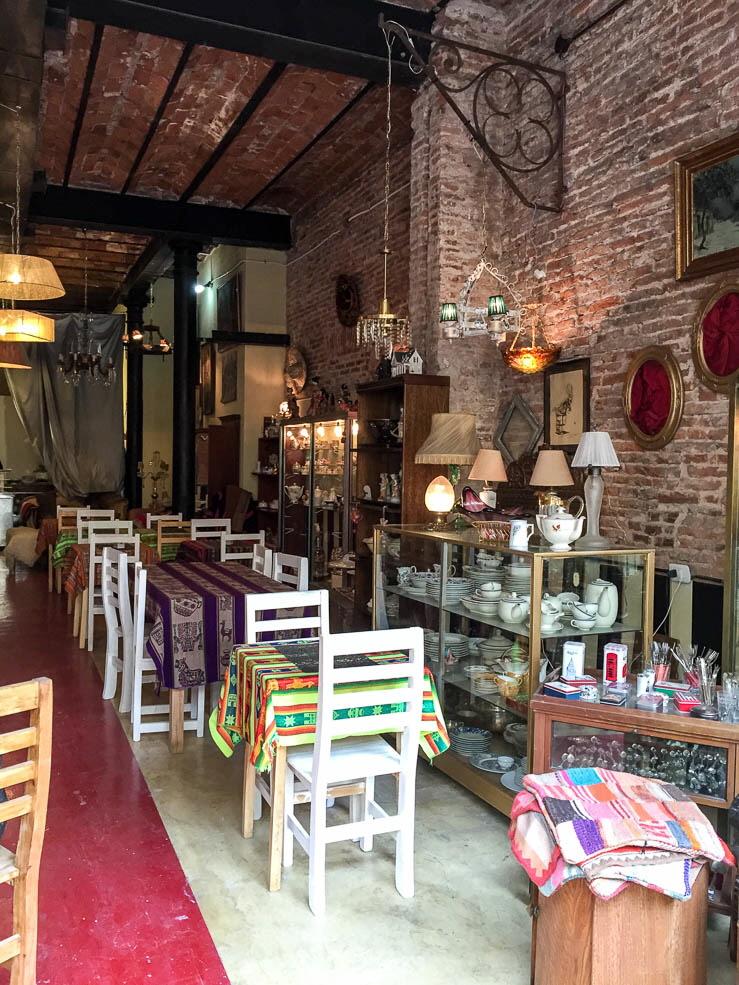 The market along the street took us directly to Plaza Dorrego, where one of the busy corners welcomed us with the sound of South American music. A guitar duo was playing live and tango dancers offered to teach their skills to willing, or better daring, tourists.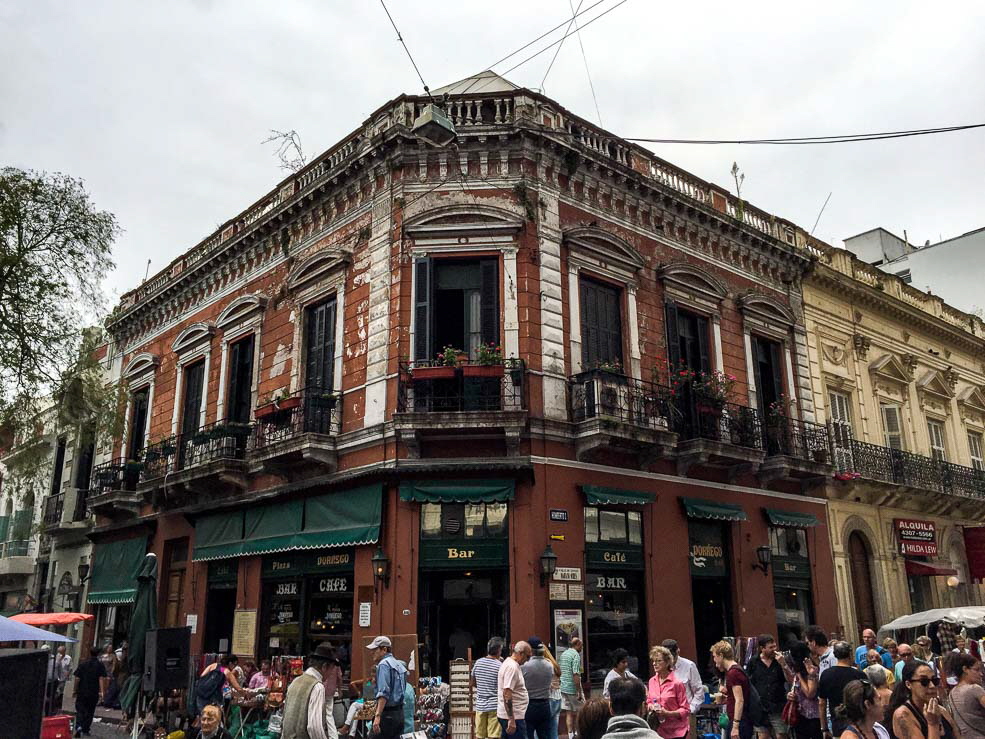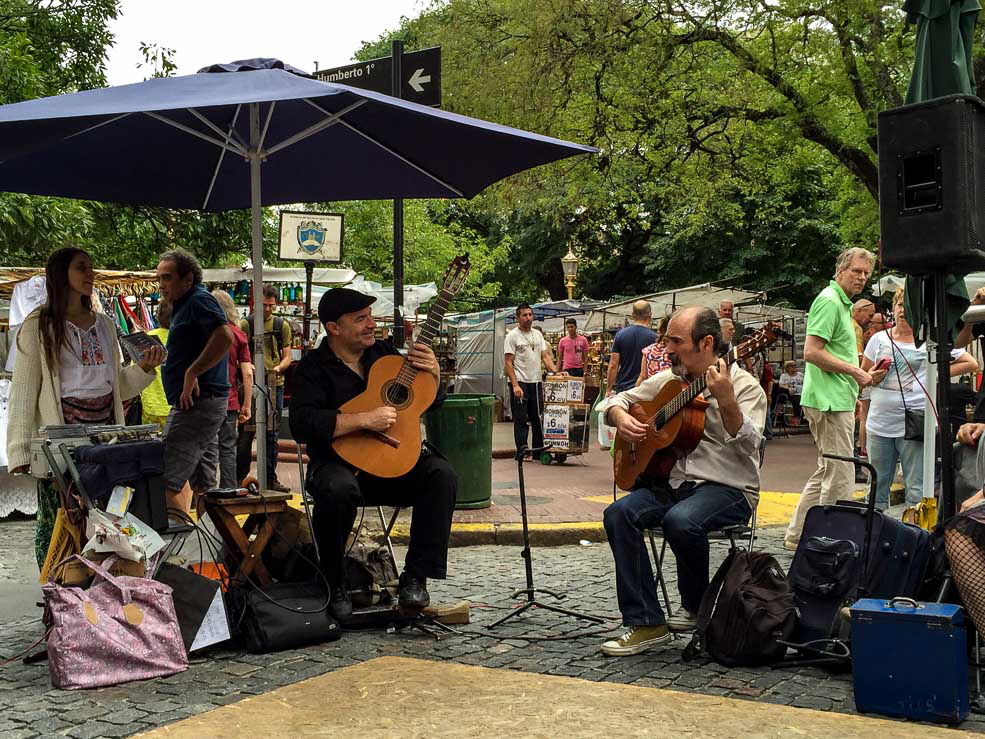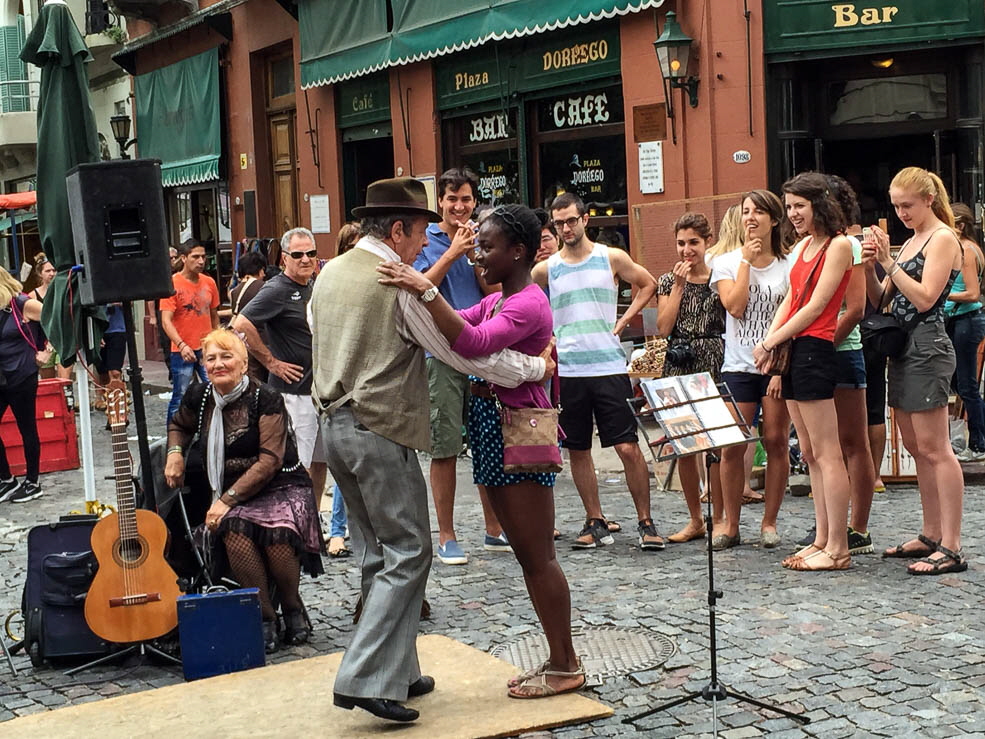 We were lucky and found an empty table directly in front of Café Dorrego. Over a coffee and a cappuccino we watched the world go by and soaked up the mood around us. We love those moments. Where we find ourselves in a new place, just pause, enjoy the moment over a drink and absorb all the different impressions. It's those beautiful moments which we are sure to remember for a long time.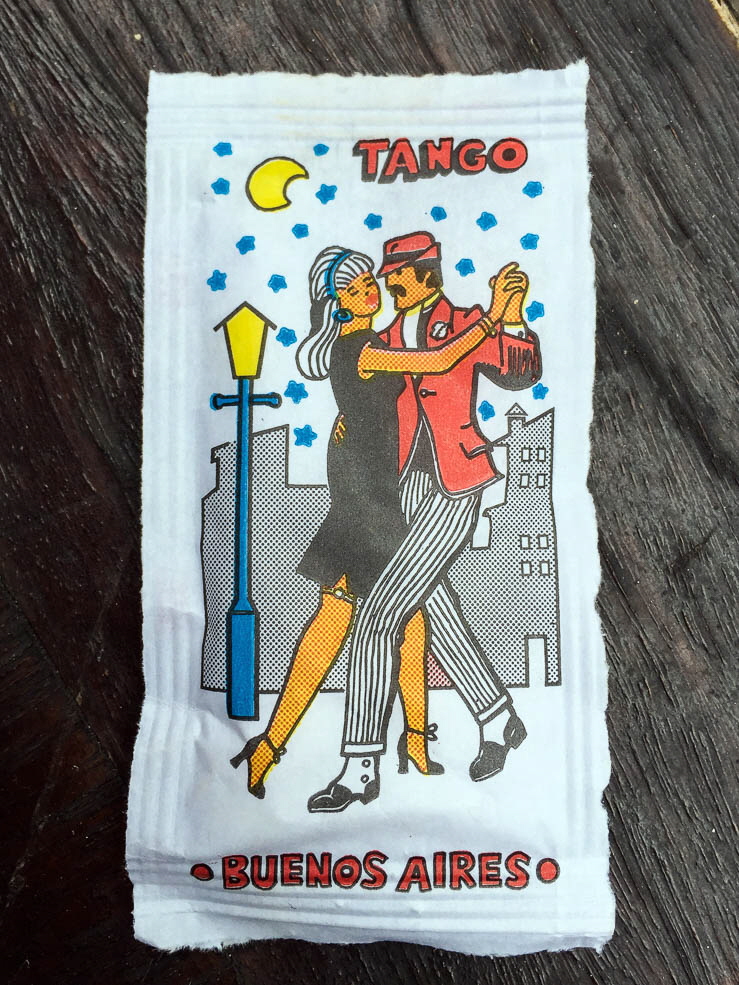 The guitarists accompanied our joy of such moment with beautiful music and at the same time delviered a soundtrack to the life on the square. When they started playing the Concierto de Aranjuez, I got goose bumps. It was perfect! What a moment, what a memory!
In the meantime, Birgit had already cast an eye on a little jewelry stand directly next to our table. The girl behind the stand seemed very nice and the jewelry was pretty, typcial of the region and not overpriced. Birgit bought herself a ring as a souvenir which she still loves to wear. Even now, each time we look at the ring, it brings up the memory of this Sunday morning on Plaza Dorrego.

On our way back I looked at a few stands which to me were far more interesting. What I'd buy there I'd also be sure to carry with me as a souvenir – unfortunately mainly on my hips, which is why I reluctantly resisted...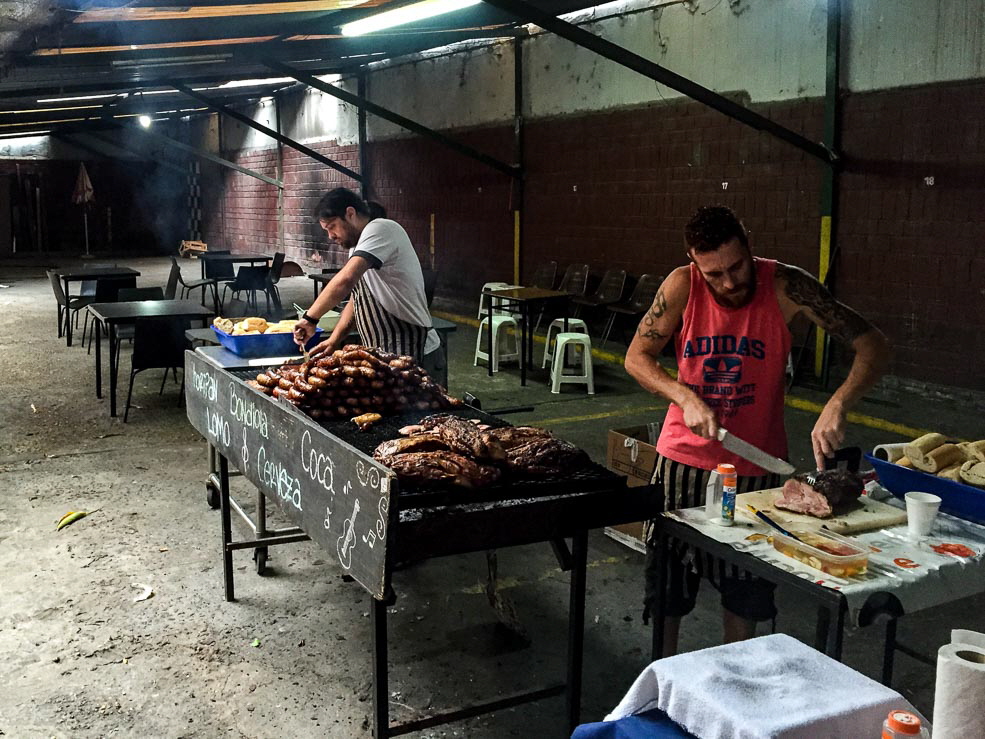 On our way to the hotel the sky grew darker and darker. A light summer rain had soon turned into a heavy downpour accompanied by the deep rumbling of a thunderstorm. We hailed a passing cab to take us back. Unfortunately, the President delivered a speech at Casa Rosada that day, which is why many roads were blocked. Even our taxi driver cursed about the many blockages and diversions. He was very friendly and apologized that he had to take quite a detour. At the hotel, we asked him if he could wait a few minutes and then take us to the port once we got our luggage. Happy about another tour he agreed, waited for us and then took us to the cruise port.

Check-in went fast and smooth. After only a few minutes we boarded the Celebrity Infinity, our home away from home for the next 14 days.

Although its style is slightly less modern than the Solstice Class, we immediately felt comfortable. The glass of welcome-champagne served with a genuine smile, the staff's friendly "Welcome back" and the amusing small talk with a waiter from whom we bought our soda and wine packages, all this made us feel immediately welcome.

After a short snack lunch at the Ocean View Café, where there was less hustle and bustle than usual on embarkation day, we could already access our stateroom. As I didn't like the overhang over the verandas of the midship Aqua class staterooms on the Constellation, we had booked a cabin on deck 11. These staterooms were added later to the aft of the ship. The advantage was that, looking up, our veranda was completely open and our room was always flooded with natural daylight. Great view, no obstructions at all.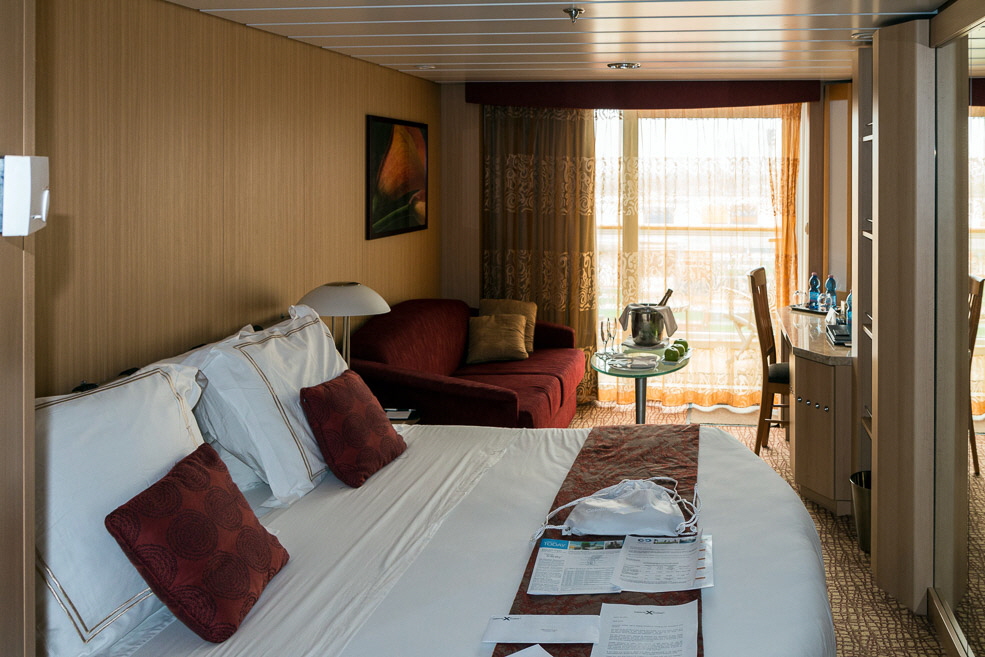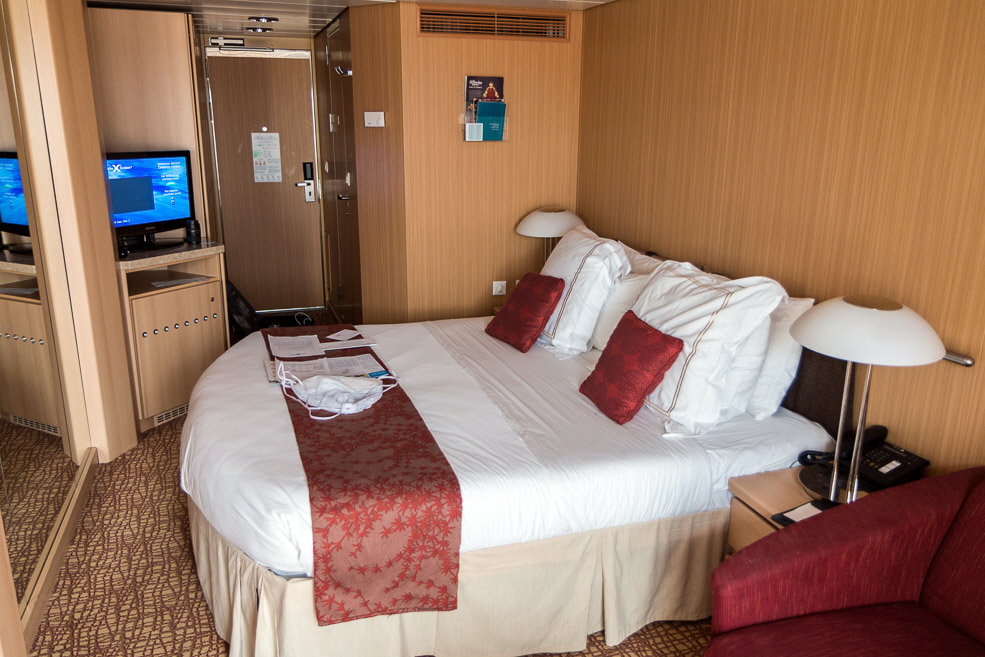 We didn't have to wait long for our luggage. When delivering our suitcases, our stateroom attendant took the opportunity to introduce himself. Throughout the whole cruise, he and his assistant kept our cabin in pristine condition, and it was always nice to talk with them when we met them in the corridor. Whenever either of them saw us come up the stairs or exit the elevator, he hurried towards our stateroom and unlocked the door for us with a genuine smile.

That evening we were able to enjoy the sunset from our veranda with the sinking sun reflected in the glass fronts of BA's financial district.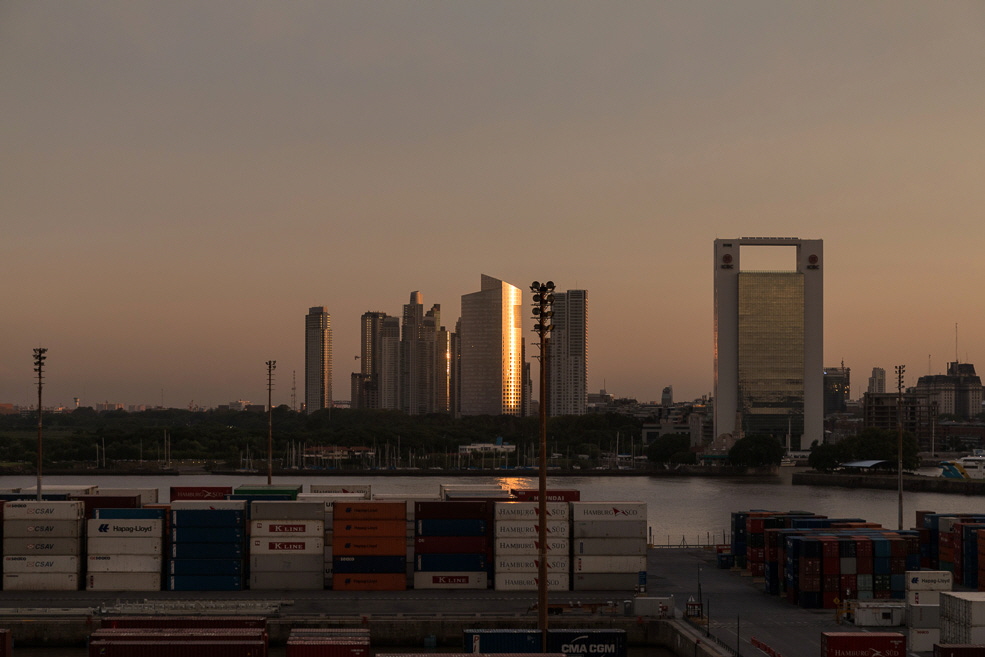 All afternoon we had been looking forward to our dinner at Blu. Here, like everywhere else on the ship, we were given a warm welcome and a genuinely friendly service. The food was excellent and the restaurant a delight with its warm lighting and the lack of any hectic or background noise. We immediately remembered why were hooked on Aqua Class and the Blu.

The quick nightcap we had after dinner was exactly that: quick – it didn't take long until we enjoyed the first sleep in our cosy bed.
www.travellove.one • www.thecruise.report • www.travelandcruise.net
© 2021 Die Rechte an Texten, Fotos und Videos liegen beim Autor der Webseite. Die Nutzung ist nur nach ausdrücklicher Freigabe erlaubt.