Part 6 - Puerto Madryn, Argentina, Seaday
March 6th, 2015 – Puerto Madryn, Argentina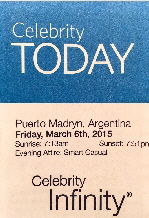 Today was one of the days to which we had been particularly looking forward to. During our research for the trip we had come across Lobolarsen.com, a diving school that also offered snorkeling with sea lions. The reviews on the internet and the videos were great. The sea lions, who live in one particular spot, basically have no fear at all, and on the videos they actually seemed happy about the opportuniy to playfully and elegantly invite the visitors to glide through the water with them. We wanted to do that, too! As did Mary and Bob, with whom we had already done the Buenos Aires and Montevideo walking tours, and who, after a previous E-mail exchange, had signed up as well.

The prior correspondence with Lobolarsen was very friendly and informative. They were always nice and helpful in their replies to our questions and the information of how and when we could to get to the diving school was unproblematic. We caught one of the first shuttle buses waiting outside the ship, which took us to the center of the little town that was Puerto Madryn and then walked down the main street directly to the diving school. But unfortunately, nobody was there... Surprised, we waited a few minutes and then headed towards a second location which was indicated on a map stuck to the door. It was just a few blocks down, directly on the beach, but nobody was there either. We asked someone from a surfboard rental who told us that the group had left 3 minutes before for the other office – apparently we had walked passed each other. So back we went...

Back at the office we actually met a girl, who was just helping a few people out of their diving suits, who apparently had just returned from their encounter with the sea lions. She looked at us a slightly surprised, "You had a booking, right?" Uhm - yes, we did?! She asked us to wait a little. When the others were done, she asked us whether we hadn't received an E-mail. With no internet at sea, we naturally hadn't. Very friendly, the young lady explained that the behaviour of the sea lions had changed recently and that they were only interacting during high tide. That's why they had sent us an E-mail asking us to arrive by 6.30 am so we could still catch the high tide. This wouldn't have been possible for us, as we didn't get in until 8.00 am.

Our disappointment was growing, and some of us were a bit angry, too. The girl called the captain of the boat, who had just headed out again. He confirmed that the tide was so low that the whole undertaking would make no sense at all. Both offered to got out – but added that we wouldn't have the experience we had come for. Birgit was close to tears with disappointment, Mary slighty mad and I felt a mix of both. Bob, on the other hand, seemed relieved that he didn't have to get wet in the cold water.

At USD 200 per person, the tour wouldn't have been cheap. That's why, after my first disappointment, I appreciated that Lobolarsen didn't just take our money but honestly explained the situation. With a heavy heart we decided not to go and asked whether they knew of any alternatives. The girl gave us the name of a tour operator in town offering tours to the Valdes Peninsula, the penguin reservation Punta Tombo and other destinations.

On our way there we passed a car rental and discussed whether we shouldn't just rent a car. The price of USD 140 for the car was most likely too high, but at $ 35 per person it was still way less expensive than the other tours on offer and not even close to the amount we had originally planned.

The problem wasn't that I didn't have my driver's license on me – one wasn't too fussed about that – but that we had left our credit cards on board. The manager gave us a driver who took us to the ship and back so we could fetch our credit cards, cameras etc. On our way we asked the driver how far it was to Punta Tombo, the penguin reservation. If we couldn't swim with sea lions, we wanted to at least walk with penguins. His information on distance and time was very vague, something in between one and two hours. One hour would have been ok and within our time frame. Two hours would have been cutting it very close and causing some sweat on our foreheads. Back at the car rental the manager gave us yet another indication and Mary, who had asked at a tourist information just outside, still got a different, little reassuring information. I offered that we could just make our way to Punta Tombo, get an idea of the distance on the way and then decide what to do.

Off we went... it just wasn't that easy. There were no road signs for the few roads indicated on the rough map we had gotten at the car rental – numbers 1 and 3. As this had been an impromptu tour, we didn't have any other maps either. So Bob acted as our navigator from the passenger seat and the adventure began - naturally more on intuition and a rough sense of direction than with much knowledge of the place. The streets in town were already "strange". From a well paved road we turned off onto dirt roads just to continue on pure gravel after the next turn... leading back to something which, with a lot of goodwill, could actually be called a road. It was fun. Eventually we hit Route number 3 after a while, one of the streets leading to Punta Tombo according to our map. Shortly behind the city limits, the tarmac ended and the street turned into a gravel road. Back home, forest tracks would have been in better condition! Although it wasn't my own car, each pothole hurt – not only my back but also my soul. When a car came towards us, we were blind with the dust cloud it left behind. 50 km/h (30 mph) were feasible on that road, 60 km/h (38 mph) were almost adventurous, and when I boldly tried to get the speedometer up to 70 km/h (45 mph), it felt like it wouldn't only blast our ears off but also every single fixture of the car. This made no sense! Even the shortest of all the time indications we had gotten for Punta Tombo didn't seem feasible in the amount of time we had available.

We stopped and consulted. We agreed that alternatively we'd drive to Punta Loma where, from the top of a cliff, we could watch the sea lions with which we were originally supposed to snorkel. On the map, the distance to the viewpoint looked manageable and since the street leading there was impossible to miss (it followed the coastiline) it also seemed easy enough.

At the entrance of Punta Loma we paid a few Pesos admission and left our faithful and battered vehicle at the parking lot.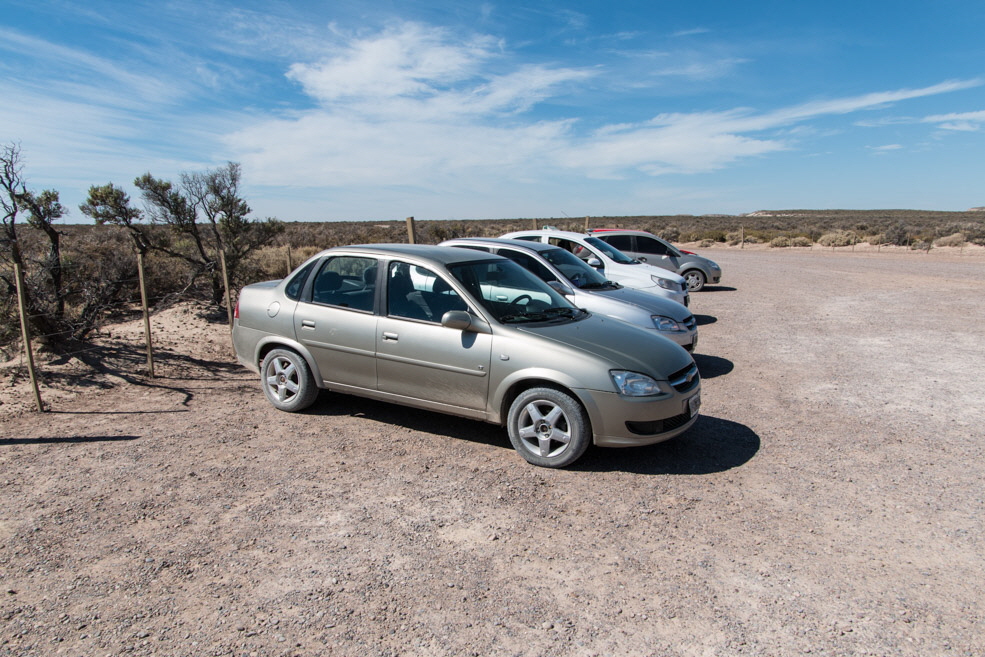 From a lookout atop a cliff we could look down on the lazy bunch of sea lions having their siesta in the sun. They came in all sizes, from large males watching over the pack to cute little cubs.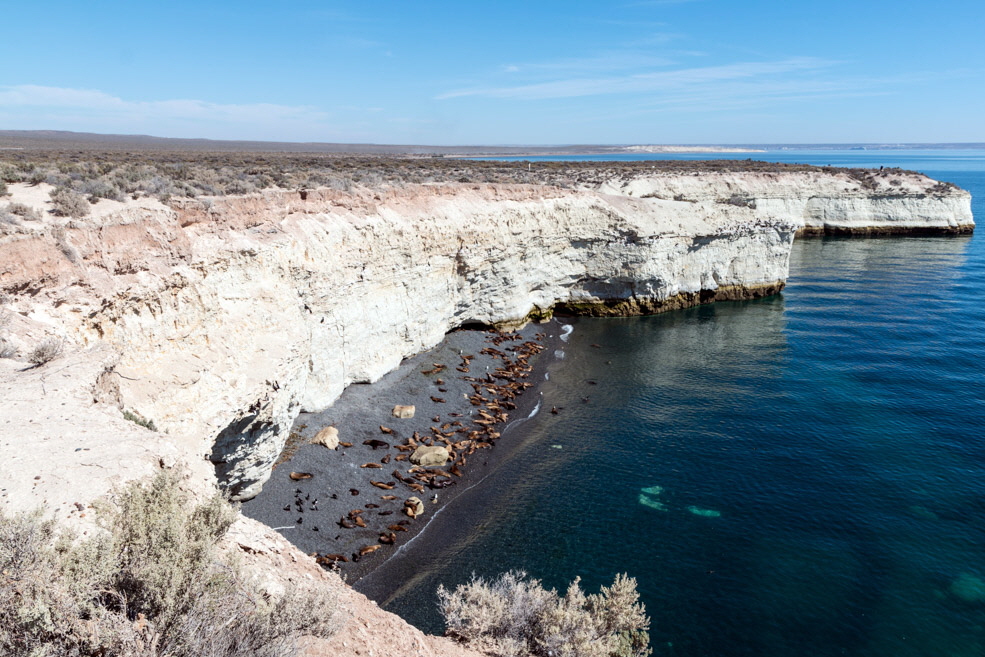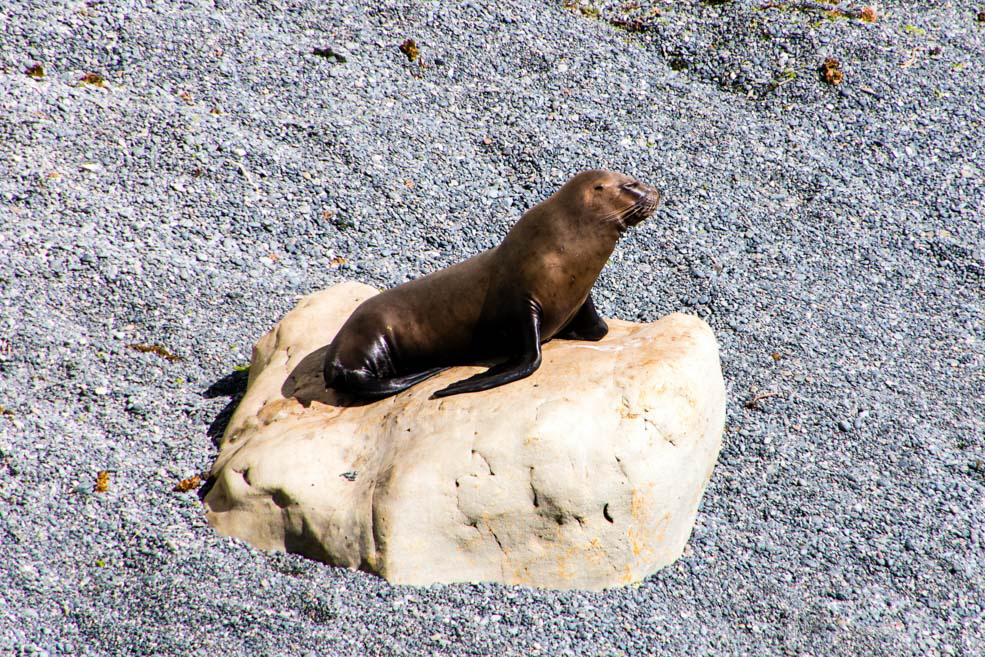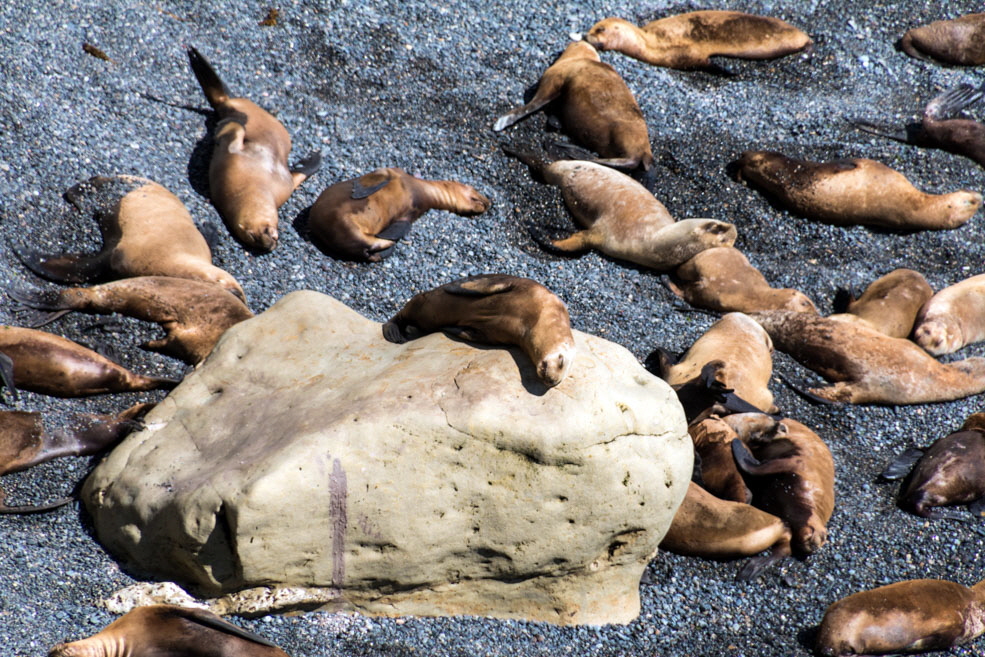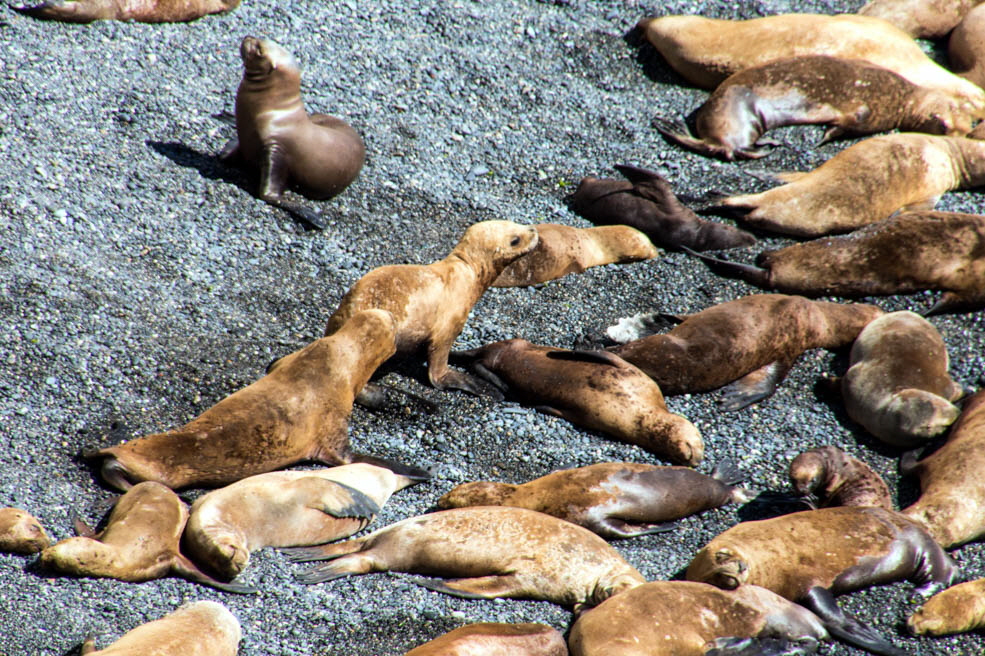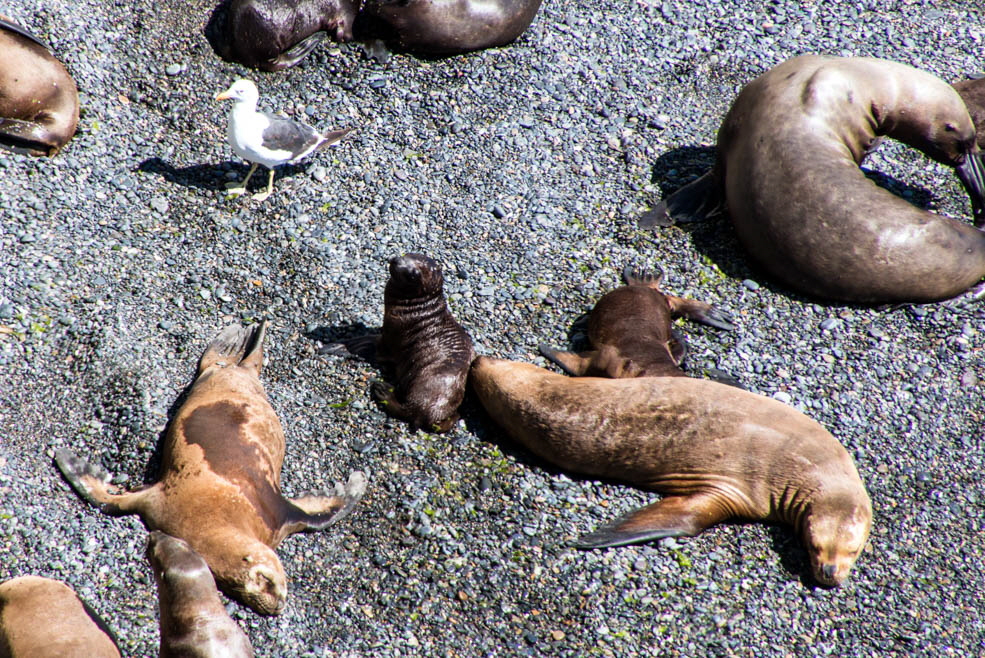 Besides the sea lions there were also different species of birds who sat on the cliffs near the lookout or went for a bath in the sea. Judging by the looks of the birds, it wasn't sure though who was actually watching whom.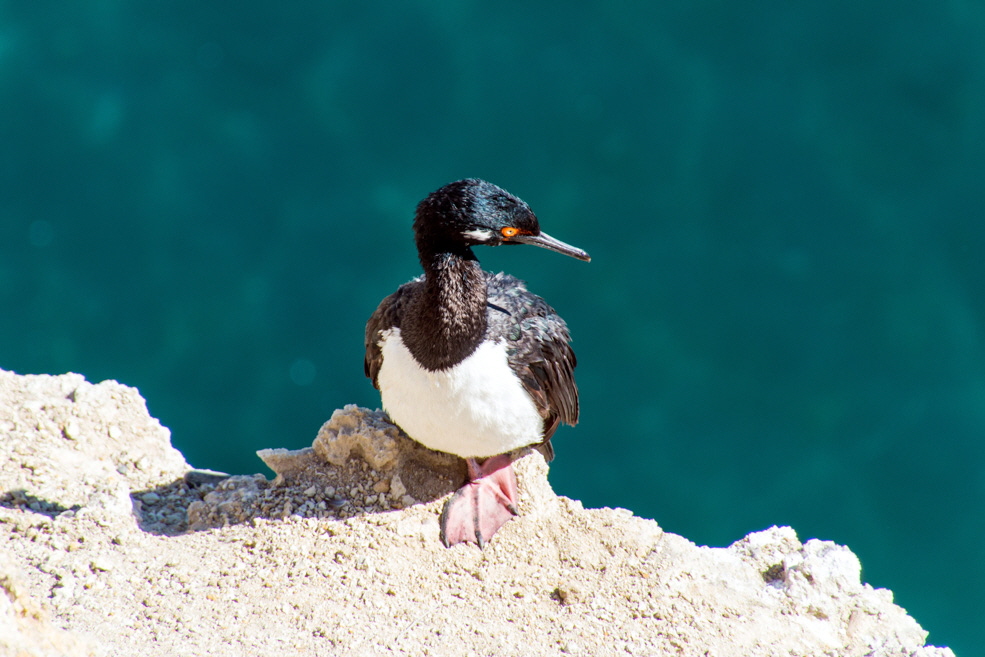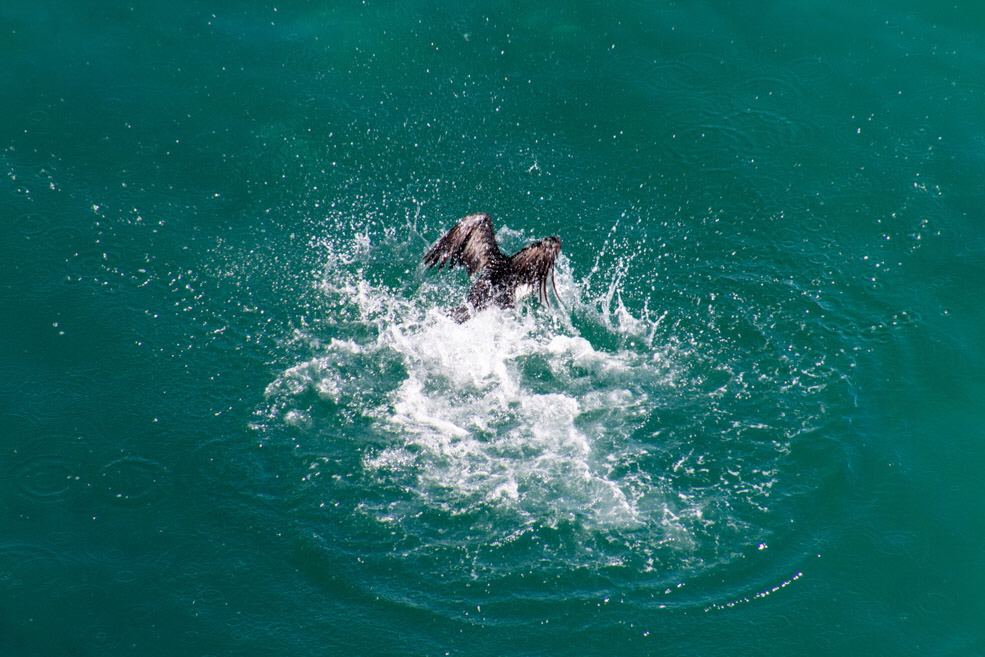 We followed a trail leading away from the parking lot through a dry landscape towards a litte cove at the other end. I thought the different colors of the scrawny shrubs before the blue of the sea were very attractive, as were other plants defying their arid surroundings.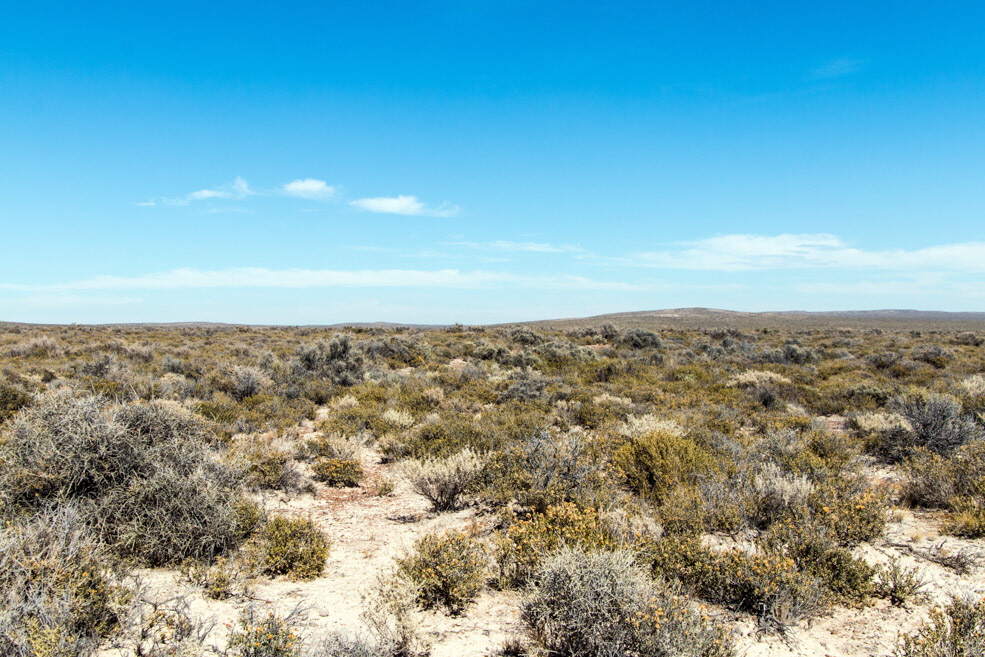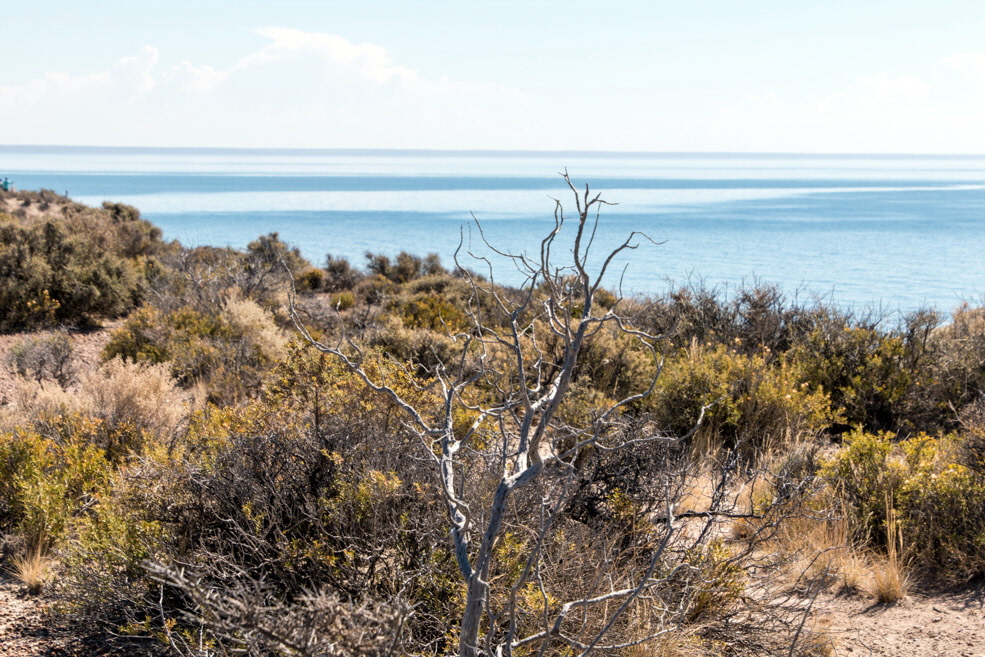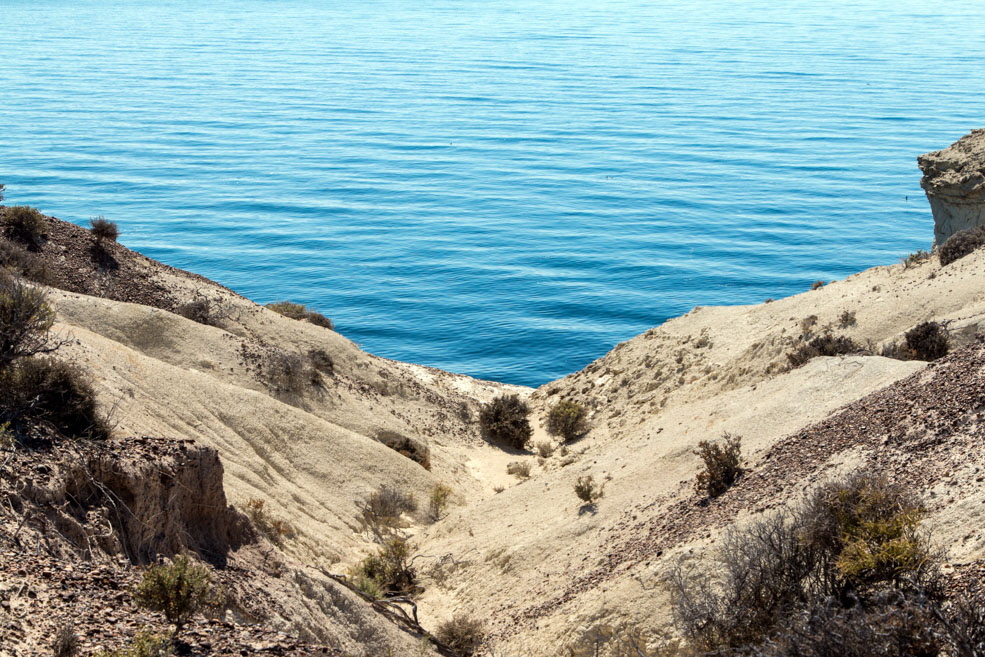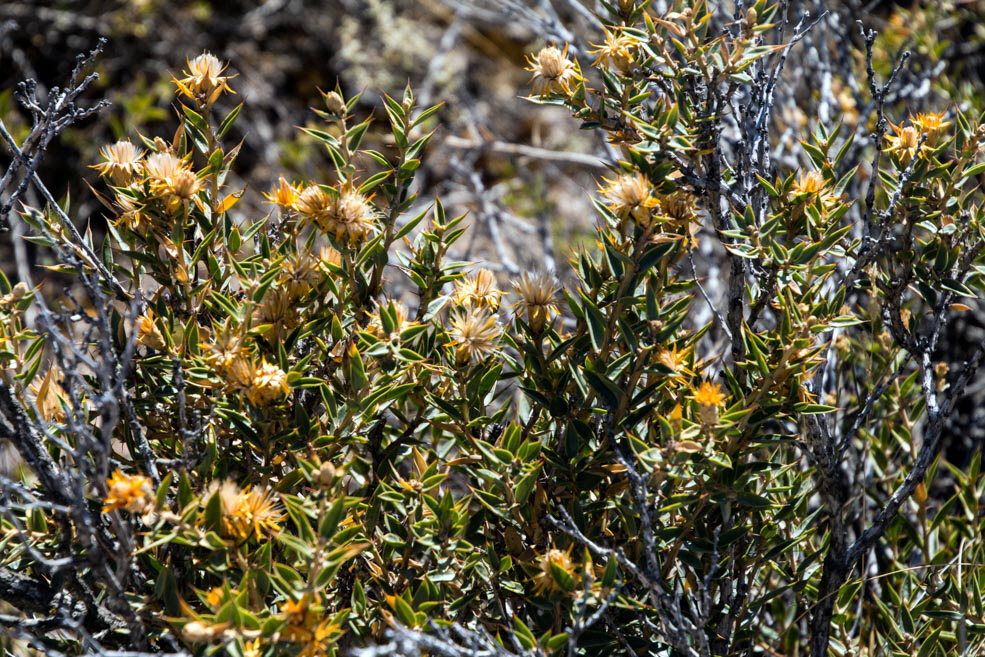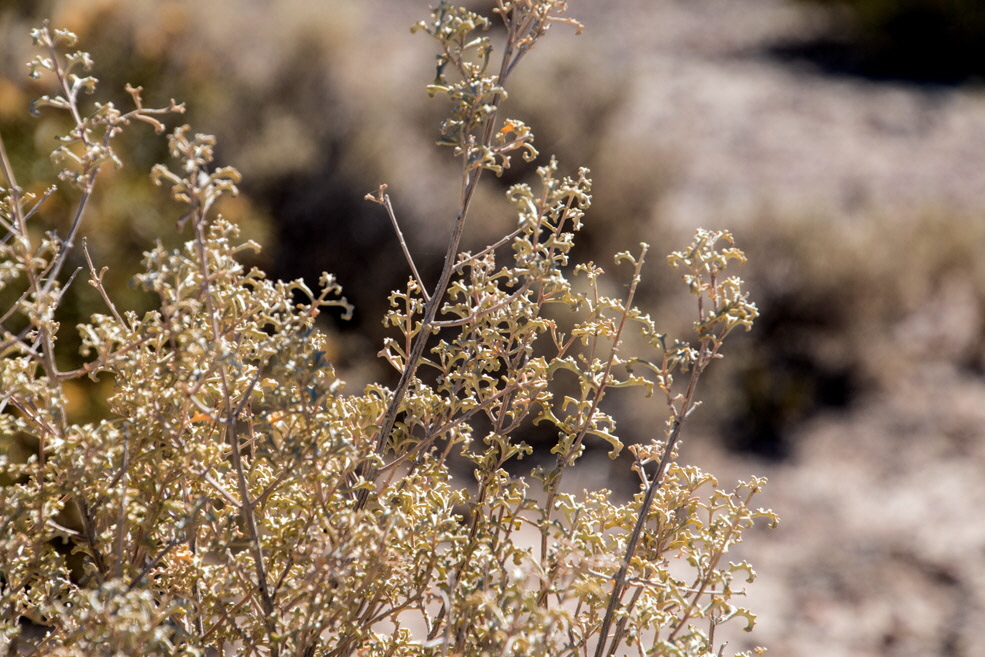 At the end of the trail we found another lookout from where we could see another part of the pebble beach behind which there was a little overhang in the cliffs. This is where another group of sea lions had come together to relax - some in the sun, others in the cool of the shade.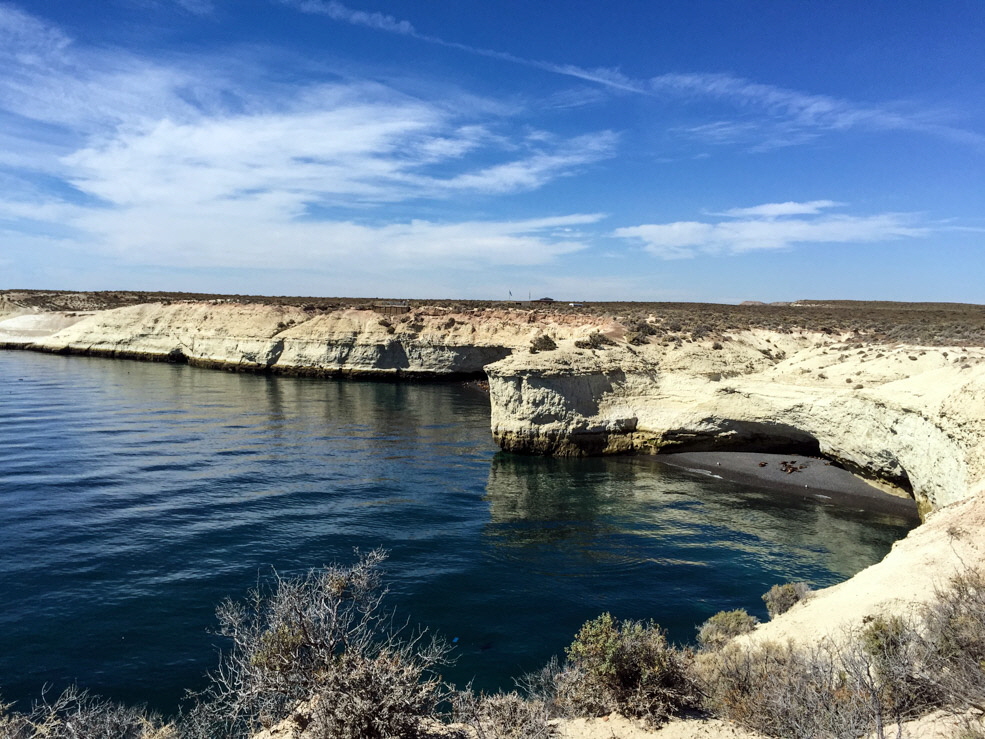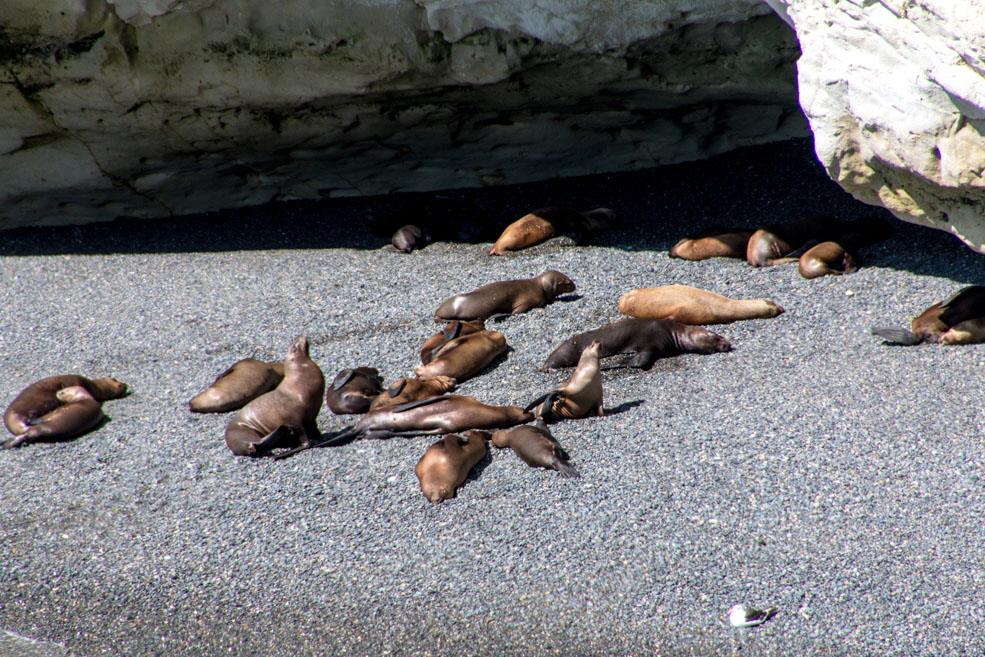 On our return to Puerto Madryn we stopped at a point from where you could access the beach. A driver with a horse trailer used this spot for a lunchbreak both for himself and his horses.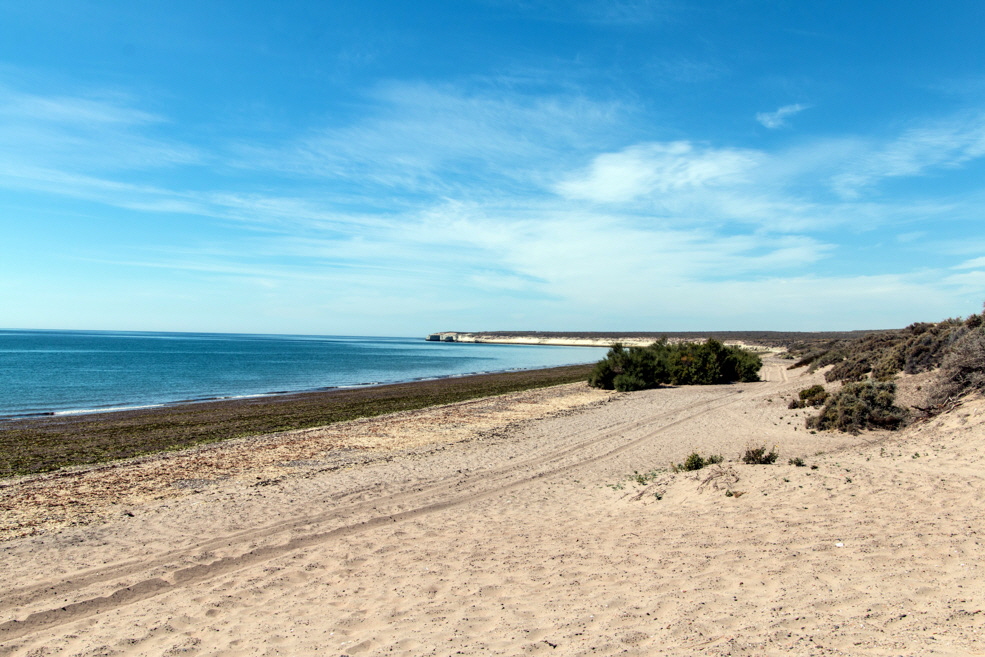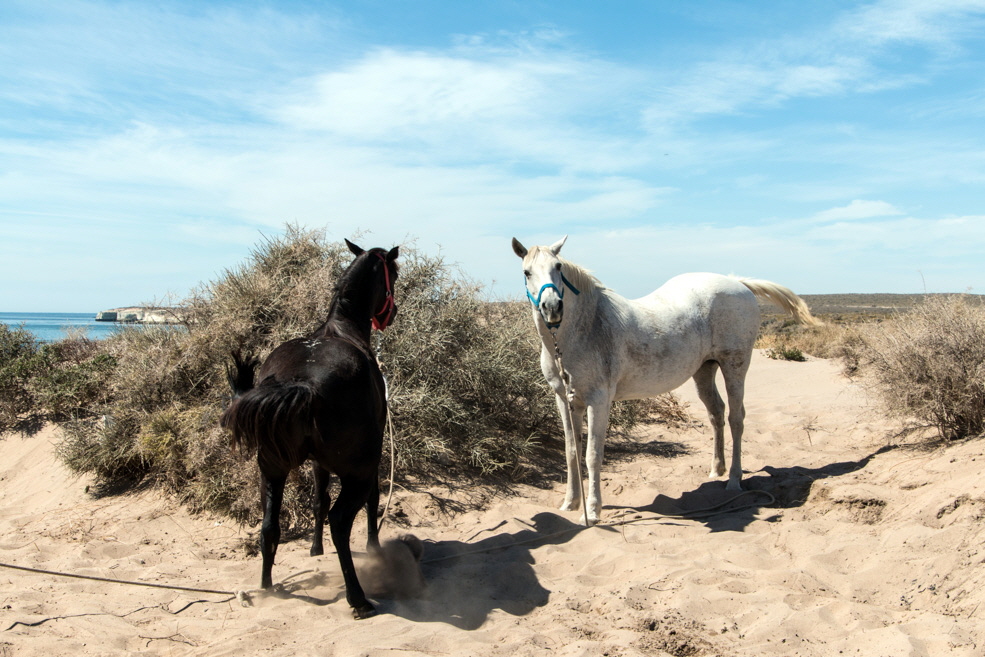 When we reached the city limits of Puerto Madryn, we passed a few restaurants by the beach and decided to have our own lunchbreak there. At the restaurant we were given a friendly welcome and nice service. The food was good and inexpensive, the restaurant had free Wifi (BTW: Lobolarsen actually had sent an E-mail), and we seemed to be the only tourists. We liked this place so much that over food, drinks and yummy desserts we spent the rest of the afternoon on the terrace and the sunbeds in front of it. And so the day, which had started off with some disappointement and problems, had turned into another beautiful, eventful and at the same time relaxing day.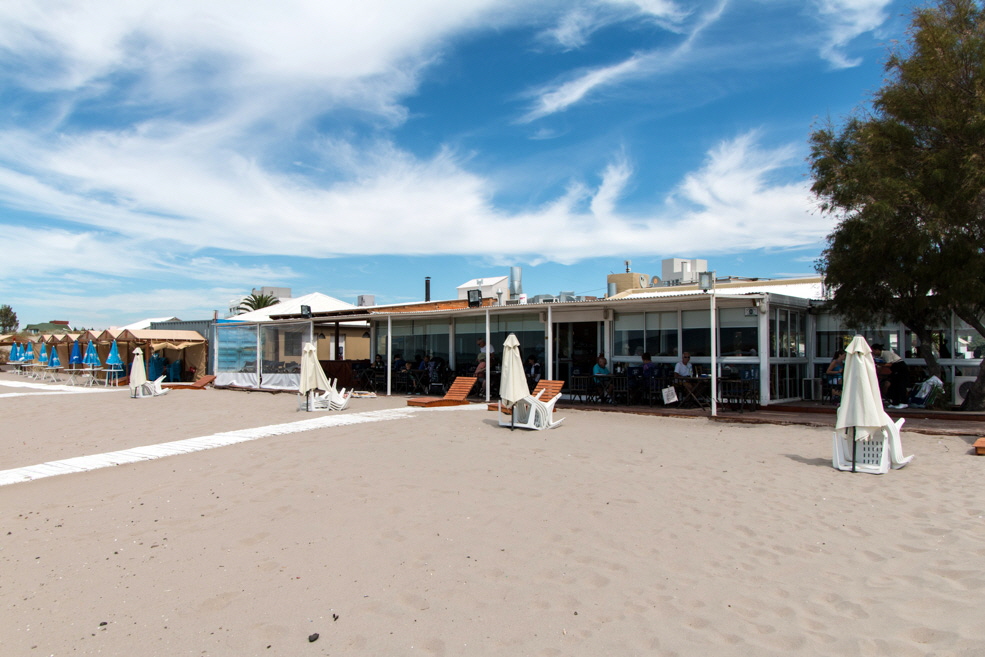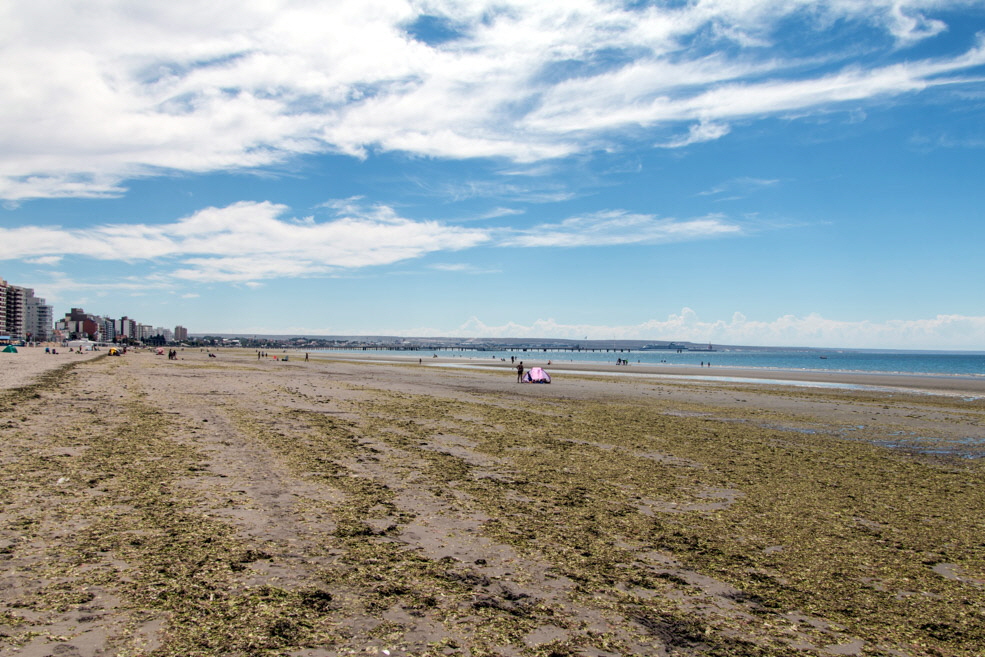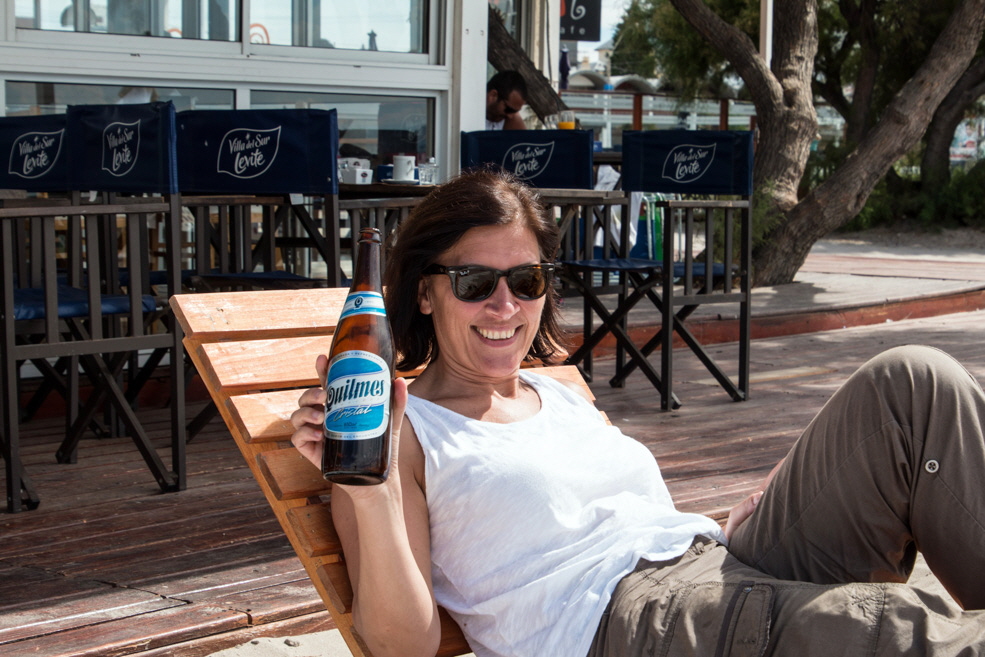 After returning the car we strolled along the streets of Puerto Madryn but didn't find the town particularly attractive, which is why we took the next shuttle bus to return to the ship. We had a proper sundowner at the Ocean View Bar at the aft of the ship. The sun was already very low when we waved goodbye to Puerto Madryn.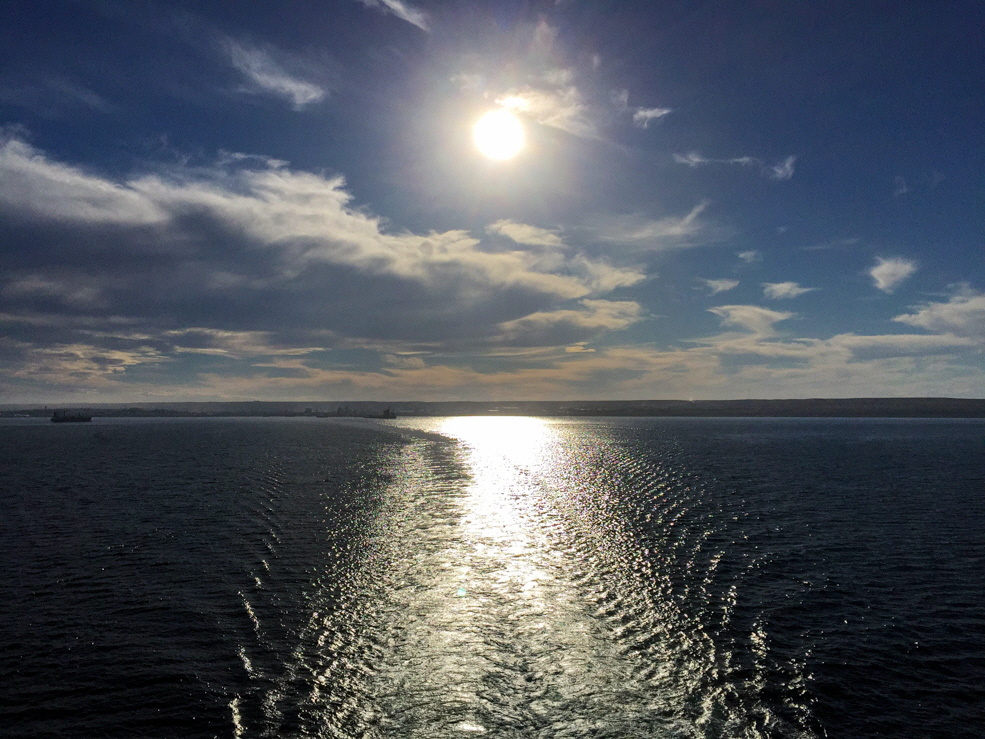 March 7th 2015 – At sea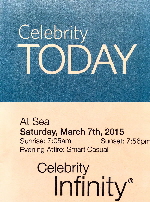 For a change we had our breakfast at the Blu. The good service we knew from the evenings was equally present at breakfast. Freshly squeezed juices, fruit smoothies, muesli prepared at the table – it is virtually impossible to escape the waiters' goodwill. But I won´t deny it, we are grateful and appreciatve victims...
At 9.00 am there was another lecture by Milos which we didn't want to miss. We weren't the only ones, as the theater was already well attended. This made me happy for Milos, who passionately gave another very entertaining talk.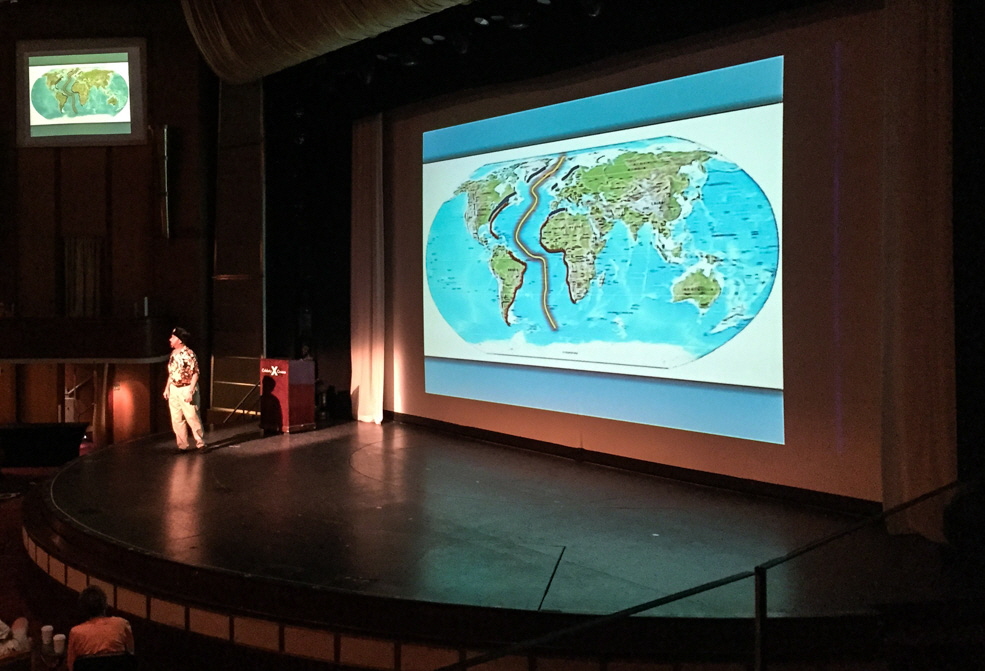 After Milos's lecture was over, we stayed on to listen to MickeyLive for the first time. Mickey was the other guest speaker and gave talks on the route and destinations of the cruise as well as on photography and other related topics like social networking etc. We had already heard from other passengers that MickeyLive had a large fan base and was highly praised. That day he talked about digital photography, obviously a topic which I found very intersting. Mickey also had a knack of fascinating his audience, and his advice and information were extremely interesting, helpful and presented in a very entertaining way. Mickey and his wife Jelena had already been on board for the whole season and were, therefore, able to share many, many interesting tips.

Mickey had also initiated a Snaphsot Rally, where for certain topics (animal life, life on board, etc.) passengers could submit two photos per port of call. A selection of those photos would later be presented at an event towards the end of the cruise. Many guests felt motivated to join in, and the number of participants was high.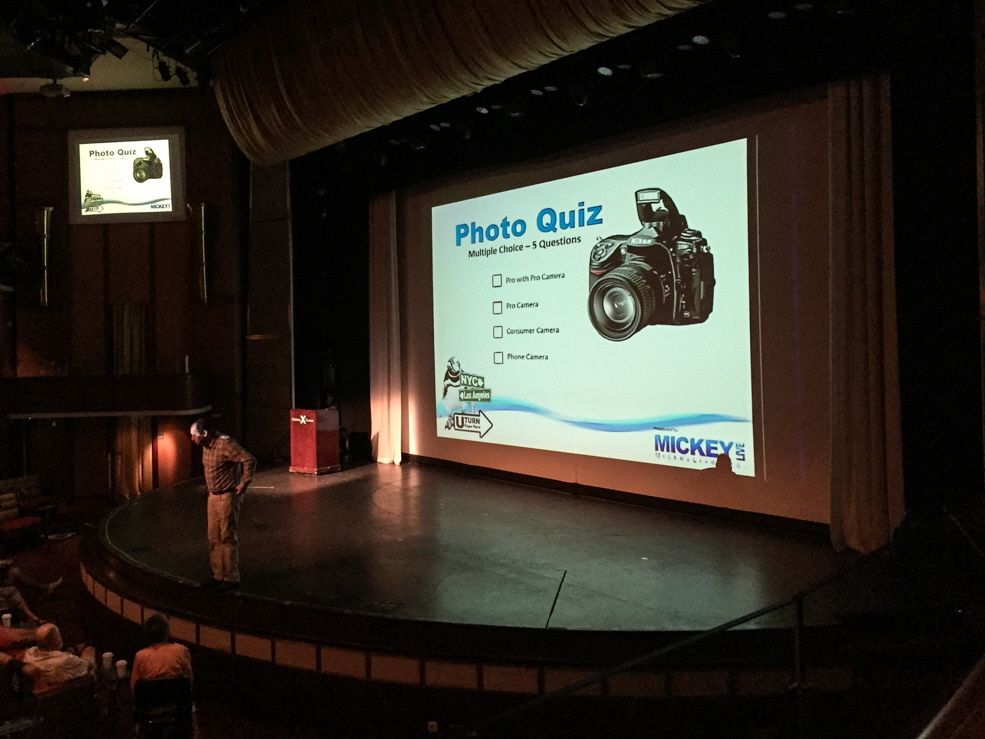 Following the lectures, we dropped by the Rendez-Vous Lounge to get some inspiration from the Future Cruise Sales Team's presentation on European cruises. We were so inspired that a few days later we "did it again" and in return received the all inclusive package + onboard credit for our next cruise.

Next, I joined a galley tour for which we had received an invitation. I thought it might be interesting to see where the chefs were in action. It is always amazing to see where countless meals are prepared and created by many diligent hands, where all the dishes are cleaned and the supplies are processed - the whole machinery at work behind the scenes, unnoticed by us passengers.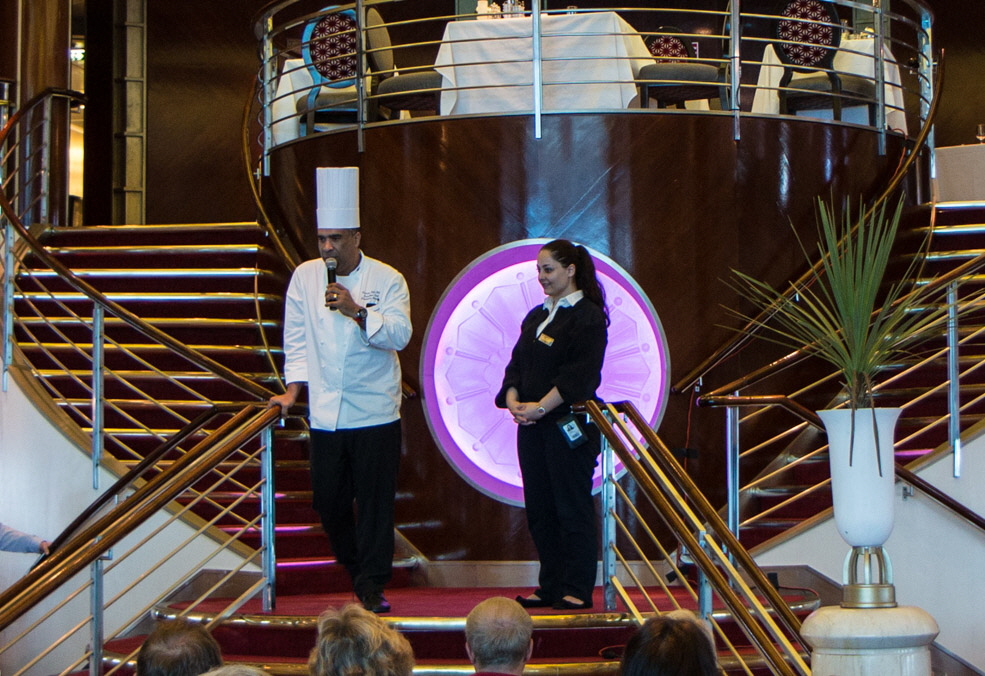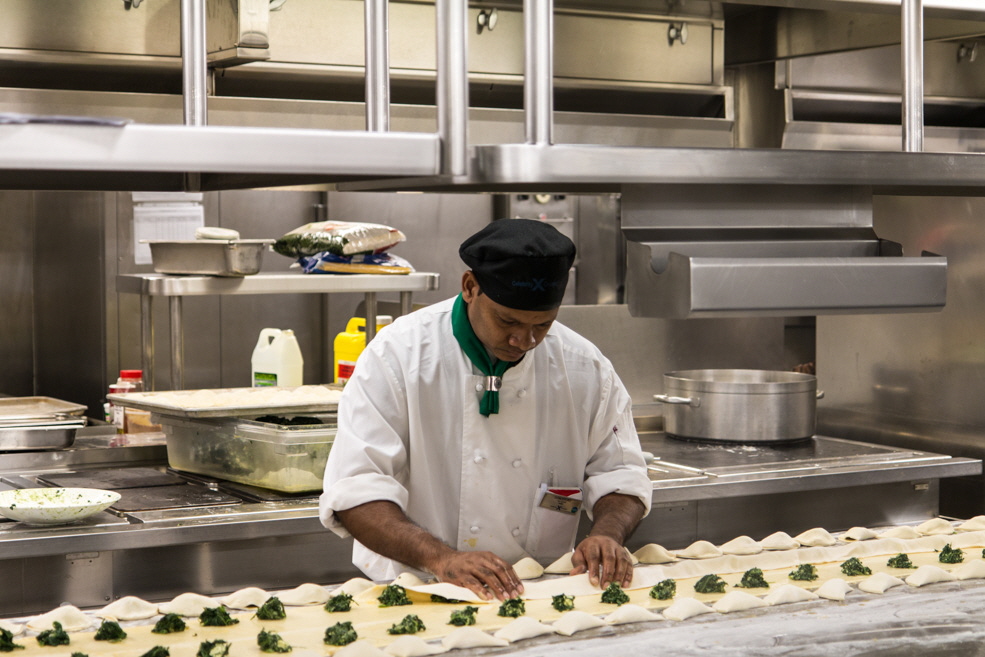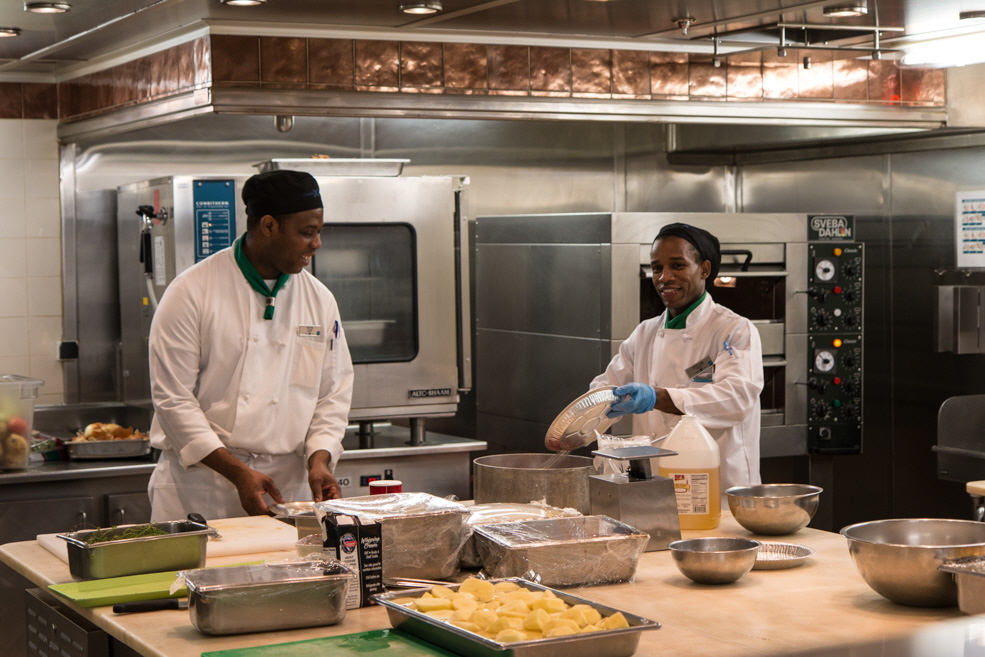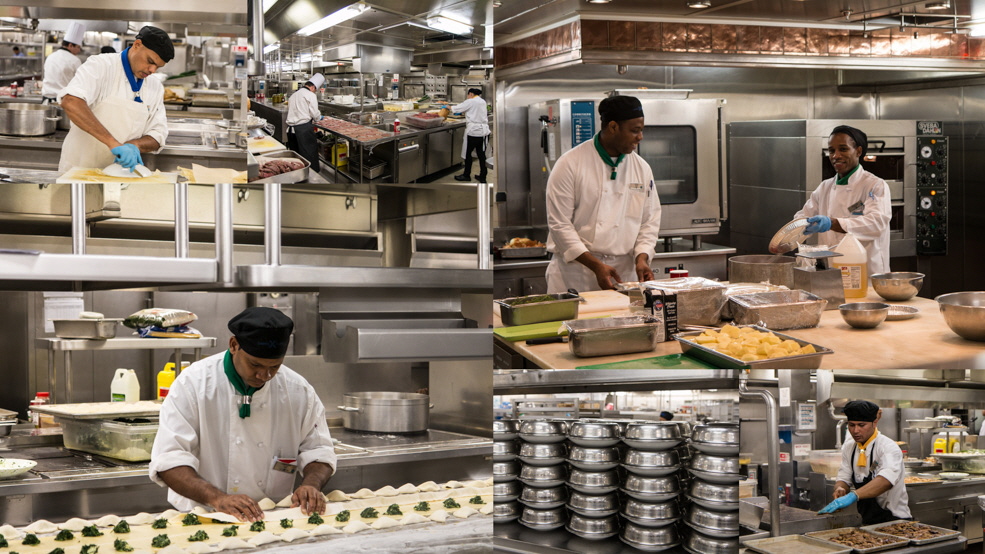 After the galley tour I proceeded to the theater, where Garin Bader, the pianist, gave a classical concert. Apparently as an extra to the original program. We enjoy classical music, so I was looking forward to his performance. Garin Bader took his audience on a journey to the world of Chopin and told a little background story about each piece he was going to play. You could close your eyes, just concentrate on the music and actually see the images Garin had previously explained. It was fantastic, kudos!

With all these activities, this day at sea went by very quickly. Soon it was time to enjoy all the delicacies that had been prepared in the galley. While the sun was merging with the horizon outside, we enjoyed another delicious dinner at the Blu.
The pecan crusted duck breast was a delight, and apparently Birgit's salmon filet was in no way inferior to it. A perfect ending of a perfect day.

www.travellove.one • www.thecruise.report • www.travelandcruise.net
© 2021 Die Rechte an Texten, Fotos und Videos liegen beim Autor der Webseite. Die Nutzung ist nur nach ausdrücklicher Freigabe erlaubt.