Part 10 - Puerto Montt, Chile, Sea day
March 13th, 2015 – Puerto Montt, Chile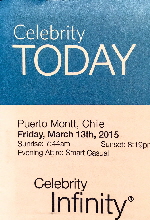 In the early morning, a veil of haze hung over Puerto Montt, and the air carried a smell which reminded us of wintertime at home, when wood is being burned in the neighborhood. We later learned that this was due to the devastating fires of the previous days, of which we obviously had heard nothing at sea.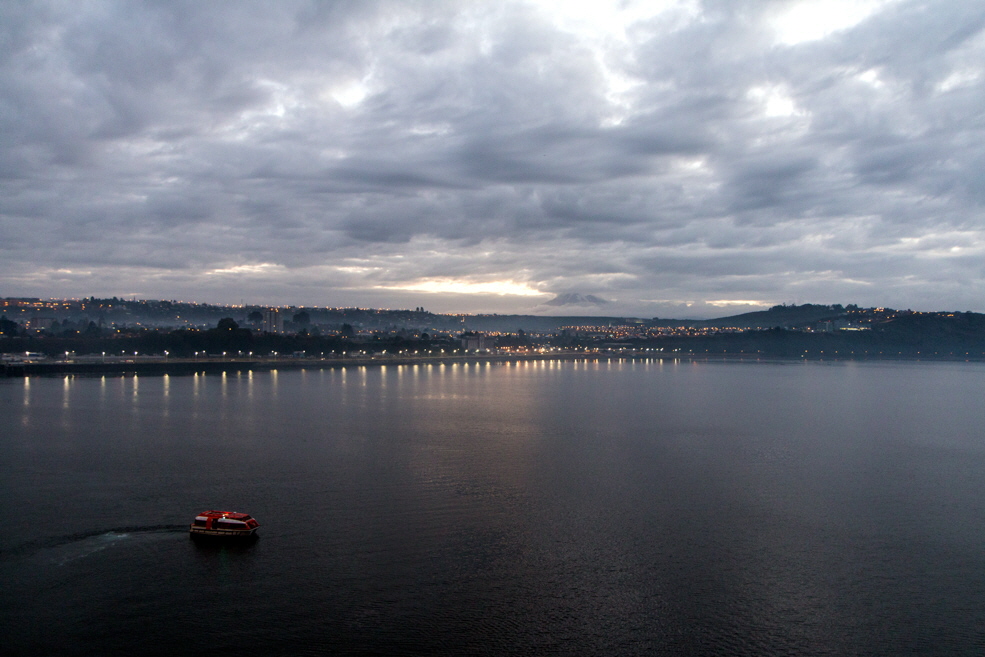 In the Rendezvous Lounge we met with our little group with whom we had booked a minivan and proceeded together to the tender boat. When our tender reached the pier, we looked back and just saw the sun rising behind the clouds and the Infinity – a beautiful sight.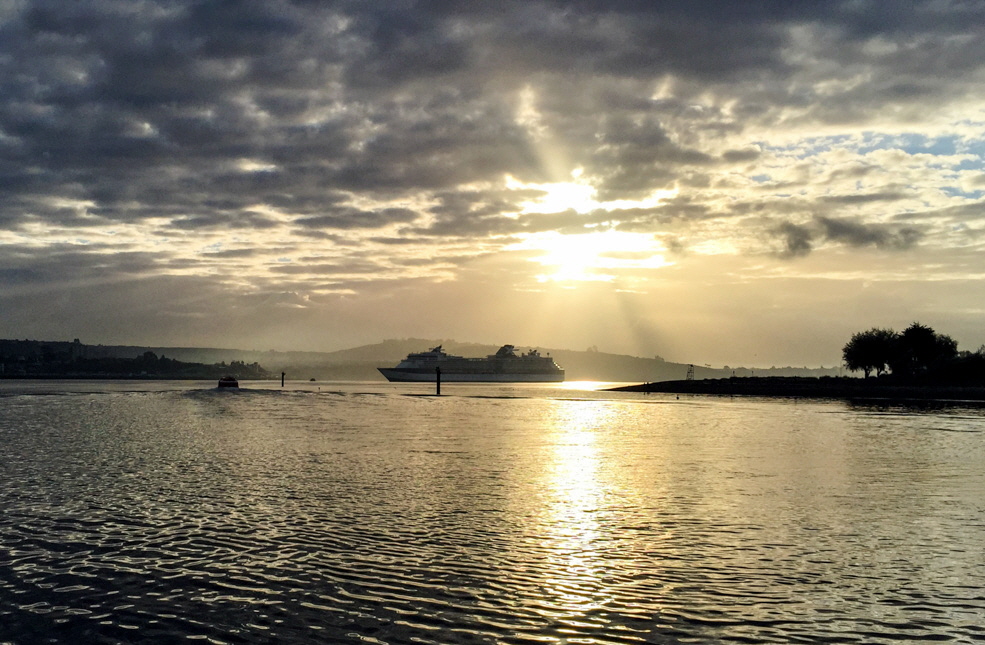 At the port exit we were greeted by our tour operator, boarded the comfortable Mercedes minivan, and off we went…

Our first destination was Puerto Varas at the shores of Lago Llanquihue. To us, this place was surreal – everything seemed familiar. Not a trace of South American outland. The houses were clad in shingles, and the buildings by the lake might just as well have stood in a spa town on Lake Constance or somewhere in Bavaria. The heritage of German settlers, who arrived in this area in the 1850s, was omnipresent.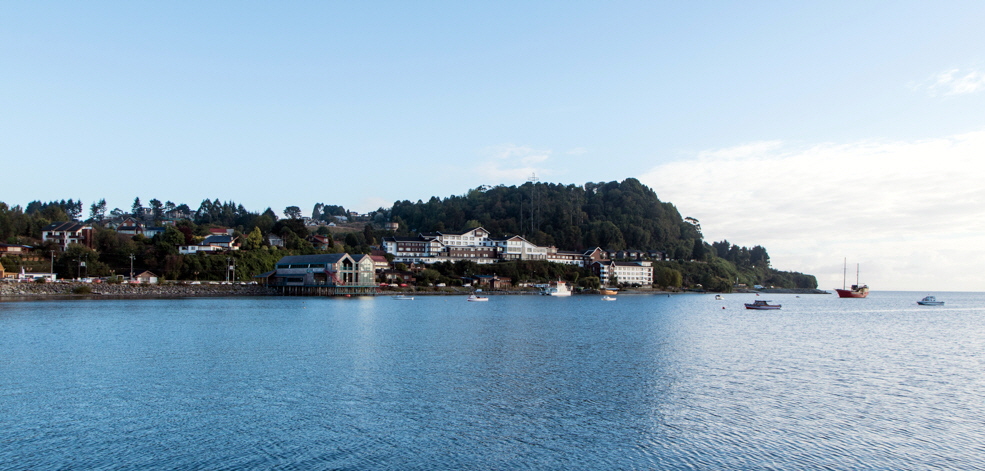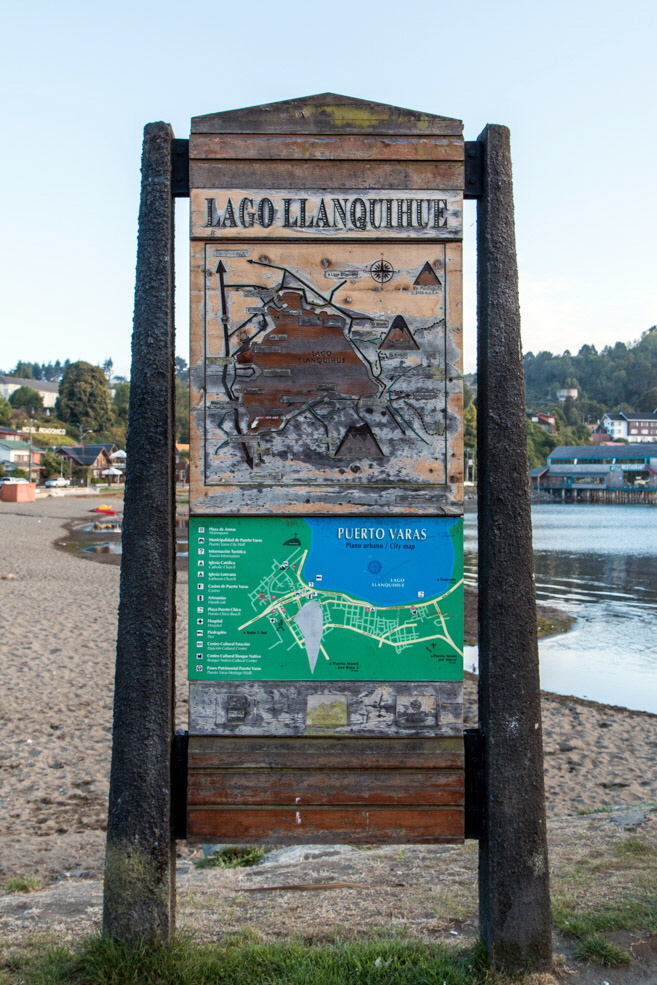 We had time to stroll through the little town, which was just waking up. The sense of familiarity increased – signs above the shops showed names like "Elektro-Horn" (Horn's electrial appliances), the window of a real estate agent prominently displayed the German name "Engels & Völkers", and right in the center of town we saw the "Deutscher Verein" (German Club). It felt like we had been transferred home.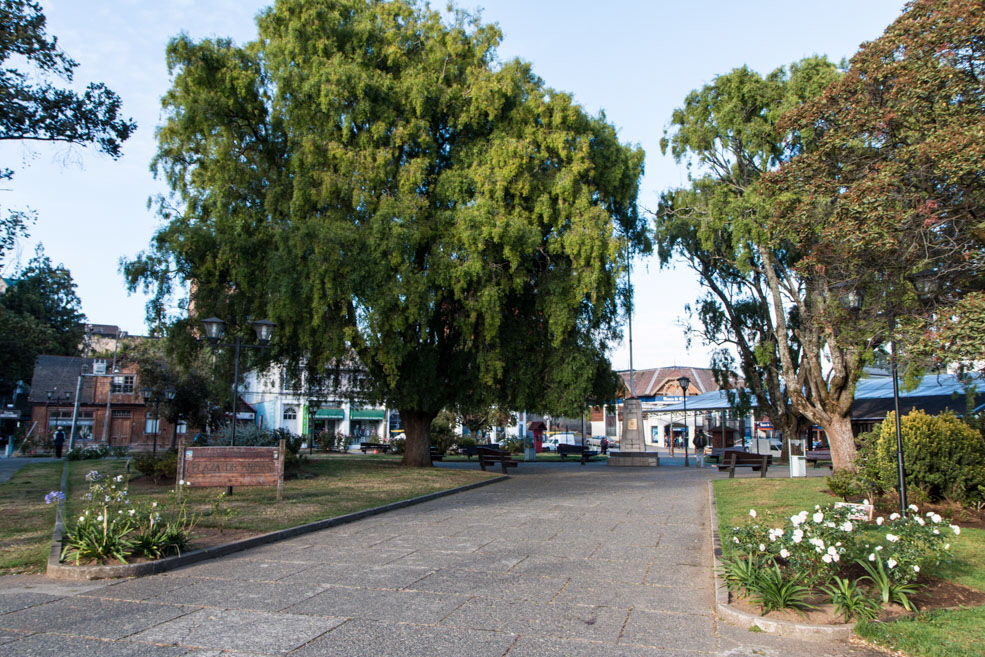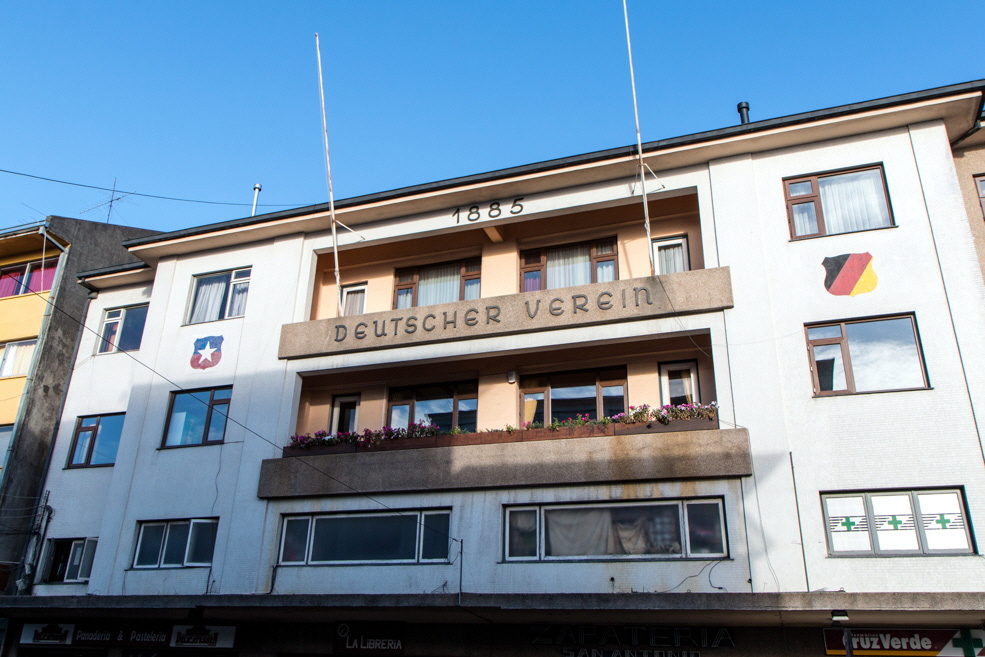 At least the greengrocers, who had just opened their stalls in the street, conveyed some Latin feeling. It also appeared that all of the town's four-legged inhabitants were also just waking up and meeting for an early rendezvous.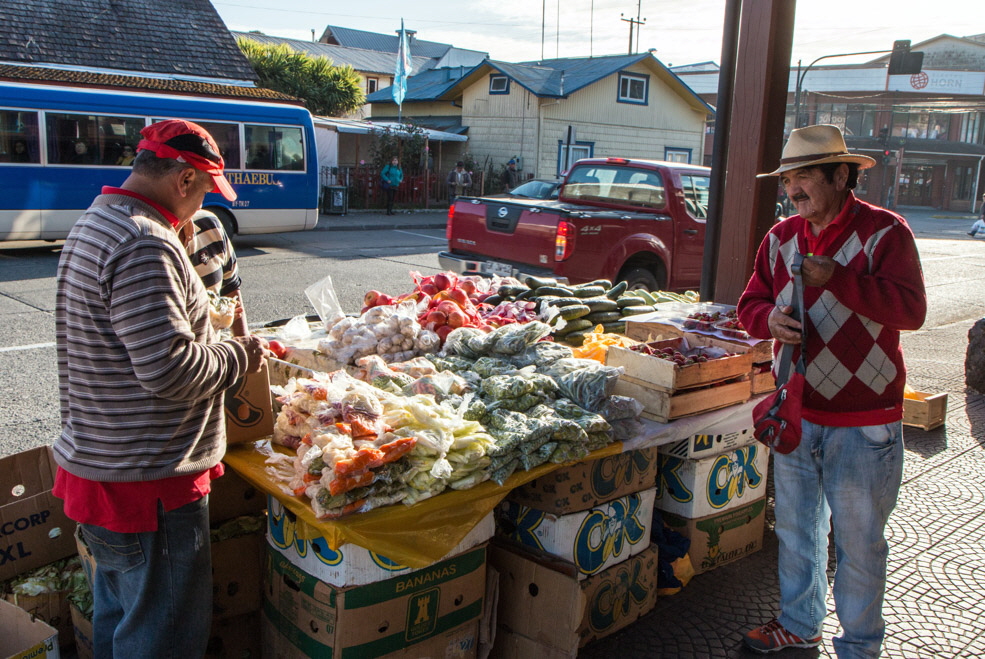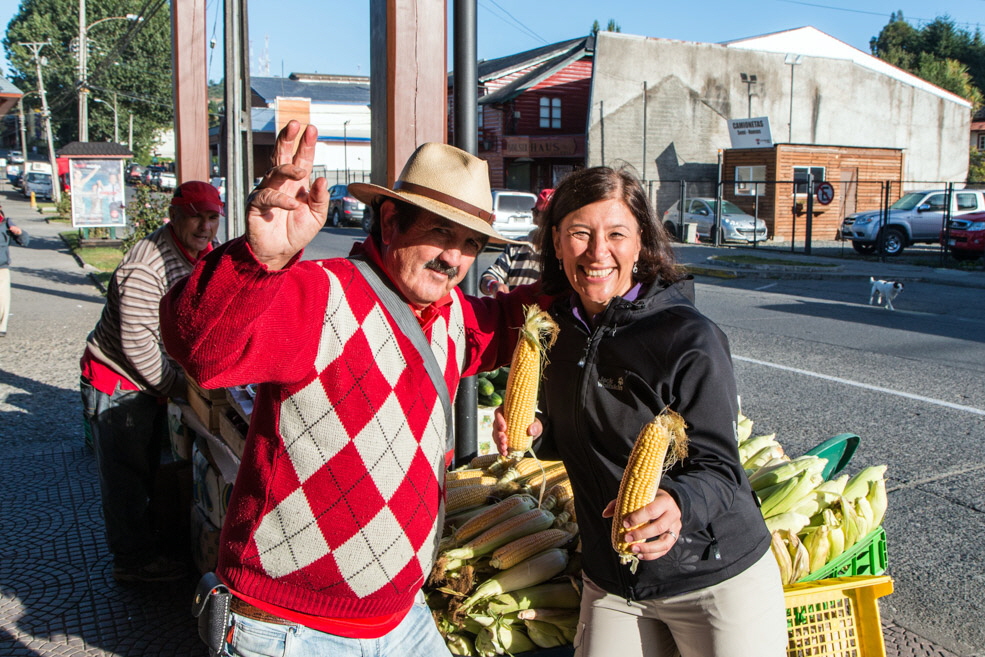 Our next stop was a lama farm by the lake, from where we should have had a beautiful view of the volcano. Although the farm itself was already bathed in sunlight, the volcano was still hiding under a layer of clouds.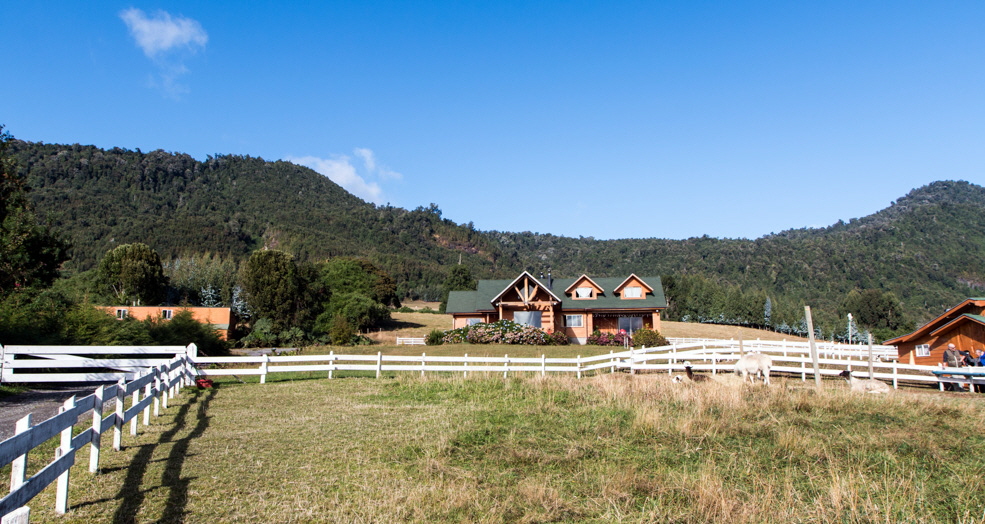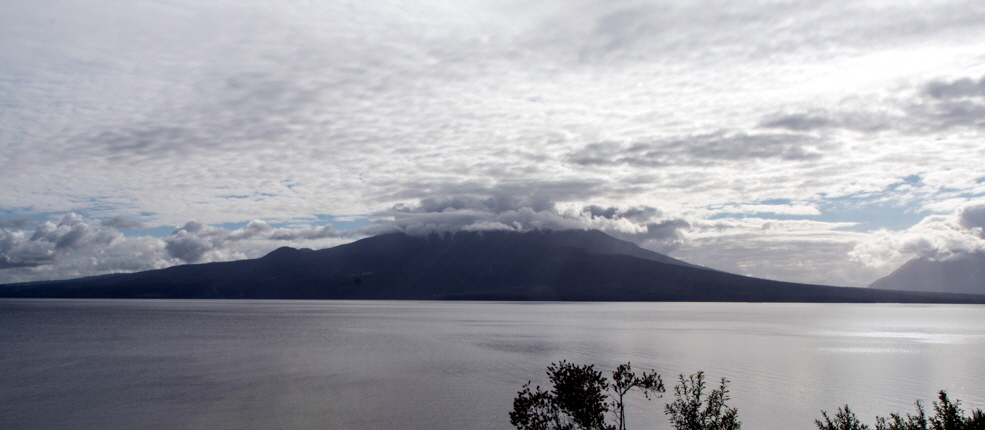 Under the watchful eyes of their supervisor the woolly creatures gave us a skeptical look as if asking "What are you doing here?"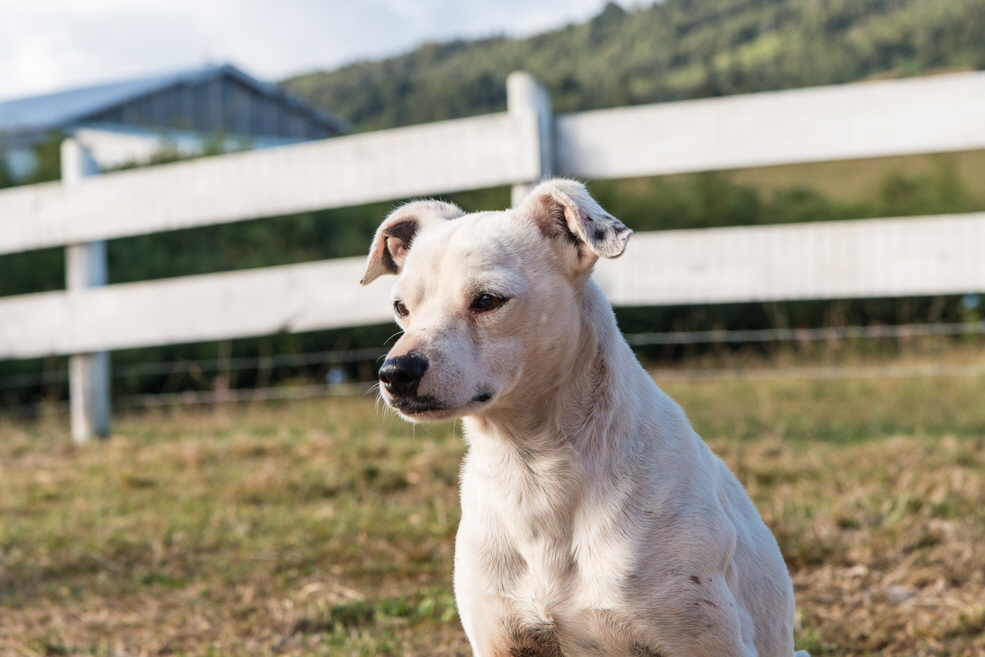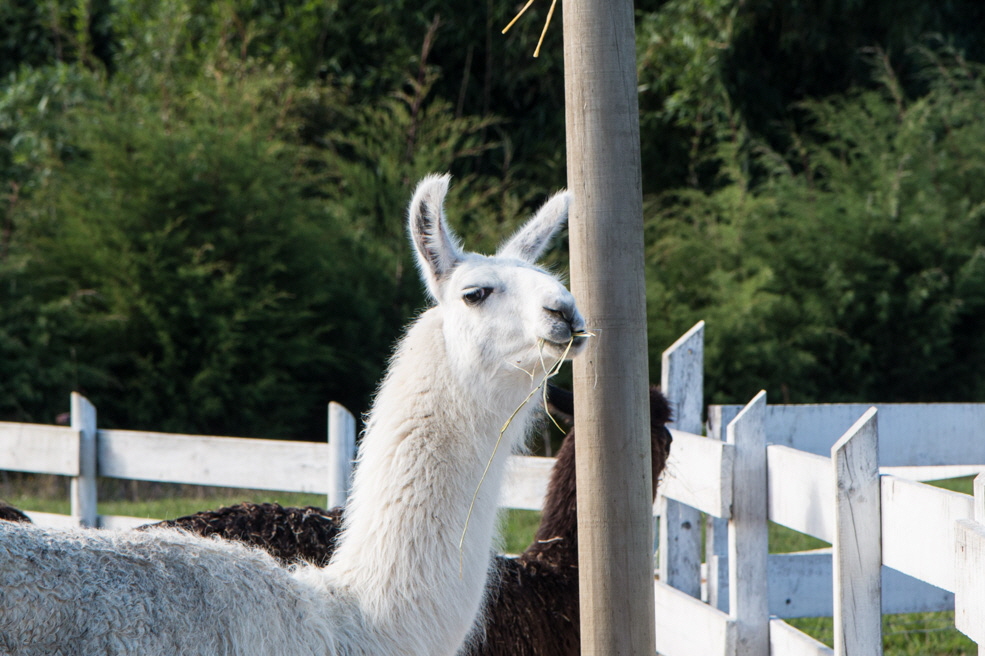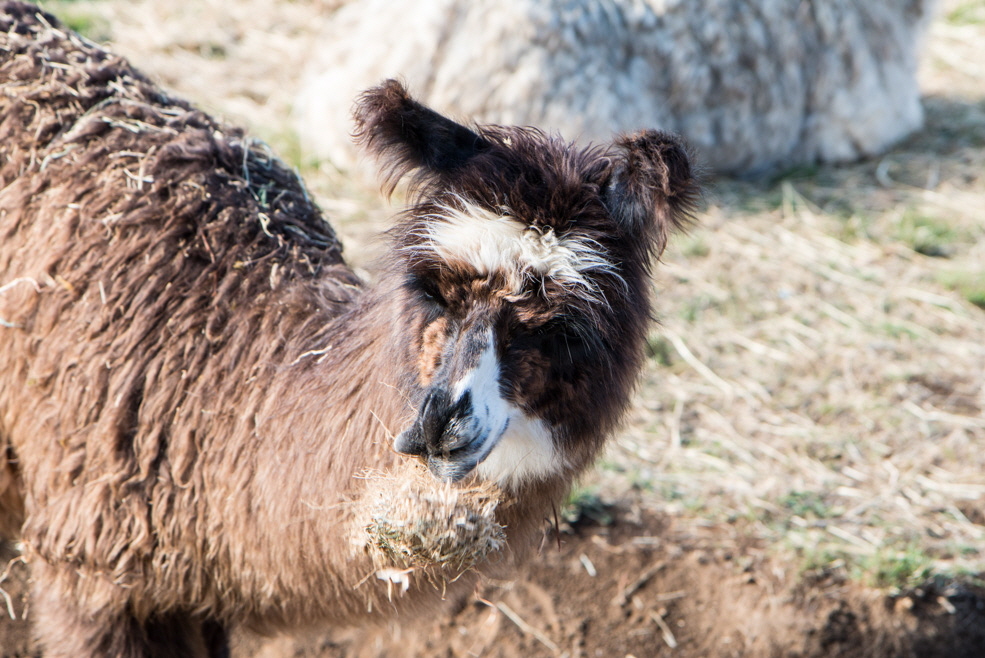 We continued our tour towards Perez Rosales National Park, and on our way finally caught a first beautiful view of the volcano Mount Osorno.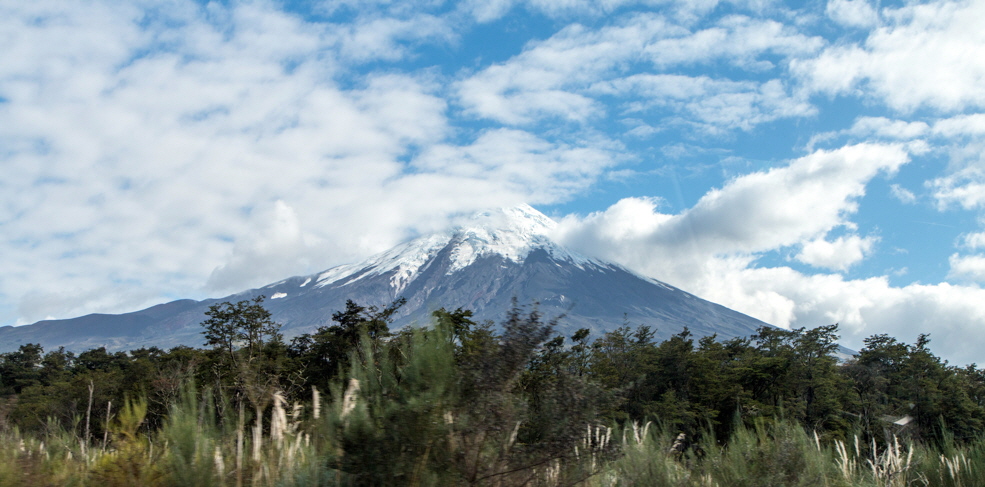 One of the major tourist attractions of the park are the waterfalls and rapids of Rio Petrohue, carving its way through lava rock. From an information center you reach the rapids via footpaths and bridges.

This is where we stayed a little and enjoyed the view of the volcano and the roaring waters. The air was moist from the spray rising from the water, but it was fresh and clean.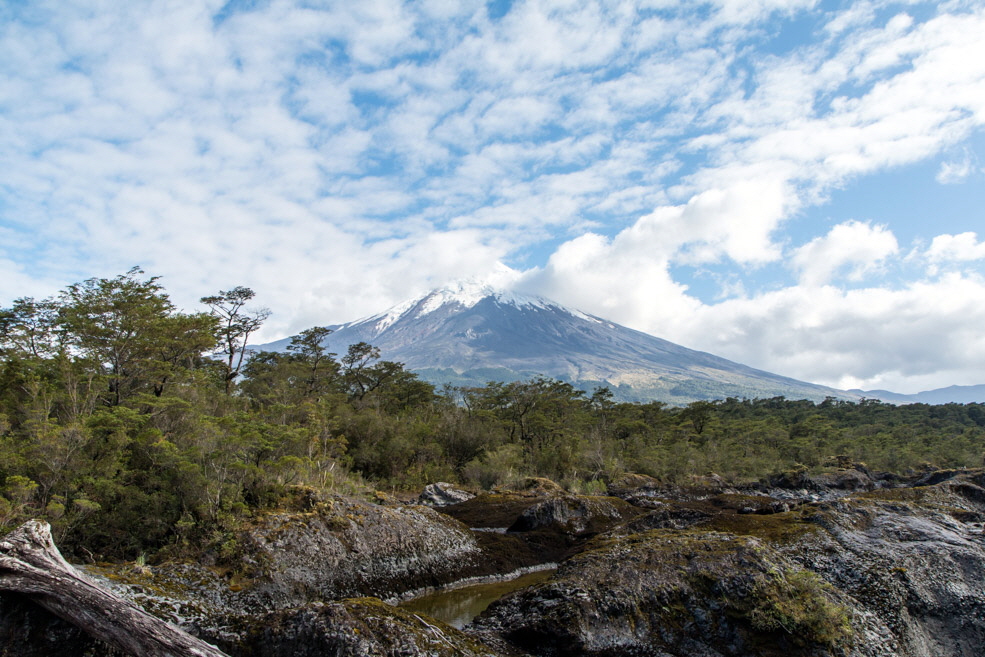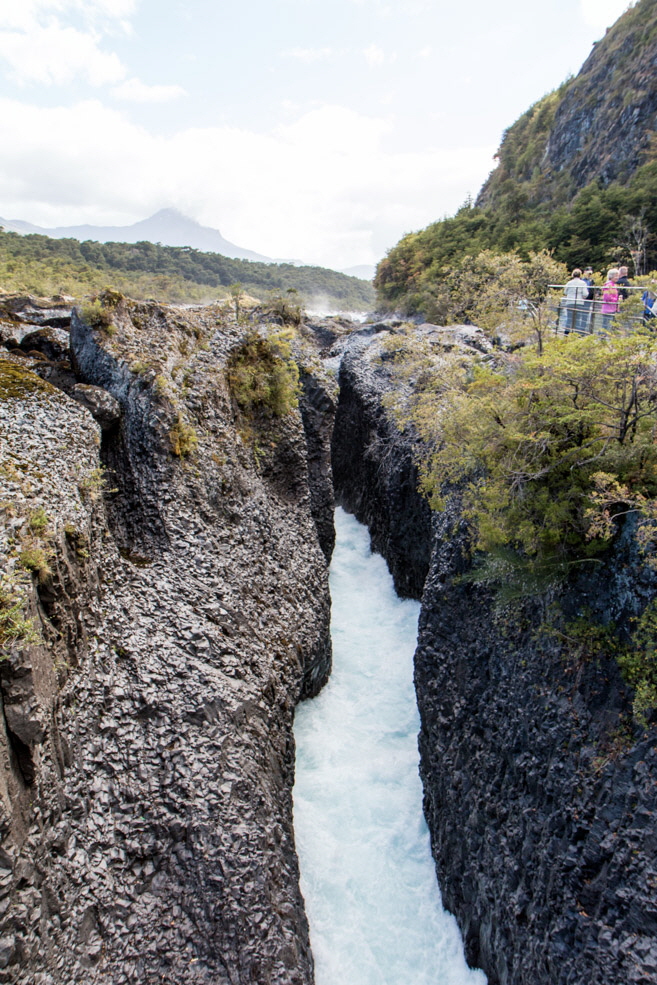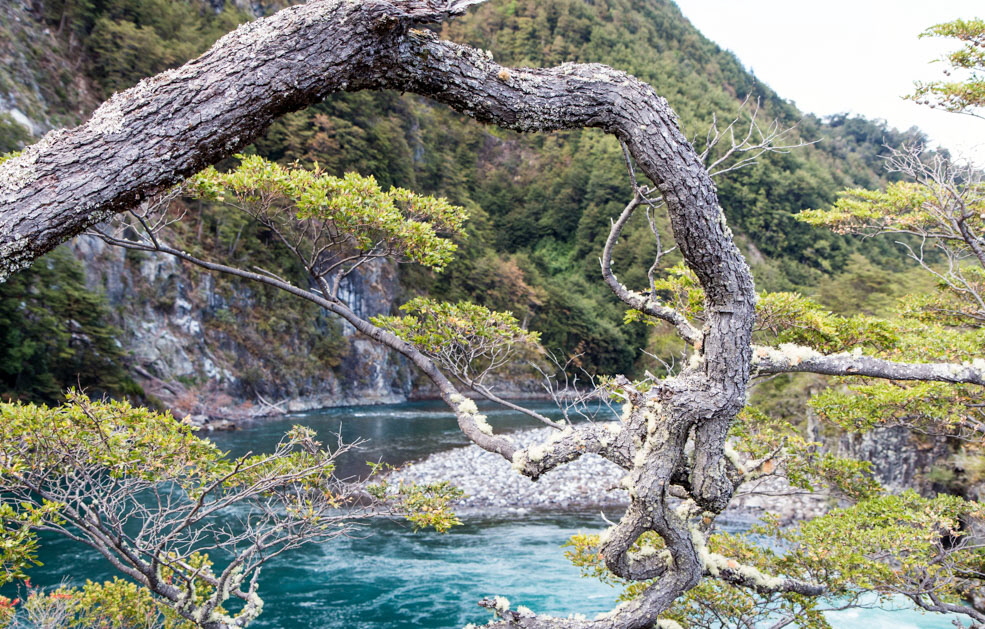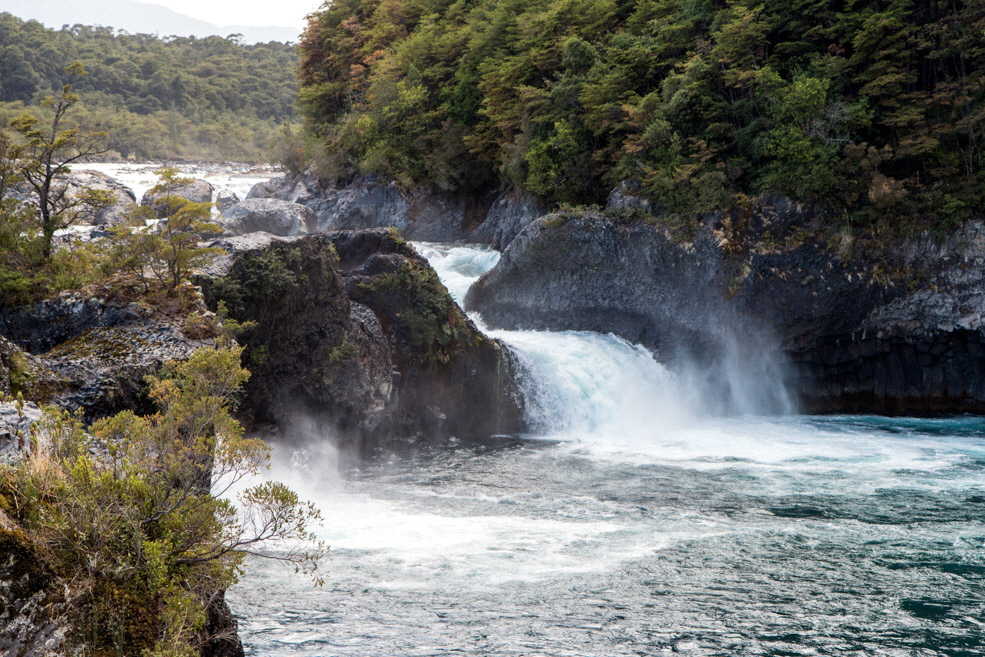 The visit to the park was followed by a lunch at a Chilean restaurant. We could choose between beef and salmon. The day before, we had already seen a few salmon farms in the Chilean fjords, and during lunch our guide explained that salmon farming was an essential part of Chile's industry.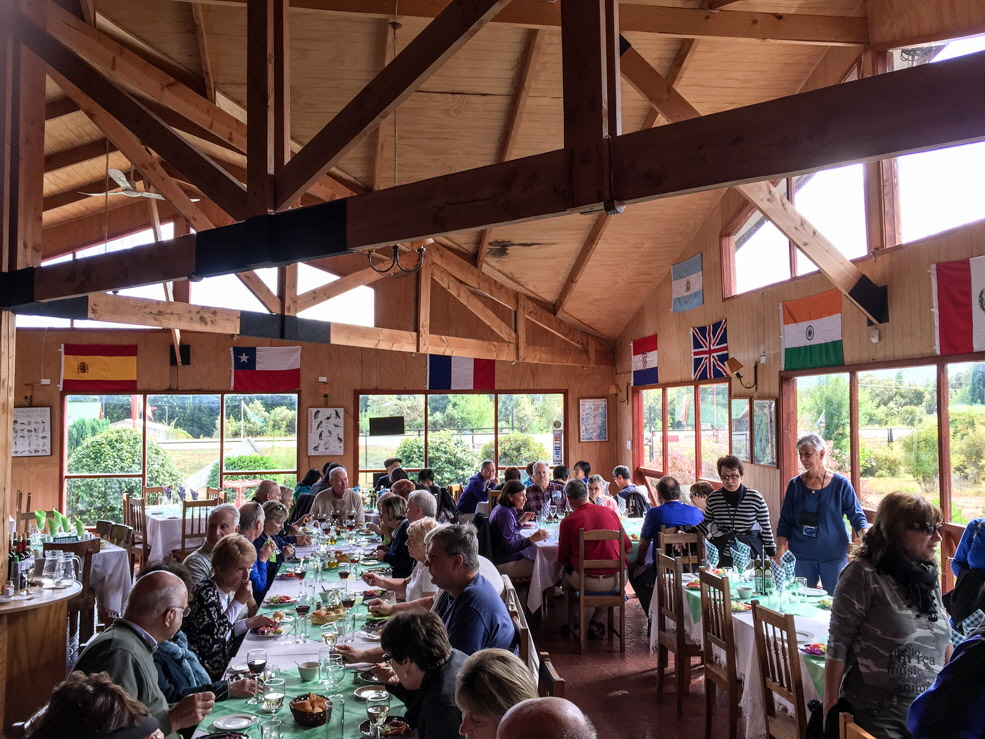 Well fed we continued our journey to Frutillar. On our way, we didn't only get a nice view of Mount Cabuco (the volcano which erupted shortly after we had returned home) but also of a landscape which, again, strongly reminded us of our home in the northern Black Forest. Road signs in German indicating the "Verein Zur Wassermühle" (the Water Mill Club) topped it all off. Our American fellow passengers naturally found all this very quaint.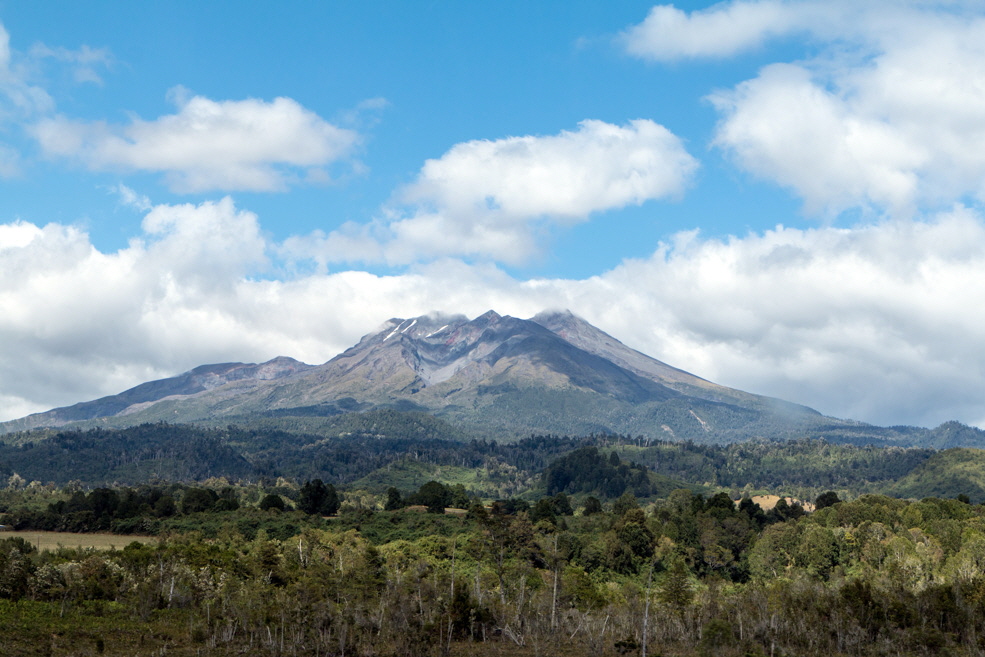 In Frutillar we also had the opportunity to walk around the opera house by the lake and again felt like visiting a spa town on some German lake. The wooden billboards displayed names like "Hotel am See" with a line below advertising "lecker Kuchen" (Hotel on the Lake; yummy cake). The others of our group were thrilled and couldn't quite comprehend our incredulous looks. It's not that we didn't like it – but it was just like home.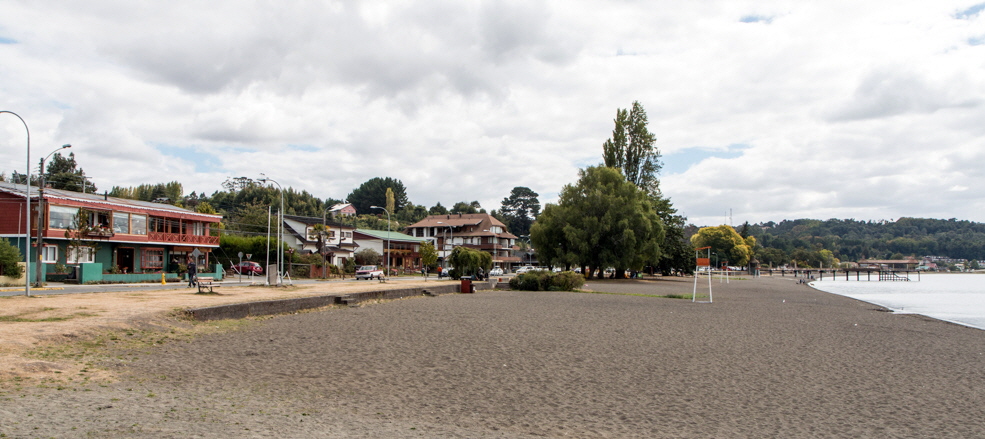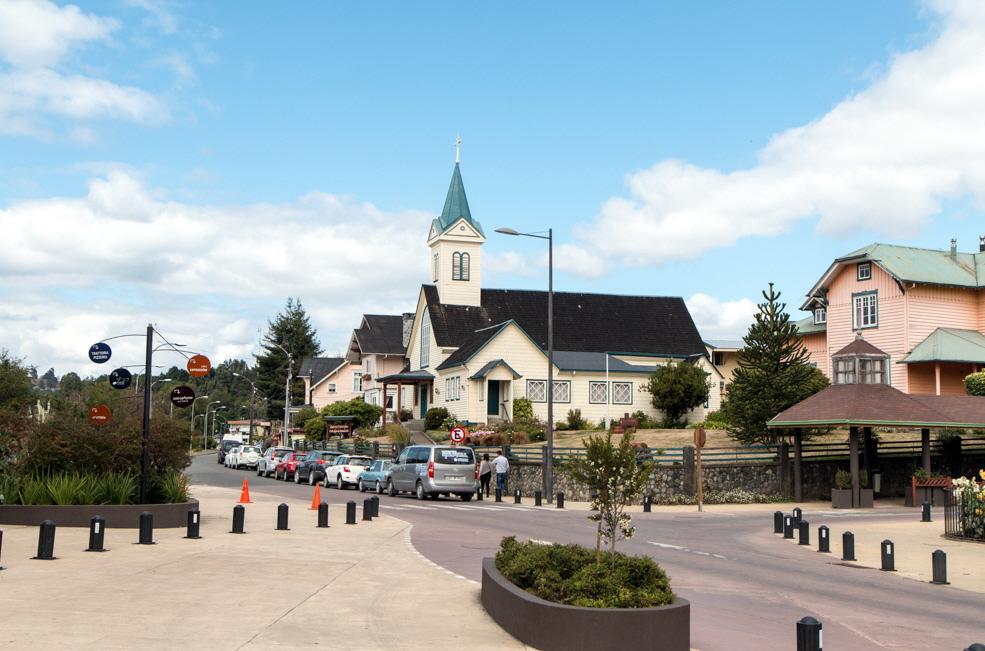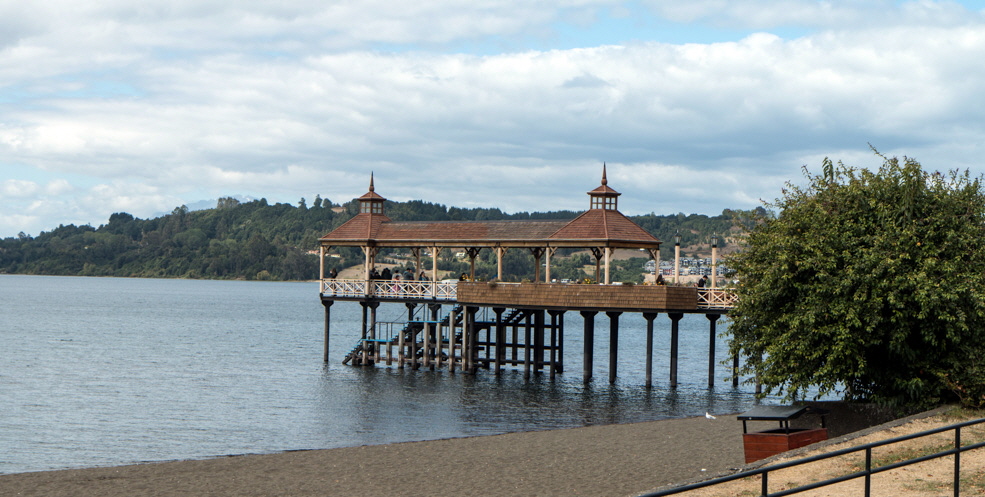 When I tried to find Wifi near the opera house, I laughed out loud. When Birgit gave me a quizzical look, I showed her the display of my cellphone. Look for the connection at the bottom… "Frau Holle" is the German original of the Grimm Brothers' fairy tale "Mother Hulda"...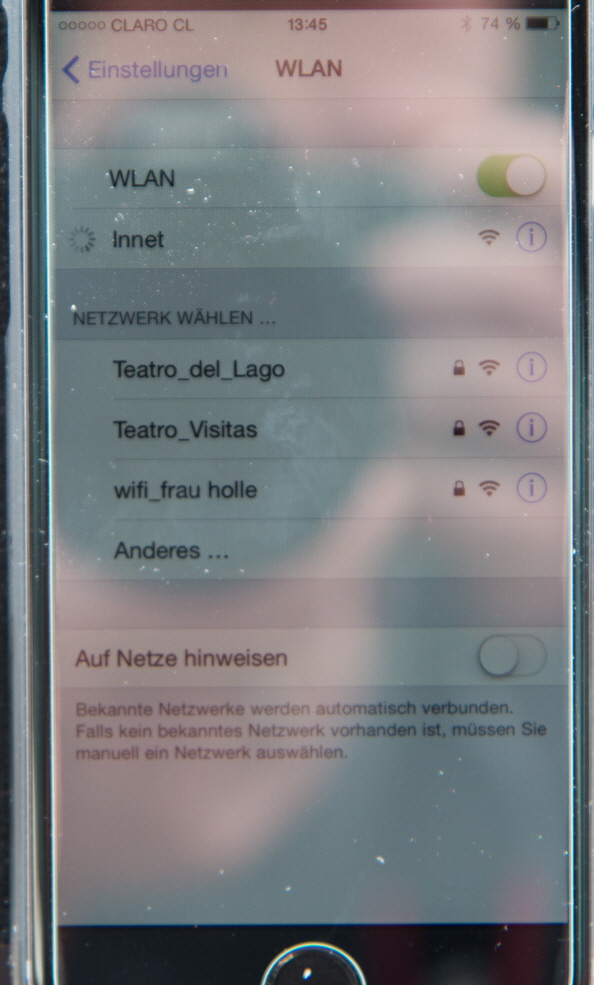 Last but not least, we stopped in Puerto Montt at a viewpoint above town – again with a German inscription. At least it provided what the sign had promised…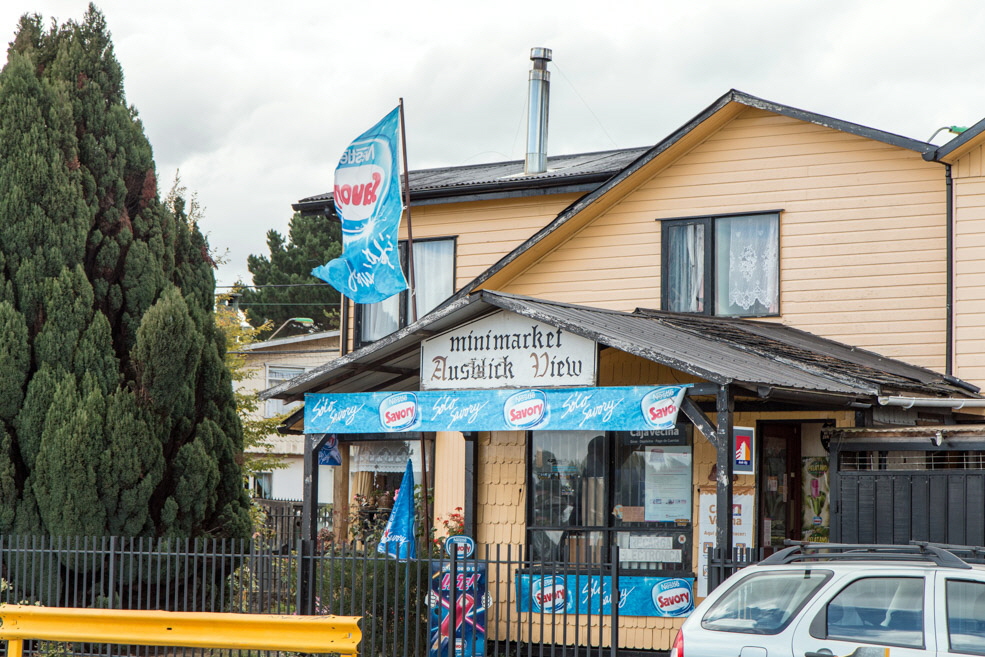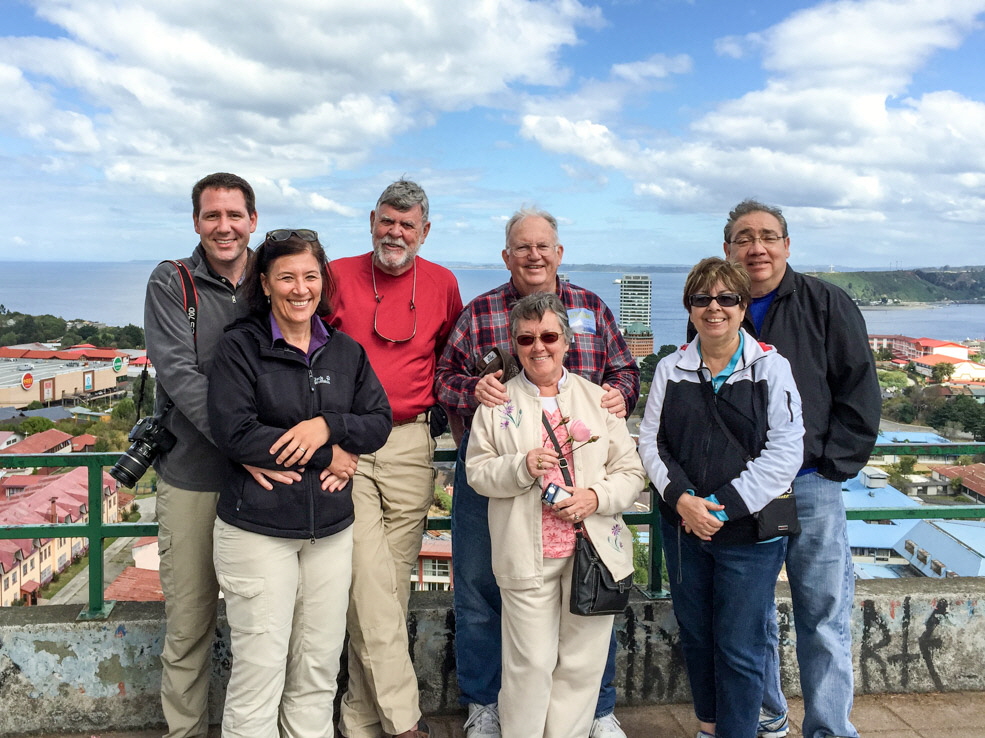 After our driver had dropped us off at the port, we took another short walk along the promenade to take a nice picture of the Infinity. We then followed a sign indicating a street market, where all kinds of merchandise from clothes made of lama wool to leather goods were awaiting tourists willing to part with their money.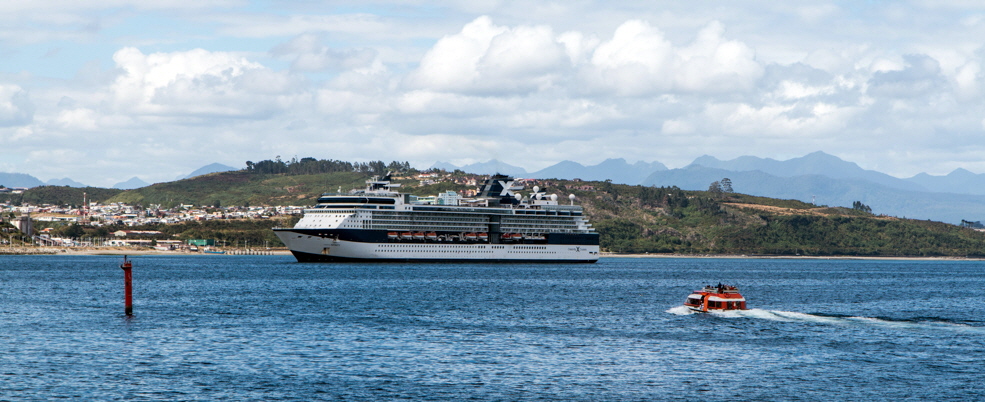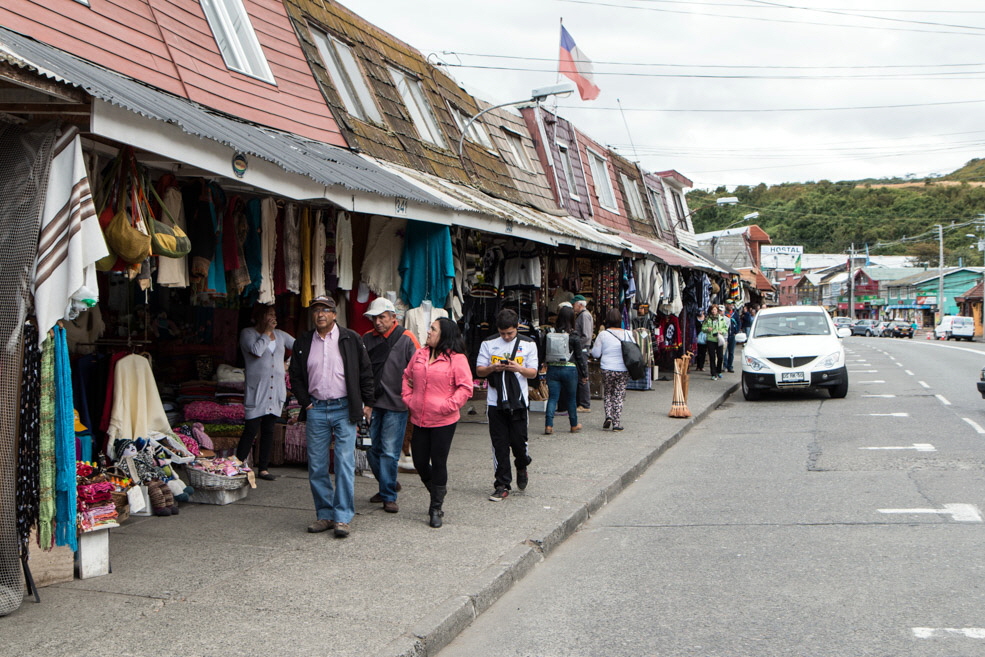 We took the last tender to return to the ship. From our balcony we enjoyed a last view of the statue of two lovers on the promenade and of the snow-covered volcanos in the distance.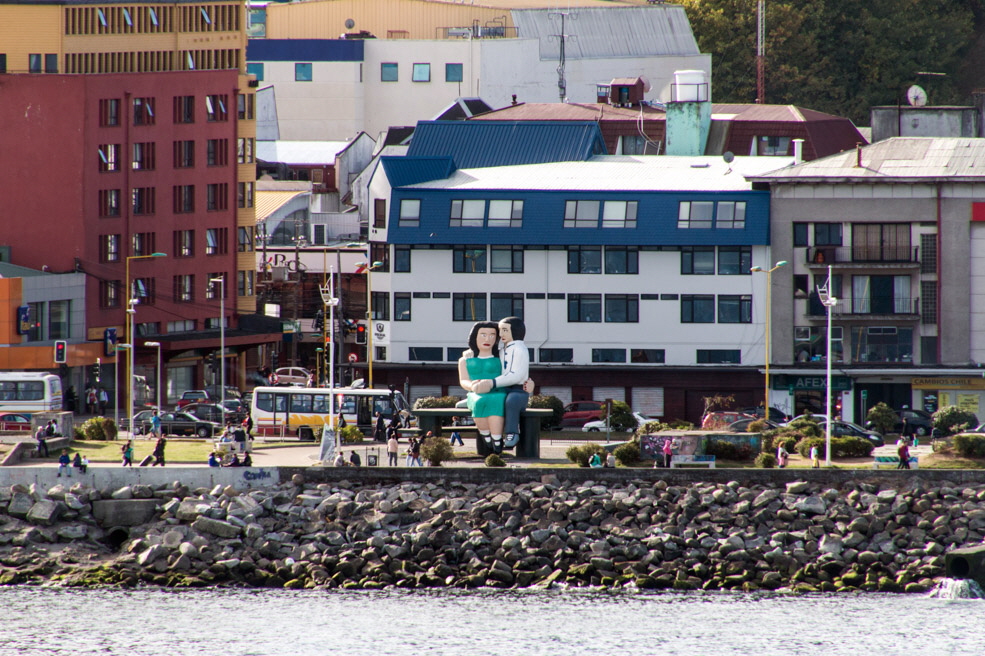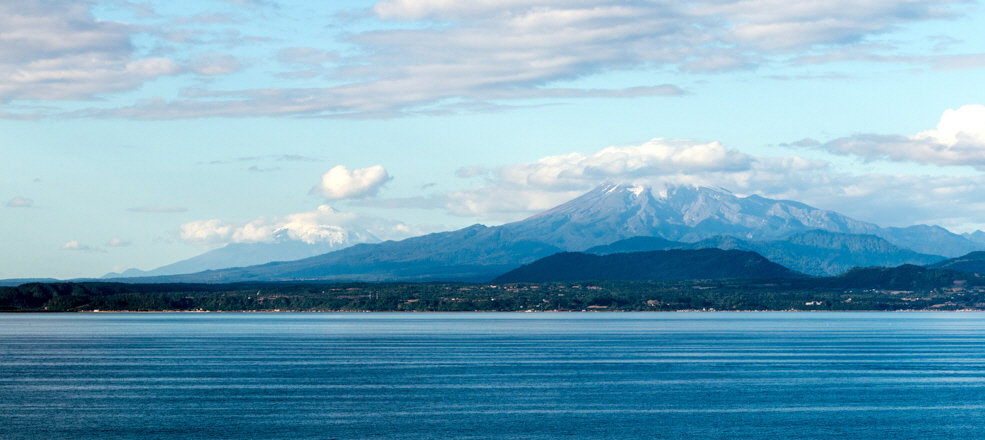 After dinner we took another walk on the deck and talked about our day in Puerto Montt. It was a nice day, but it wasn't like the other days, where everything seemed new and exotic to us. The area around Puerto Montt left us with a strange memory. We were at the opposite side of the globe, and yet everything looked like home.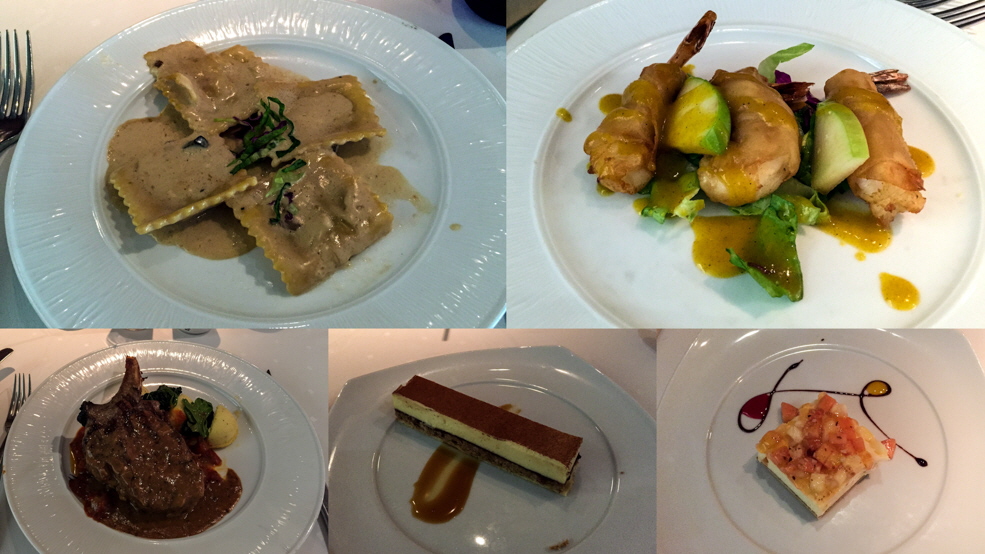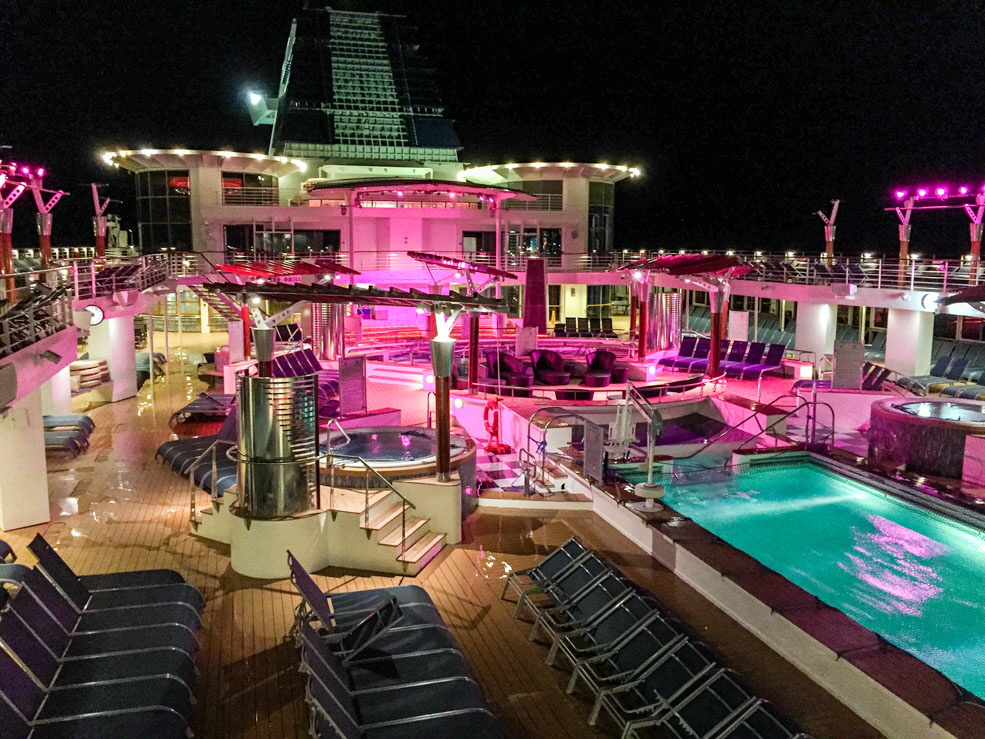 March 14th, 2015 – At Sea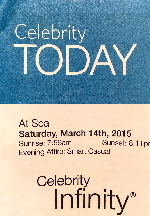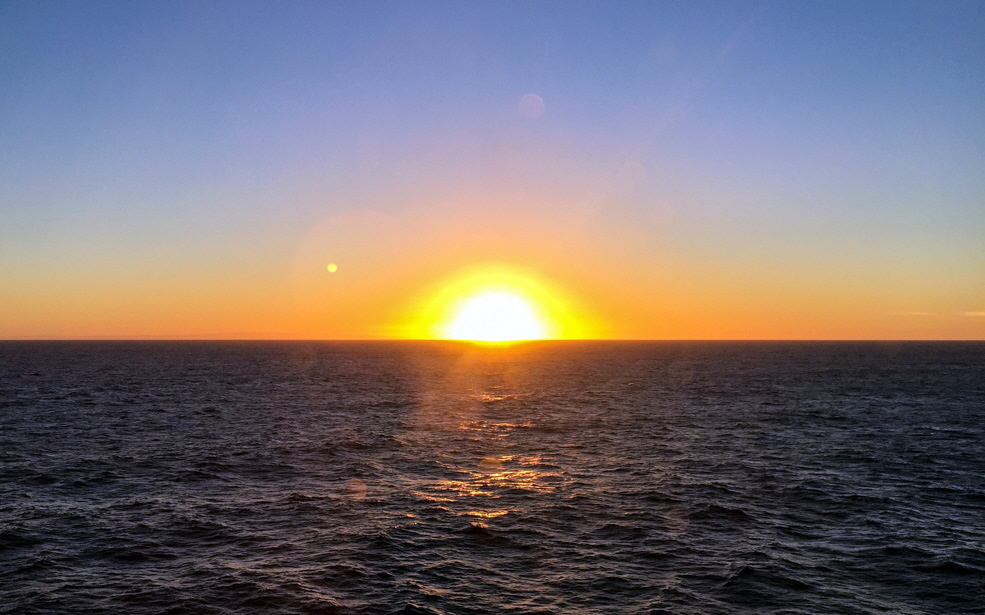 On this last day of our cruise, we had another opportunity to have our breakfast al fresco. It was a little chilly but also very sunny. Dressed accordingly, we let the sea breeze caress our faces one last time and enjoyed the view of the stern wave. A sight that probably makes the heart of every cruise fan beat faster.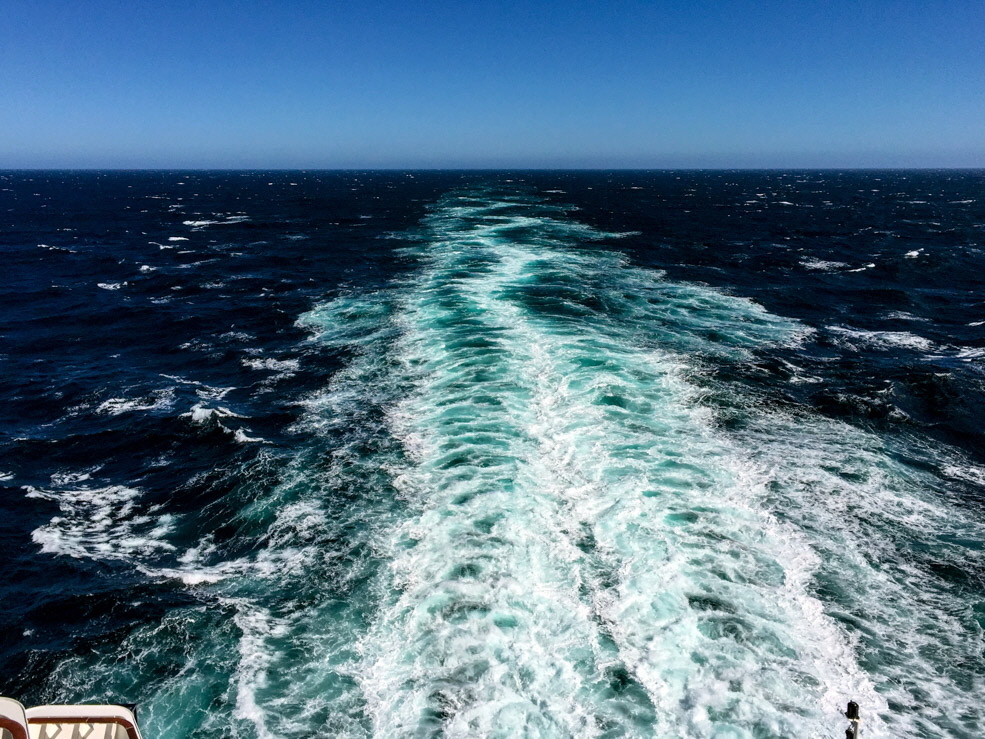 Next we attended the presentation and Q&A session with our captain in the theatre. You could tell that Captain Nikolaos presented the slides on navigation and ship's command more dutifully than with particular enthusiasm. But each time he left his lectern and removed his reading glasses, a completely different captain appeared. Free and full of passion he talked about seafaring, about situations (mishaps included) he had encountered in his career and about this cruise. This Captain Nikolaos Frantzis inspired his audience with his personable and easy character.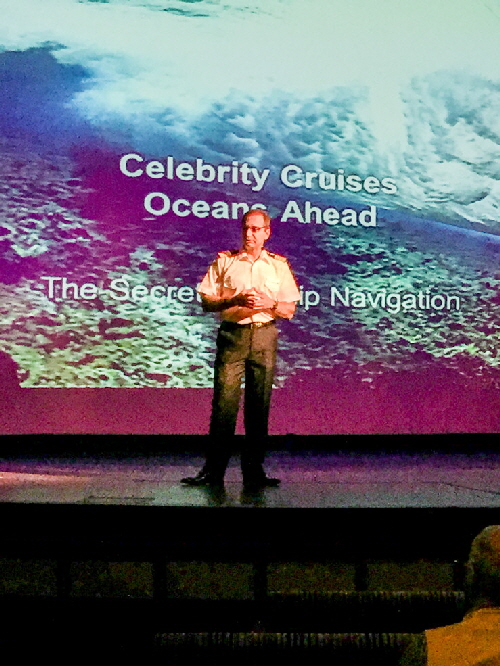 Our Captain's presentation was followed by MickeyLive's final lecture, but first of all Mickey called Mathew, our Staff Captain on stage. Most of the audience remembered him from "Dancing with the Officers", where he had presented his full repertoire of head banging, Irish dance and tango until he had looked keelhauled. He, too, was simply a likeable guy, who was also very popular with the crew, as we knew from our waiter at the Blu. Mathew was given a farewell, as he was to leave the ship in Valparaiso to begin his vacation.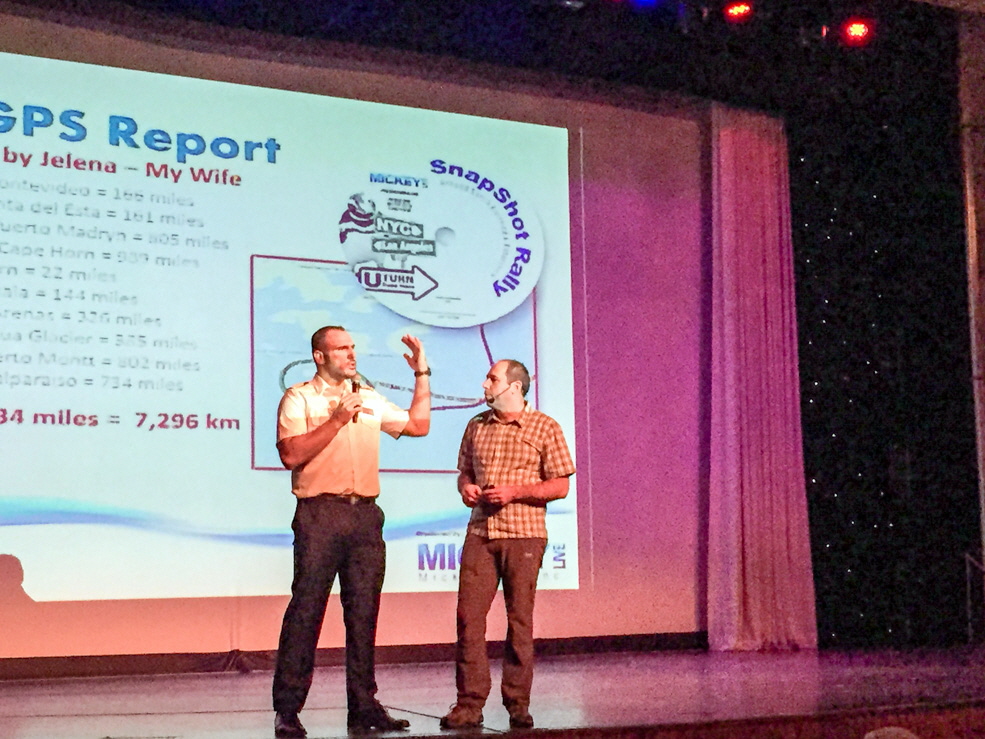 Then it was time for Mickey to present the top 70 shots collected during the SnapShot Rally. Sorted by ports of call, great images of landscapes, ships and wildlife were projected onto the big screen. Some pictures made people laugh, others were commented with "Ahhhs" and "Ohhhs" by the large audience. Thanks to those captured moments, we were able to live through this entire beautiful journey again.

I was quite surprised when Mickey stopped at one of my photos and asked towards the theatre "Oliver, are you here?" When I raised my arm, he asked me to come on stage and handed me a microphone. He then explained that I had submitted a few photos which he thought were special, too, as they served as good examples for his photo tips and then presented all the photos I had submitted. He told the audience that he knew that my hobby is what he liked to present in his lectures: Digital Story Telling, i. e. writing travel reports. He always proclaimed to "Share your story!".

And so began a little Q&A session on stage, during which I couldn't only introduce the cruise forum in which I'm involved, but where I could also feel my knees go wobbly. I have no problem talking in front of people, I have to do it for work, too, but this had hit me completely off guard. Thankfully, Birgit and our Canadian friends later said that nobody had noticed. I told Mickey and Jelena afterwards that they could have at least warned me – to which he only replied with a wink and a cheeky smile.

We spent the afternoon with new friends on the open stern. We still had a bottle of champagne left in the fridge and couldn't have found a more appropriate drink for the occasion. As already mentioned, it were the good and funny times with these people and, of course, these people themselves, who had made this trip very special.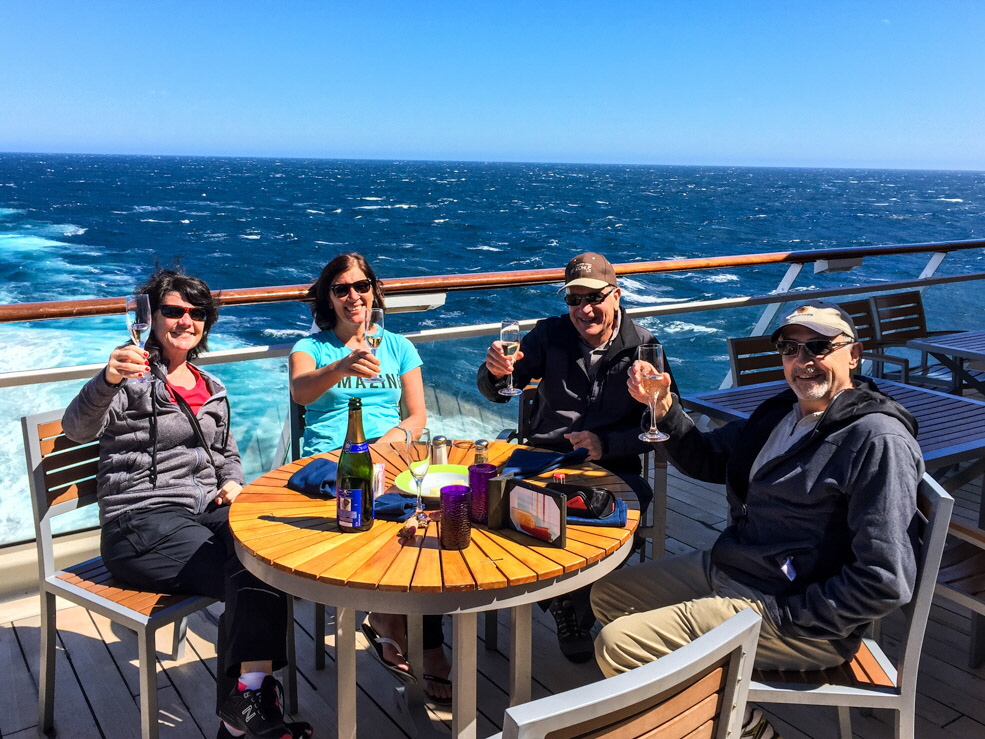 It was nice that the last day was a day at sea. It allowed us to make our farewells to the beautiful Infinity, to fellow passengers and, of course, to some members of the crew. In particular, I'd like to mention Jenny, our waitress, who didn't only look after our drinks during dinner at the Blu but who was also tirelessly working serving coffee during the day at Cafe Bacio or at general drinks sales, and Agus, our waiter. Both of them would always meet you with a beaming smile, always friendly and welcoming. In general, it was the crew again who had put the icing on our beautiful experience on the Infinity and who always made us feel welcome and at home.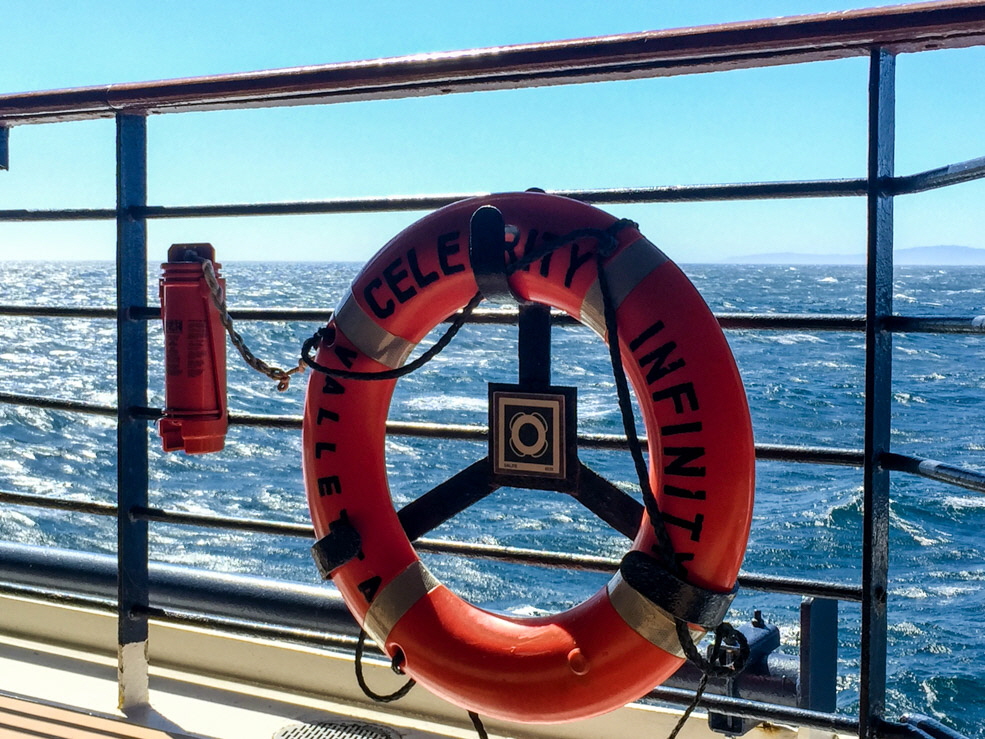 www.travellove.one • www.thecruise.report • www.travelandcruise.net
© 2021 Die Rechte an Texten, Fotos und Videos liegen beim Autor der Webseite. Die Nutzung ist nur nach ausdrücklicher Freigabe erlaubt.