Part 8 - Seward Day 1


This morning marked the end of our cruise. Of course, we were a little sad, especially because this had been such a wonderful trip. But we also knew that more adventures in another part of Alaska were ahead of us, and we were looking forward to those.

From the ship we could already see the Holiday Inn Express Hotel (now Harbor 360 Hotel), our home for the next two days. Our main reason to book it was its location at Small Boat Harbor.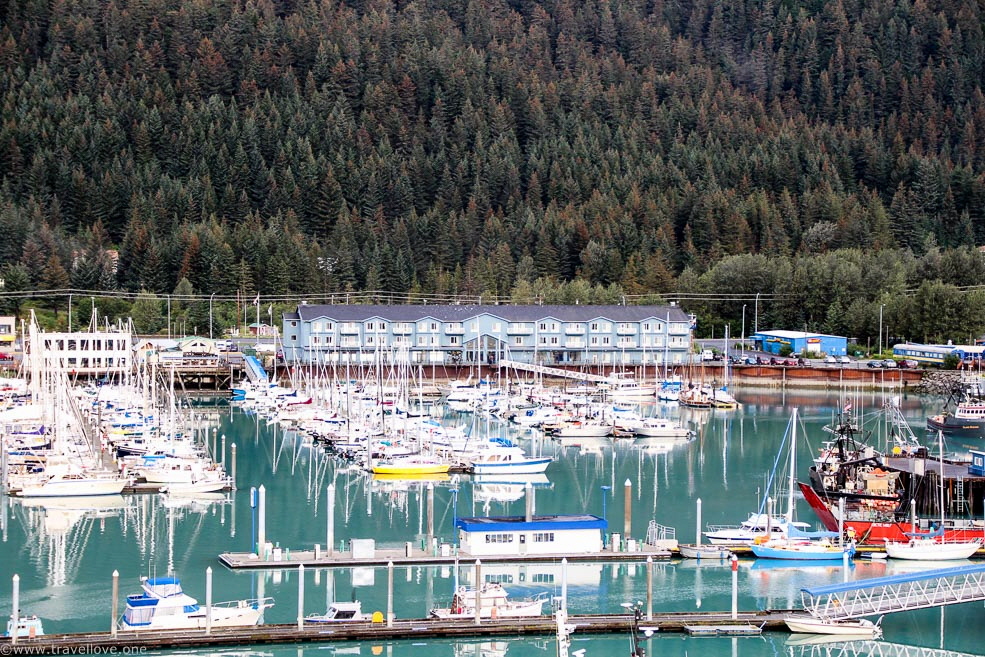 This location allowed us a last beautiful view of the Radiance. Bye, bye, Radiance, it was a great trip.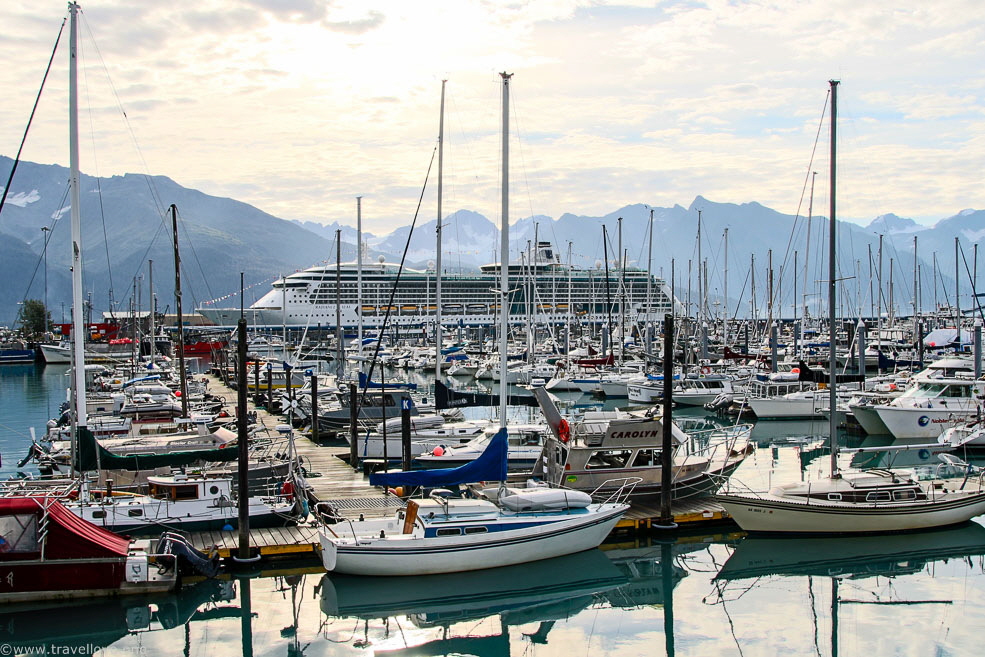 Our room wasn't ready this early, so after we left our luggage with concierge, we went out to explore the little town of Seward.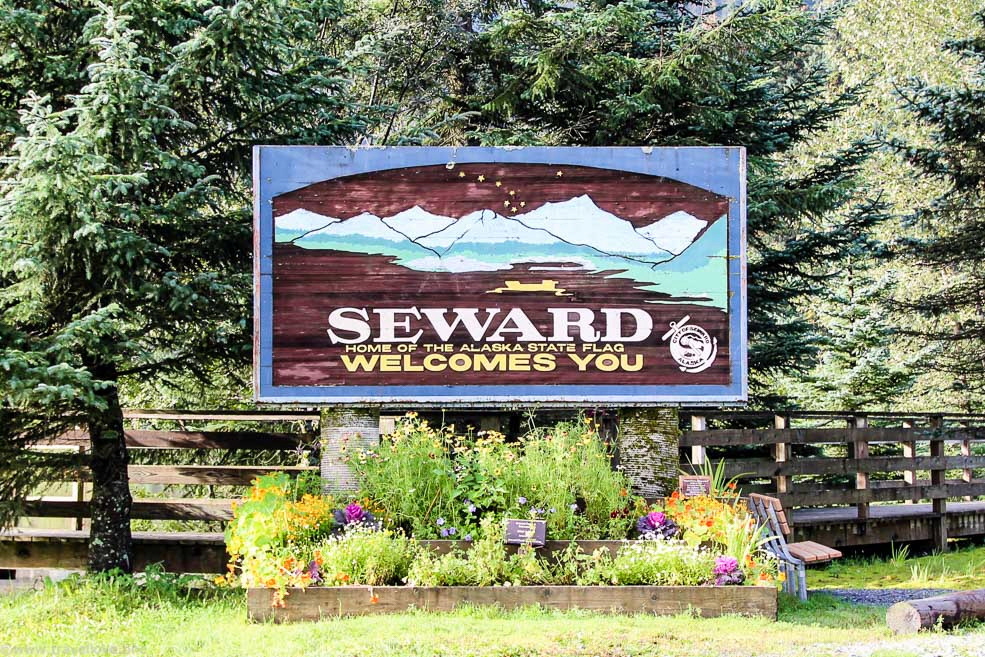 Again, wildlife was omnipresent.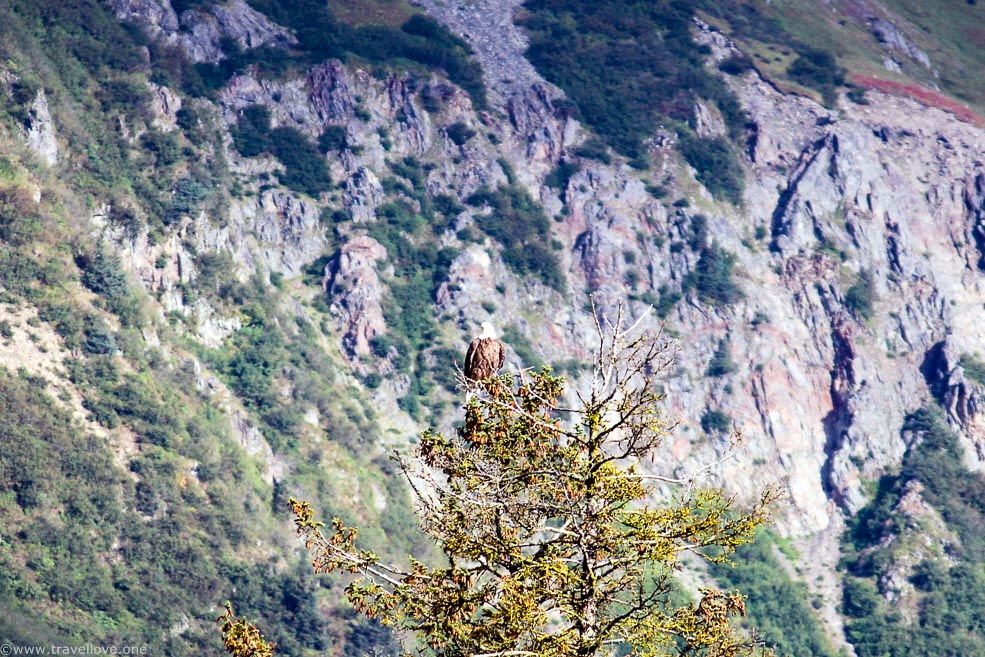 The road lead from Small Boat Harbor directly into town.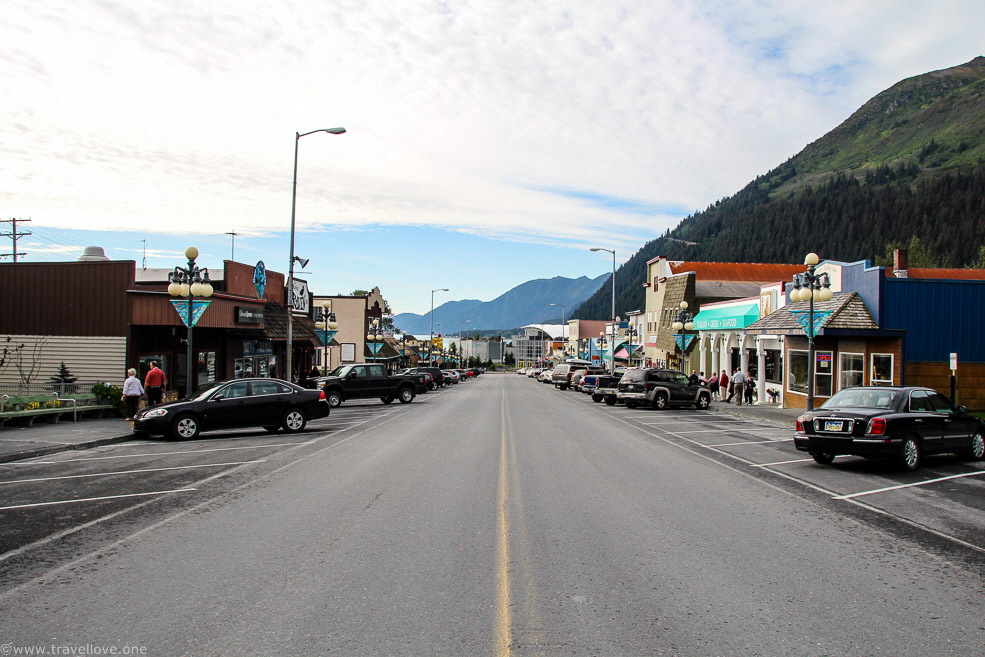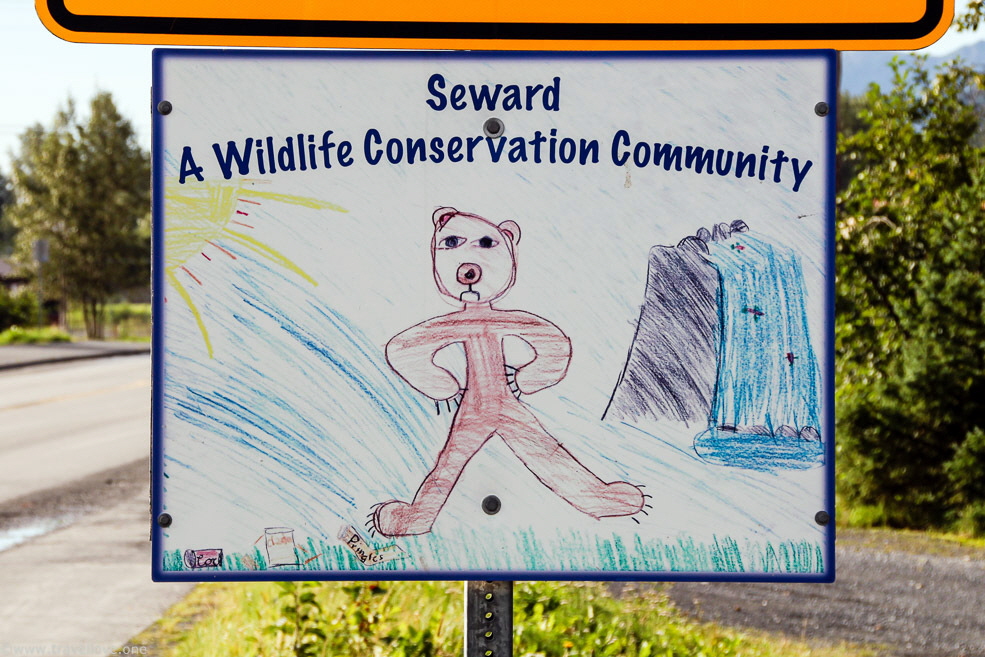 The town looked as if time had stood still. But here, contrary to some of the other places we had visited, everything seemed somehow authentic.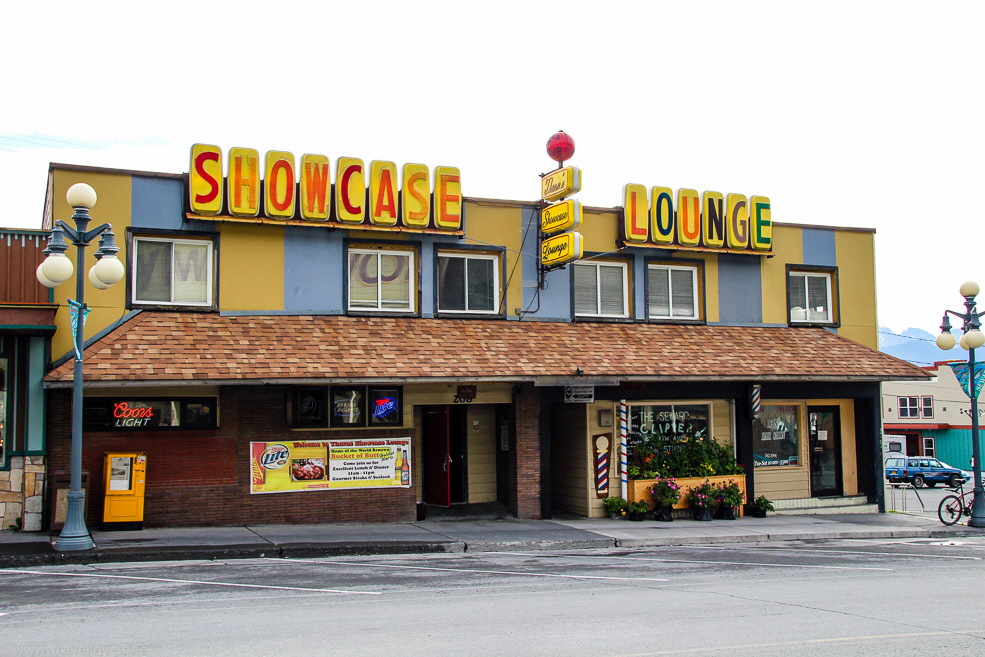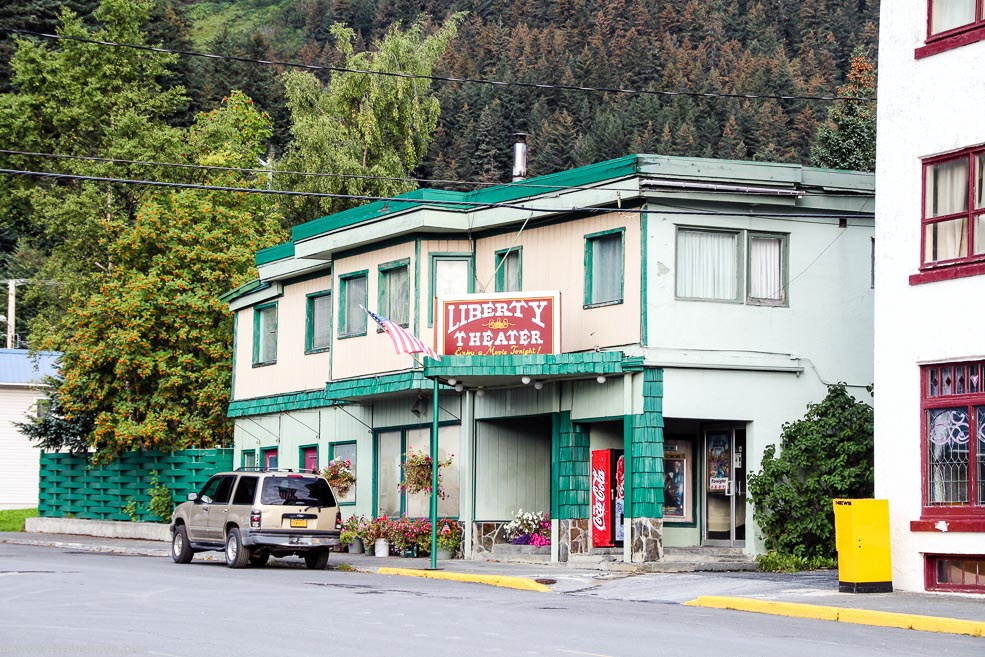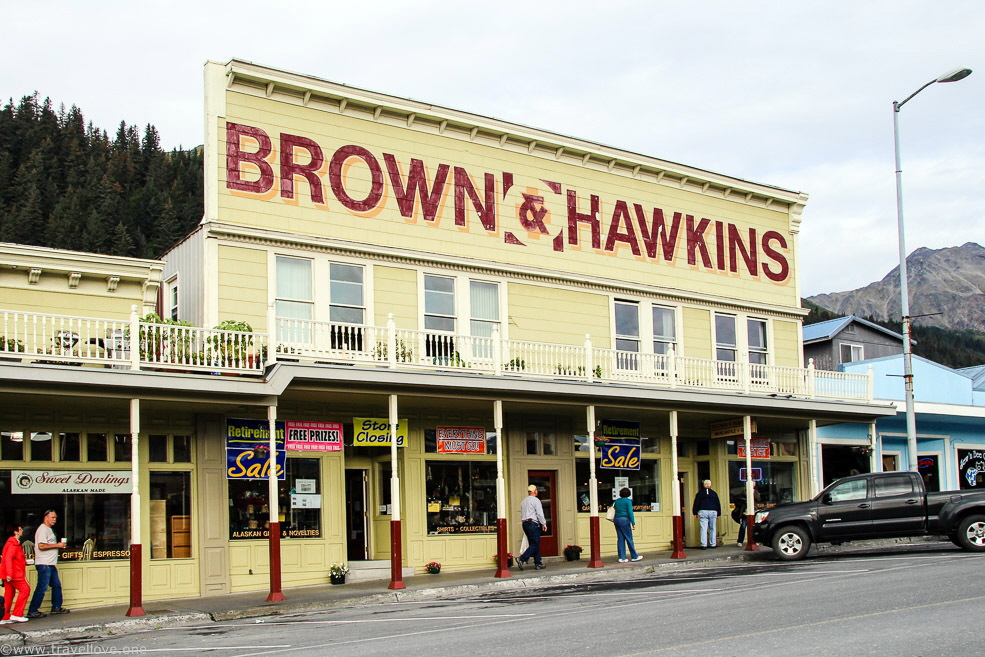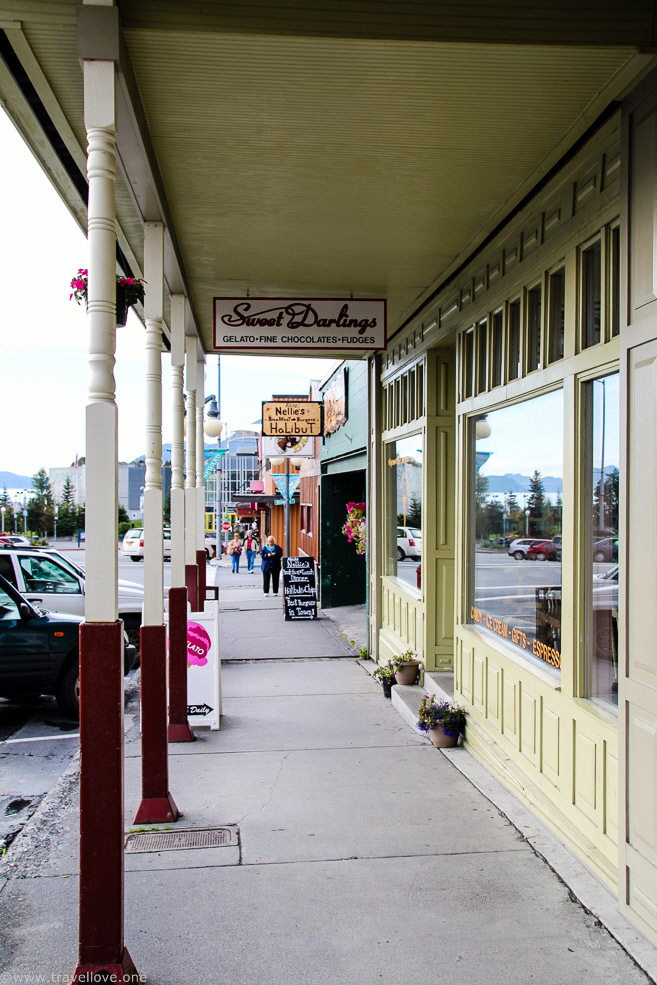 At noon we had booked a tour to the Exit Glacier with "Exit Glacier Guides". We still had some time left until then, so we visited the "Ranting Raven", a mix of mom and pop shop and a café, where we couldn't resist a delicious coffee and homemade cookies.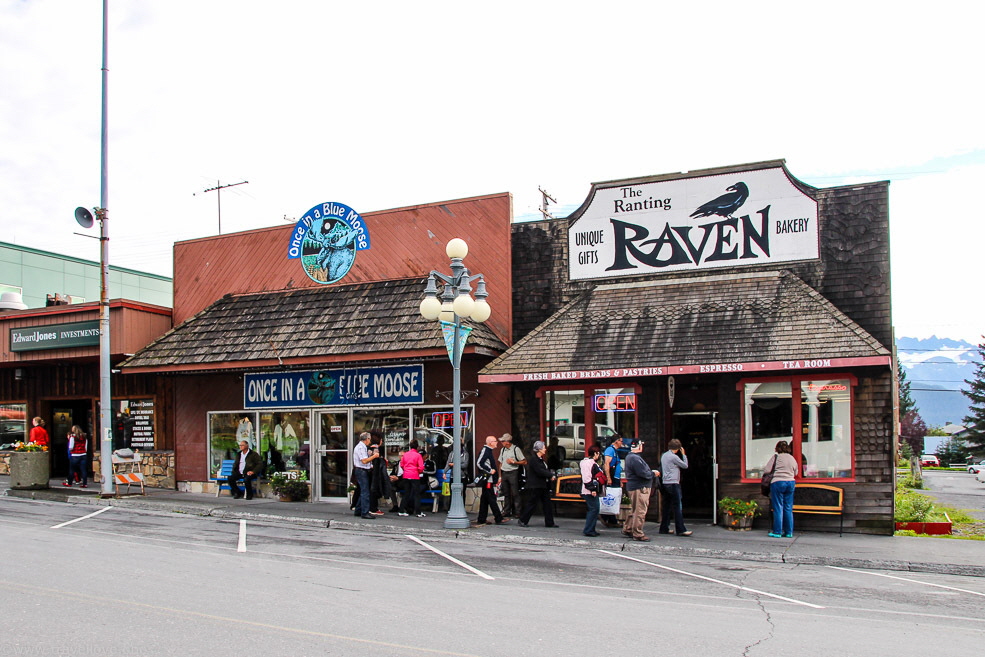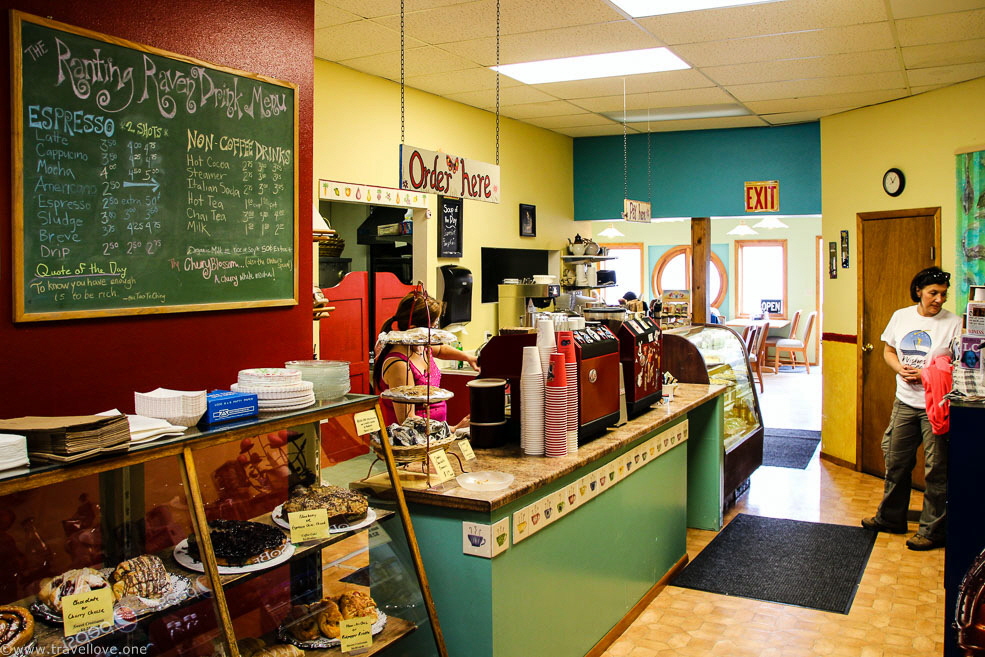 And then it was time to head for the Exit Glacier Guides.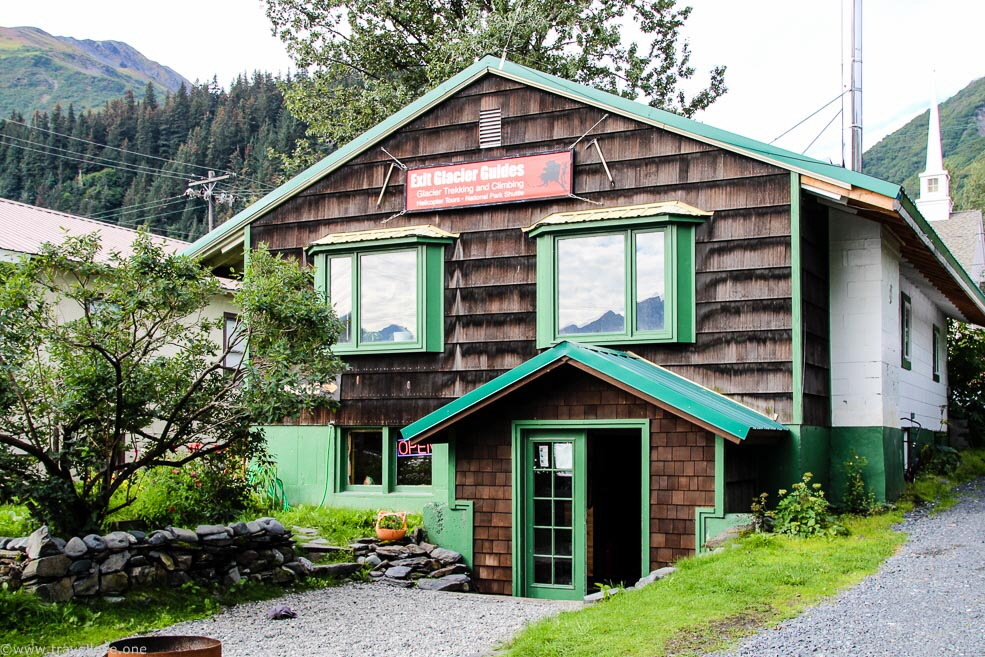 The Exit Glacier guides were a cool, young team who gave us a warm welcome. We were given special backpacks with integrated 2-liter water bags and snorkels fastened to the harness, and chose the helmets and spikes that would fit our sizes. Next we were told how to fasten them and how to stow them away together with the helmets in special compartments of the backpacks. Everybody could take as much as they wanted from a selection of energy bars, and then we all boarded a mini bus which took us to the visitor center of the glacier.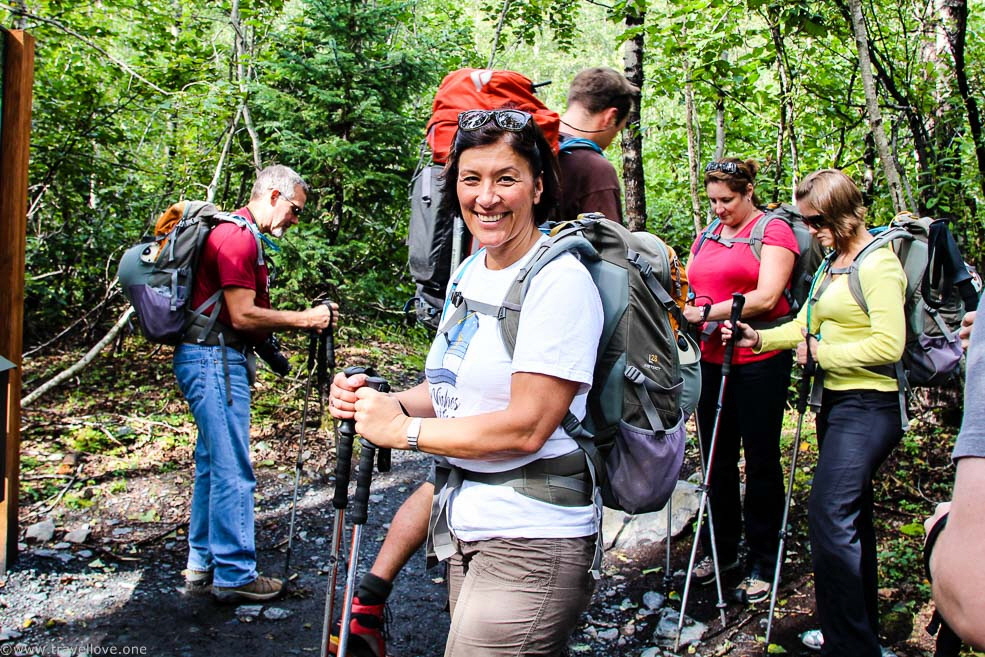 From the center`s parking lot we began our ascent to the glacier. With the equipment on our backs, we went uphill for about 1.5 hours – at quite a swift pace. From the regular walks with our dog I am not gimpy, but this really made me sweat.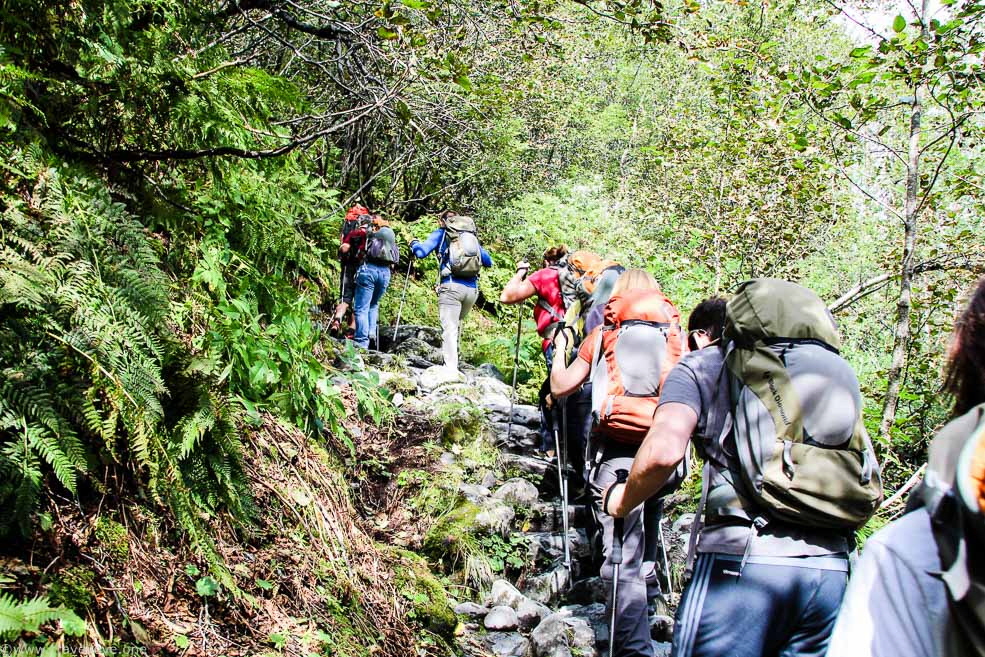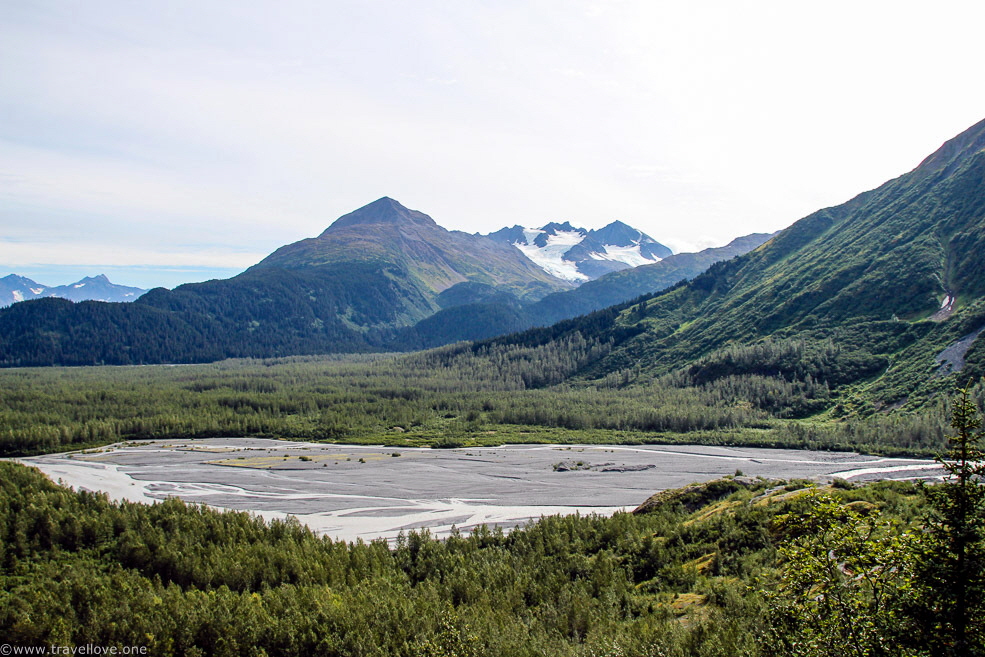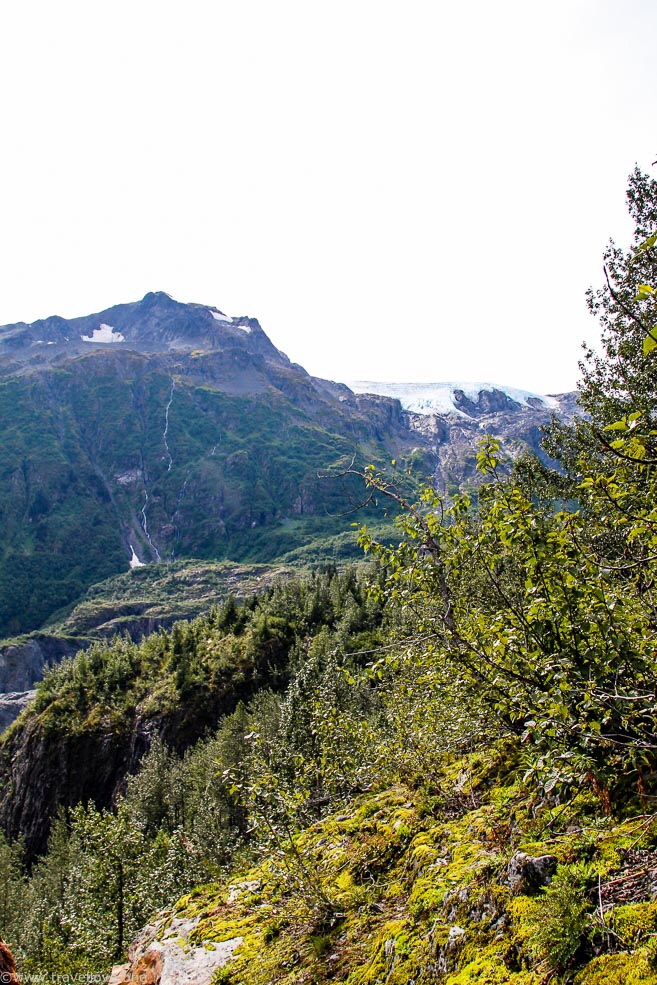 1.5 hours later we had reached the top – quite sweaty but delighted at the view.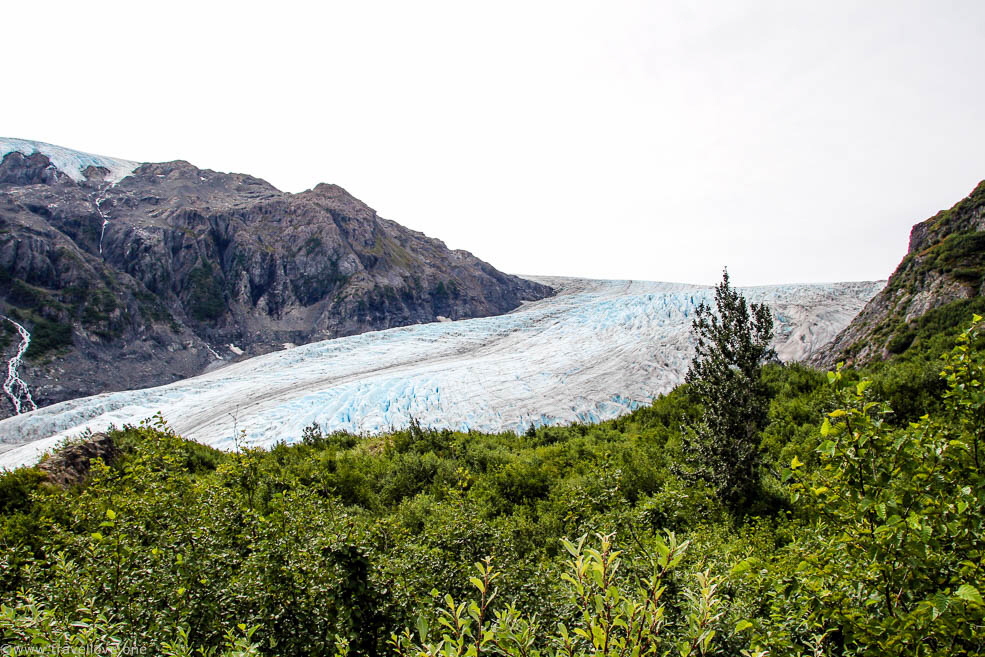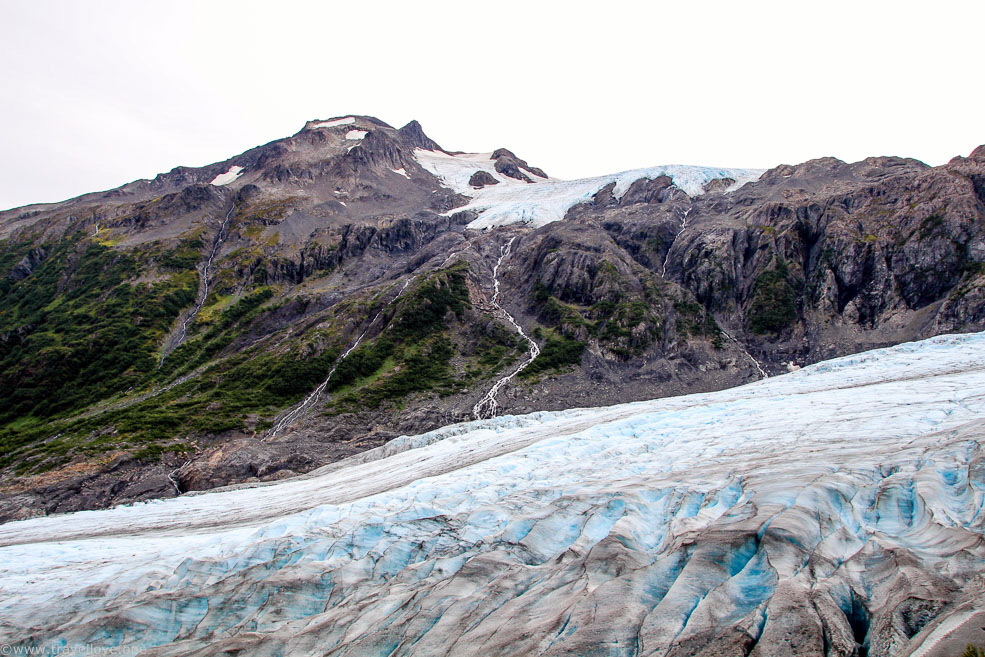 At the rubble edge of the glacier we put on our fleeces and soft shells again, strapped the spikes to our shoes and took som strength form the energy bars.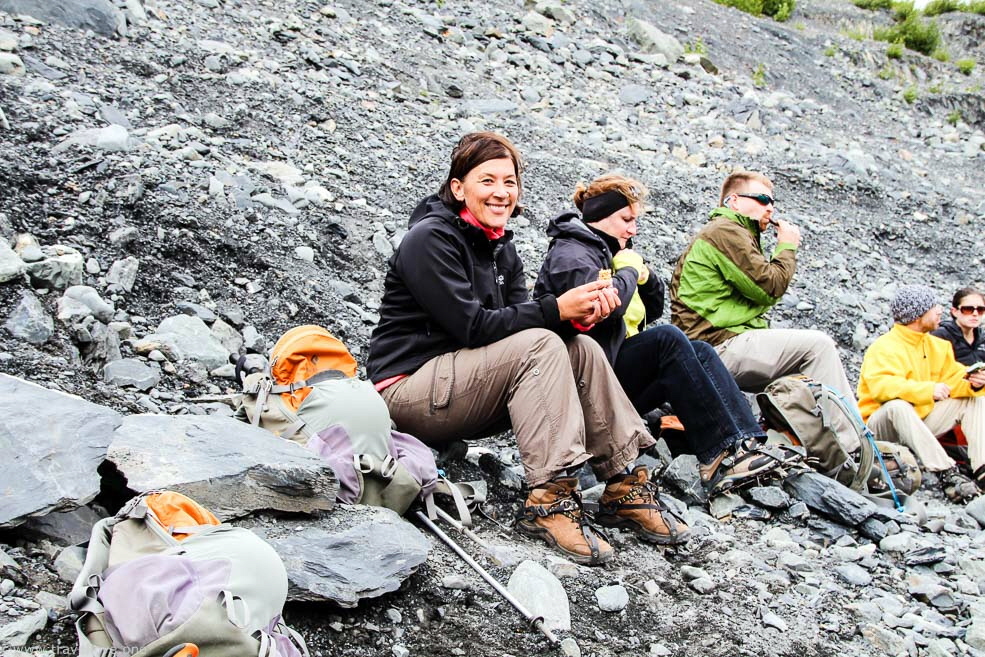 Then we got a brief introduction on how to walk with spikes and some general rules of behavior on the glacier. And after one of the guides had checked the way first we went out on the ice...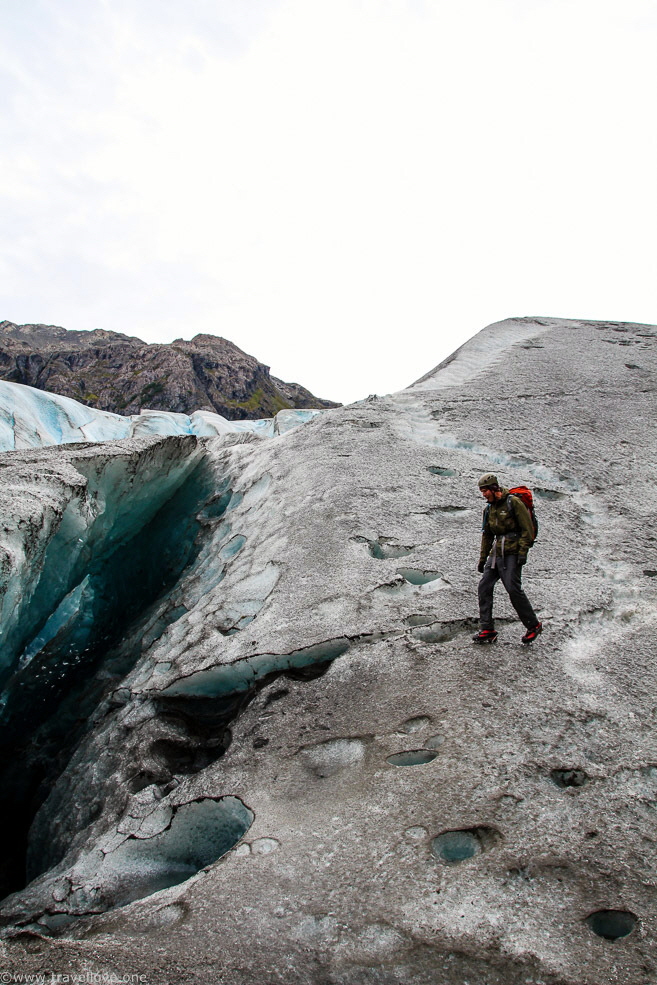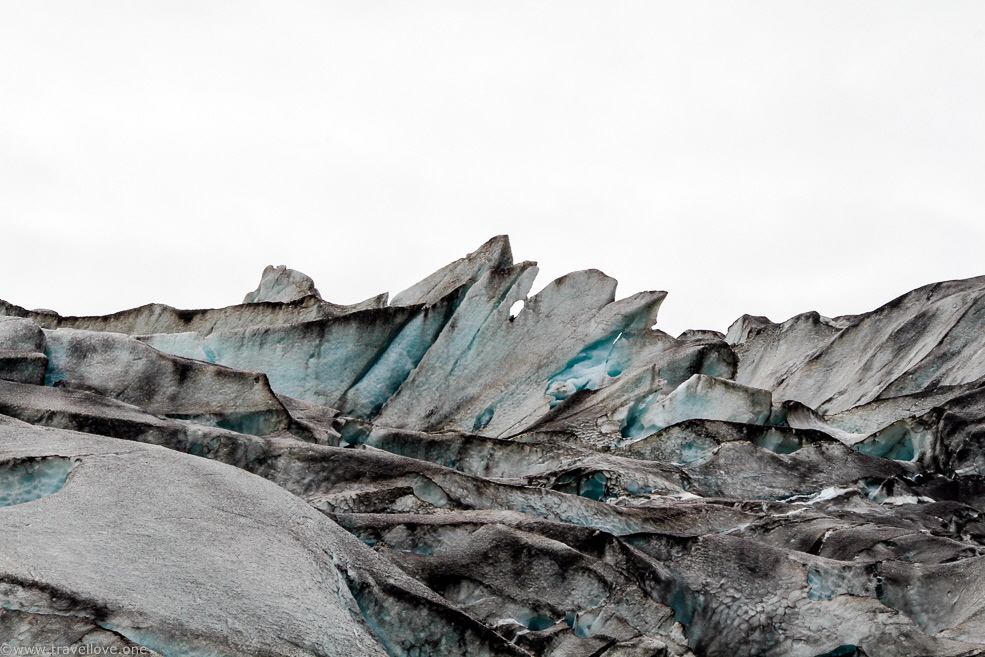 The blue glow of the glacier´s ice was particularly fascinating.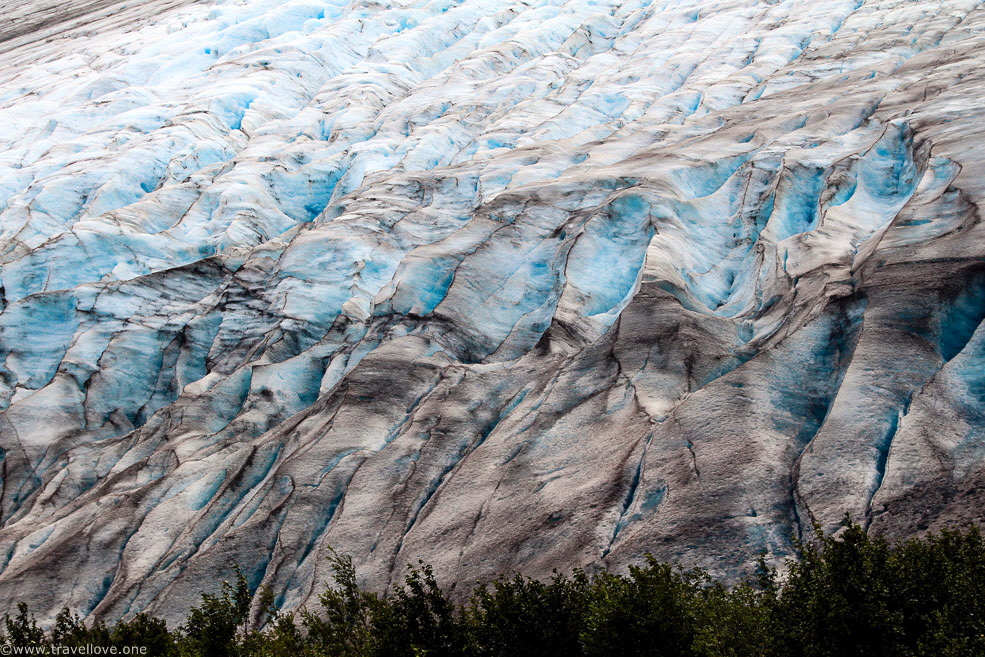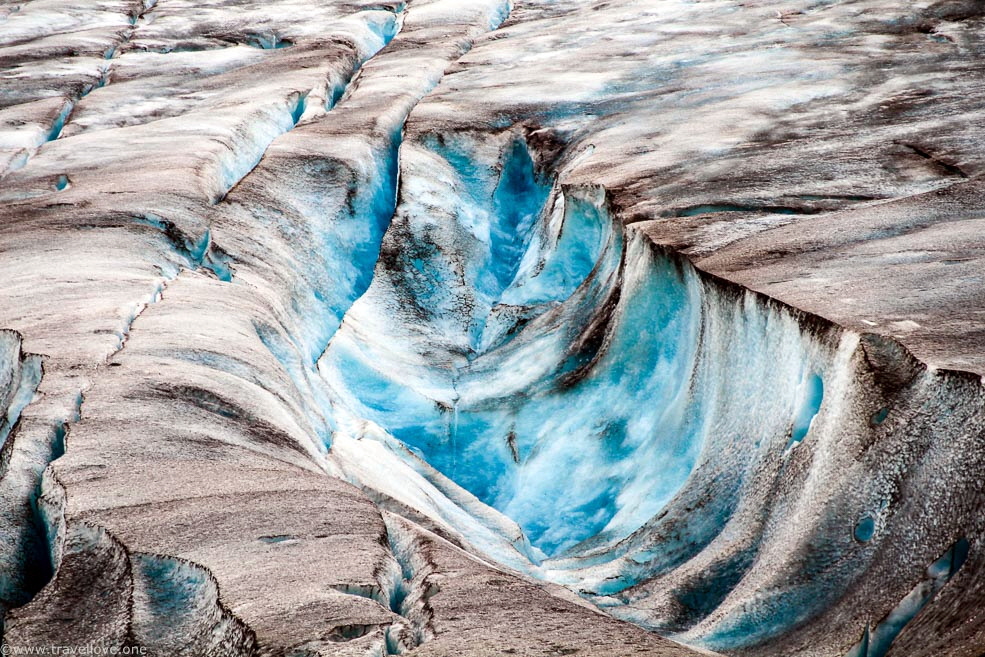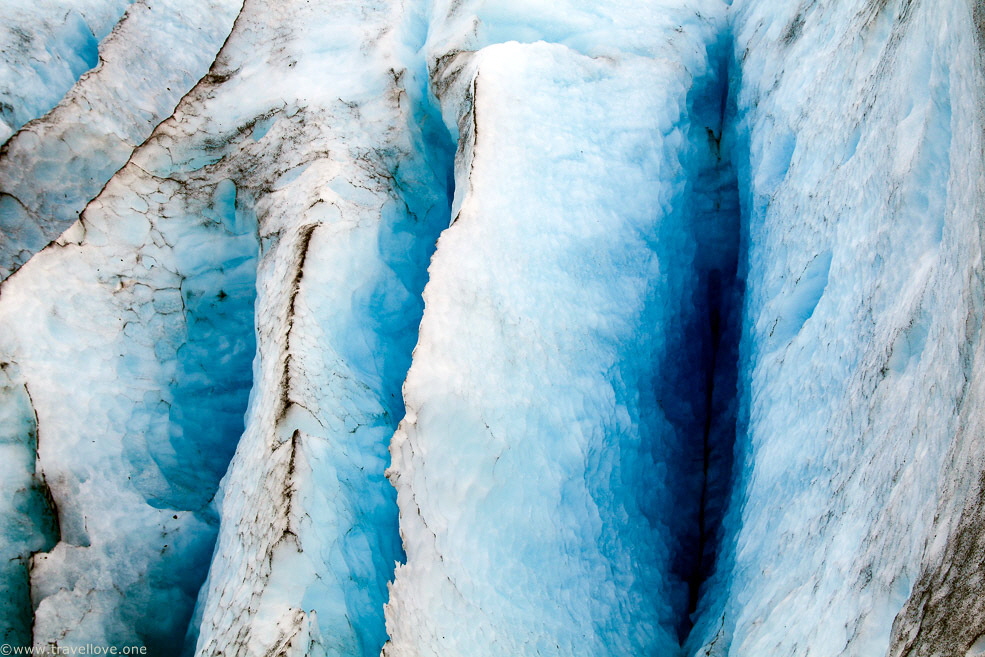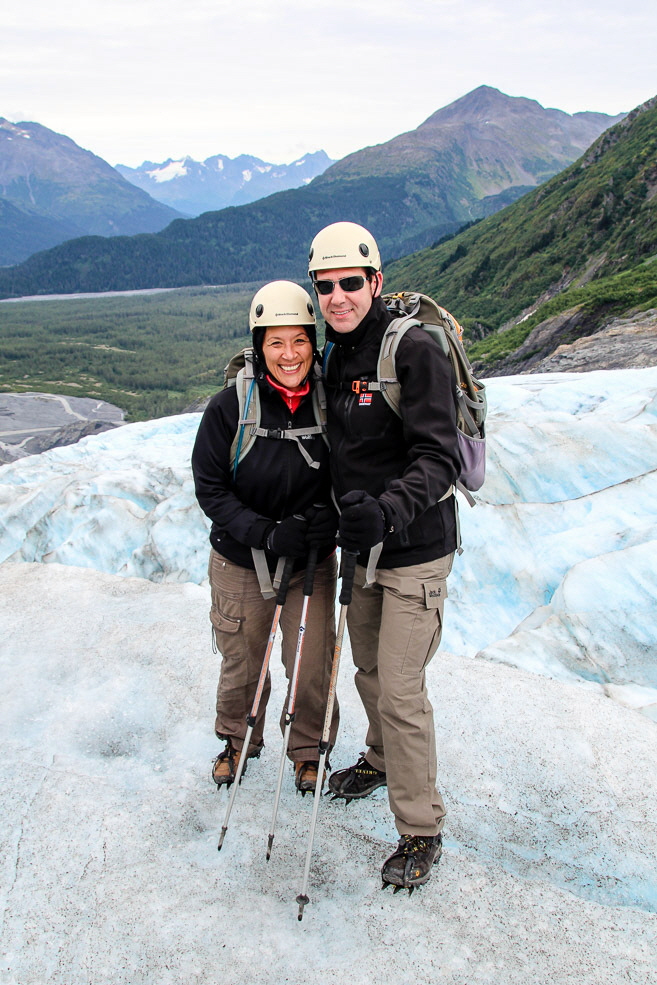 While hiking across the ice, you somehow loose the sense of dimensions. This always became apparent when we took a look at the other half of our group (we had split into 2 groups by now, each one with a guide, of course).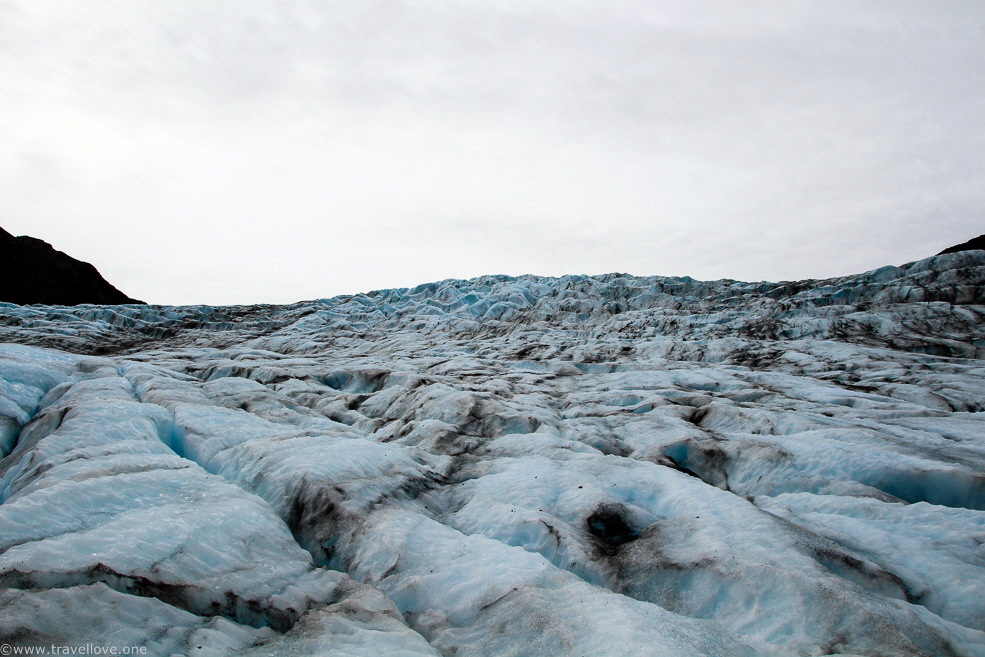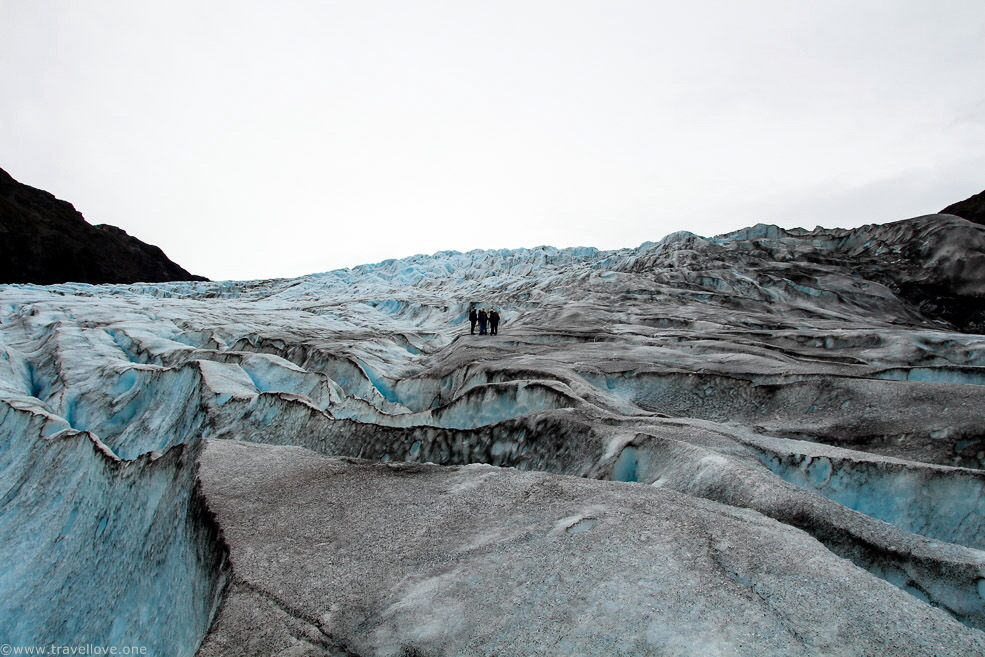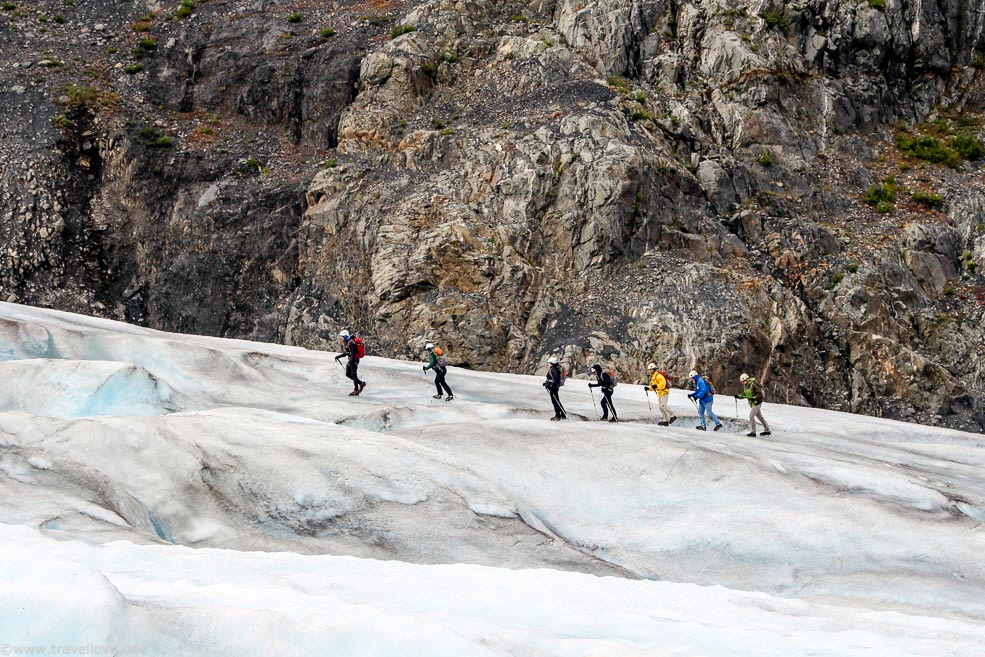 Everywhere across the glacier streams of meltwater, some smaller, some larger, made their way and created natural art in ice.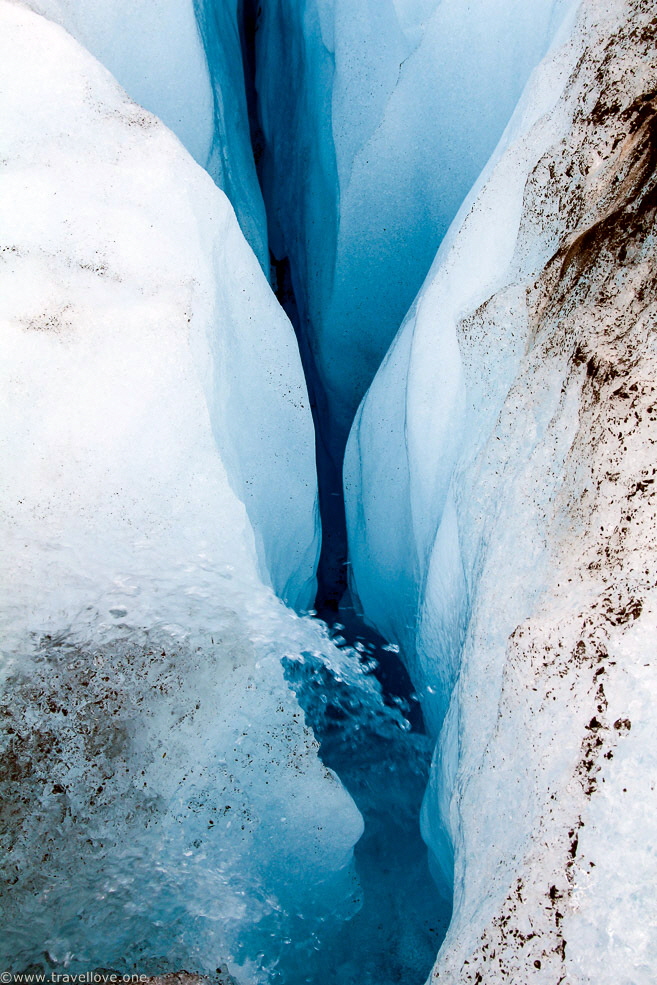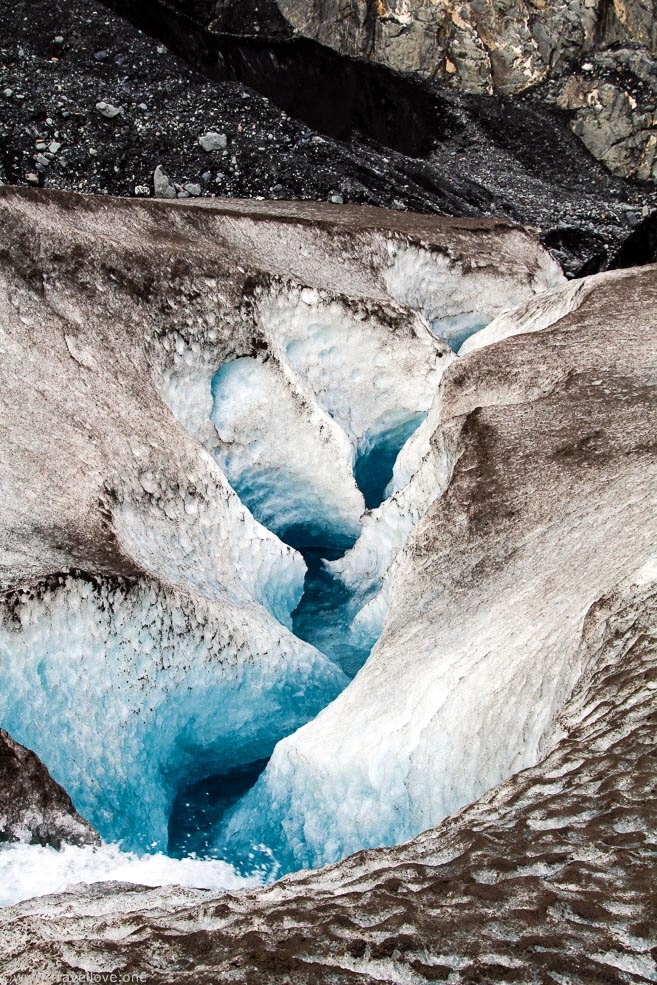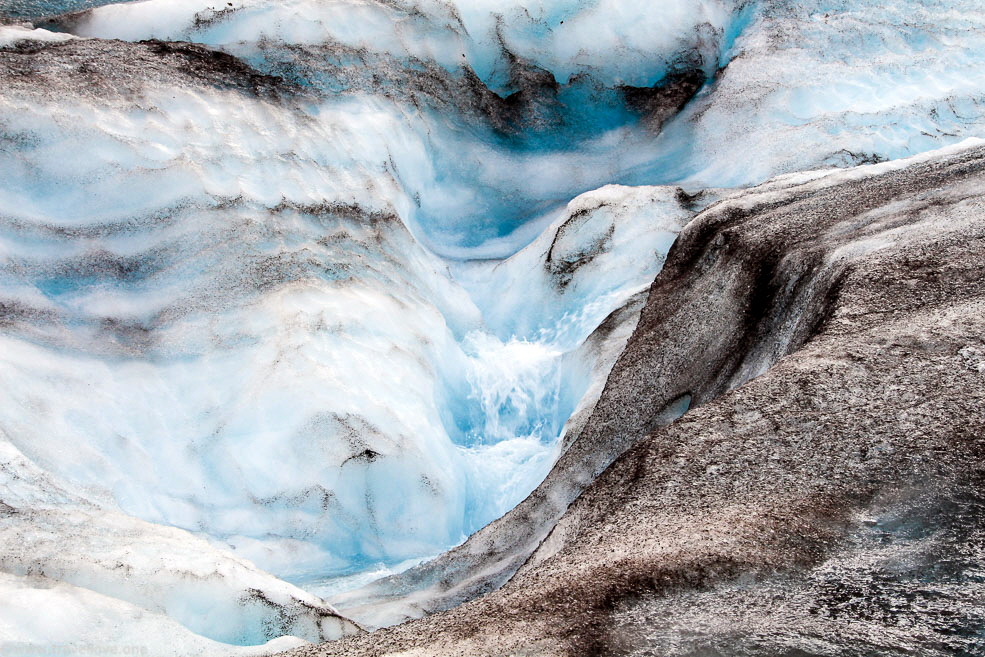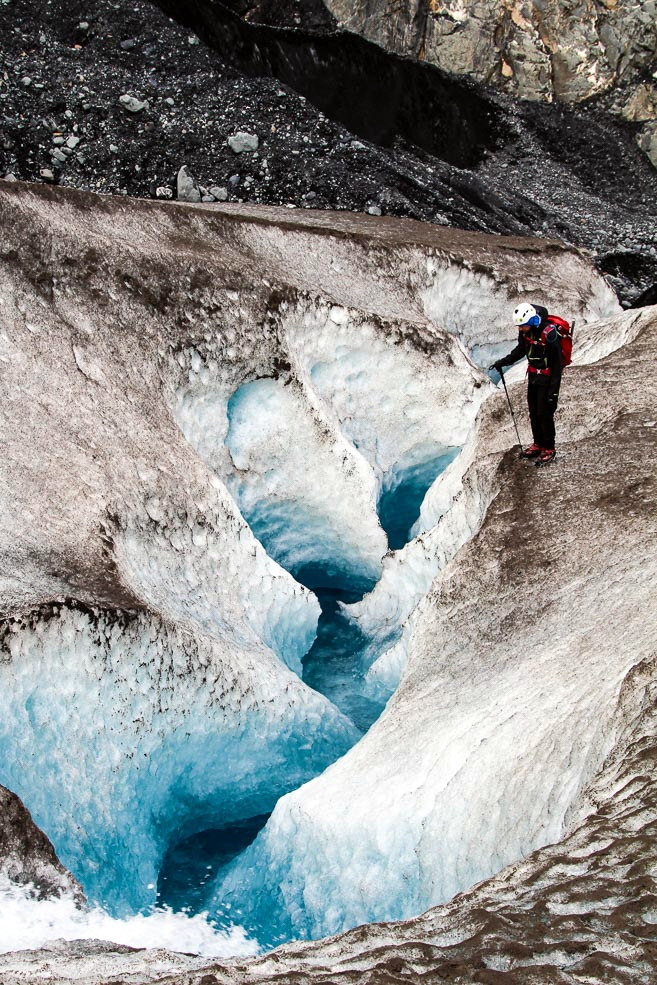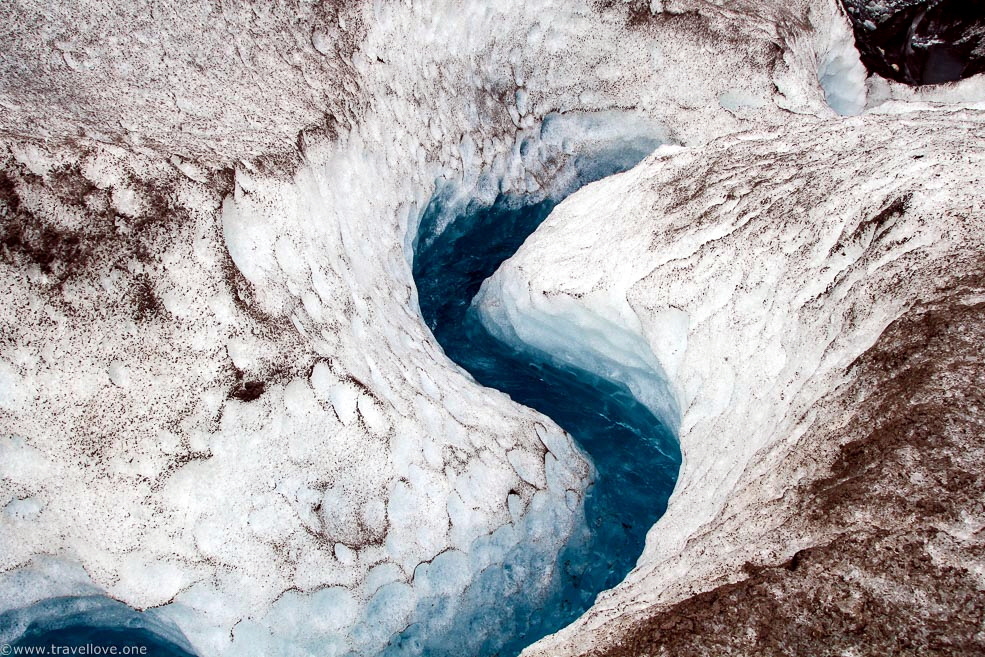 Individually secured by our guide Andy, we were able to get really close to some of the particularly deep "drainage holes".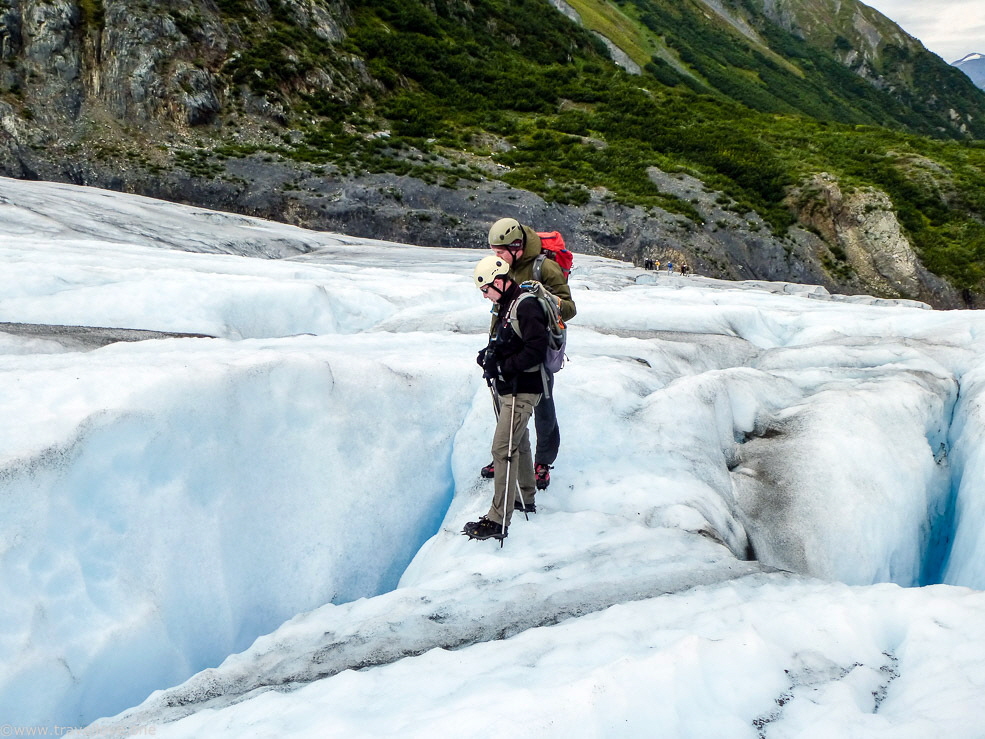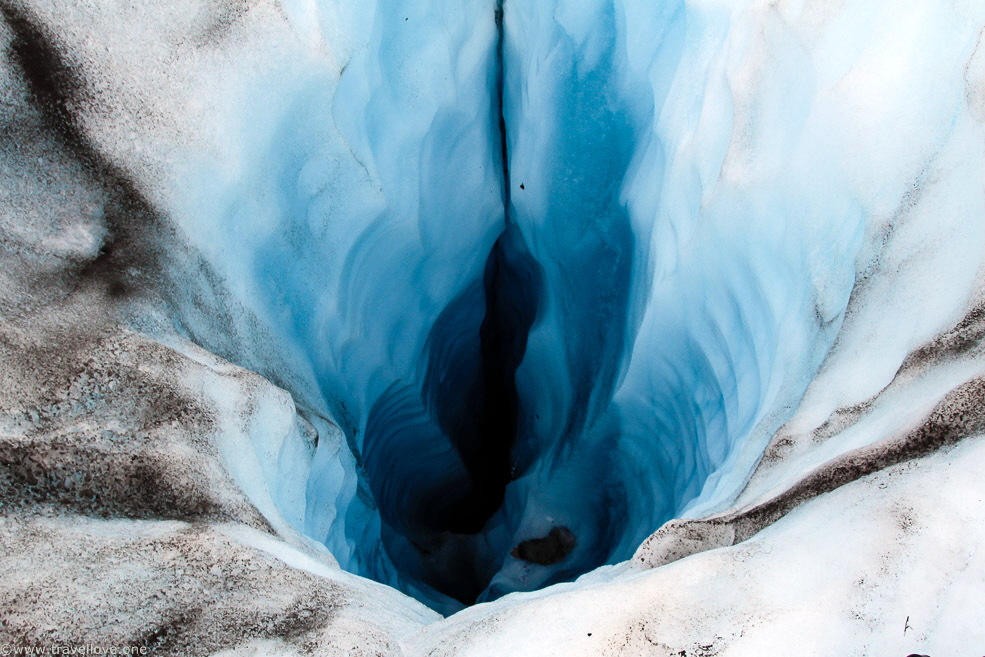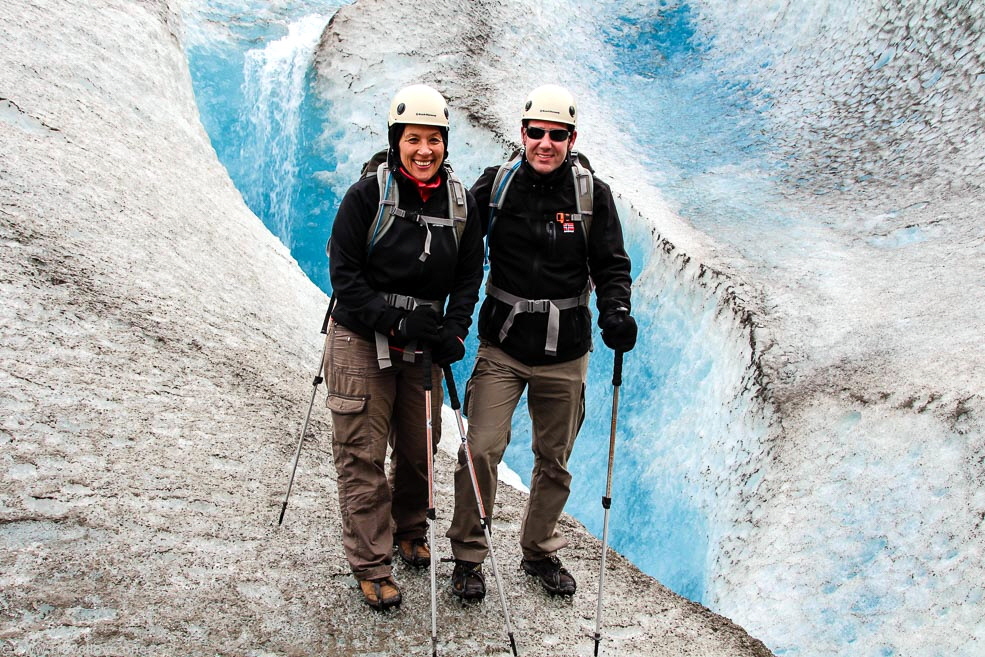 This very photogenic crevasse was waiting for us at the spot where we left the glacier again.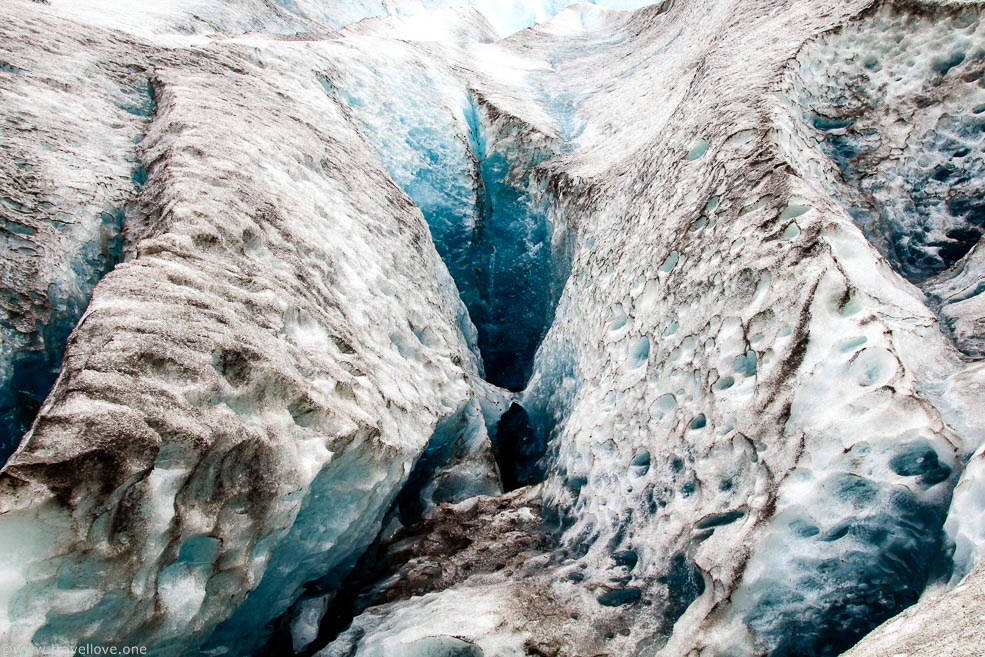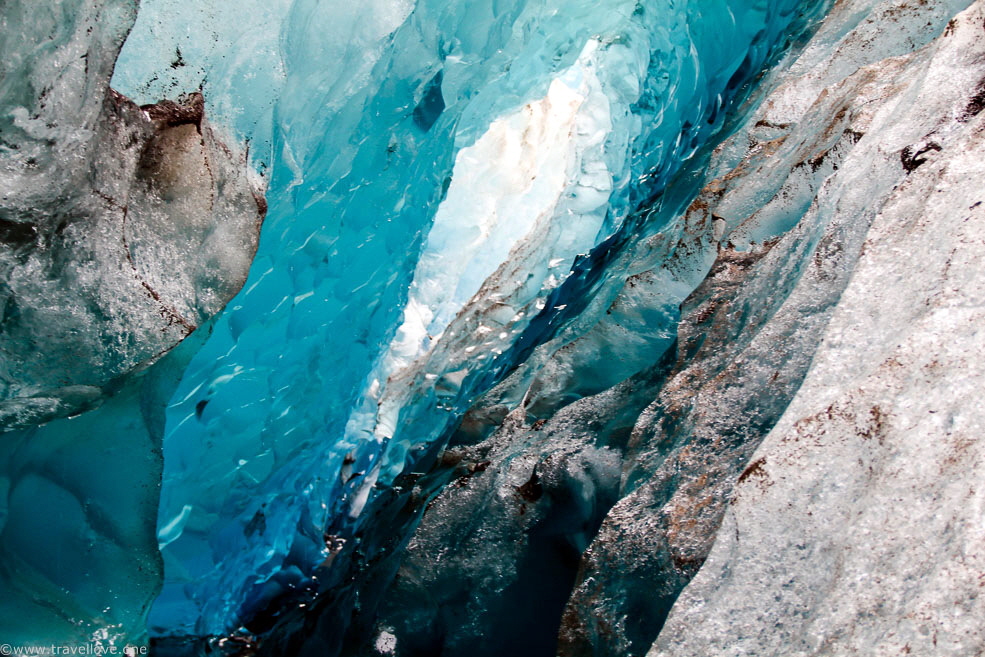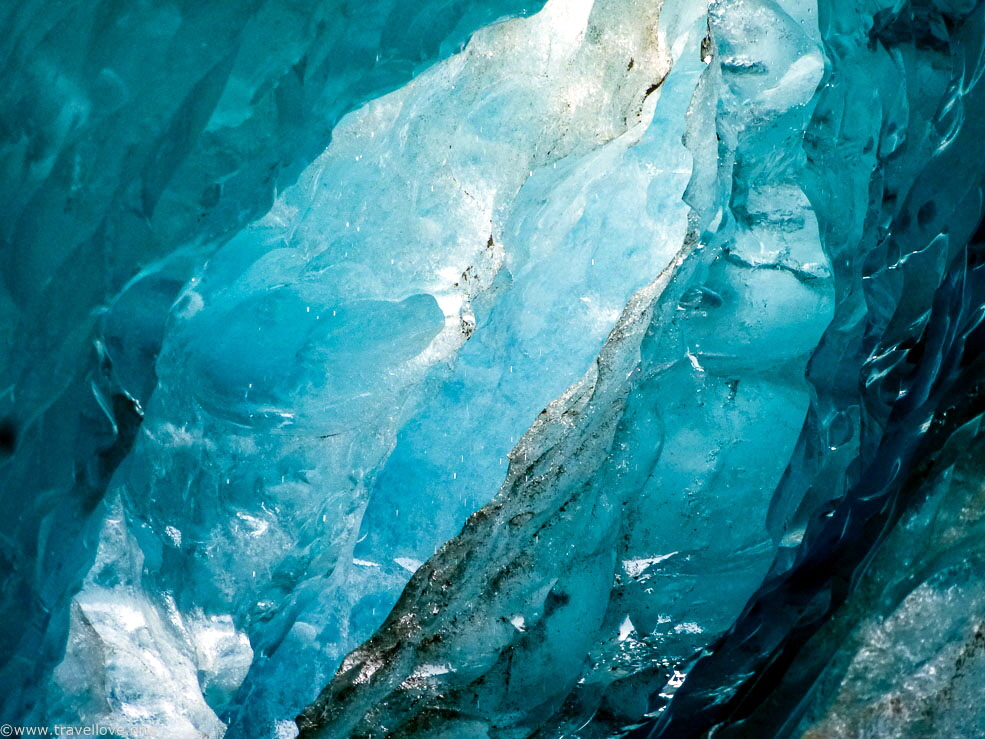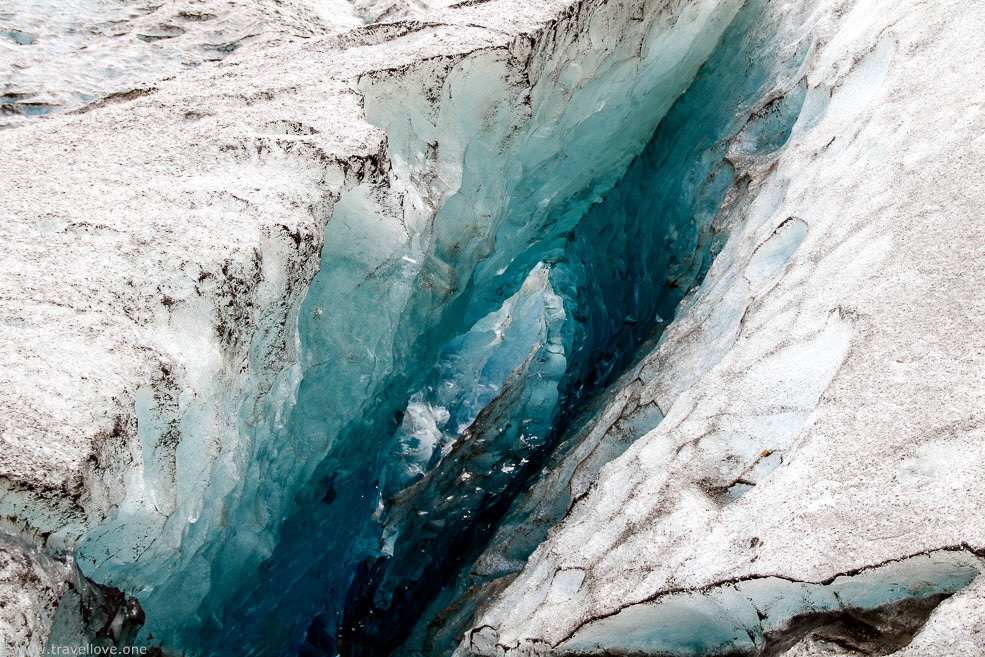 Eventually we started our way down and drove back to the base of The Exit Glacier Guides. By then, we were pretty exhausted – which was only due to all the fresh air, of course...

There were a few restaurants right around our hotel at Small Boat Harbor, one of which we found particularly quaint as it was a converted Alaska Railroad Wagon. They offered hearty BBQ food, which was just what we needed and deserved after the day we had had.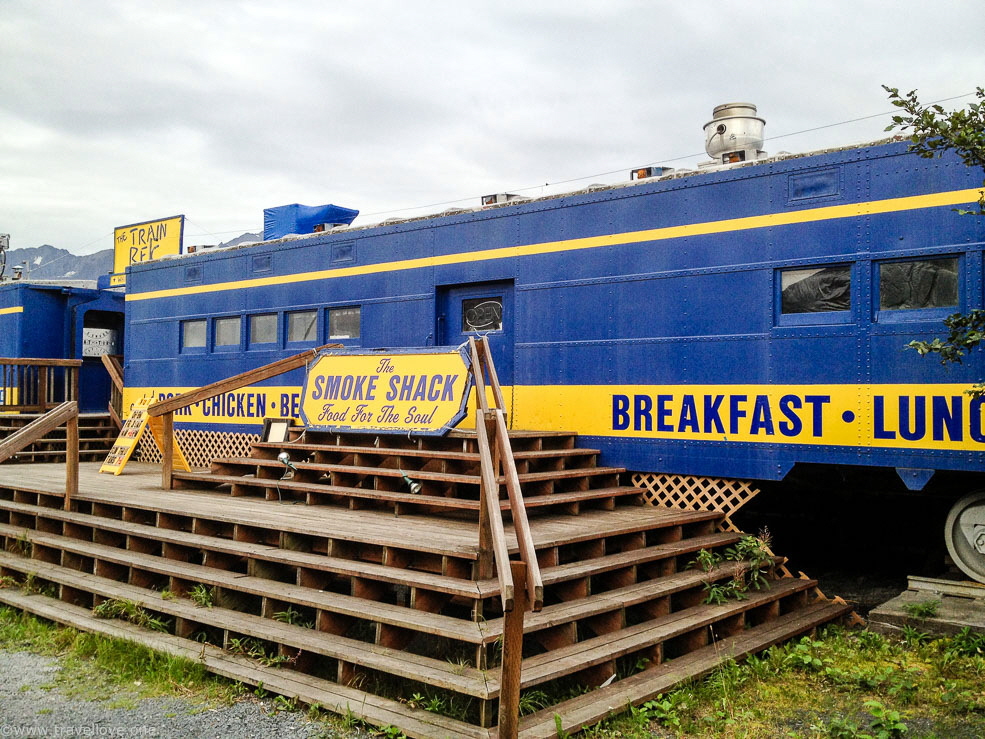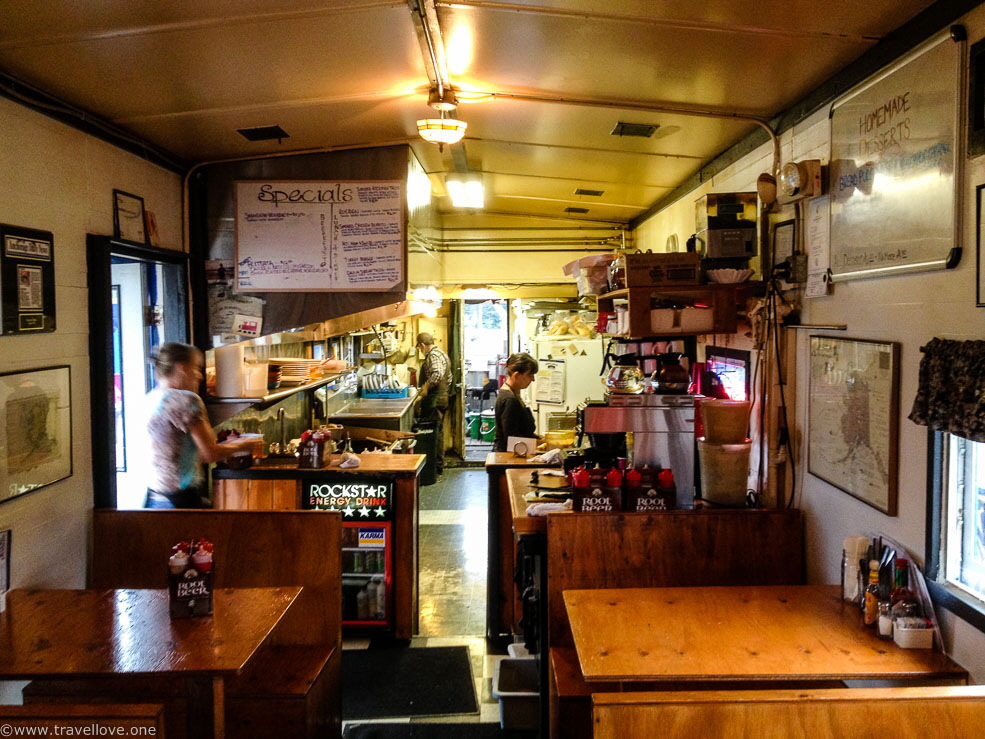 www.travellove.one • www.thecruise.report • www.travelandcruise.net
© 2021 Die Rechte an Texten, Fotos und Videos liegen beim Autor der Webseite. Die Nutzung ist nur nach ausdrücklicher Freigabe erlaubt.