Part 9 - Seward Day 2

Overlooking Small Boat Harbor, we started off with a good and simple breakfast, which was included in our booking.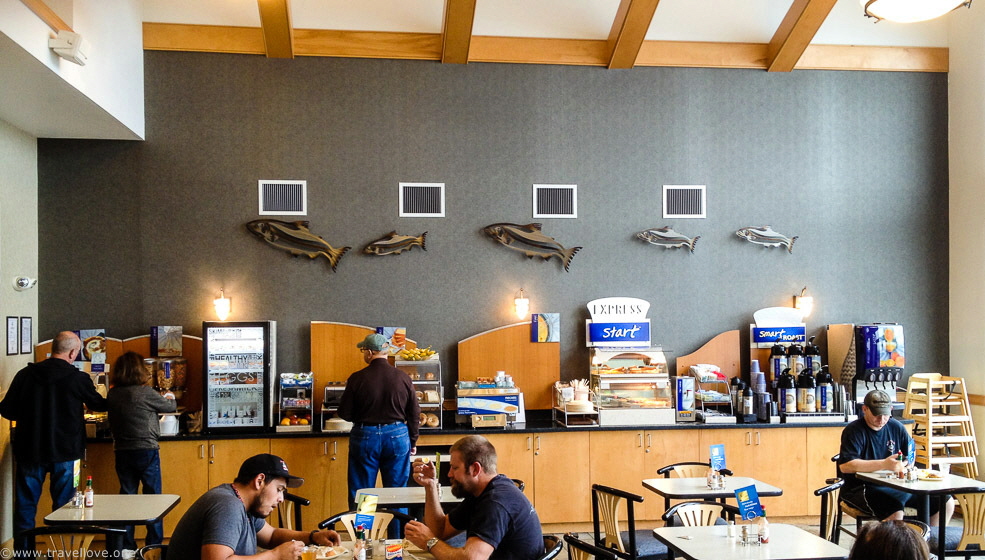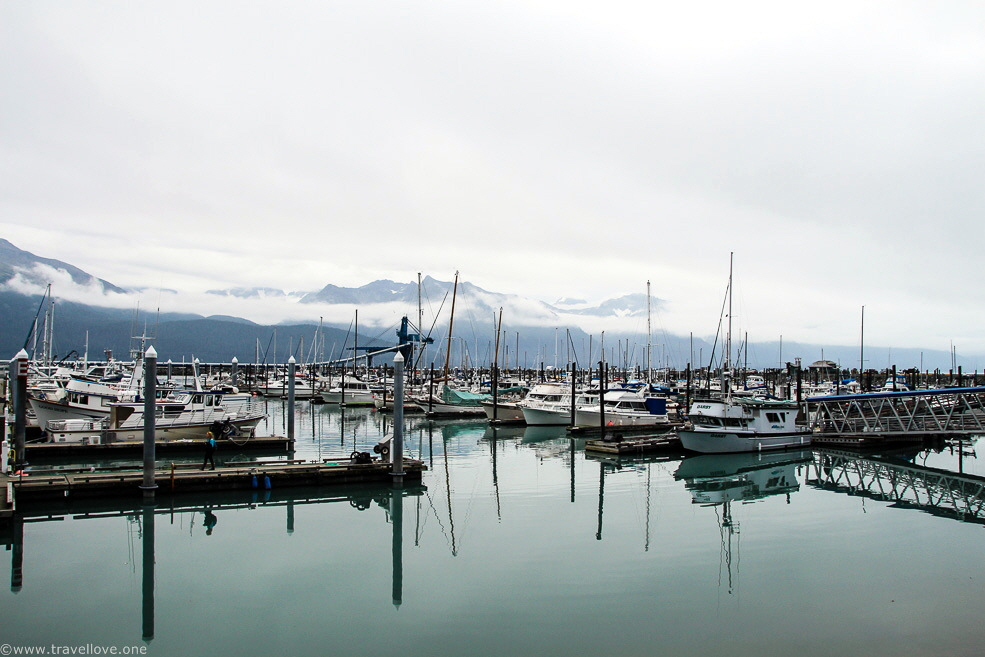 Again, the location of the hotel was unbeatable for our plans of the day. After breakfast, we didn't' even walk 100 yards until we reached the building of Kenai Fjord Tours.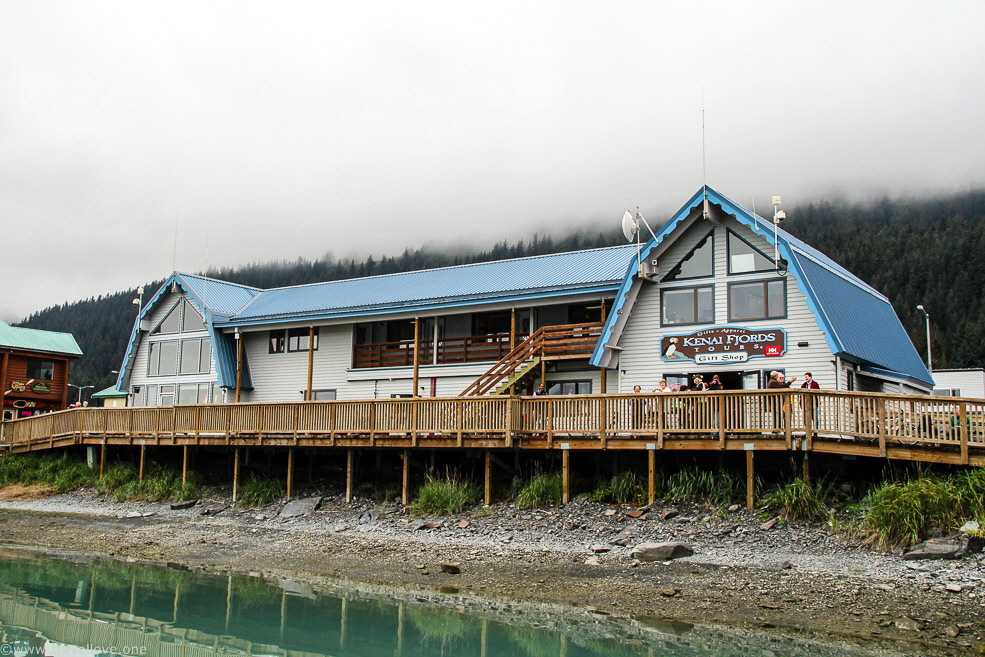 We were a little early for the tour we had booked, so the lady at the counter offered us to join an earlier tour which was about to leave in a few minutes. We went immediately, as she also added there were fewer passengers on this tour.

So we went down a small bridge and stood in front of the "Tanina", our ship for the day lying in the idyllic harbor.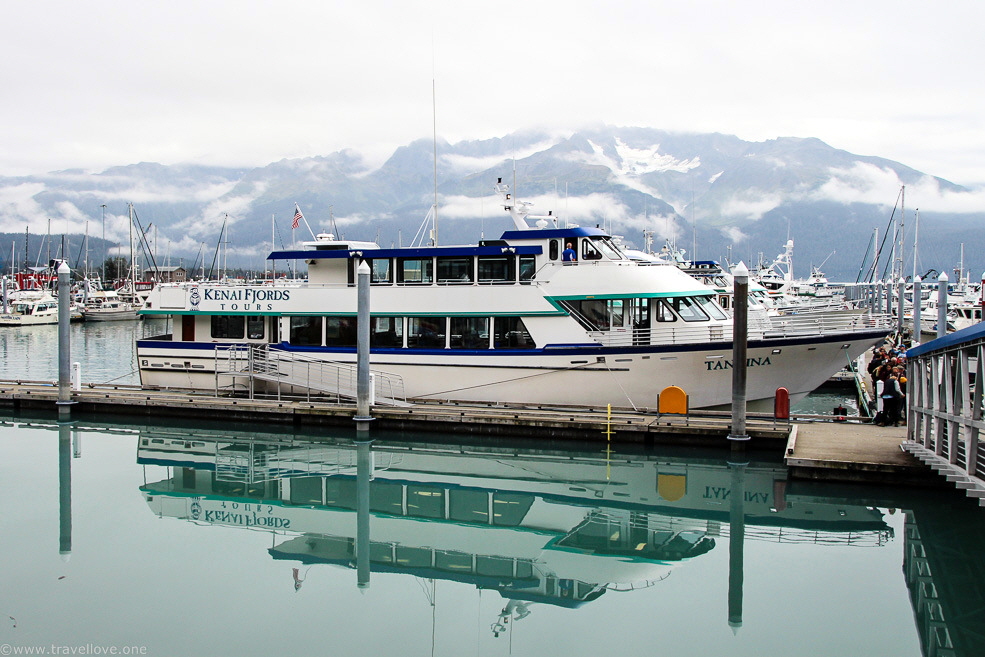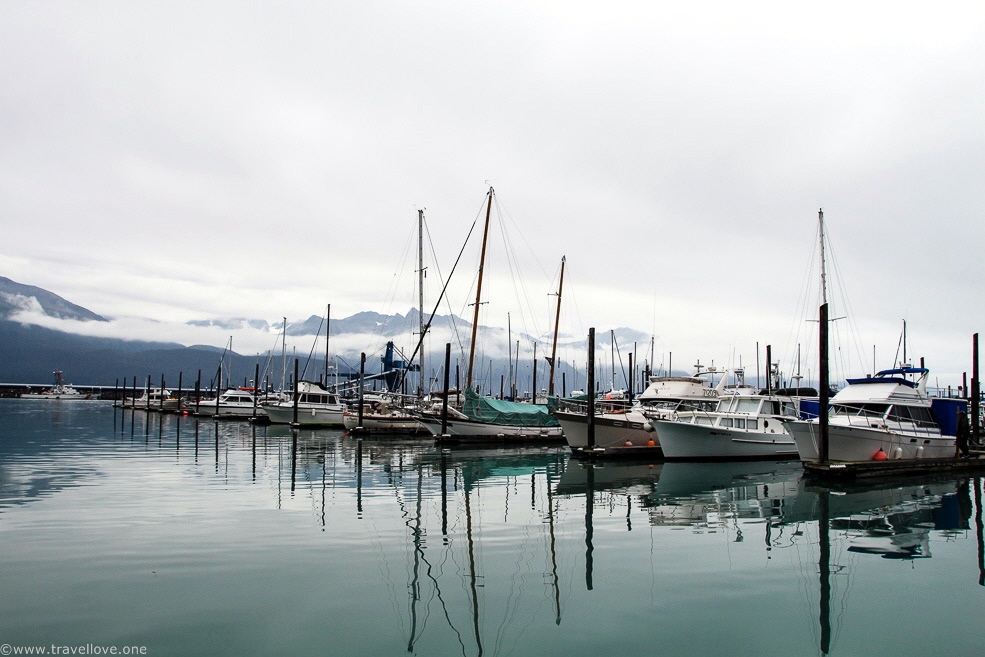 Soon afterwards, we were off. At first went past the rugged coast.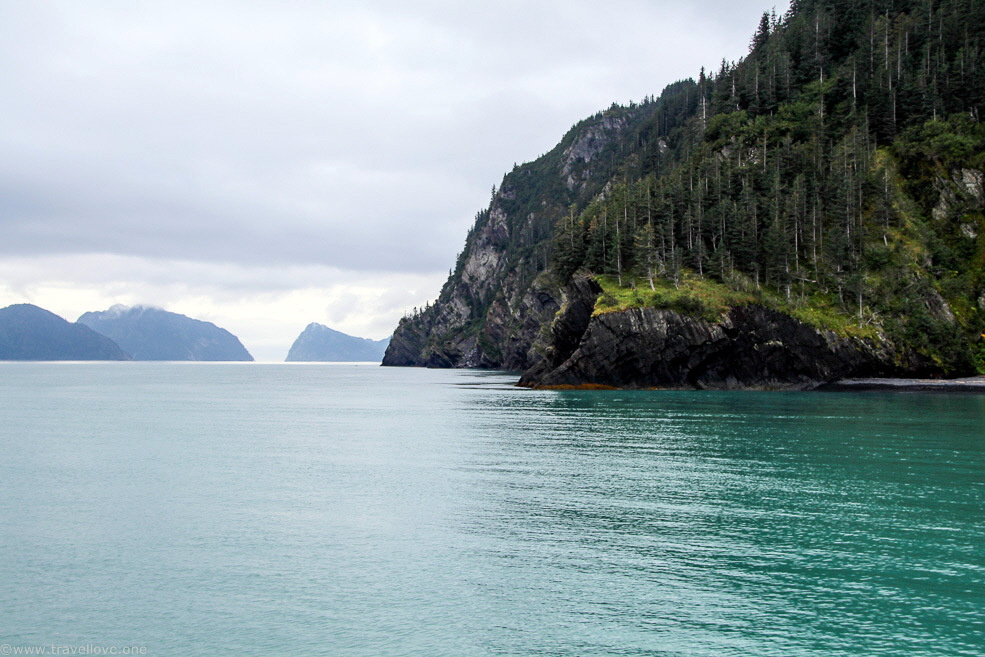 It didn't take long before we found a few seals that had made themselves comfortable.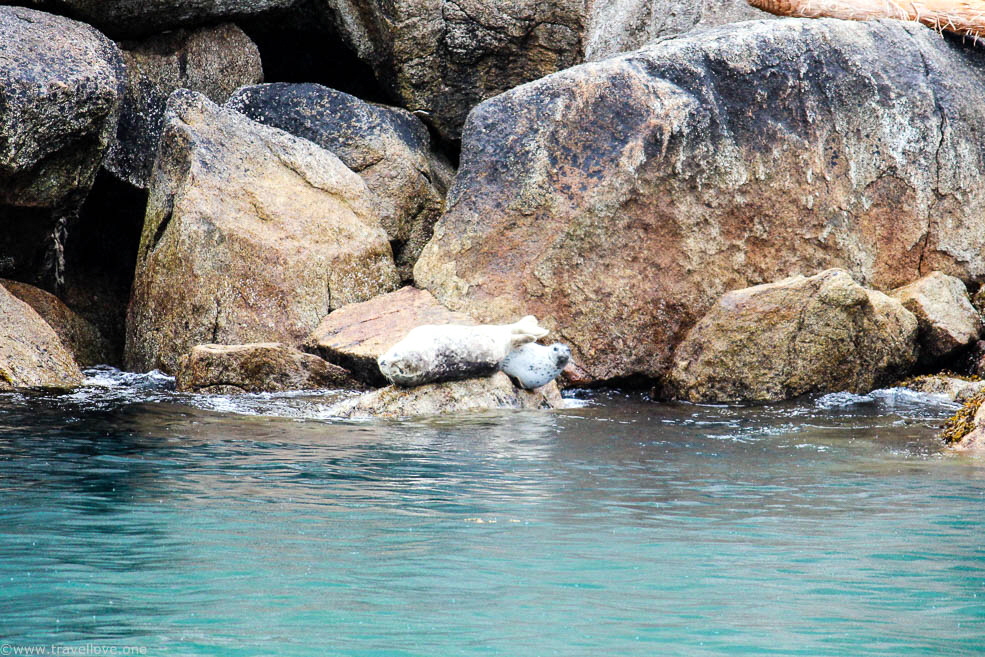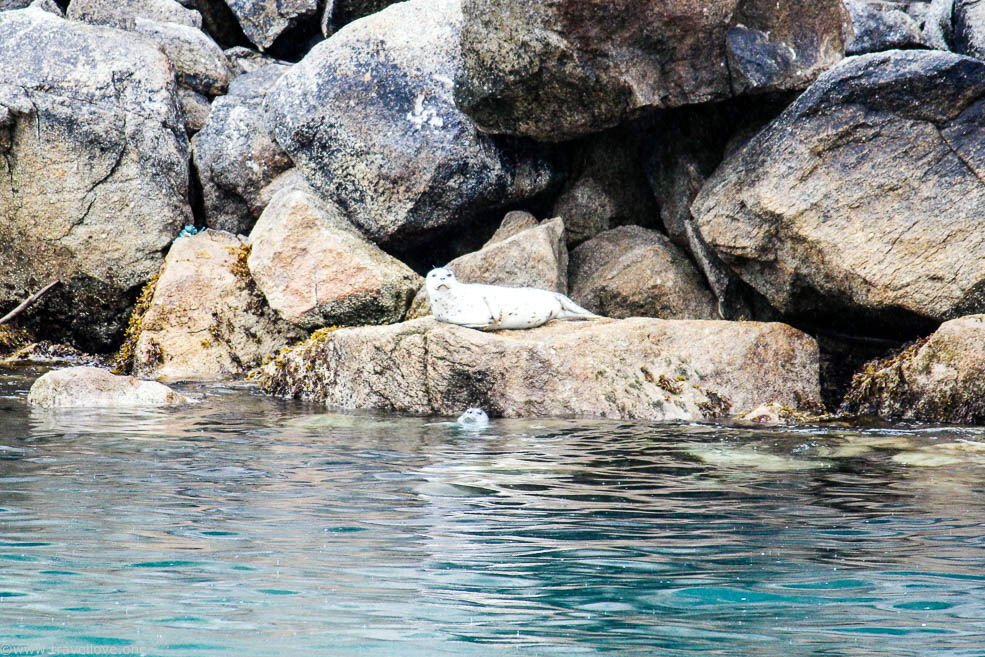 When we were a little further out on the open sea, we met an Orca family, who wasn't afraid of the boat at all. Sometimes they were so close to the boat that I was unable to take pictures of them.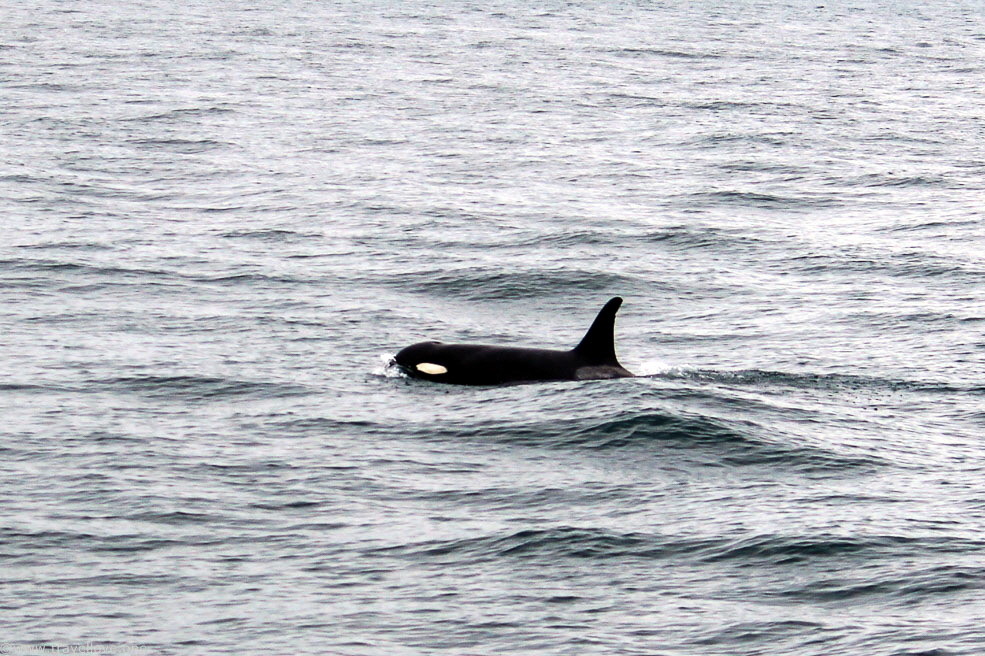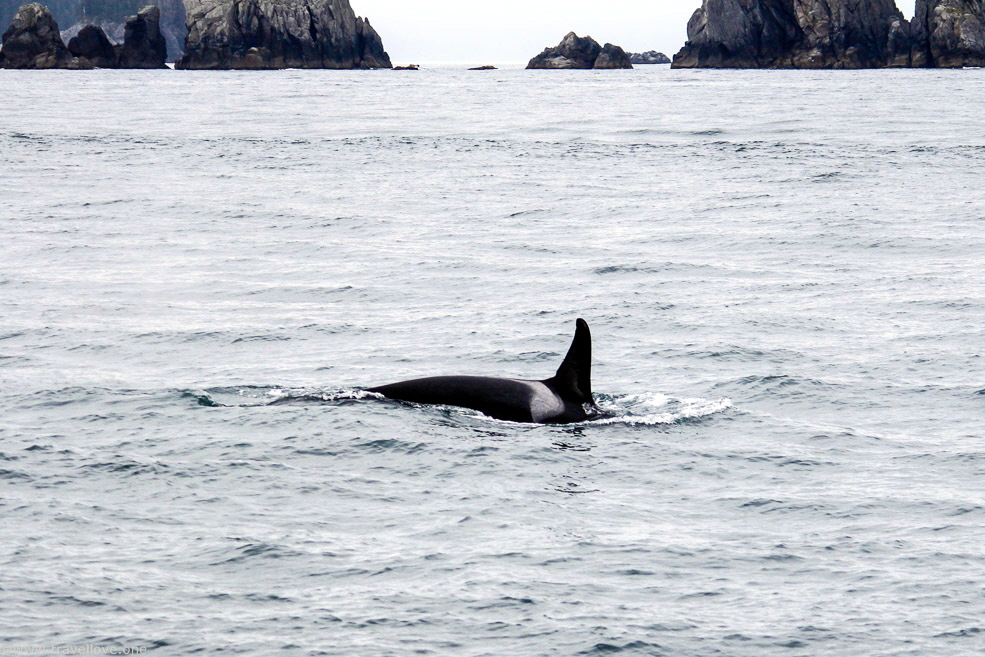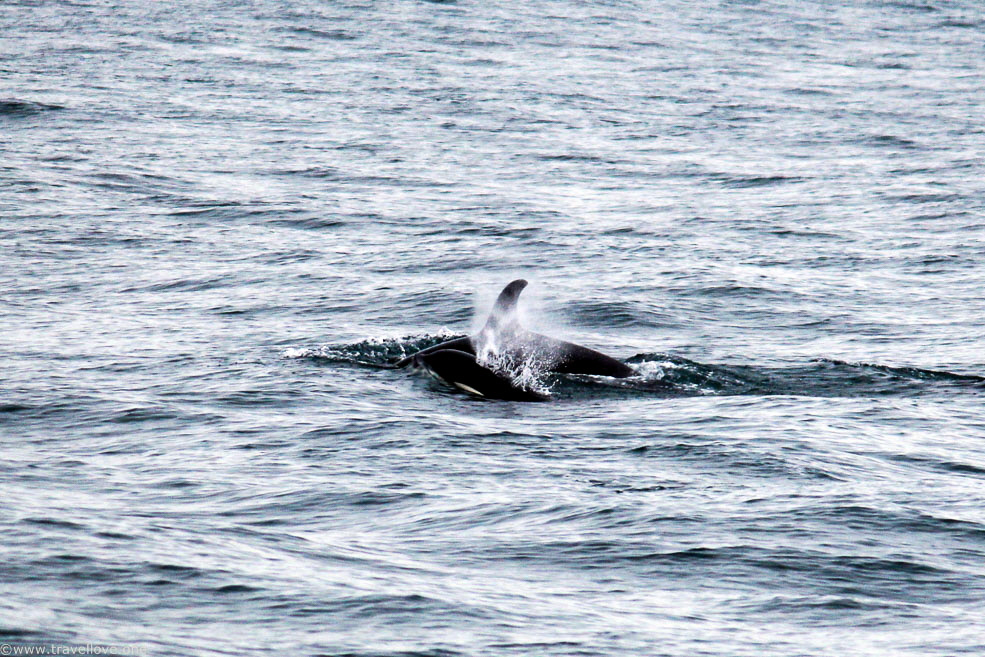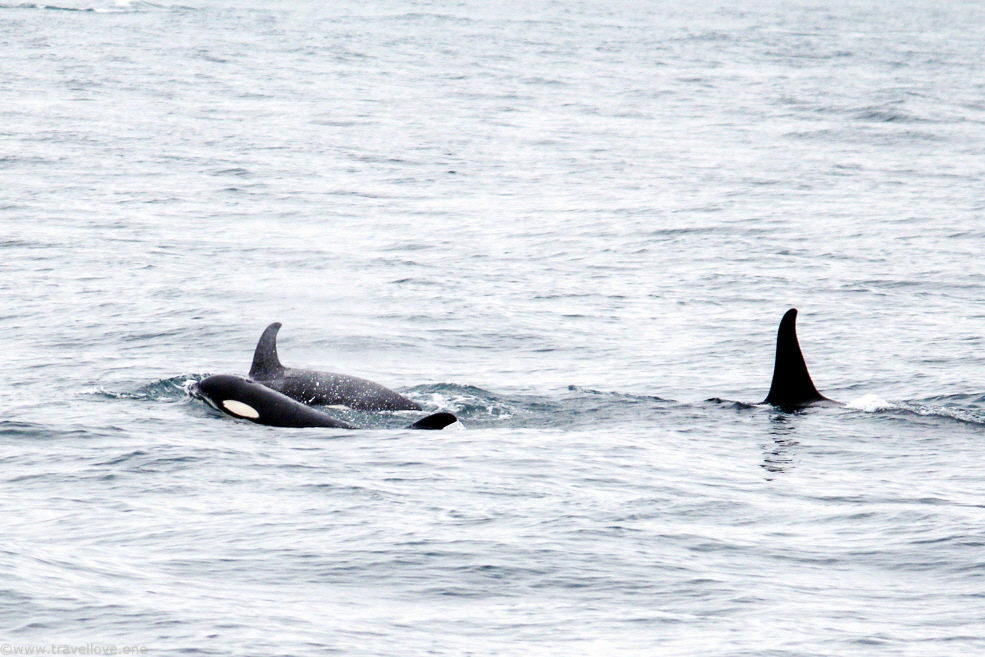 Our captain immediately recognized one of the family members. Due to its scarred dorsal fin, they called him "Lobster".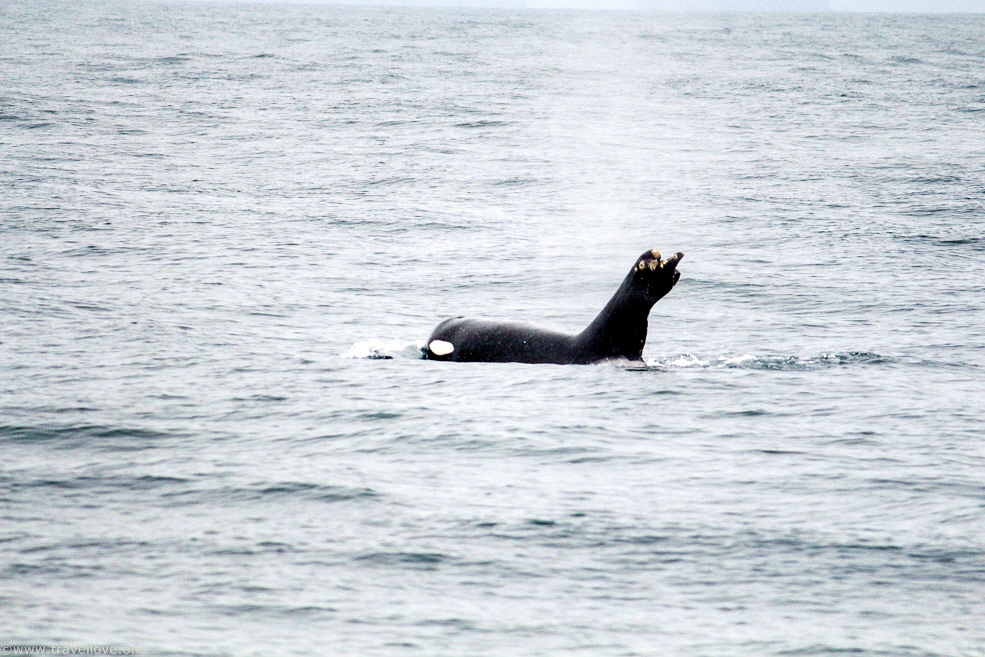 At various spots nearer the coast we came across groups of birds.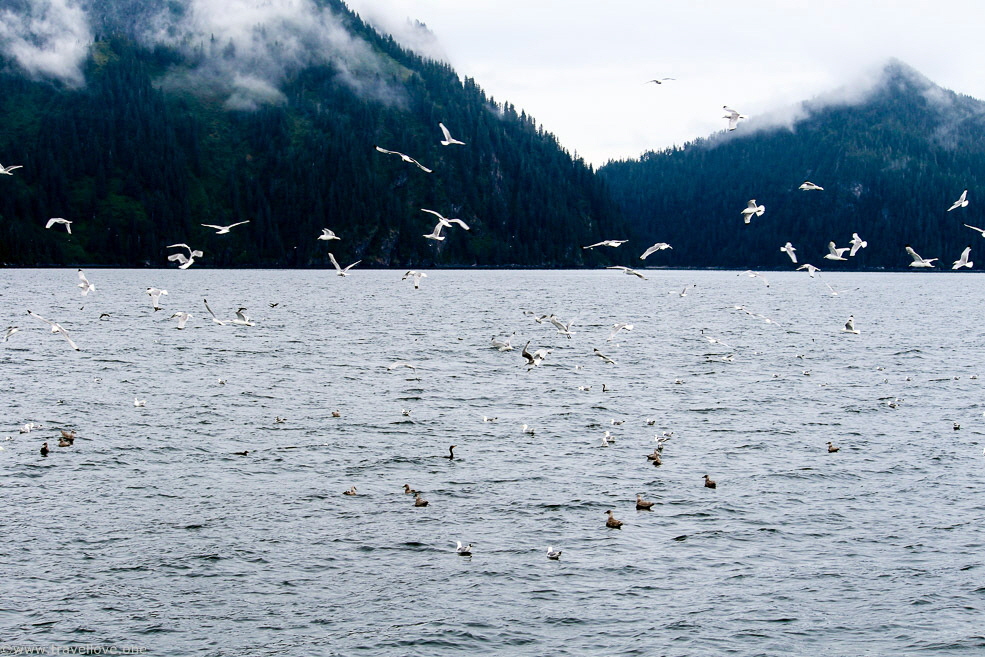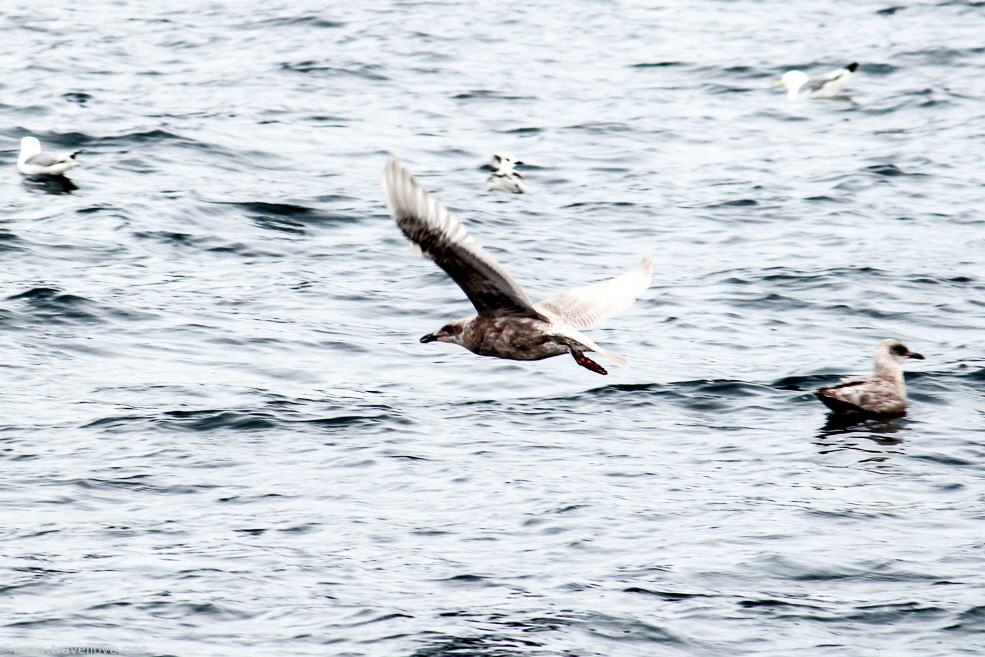 We saw many puffins. I think they are so cute when they flutter around.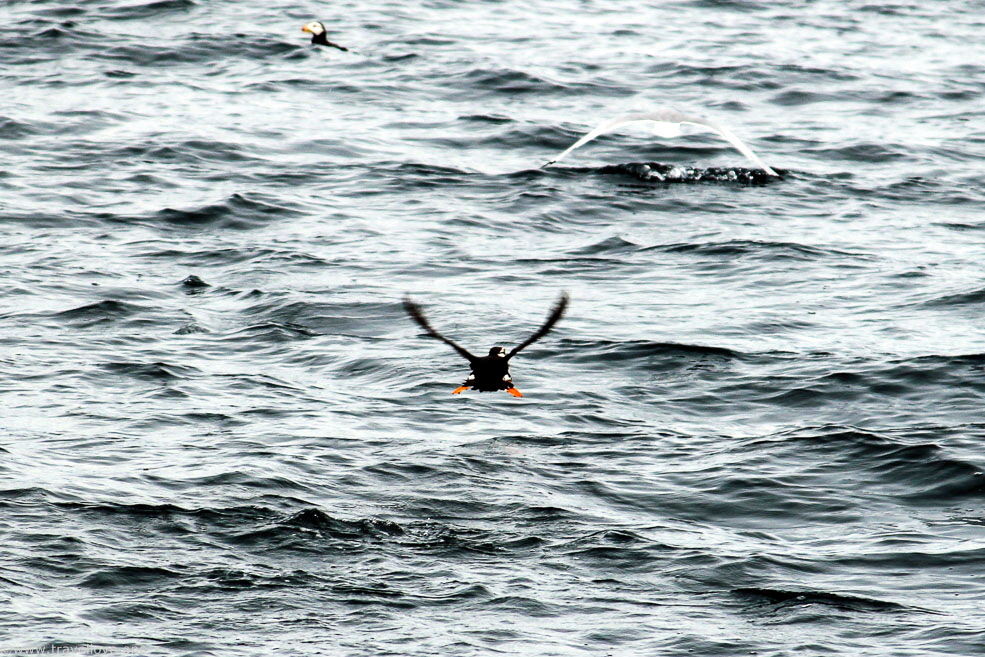 I had a particular liking for these little fellows: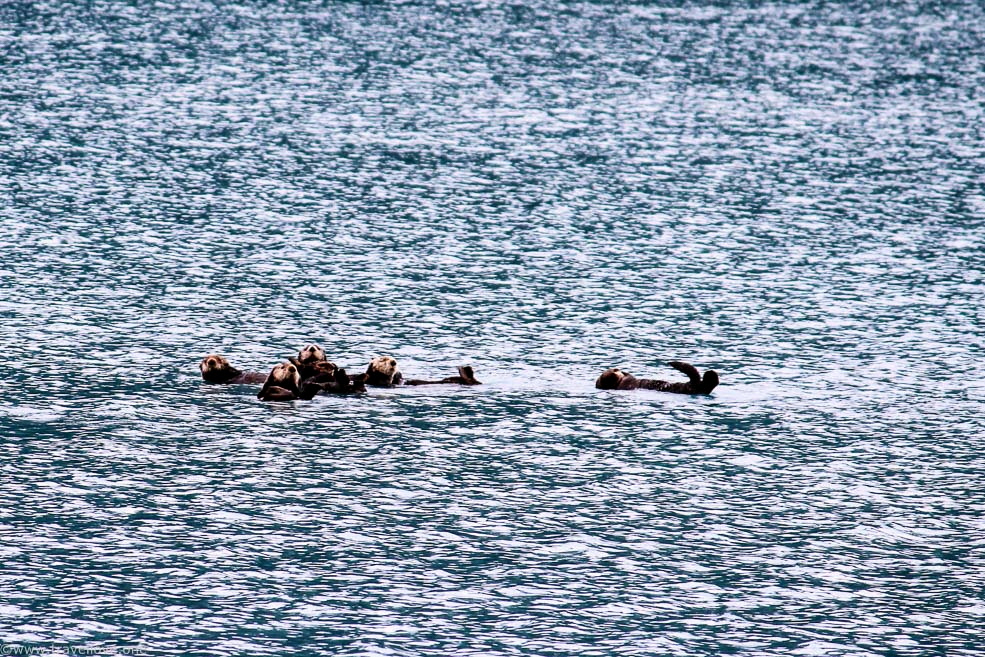 Sea otters ... mostly in larger groups, they drift on their backs in the water, constantly busy grooming their fur.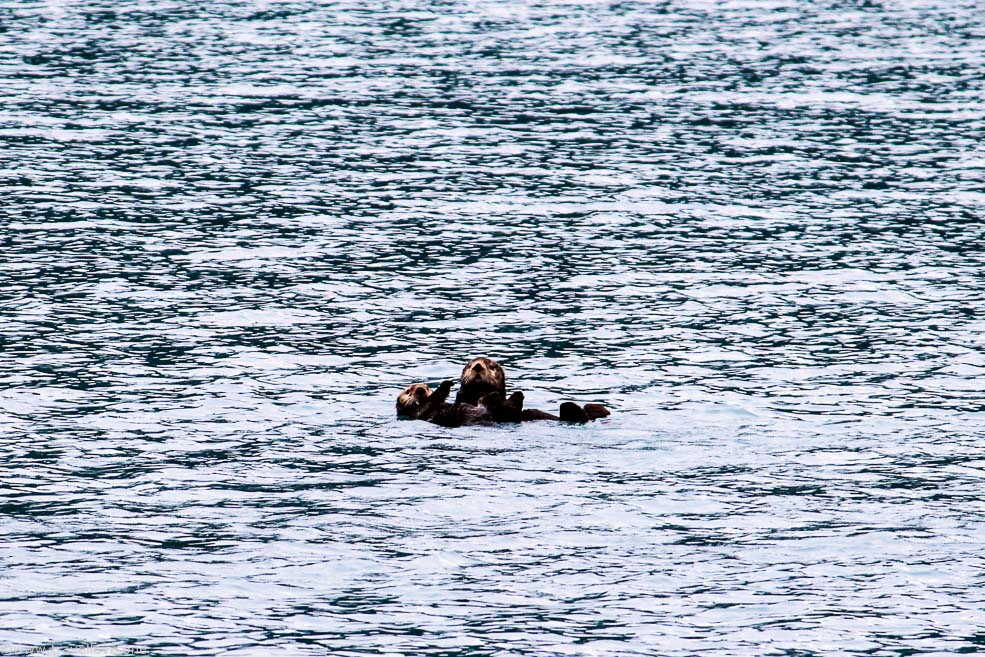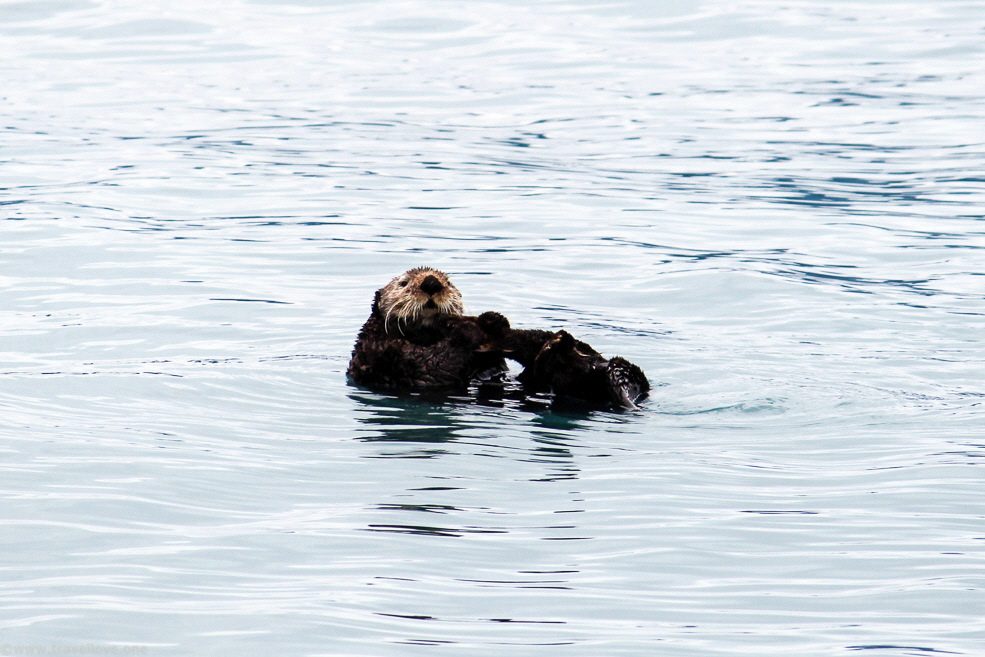 Seat otters spend 90% of their lives on the water. They dive to the floor of the ocean to collect shells or crustaceans, which they then put on their bellies and nibble, still on their backs. Since they have no layer of fat, like seals for example, their fur is extremely dense. They have around 100,000 hairs per square centimeter, which is about as much as an average human has on his entire head. This is the reason why in the past they were hunted almost to extinction. Fortunately, these animals are now protected... so an otter is now able to enjoy his day.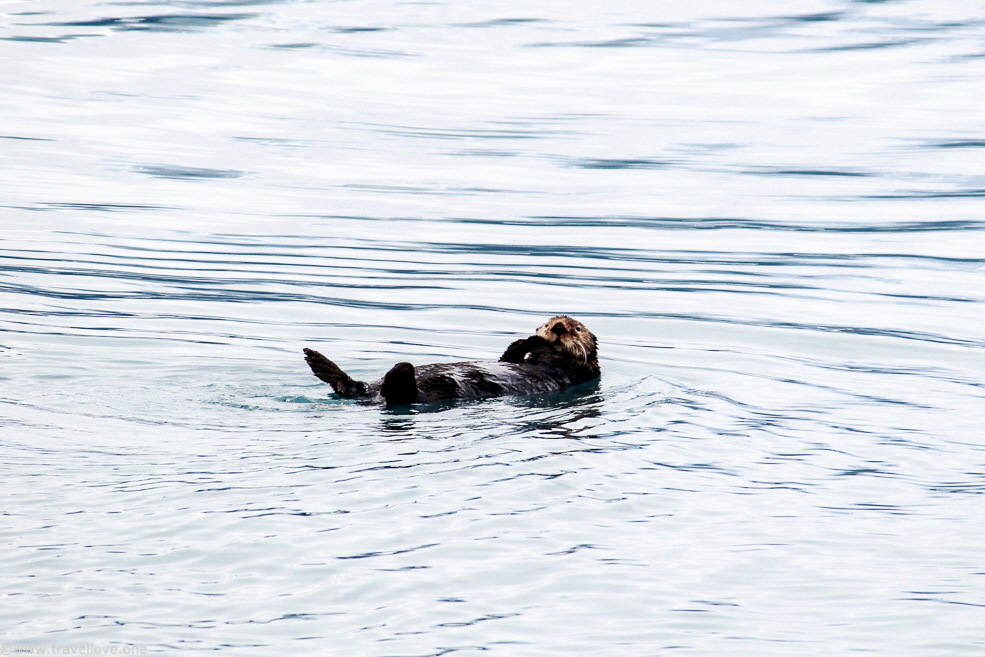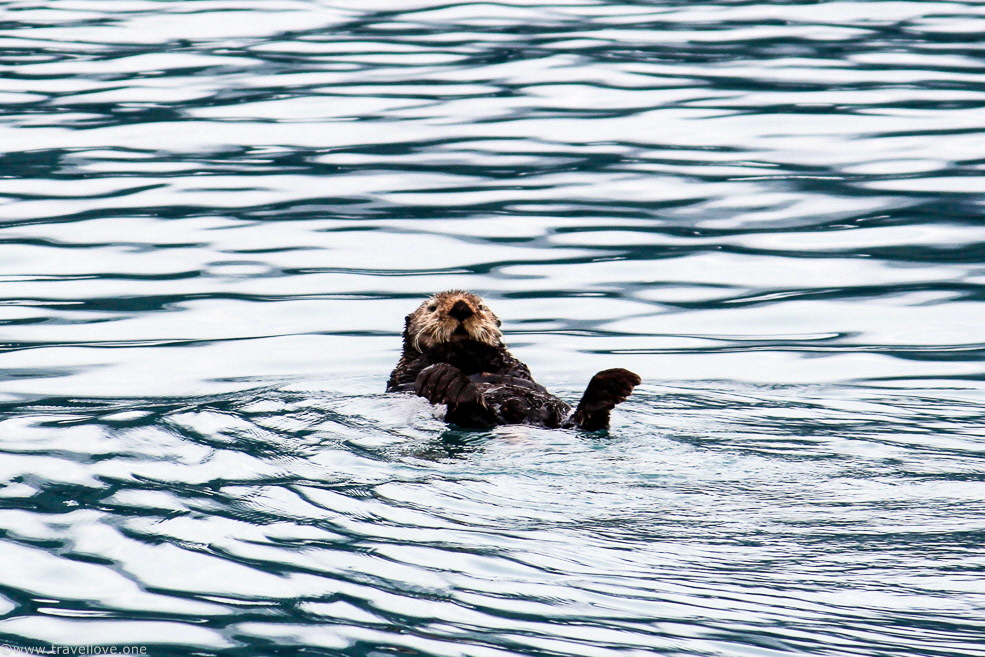 Obviously, this tour wouldn't have been complete without a glacier. So our next destination was Aialik Glacier.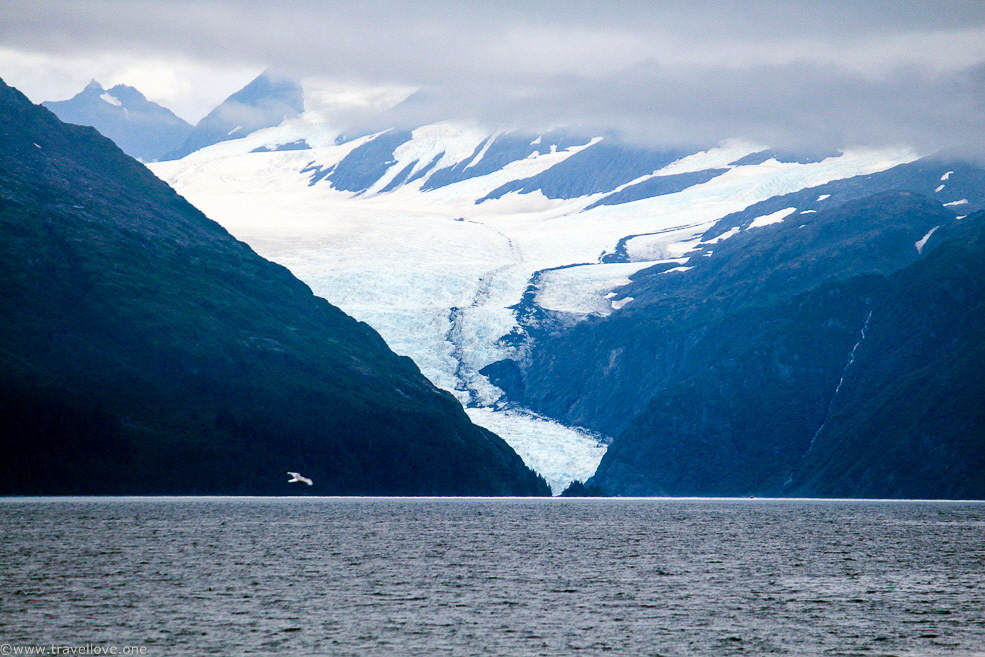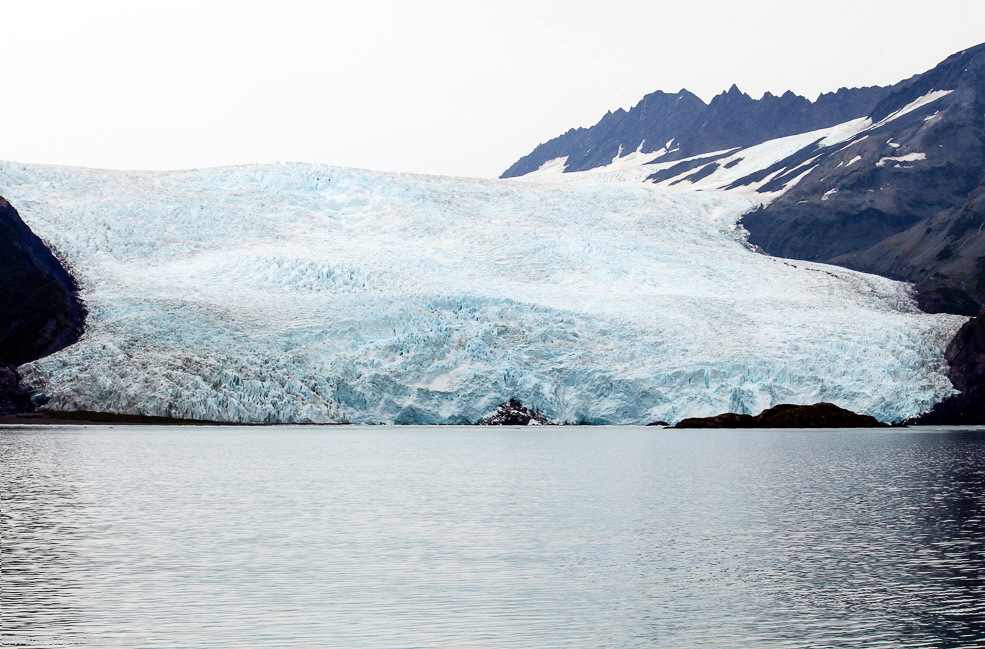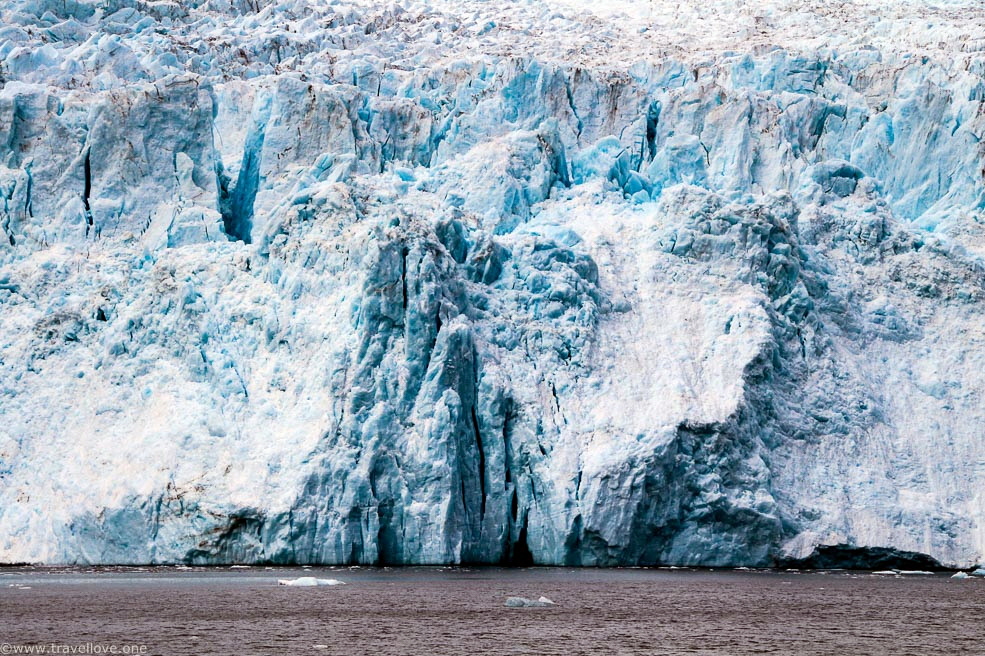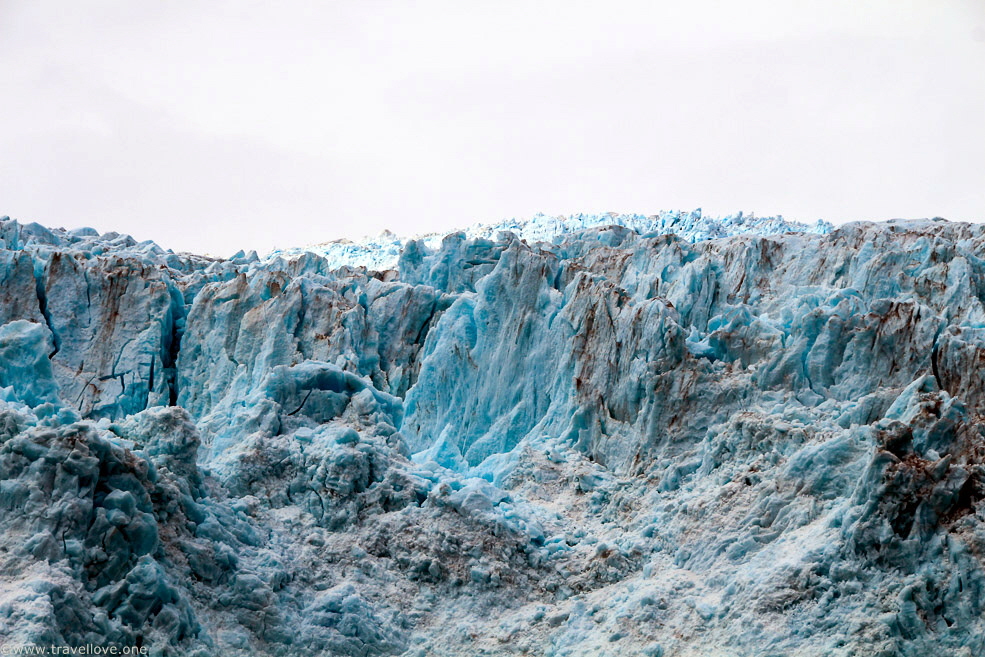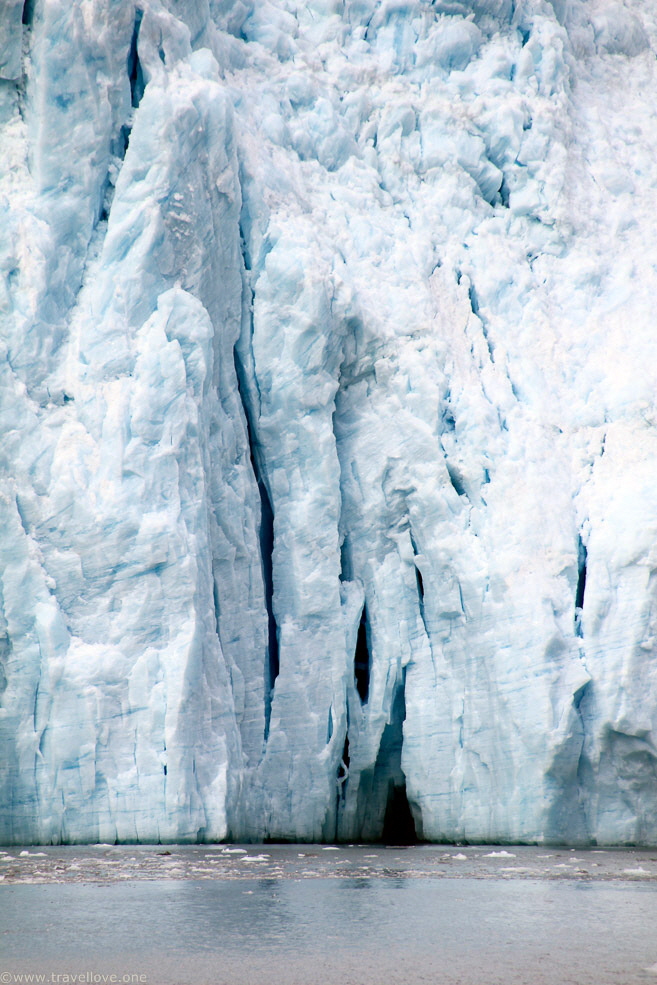 Just as we had experienced it at Hubbard Glacier, there was a constant rumble and pieces broke of and cascaded into the water all the time.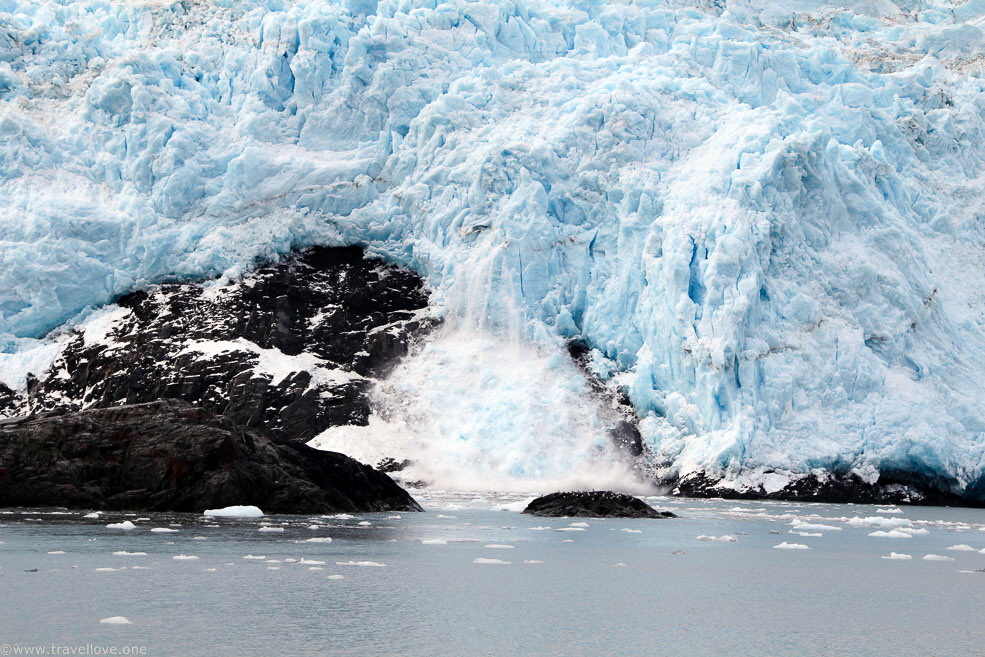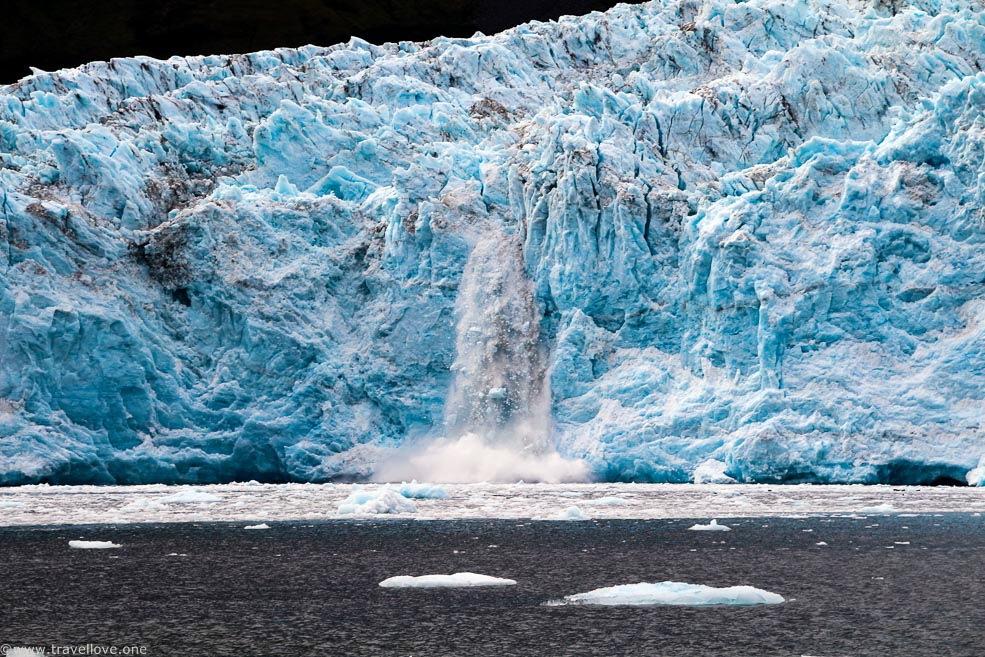 And there were more seals taking it easy on ice floes.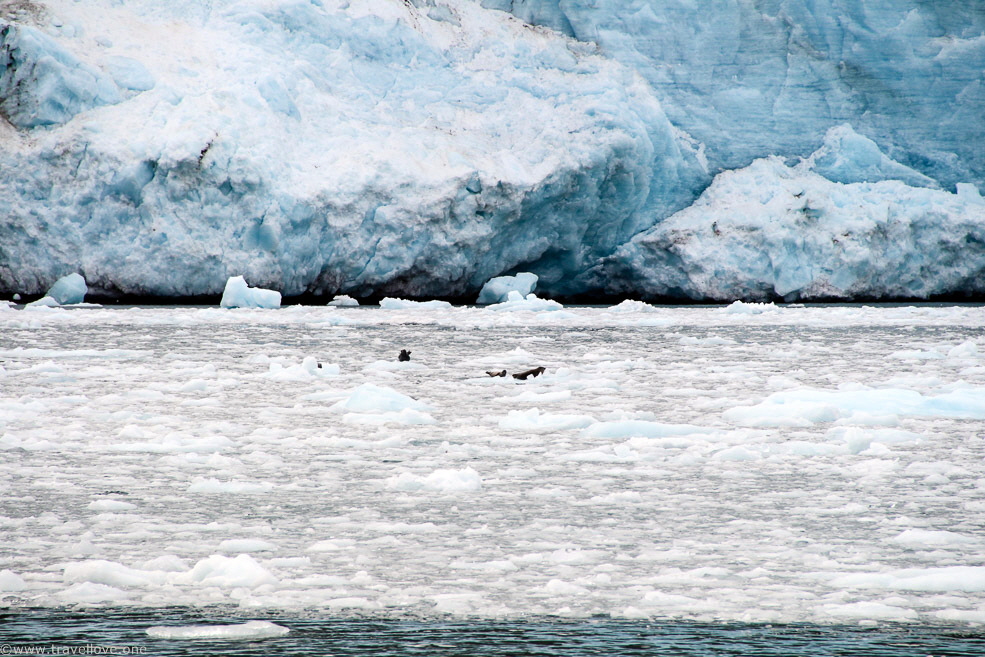 The following two pictures illustrate the size of the glacier, which can be hard to estimate without any point of reference.

On the bottom left of the second photo you can see a few tiny dots on the beach – those are people.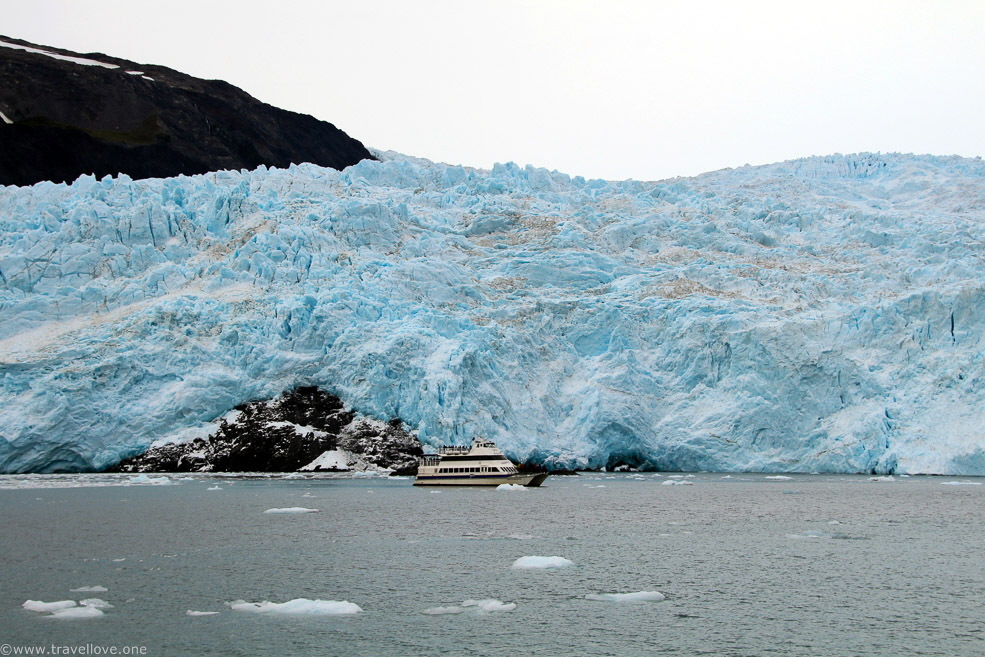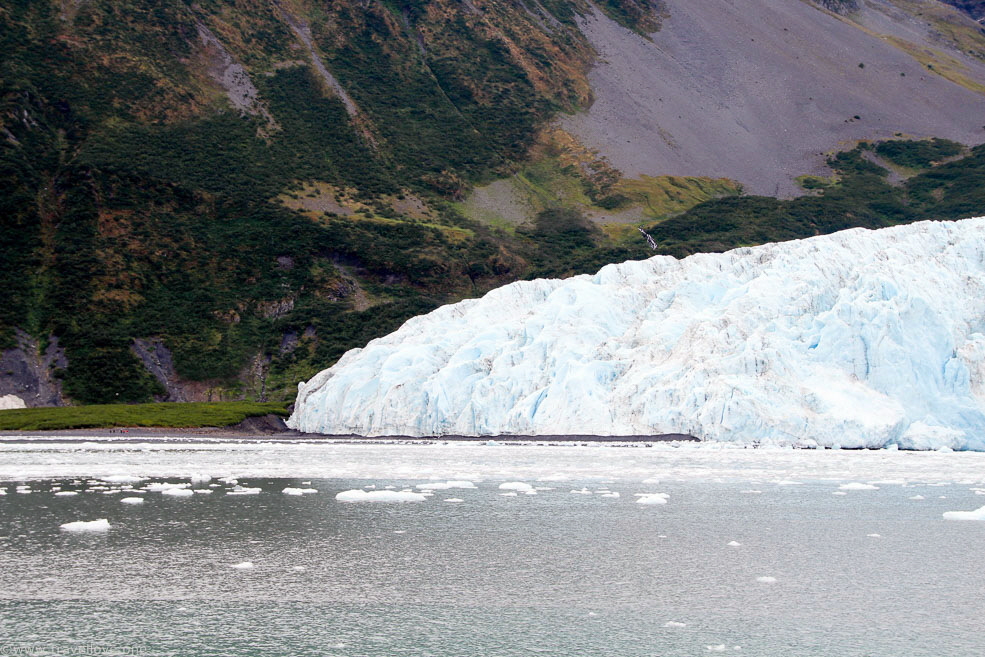 On our way back we also came across a humpback whale in a small beautiful bay. However, all we saw of him was the typical bump and the tip of his tail fin. This showed us again how lucky we had been with our whale encounter in Icy Strait.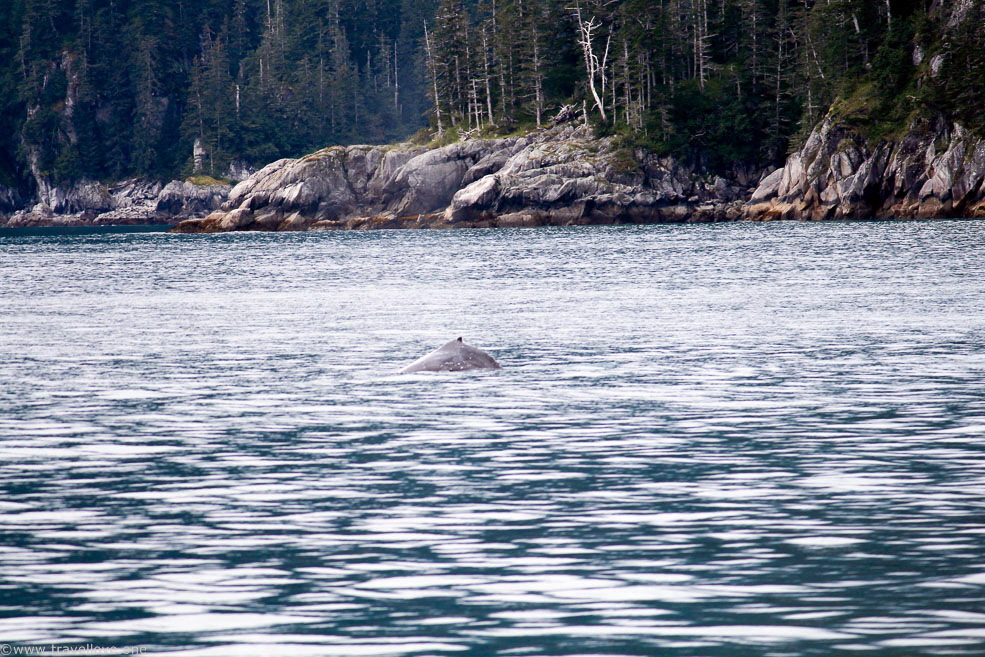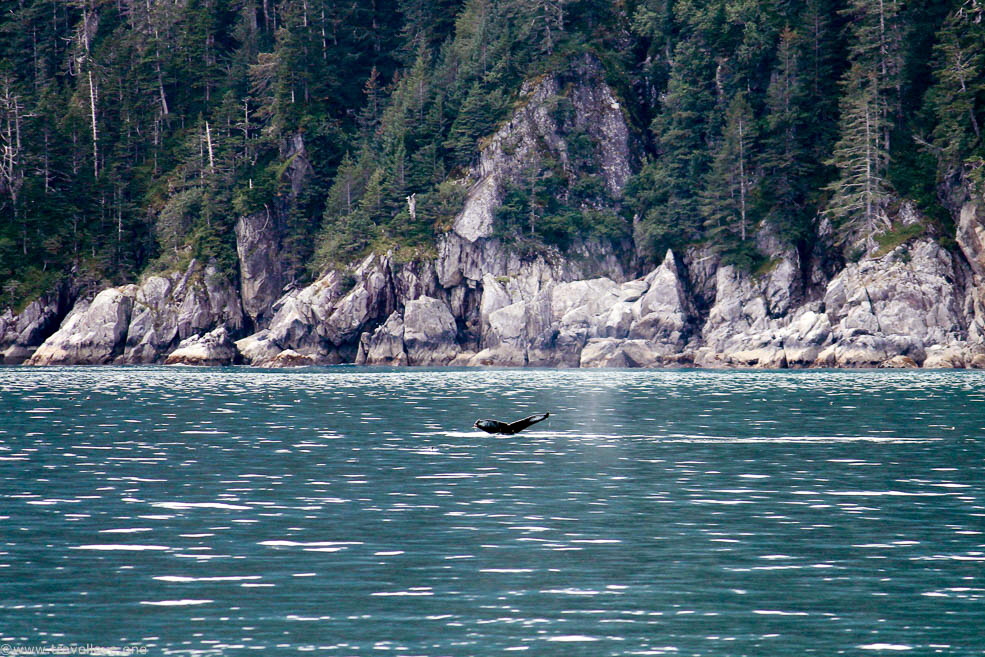 Much to my delight we saw more puffins. Puffins dive for prey. Like penguins, they move under water by flapping their wings, and they can dive as deep as 80 yards.

This is a tufted puffin with the funny tuft of feathers on his head.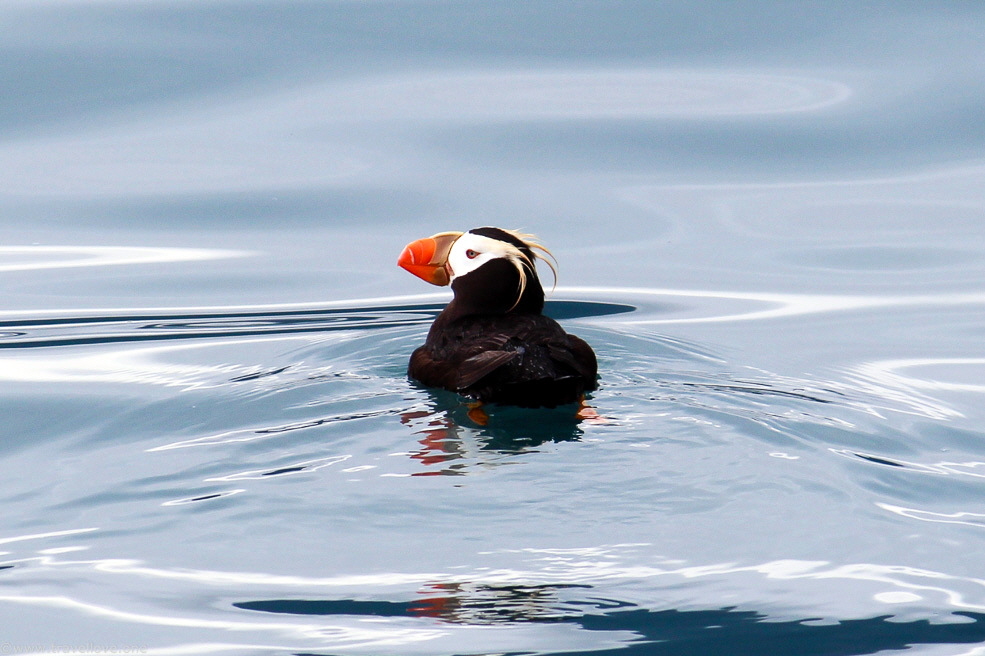 His relatives, the horned puffins, were nesting on a rock nearby.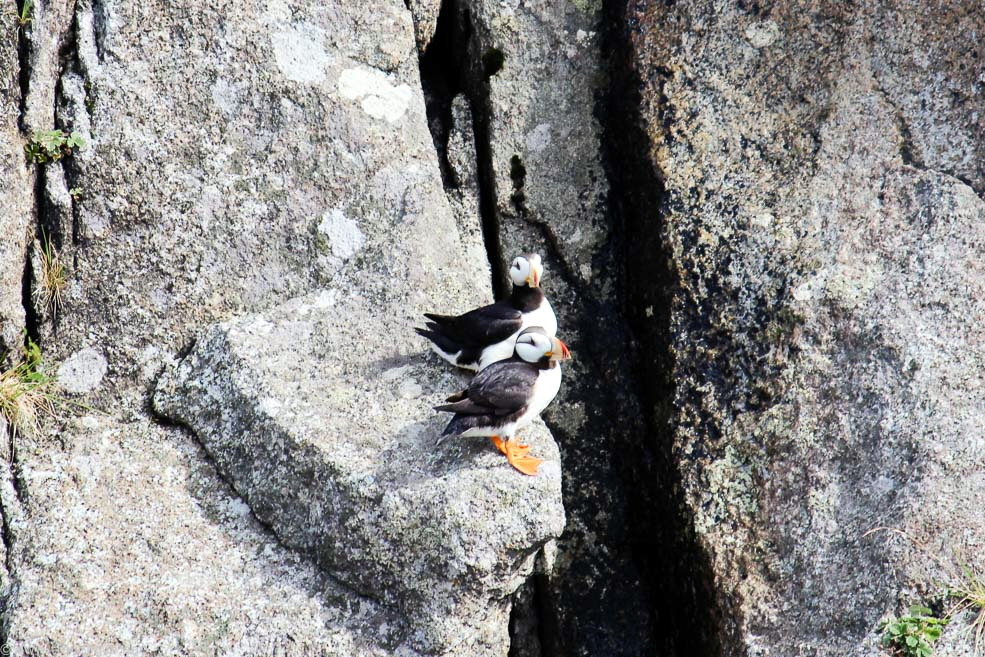 Some gorgeous starfish were climbing along the foot of a rock.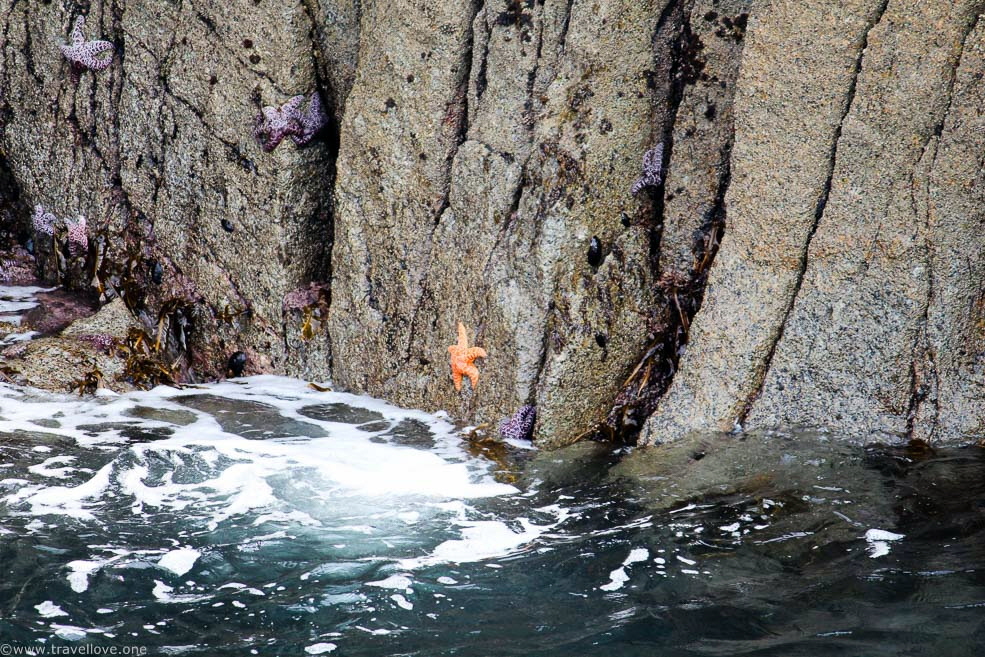 After a few more minutes, we were eyed from a rock by a few suspicious Steller's sea lions.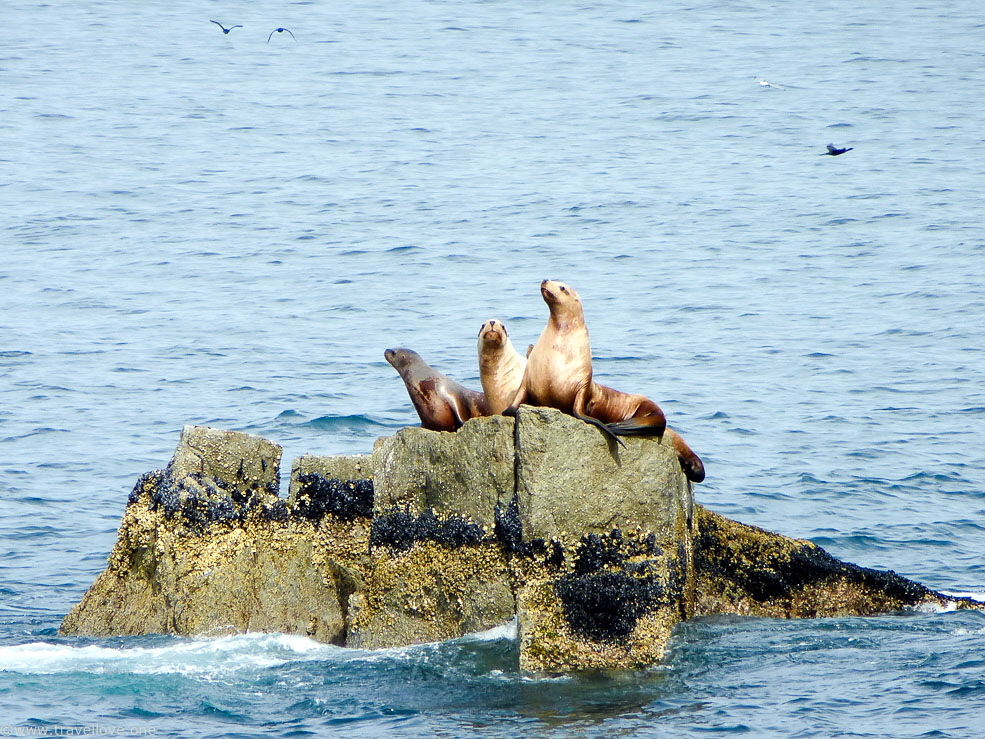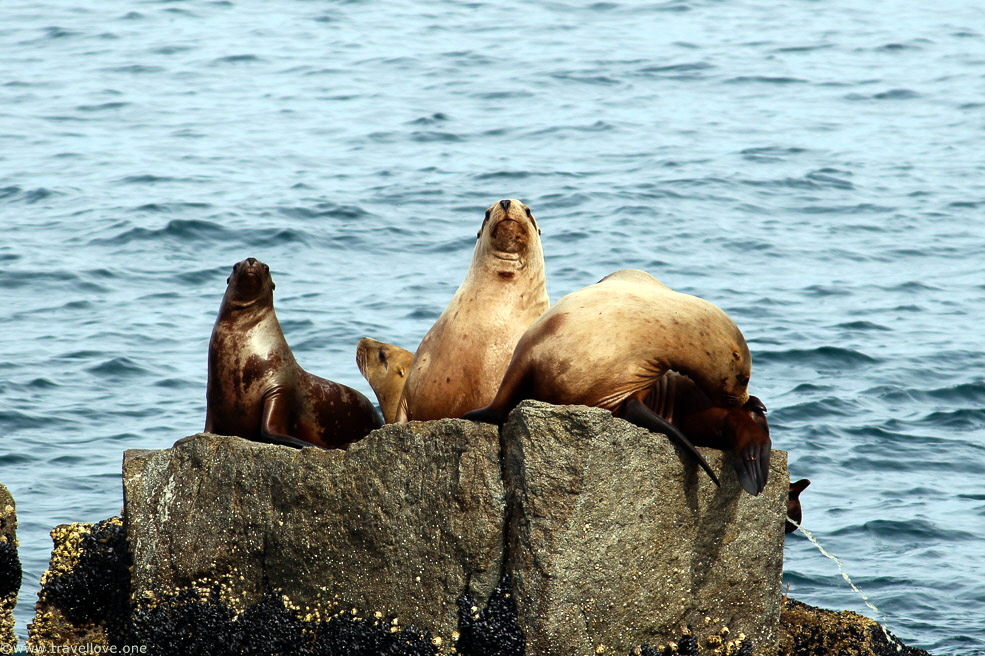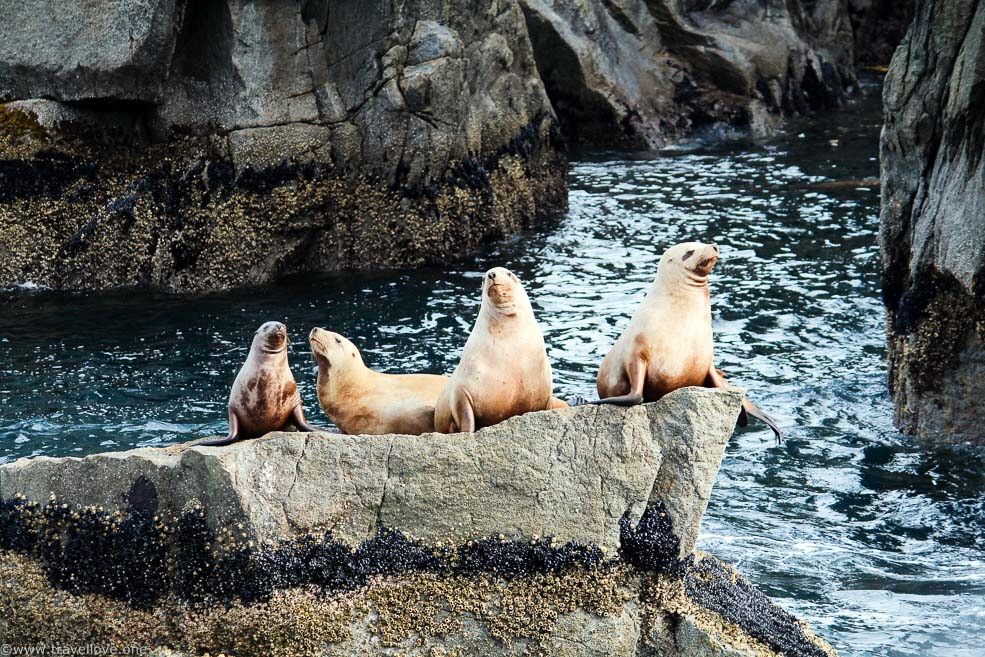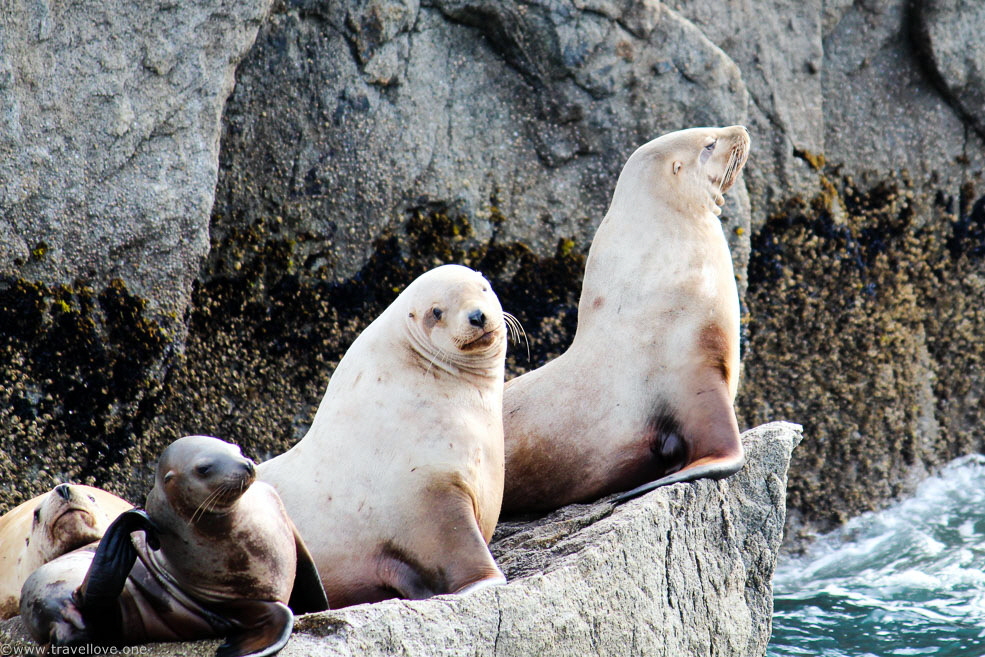 A few yards away, these funny fellows had their home.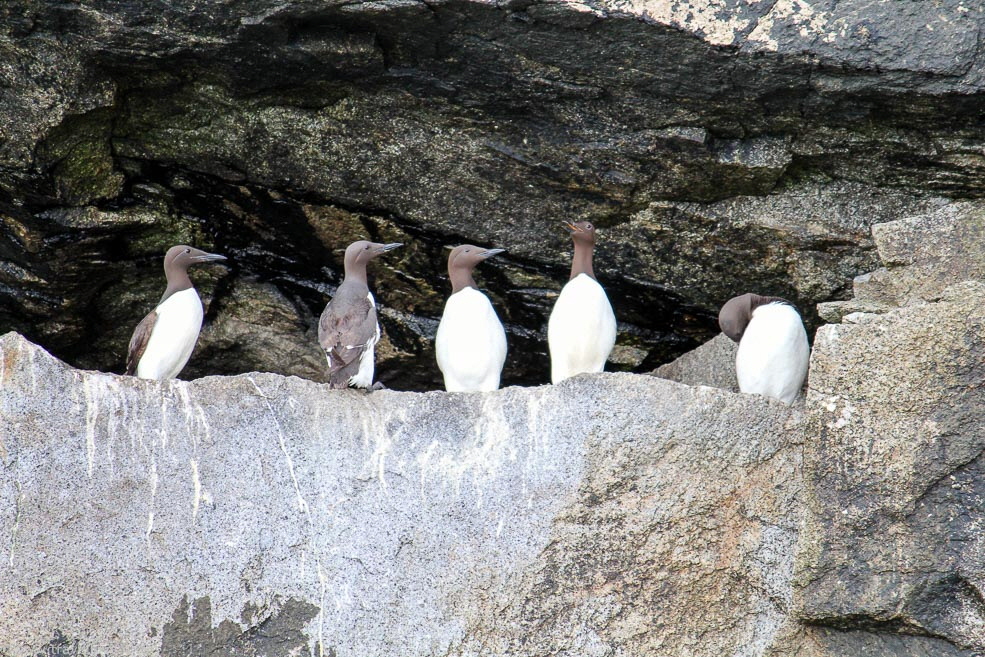 Around the corner, this lazy lot was hanging around.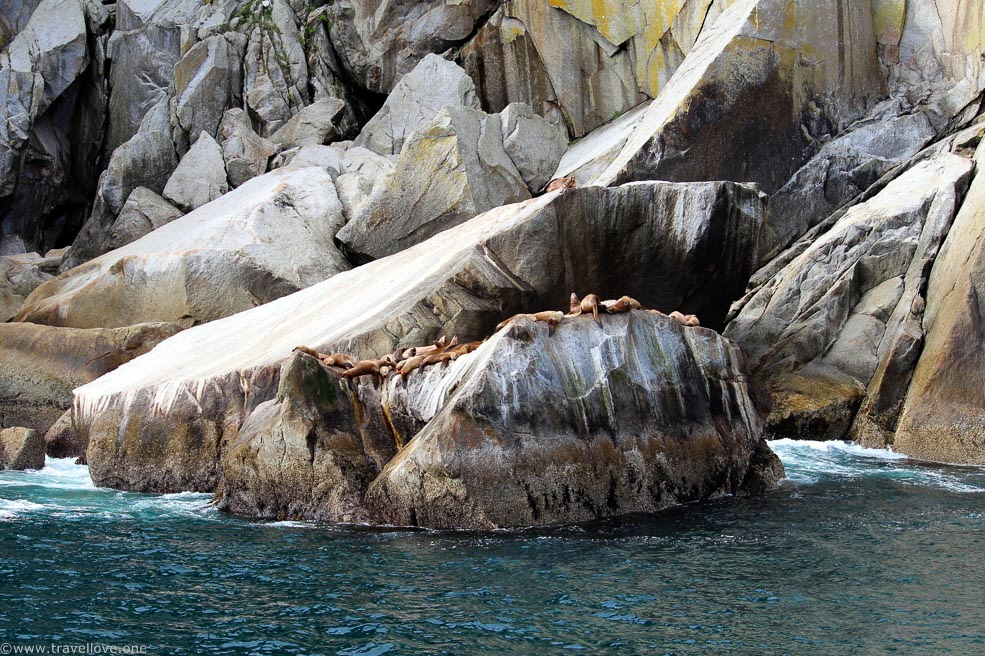 Apparently they all found it very comfortable...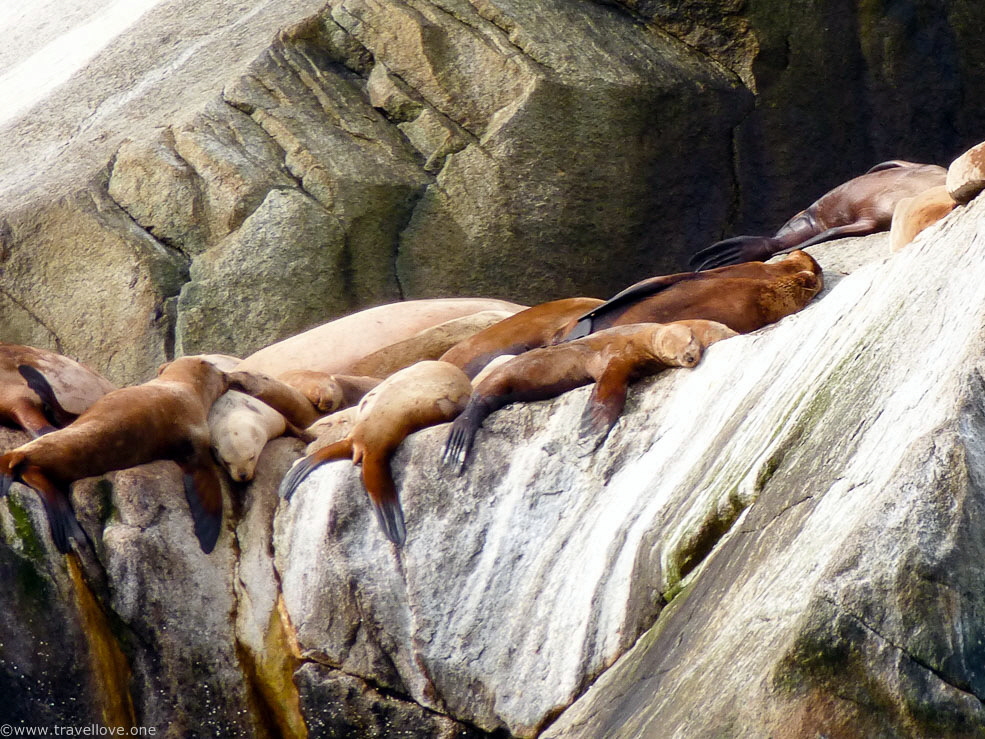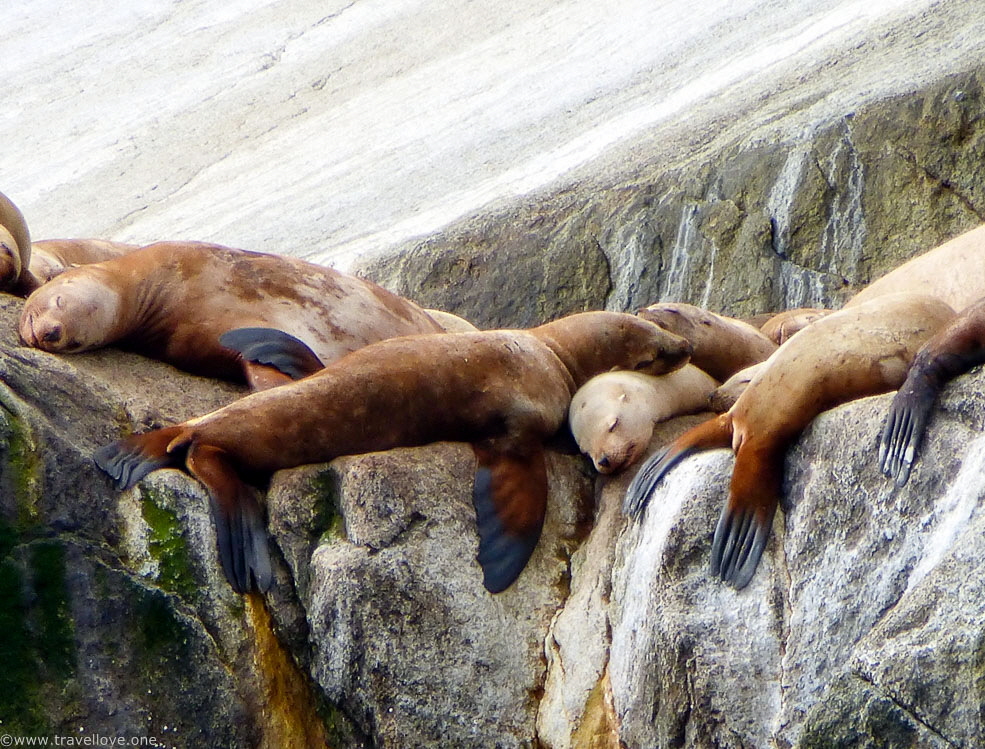 Since our captain was heading back towards Seward, we went inside the boat. It was filled with a tempting smell, and not much later, fresh chocolate chip cookies were served - still warm from the oven. Not just a nice gesture but terribly good, too!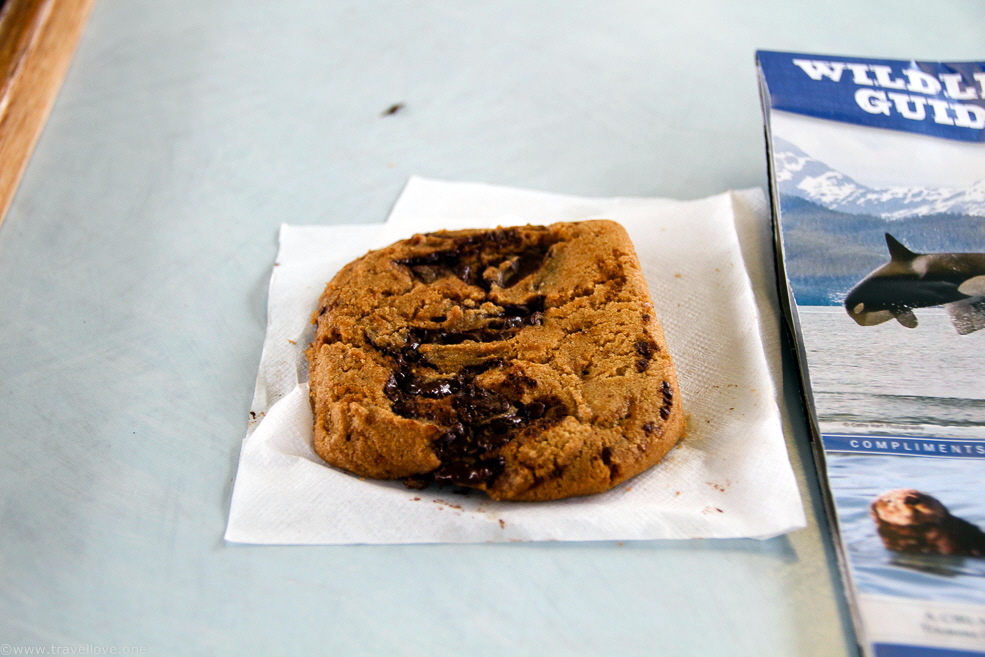 As they say, "All good things must come to an end", and so this eventful tour was about to end, too.
When we left the boat, we were able to thank our captain and his crew again for their outstanding work and interesting explanations.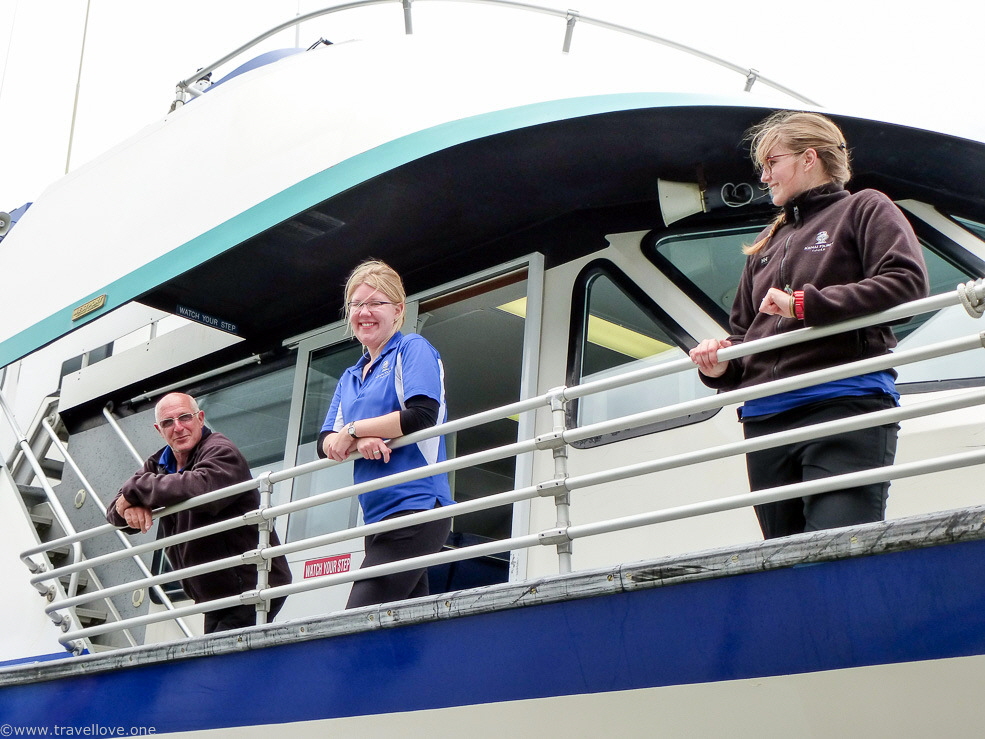 That morning we had already decided to have dinner at "Ray's Waterfront Restaurant" right next to our hotel.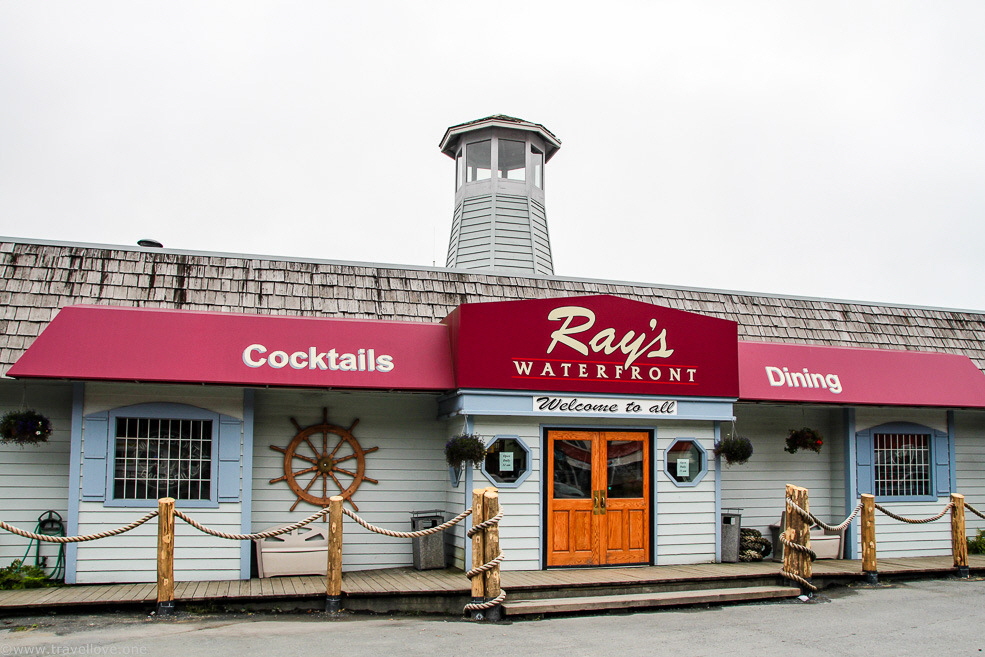 And here it was, beautifully lit by the evening light.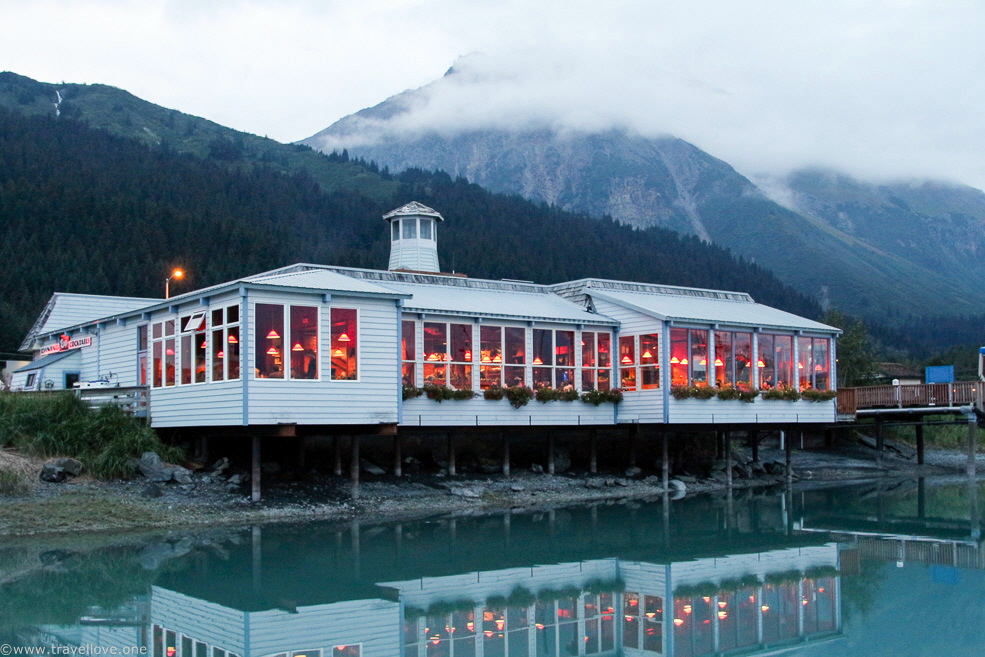 After our excursion, with all the impressions still going around in our heads, we were looking forward to a beautiful end of a wonderful day. Moreover, it was my birthday, and I had already got the gift of many unforgettable memories.

Ray's was also very cozy inside, and we had a wonderful view. In the Harbor, a sea otter was doing his rounds.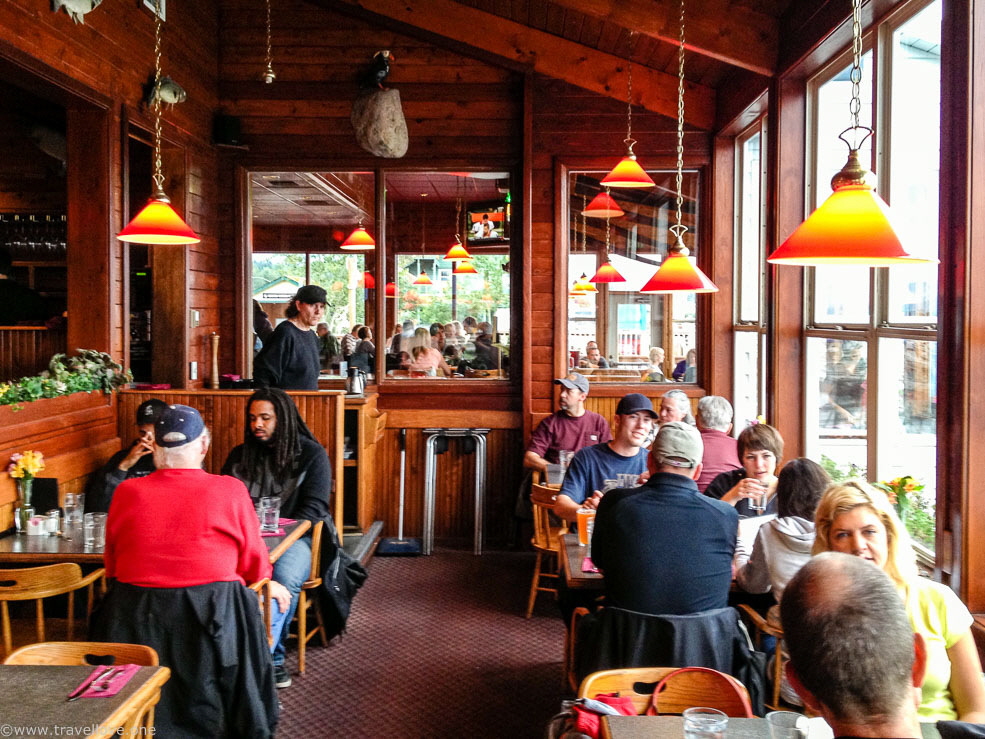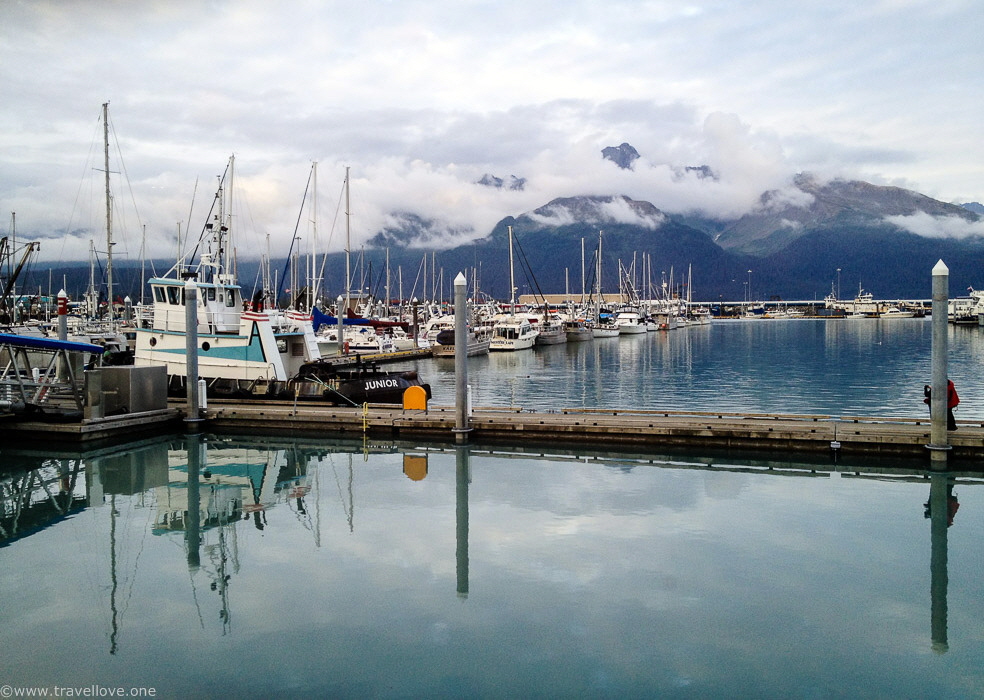 As an additional gift, I got one of the best steaks that I have ever had. Birgit had halibut with Thai sauce. As a starter we had roasted garlic with a gratin of blue cheese cream - delicious.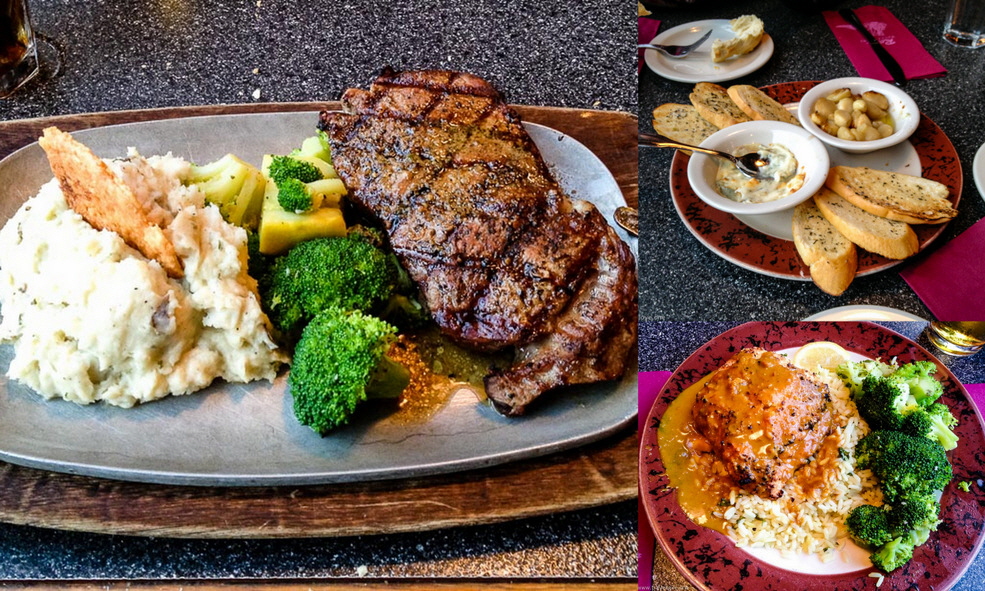 Unfortunately, I had only taken my Iphone to the restaurant and left my camera at the hotel. A decision I much regretted when the sea otter swam directly past our window.

When some people came running to take pictures, he nimbly dived away. But some seconds later, a few of his colleagues of the group of "normal" (land) otters scurried out of the water just below where we were sitting.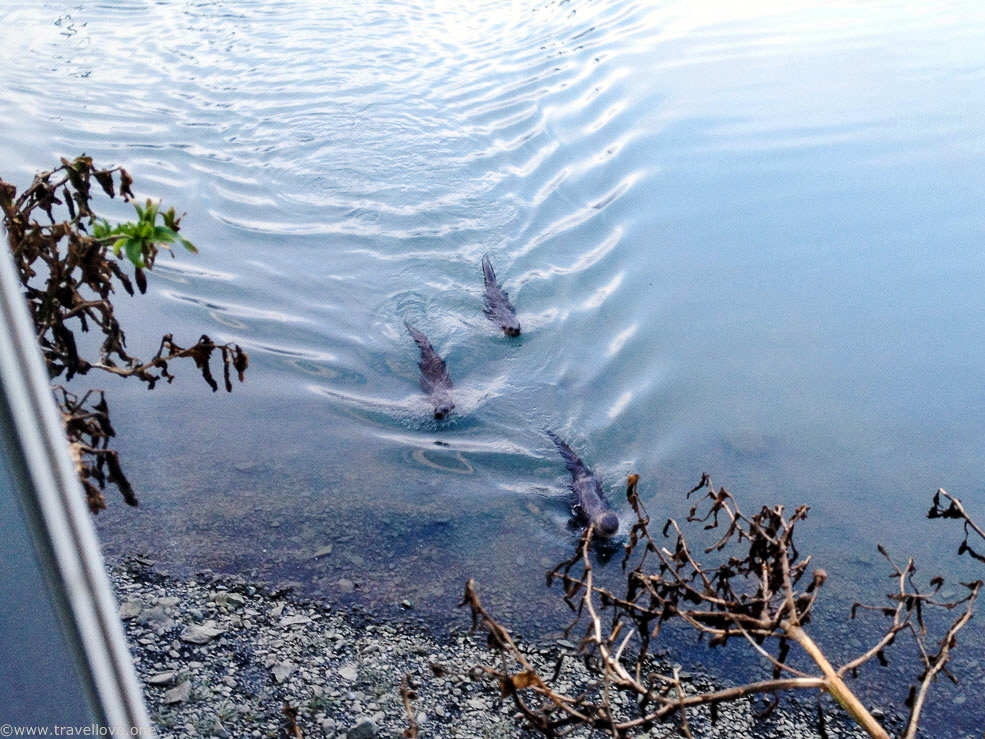 Obviously, after dinner I just had to go to the hotel to get my camera. Hoping to find the sea otter again, I went back to the pier in front of "Ray´s". I only had to follow the loud cracking noises, and there he was...

Not even 3 yards away from me, lying on his back in the water, cracking away on a large shell which he was holding between his paws. This would be such a great shot, I thought! Veeeery slowly I raised the camera to my eye to make sure I wouldn't scare him away with a fast movement. Through my lens I watched him nibble on his shell and was already looking forward to this brilliant photo, just waiting for the right look on his face, as the sound of the camera would probably drive the shy animal away after the first shot. Here was my chance... Just when I was about to push the button, a dog came running around the corner, barking loudly... and the otter was gone... The dog looked at me with pride, like I know from our own dog, as if he wanted to say, "Haven't I done well here? Saved you from the otter!"

Although I was a little annoyed, I just had to laugh and patted the dog. The owner came towards us, and we chatted a little about Anchorage (her home), about Seward (where they had their boat) and about the famous Iditarod dogsled race, in which Nelly, the dog, participated.

After that I took a few pictures at dusk before we returned to our hotel.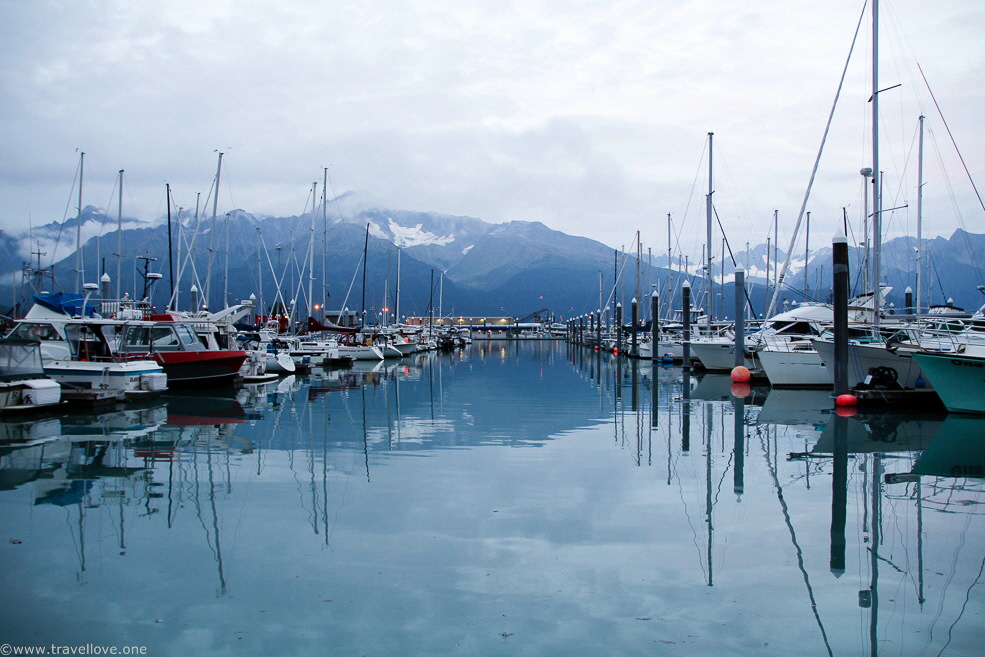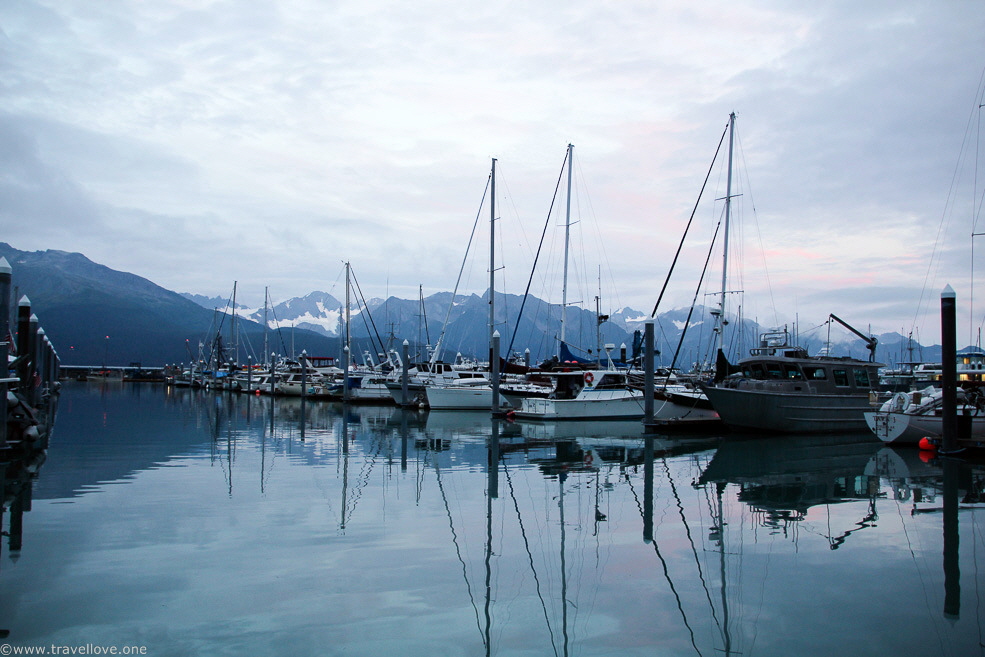 Another gorgeous day in Alaska and a perfect birthday.
www.travellove.one • www.thecruise.report • www.travelandcruise.net
© 2021 Die Rechte an Texten, Fotos und Videos liegen beim Autor der Webseite. Die Nutzung ist nur nach ausdrücklicher Freigabe erlaubt.