Part 15 - Alyeska/Girdwood
Part 15 - Alyeska/Girdwood

Alyeska (Girdwood) is about 40 minutes east of Anchorage. In 1994, the ski competitions of the Winter Olympics were held in Alyeska. When planning our Alaska trip, I had also looked at the cruise line´s cruisetours for ideas, and always came across the "The Alyeska Hotel". It looked nice so I had booked it for our last day of this trip.

After an excellent breakfast at our B&B, we left for Alyeska. Unfortunately, the weather gods weren't with us, and it was pouring with rain throughout the drive. Never mind, the The Alyeska Hotel promised to be just as good on rainy days for being a wellness and relaxation spot

The hotel is located at the foot of a ski slope and was built for the 1994 winter Olympics. A cable car runs directly from the hotel to the "Seven Glacier Restaurant" located in the top station and is famous for its spectacular views. But since we weren't even able to see the top station from below, we weren't tempted.

However, the hotel, built in a luxurious-cozy chateau style, is very appealing itself.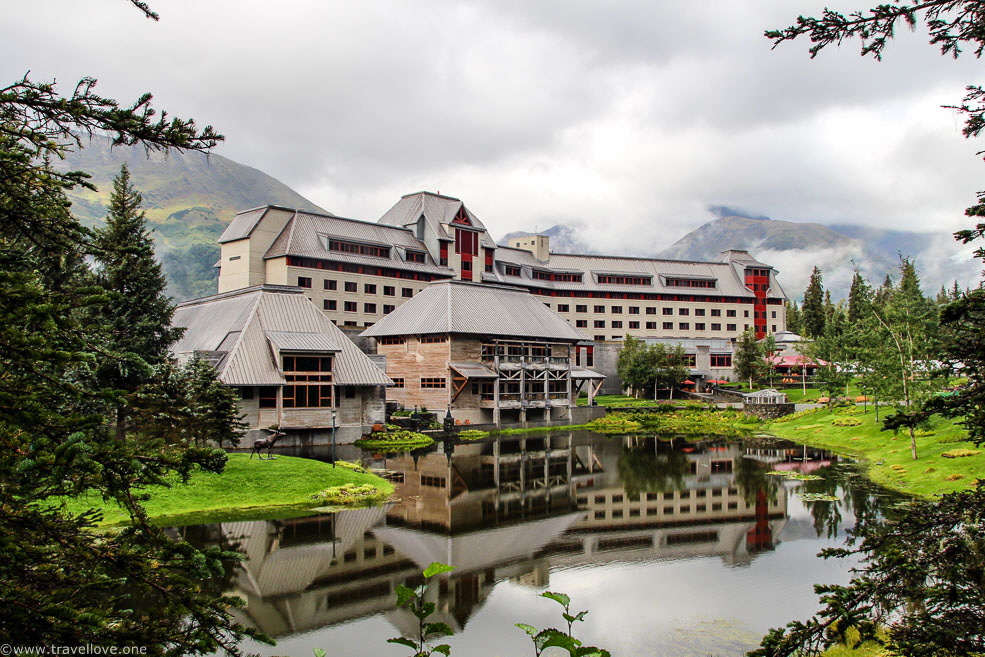 In the lobby, above a stuffed polar bear, they simulated the Northern Lights with special spotlights.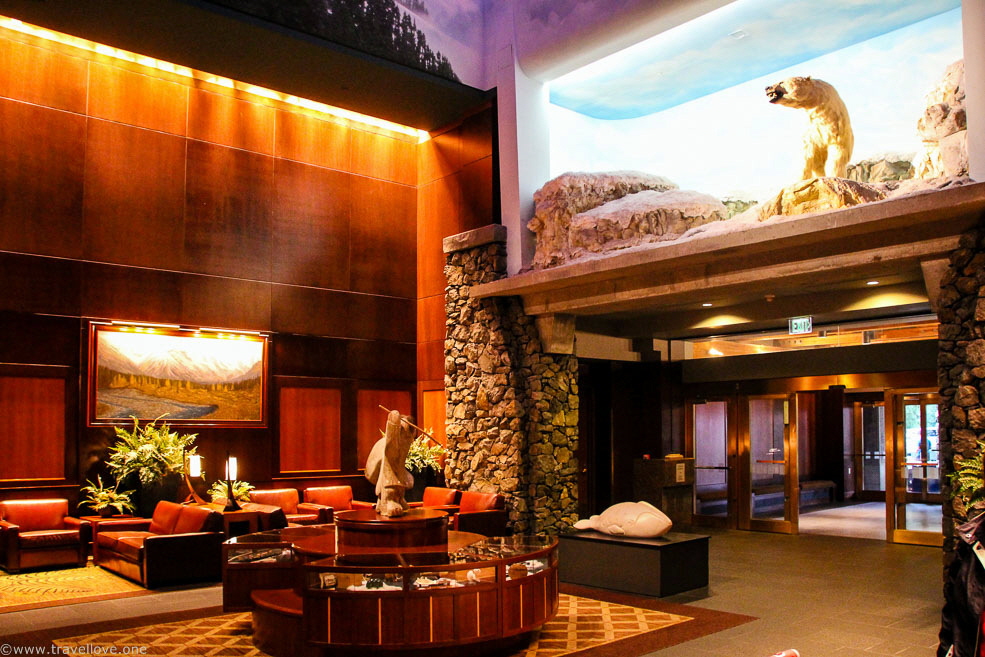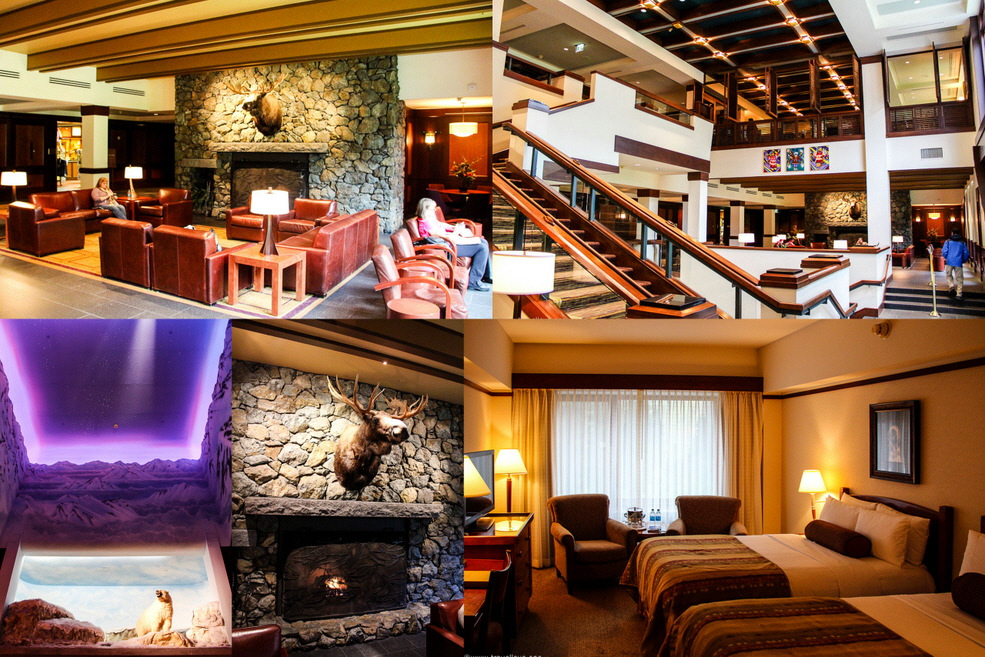 In the afternoon, the weather had cleared up. From our trip from Seward to Anchorage we remembered passing an animal sanctuary which our bus driver had recommended. We decided to heed his advice, as it was only 20 kilometers (12.5 miles) away from our hotel.

The "Alaska Wildlife Conservation Center" takes wounded and orphaned animals and offers them care and protection in very large and natural enclosures. In addition, they run a project raising bison with the goal to reintroduce the breed of bison that was extinct in Alaska.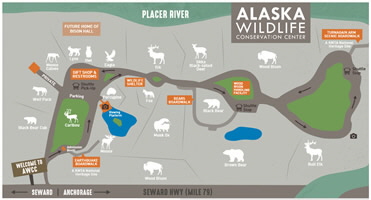 At the entrance of the circular trail, which is also accessible by car, there is a herd of musk oxen. Interestingly enough, they belong to the goat(ish) family.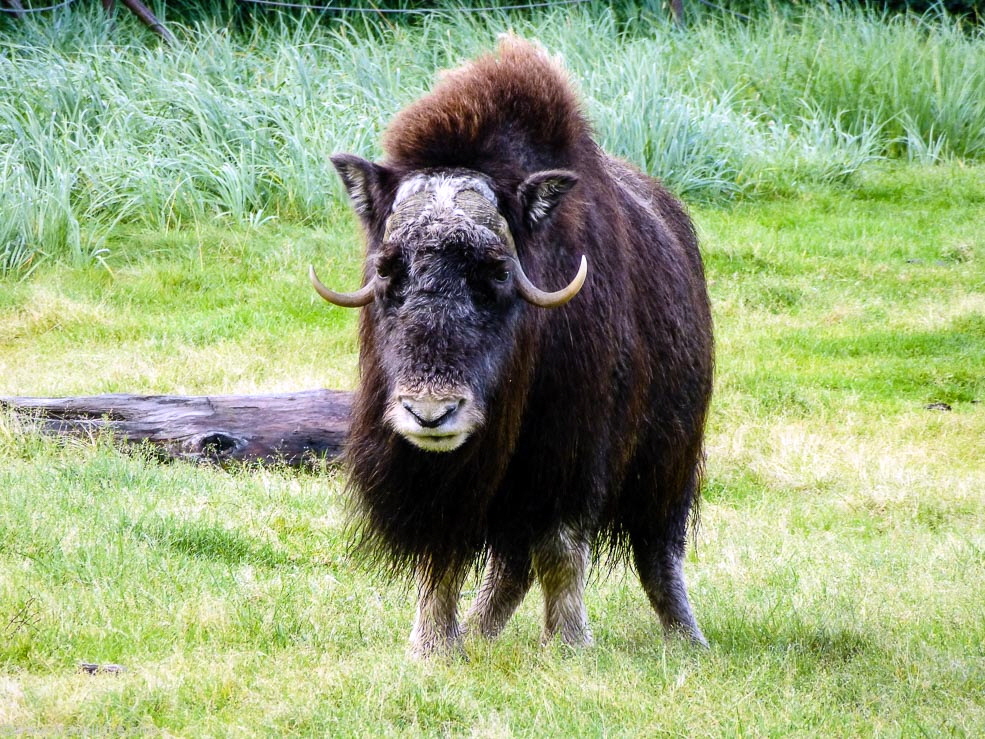 Right next to them, also in a very large enclosure, a herd of wapitis (or elk) was grazing, one of the largest species within the deer family.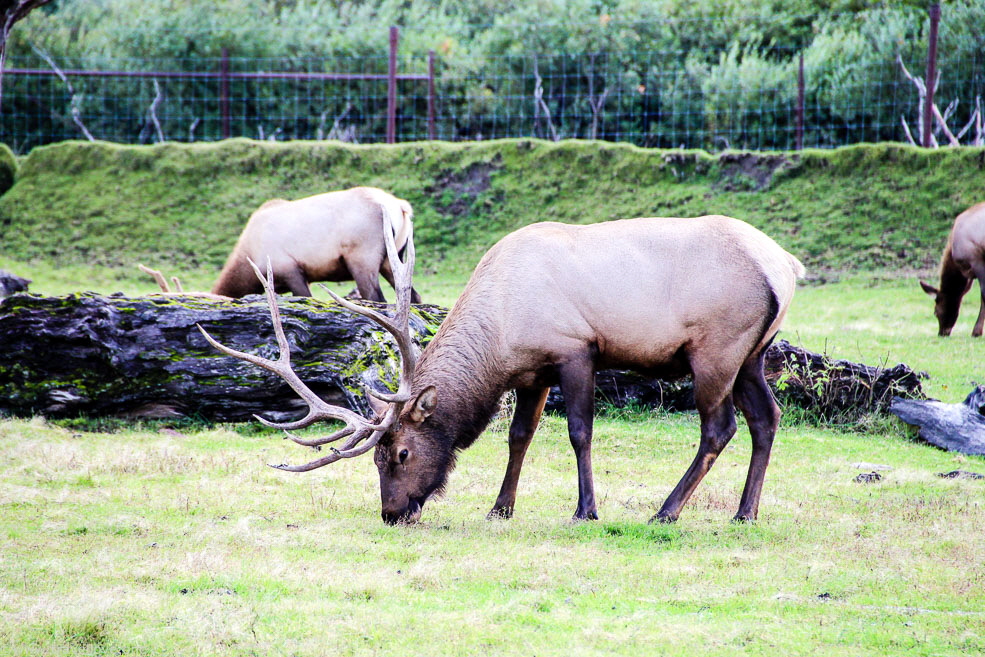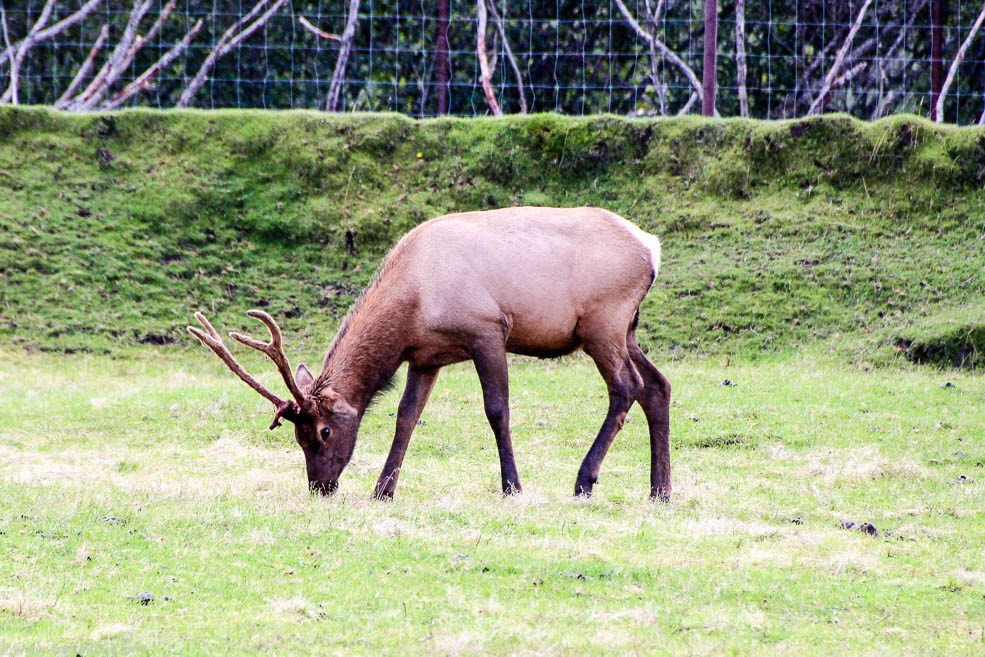 In an open barn we found two sleepy moose who were just shedding the velvet on their newly growing antlers.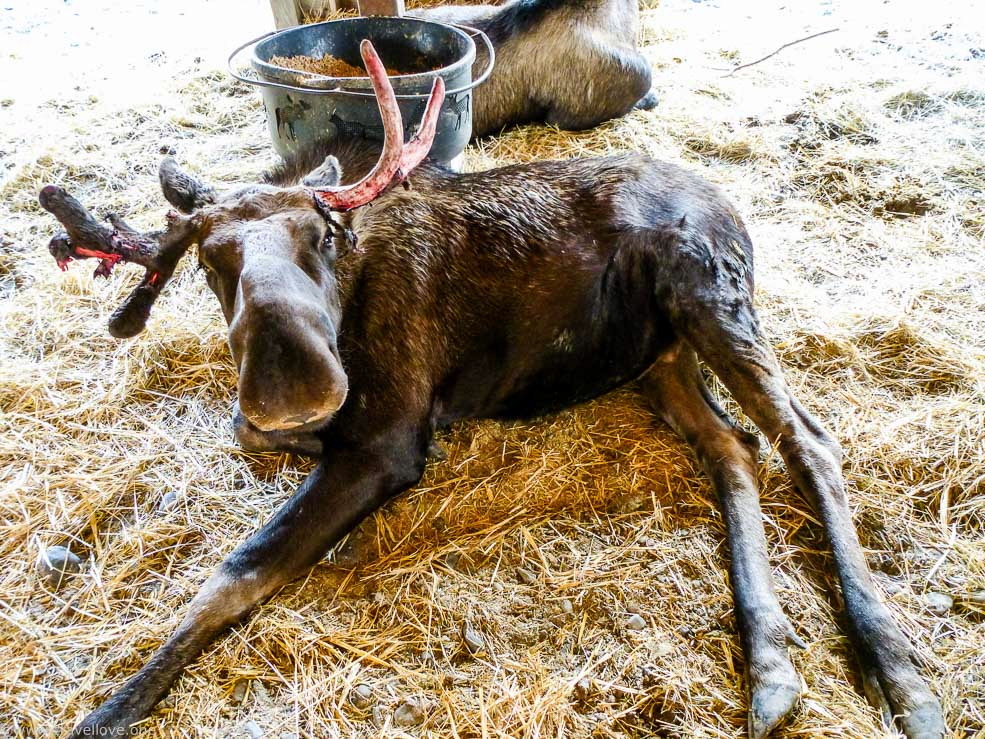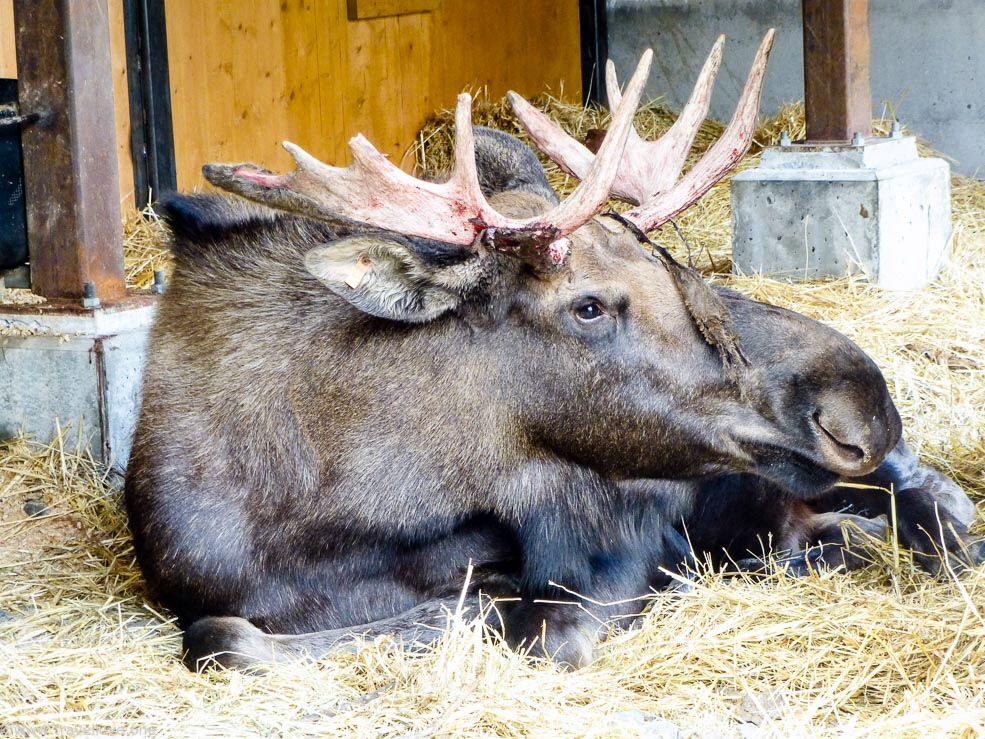 Hugo, a grizzly lady, was quietly playing in the water of the bear enclosure.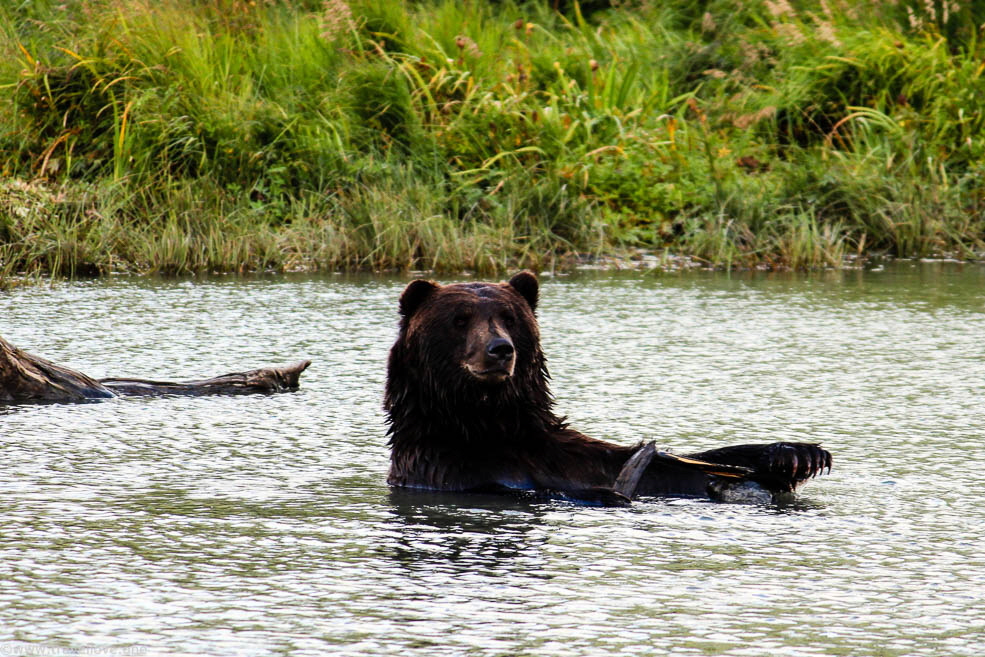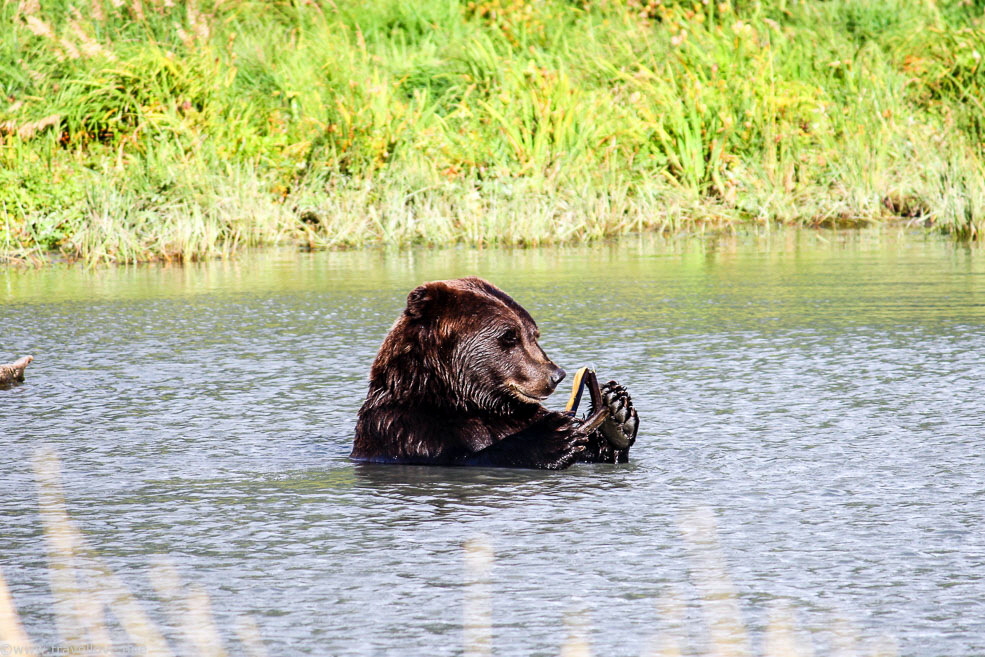 Hugo, for example, was abandoned as a young cub and found by hunters. Apparently she had tangled with a porcupine, as 150 porcupine stings were stuck in her paws when they found her. Due the resulting inflammations, Hugo was no longer able to walk or hunt and would have starved in the wild.

As we were watching Hugo, a big raven landed on our car roof behind us and contemplated his reflection in the shiny roof.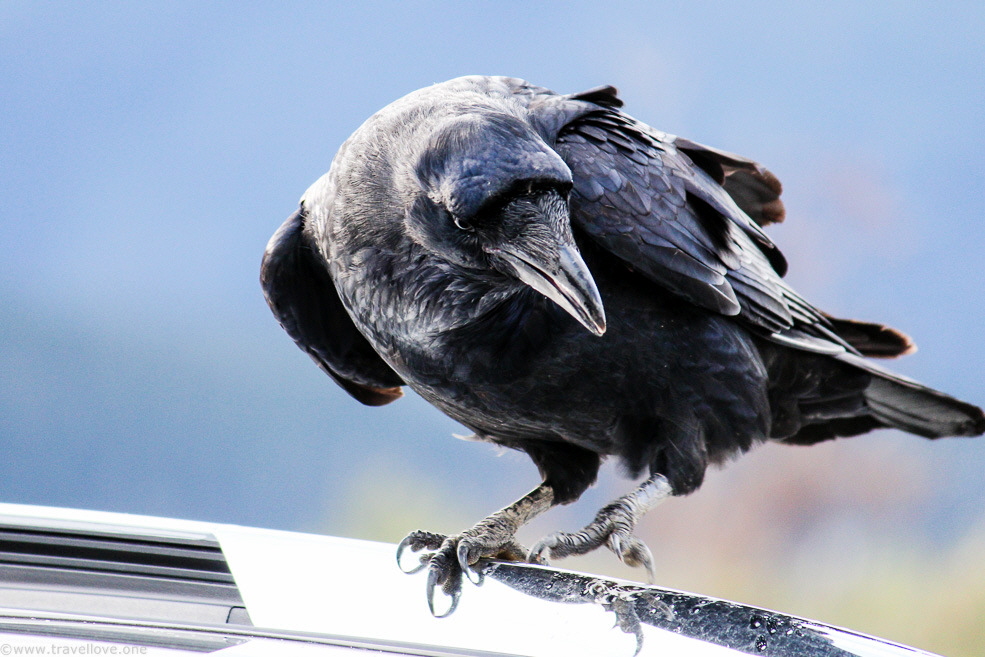 Then we reached the bison herd, which is the pride and joy of this sanctuary. In Alaska, bison have been extinct for over 100 years. But the AWCC has had repeated success in rearing offspring.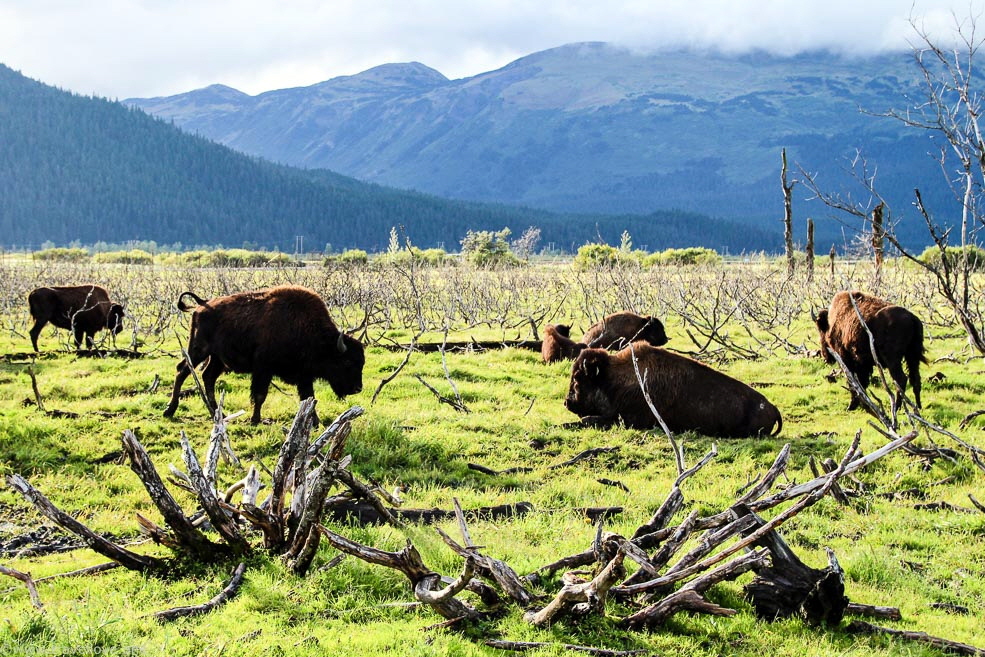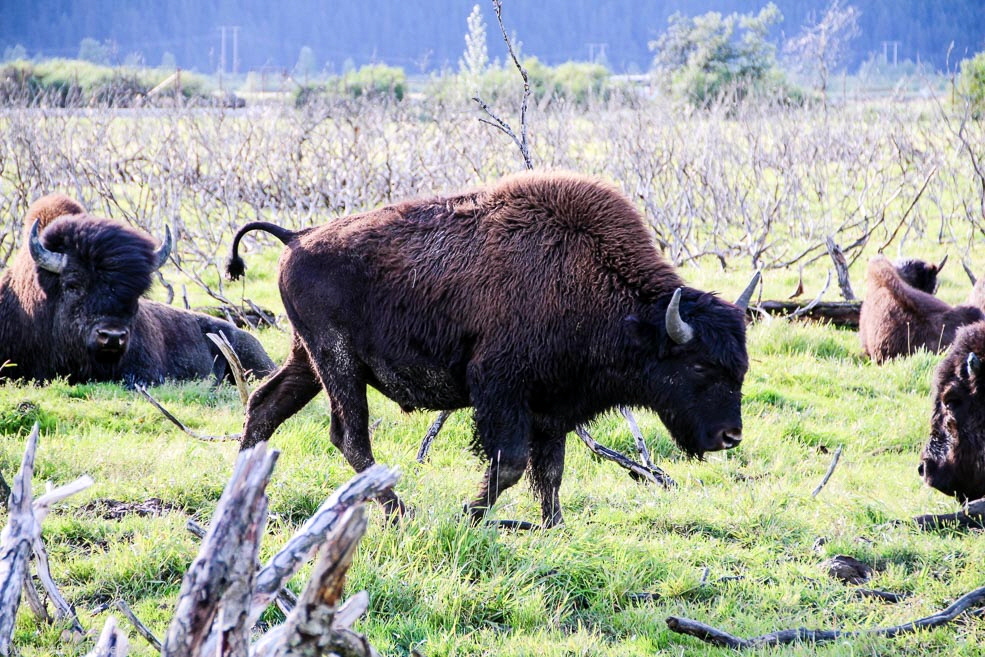 Meanwhile, the weather had turned friendly again and offered us this beautiful rainbow.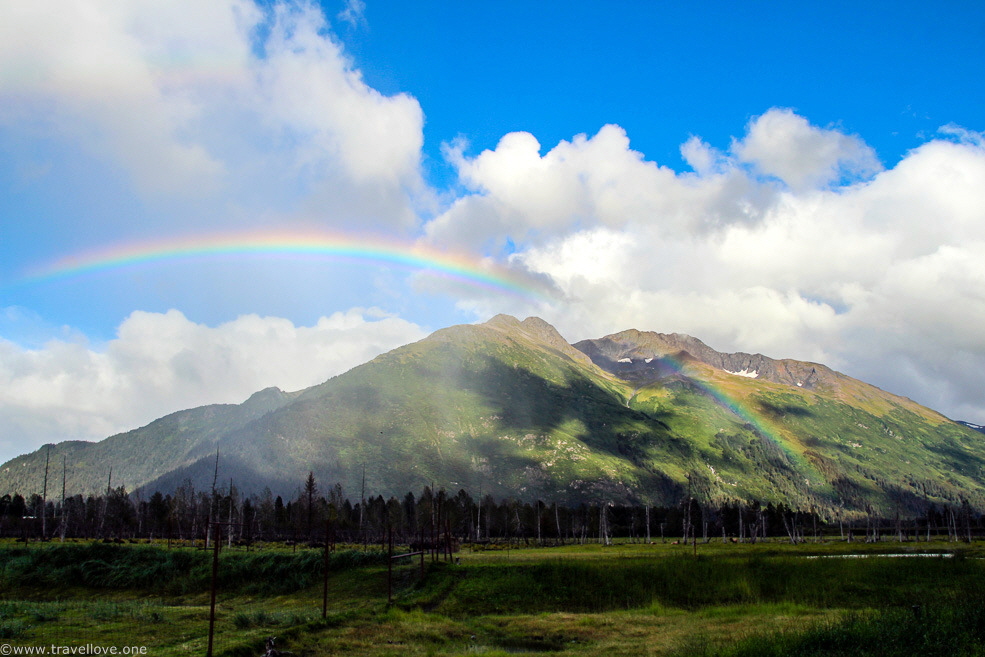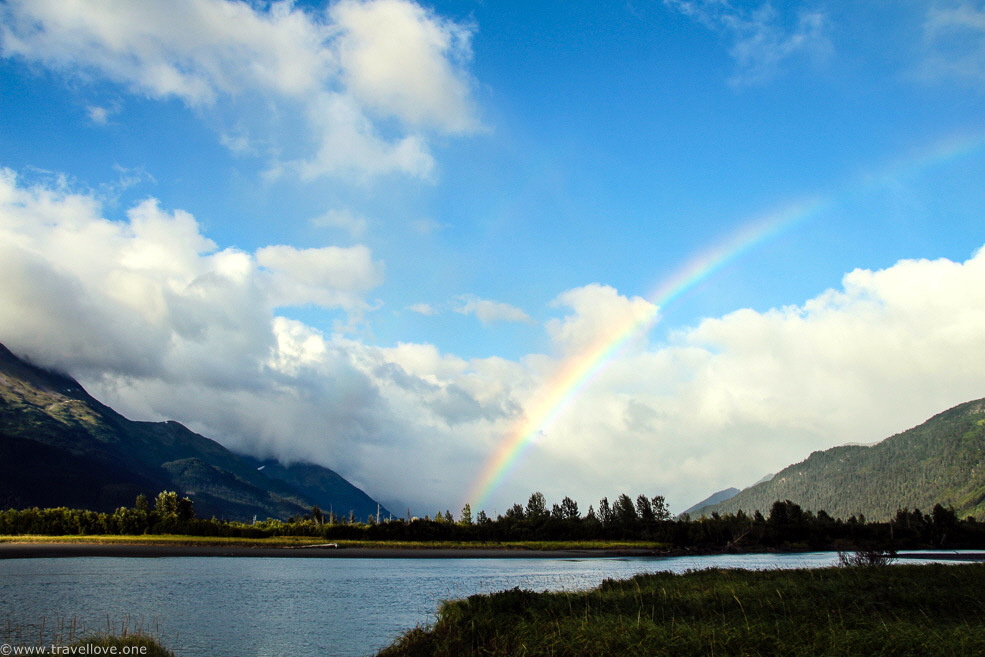 On our way back we passed the bear enclosure again, where these two guys had made themselves comfortable near the fence in the meantime.

Getting this close to these animals was very impressive.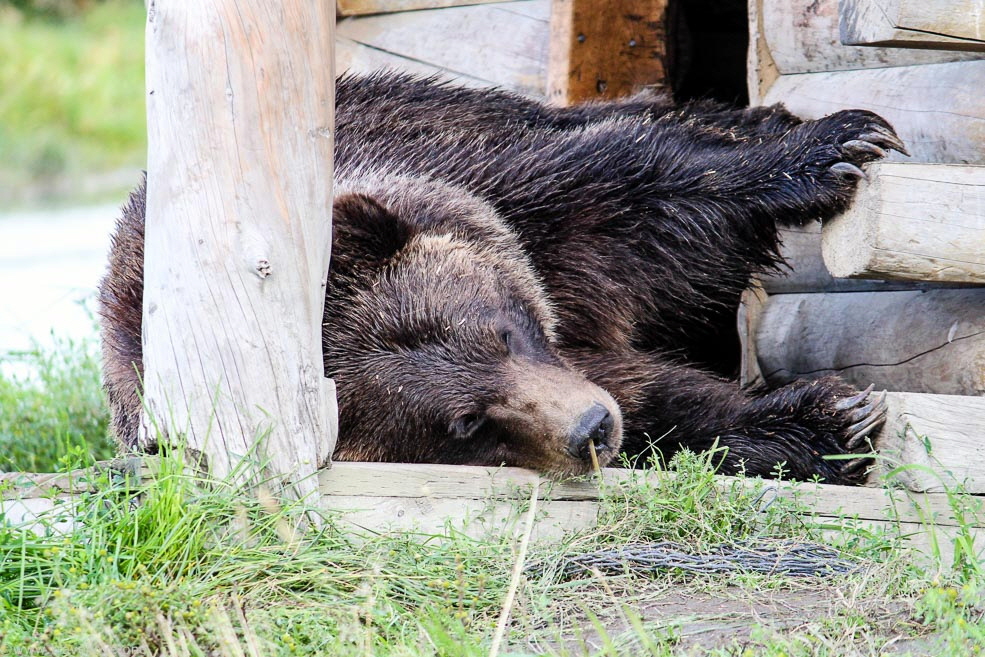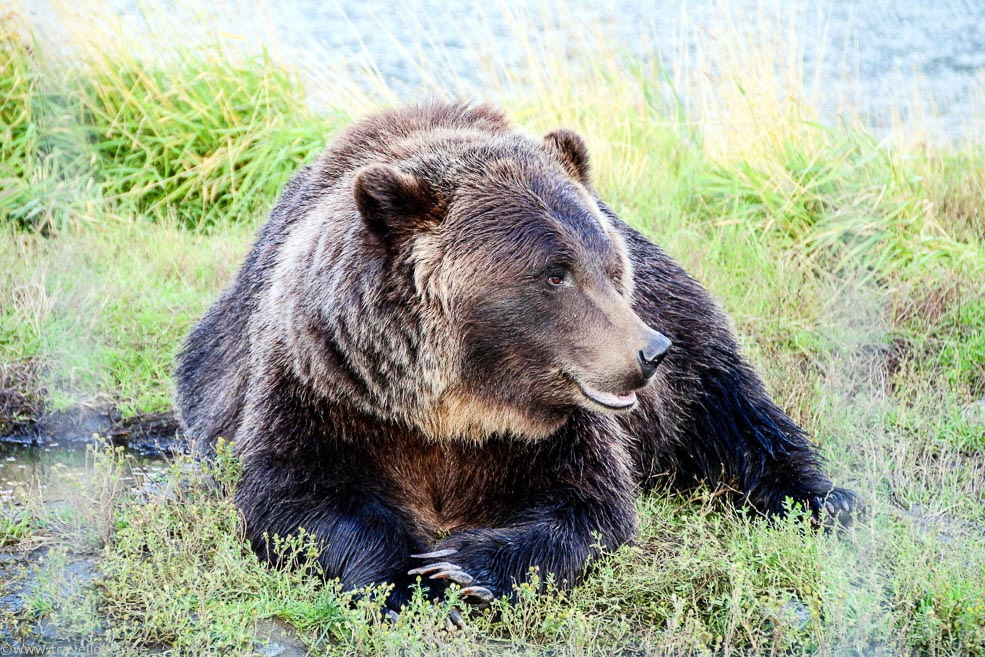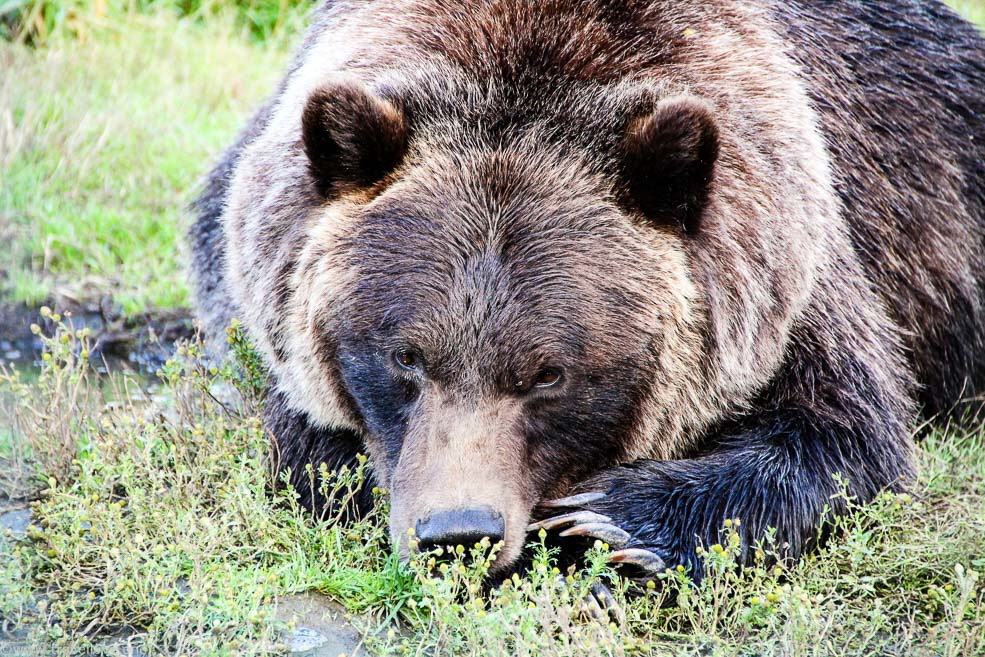 Firefighters rescued these beautiful slackers from a bush fire. At the AWCC, their burns were treated and both were able to recuperate. Apparently, they are doing quite well here...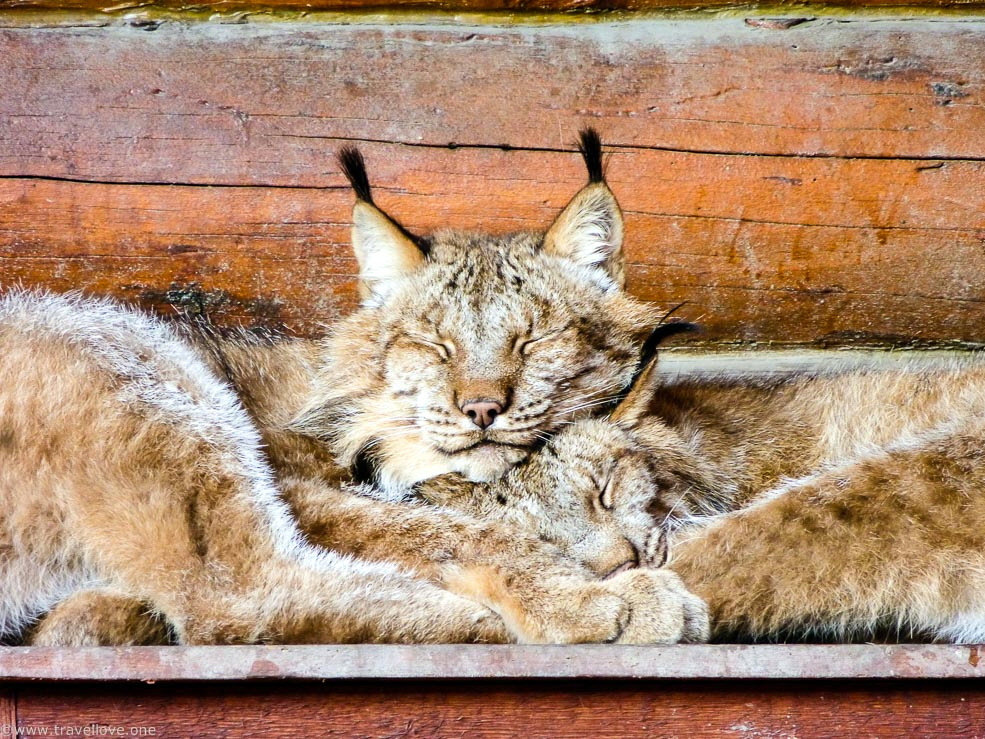 The caribou enclosure was at the exit of the resort. Caribous were still missing on our list, as we hadn't seen any in Denali.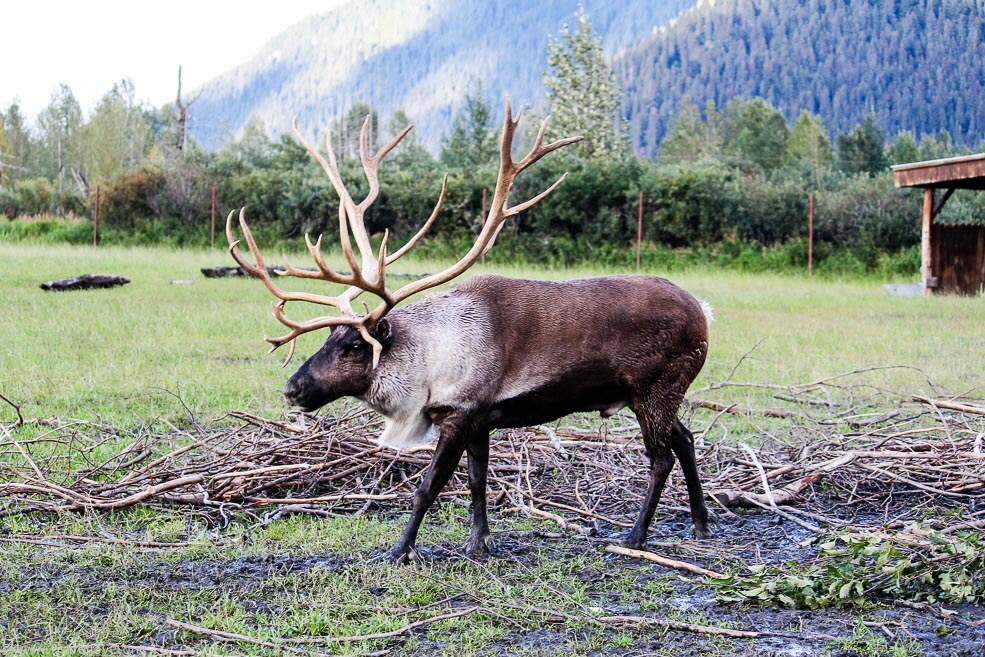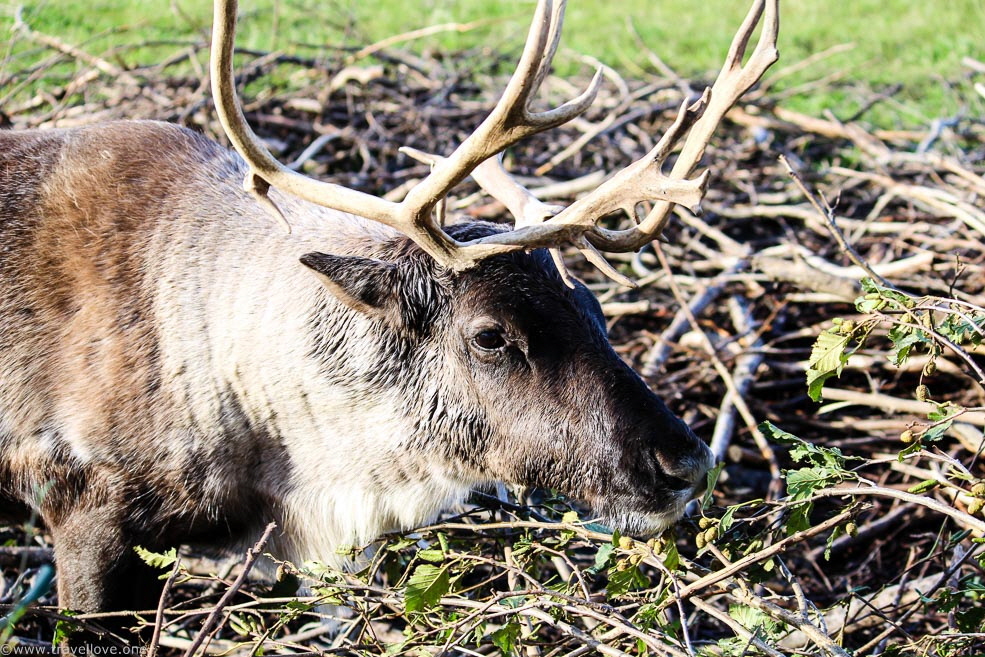 Some of the young bulls were testing who'd be master of the house.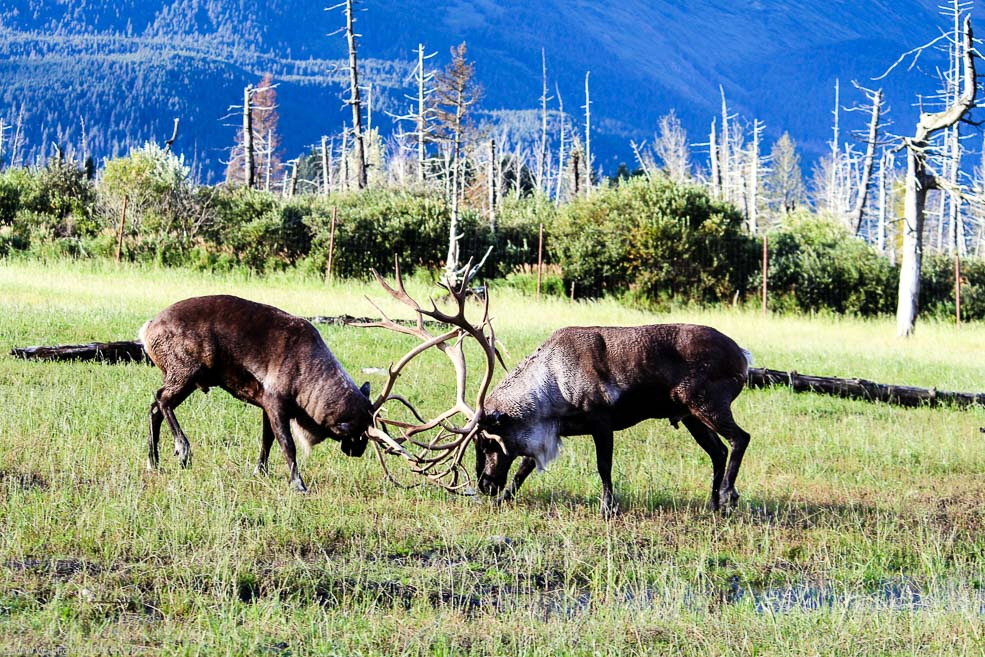 In the evening we enjoyed our last dinner in Alaska in a quaint restaurant in Girdwood.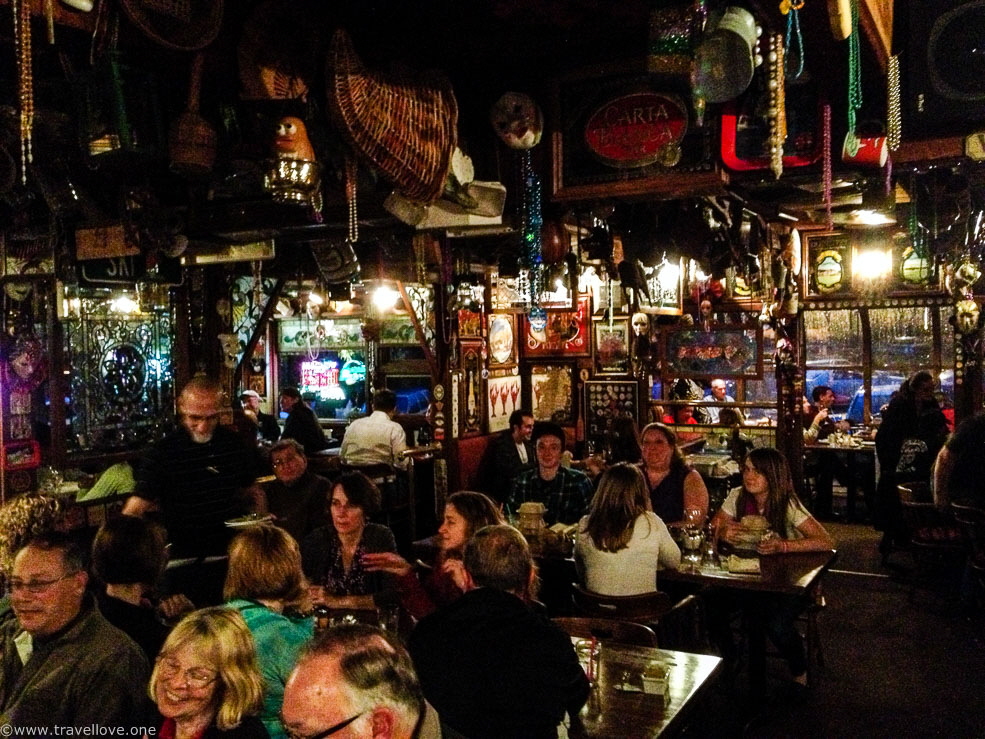 Return to Frankfurt

Our flight to Frankfurt only left in the evening. This meant we had time left for a good breakfast and, after vacating our room, a quiet read near the fireplace in the hotel lounge.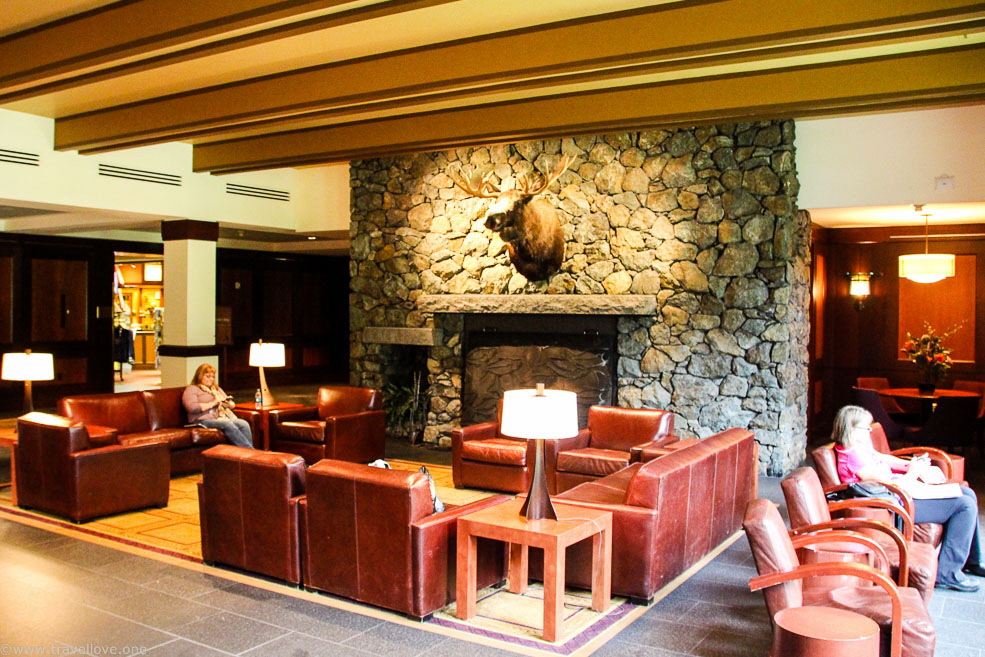 The drive to the airport in the afternoon took some 45 minutes. Once there, we returned our car and checked in.

(Unfortunately), there was a Cinnabon branch at the terminal, which I couldn't pass without eating a Pecanbon. Calories in their best and purest (and most delicious) form.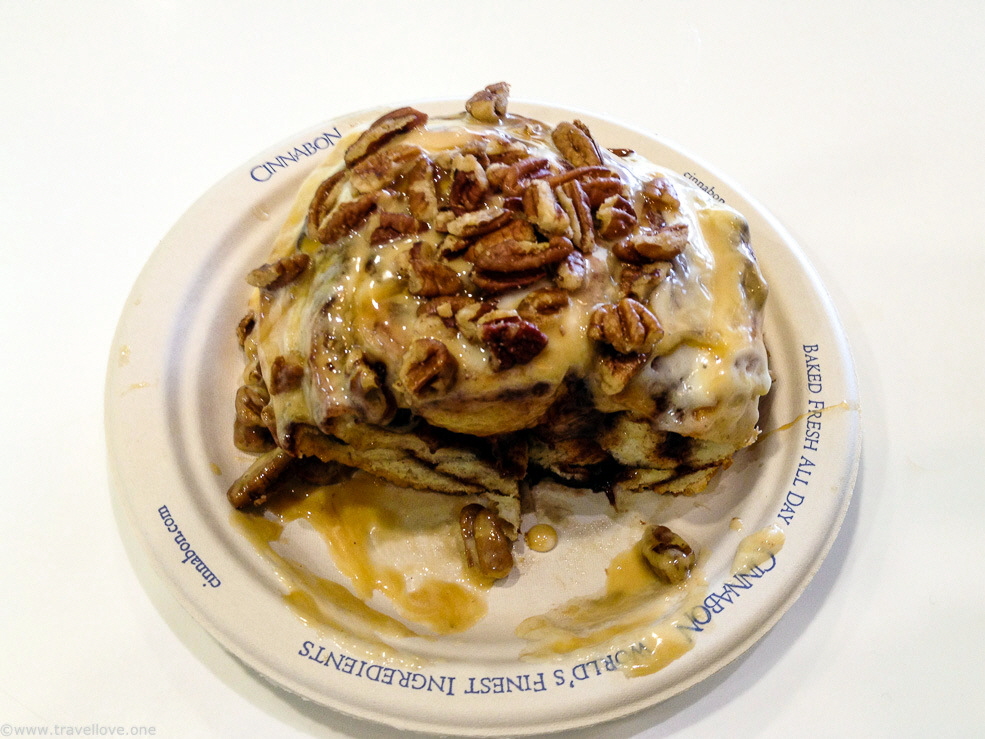 With a little delay we left Anchorage and enjoyed the wider legroom of Premium Economy.

Although I am usually a friend of ending a review on a conclusion, I feel that words aren't really necessary. The pictures hopefully speak for themselves. We will keep them not only on our hard drive, but also in our hearts and minds. I hope I was able to convey with this review at least part of the fascination we experienced during this journey. Otherwise we can only recommend that you experience this trip yourselves.

By the way, shortly after we left Anchorage, Alaska saw us off with a special treat.
Maybe as a farewell, he showed up in the end....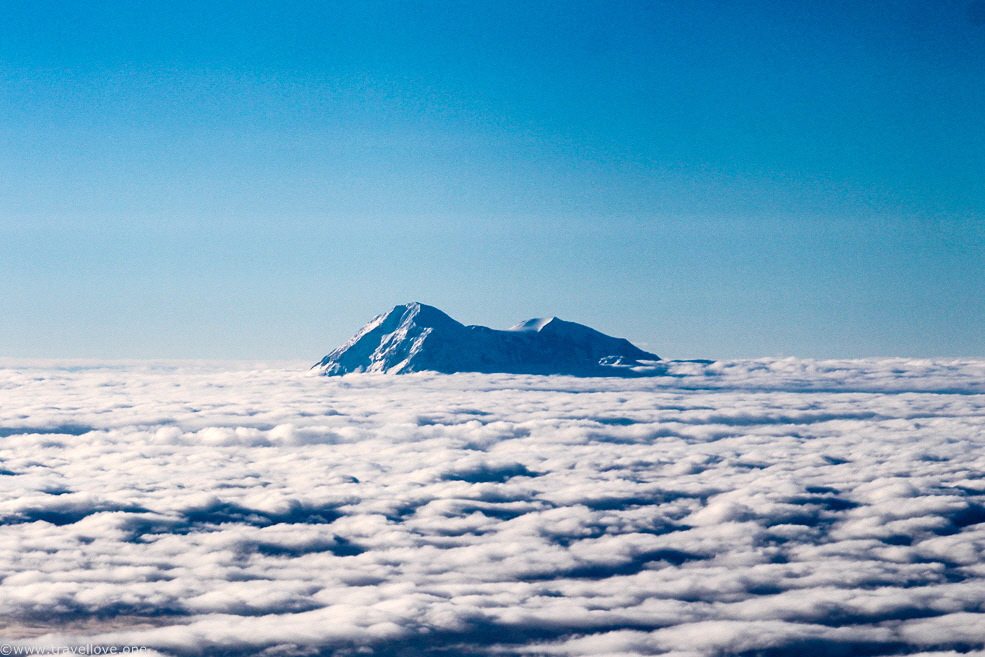 ... Mount McKinley, or as it is known today: Denali, "The Great One"
www.travellove.one • www.thecruise.report • www.travelandcruise.net
© 2021 Die Rechte an Texten, Fotos und Videos liegen beim Autor der Webseite. Die Nutzung ist nur nach ausdrücklicher Freigabe erlaubt.