Part 13 - Busan, South Korea
Part 13 - Busan

Our last port of call of this trip was Busan. After Seoul, Busan is South Korea's second largest city and its largest port. We didn't have any big plans for the day. Between the past destinations and our upcoming days in Shanghai we wanted to take it easy and just take a stroll through Busan.

We had breakfast at the Tuscan Grille for a change, where breakfast was served for Elite members.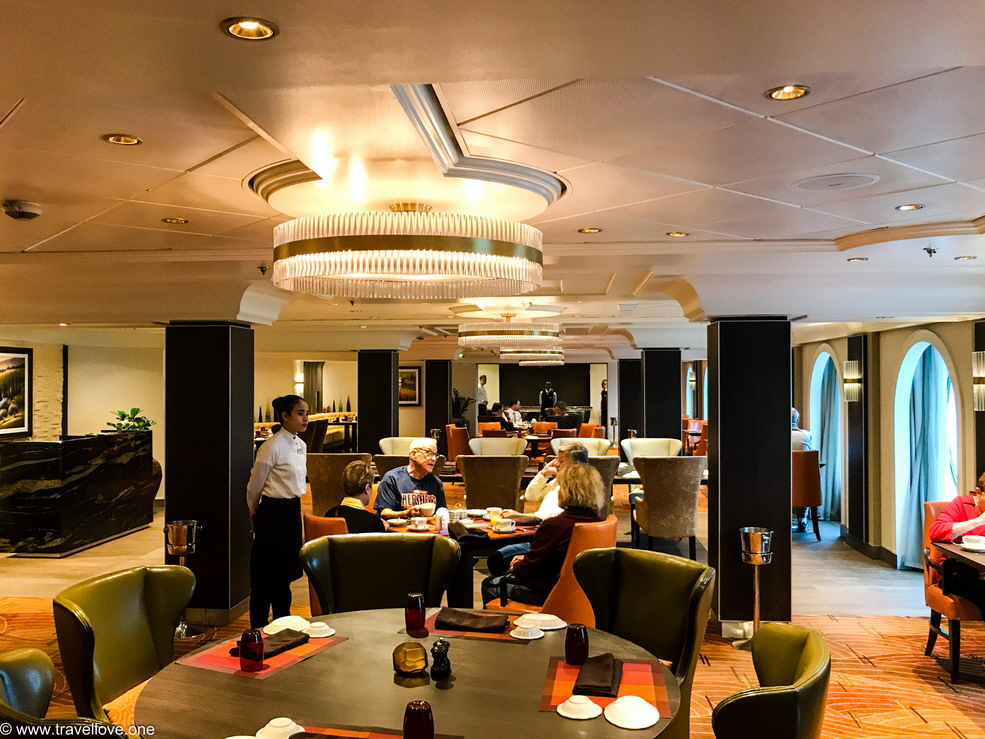 The atmosphere is nicely quiet and the service undoubtedly very good. But personally, I don't enjoy à la carte breakfast as much as a sumptous buffet.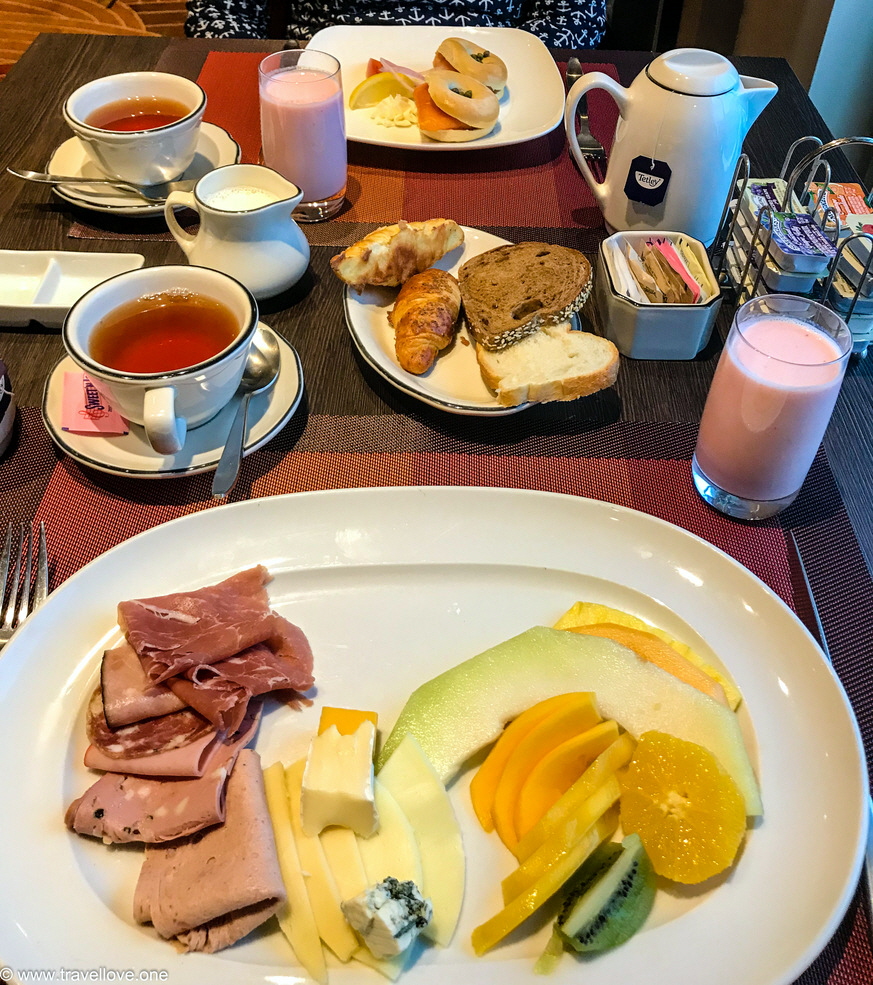 We left the ship at 10.00 am. Before taking the free shuttle bus into town, we passed by a tourist information and picked up a map and some additional information.

Despite the size of Busan, many attractions were fairly central and therfore near the stop of the shuttle bus.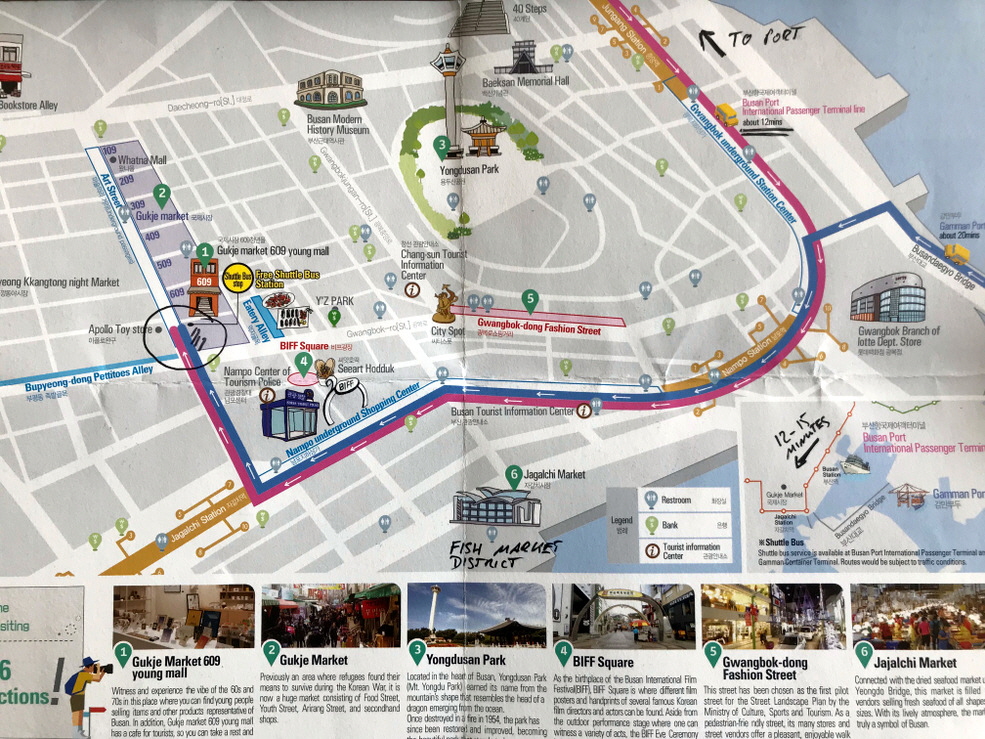 The ride into town took about 20 minutes, after which we found ourselves in a big street near Gukje Market.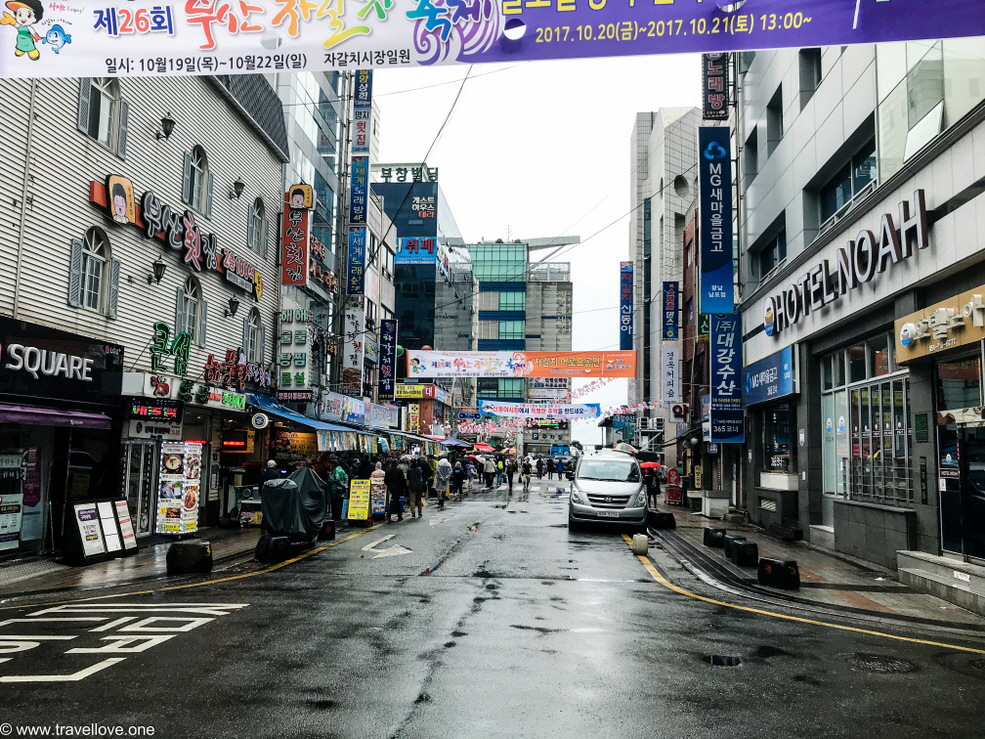 Our first destination, however, was the "World Famous Jagalchi Fish Market". Although, as Birgit always says, I don't eat anything that used to live in the sea, I always enjoy visiting those markets.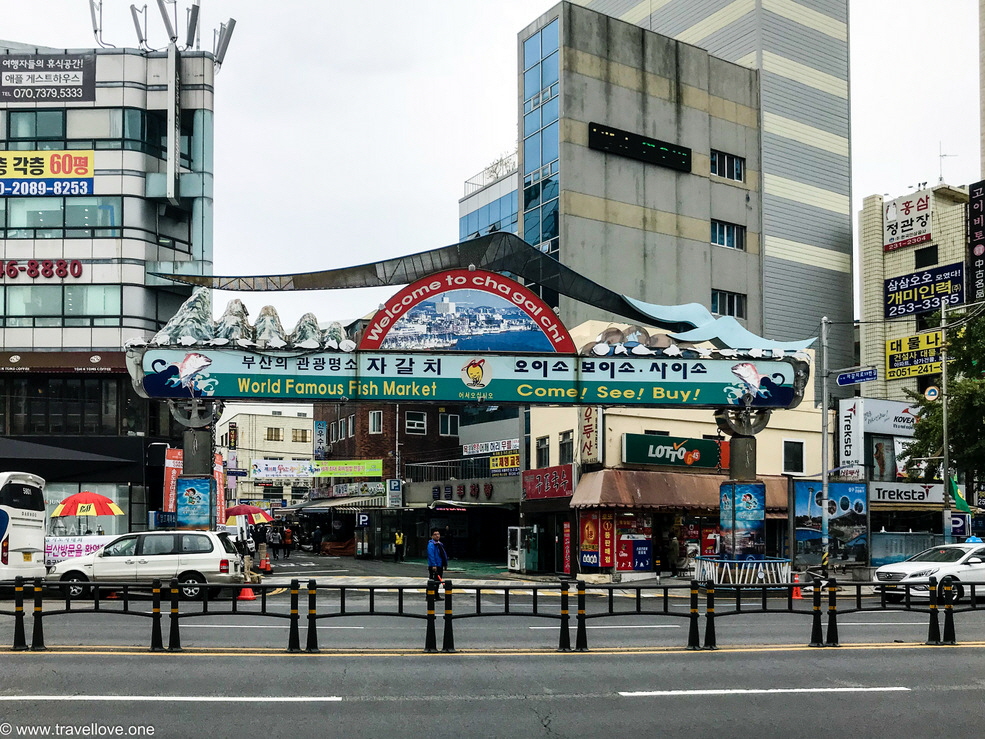 The roads leading up to the big halls were already filled with shops selling all kinds of sea creatures.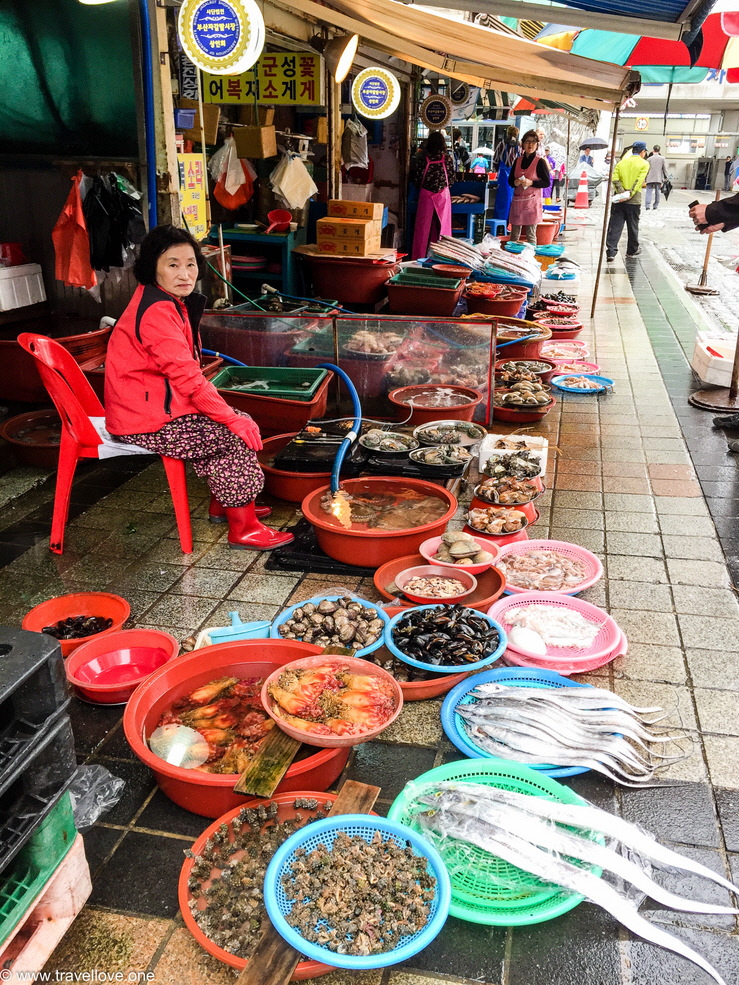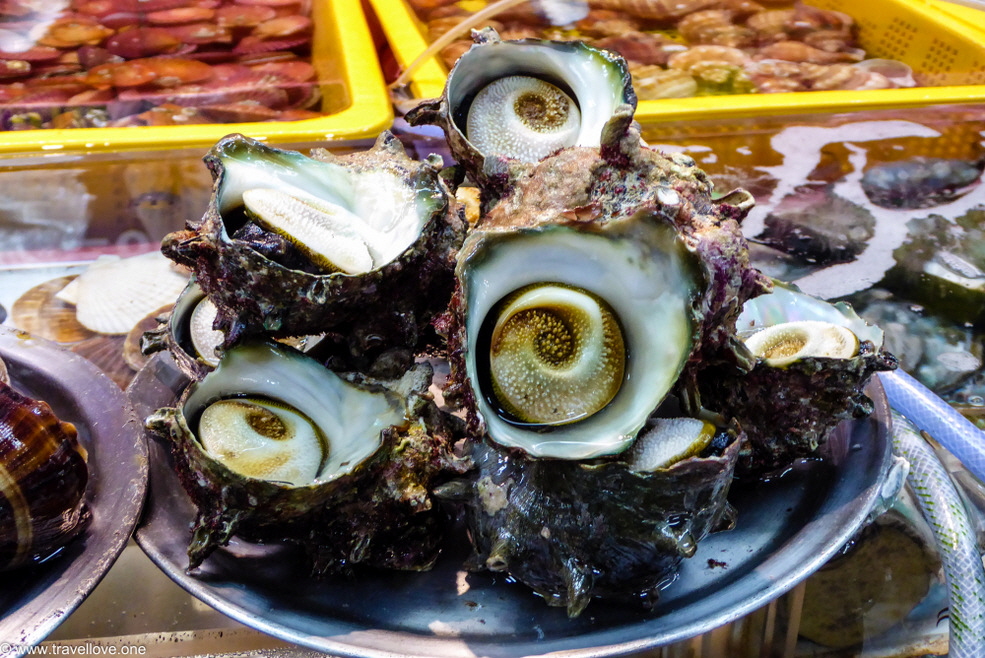 Within 5 minutes we had reached Jagalchi Market.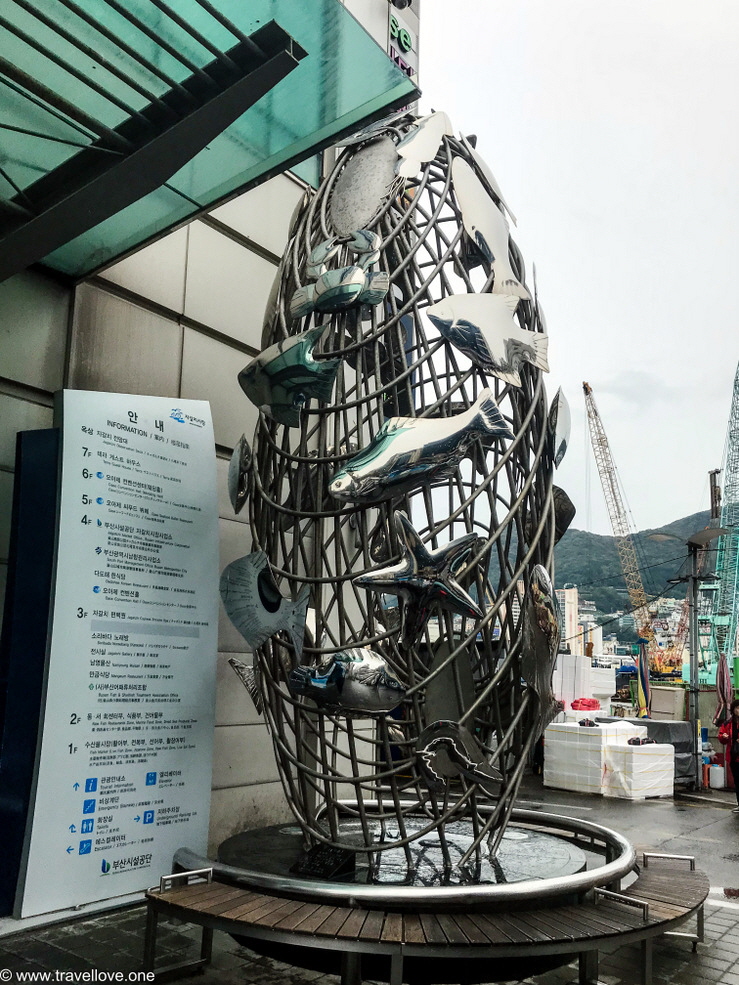 The huge building was divided into several rows of innumerable stalls also selling all kinds of fish and seafood.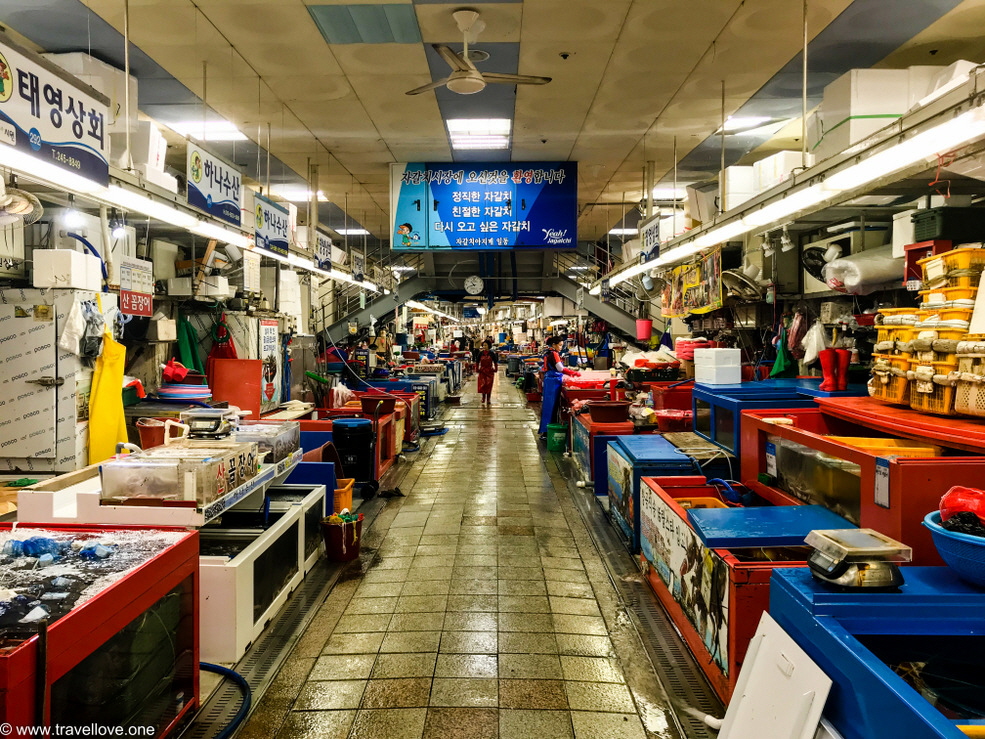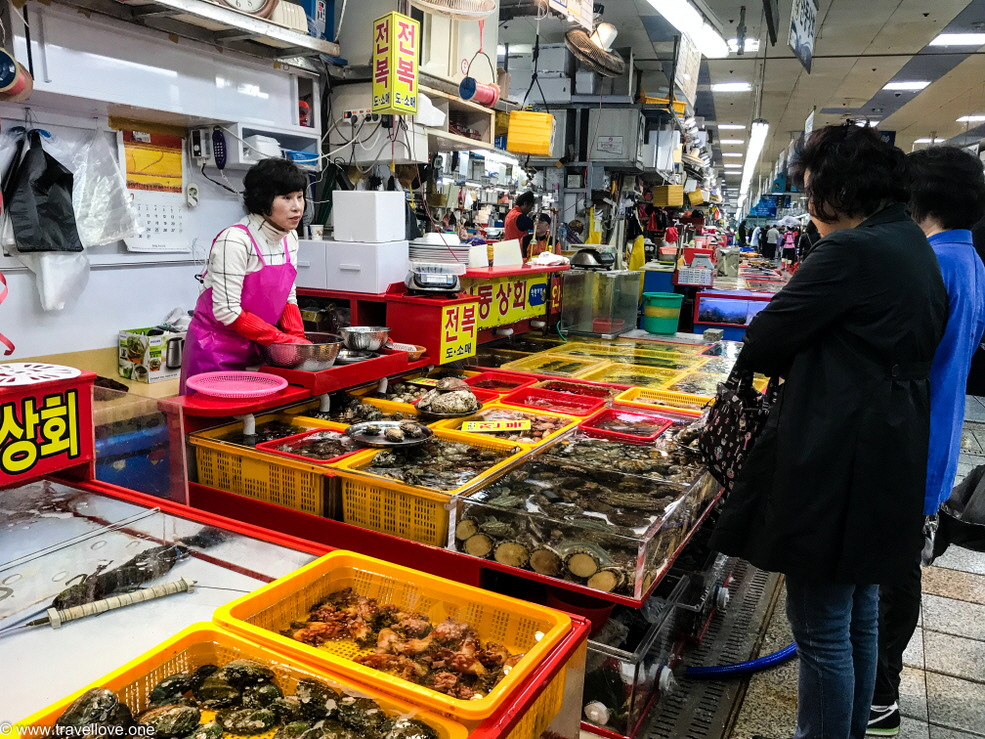 Prawns, octopus, lobster, clams and many creatures unknown to us were offered here in bulging baskets and basins.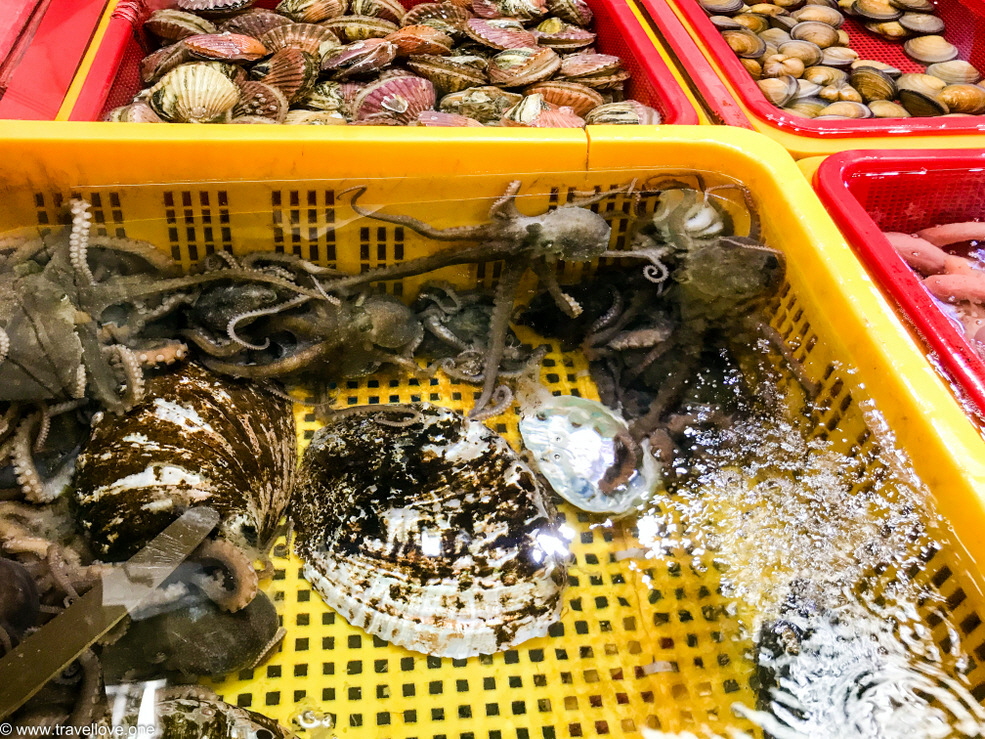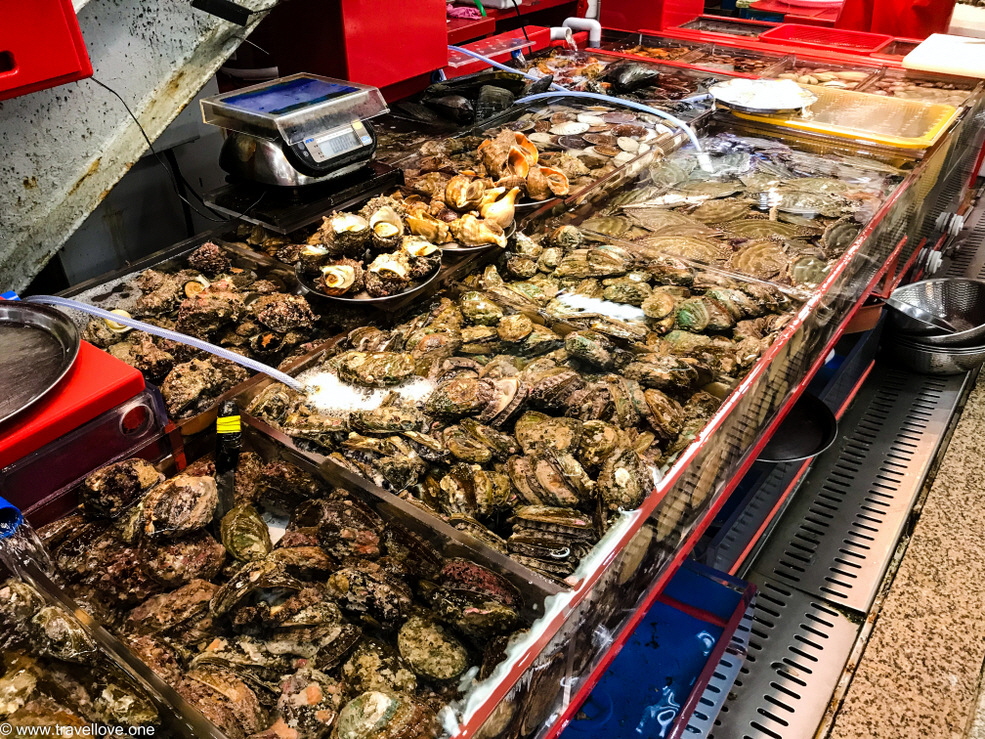 By the way, you can take the fish you just bougth (alive) to the second floor of the market, where it will be cooked for you ready to eat. For fish lovers this surely is an interesting experience. I gratefully gave it a pass.

Along the quayside next to the large market building there were many more stalls and shops. We decided to have a look.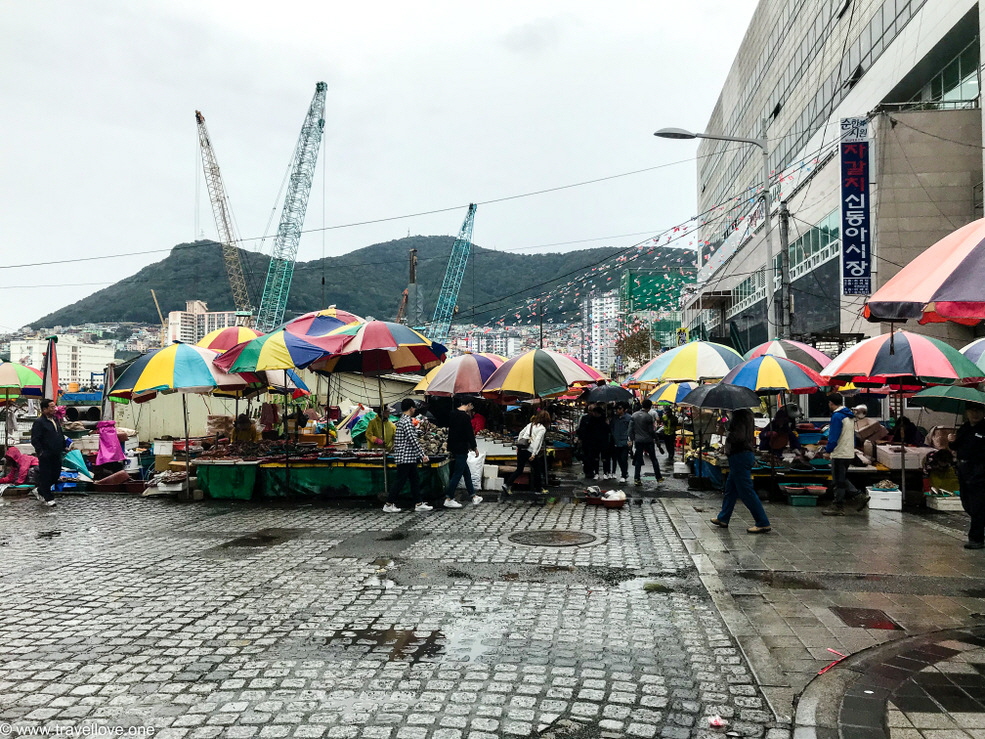 As was to be expected, it was also pretty fishy here…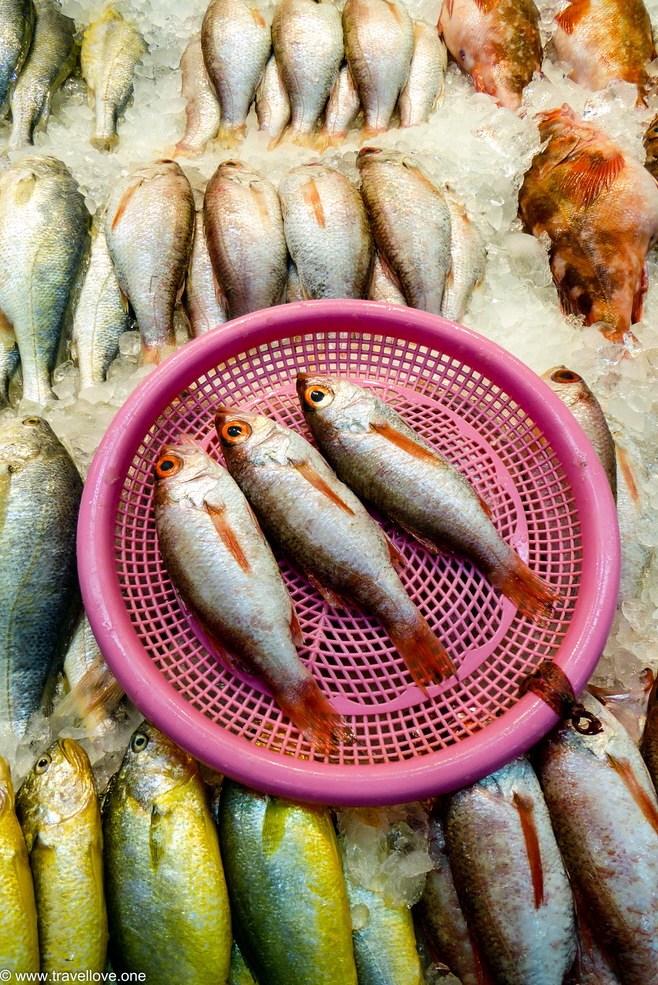 Stall to stall, the merchants lined up here as well.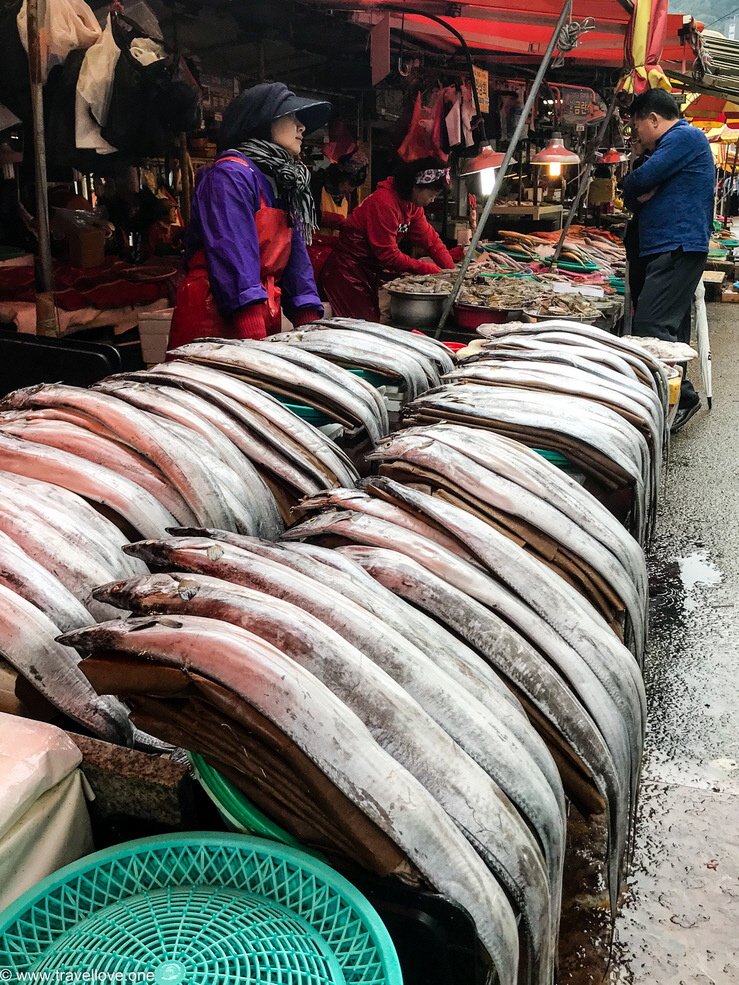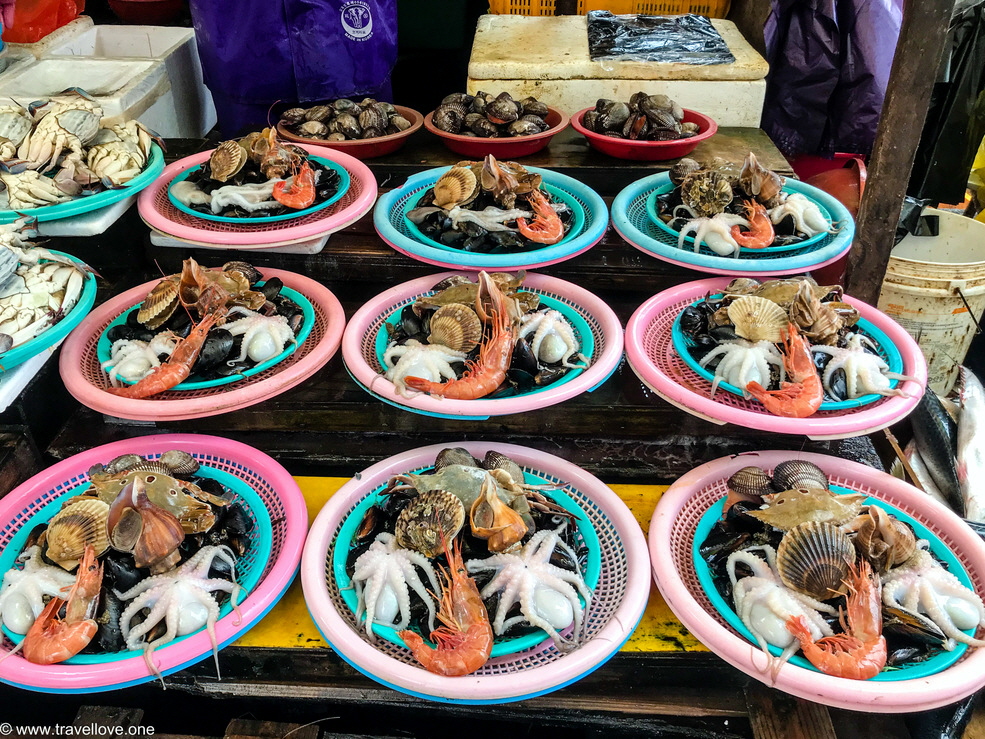 Even the little ones were literally dragged along.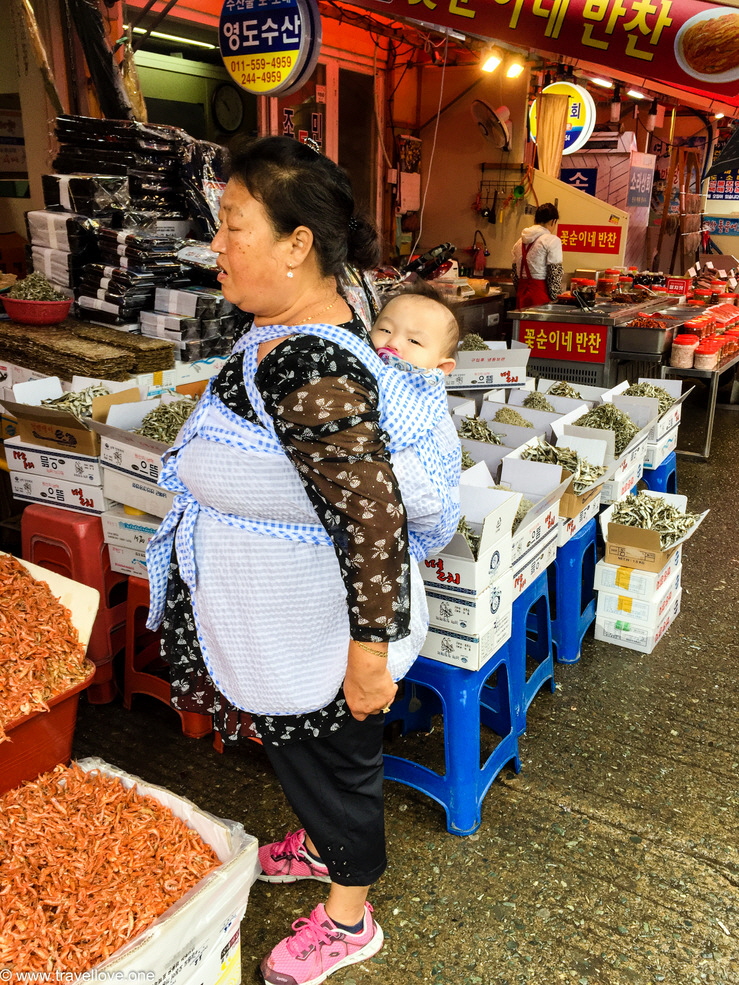 In addition to the many stalls selling purely fish etc, there were carts offering all kinds of see grass.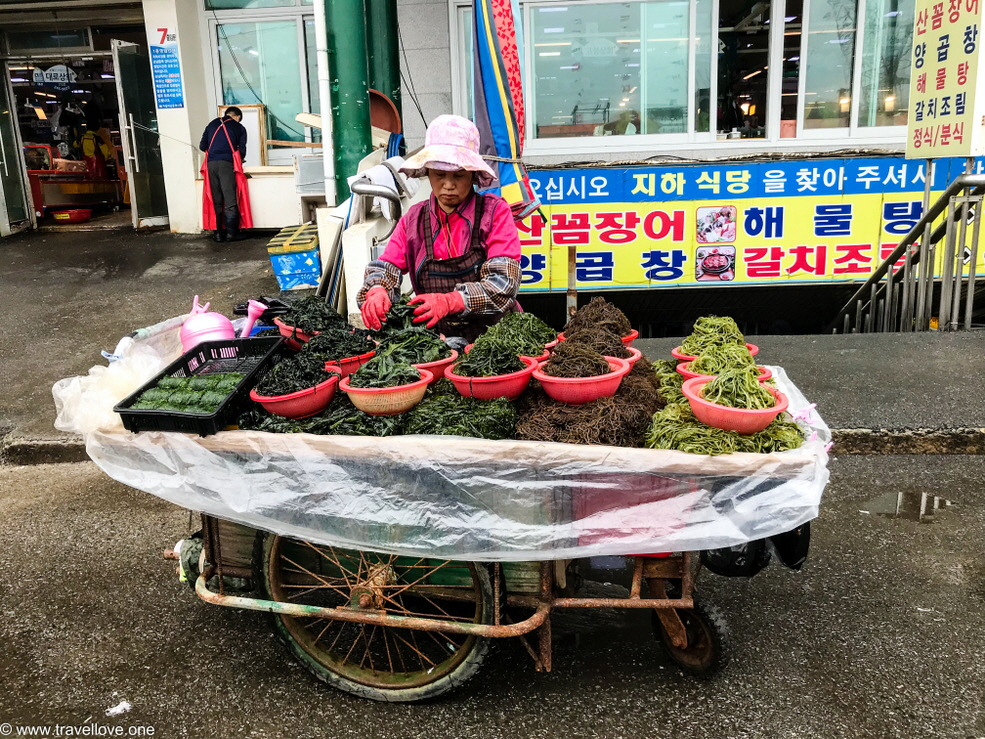 Even at the street market you couldn't only buy the raw fish but also have it freshly prepared at stalls and small simple restaurants.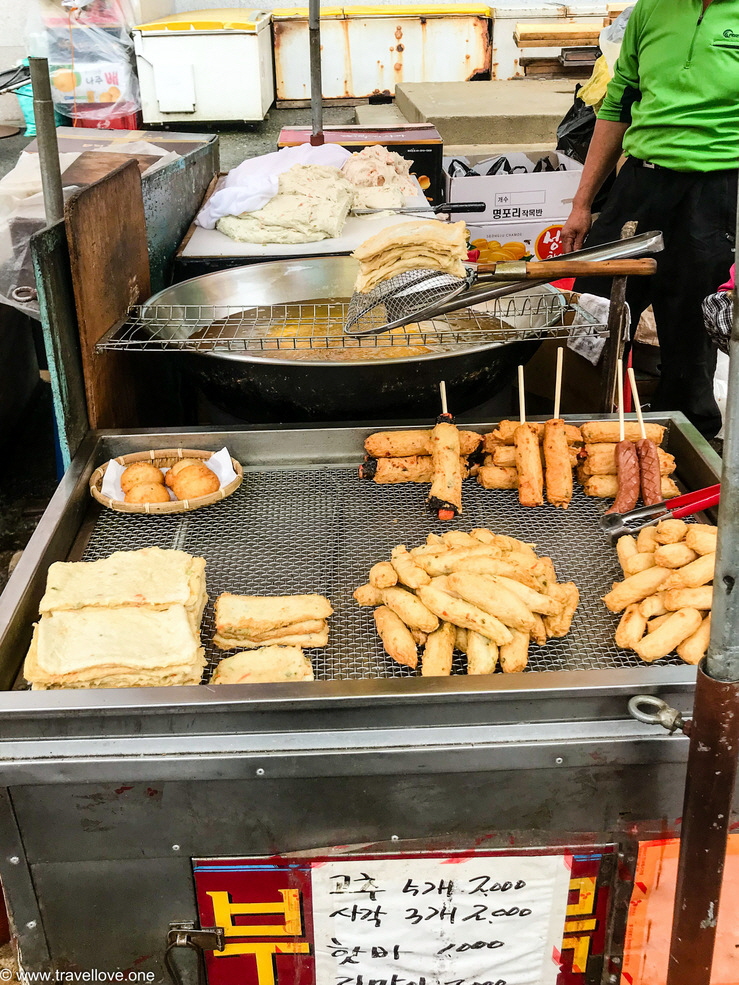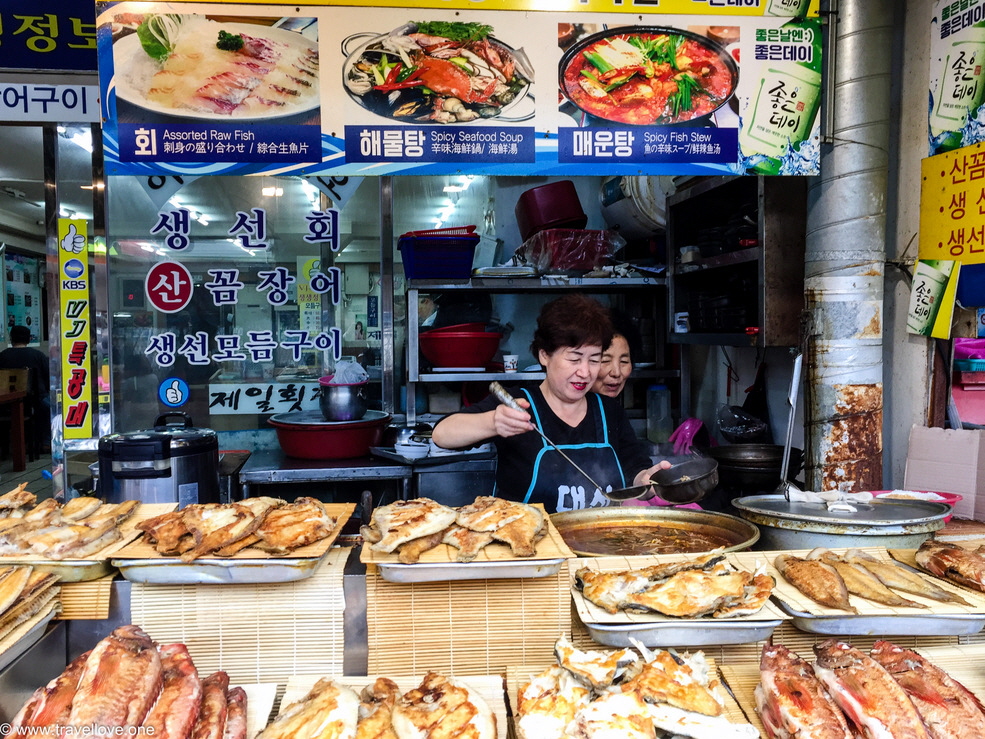 From here we could already see our next destination, the Lotte department store.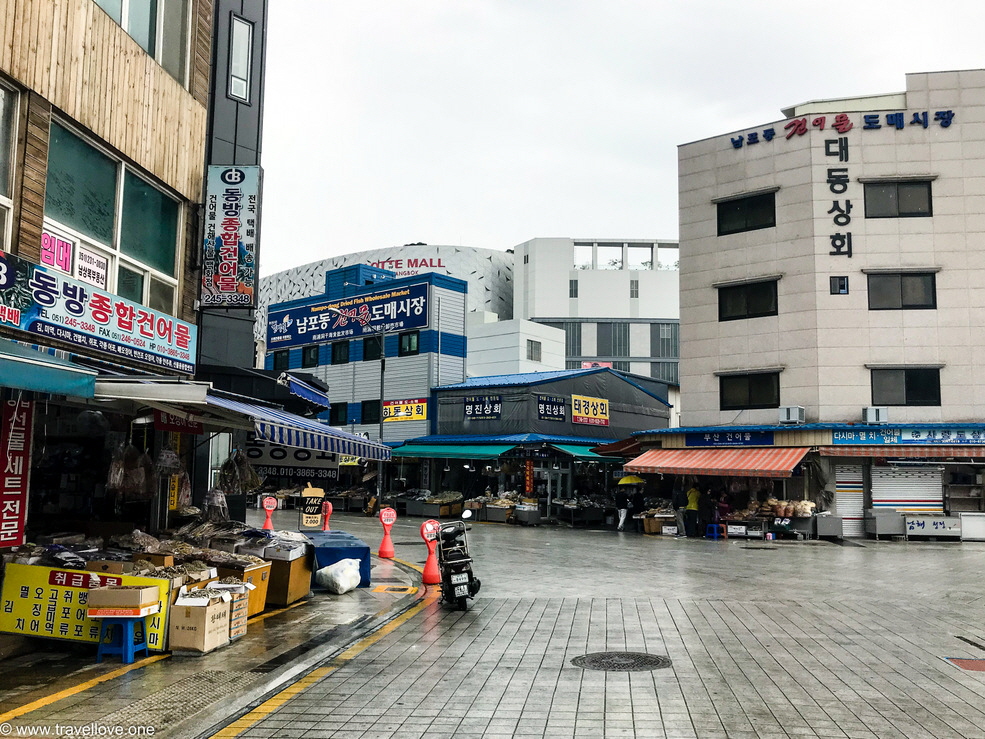 To get there, we walked through little side streets, where anything that was sold fresh at the fish market could be found in dried form.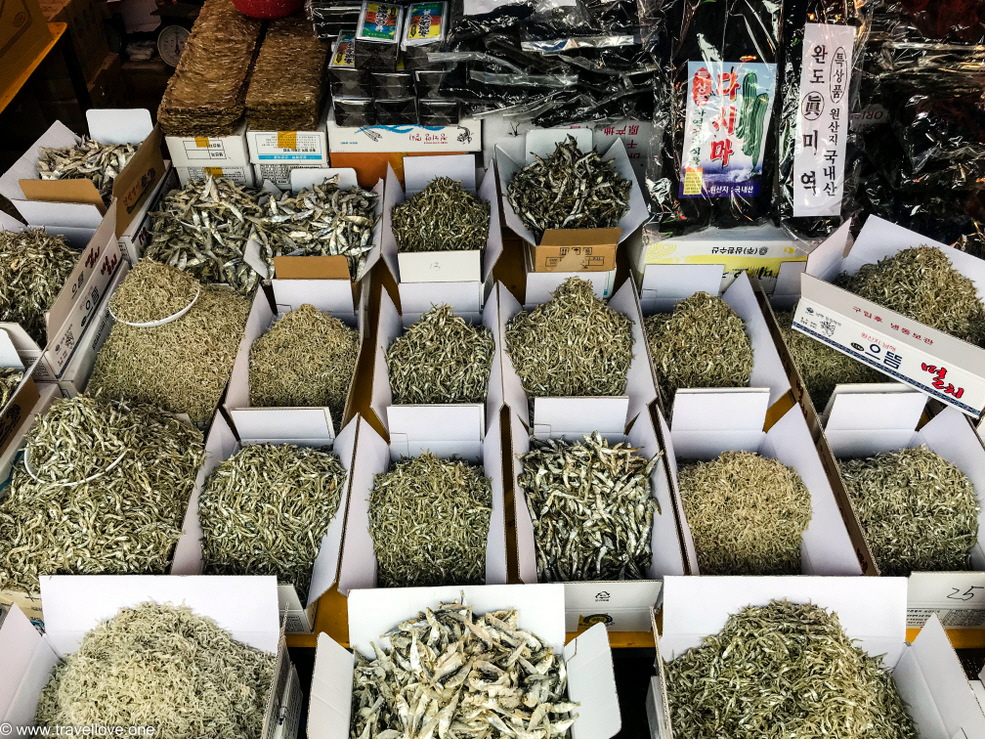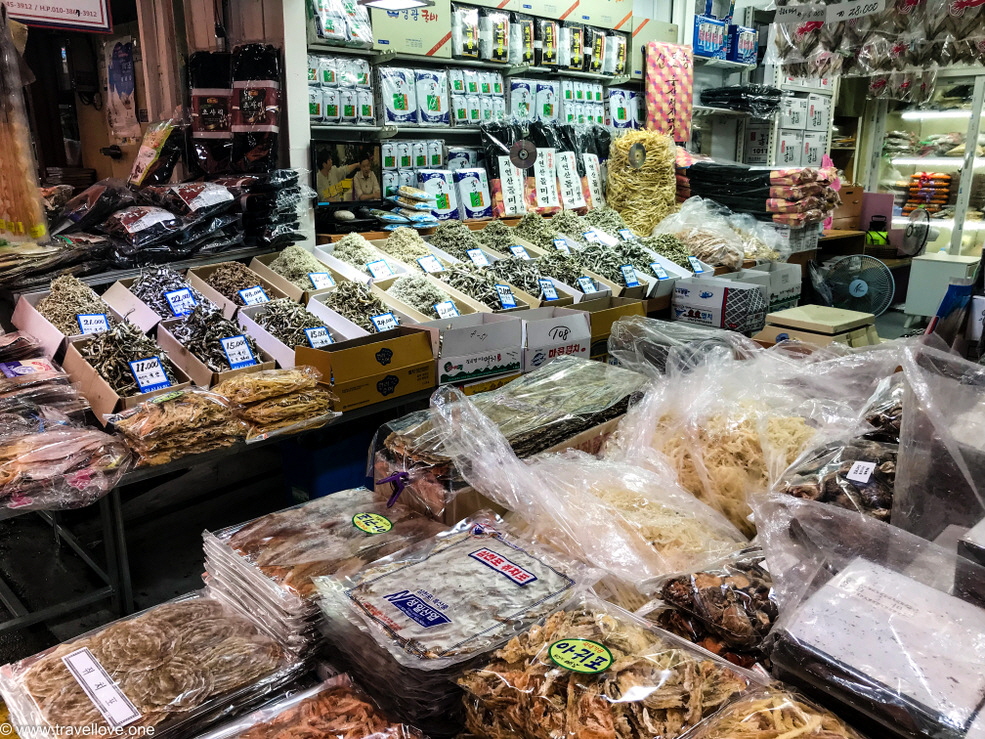 And so we soon reached the big department store, where shops of all renowned brands were distributed over several floors. The centerpiece of the huge atrium was a fountain spanning several floors which kept changing colors.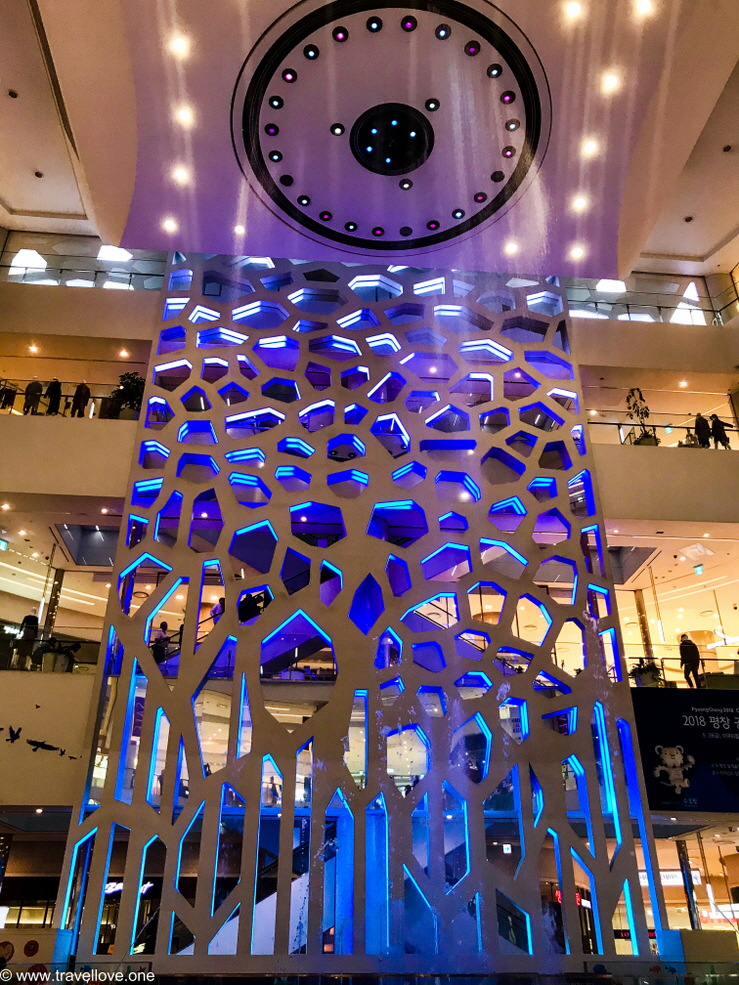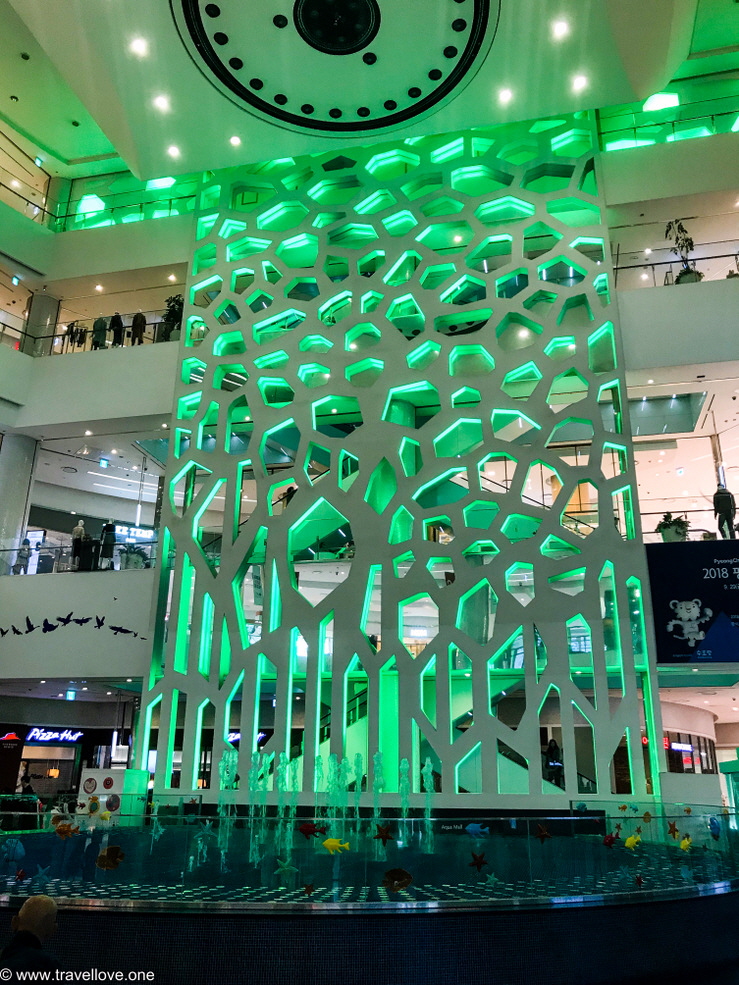 In front of the fountain, near the food court on the ground floor, they had installed rows of benches. As we sat down in this ultramodern environment to briefly use the free Wifi, tempting smells of cinnamon reached us from an Auntie Anne's stand – what a contrast to the fish market before.

There is also a viewing deck on the roof of the mall, but we only heard about it after our trip.

We left the department store again and took an underpass to get across the main road. That's where we discovered that the tunnel of the underpass went all the way back and formed the Nampo Underground Shopping Center.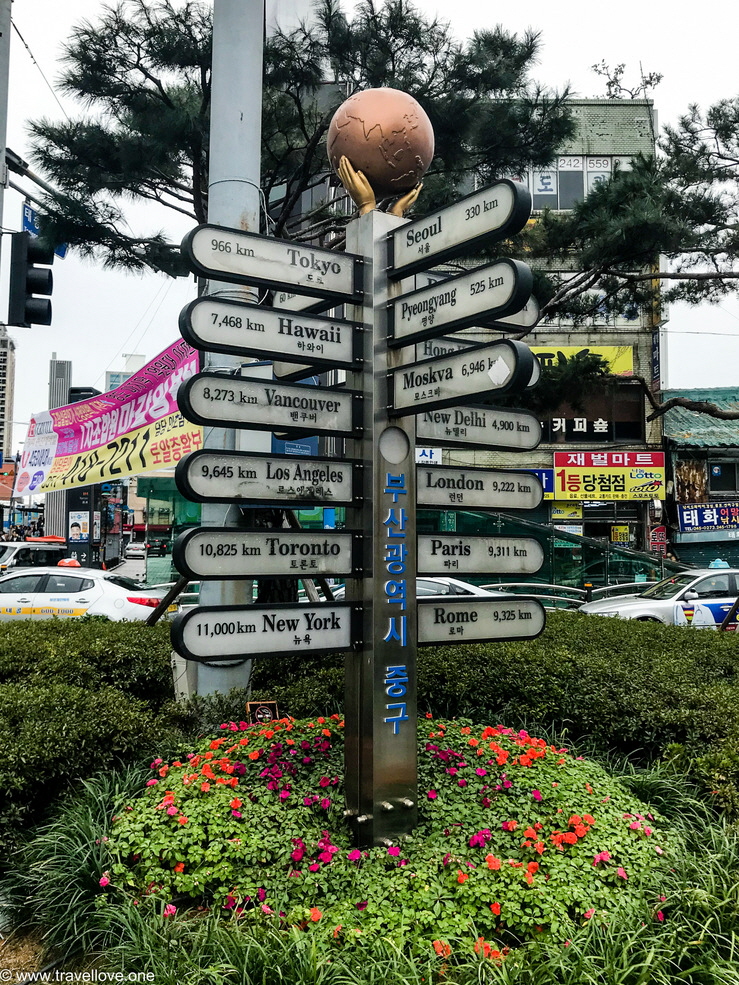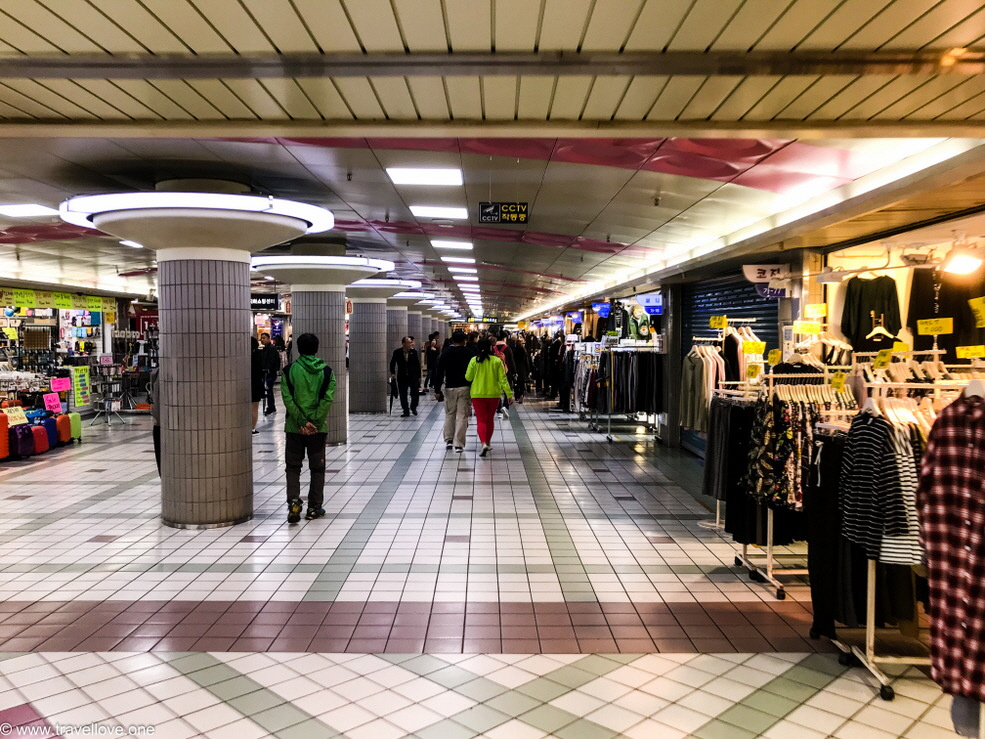 At BIFF Square we took the stairs back up into the daylight. BIFF stands for "Busan Internatioal Film Festival", which actually took place at the time. Big stages and red carpets were set up but still empty at that time of day.

Our map had shown something like "Eatery Alley" and "Pigs' Feet Alley", where hunger was driving us now, and we also wanted to try local food. We passed many restaurants, in some of which you could see table grills through the windows. We finally picked a small, rather inconspicuous restaurant advertising "Spicy Pork hocks".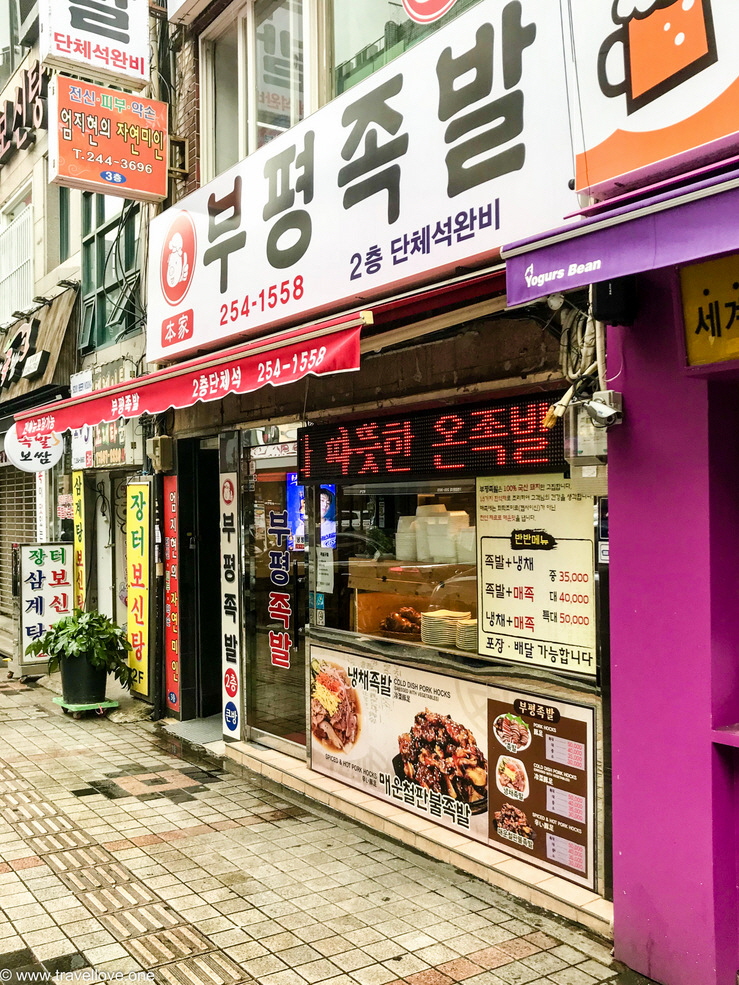 Communication with the friendly owner was basically down to sign language, upon which she disappeared in the kitchen. A little later, bowl after bowl with ingredients was served before she finally brought a hot iron plate with the sizzling hot hocks. The owner gestured that we were to wrap everything in the lettuce leaves that had also been served.

The food was incredibly spicy but also very tasty.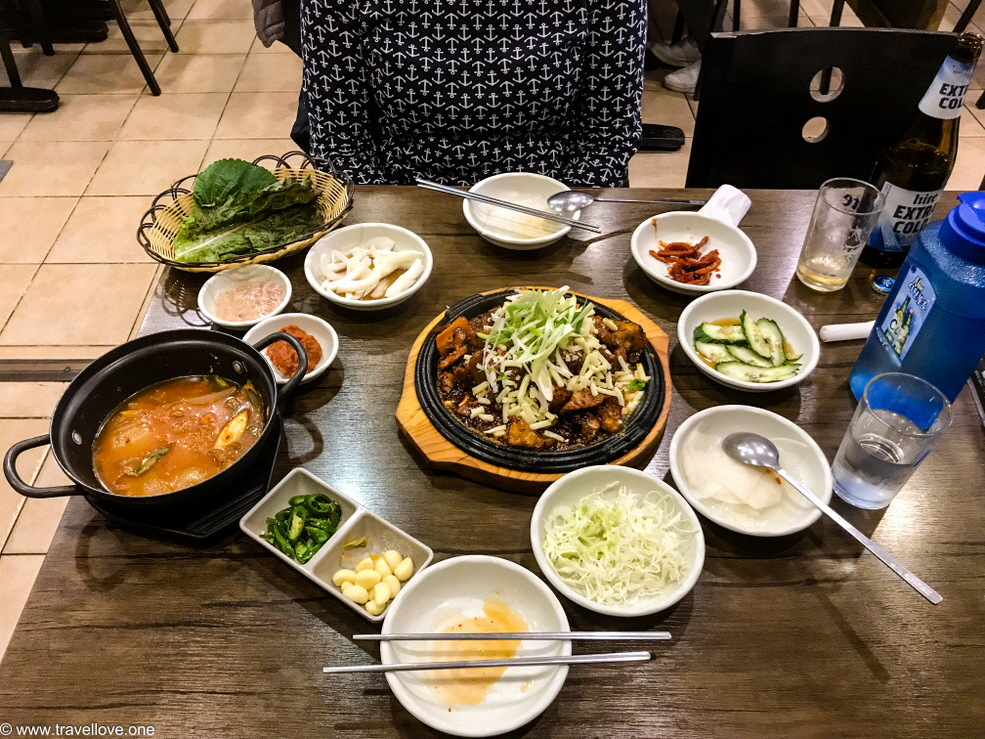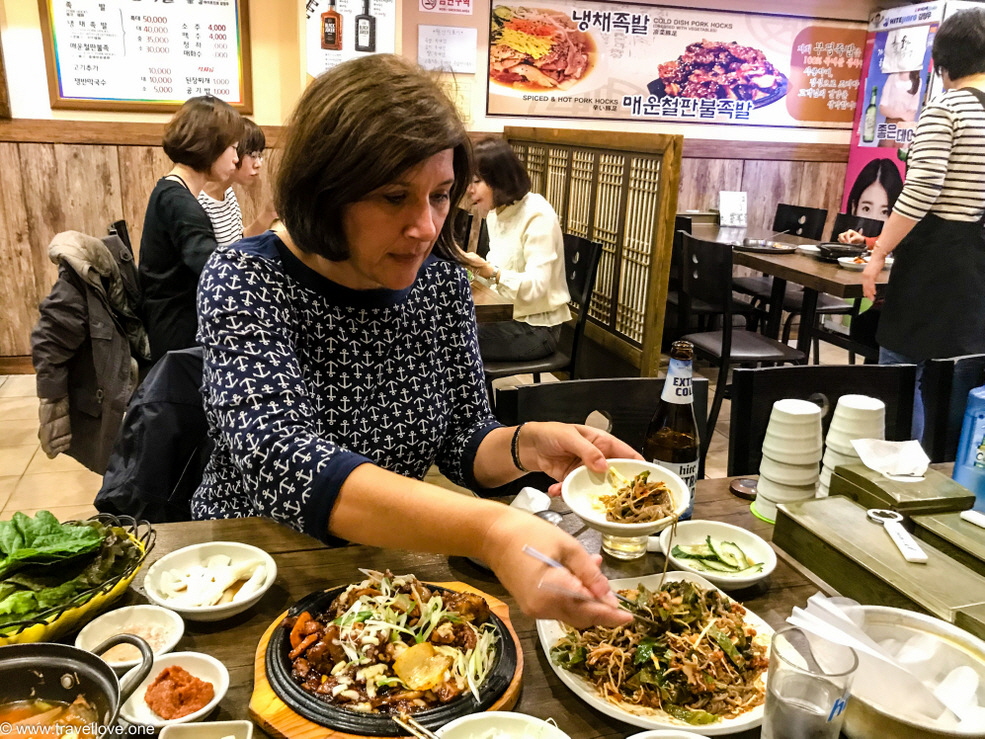 After our meal we returned to the shuttle bus stop which was only a few feet away. One shuttle bus had just left. So we had 30 minutes until the next one, which we spent strolling through Gukje Market.

Gukje Market is a partially covered street market that was founded by refugees in the 1950s. In the maze of aisles there seemed to be nothing that wasn't sold here.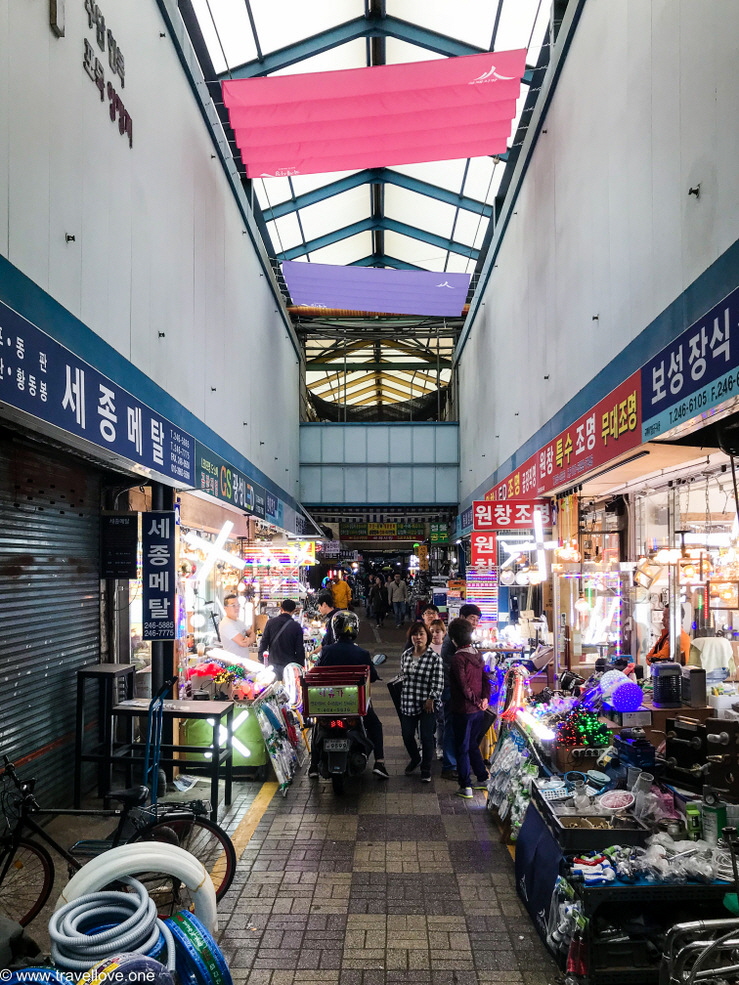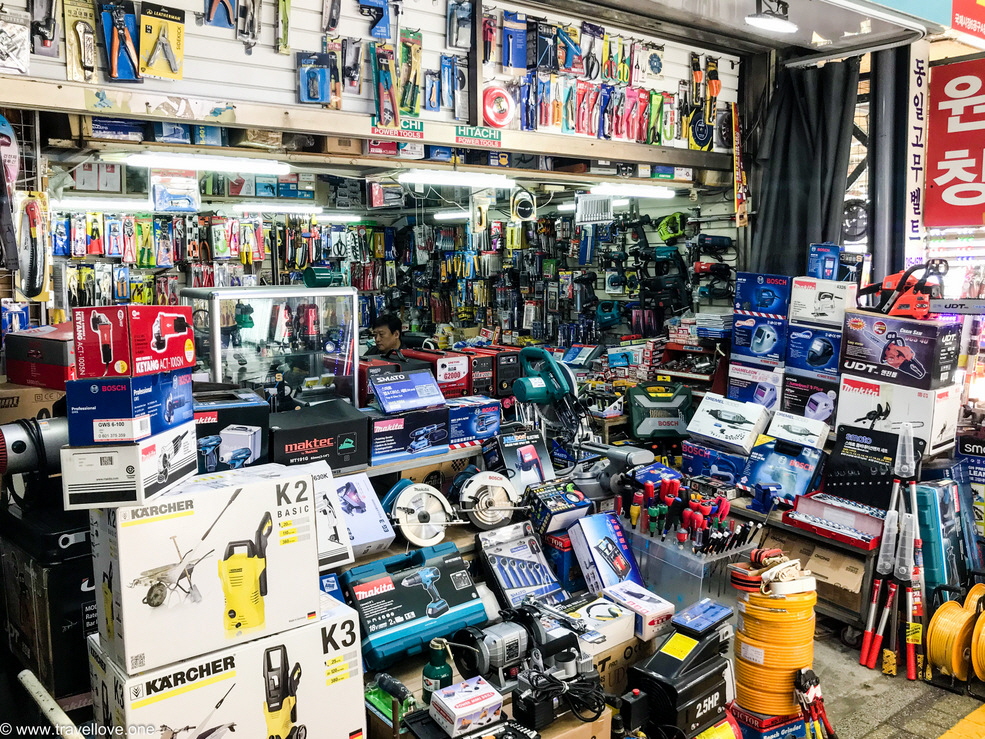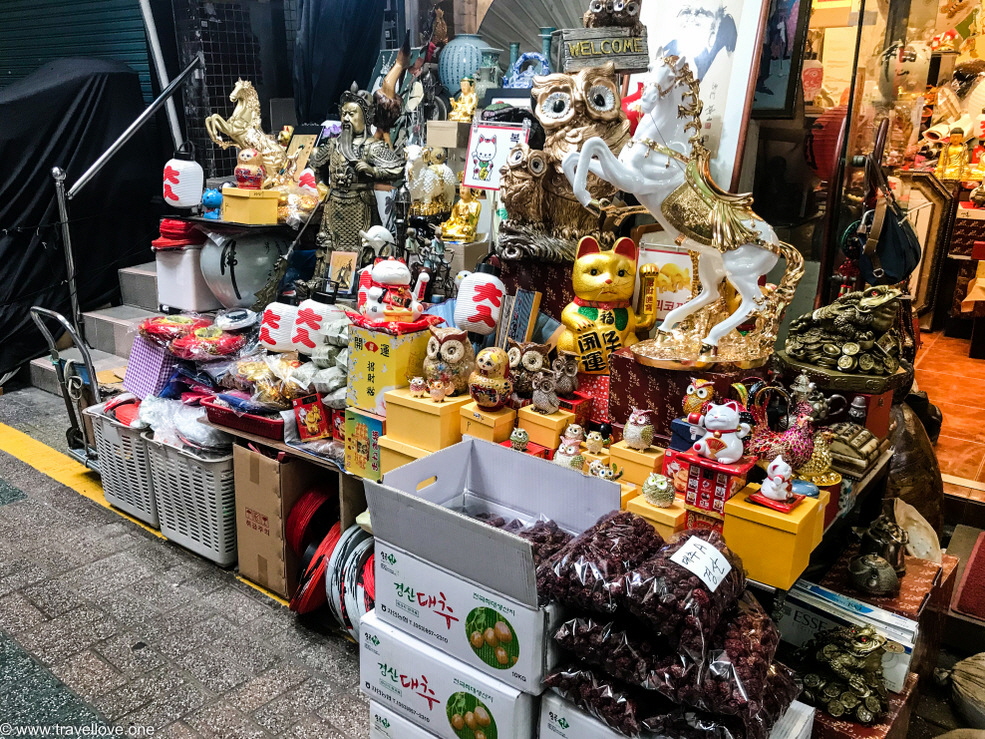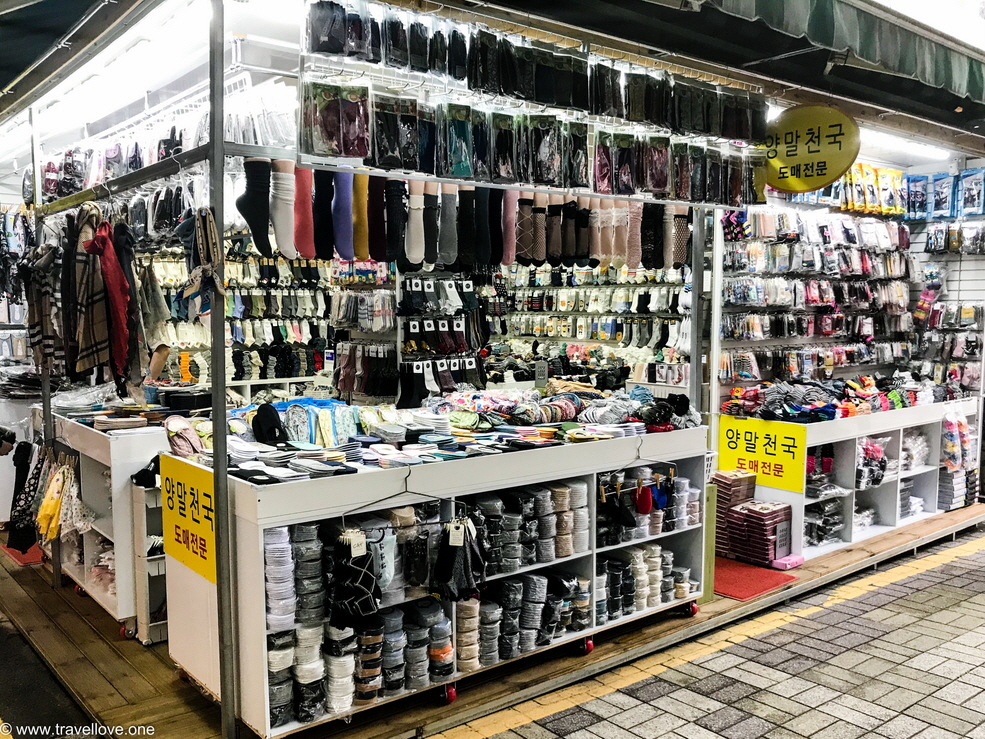 From the market we could see the observation tower of Yongdusan Park, another popular tourist destination.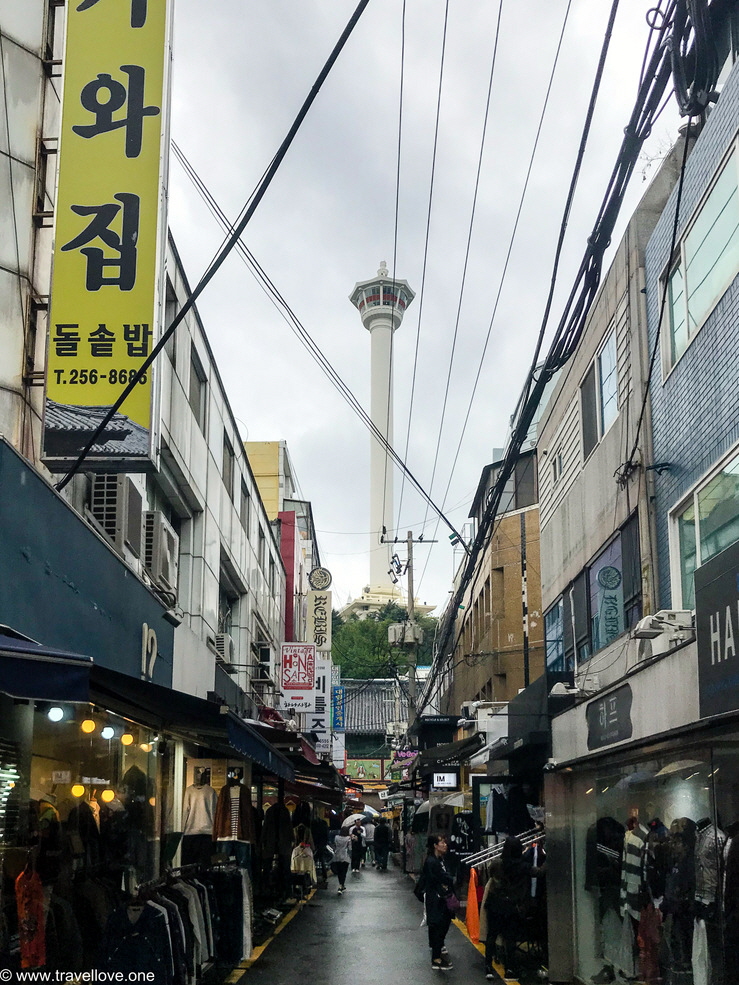 We took the next bus back to the ship and enjoyed a delicious coffee at Café al Bacio while the Forster Duo provided the musical background.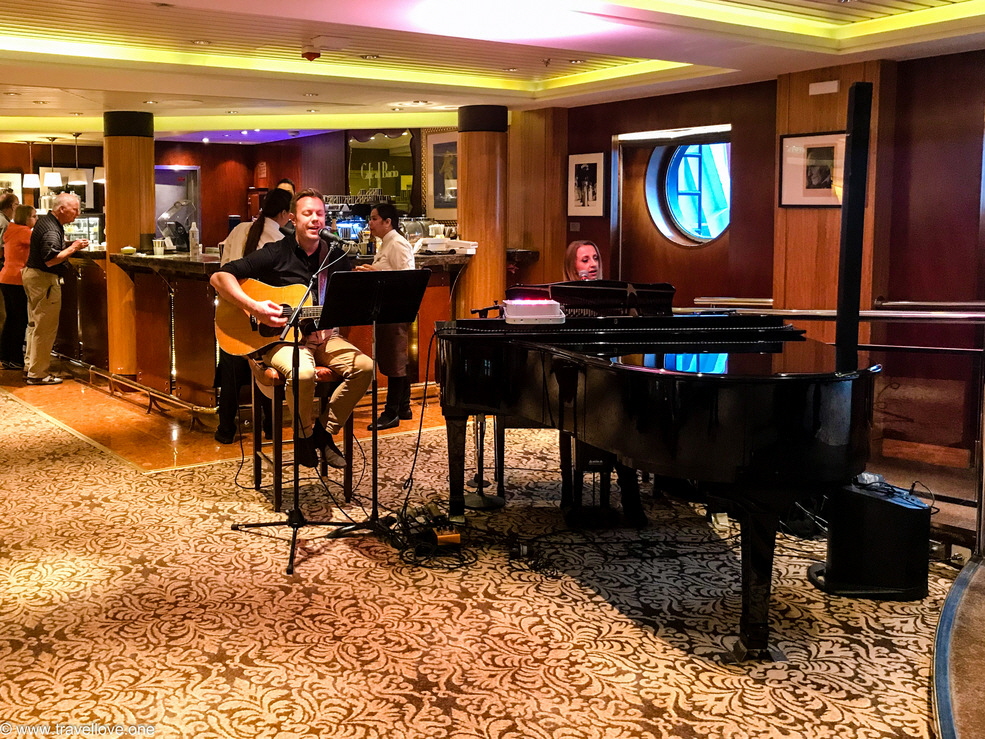 That evening was the last Evening Chic night. Not only inspired by what she had seen during the day, Birgit ordered the lobster tail, while I enjoyed an excellent blue cheese soufflé followed by duck à l'orange.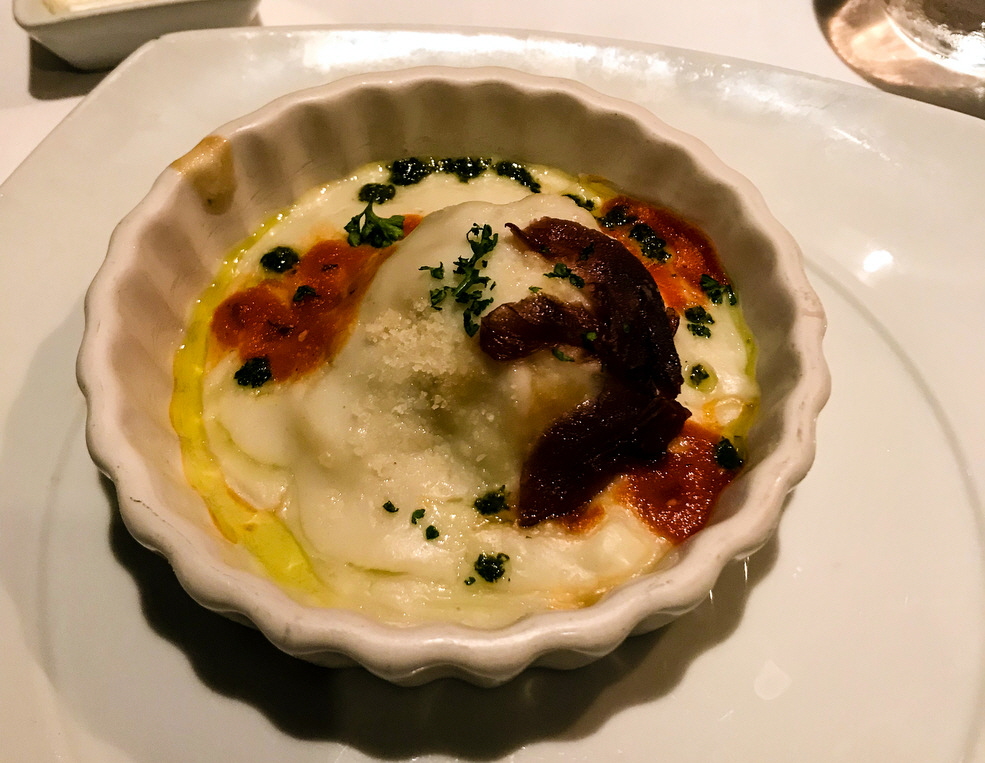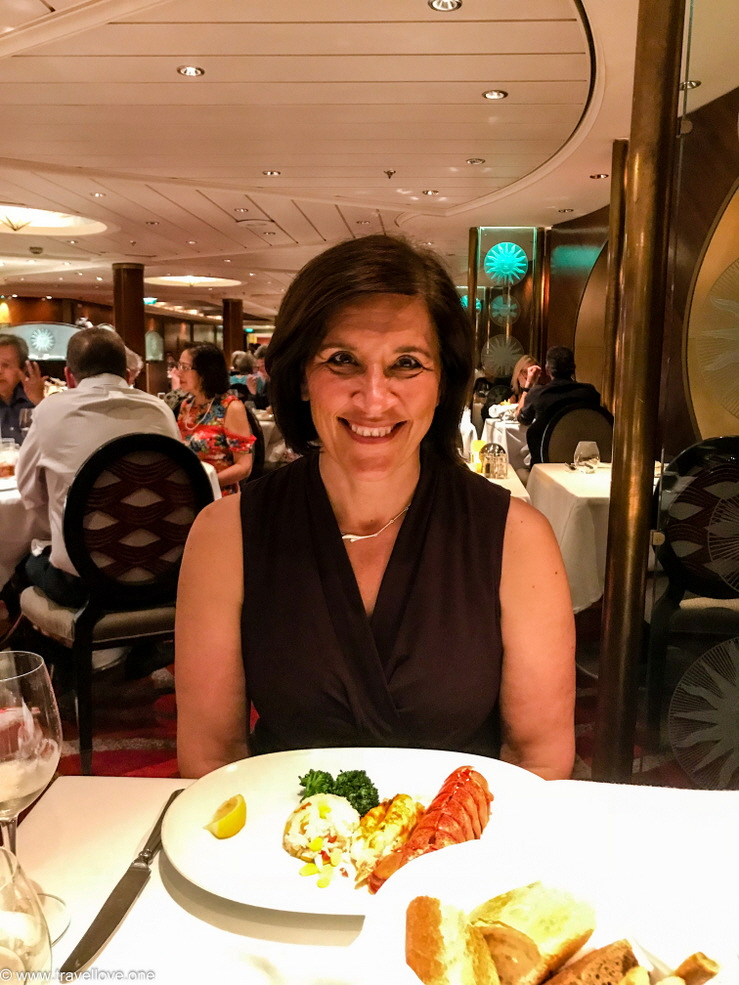 www.travellove.one • www.thecruise.report • www.travelandcruise.net
© 2021 Die Rechte an Texten, Fotos und Videos liegen beim Autor der Webseite. Die Nutzung ist nur nach ausdrücklicher Freigabe erlaubt.