Florida and Bahamas on the Majesty of the Seas, December 2014 - Part 8
Sunny Isles and Shark Valley

The gym on the Majesty was quite small and didn't have a cross trainer, which is why my visits to the gym were very limited while we were on the cruise. Maybe it was the idea of soothing the guilty conscience which made us go for a run the next morning. We started off along Collins Avenue towards 163rd Street and the Newport Pier, where we joined the pelicans having a little break on the pier.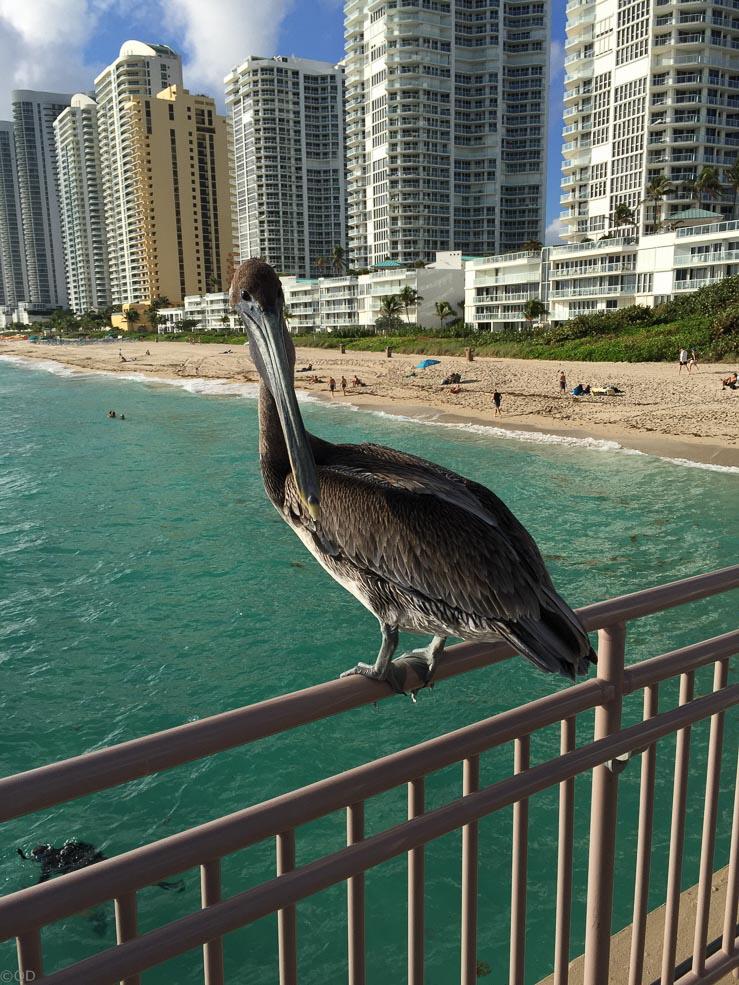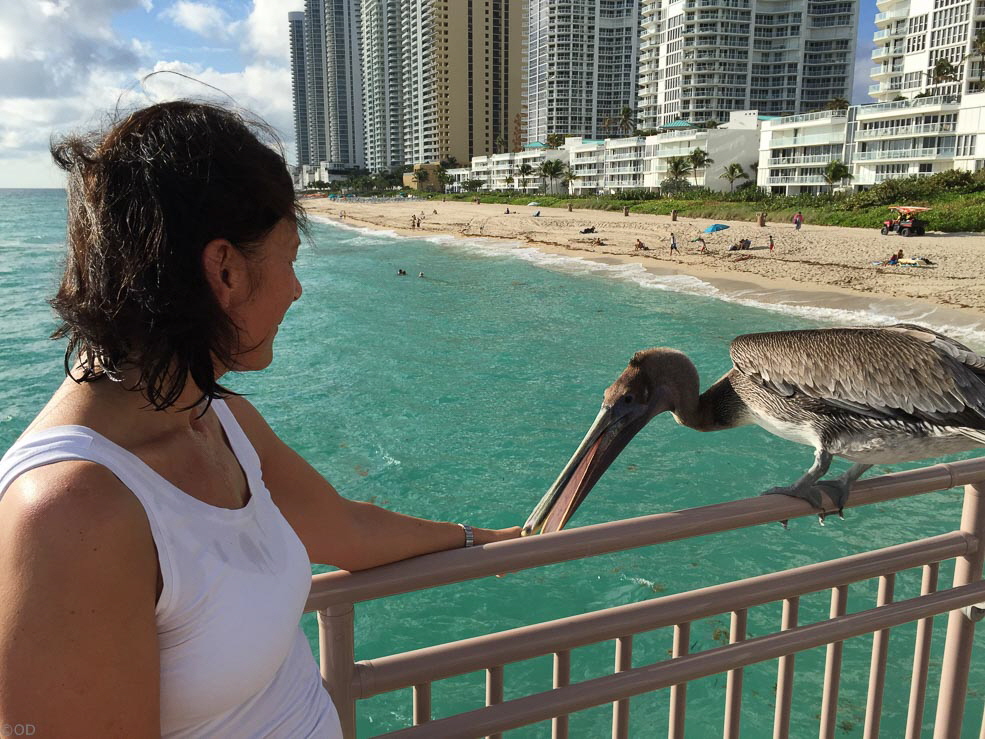 From here we had a nice view of Sunny Isles with its many luxury condo towers.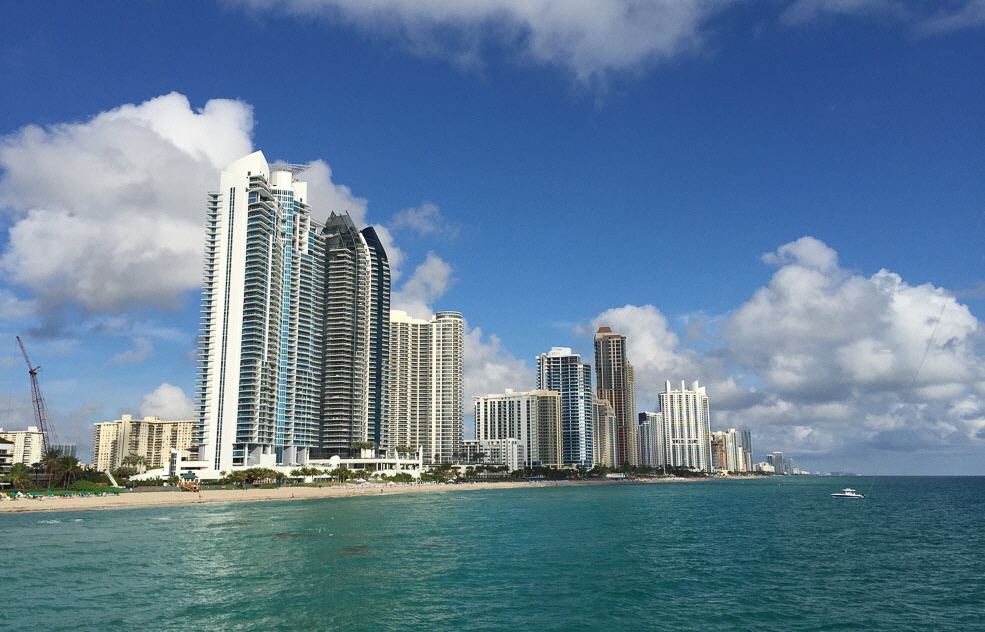 You cannot imagine how Sunny Isles has changed over the past 20 years. Back then, the Thunderbird hotel, the tiny beige dot with its 3 stories on the following picture, was one of the tallest buildings of Motel Row on Collins Avenue.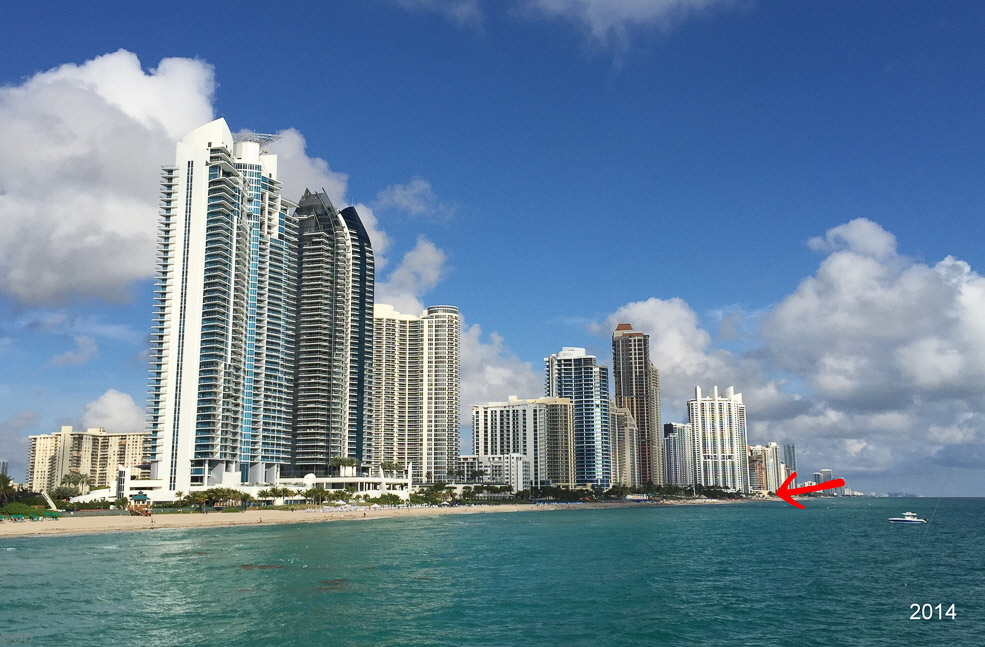 We jogged a little farther to Haulover Beach. Several times, this beach has been mentioned as one of the most beautiful beaches in the United States and is one of the few beaches with a clothing optional section in America.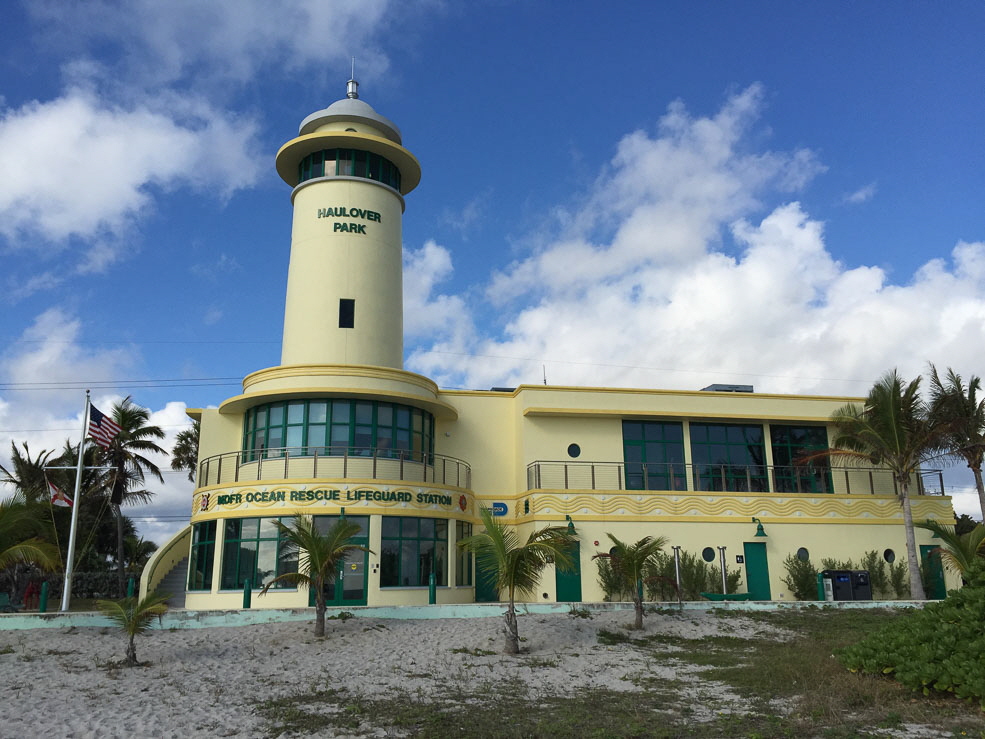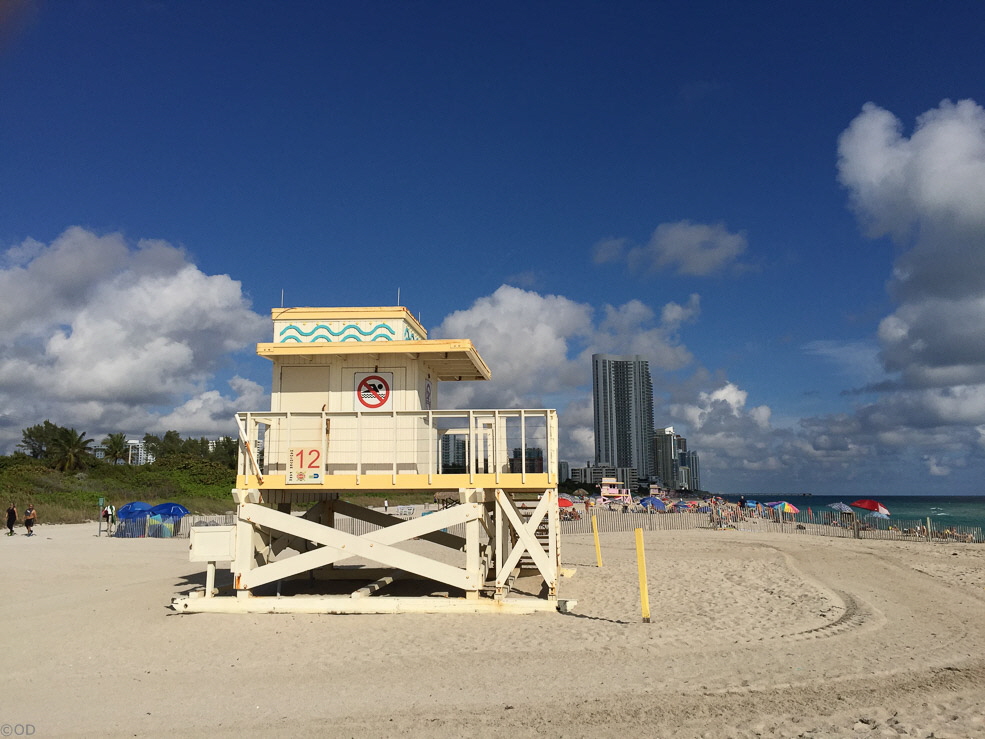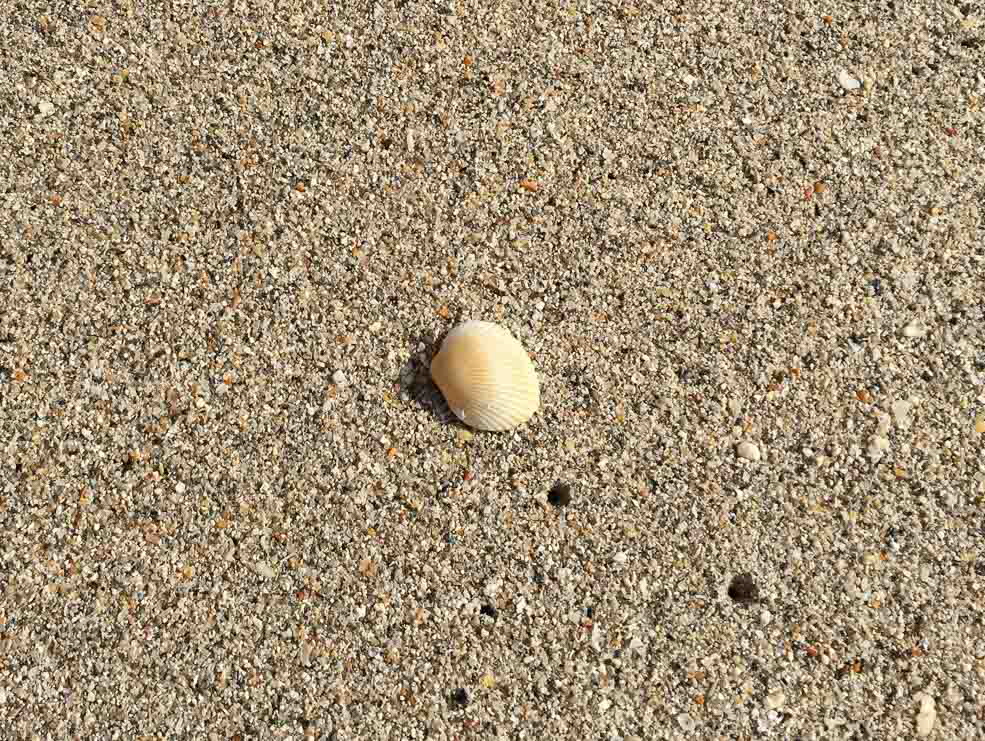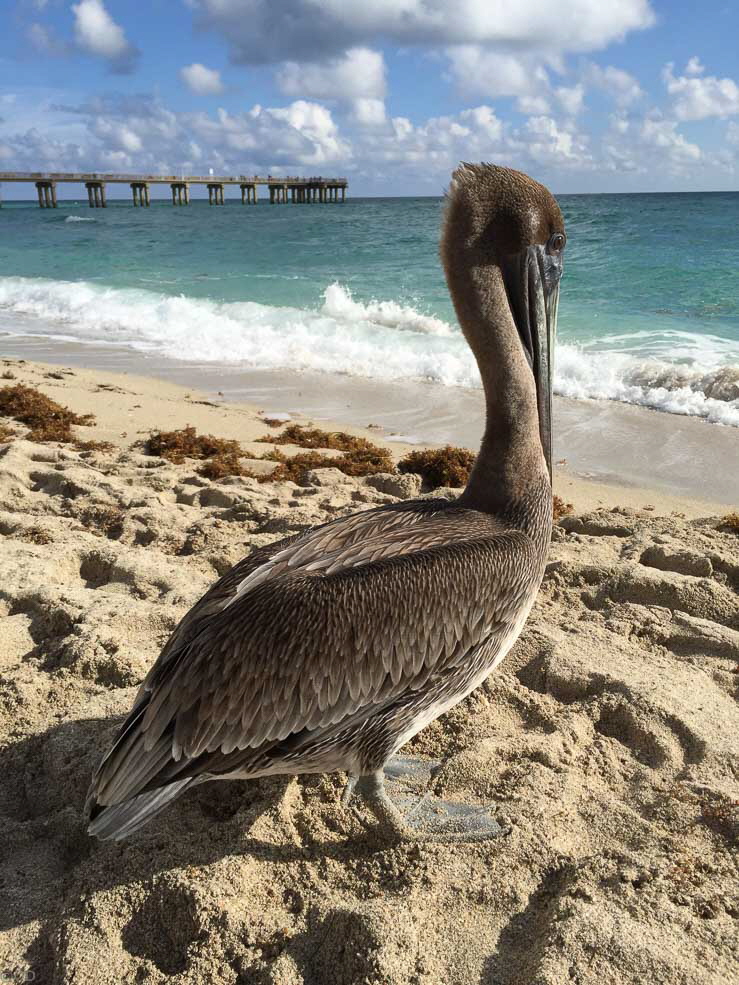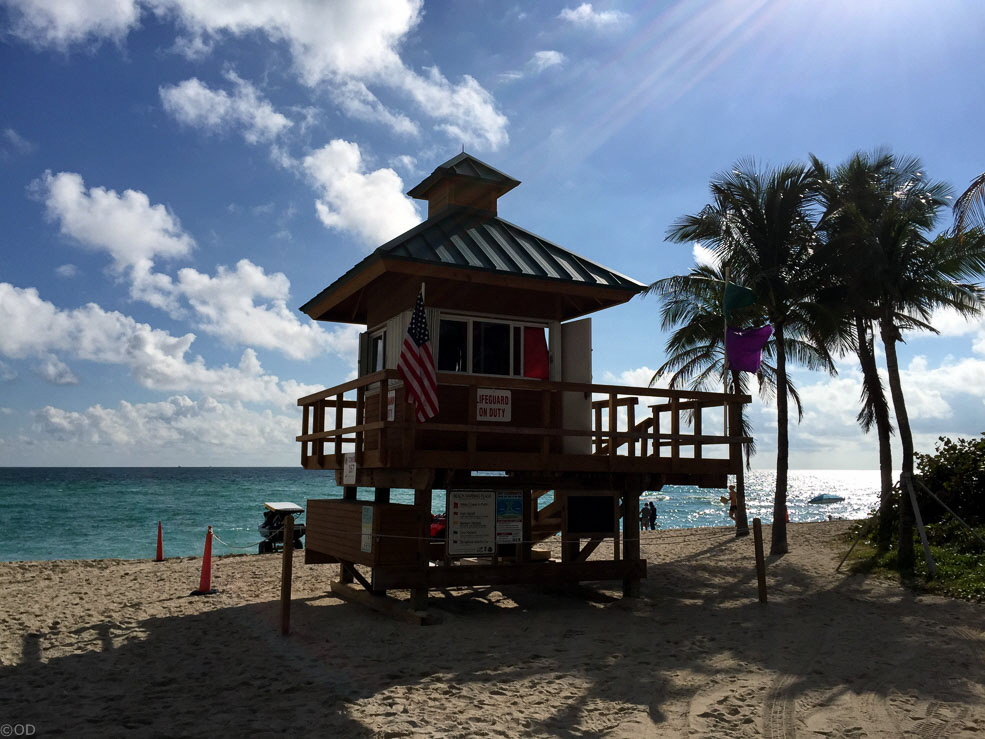 After we had run off a few calories and calmed our conscience, we decided to have brunch at Duffy's. Duffy's is located directly on the Intracoastal Waterway. From the veranda with its own jetty you have a nice view of the water and the boats passing by.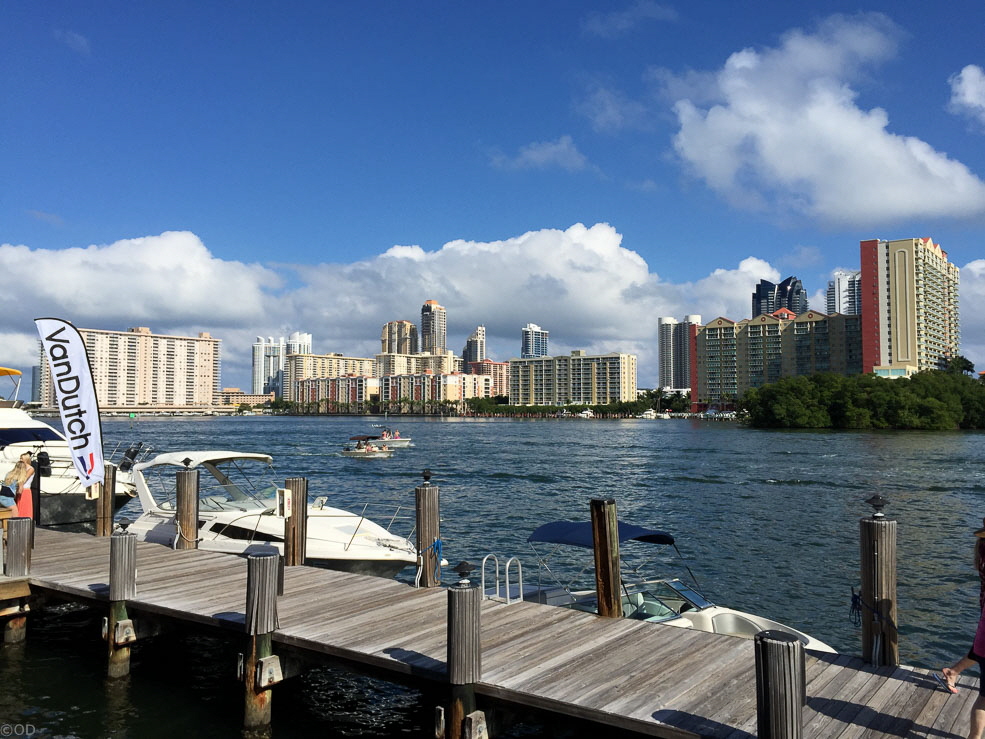 Unfortunately, as a sports bar it comes with a lot of noise from the approximately 20 TVs broadcasting various football and baseball matches.

After a leisurely afternoon which we spent reading and sunbathing, we met Doug and Luis for dinner at Flanigan's. I am a big fan of the ribs at Tony Roma's, and those two wanted to convince me that the ribs at Flanigan's were better. They were good, yes, but not better – but Flanigan´s offered a delicious "small" dessert....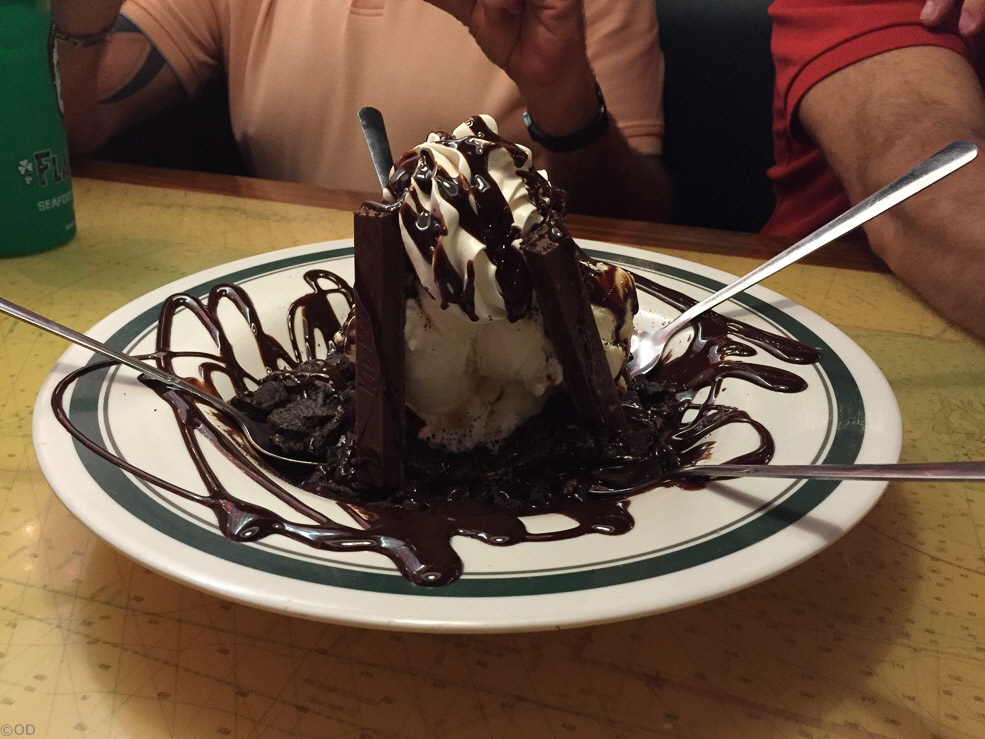 Everglades / Shark Valley

The following day we decided to make a trip to the Everglades. We took the US41 into the swamps and towards the Shark Valley Visitor Center. There you can choose between a trolley tour on a 17 mile long loop road or discover the same road by bike or on foot. The trolley tours were sold out to the last tour, so we just walked part of the way. With hindsight we probably got to see just as much – just from much closer.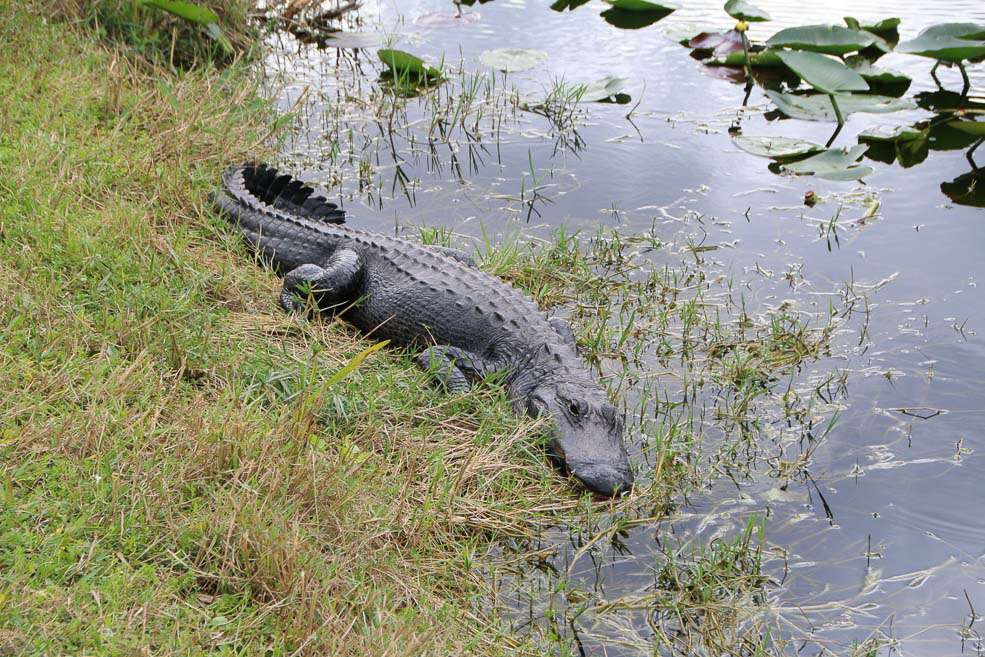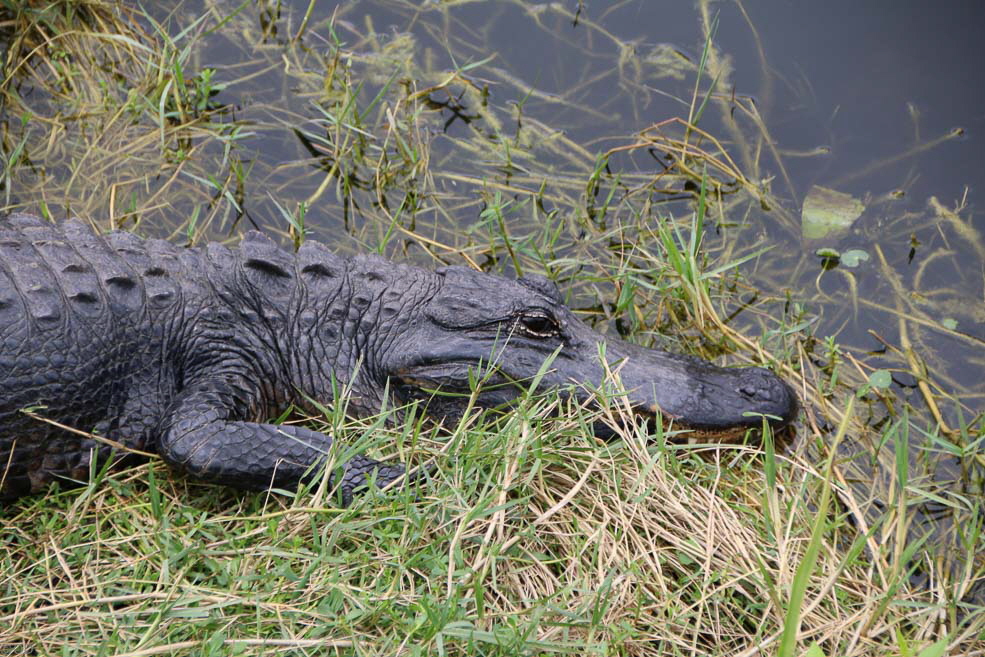 The alligators were lying directly next or partly on the footpath. Right next to them stood various species of herons and other birds.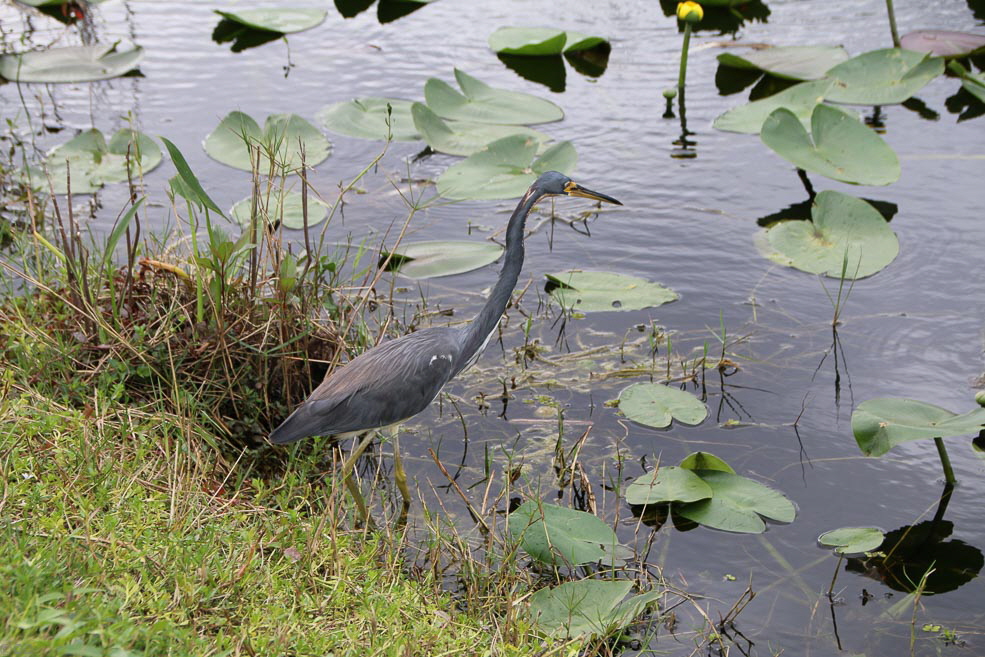 Mostly we saw these "Ahingas" drying their plumage in the sun after their hunting dives.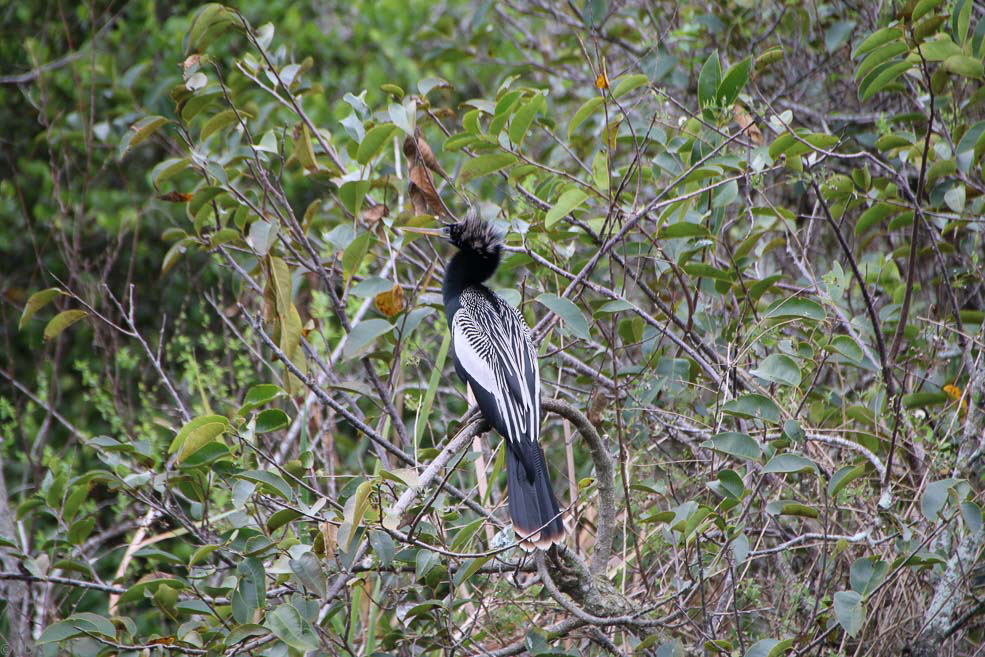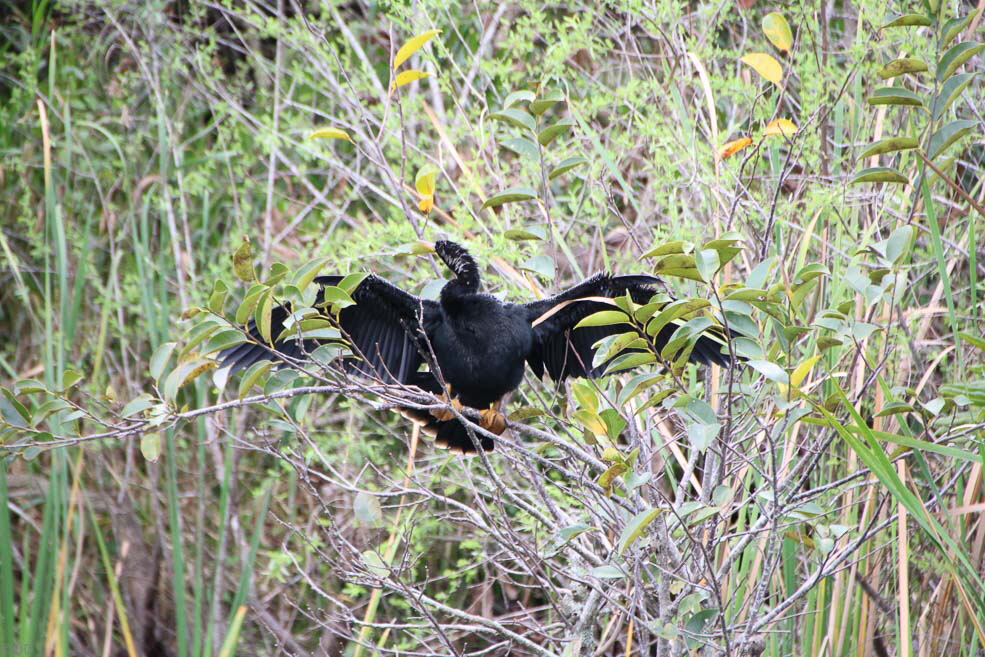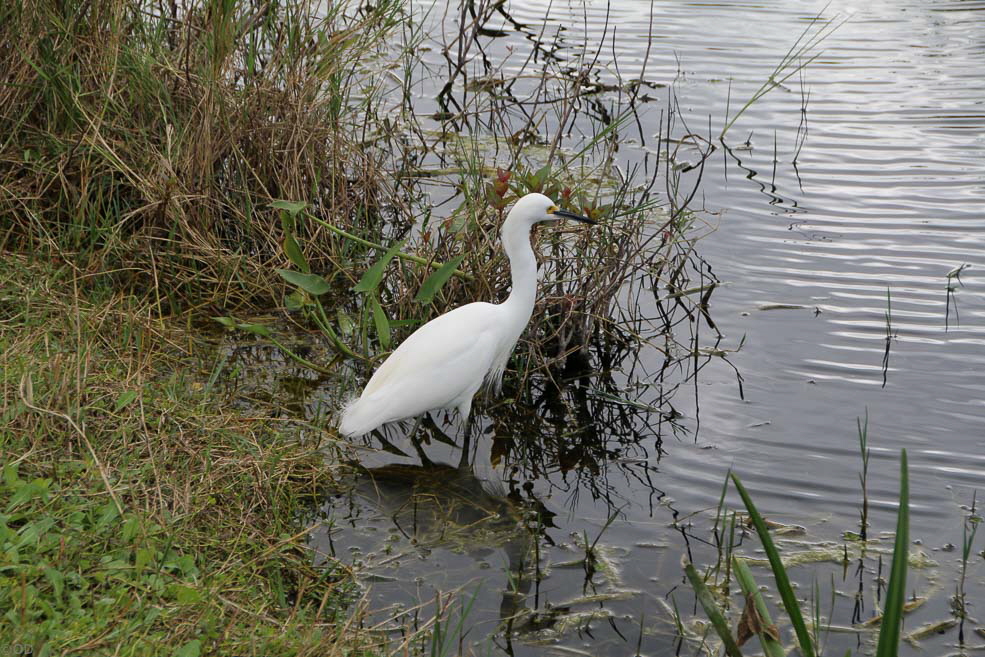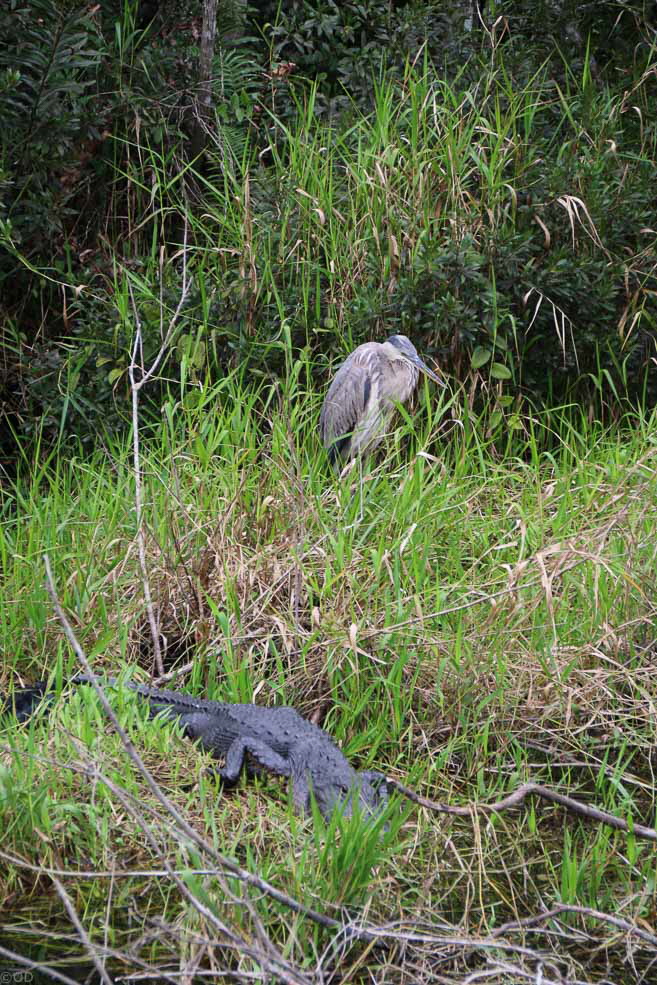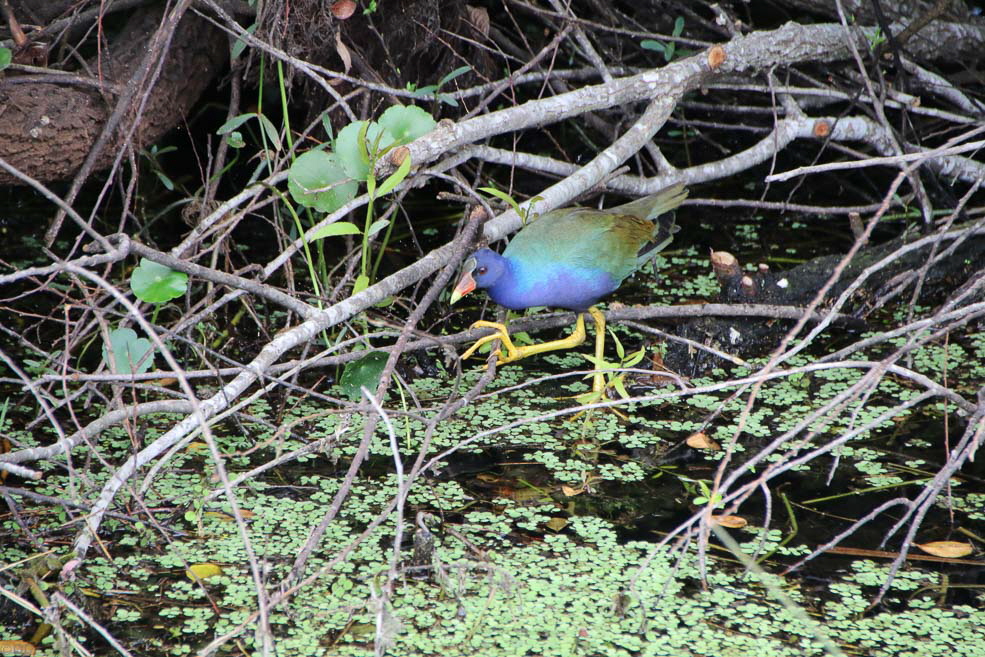 This slightly larger sample of the Lacoste species was probably watching the nursery lying in the water just some 50 cm (1.5 ft.) away from our feet.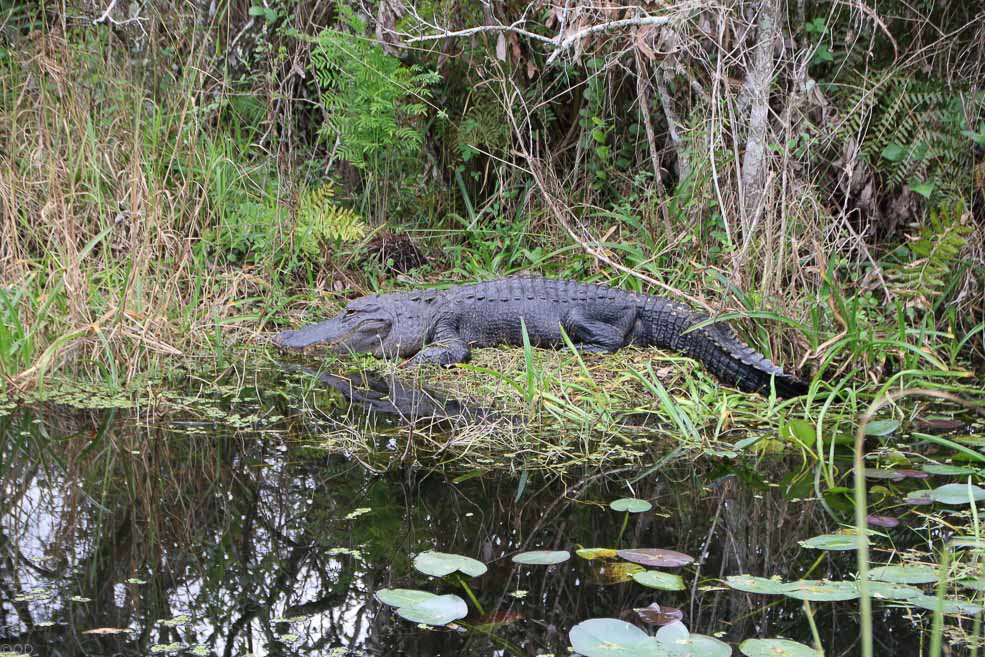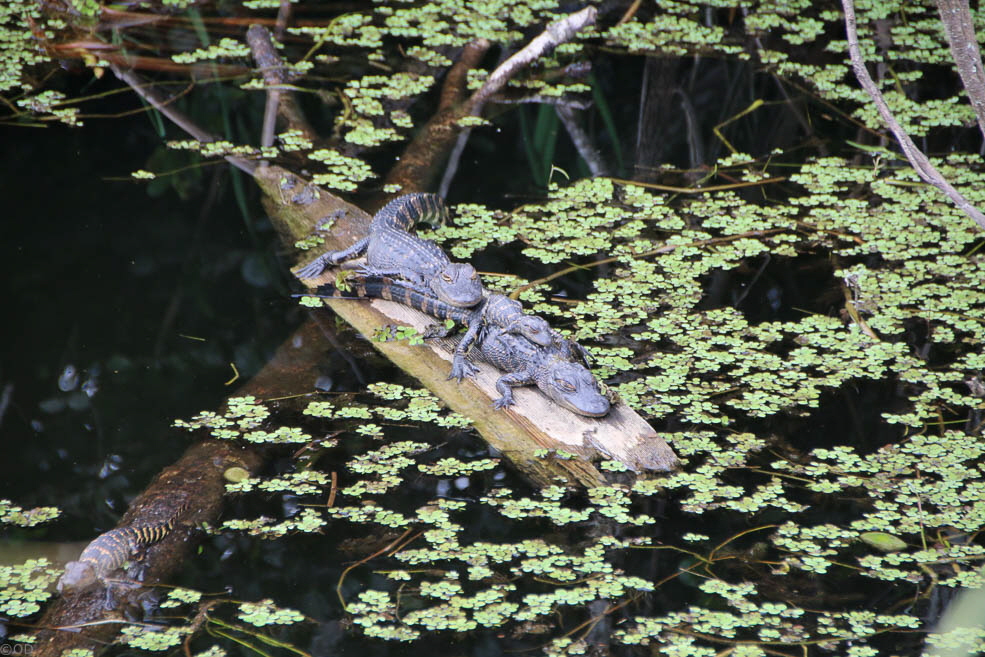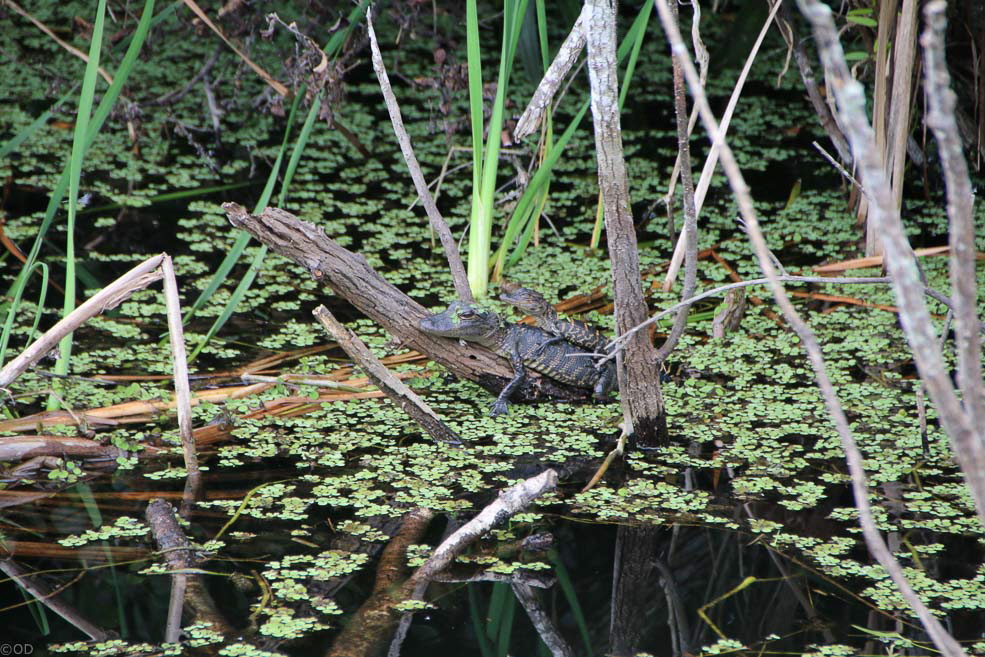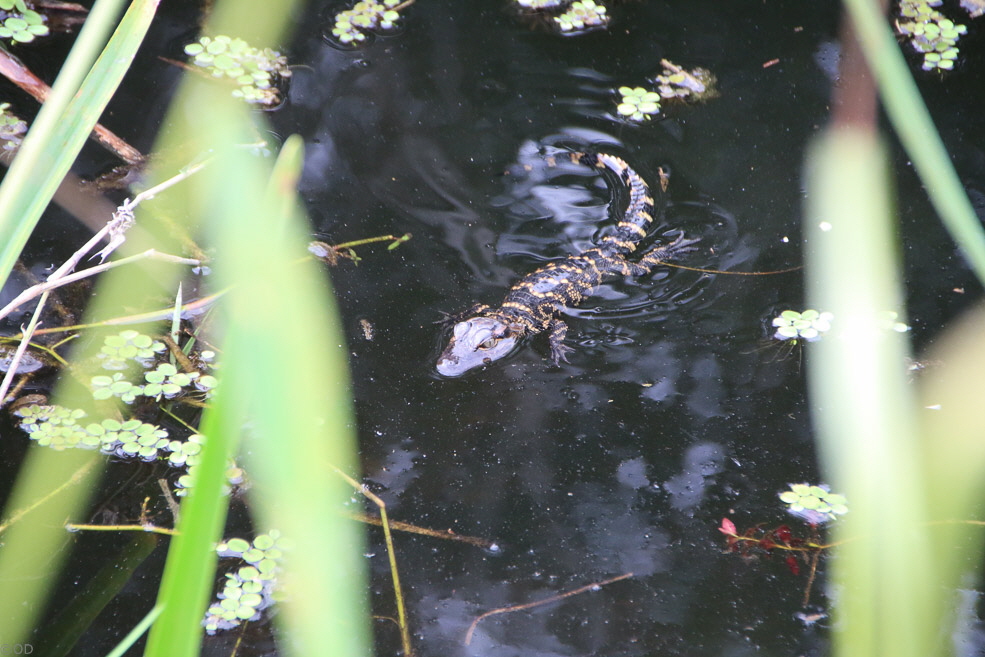 Of course, there were all kinds of other little creatures to be seen…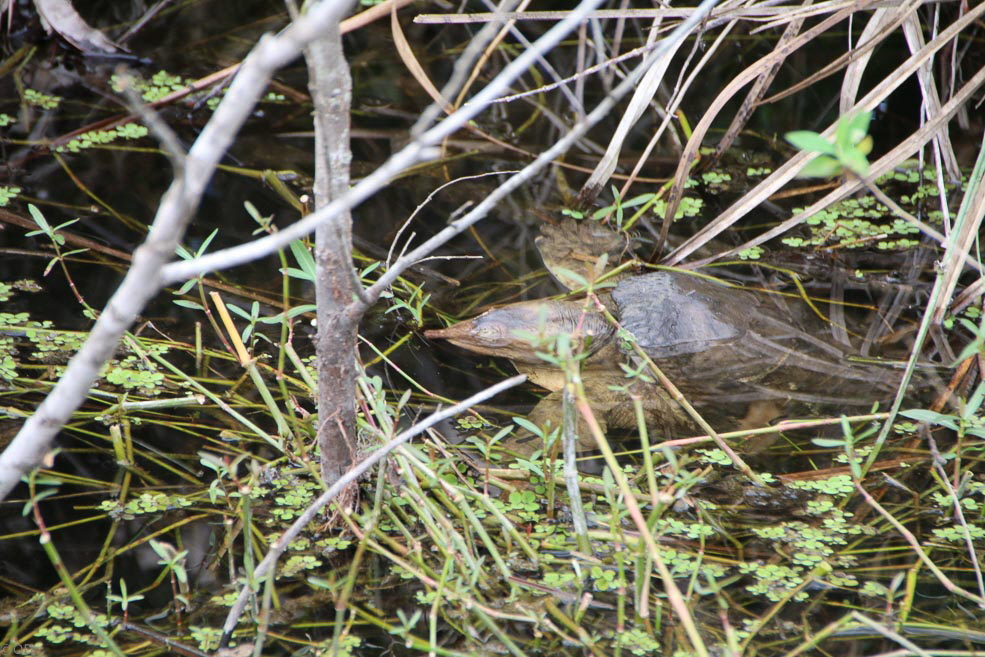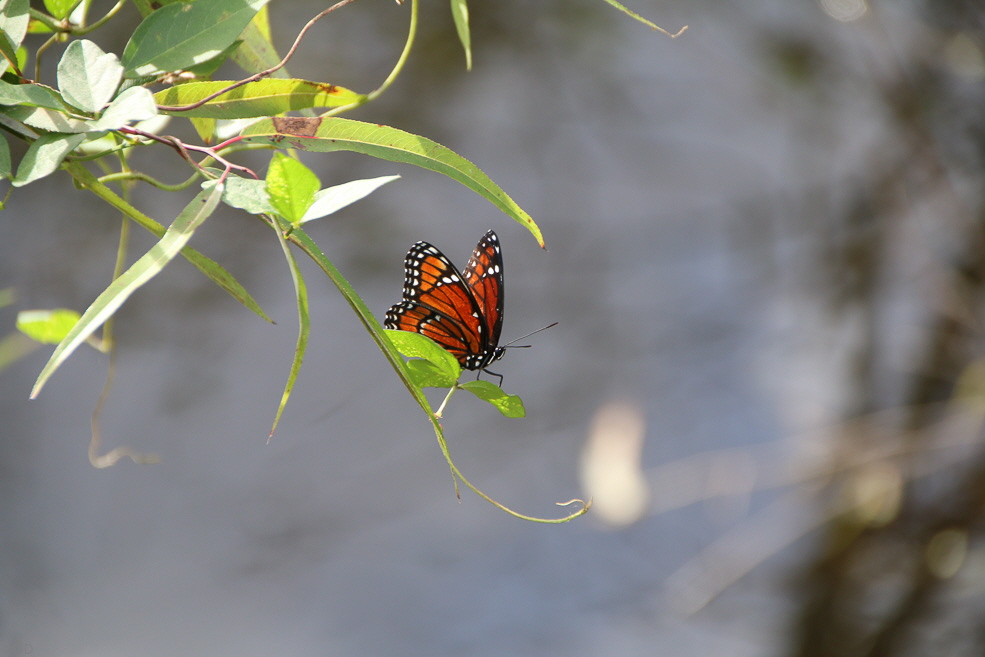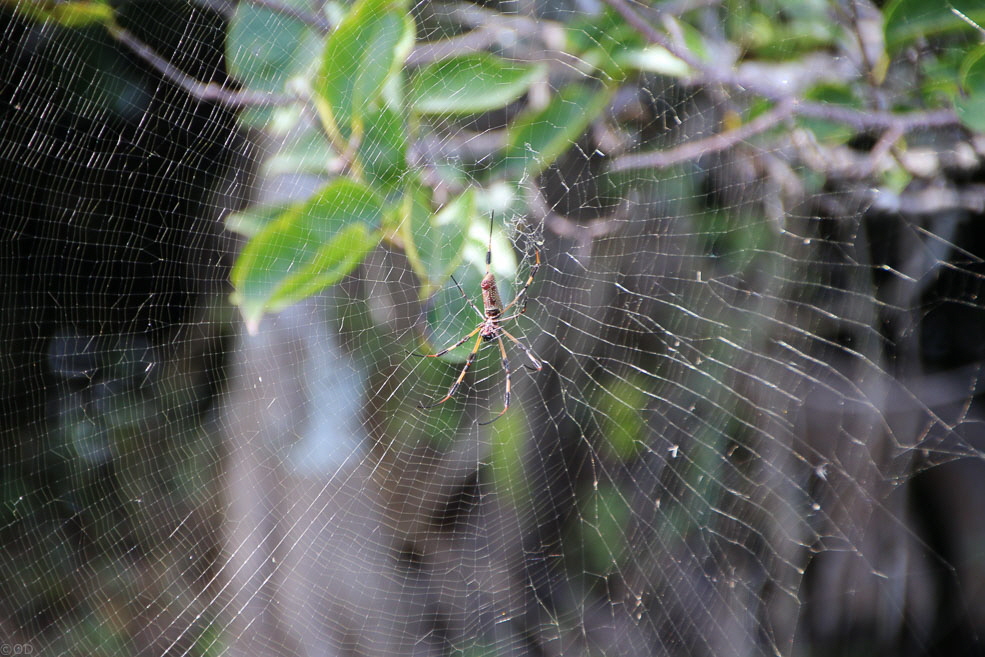 Not all of them were lazy...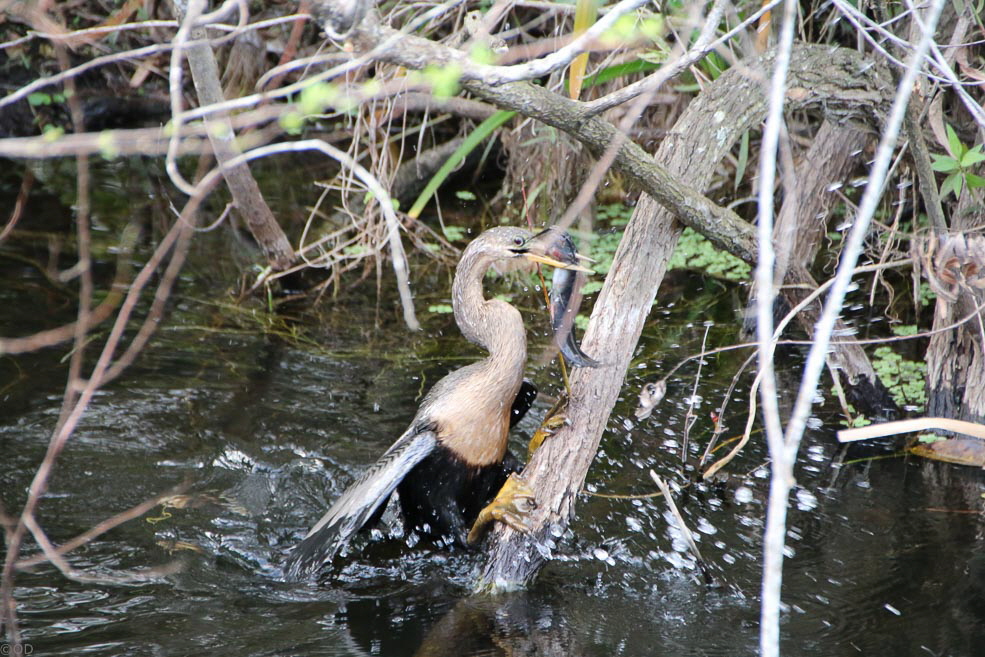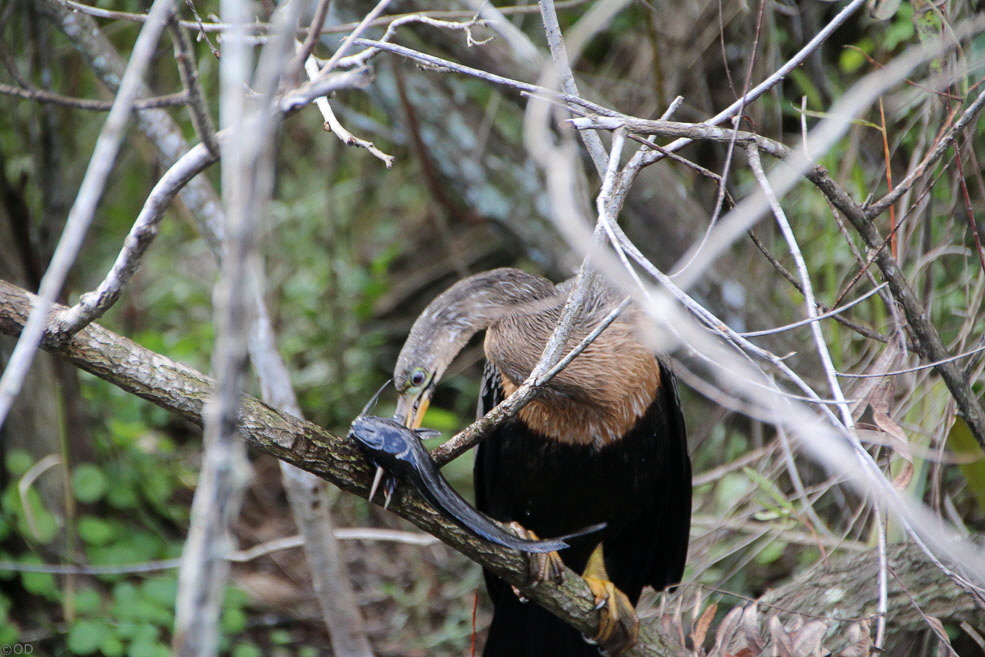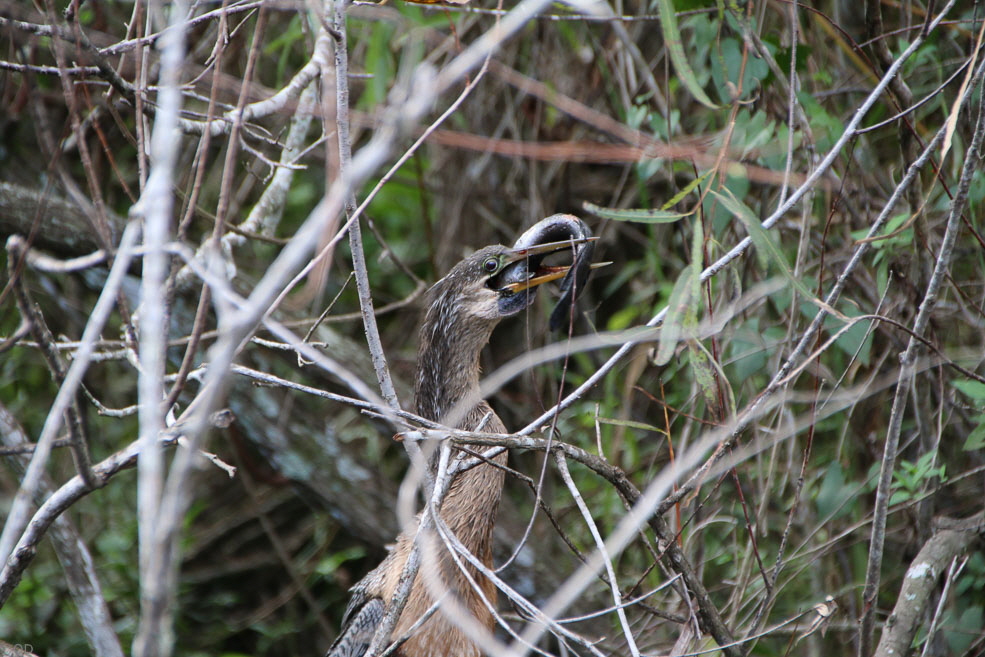 Just an example of the distances: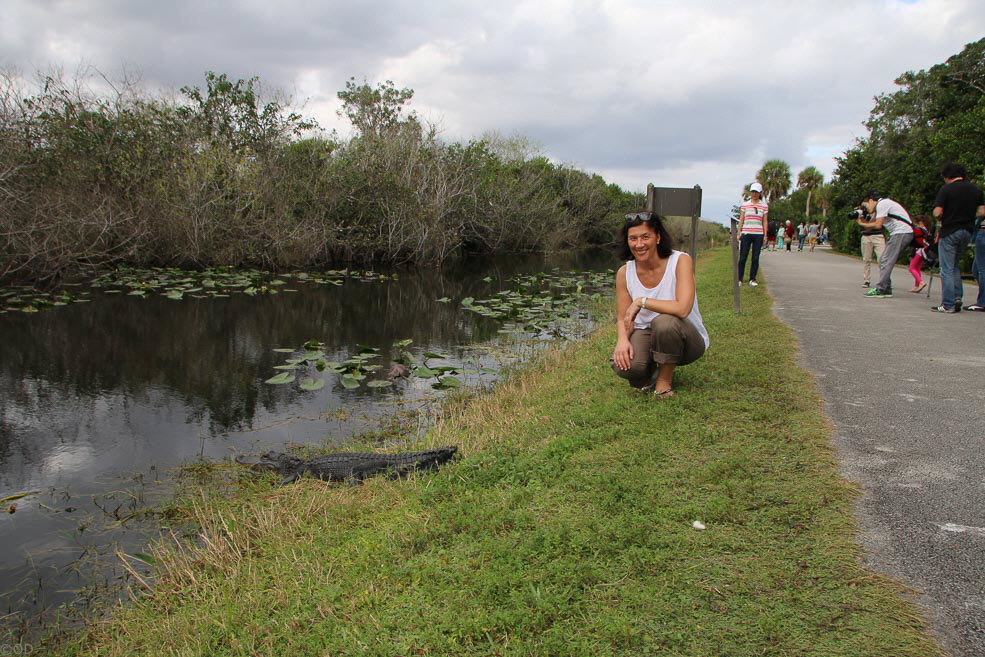 On our way back we decided to have dinner at Bayside Marketplace – stupid idea. There was a Miami Heat game in the adjacent AA Arena. The Bayside parking was full. The parking spots with meters on Biscayne Blvd. were only available at the event rate of $25.00, and the few free parking spots at the side exits of the Marketplace were also taken.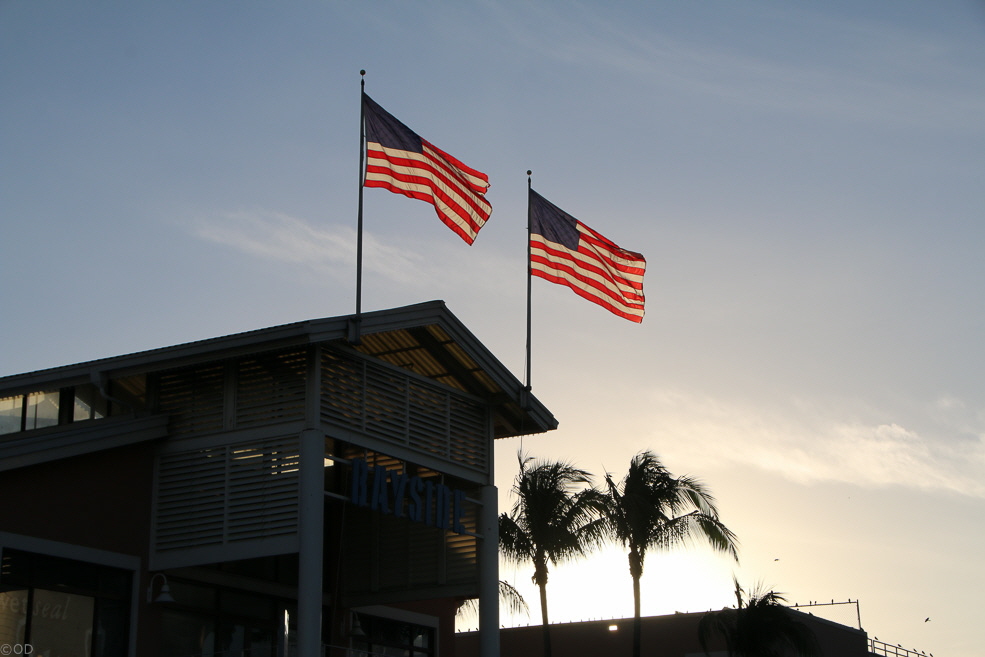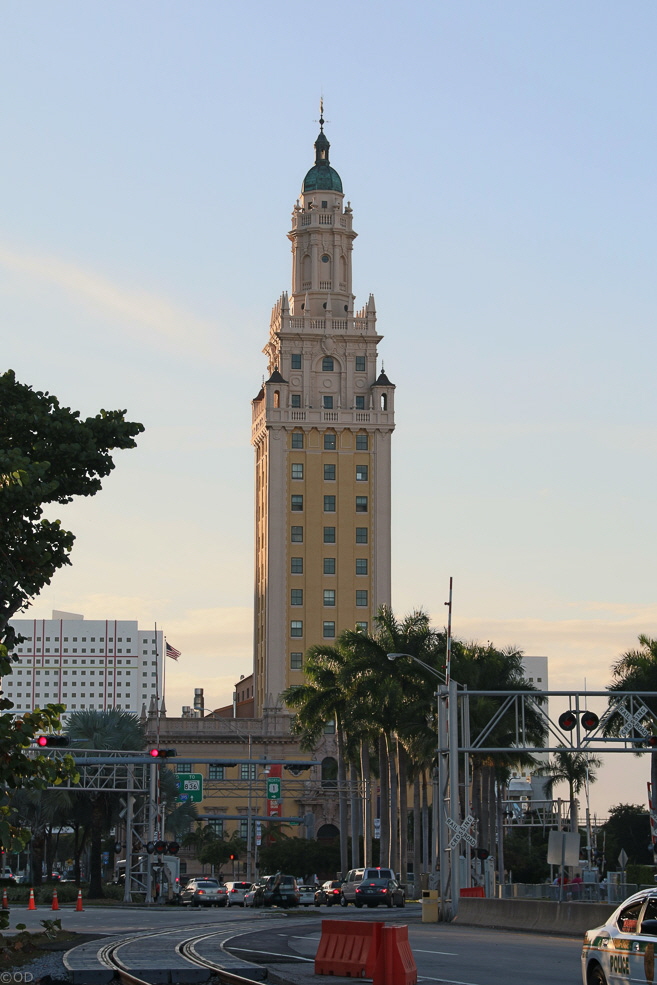 After we had waited in vain for a free spot for quite a while, we abandoned our plan and returned to Sunny Isles... and unfortunately witnessed the ever-increasing traffic of the metropolis. All streets were blocked, it took ages...

When we finally arrived in the north, we had dinner at Paquito's, a good and fairly hidden Mexican restaurant. I love their "Mole Poblano", an old Aztec dish with an unsweetened, spicy-tangy chocolate sauce. Sounds strange but is really delicious…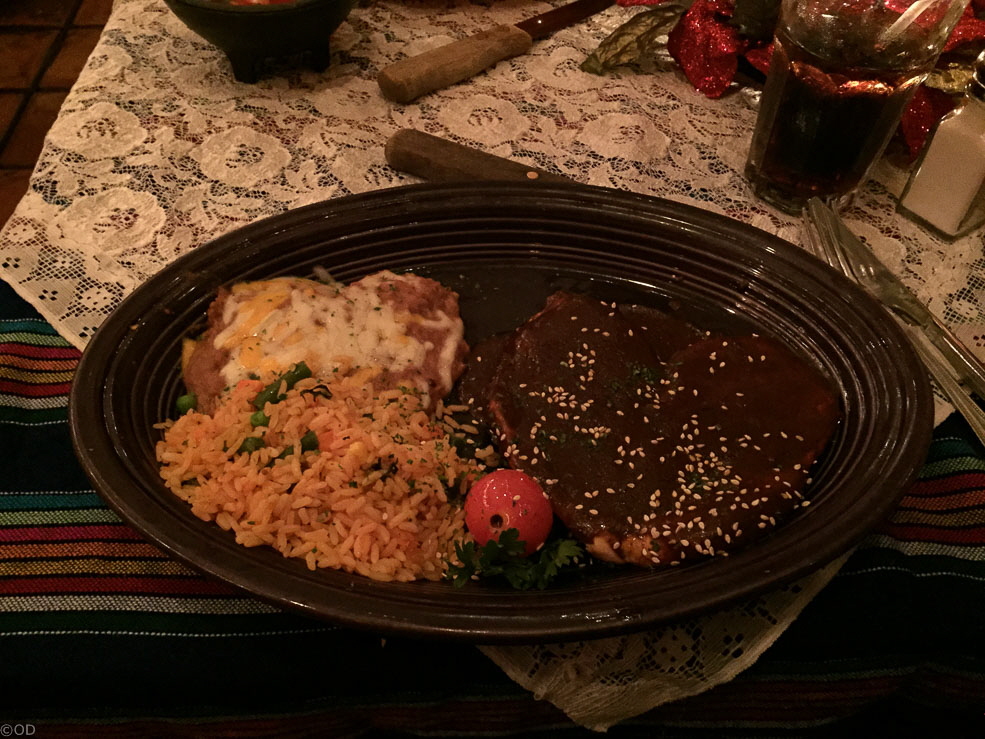 The next day we just lingered… Breakfast with sea view from the balcony seemed like a good start. Right opposite the hotel there is a Publix, and our room has a little kitchenette including a fridge and a coffee maker. Fresh fruit is a quick buy, and cereals, milk etc. are easy to store.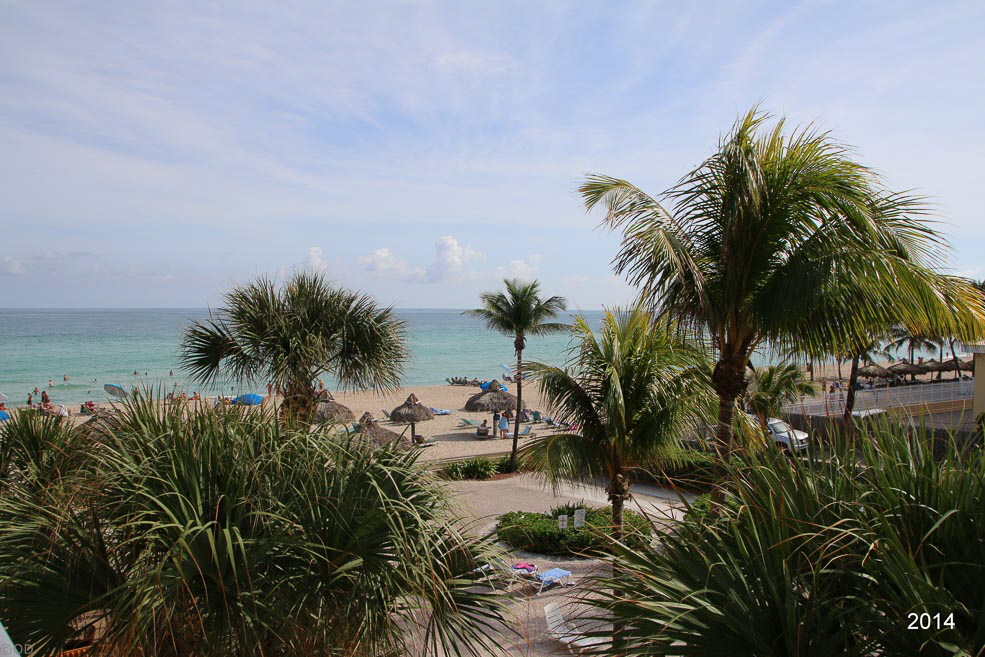 By the way, the choice of cereals at Publix isn't easy … "spoiled for choice" is an understatement…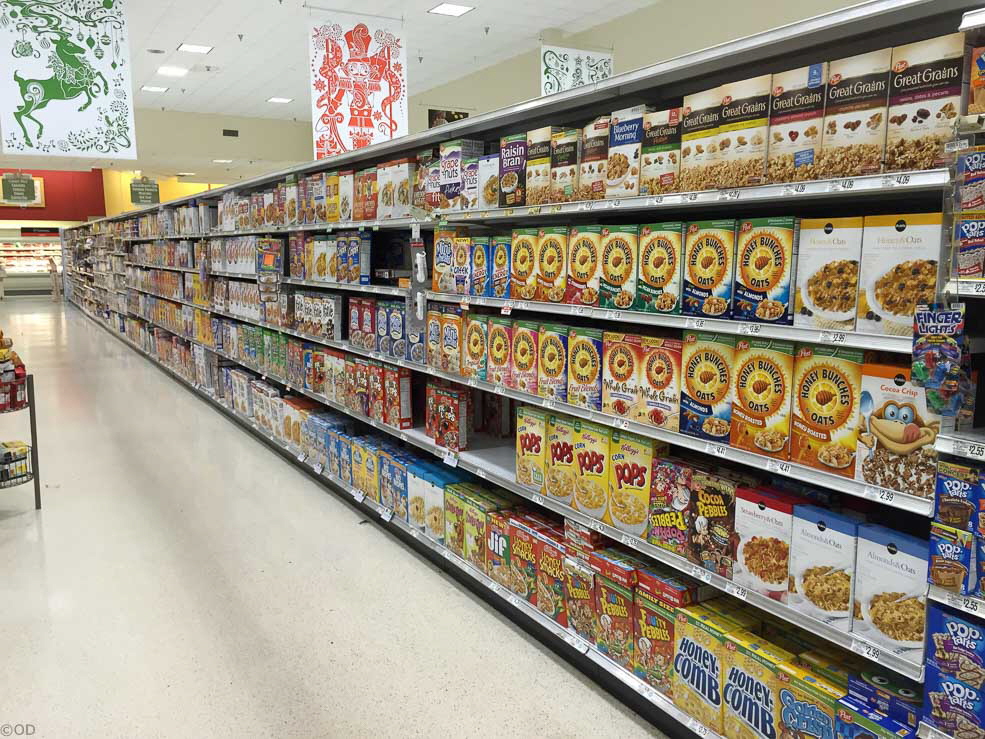 Birgit spent some more time in the sun, and I ran some errands during which I came across the meanwhile omnipresent curiosities of the rich and famous in Sunny Isles...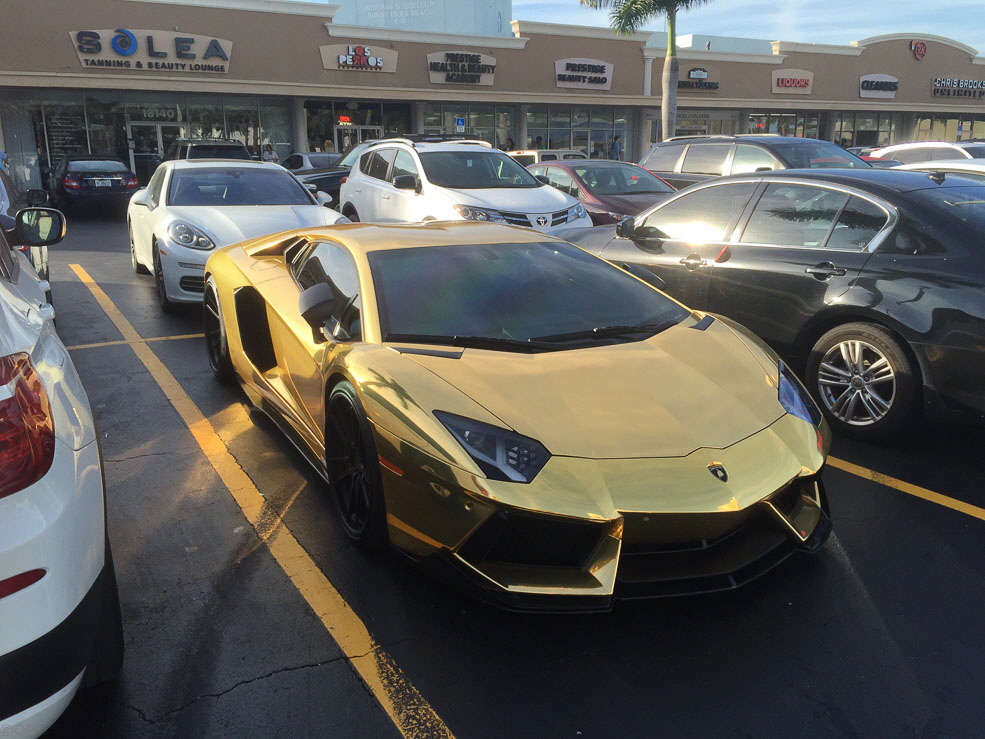 By the way, the driver of this car, or rather "toy" had to drive by a few noisy times before parking his car... Attracting attention is all that counts.

In the afternoon we went to Sawgrass Mills once more – there was still room in our luggage ;-) After intense shopping we stopped at "The Knife" at the exit towards Sunrise Avenue.
It was very tasty again. I always say that I prefer this branch to that at Bayside. This one is usually nice and quiet and tourists are less likely to find it ... and the food has never disappointed us.

When I put a tip in the jar by the BBQ, I got chatting with the chef behind it. He asked me if I knew that you could also have a filet mignon (also included in the price) if you ordered it from your waiter. "They don't shout it from the rooftops" he said with a wink and with a questioning look showed me a beautiful piece. I was quite full already, but all the things you do...

For those who don't know "The Knife": You pay a flat rate of $ 29.00 and choose from an all you can eat starters, salad and BBQ buffet. In addition, there is a dessert menu. Included are also unlimited sodas, a bottle of wine or 2 bottles of beer per person.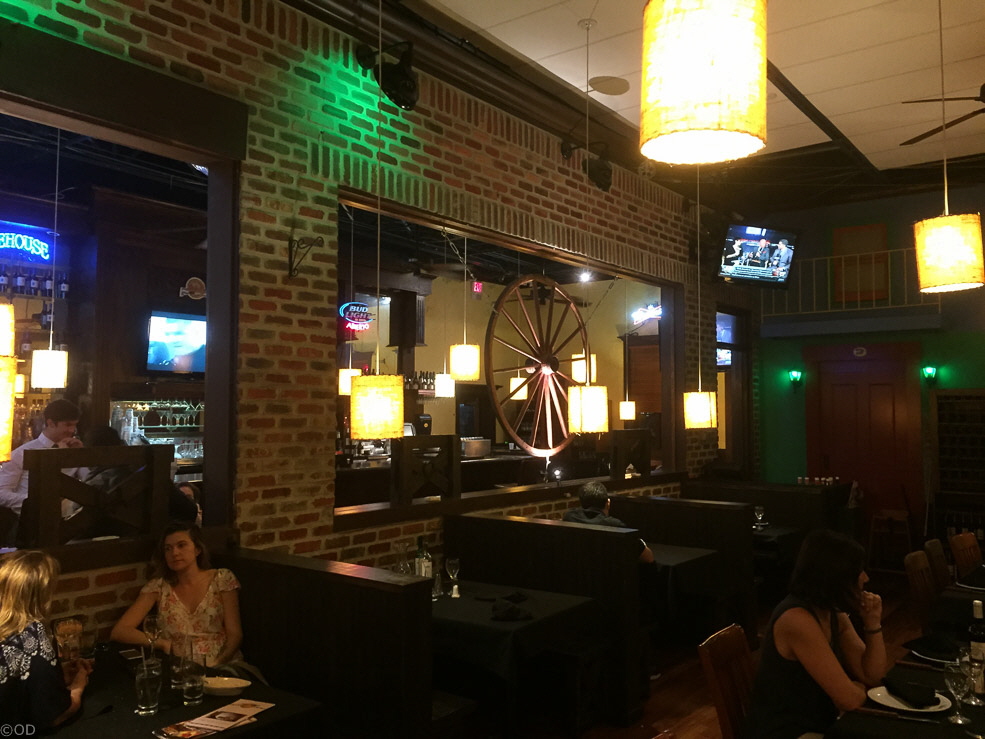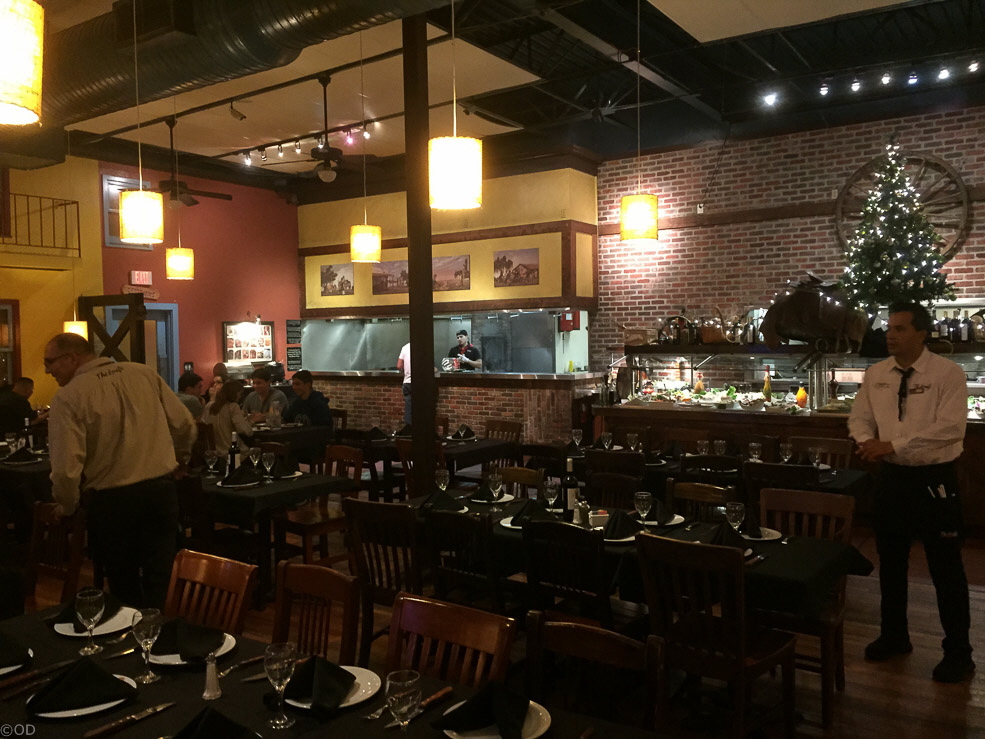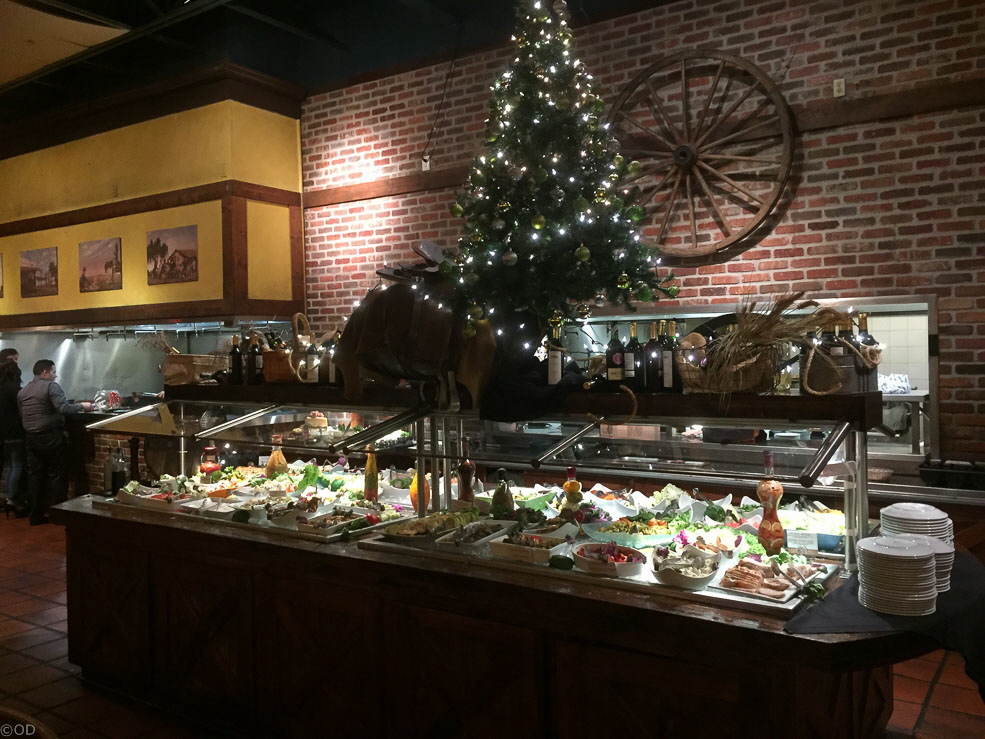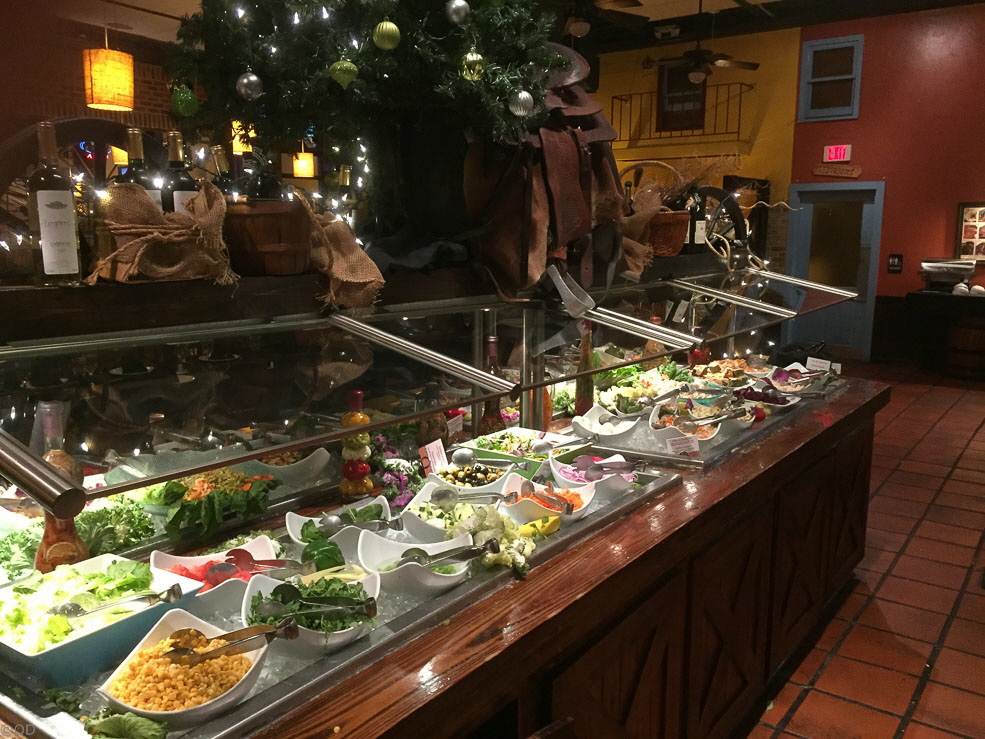 Vegetarians should look away now...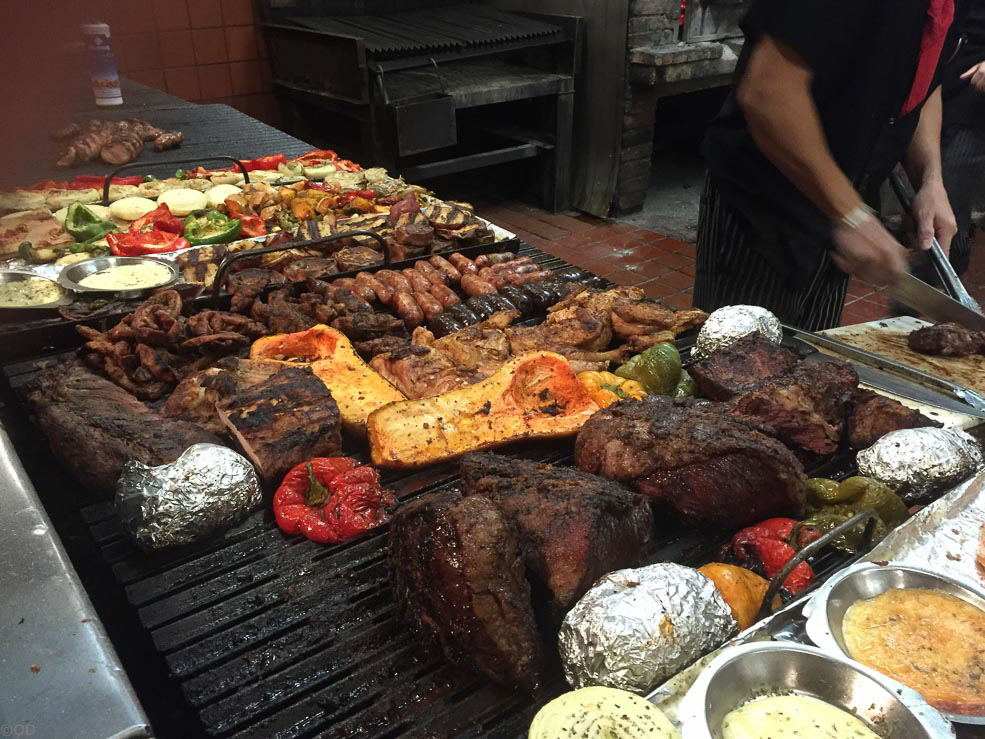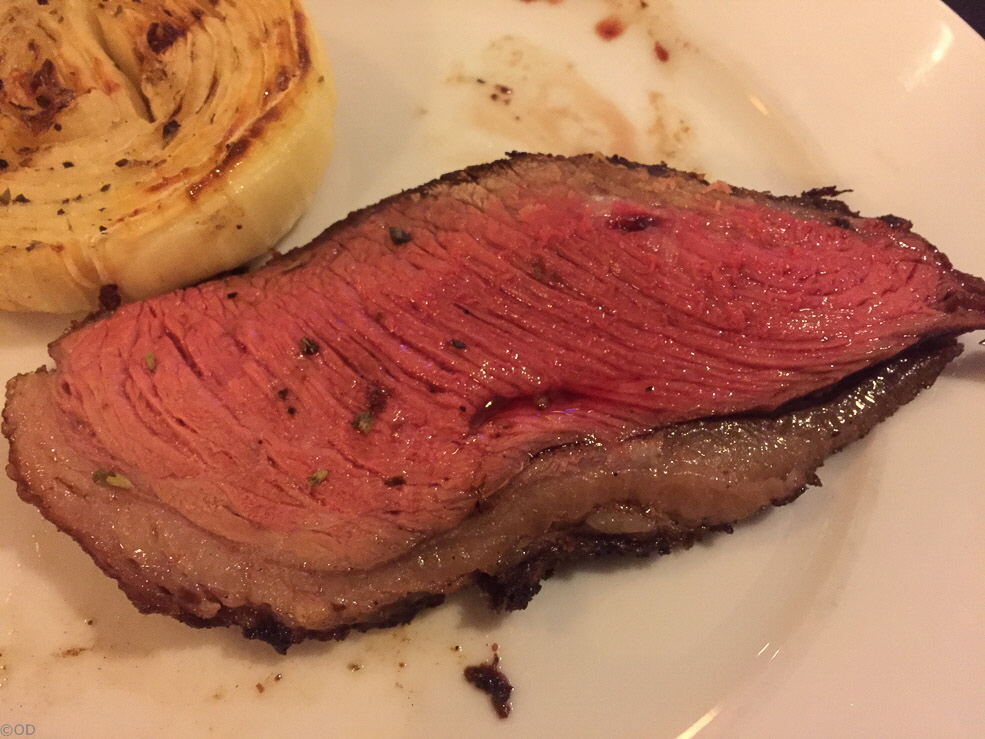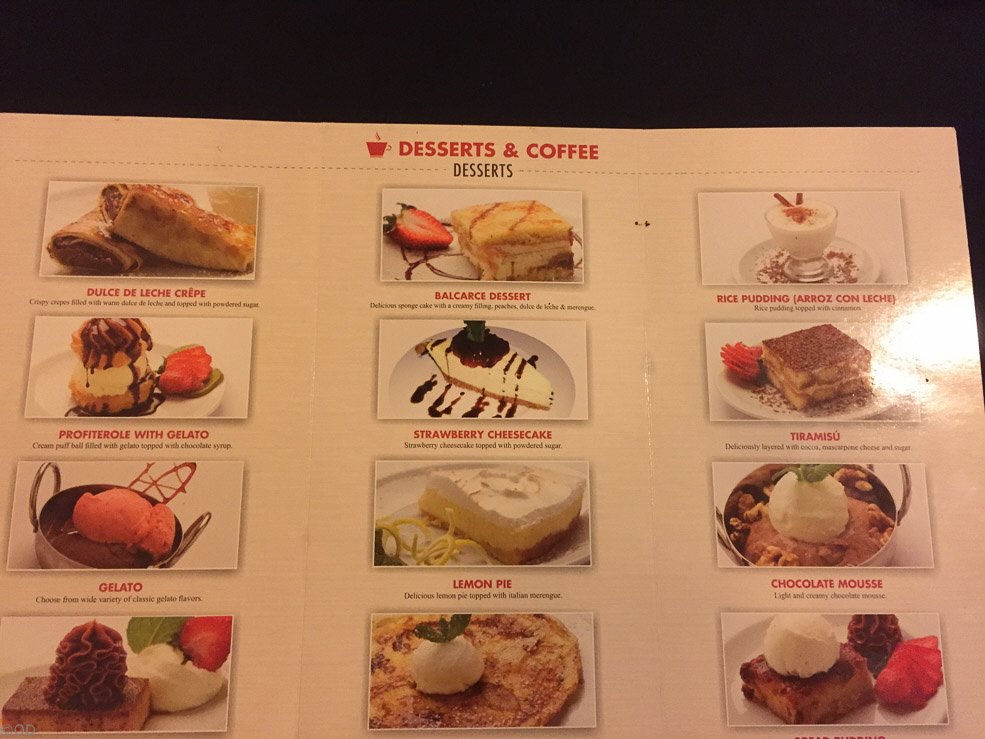 www.travellove.one • www.thecruise.report • www.travelandcruise.net
© 2021 Die Rechte an Texten, Fotos und Videos liegen beim Autor der Webseite. Die Nutzung ist nur nach ausdrücklicher Freigabe erlaubt.