Part 10 - Naples and the Amalfi Coast
Day 14 - Naples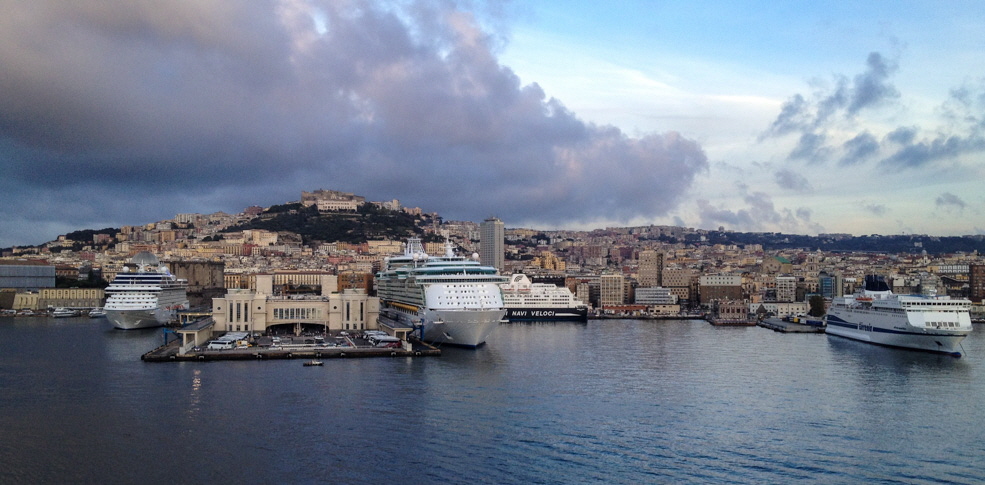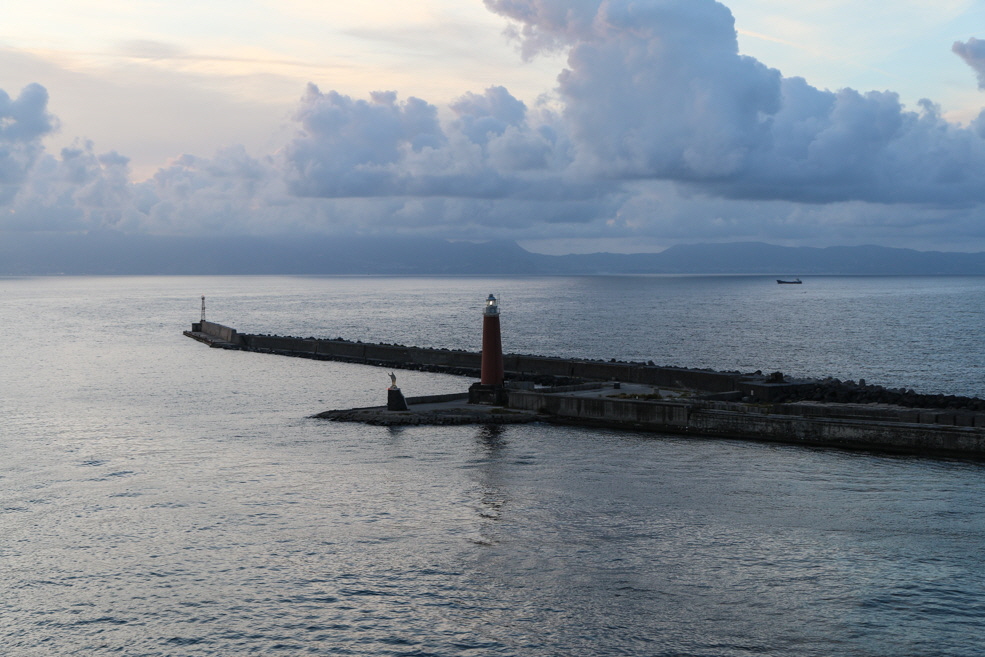 Naples greeted us like an old friend. The sight was familiar to us from previous visits. The last time we were here was with my parents in law on the Liberty of the Seas. That's why it was funny to see the Liberty docked right next to us in port. Obviously, we had to call my in-laws from the terrace to tell them. We love that we can reminise together and enjoy our mutual memories of that trip.
Again we hadn't made any particular plans and wanted to take it easy, which is why we took our time with breakfast. However, we were surprised that even after the ship had docked there were no people to be seen leaving the ship, and all the tour buses were still on the pier.

At some point we heard an announcement that Italian authorities, i. e. European customs, hadn't cleared the ship because we had come in from Israel. These announcements were repeated for another 1 ½ hours. Then came the clearance, at last. In the meantime we had spent time on our veranda and decided that we could drive along the coast to Sorrento and said to each other "Isn't this what Debby and Bob wanted to do?"

With the help of a Vodafone one-day internet package which I had booked for a few Euros via text message, I checked the options to get to Sorrento. We decided to walk to the train station and take the train.

As usual when leaving the terminal building, we were besieged by the taxi drivers, who were offering tours to Pompeii, Herculaneum etc. In the bustle I saw Bob, who was in the middle of negotiations with a taxi driver. We exchanged a few words and decided that the four of us would share a taxi and a driver who was offering a tour to Sorrento, Positano and Amalfi for EUR 220.00. The price was right and we were delighted to spend the day together.

First we drove around the Bay of Naples and from a parking on the other side were able to enjoy a beautiful view of Naples in the distance.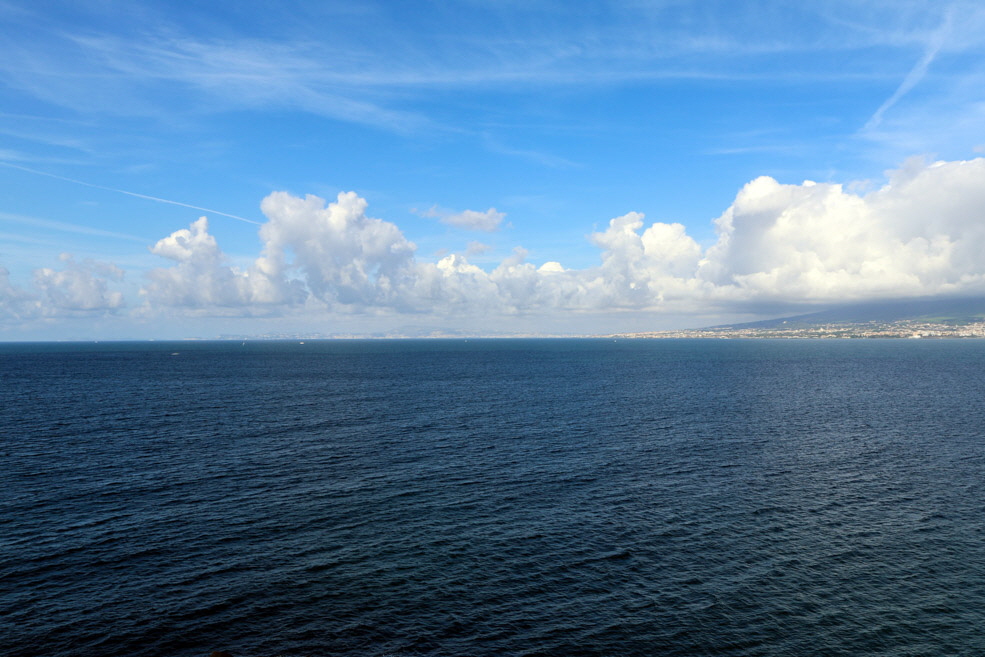 What you see underneath the clouds is Mount Vesuvius...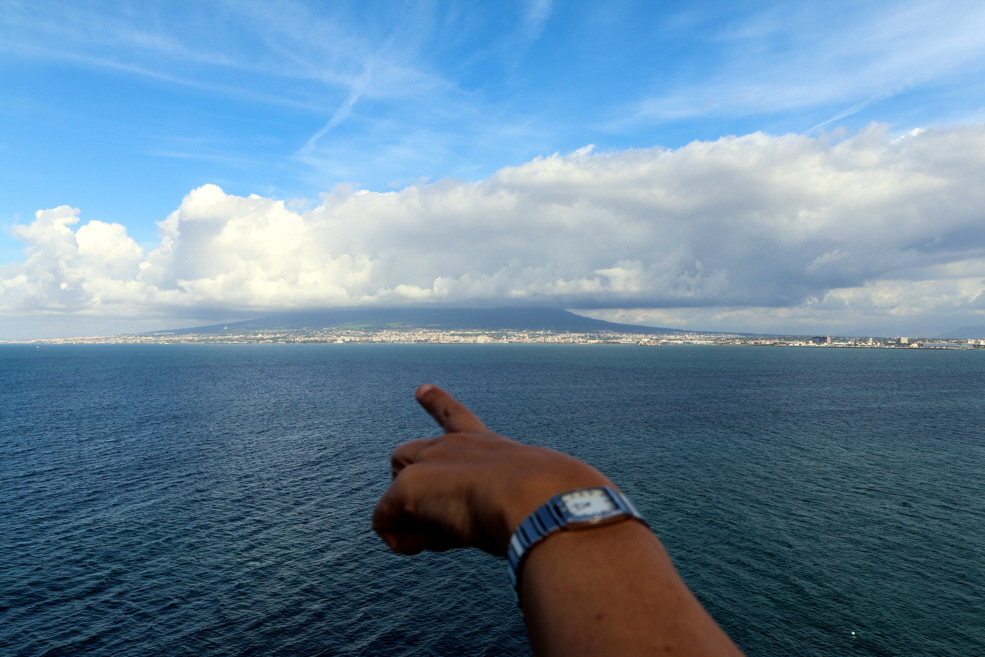 … and this was our merry bunch.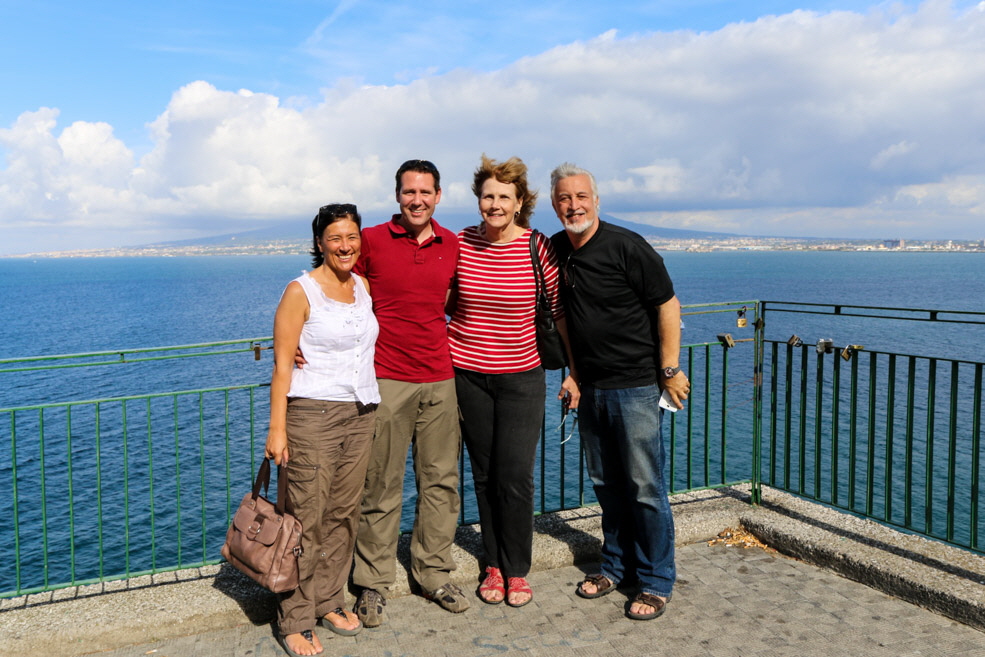 I already mentioned earlier that Bob was a very interesting man. Bob (author, therapist, public speaker, ordained pastor) works with criminal youths on a work ranch in California. He is also a passionate musician and had already had a jamming session with the band onboard. For him and Debby, this was the first vacation in 8 years, as he usually spends his spare time helping people in places like Nepal or Cambodia, where he'd support aid projects and offer psychological support. And last but not least, he was simply a very cool guy and both were just incredibly nice people.

We already had a lot of fun with a merchant who wanted to sell Limoncello and other local specialties at a viewpoint.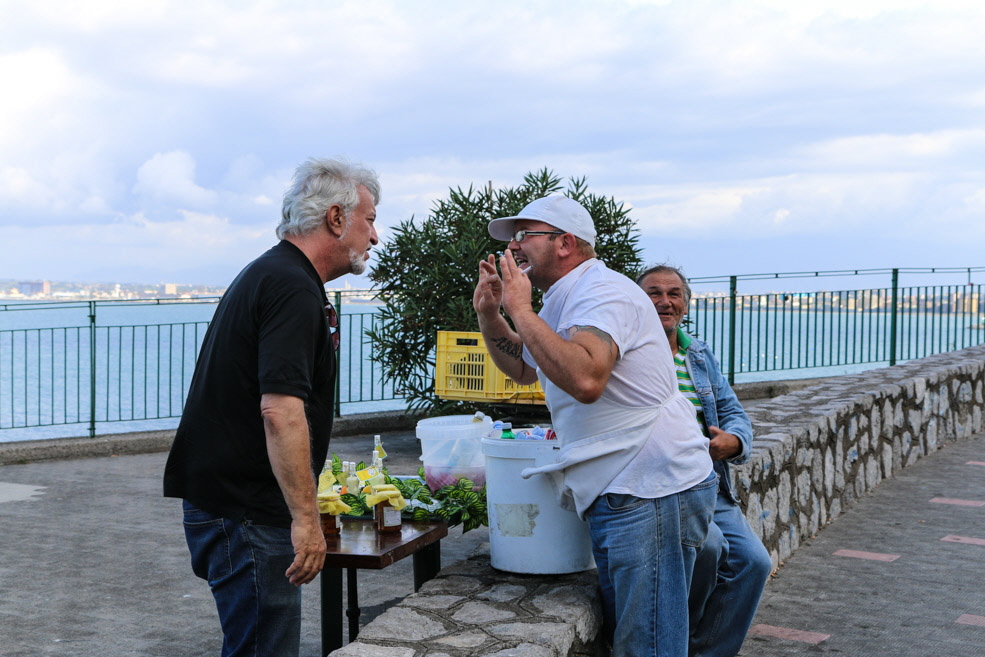 From some coves in the curvy coastal road we already got some great views of the cliffs of Sorrento.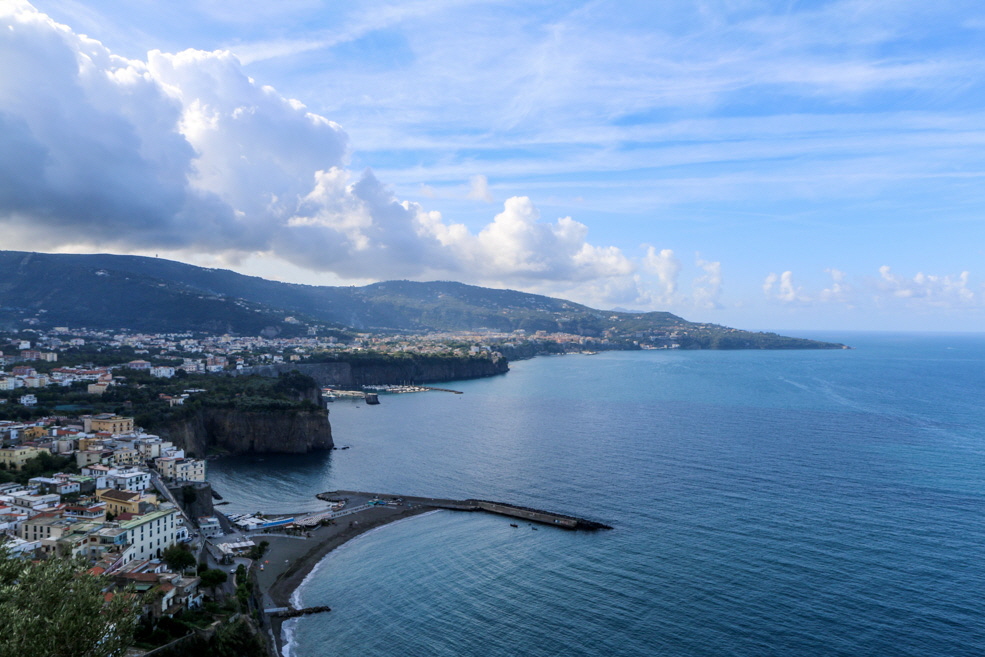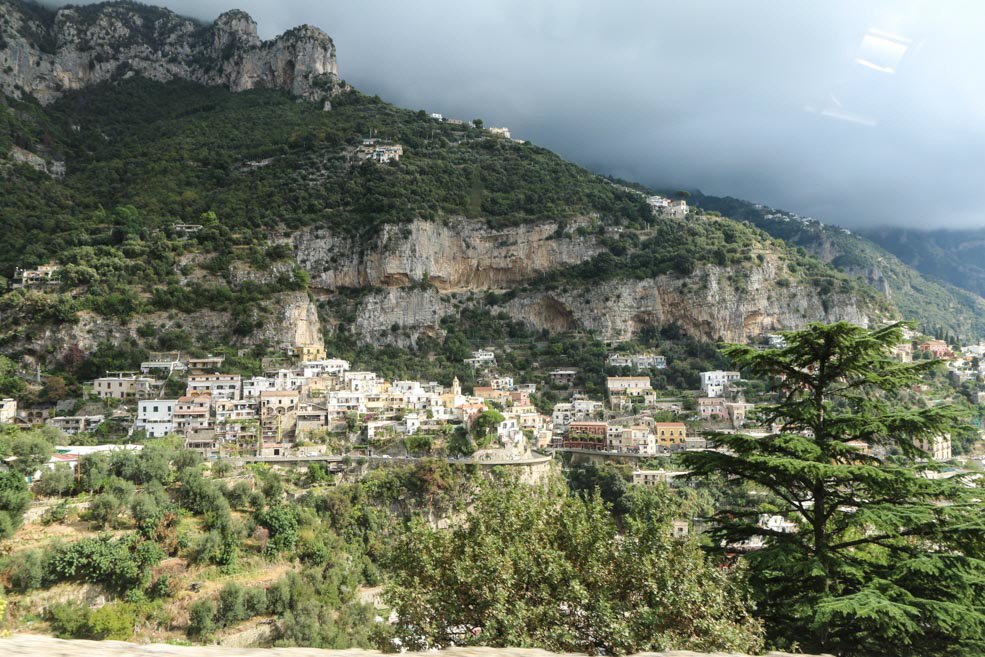 But first of all we drove to the picturesque town of Positano hugging the steep hillside.
The driver parked the car and we agreed a time by which we'd meet again. Then we walked down the little narrow streets towards the sea.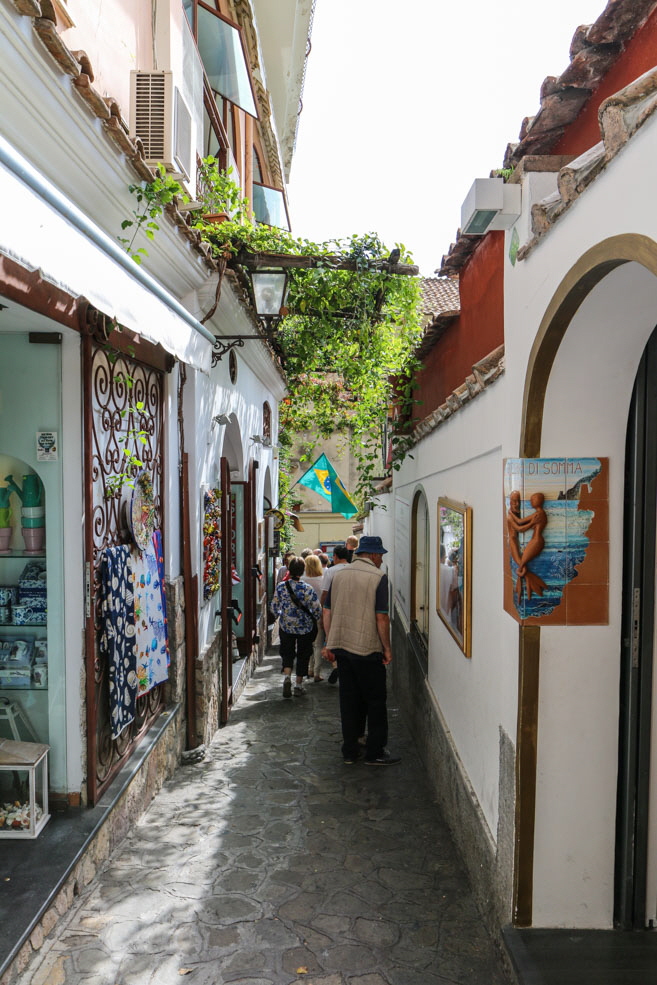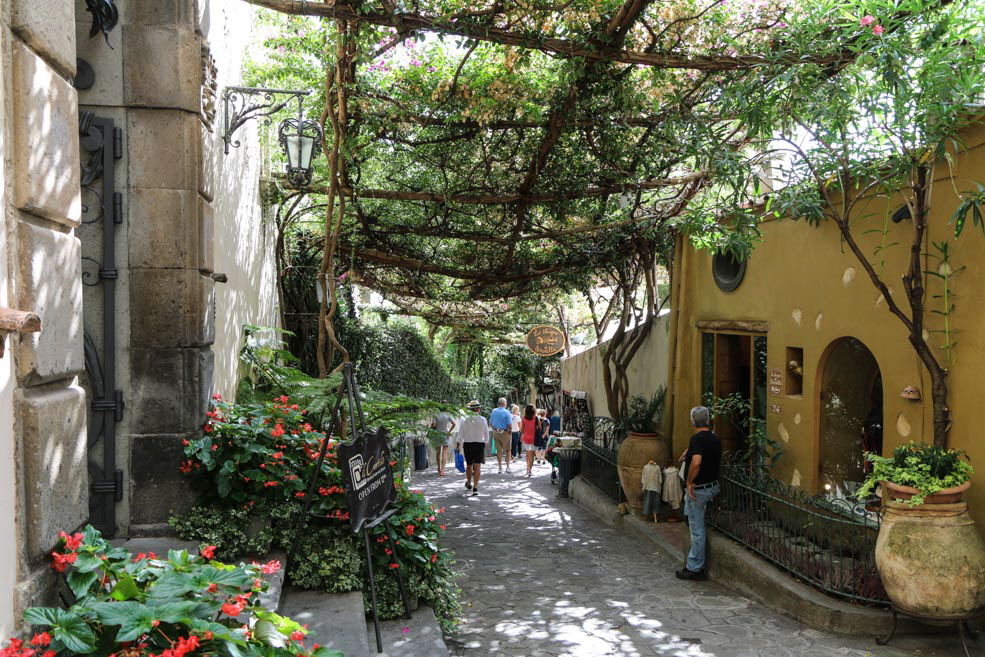 They were lined with many little shops selling lots of touristy kitsch, but the shop windows and displays offered a beautifully colored picture.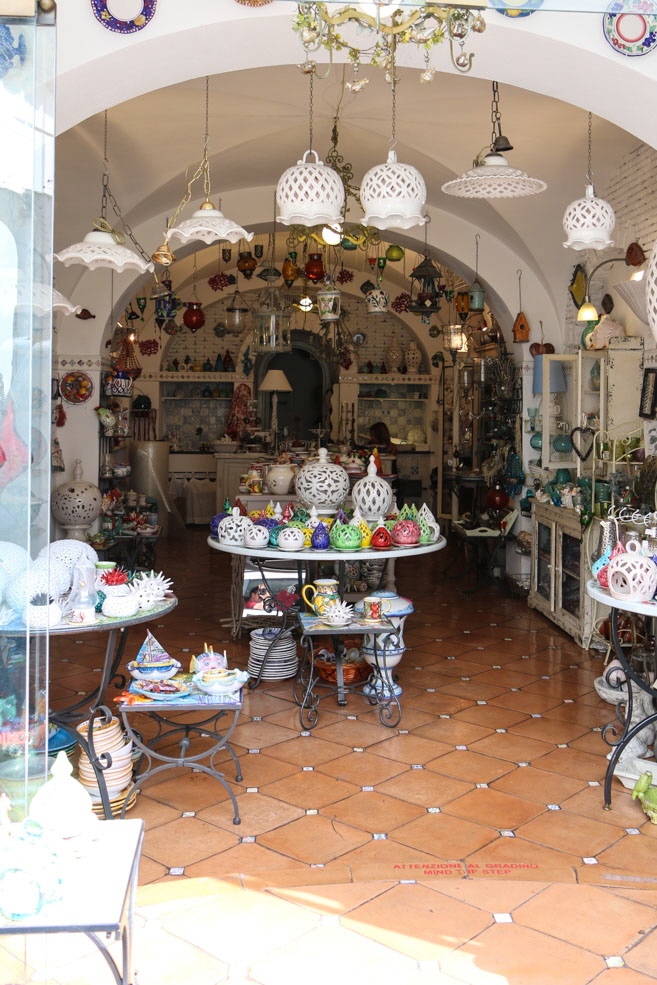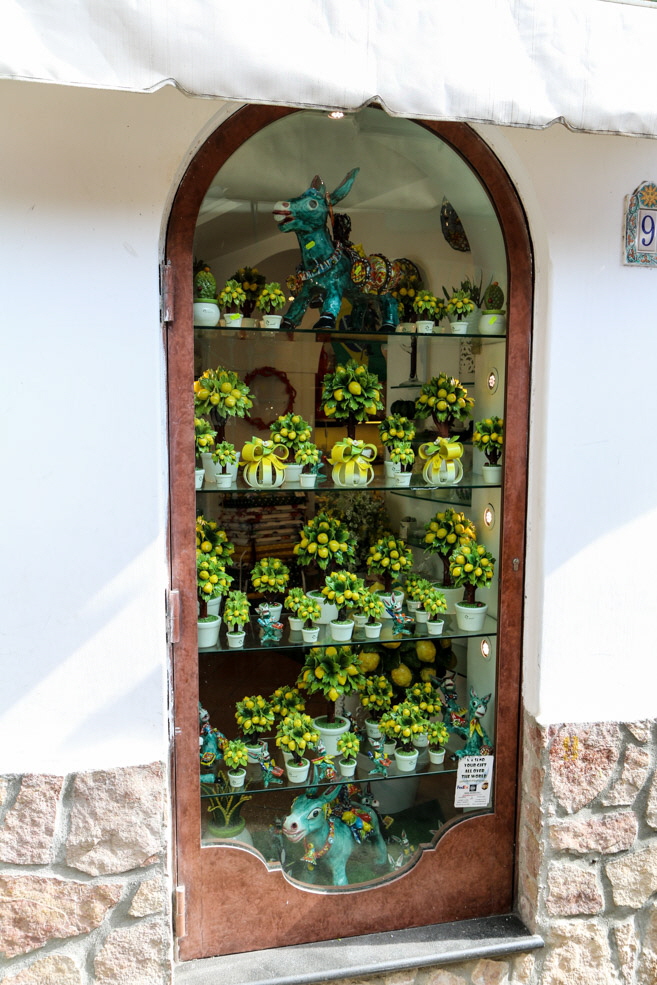 Almost by the sea, we came across a church where an Asian couple from the ship was just getting married, all alone.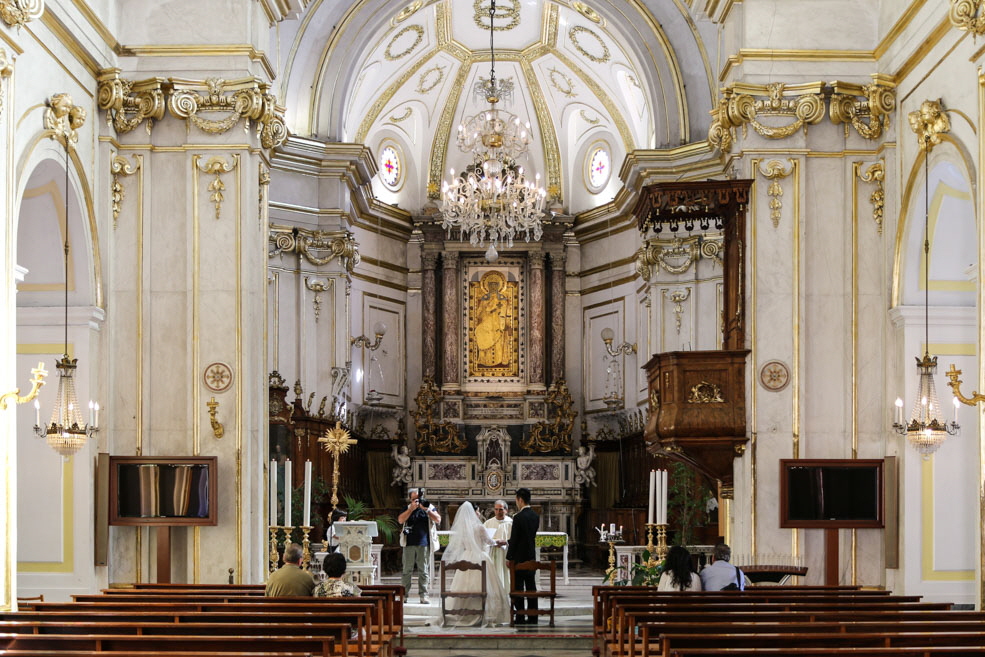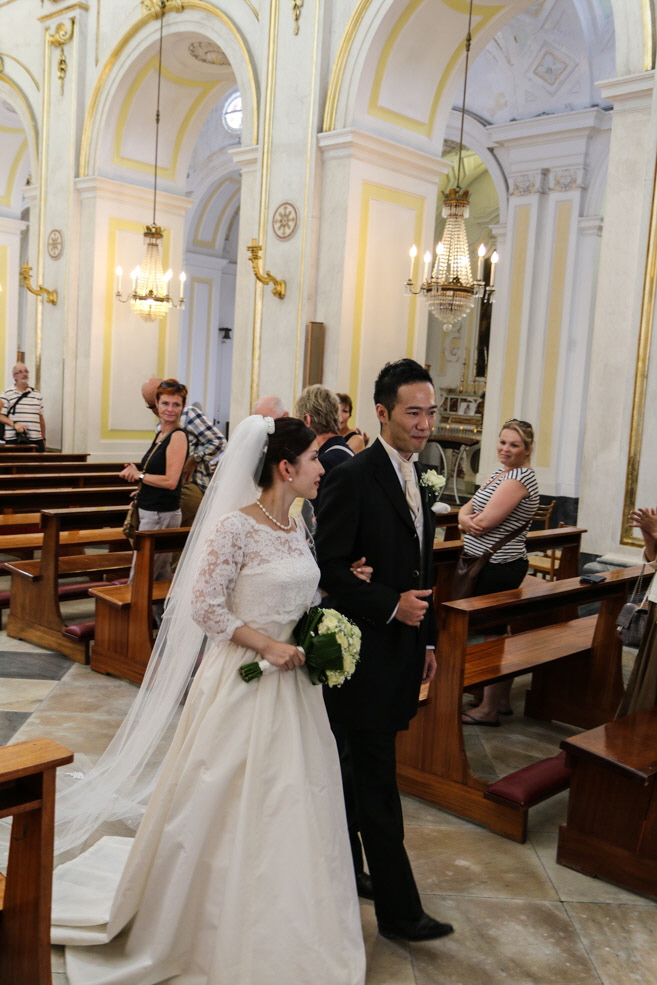 We continued on our way and passed more shops on the last meters before the sea.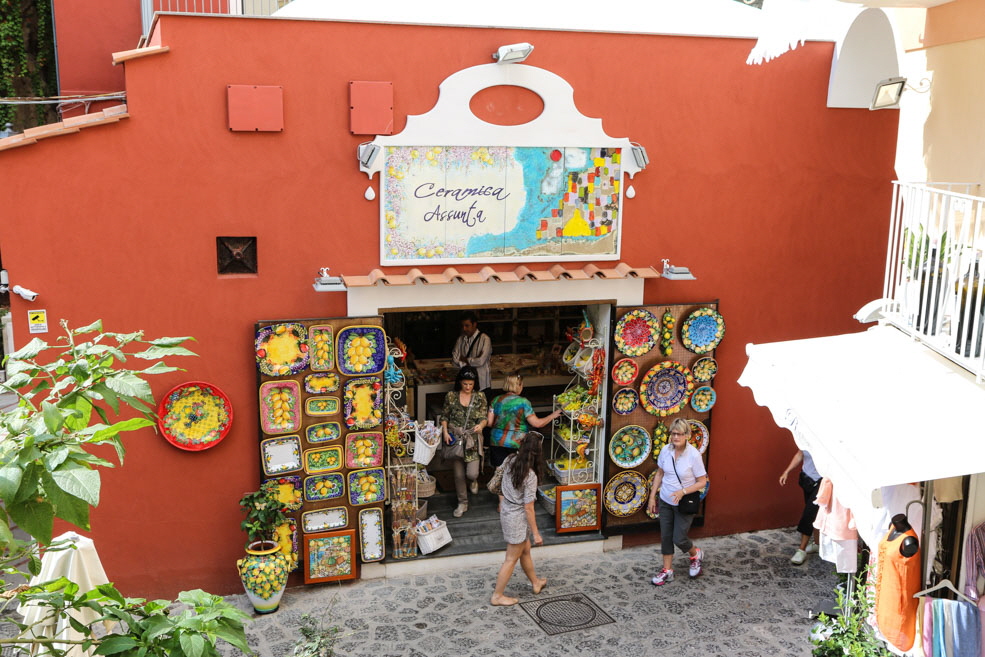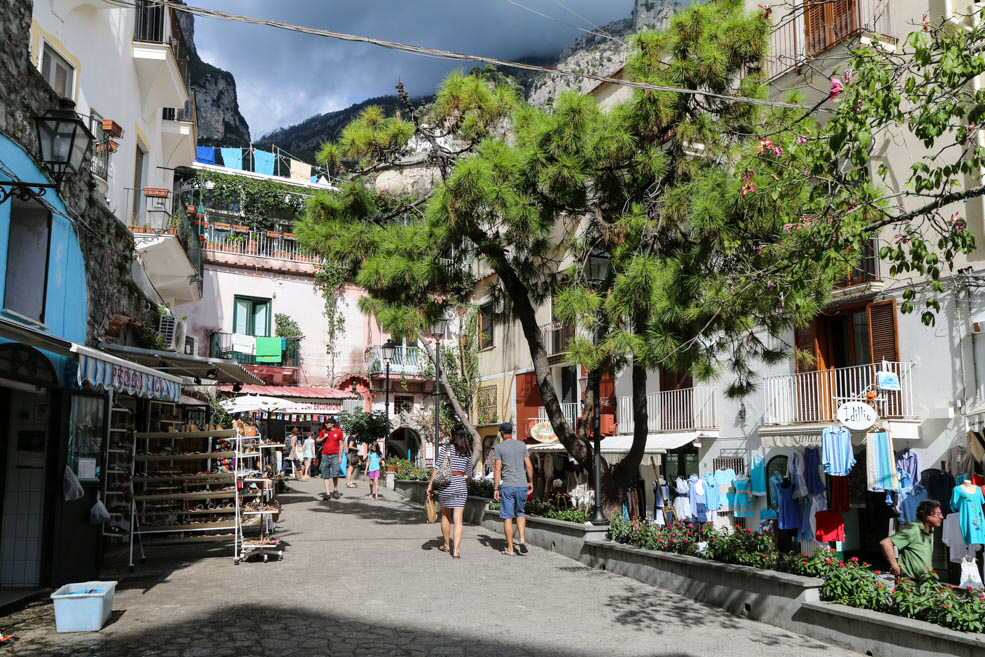 Once at the beach we finally got to enjoy the beautiful view of the colorful houses clinging to the cliff which is famous from postcards and brochures. Even with a few dark clouds in the sky we found it very attractive.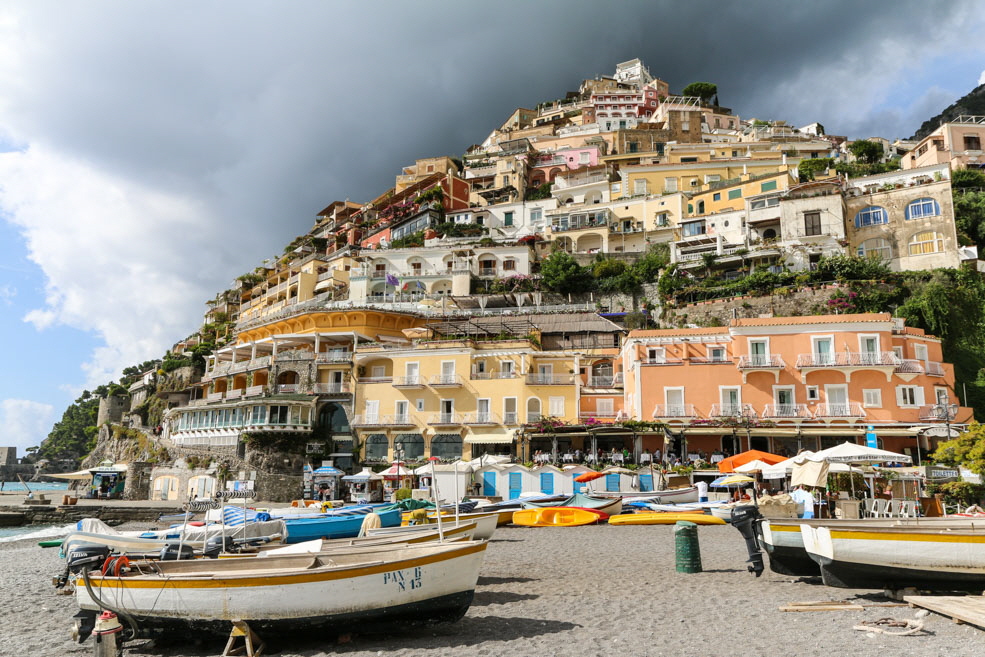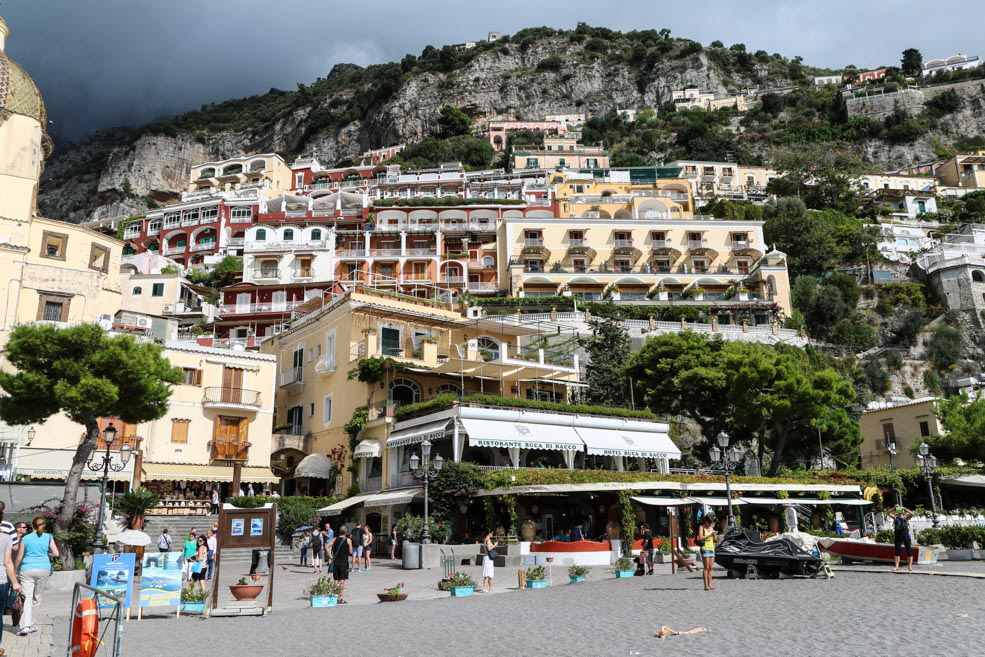 A few minutes later we climbed the hill via another, equally beautiful path and returned to the car.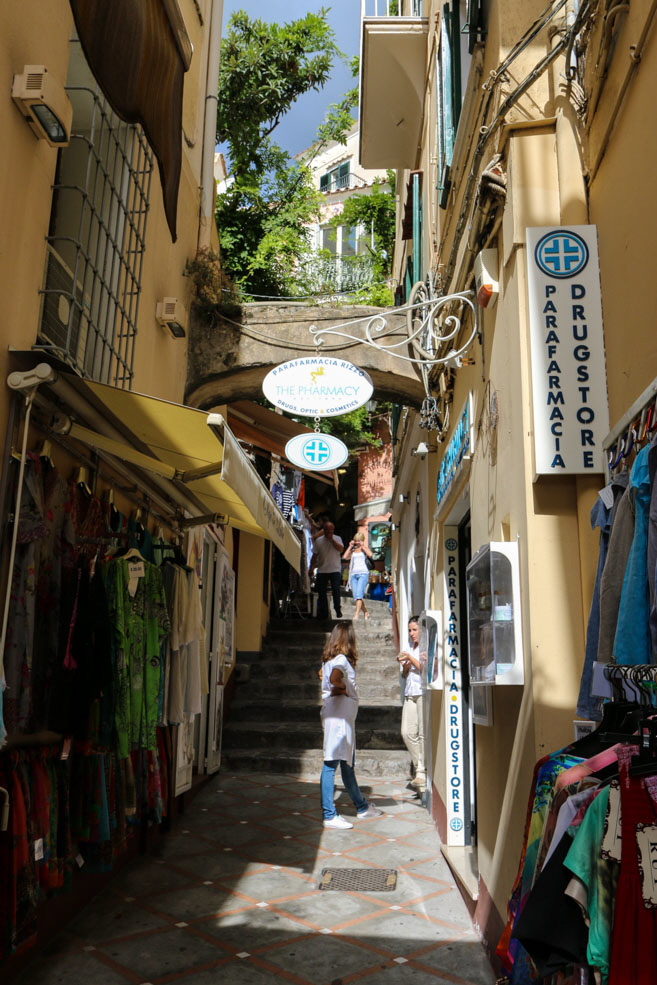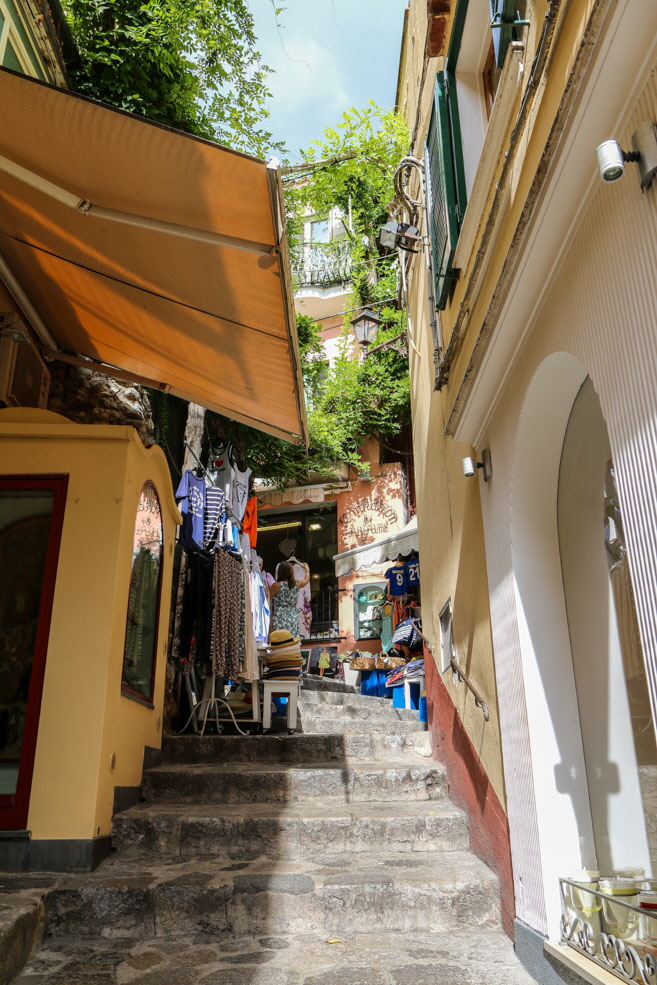 They also sold headache remedies ;-)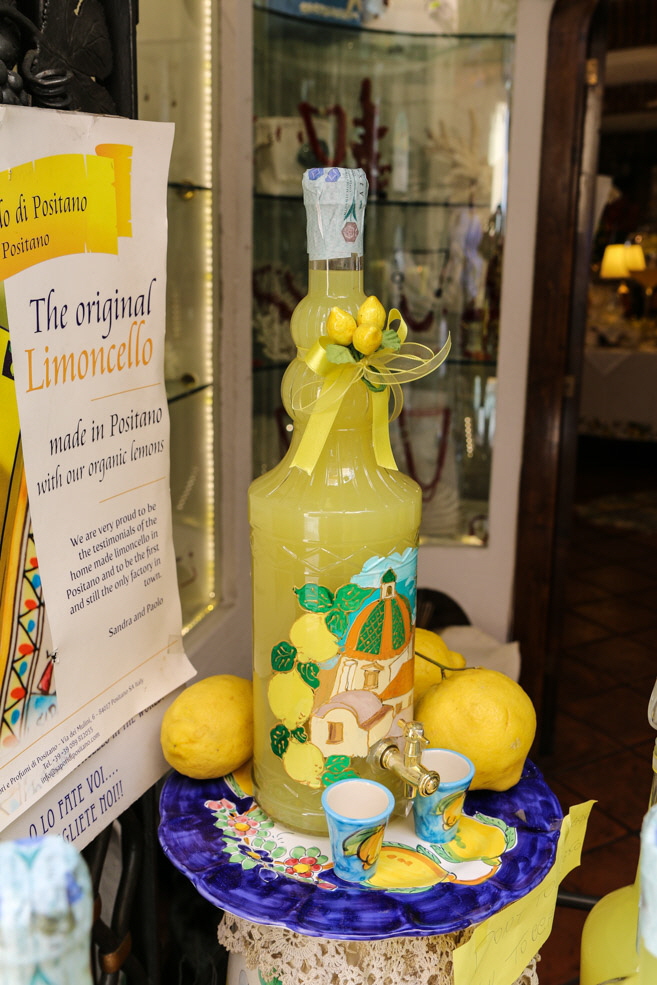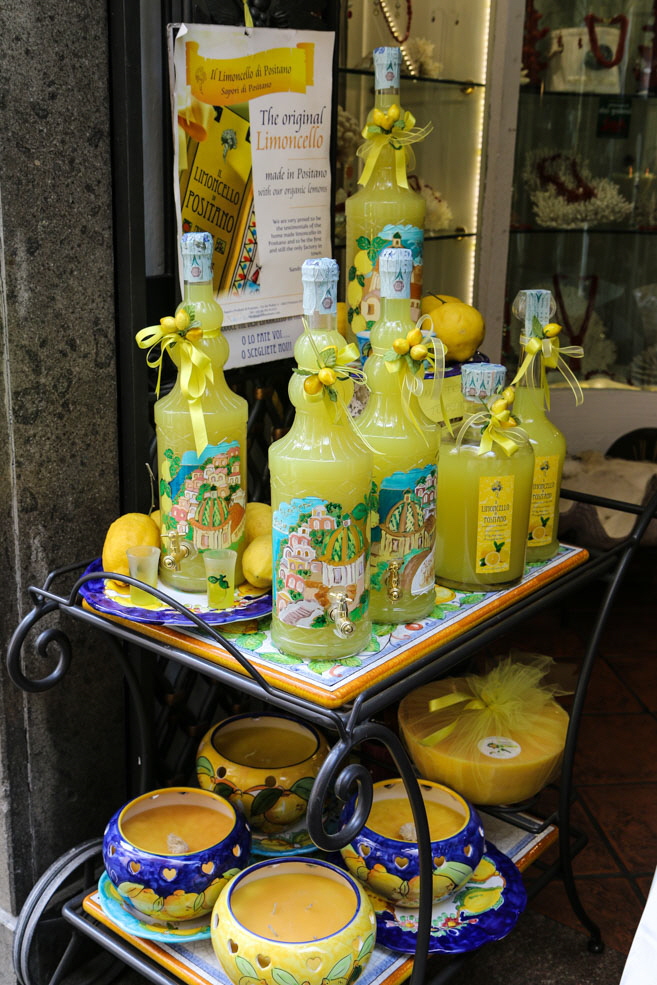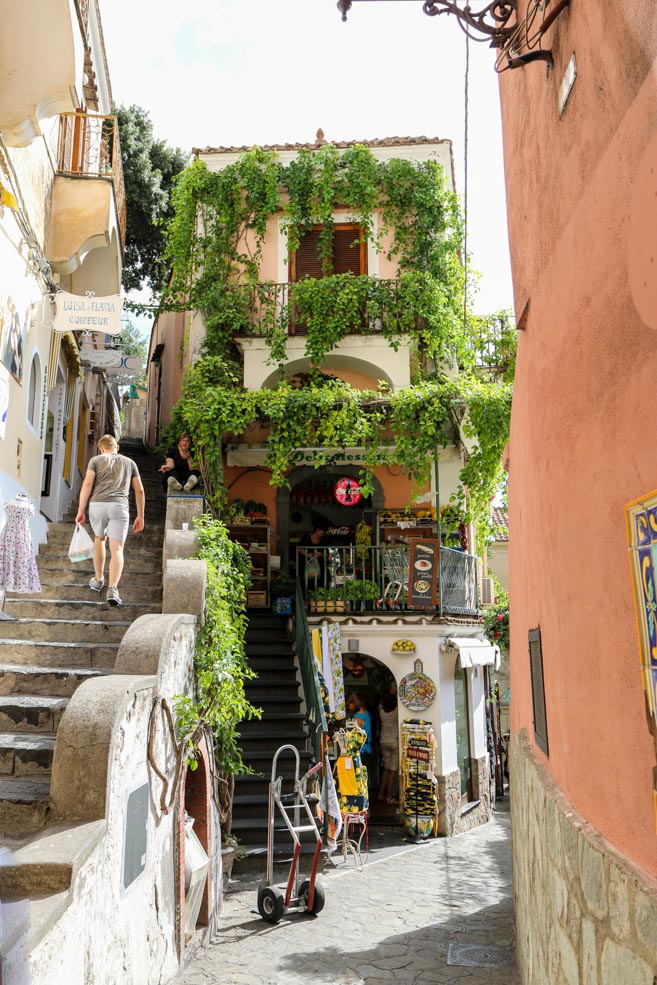 Our driver was surprised that we were back on time and put it down to the Germans... Then we continued our journey to Sorrento.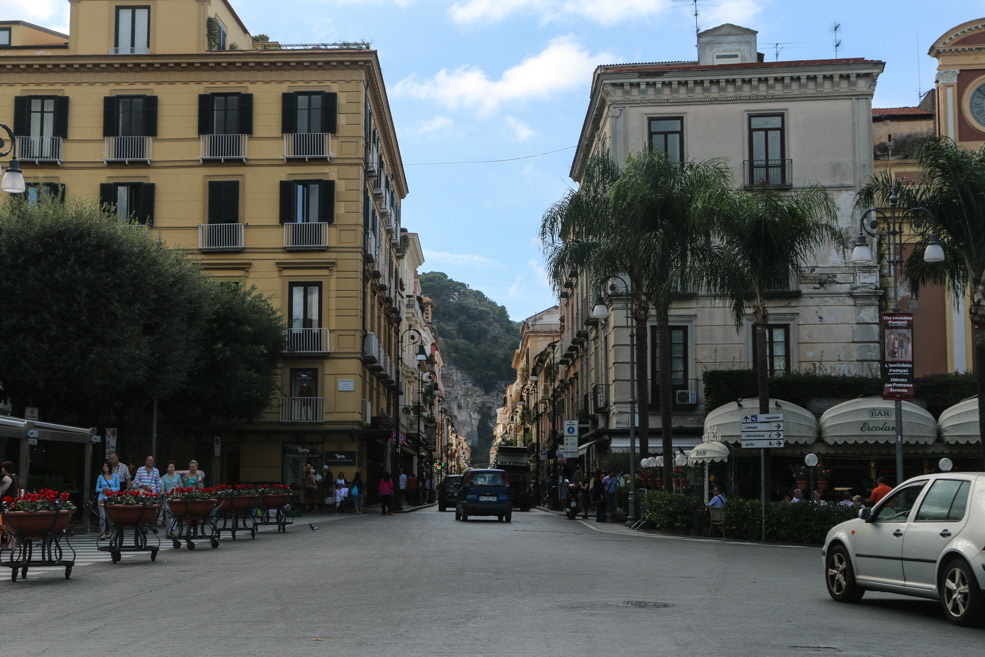 Once we had reached the little town, we wanted to have lunch. The driver offered to drop us off at a restaurant near a roundabout which, however, looked very touristy. So Bob asked him whether he didn't know a nice fish restaurant. The driver said there was a little restaurant outside town where he'd also take his family – which sounded great! Perfeto, andiamo...

The restaurant was located in a small bay in a fishing port and situated on a wooden pier above the water.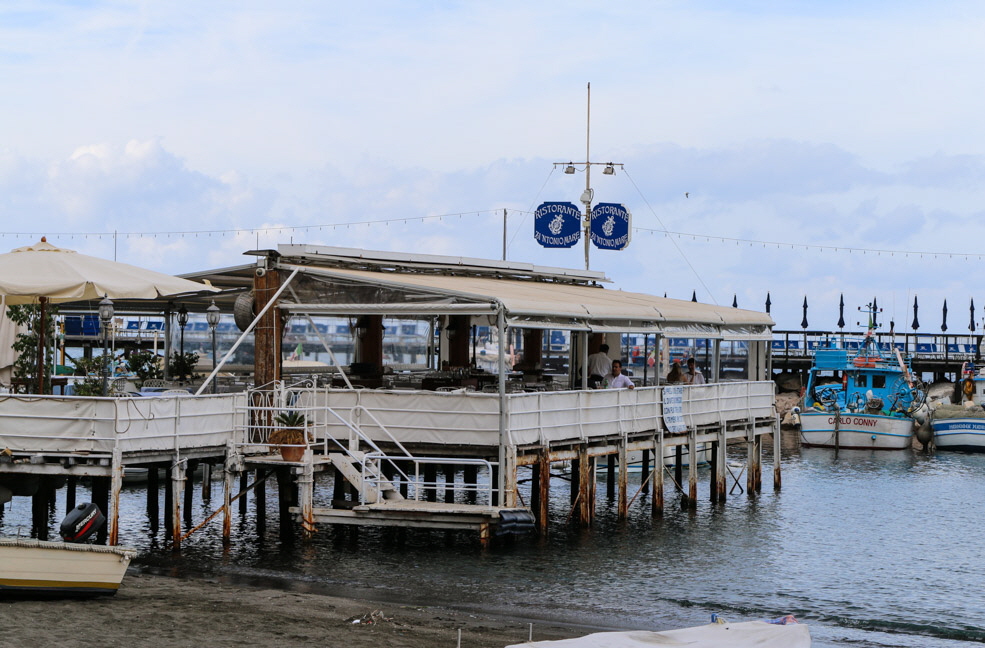 I think in view of the next photos I don't have to emphasize that we thought this was a great choice. But I might add that the food was just as good as the view.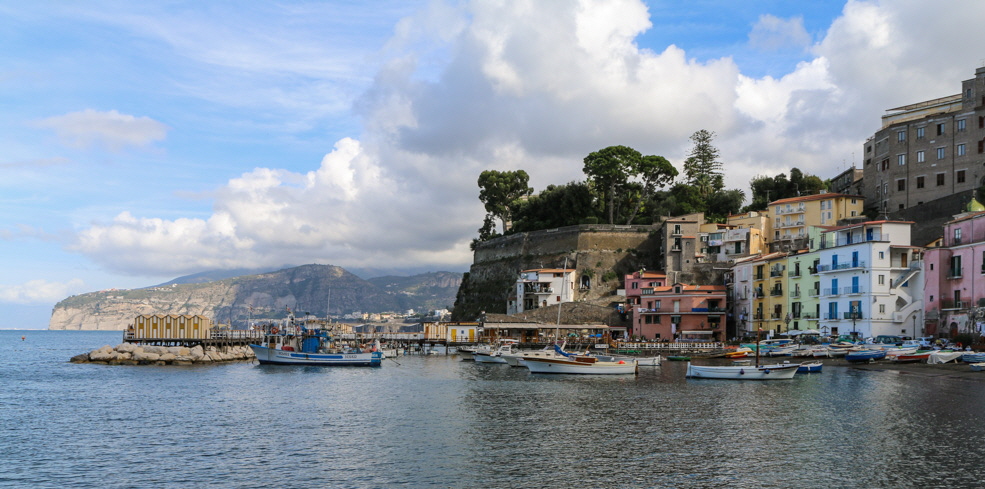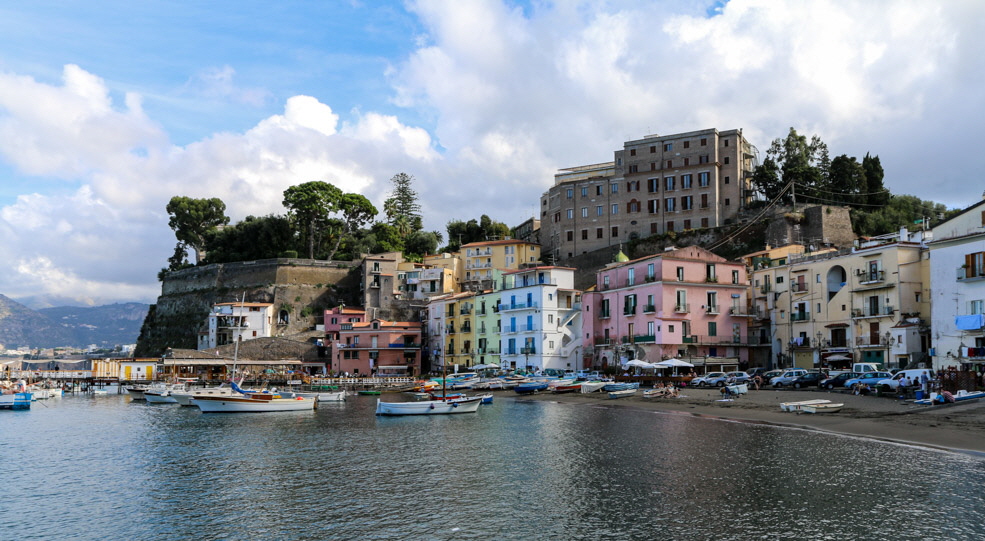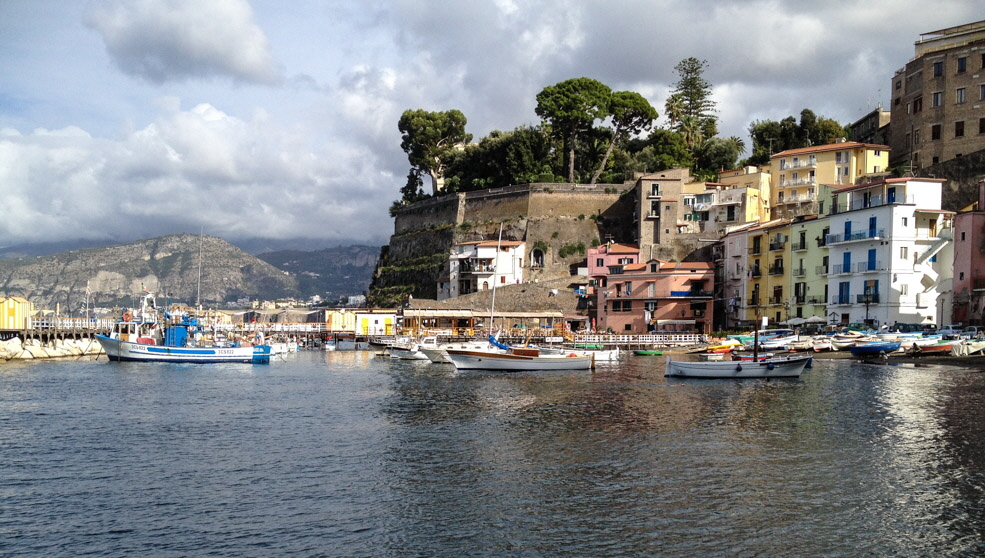 Over pasta and vino rosso we let the time go by talking and simply having fun and a good time. Therefore, we skipped a stop in Sorrento on our way back and went straight back to Naples. The driver knew how he could do us, and Bob in particular, a favor and played songs by Frank Sinatra and Dean Martin, e. g. classics like "That's Amore". None of us was too embarrassed to sing along at the top of our lungs.

And so the return went by quickly and with just as much fun as we had had the whole day. Once at the port we asked Debby and Bob whether they'd like us to show them Galleria Umberto, Palazzo Reale and the Piazza del Plebiscito, which they gladly accepted.

So that's where we went...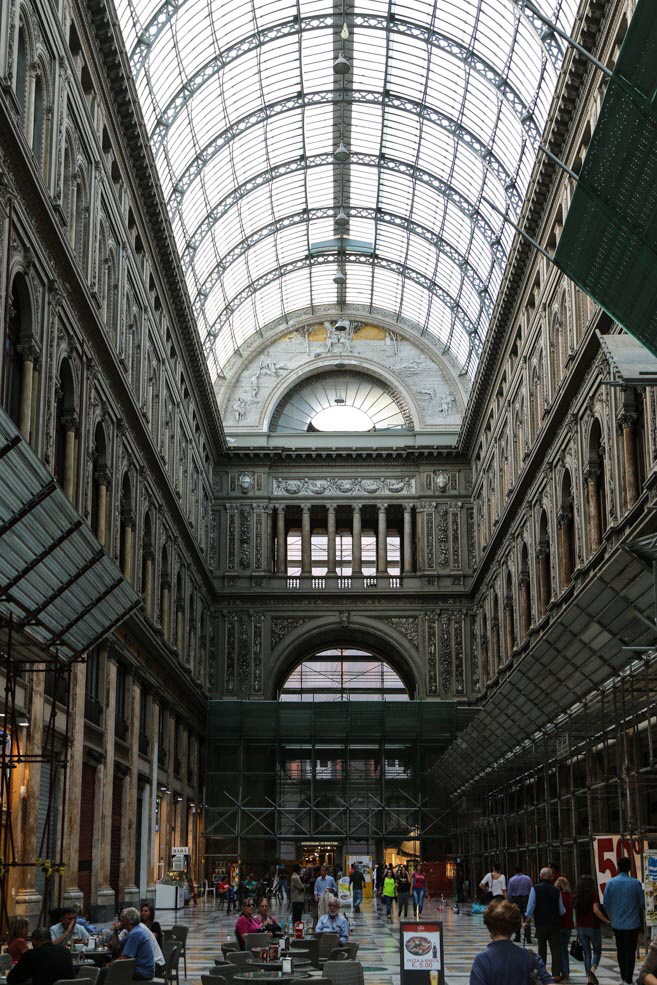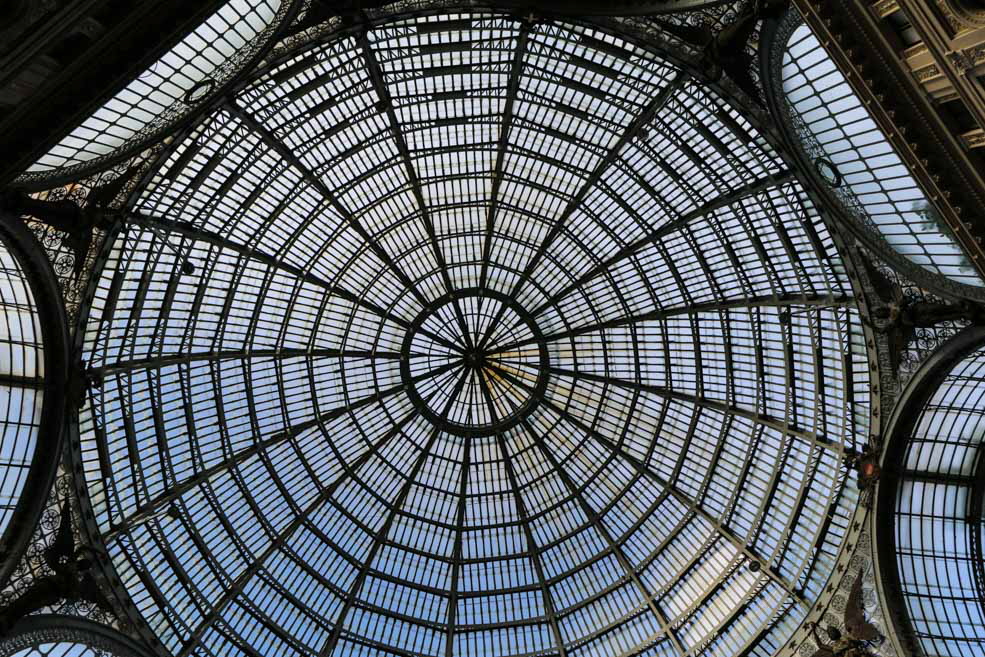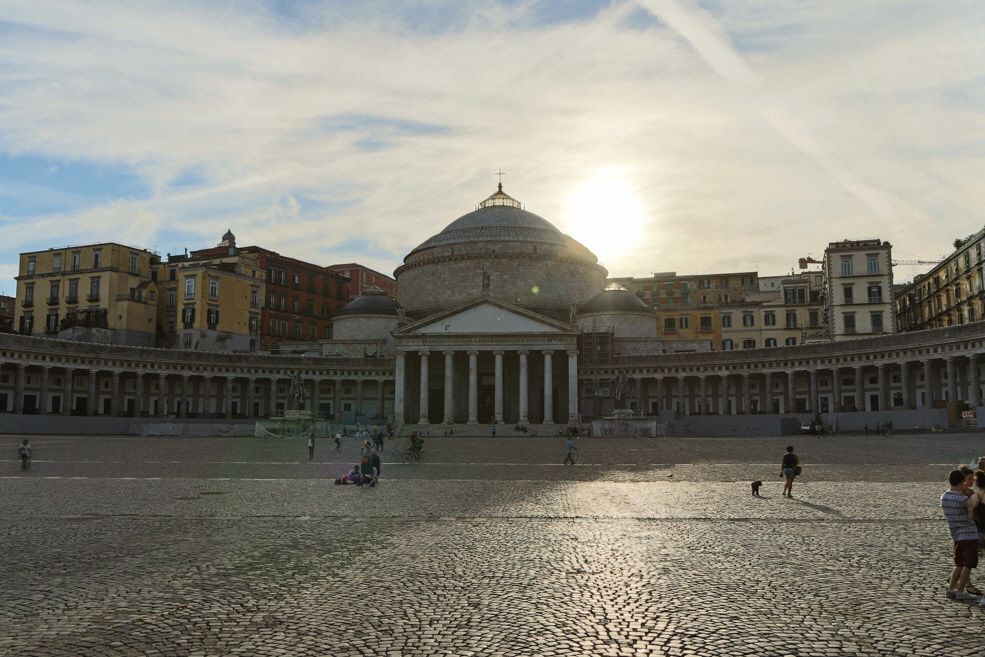 And so another beautiful day was almost over. But only almost... We remembered that we had a bottle of champagne left in our fridge which we got with our Aqua class booking. Debby and Bob didn't have beverage packages, so we offered to share the bottle with them at the Sunset Bar to give the day a proper ending. We drank to a beautiful day, a more than just beautiful cruise and to the health of lovely new friends.

For dinner we had arranged to meet with Doug and Luis at BLU. It was another beautiful evening with a lot of fun. Unfortunately we had to end it eventually because we had to pack our bags. But not without first agreeing to meet for a Cuban dinner at a restaurant in Miami at Christmas and even receiving an invitation to see them at their home.

Packing our bags was hard. It simply meant that our cruise was coming to an end. I probably don't have to explain how we felt, especially since this cruise had been so diverse and eventful and we had been so happy on this ship.
www.travellove.one • www.thecruise.report • www.travelandcruise.net
© 2021 Die Rechte an Texten, Fotos und Videos liegen beim Autor der Webseite. Die Nutzung ist nur nach ausdrücklicher Freigabe erlaubt.