Part 5 - La Spezia / Pisa
La Spezia / Pisa

This morning was different from the others for two reasons. First of all, the sight of La Spezia's industrial port was less attractive than the previous destinations with their natural bays. Second, La Spezia and the surrounding mountains had covered themselves in grey clouds of rain. But this couldn't deter us, and we were looking forward to the day.

Had Birgit and I been on our own, we surely would have used La Spazia for a day trip to the picturesque villages of "Cinque Terre". But with Hildegard's limited mobility, we decided to visit Pisa instead. In addition, we thought this trip would also create nice and recurring memories for them for when they'd see pictures of the Leaning Tower back home.

For our independence with regards to route and timing, I had booked a rental car in La Spezia, which I picked up at the local Hertz station after a quick breakfast. The rest of our little group took their time and followed on the shuttle bus to the port exit, where I picked them up in our car.

I took a little detour to the Autostrada, which took us through little villages and past many hills on top of which sat small towns with castles and surrounding city walls. When we reached the very well-developed Autostrada Azzurra, we followed it going south.

In Carrara, we could see the deposits of the marble quarries left and right of the Autostrada, where huge white blocks where glistening in the sun which had re-emerged strongly in the meantime. Off the Autostrada, large white surfaces were visible in the heights of the Apuan Alps. Only on closer inspection did it become clear that what we saw wasn't snow but terraced marble quarries.

Once in Pisa, we parked the car in a public parking lot directly behind the Piazza del Duomo, popularly also known as "Piazza dei Miracoli" (Square of Miracles). From here, it was only some 50 m (55 yards) to the archway of the square. As we walked through it, the "miracles" of Pisa unfolded in the sun right in front of us.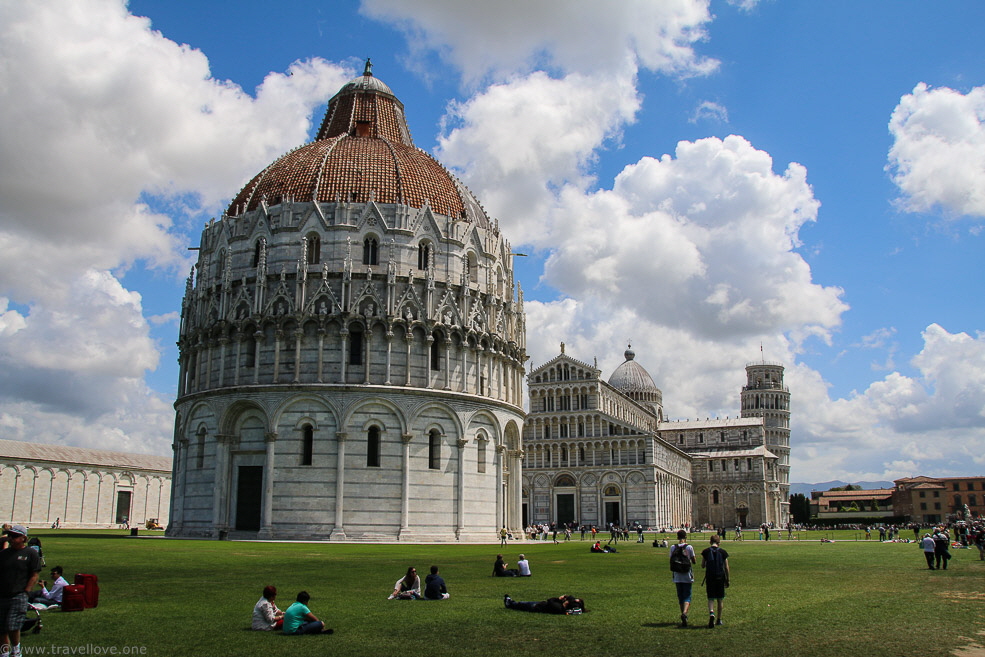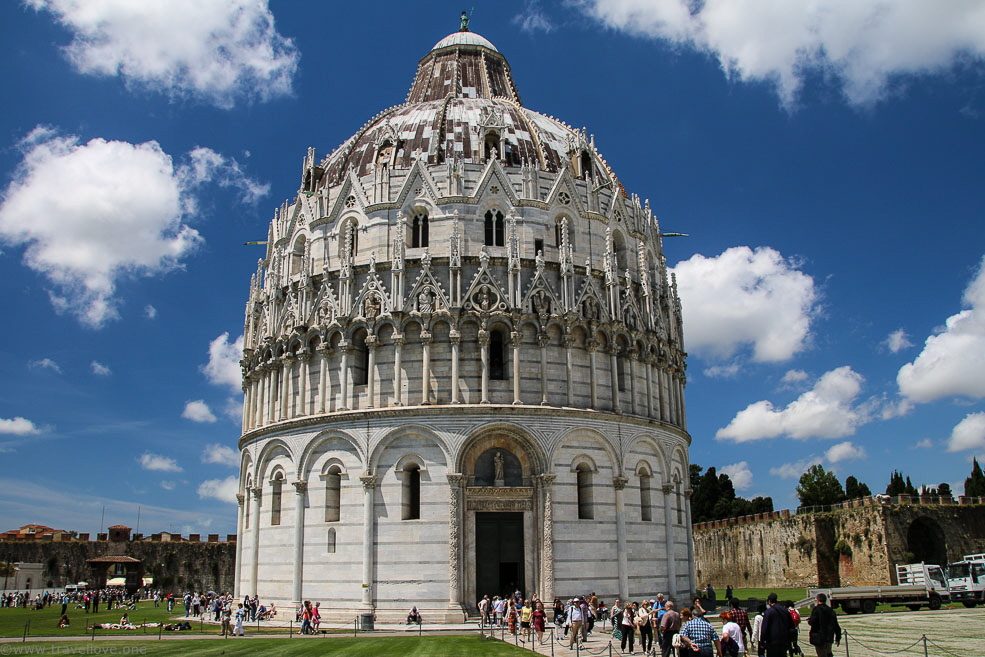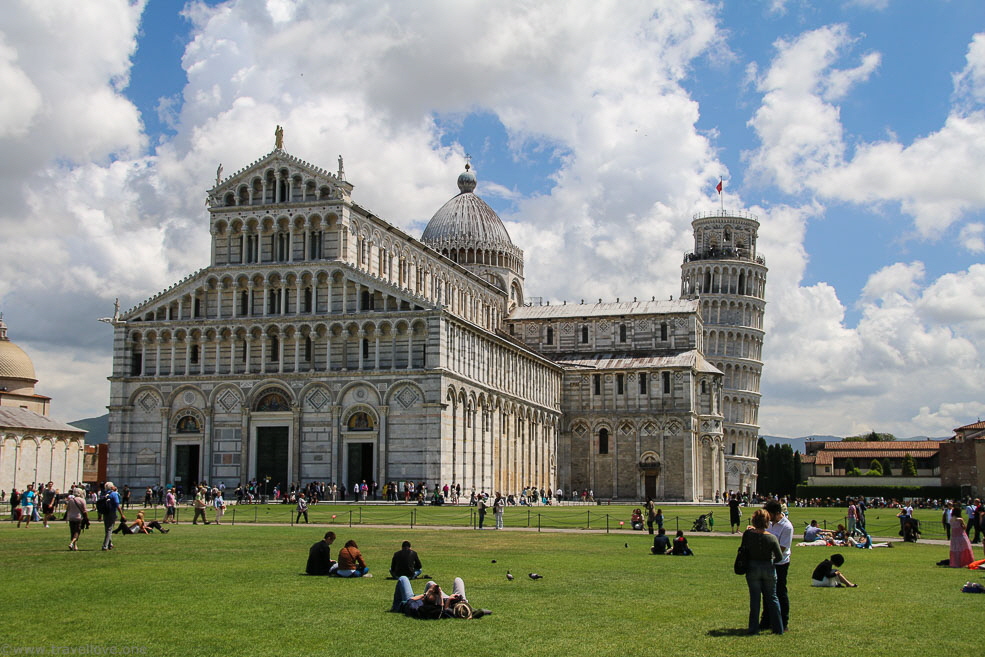 We started with a visit to the circular baptistery.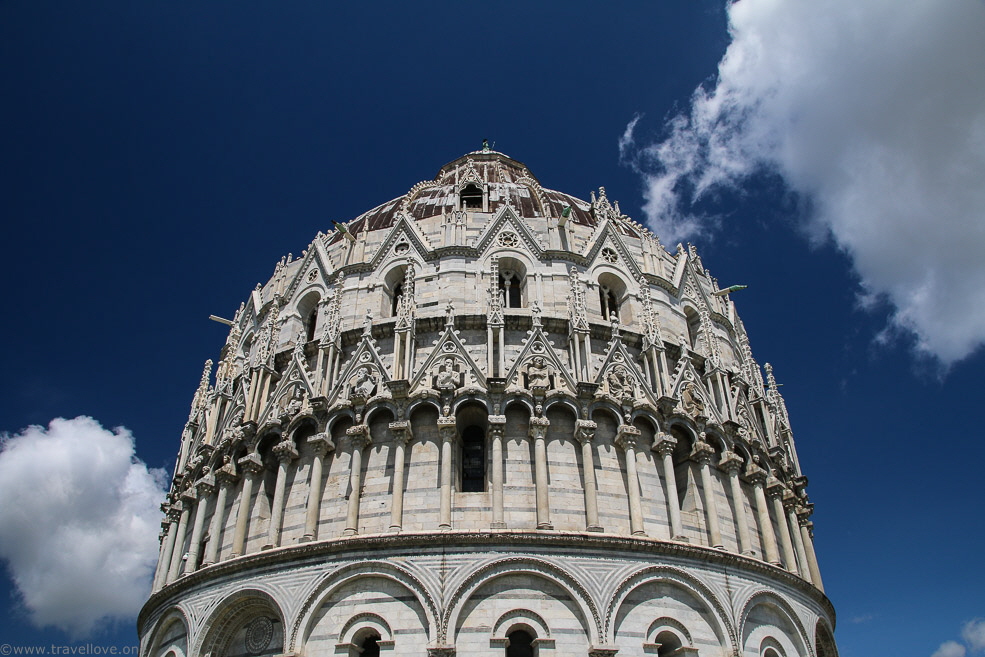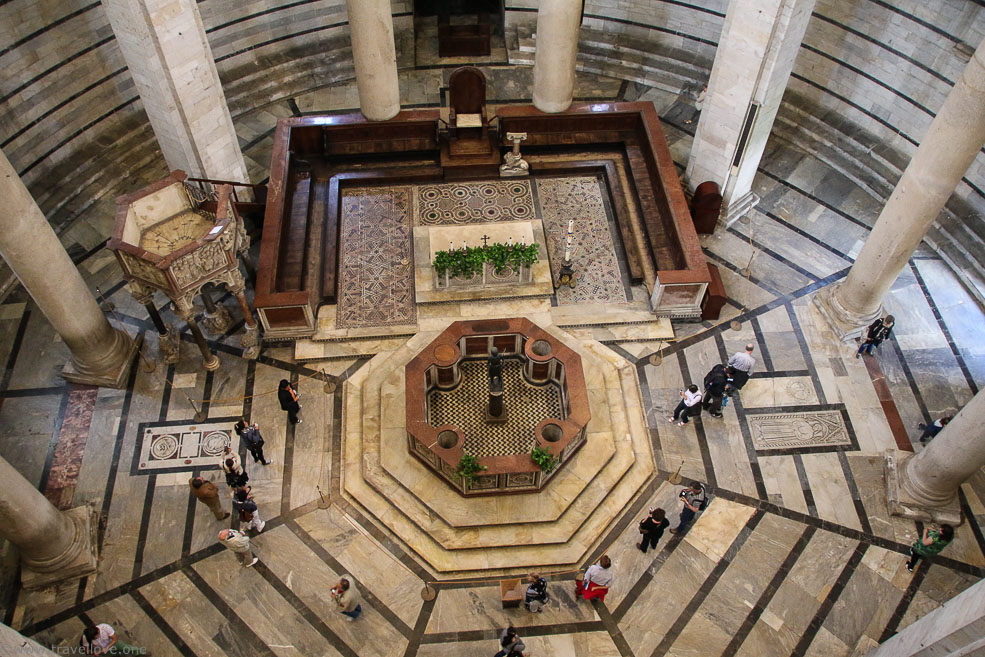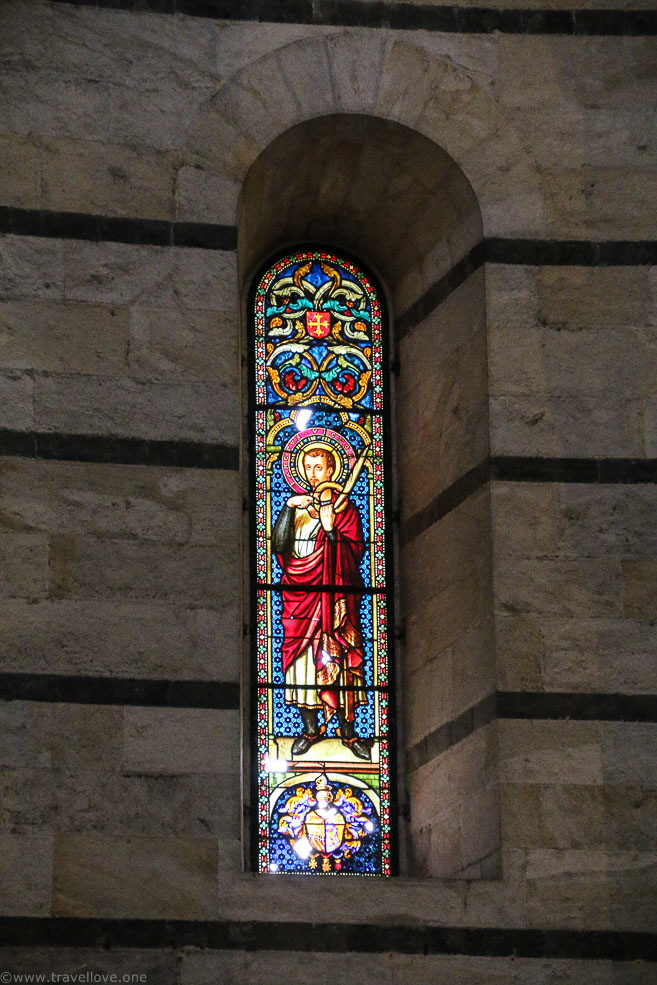 Next we turned towards Pisa's Cathedral, the Duomo.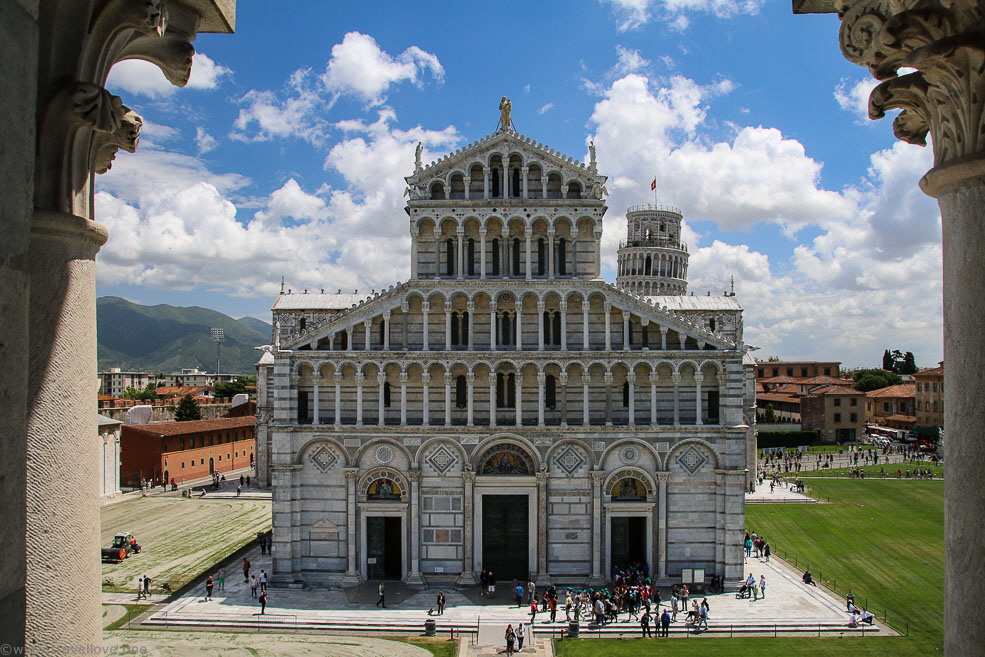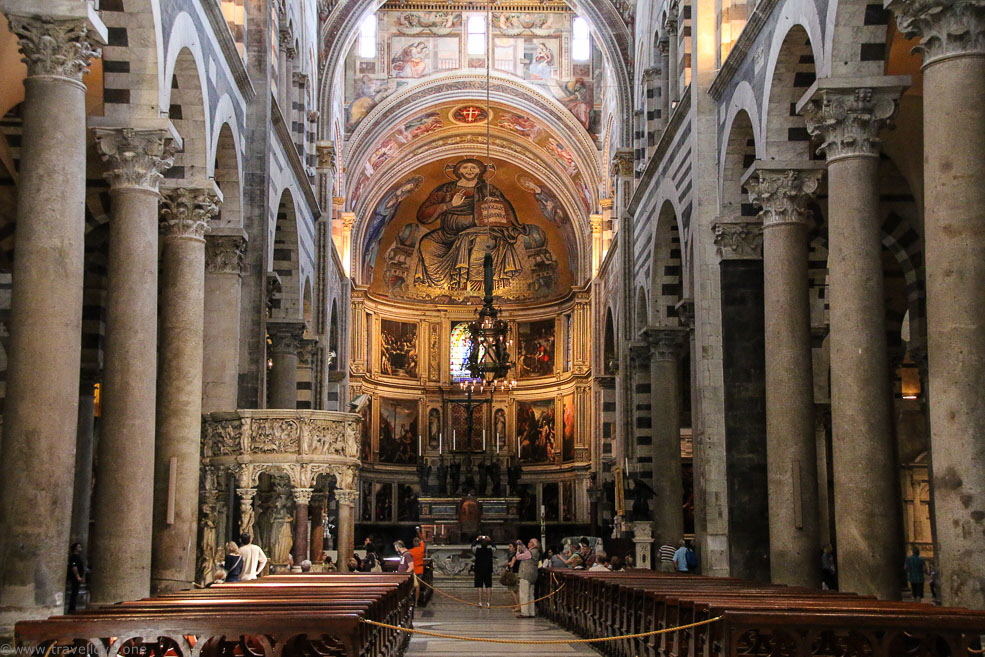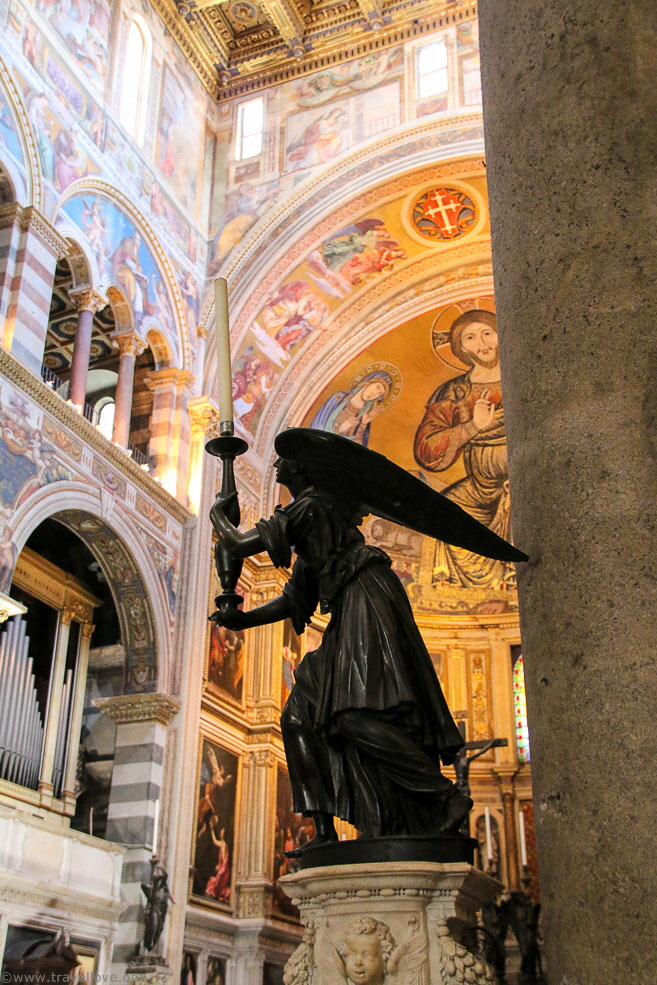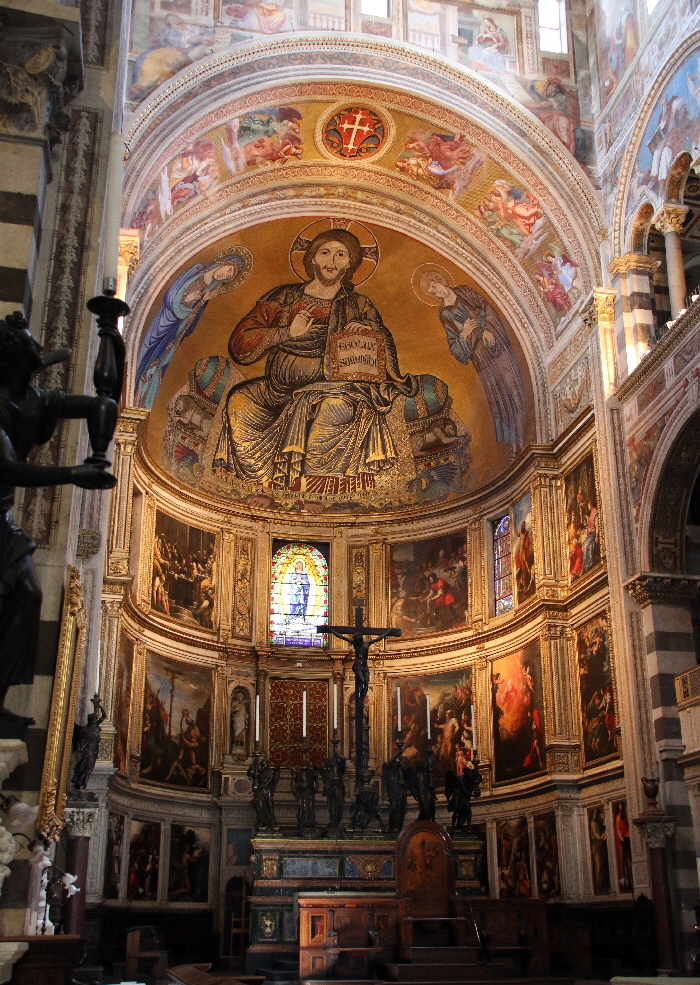 After visiting the impressive hall of the cathedral, it was obviously time to turn to what is probably Pisa's most famous building – the Leaning Tower.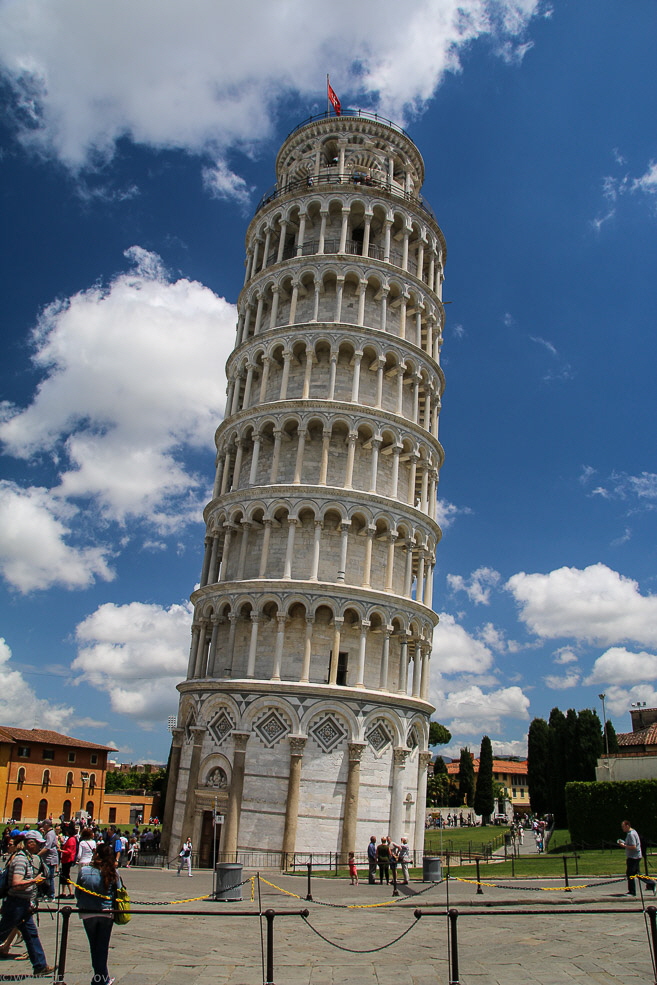 The following image illustrates well the enormous imbalance of the tower, which isn't overly apparent at first sight. For several years, attempts with various structural measures have been made to keep the tower in its current tilt and to protect it from collapsing.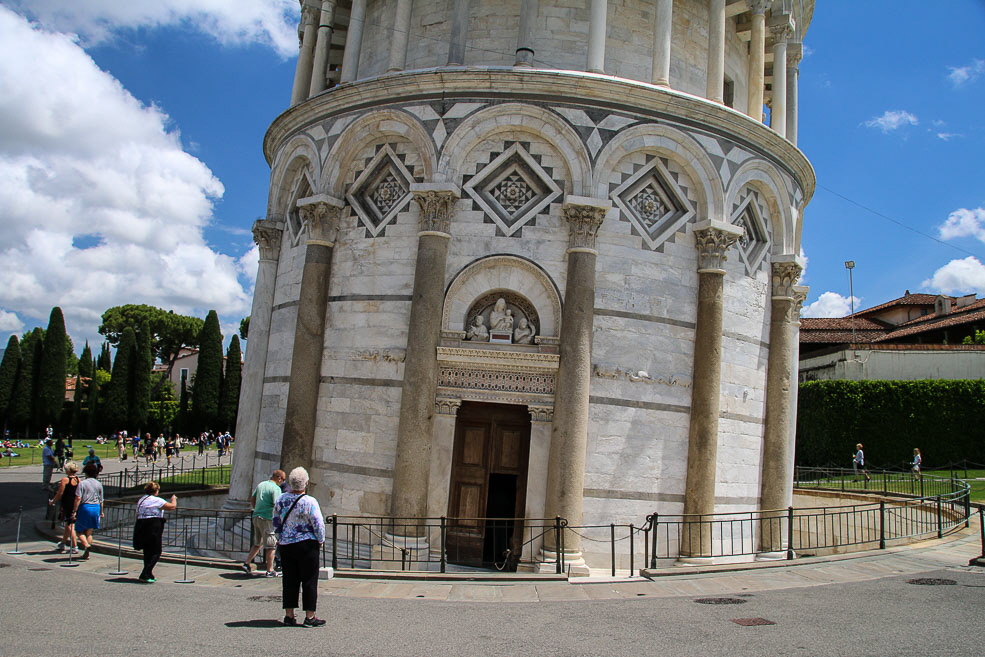 From our last visit to Pisa we knew a little café overlooking the square. That's where we went after visiting all the sights and ordered some paninis, cappuccino and two glasses of wine from a very grumpy waitress. When she brought our orders without a word nor a smile, the expression "facial paralysis" came to our minds – the lady probably had a bad day.

The faces of our two wine drinkers, however, were the epitome of disbelief and surprise when their drinks stood on the table. The long-stemmed glasses, each at EUR 6.00, were merely filled with nothing but red puddles. The price you pay for touristy places...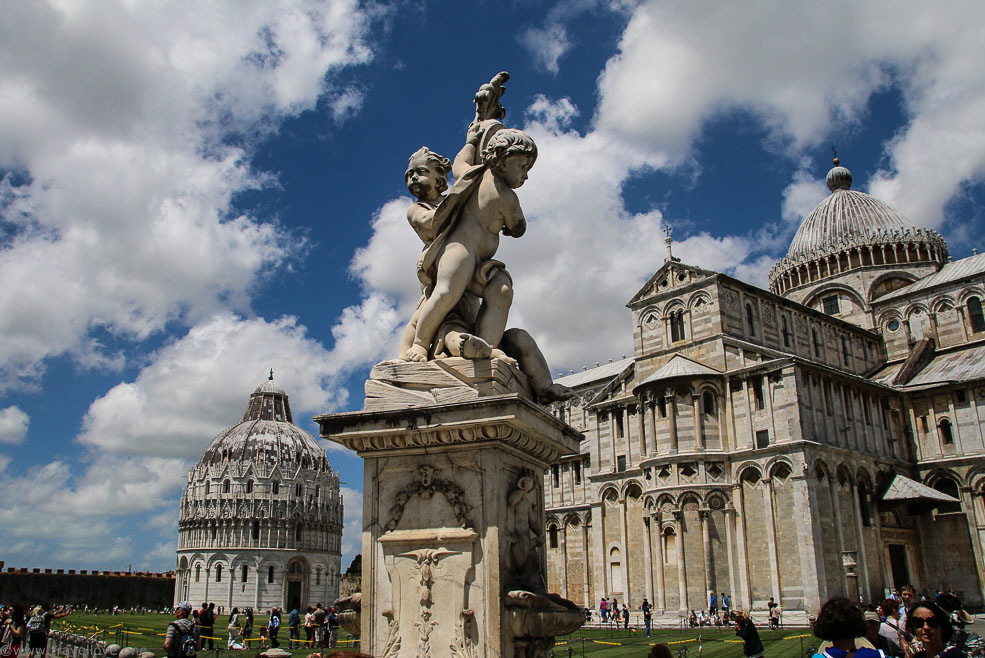 If you know Pisa, you also know that there isn't much else to see. So we decided to leisurely head back towards La Spezia. For our return I had thought of two options: A trip to the beautiful Tuscan city of Lucca or a stop in Viareggio, Tuscany's seaside resort. Since the mountains towards Lucca were still covered in dark clouds, we went for Viareggio, which was also directly on our way back.

Viareggio greets its visitors with a mile-long promenade and the typical sight of Italian beaches. Endless rows of sunbrellas and sunbeds standing all lined up – unused, though on the day of our visit.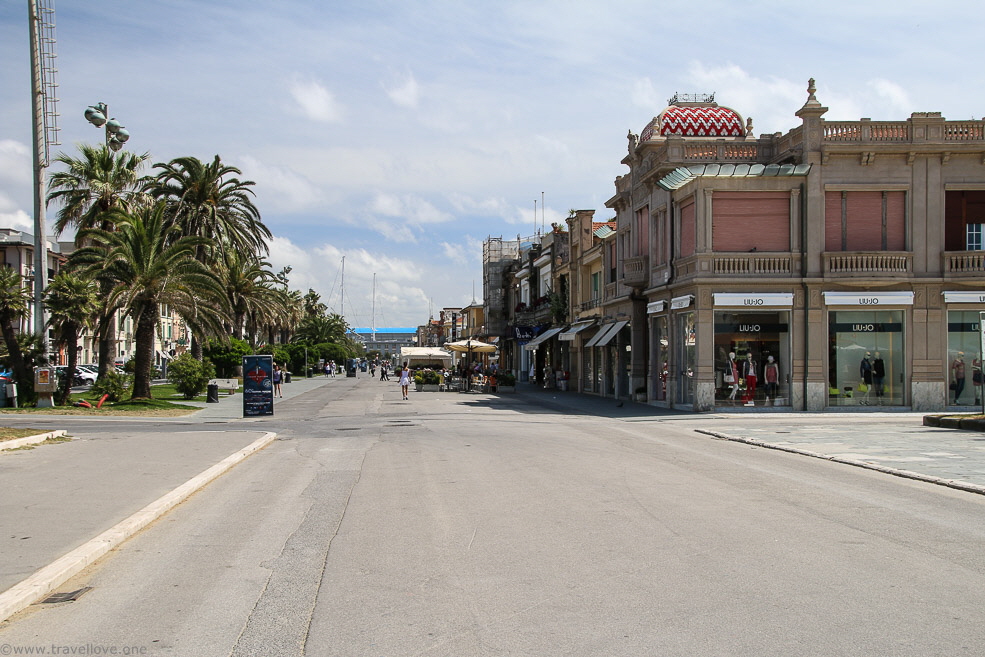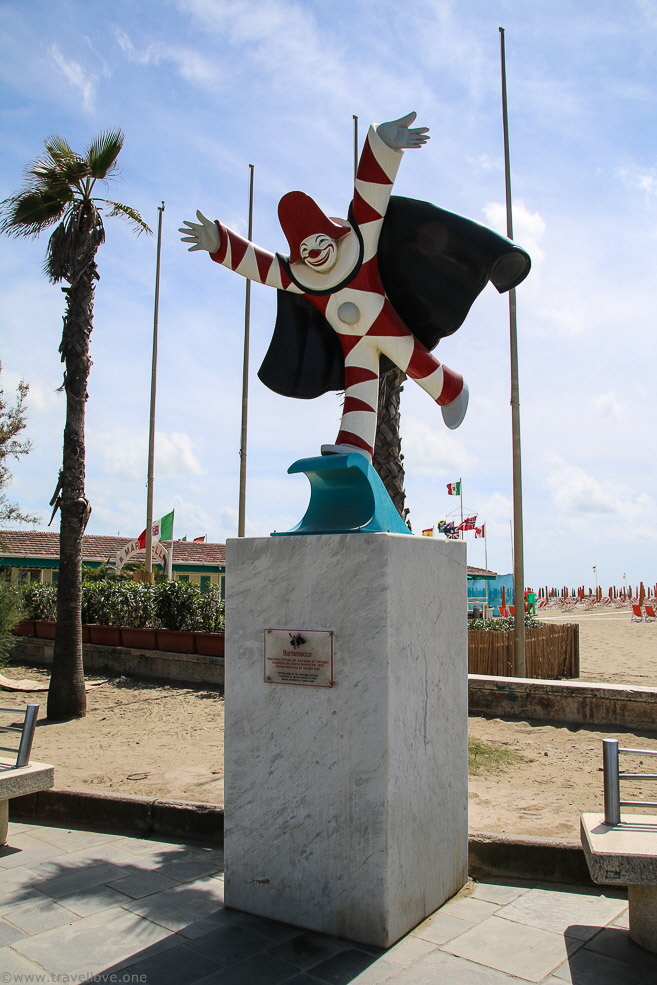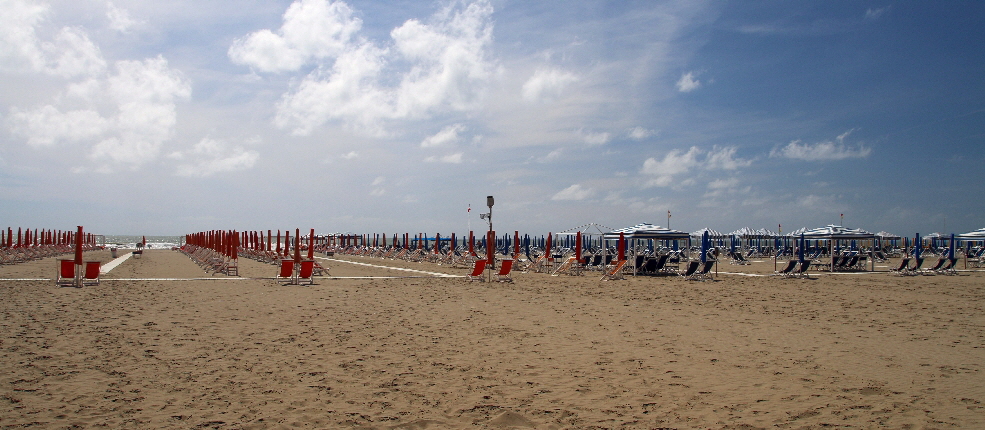 The shadow of a small courtyard lured us to a the little bar it was hiding, and Helmut delighted in a large, cool lager.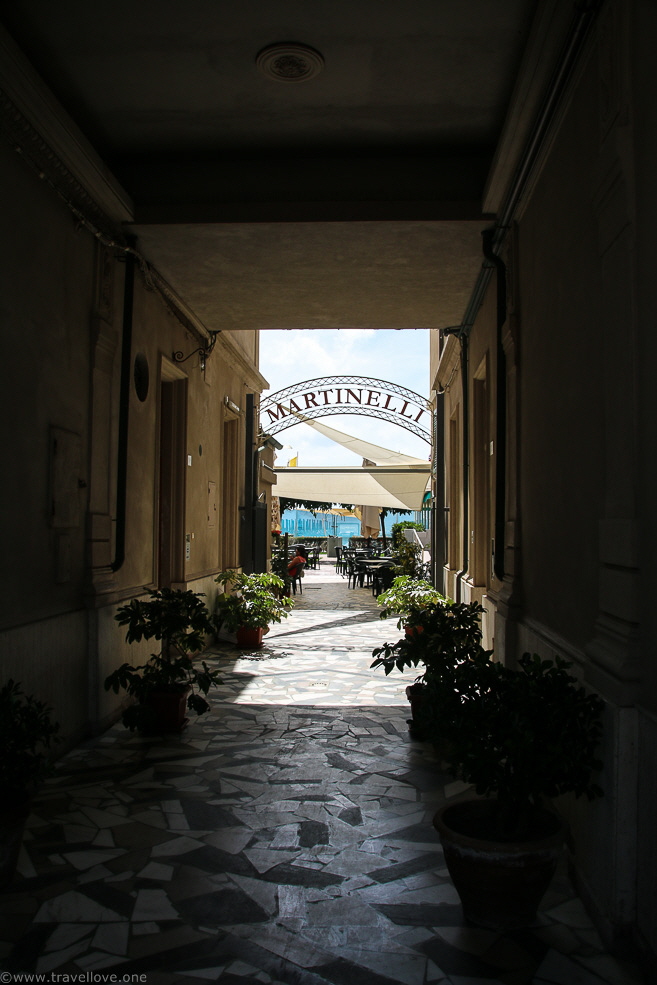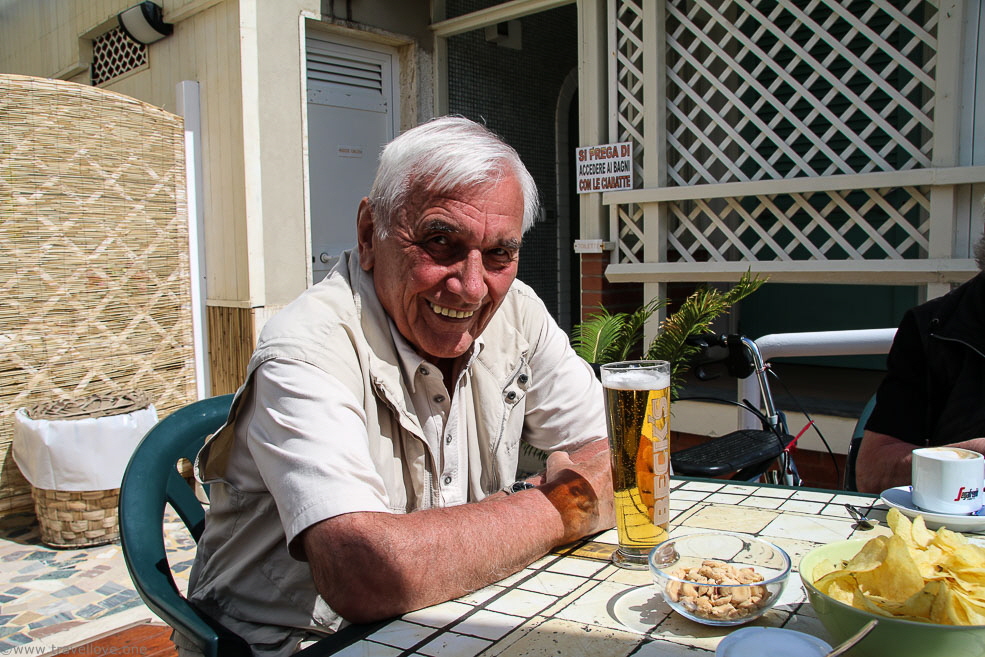 Invigorated and refreshed we hit the road back to La Spezia. I dropped everybody off at the port, returned the car and walked back to the port entrance, my exercise for the day to earning my dinner.

For dinner we had booked a table at Chops Grille. From our experience that night we were unable to confirm any reviews claiming that the general quality of Chops Grille had declined. The atmosphere was pleasant and our waiter from Ukraine was extremely friendly. When we placed our orders, he all but "urged" us to go for more than one starter and to pick various side dishes with our main orders.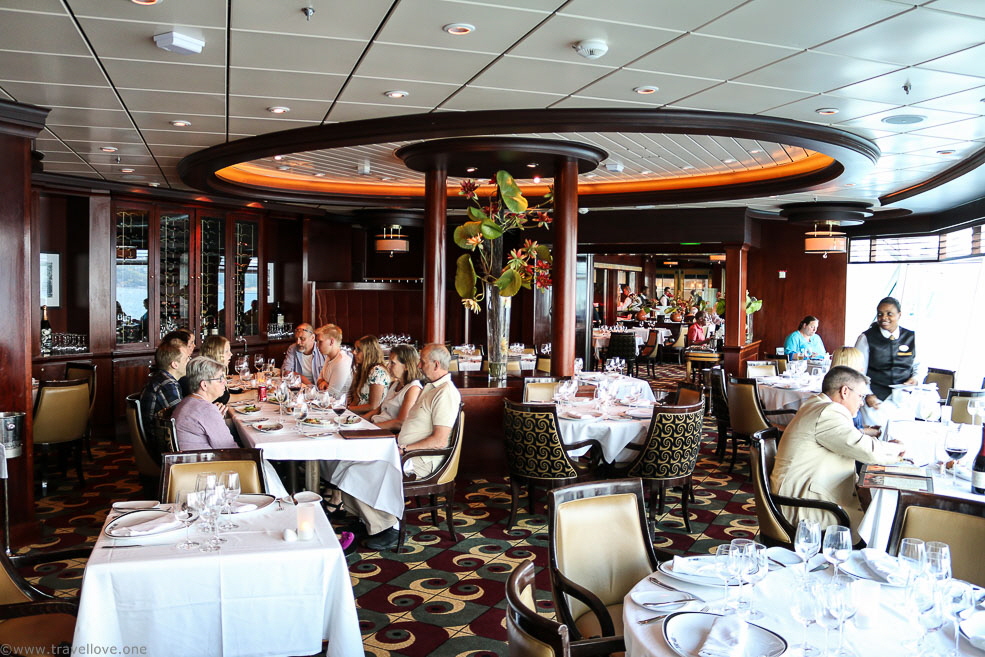 All the meals were excellent. Crab cakes, mushroom soup, goat cheese soufflé and Caesar salad were the tasty starters, and all of us had a picture-perfect filet mignon as our main course. Although afterwards there wasn't really any room left, the desserts on offer sounded too good to resist. They didn't disappoint us either. In short: The food was superb and well worth the additional charge.

After this gluttony, a nightcap had the difficult task of helping us digest this feast.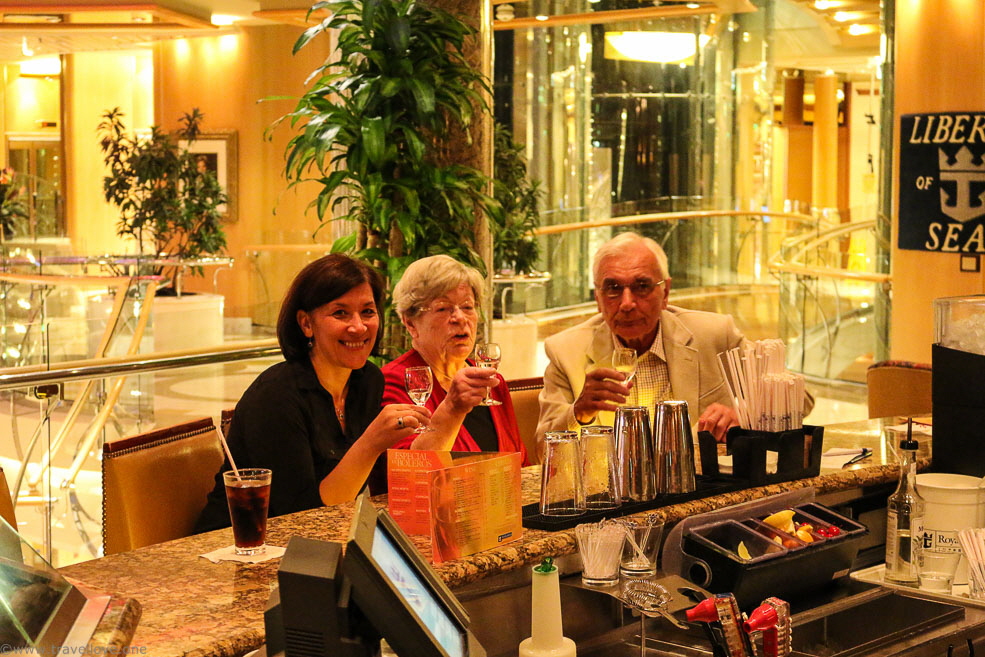 After the busy day and the sumptuous meal we were called by our beds – where we were greeted by a pet.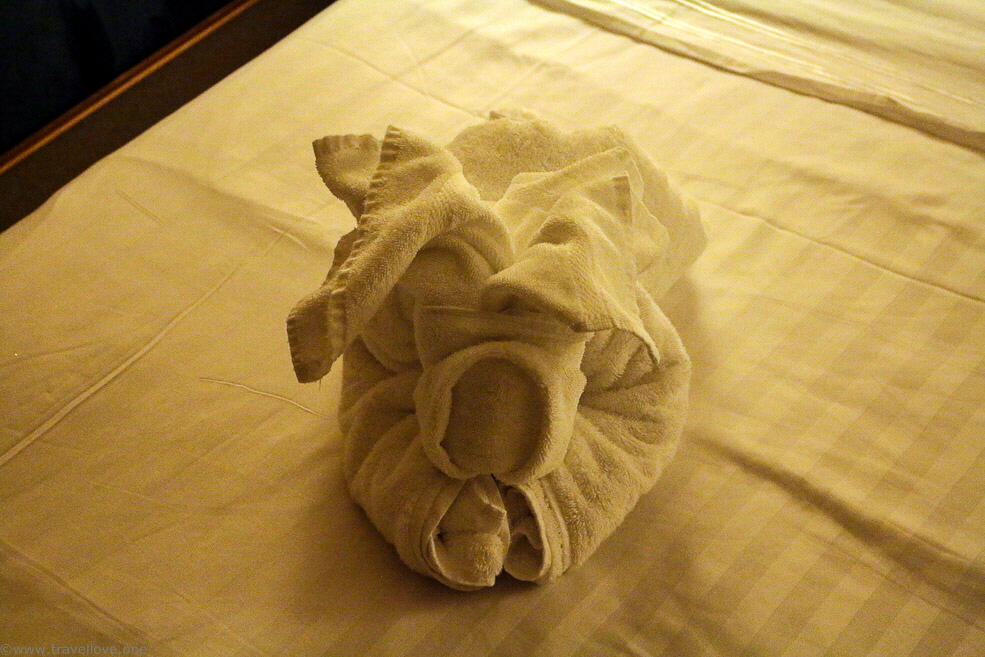 www.travellove.one • www.thecruise.report • www.travelandcruise.net
© 2021 Die Rechte an Texten, Fotos und Videos liegen beim Autor der Webseite. Die Nutzung ist nur nach ausdrücklicher Freigabe erlaubt.