Part 7 - Alesund
In the early morning fog our ship sailed into the port of Alesund.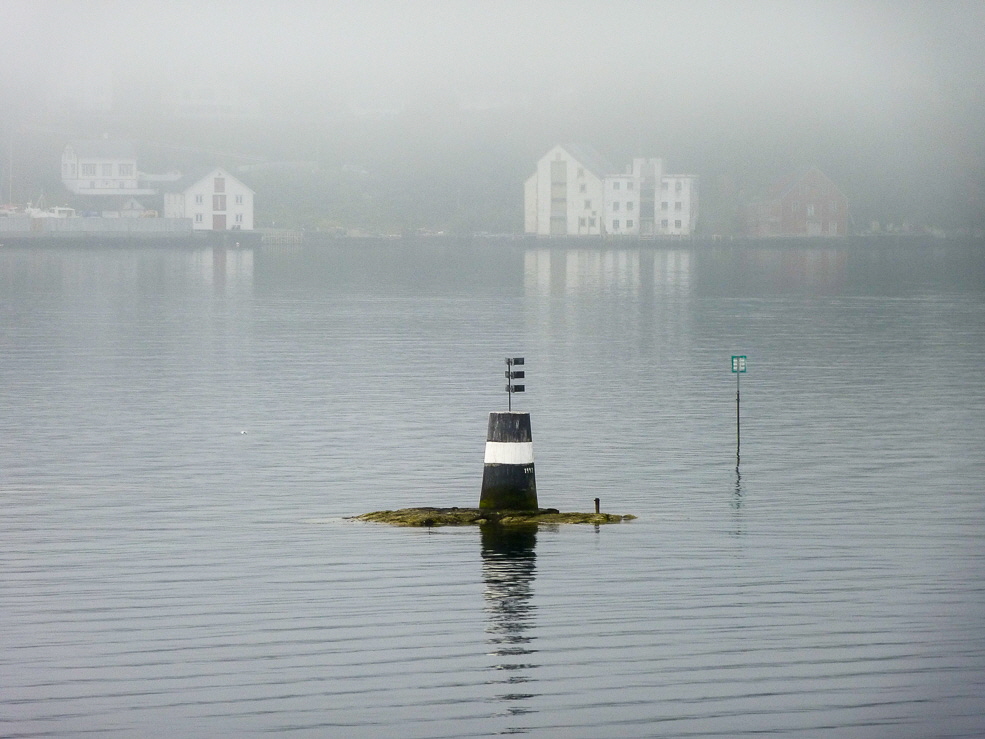 Still elated by the great day in Geiranger but also a little sad that our day in Alesund marked that last port day of our cruise, we got off the ship in the morning to meet Sidsel, the guide of our Alesund walking tour. In impeccable English she gave us many useful explanations on Alesund and Norway in general. She was very personable and seemed quite determined at the same time. We assumed that she might have been a retired teacher – which would also explain why she knew so many passers-by in the street.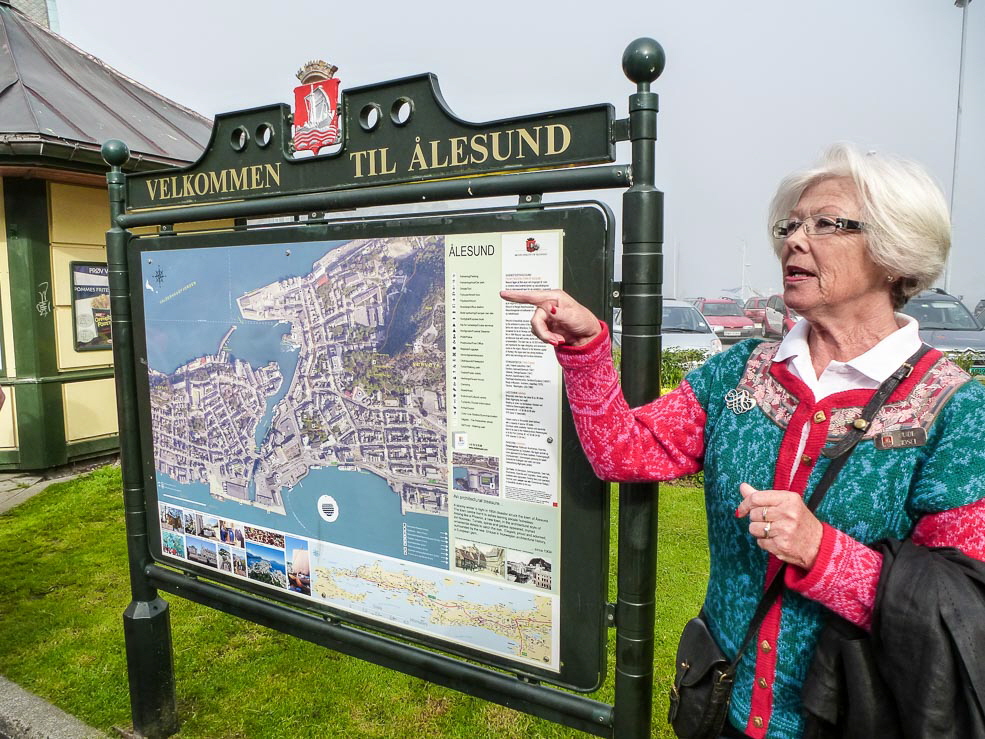 Alesund was another port where the ship was just a few steps away from the town, which in this case radiated its charm shrouded in the morning mist.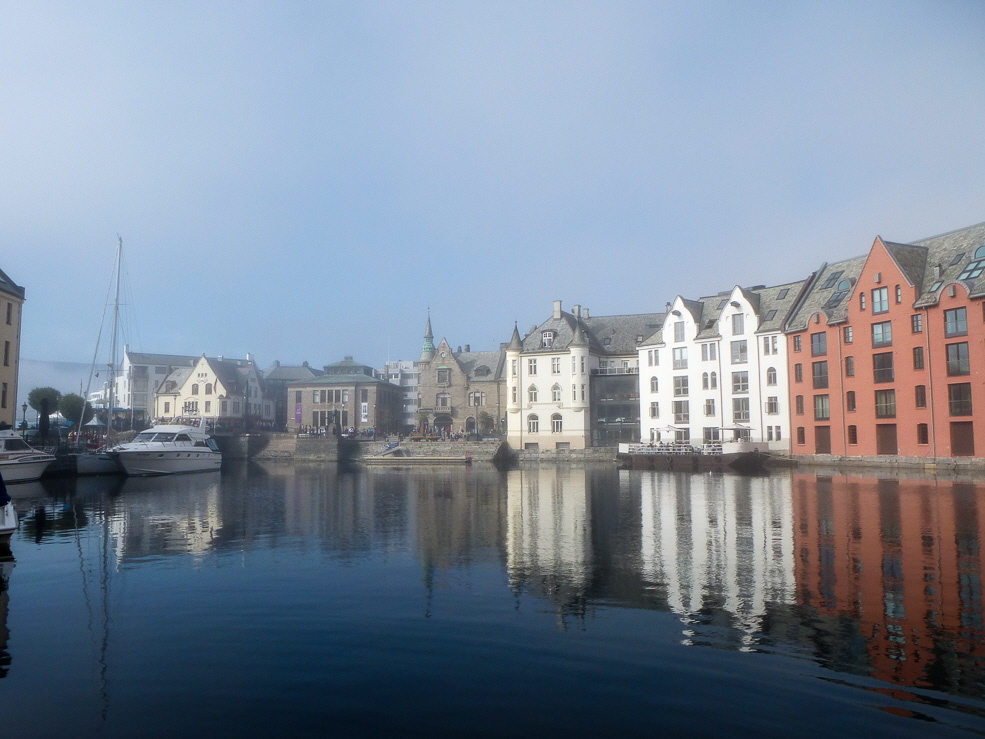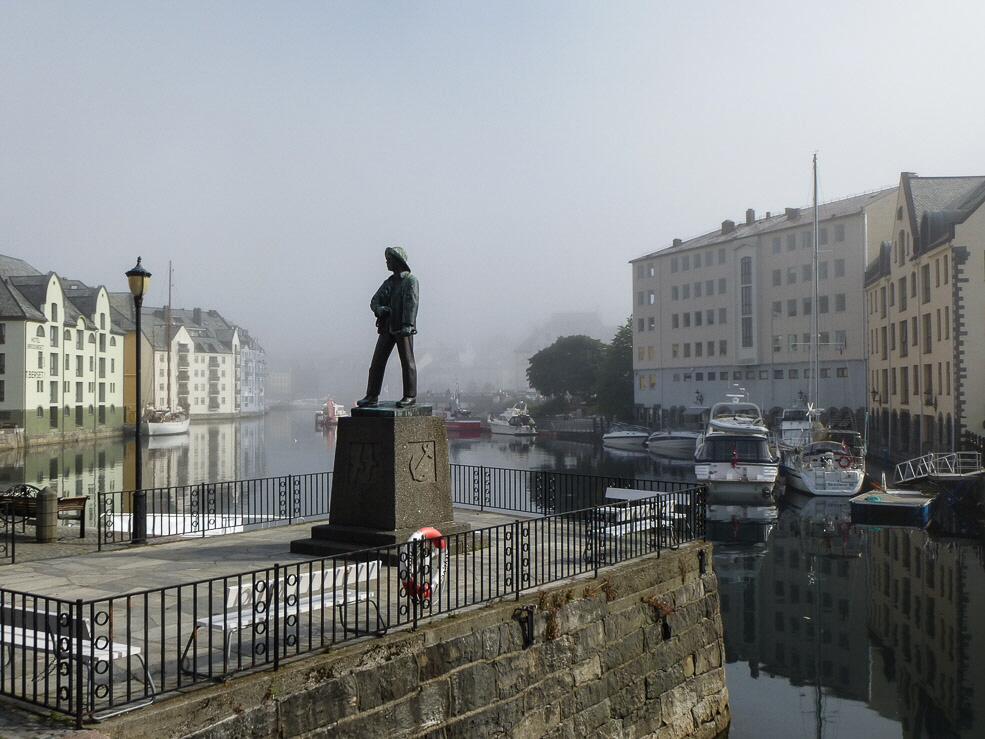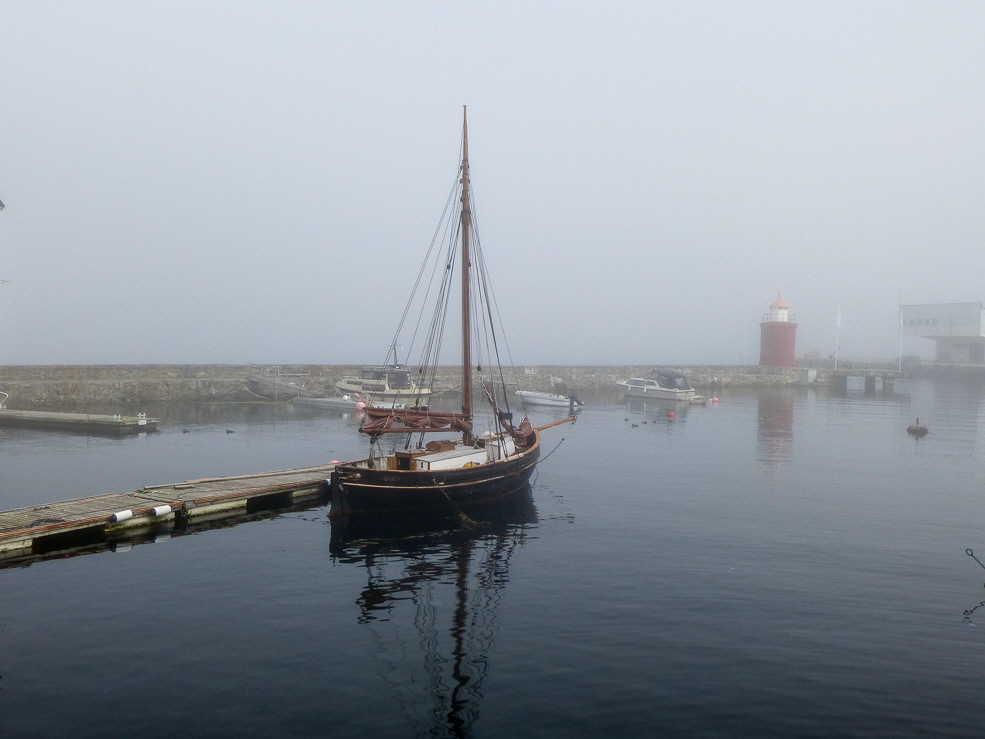 It is thanks to a disastrous fire in 1904 that we are able to admire Alesund's attractive Art Nouveau cityscape today. 850 wooden houses of the time were destroyed in that major fire and subsequently rebuilt in Art Nouveau. The traditional Art Nouveau was then complemented with local, Norwegian elements.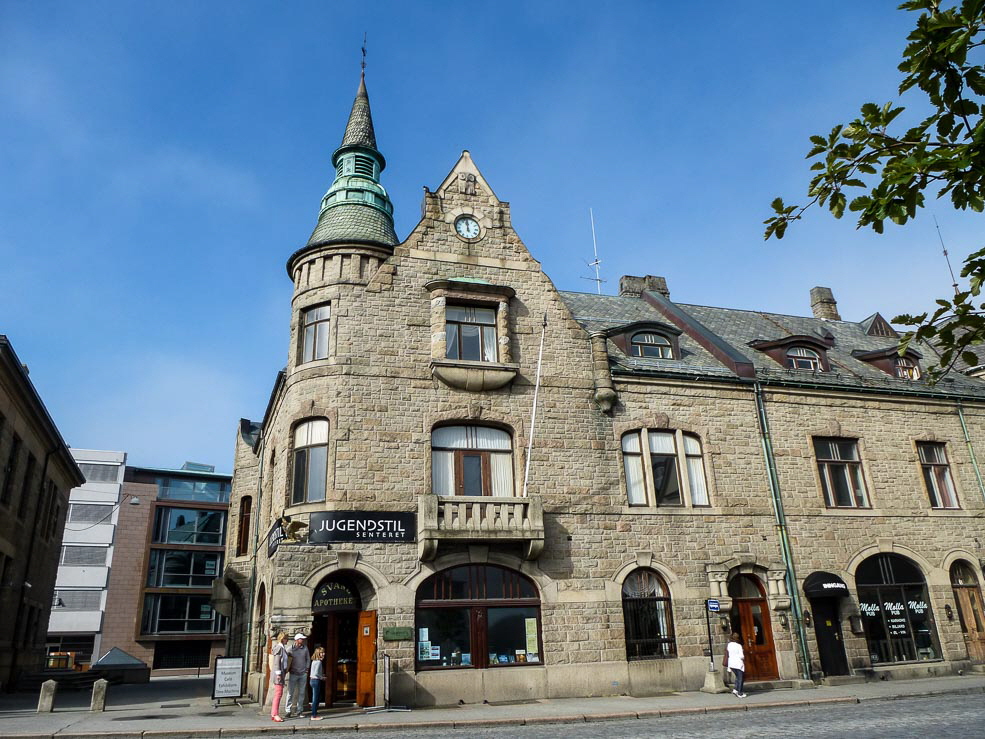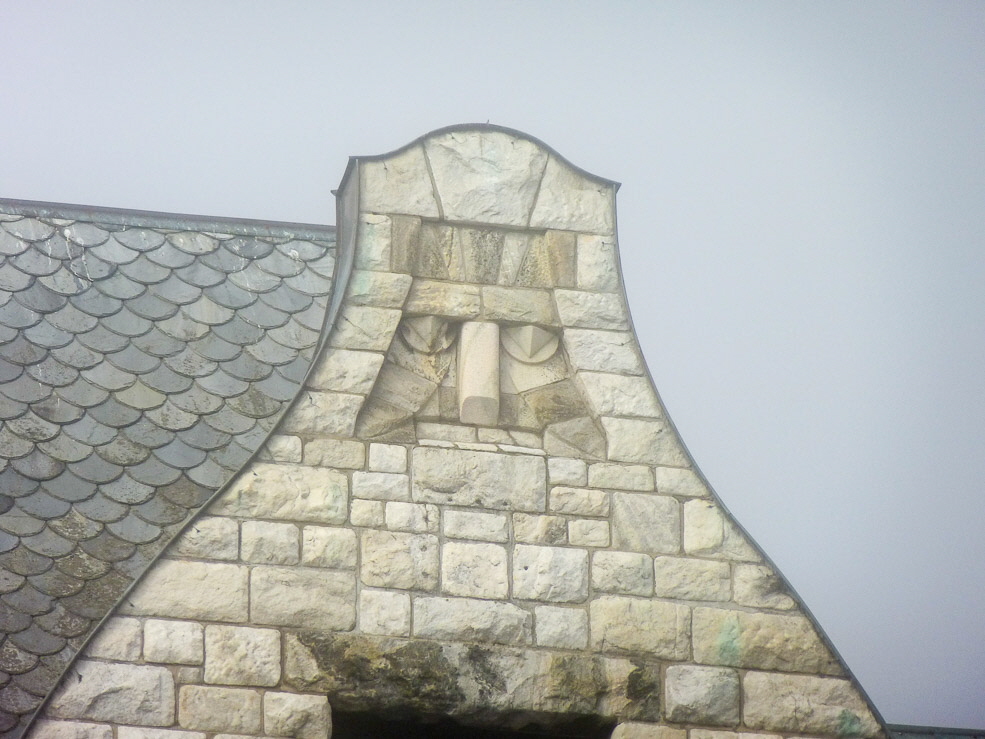 For 2 hours, Sidsel imparted her knowledge of Alesund in a very engaging and entertaining way. We were happy again to have opted for a walking tour rather than driving around in a bus.

After this 2-hour tour we set off on our own chasing photo opportunities and discovering corners of Alesund we hadn't seen yet. Like this part with a small glassblowing workshop and some well-preserved wooden houses, all spared by the fire at the time.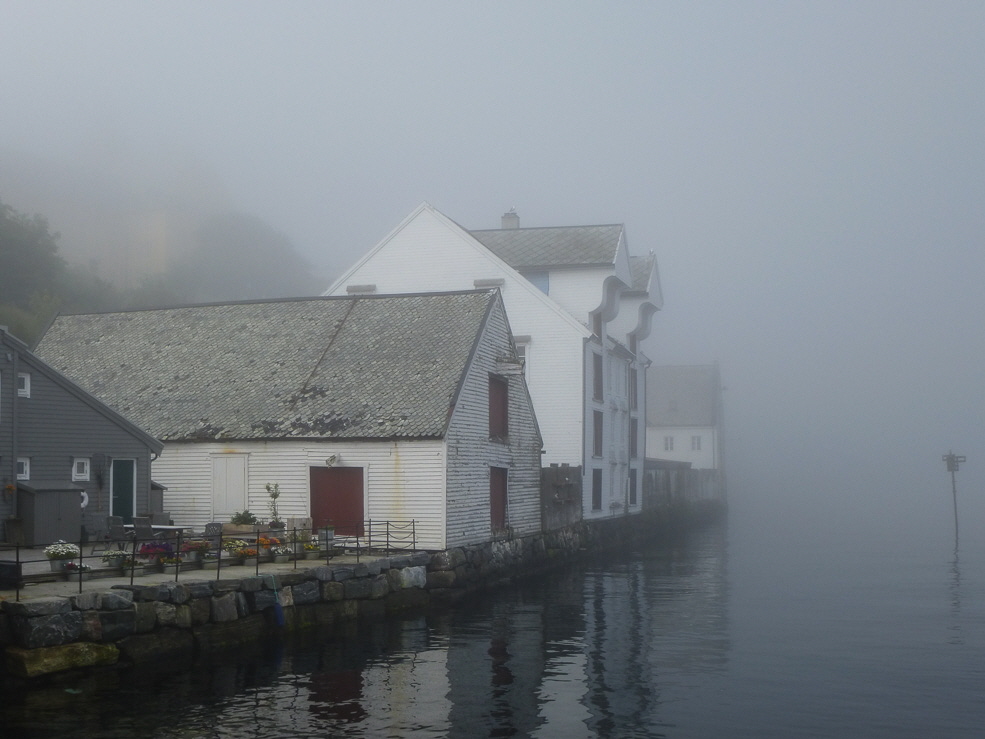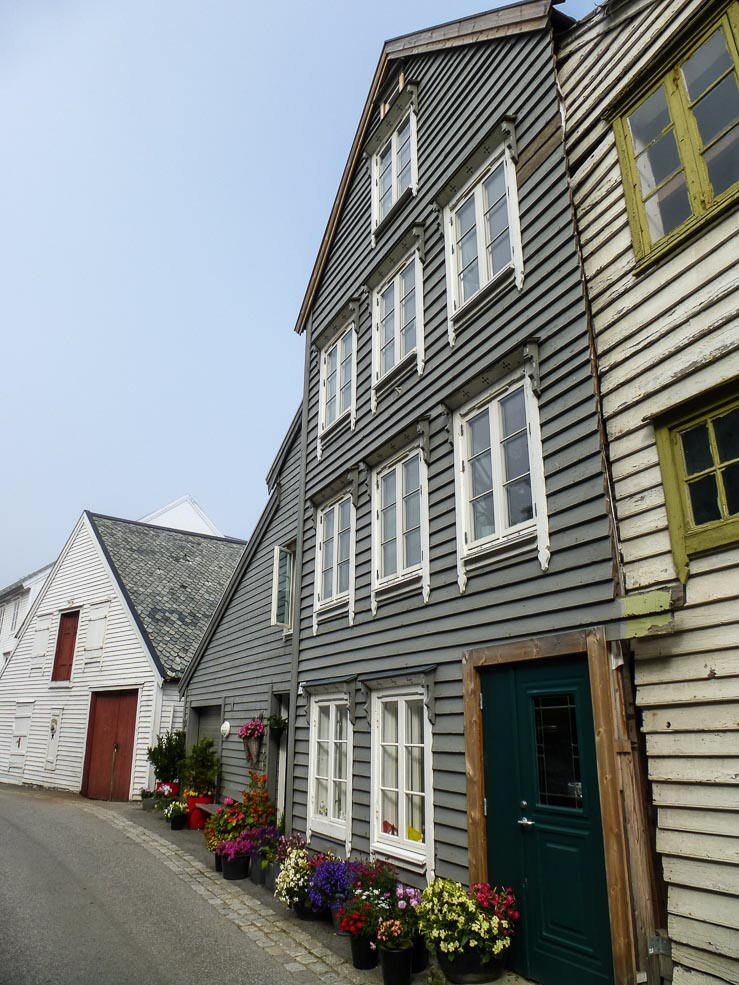 In the meantime, the fog had cleared and the sun had come out again.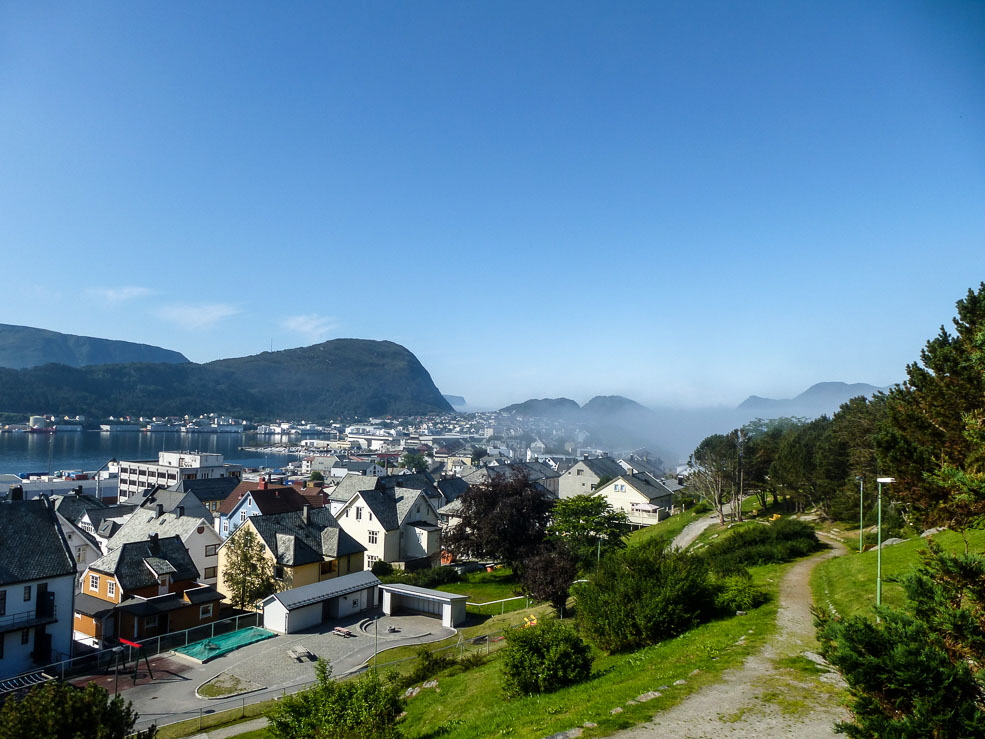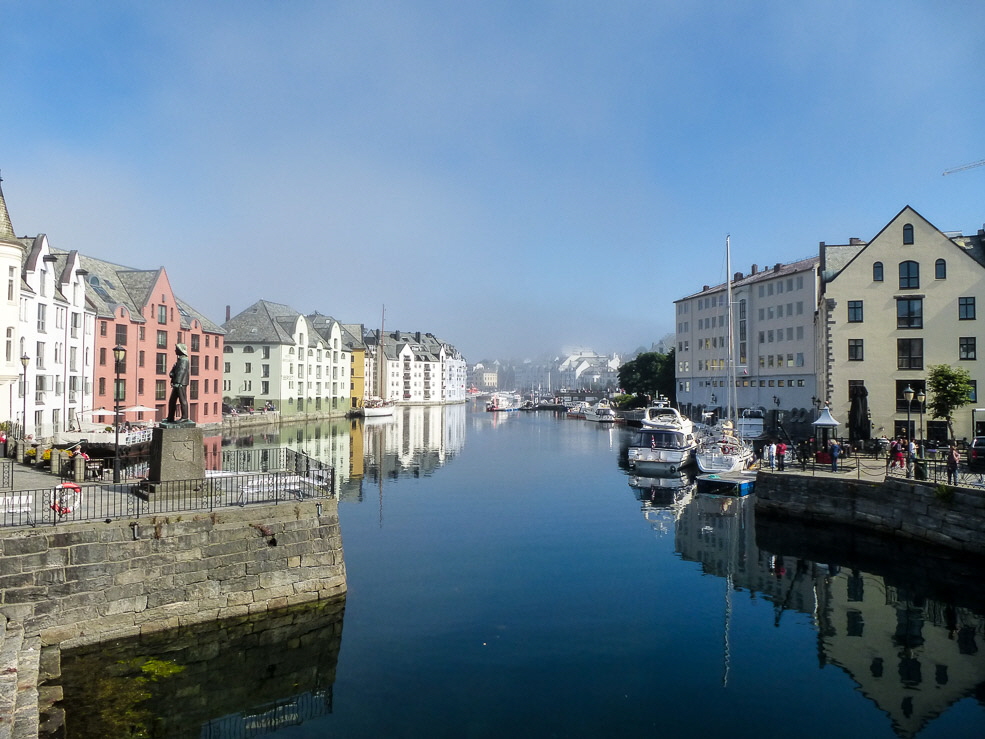 Slowly but surely we felt a little appetite coming up. So we returned to the ship for a little snack and enjoyed again the beautiful view from the outside deck of the Windjammer Cafe.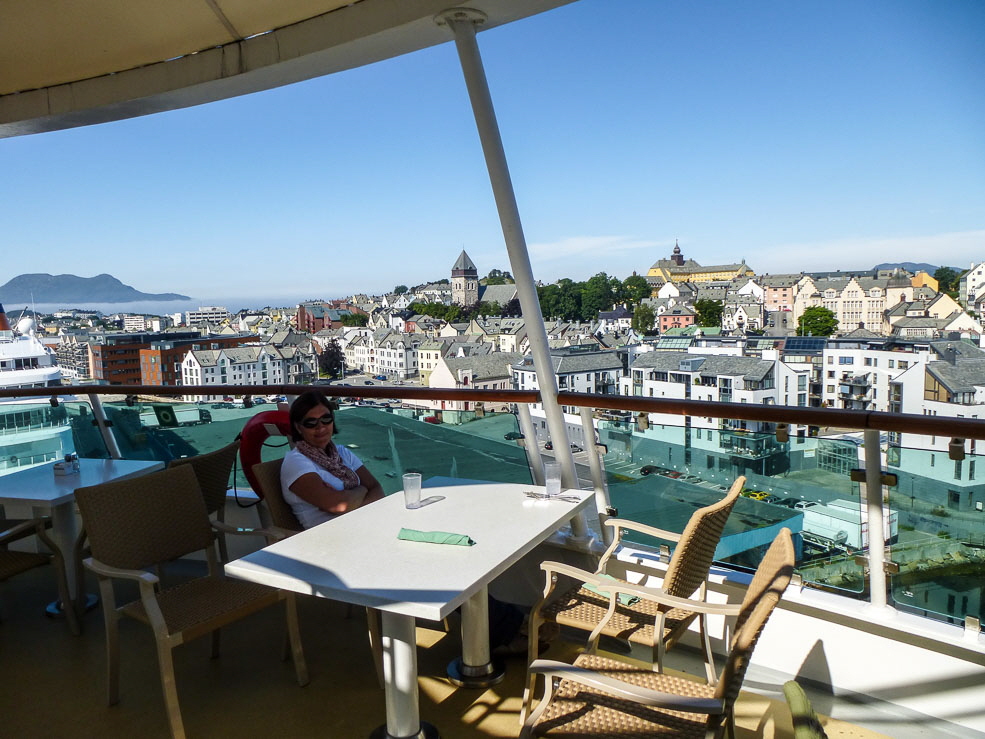 The possibility to have our meals outside and enjoy the views is definitely a point we liked better on the Brilliance compared to the bigger ships Liberty and Oasis of the Seas.

Strengthened and full of zest for action we took off again to climb 418 steps to the top of Mount Aksla, Alesund's house mountain. Obviously not without taking the odd picture on the way.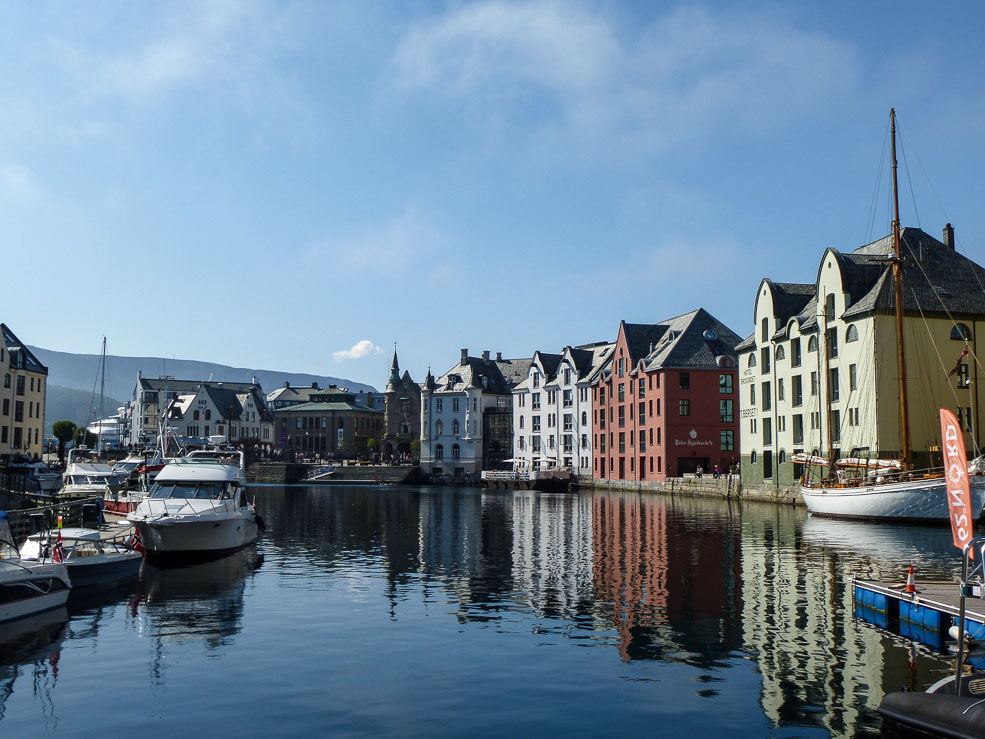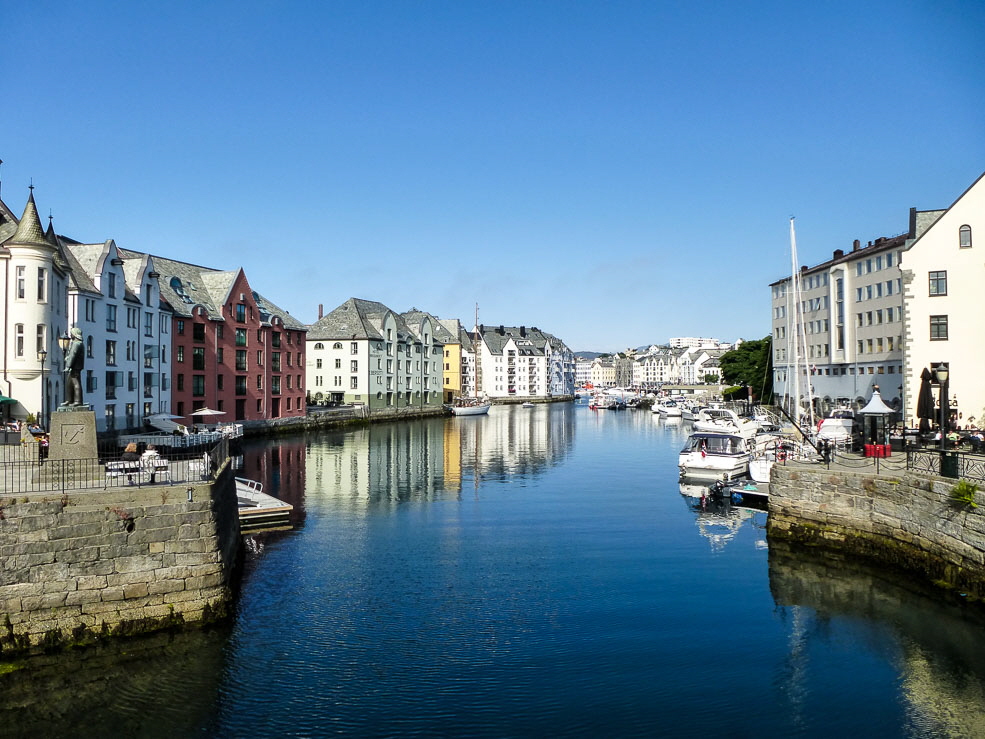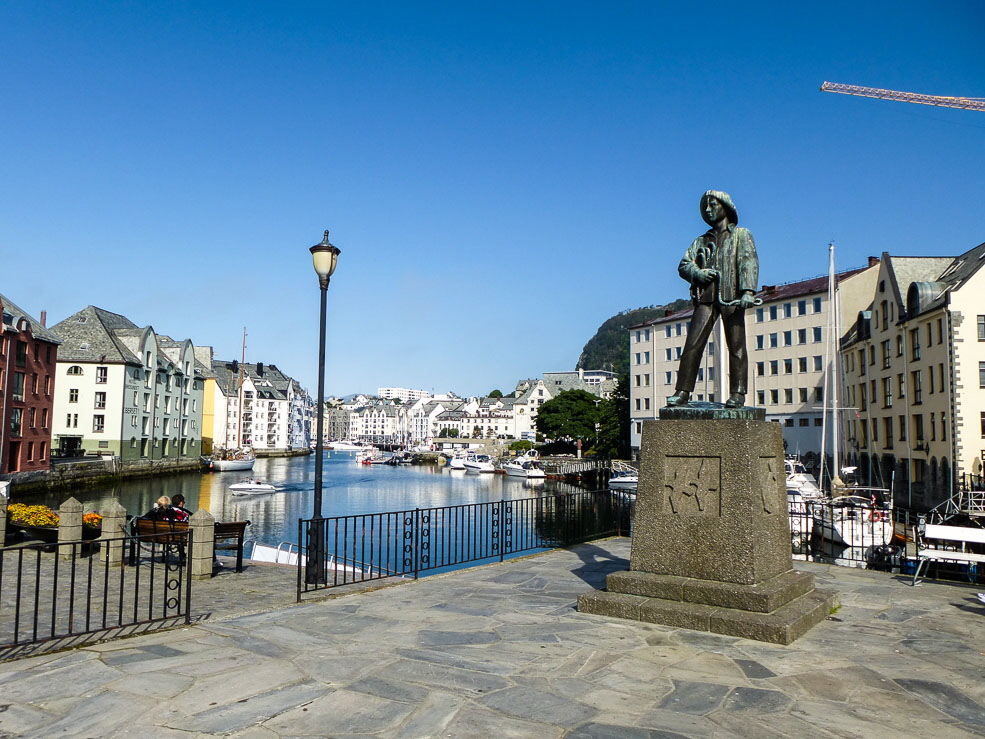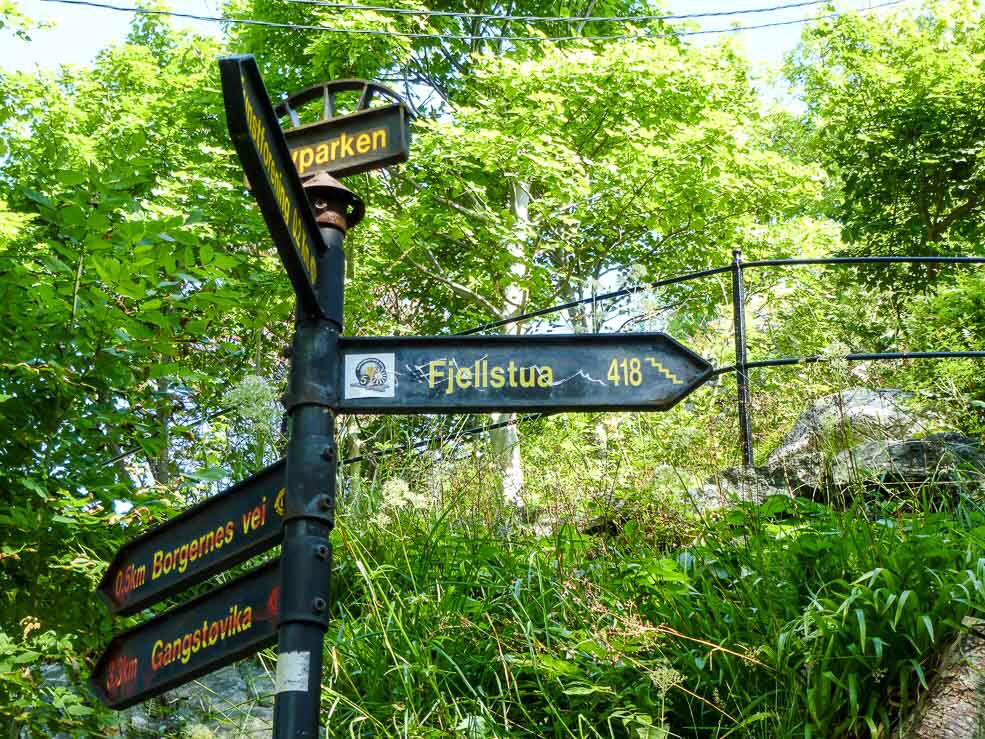 When we reached the Fjellstua, the lookout on Mount Aksla, we were greeted again by this unforgettable view of the Norwegian fjords' coastline and, of course, the little town of Alesund.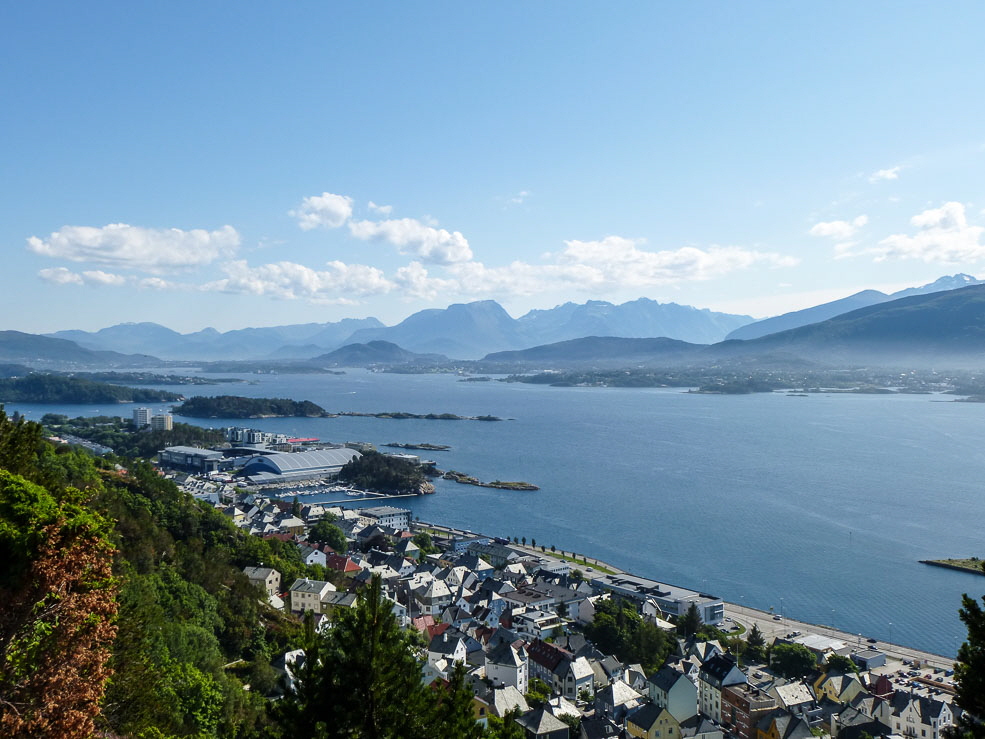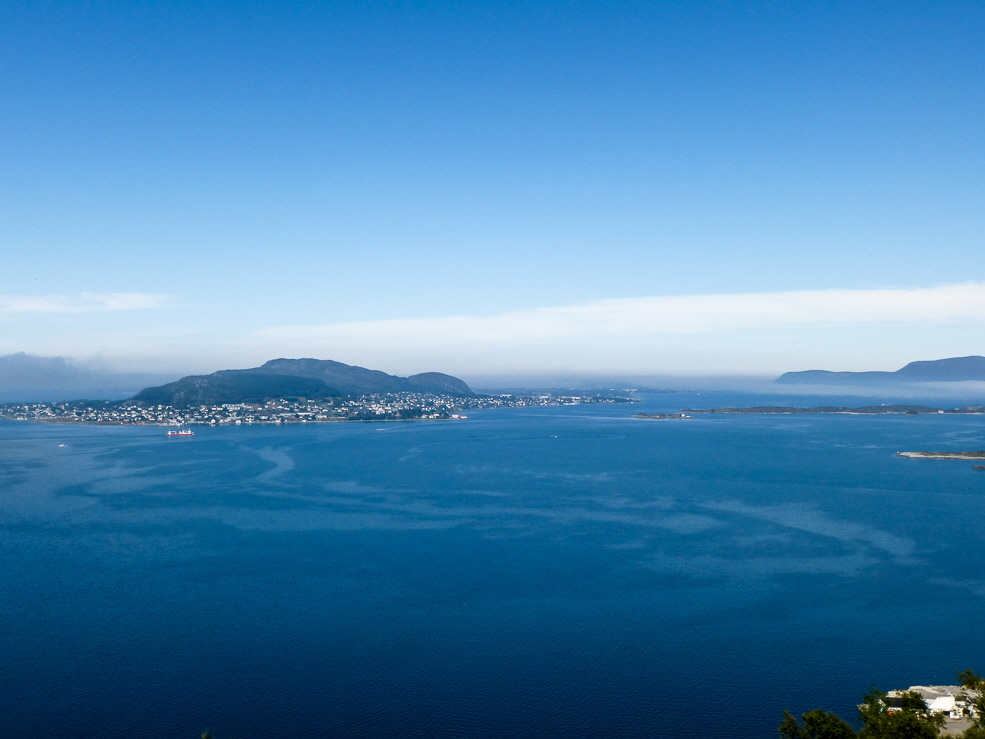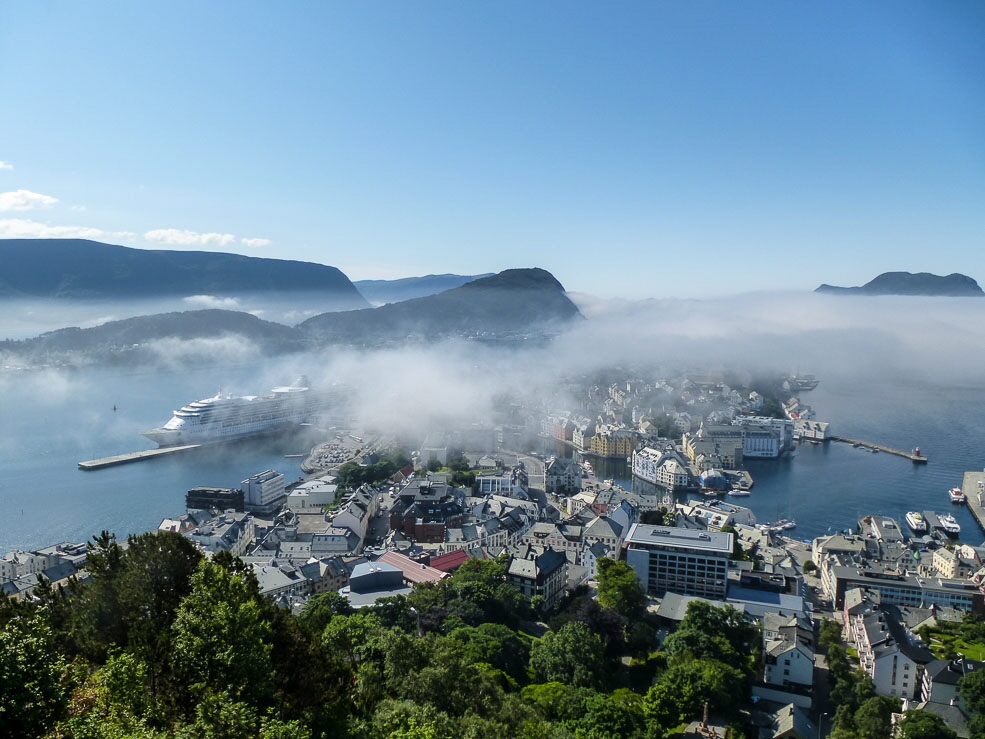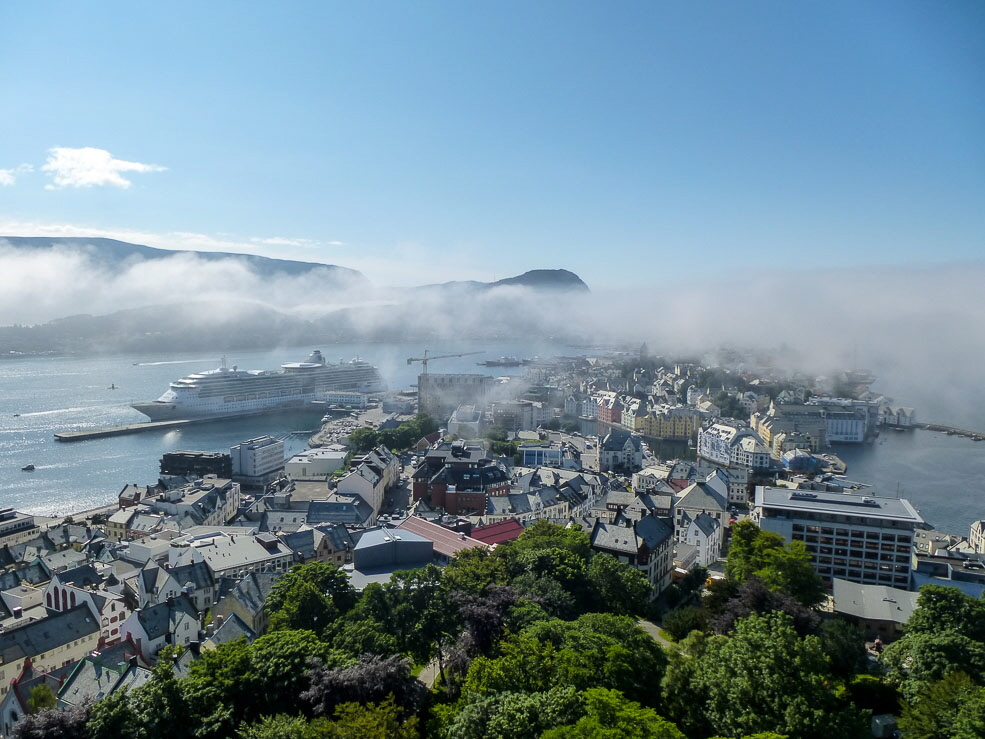 And from up here we could also watch the sailing MS Europa and its horn battle with the Brilliance.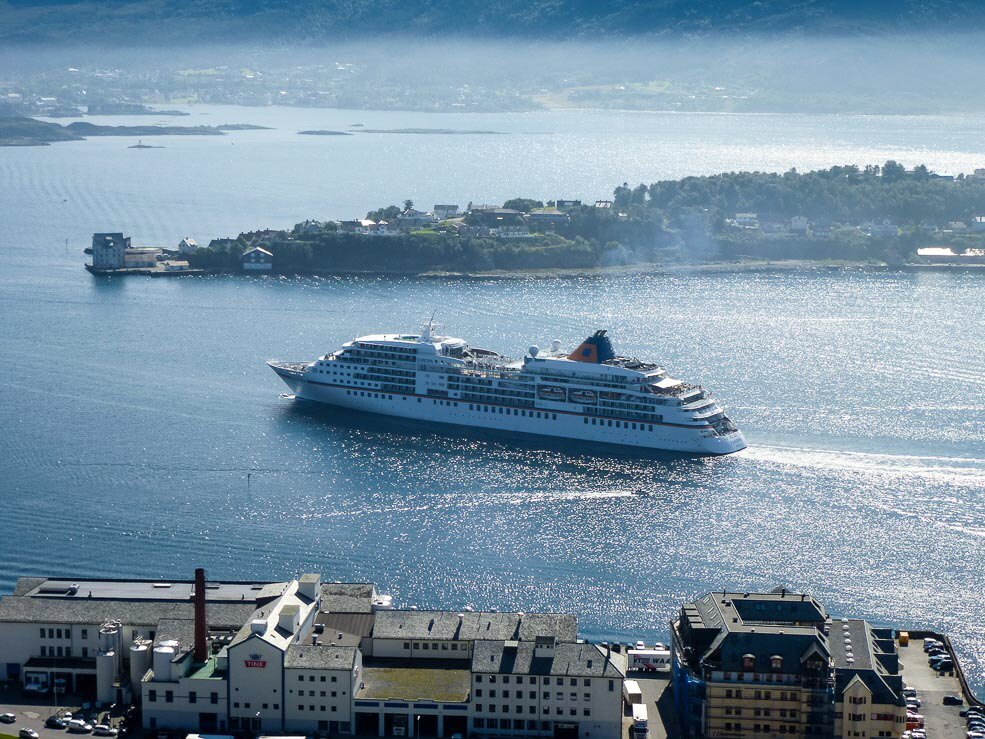 And eventually it was time for us, too, to return on board and bid farewell to Alesund and the Norwegian fjords.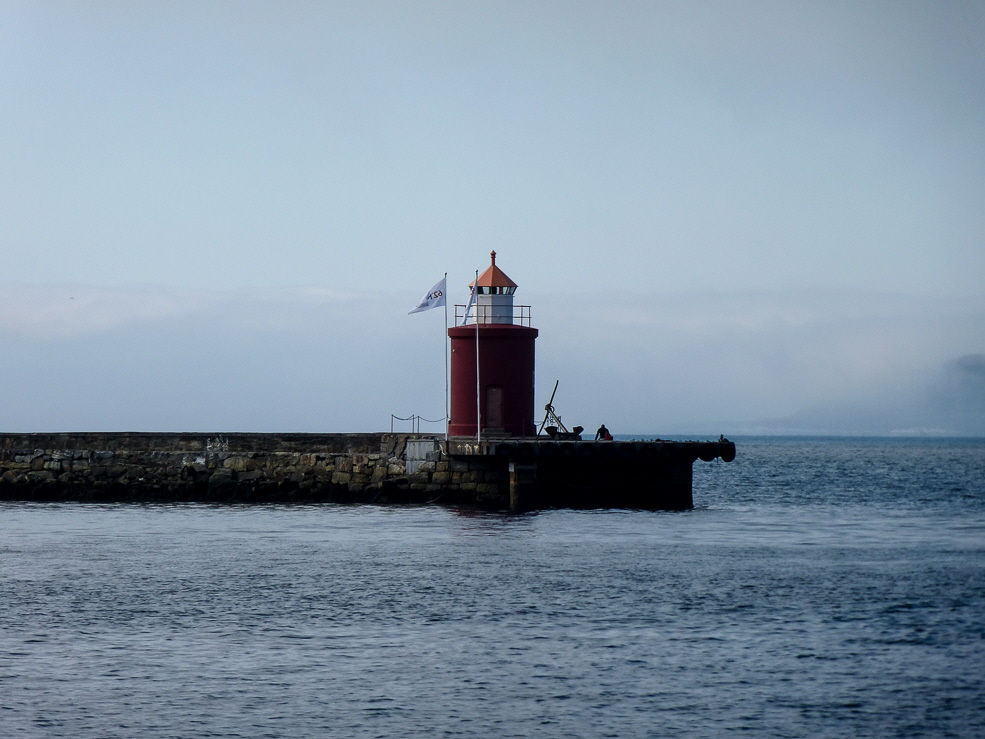 We experienced our own sailing through the panoramic windows of our steam bath in the Thermal Suite. Shortly after we had left Alesund, we entered a bank of fog, which enveloped us like a white, fluffy blanket.

From our heated loungers we looked out into the fog and listened to the rhythmic sound of the foghorn. Not only was it one of those goose-bumps moments, but it was also a good time for a review – even if we still had a sea day ahead of us.

Both of us found this cruise extremely beautiful. It was a perfect mix of Norwegian cities, villages and nature, and the brief glimpse into the life and activity here in Norway was just as unforgettable as the various landscapes.

The Brilliance clearly won me over unconditionally, despite my previous skepticism due it its smaller size. Surely, this was also thanks to our great group at dinner, something we hadn't experienced on the mega ships, where you don't just run into people. This definitely marks the more intimate, homely character of this smaller ship category.

The service on board and the amiable crew had contributed the rest. Personally, I have come to the conclusion that Royal Caribbean, their service and, above all, their kind staff will always succeed in making me feel completely at ease on any of their ships.

After a nice, relaxing day at sea we reached Copenhagen early the following morning. Our return flight only left at 6.00 pm. Since we had already visited Copenhagen and didn't want to walk around town with our luggage, we took advantage of Royal Caribbean's Late Departure program. For US$ 35.00 we didn't have to leave the ship by 9.00 am at the latest but could stay on board until 3.30 pm.

So we enjoyed the tranquility in the gym, the sauna and the Solarium pool and had a final meal at the Windjammer. Considering the local prices, this in itself made the extra charge worthwhile.

At 3.00 pm we left for the airport and said "Goodbye and Auf Wiedersehen" to our ship.

We are sure it will see us again someday!
www.travellove.one • www.thecruise.report • www.travelandcruise.net
© 2021 Die Rechte an Texten, Fotos und Videos liegen beim Autor der Webseite. Die Nutzung ist nur nach ausdrücklicher Freigabe erlaubt.